First, the bad news: Your cellulite is probably here to stay. Womp, womp. But there is good news! You can reduce its appearance by making a toning body oil with energizing coffee oil and the best cellulite essential oils. The multi-purpose body oil works as an all-over moisturizer and a dry brushing oil that's easy to make and quickly absorbed into the skin.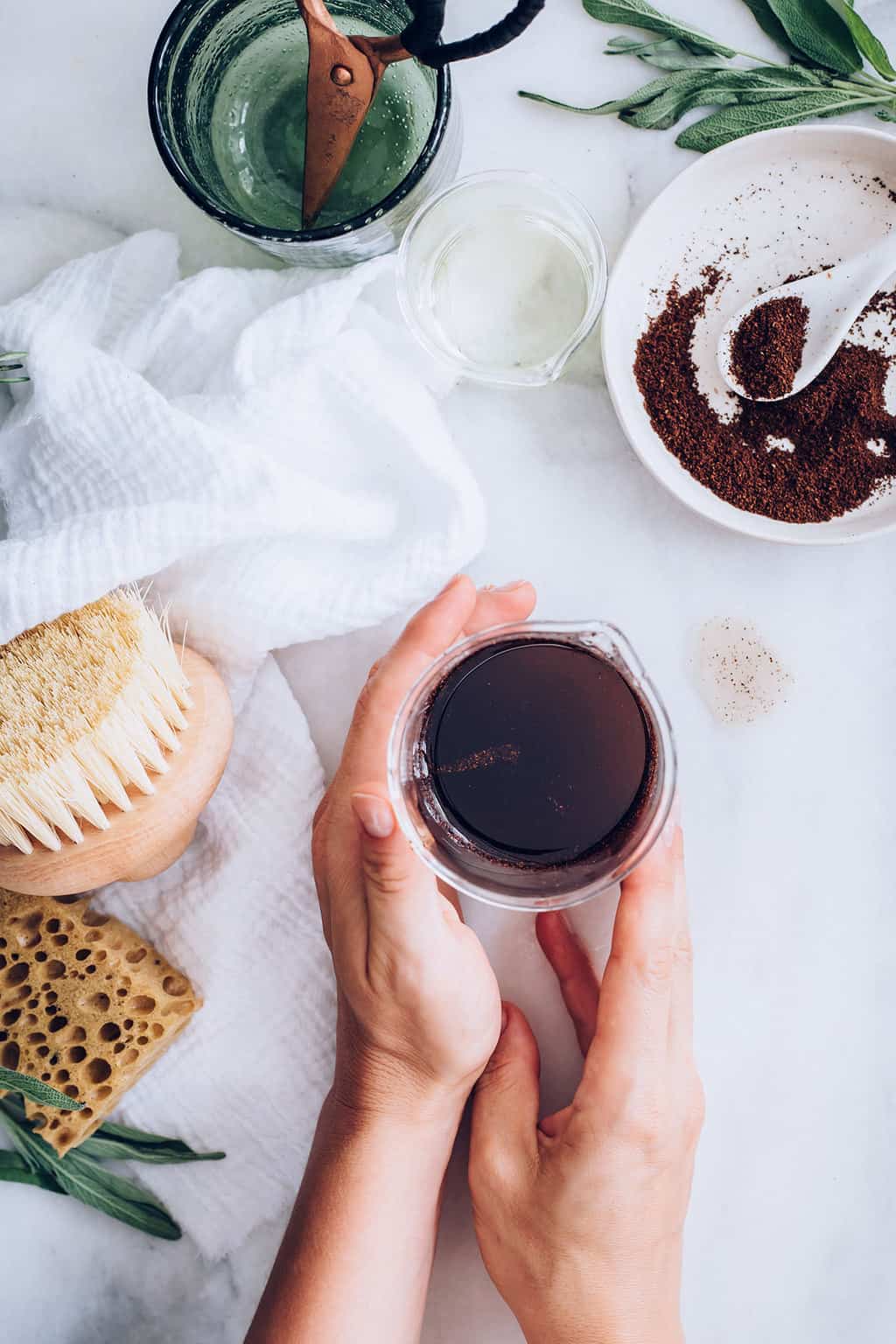 I went down the rabbit hole of cellulite remedies not long ago and went full-on into dry brushing, body wraps, cellulite massaging, and toning body oils. After trying out a couple of pricey cellulite body oils, I realized it would be insanely easy to re-create at home. I love a good homemade body oil, especially one that feels light on the skin and contains essential oils that do more than just smell good.
Jump to:
Toning Body Oil Ingredients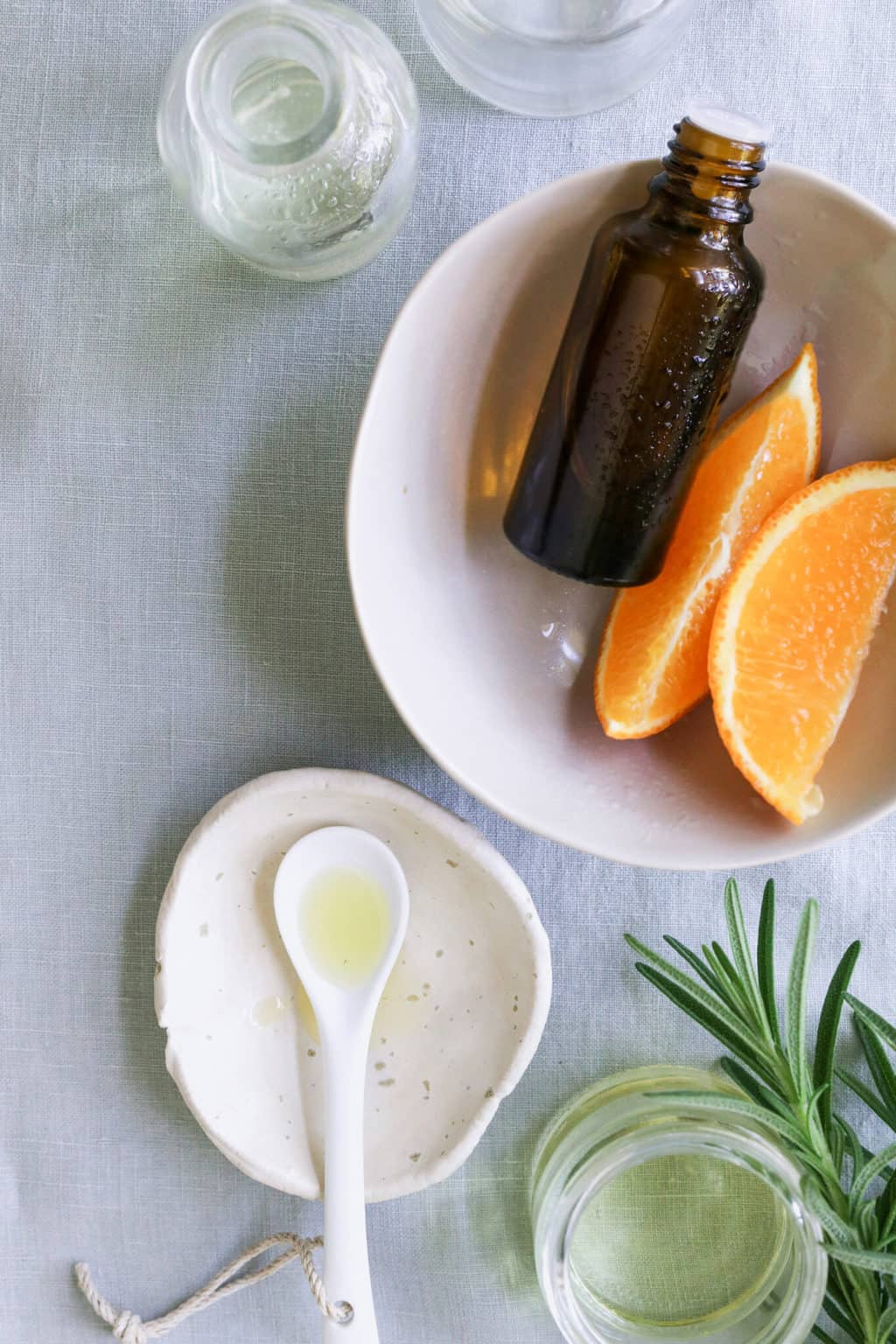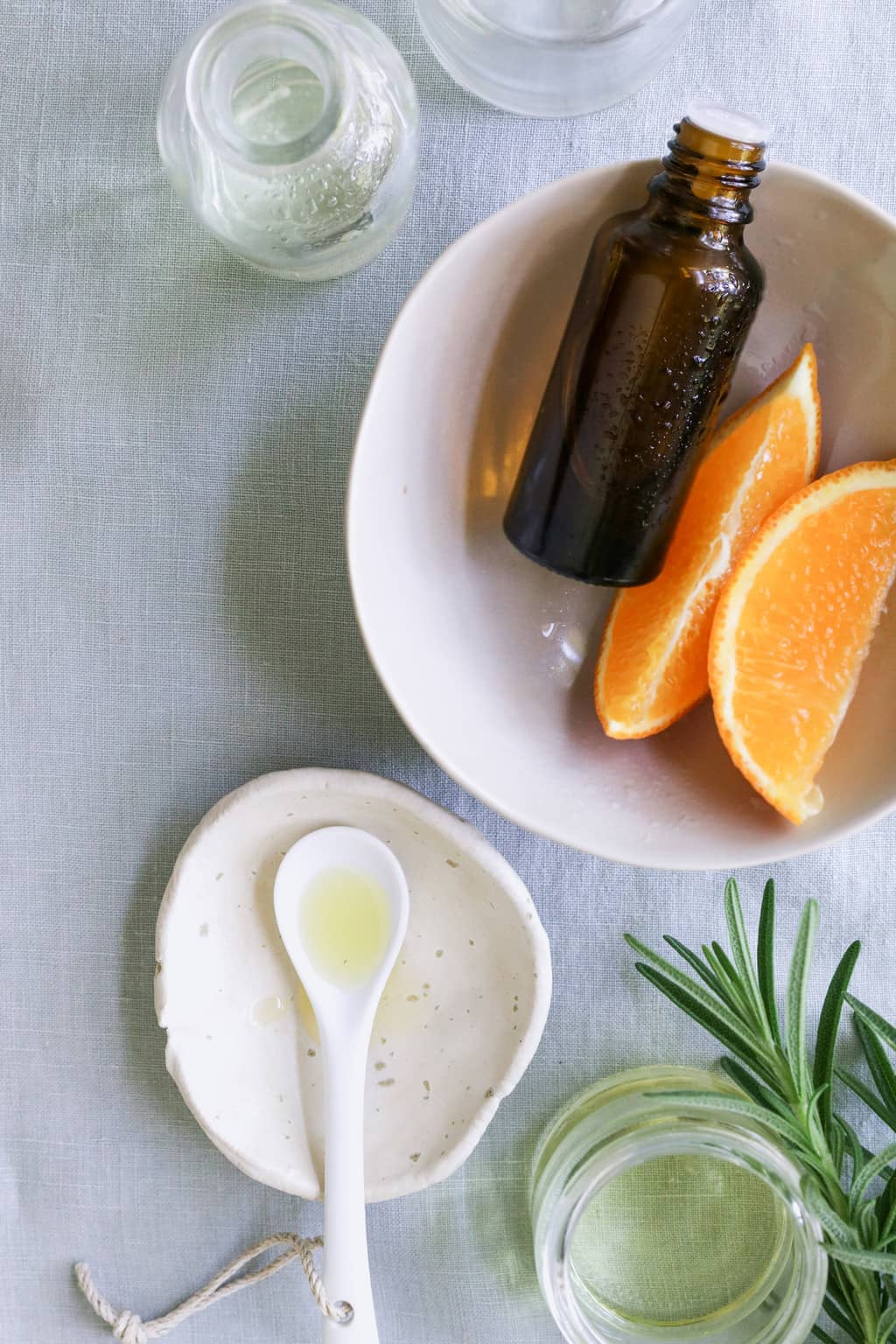 Coffee-infused carrier oil: Choose a carrier oil that suits your skin type. Common options include sweet almond, grapeseed, jojoba, coconut, or olive oil. Carrier oils provide a base for diluting essential oils and moisturizing the skin. Infusing the carrier oil with coffee adds caffeine, an active agent for battling cellulite.
Essential oils for cellulite: Select essential oils known for their skin-toning, circulation-boosting, and cellulite-reducing properties. Common choices include grapefruit, juniper berry, rosemary, cedarwood, geranium, and cypress.
Toning Body Oil Instructions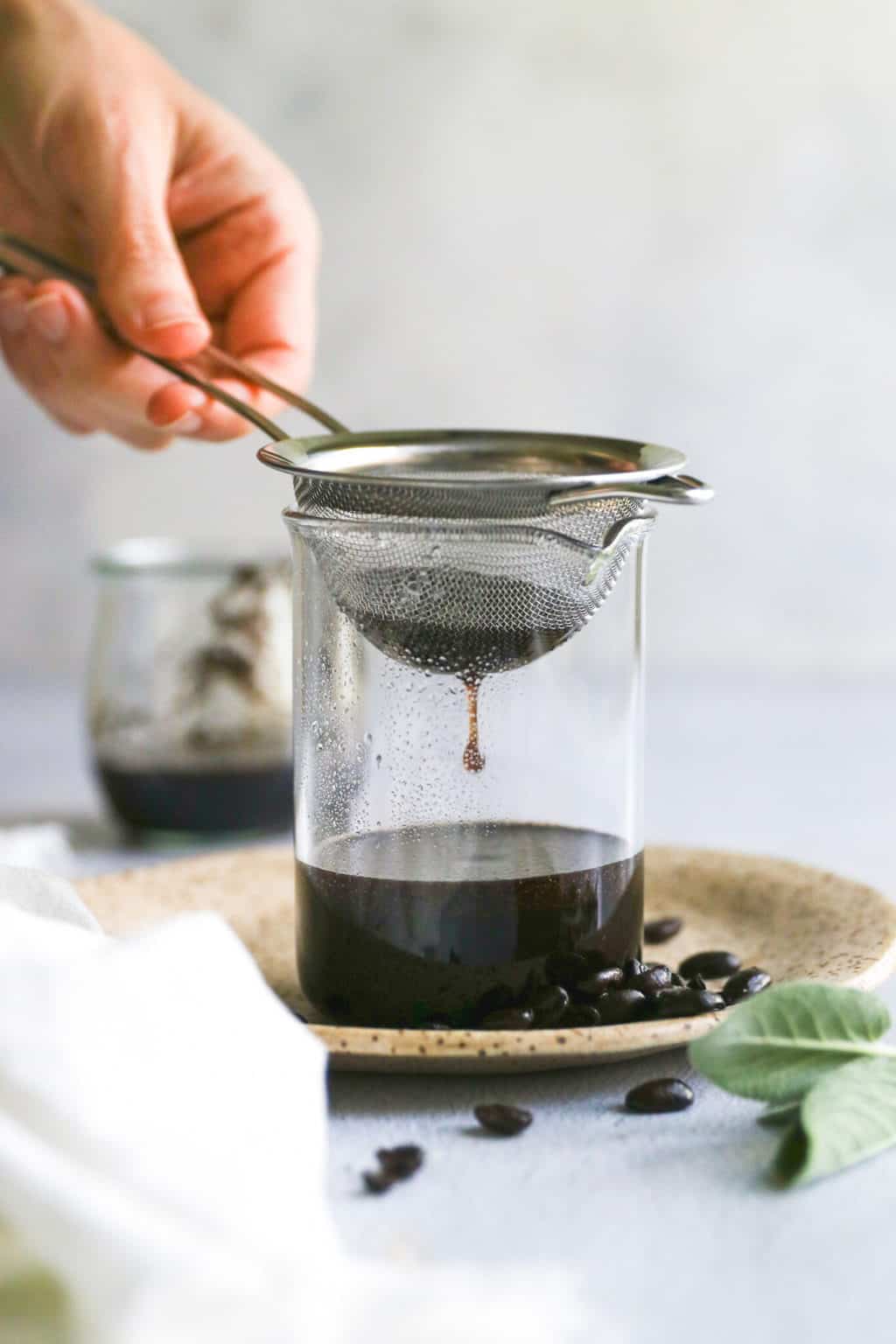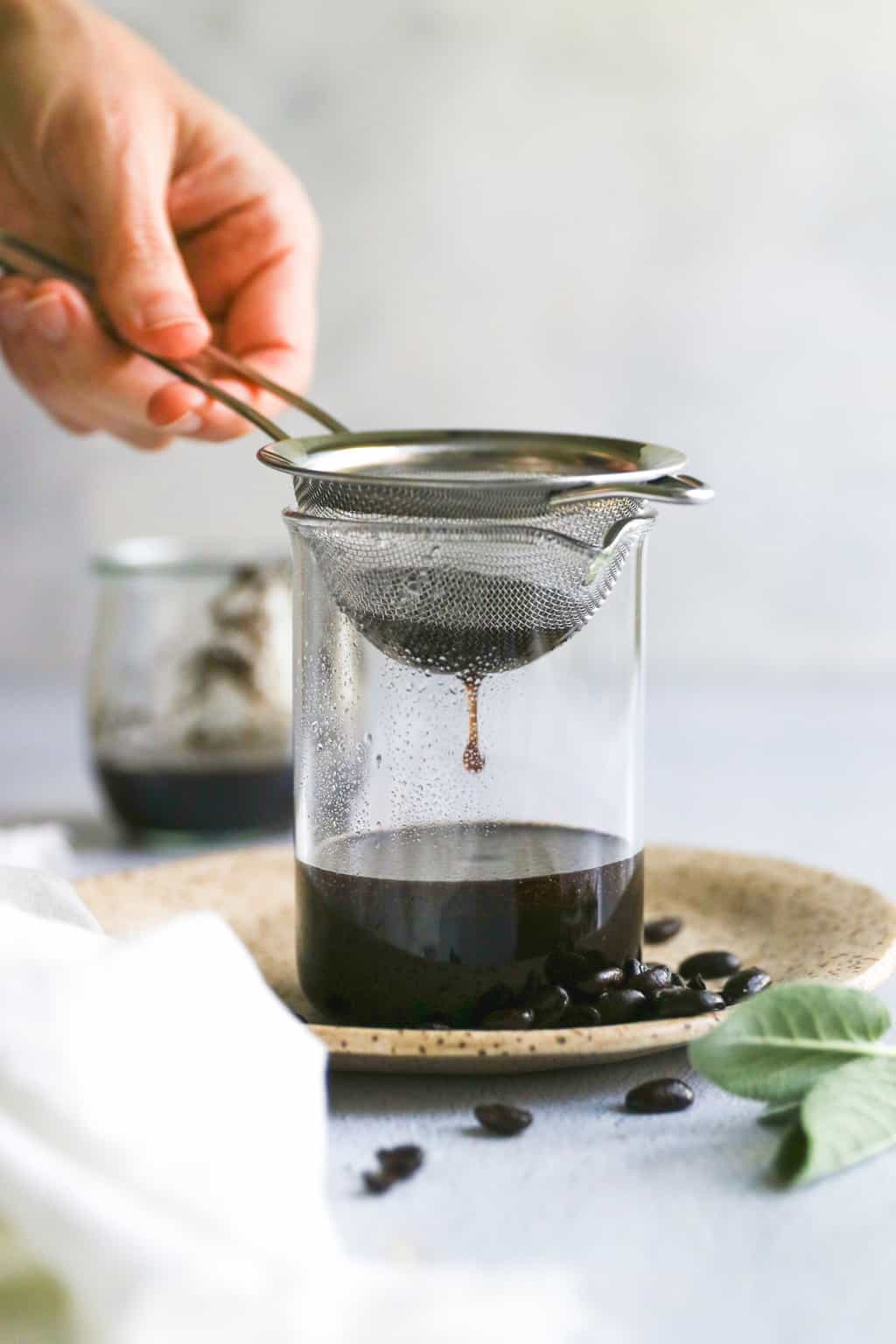 Infuse oil: Add ½ cup fresh unused coffee grounds and 1 cup carrier oil to the top of a double boiler and warm over low heat for 1 hour.
Let cool, then strain. Your coffee-infused carrier oil is ready for use.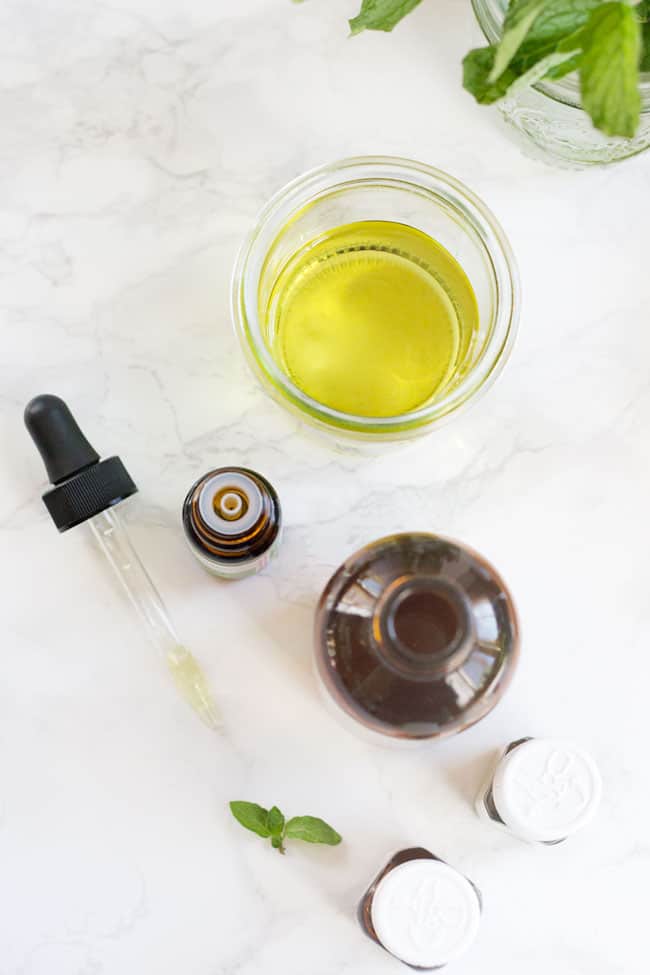 Add essential oil: Add essential oil drops to a glass bottle, then fill the rest of the way with the infused carrier oil. We used 18–27 drops of essential oils per ounce of carrier oil for a 2–3% dilution.
Replace the cap and shake to combine.
Best Cellulite Essential Oils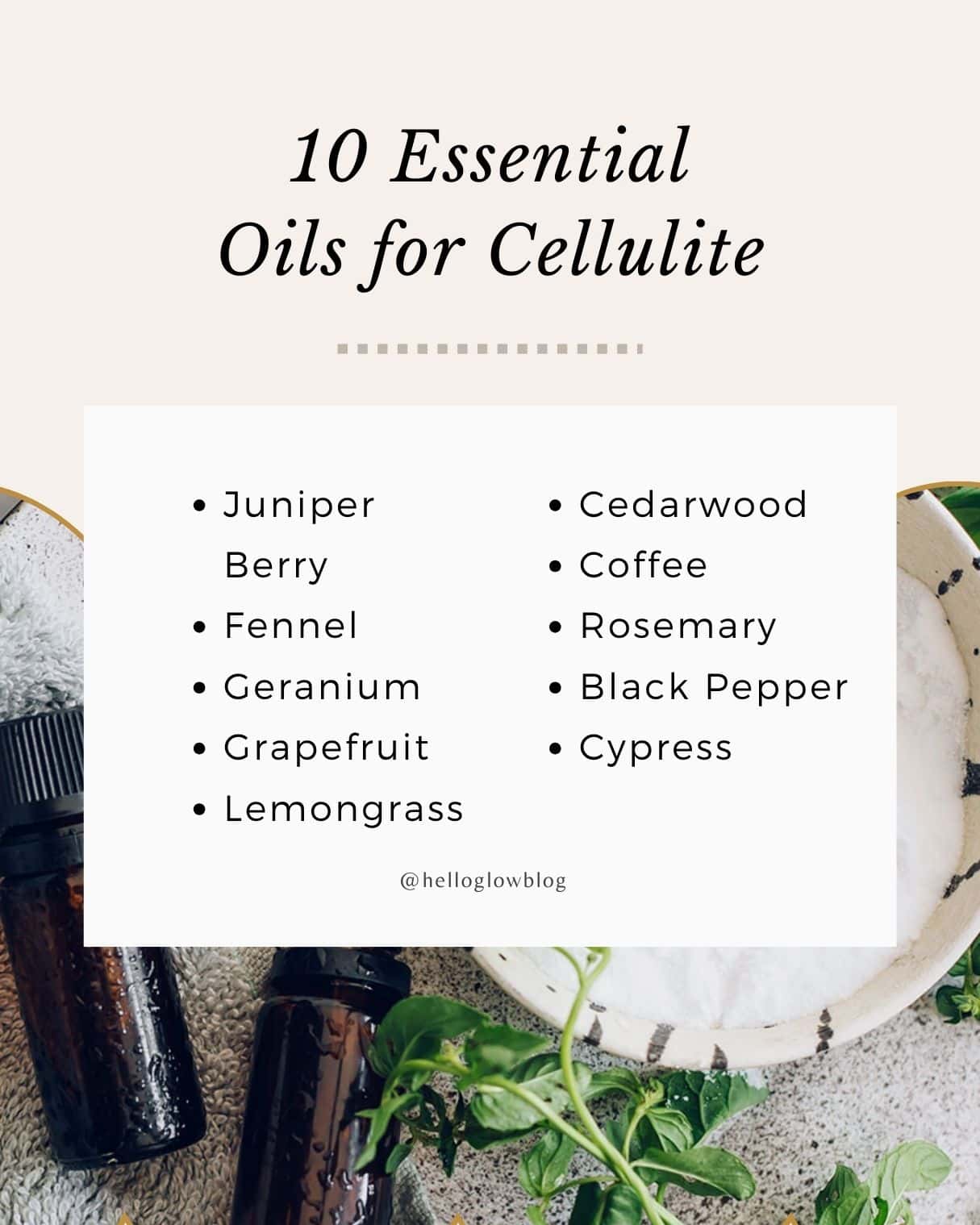 As with most things, adding essential oils for the skin can make the hydrating oil more effective. Here's a quick list of some of the best essential oils for cellulite:
1. Essential Oils To Reduce Puffiness
Create your own blend with essential oils and use a dry brush to help stimulate blood flow to and lymph flow from targeted areas of the skin.
Juniper Berry — Juniper berry's diuretic effects reduce fluid retention, while its antioxidant properties stimulate the circulation of blood and the lymph system to help the body clear out waste [source].
Fennel — Fennel has traditionally been used to relieve digestive upset like indigestion, cramps, and gas [source]. Those cleansing actions can also help your system work better to flush out toxins and reduce water retention.
Geranium — Geranium also has the ability to help stimulate circulation and support the lymphatic system [source], which can improve the appearance of cellulite.
2. Essential Oils To Tone Skin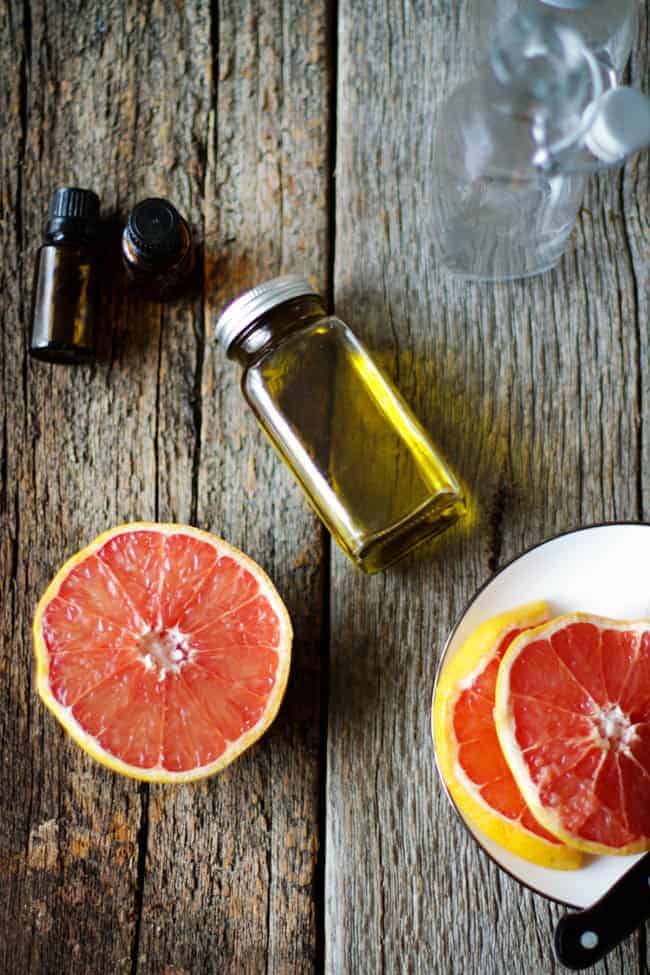 Grapefruit—A delightfully refreshing essential oil, grapefruit has long been considered beneficial for detoxifying and cleansing the body. It contains bromelain, an anti-inflammatory enzyme that can help promote circulation and support skin health [source]. Additionally, inhaling grapefruit can not only help boost your mood but it's also believed to help reduce food cravings [source].
Lemongrass—The uplifting aroma of lemongrass is refreshing and energizing. It is often used topically for cellulite, as well as to tone the skin [source].
Cedarwood—Cedrol, found in cedarwood oil, contains astringent, tonic, and diuretic properties—all of which are fantastic when dealing with cellulite [source]!
3. Essential Oils To Stimulate Skin
Coffee—Coffee essential oil contains a small amount of caffeine that energizes and stimulates the body. Topical caffeine is a known therapy for cellulite [source] because it prevents the storage of fat in the cells [source]. Plus, it has the same awakening aroma as your morning brew!
Rosemary—Because it's a strong astringent, rosemary is used topically for its diuretic and circulation-stimulating properties [source].
Black Pepper—Spicy black pepper essential oil has natural skin-warming properties. That heat also gets you sweating, which helps reduce fluid buildup and cleanses the body from the inside out.
Cypress—Although scientific evidence is lacking, cypress is one of the most commonly used and recommended essential oils for cellulite [source]. Like juniper, it is believed to contain diuretic properties that can help clear out excess fluids, and it's also commonly used to help boost circulation. Other useful essential oils include sweet birch, sage, and lemon.
10 Cellulite Essential Oil Blends
Try any of these combinations for a body oil, dry brushing oil, or massage oil. Always make sure to dilute your essential oils in a carrier oil before applying to the skin. We used 18-27 drops of essential oils per ounce of carrier oil for a 2-3% dilution.
1. Spicy Grapefruit
2. Woodsy
3. Coffee Pick Me Up
4. Sweet Citrus
5. De-Puff & Tone
6. Uplifting Blend
7. Smoke & Woods
8. Detox & De-puff
9. Coffee in the Woods
10. Warming Spice
Ways to Use Cellulite Body Oil
Body oil—The light body oil can be applied all over after bathing or showering to keep your skin hydrated.
Dry brush oil—To use for dry brushing, add 3–5 drops of the diluted oil into the palm of your hand. Glide the bristles of a dry brush across your palm, saturating them with the essential oil blend. Then dry brush as directed below.
Massage oil—Gently massage the oil into your skin using long, sweeping strokes in an upward direction to encourage lymphatic drainage and improved circulation. Aim for a 5–10 minute massage session to allow the oils to penetrate the skin. You can also use it in conjunction with a cellulite massage.
Bath oil—Add a few drops of the mixture to a bathtub of warm water. Rub any floating oil droplets into the skin as you soak.
How to Dry Brush for Cellulite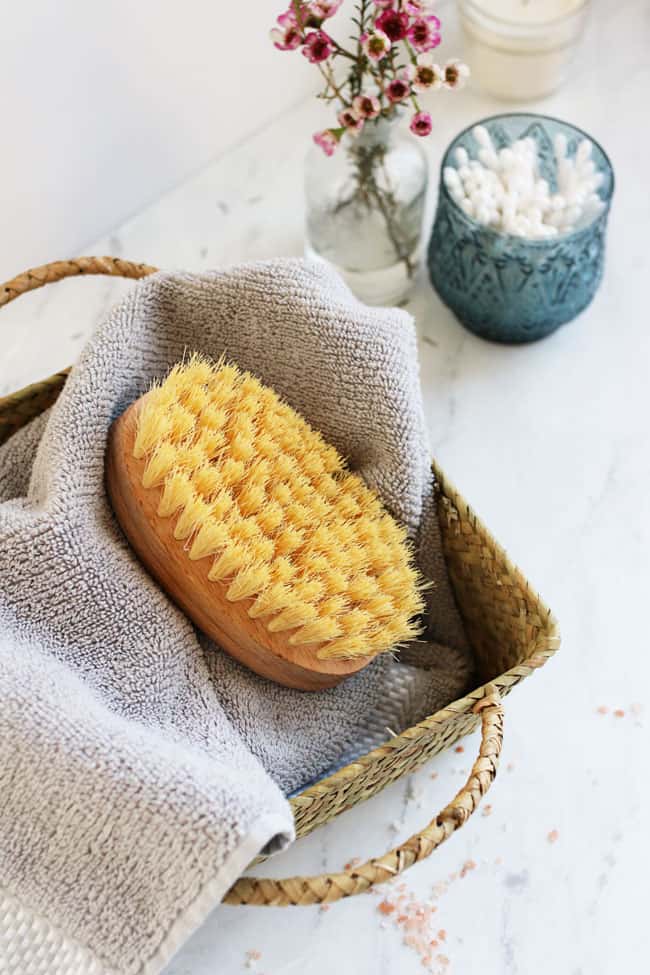 You've probably heard about some of the benefits of dry brushing. Like massage, which has been proven to treat cellulite [source], it gets your lymphatic system moving and revs up your circulation, which helps your body remove waste and smooth out cellulite. Plus, you're getting an excellent full-body exfoliation!
Here's a step-by-step guide on how to use a body brush effectively for cellulite:
Choose the right brush: Use a natural bristle body brush with firm, but not harsh, bristles to avoid over-exfoliating, which can damage sensitive skin.
Prepare your skin: It's best to use the body brush when your skin is still dry before showering or bathing.
Brushing technique: Begin at your feet and work your way up, moving toward your heart. Always brush in upward strokes, as this promotes lymphatic drainage and blood circulation. Use gentle pressure; there's no need to press too hard.
Brushing pattern: Use long, sweeping strokes. Brush each area of your body several times, but avoid brushing over sensitive areas or areas with cuts, bruises, or skin conditions.
Pay extra attention to cellulite-prone areas like the thighs, buttocks, and hips. Brush these areas in a circular motion to help break up fatty deposits. Brush your abdomen in a clockwise motion to follow the direction of your colon.
Brushing duration: Brush for about 5 minutes, gradually increasing the time as your skin becomes accustomed to it.
Shower or bathe: After brushing, take a shower or bath to wash away the dead skin cells and impurities that the brush has removed. Apply a coffee scrub to further minimize cellulite.
Consistency: For noticeable results in reducing cellulite, it's essential to use the body brush consistently, ideally every day or a few times a week.
Best Cellulite Body Brush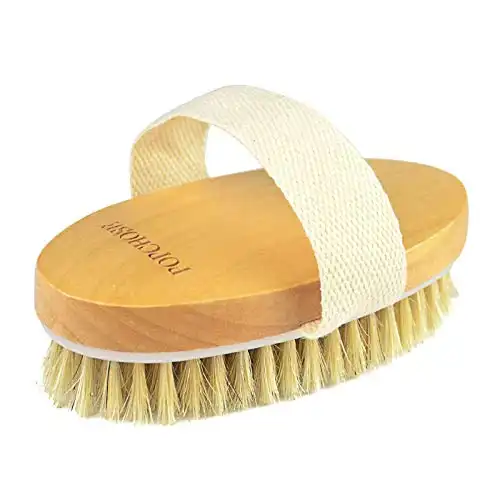 POPCHOSE Exfoliating Body Scrubber
Pros:
Made with natural boar bristles and real wood

Fits in your palm for an easy grip
Cons:
No handle so harder to reach back areas
$9.99 at Amazon
We earn a commission if you make a purchase, at no additional cost to you.
09/26/2023 06:14 pm GMT
FAQ
Can I dry brush and apply the oil every day?
Yes, 2 to 3 times a week is recommended, but you can dry brush and apply the cellulite body oil daily if your skin tolerates it well. However, be gentle and avoid excessive pressure to prevent skin irritation.
Should I dry brush before or after applying the cellulite body oil?
I like to use a small amount of oil to assist with my dry brushing (like 3 to 5 drops) and then apply cellulite body oil immediately after dry brushing or showering. Your skin is still warm and your pores are open, which can enhance oil absorption.
Can I use any essential oils for my cellulite body oil, or are there specific ones that work best?
While various essential oils can be beneficial for cellulite, some, like coffee, grapefruit, juniper berry, rosemary, and cypress, are known for their cellulite-reducing properties.
This post was medically reviewed by Dr. Holly Smith, a board-certified physician in nephrology and internal medicine with a background in nutrition. Learn more about Hello Glow's medical review board here. As always, this is not personal medical advice, and we recommend that you talk with your doctor.
397