Why does the skin around the eyes always exhibit the first signs of aging? Well, this skin is incredibly thin – actually the thinnest in the body. Along with that fact, we are constantly squinting and smiling to form repetitive wrinkles. On top of that, the lack of oil glands around the eyes make this skin especially susceptible to damage from our lifestyle choices. Oil glands keep our skin moist and hydrated and stem cells from the follicles help the skin to repair.
Since the eye skin is deficient in this ability, it needs some extra TLC. So, let's talk about how we can step up our eye game to avoid those pesky lines and crow's feet. A few simple changes will benefit anyone who wants healthy skin around your eyes includes:
hydrate with water – increase your daily water intake. Water will keep your skin properly hydrated and allow your lymphatics under your eyes to drain impurities.
treat allergies – if you have inflammation around the eyes due to seasonal allergies, get to the root of the allergy. If you are itchy, it is especially important not to rub your eyes as this will lead to dark circles. Instead, apply a cool compress or cool chamomile tea bags to the area.
exercise regularly – increased blood flow delivers nutrients and removes waste build up and supports renewal.
get plenty of sleep – this is when it all happens. Your body needs a break to regenerate and repair.
eat whole foods – Processed foods with chemicals make you inflamed, bloated, and it shows with puffy eyes.
protect – wear sunglasses and an under-eye sunscreen. UV radiation is #1 cause of collagen breakdown and thin eye skin is especially susceptible.
use a nightly eye cream – nourish your skin from the inside AND from the outside.
All of the above tips are wonderful for overall under-eye health, but there's even more we can do to treat this delicate area of the face! Weekly eye masks can help target different under-eye needs, from locking in moisture to de-puffing.
Puffy Eye Mask – Cucumber & Rose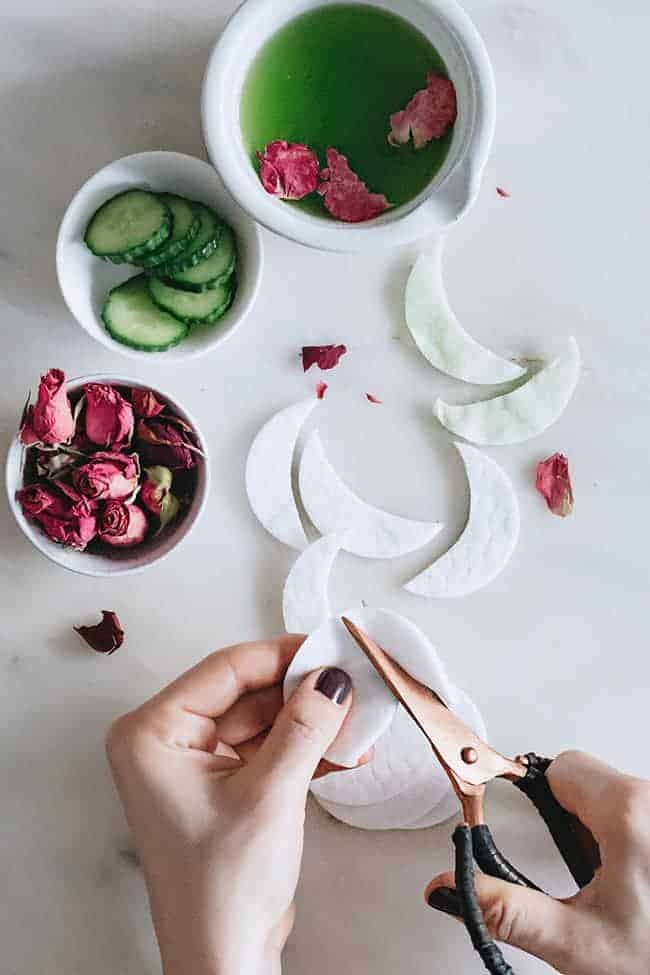 Ever wonder why sliced cucumbers are common additions in photos, television and movie scenes featuring face and eye masks? Rich in ascorbic acid and phytochemicals, cucumbers help tighten and soothe skin.
But instead of placing cucumber slices over your closed eyelids, this blended mask will reach the inner and outer corners of the eyes with concentrated vitamins and minerals.
Cut your cotton rounds into two half moon shapes. This mask should make quite a few pairs, so cut more than you think you'll need.
In a blender, puree the cucumber and rose water until liquified. Transfer to a bowl, then soak the cotton rounds in the mixture, squeezing out excess and then re-soaking for optimal absorption. Store the extra soaked cotton rounds in a Ziploc bag in the freezer for future use.
Thaw the eye pads for about 10 minutes before you use them, but make sure they are still cool as the temperature will also help with reducing puffiness. To apply, place the half moon eye pad underneath the eye, making sure to apply close to the bottom lash line. Leave on for 10-15 minutes.
Wrinkle Fighting Eye Mask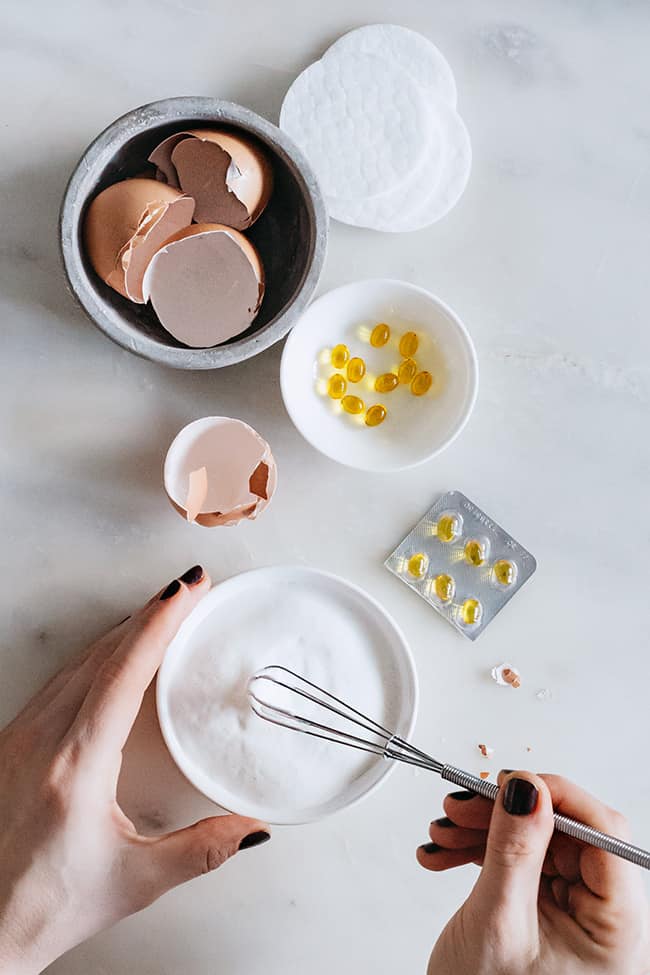 You'll find egg whites in many anti-wrinkle masks for the face, and the eye area is not an exception. Egg whites have been known to reduce the appearance of fine lines, while antioxidant rich vitamin E fights free radicals.
Vitamin E is extremely hydrating and often is used to treat eczema or psoriasis, thus a great ingredient for the dryer area around the eyes. Vitamin E can be extracted from vitamin E capsules or purchase a separate vitamin E oil for the following eye mask recipe.
2 egg whites separated from the yolk
1 capsule or 5 drops of vitamin E
Beat the egg whites until they're frothy and then mix in the vitamin E oil. Apply the mixture with your fingertips or a makeup brush to the under-eye area, careful not ignore the outer edges of the eyes where expression and squint lines form. Leave on for 10 minutes.
931