Citrus oils are by far some of my favorite essential oils. I am naturally drawn to their bright aromas, and I always find comfort in them—especially bergamot. I enjoy the distinct fragrance that is neither as sharp as lemon nor as sweet as orange, but somewhere in between. It is definitely unique, and I absolutely love it!
The aroma of bergamot is frequently used in personal fragrances like perfumes and colognes, and it's even a key ingredient in Earl Grey tea!
Not only does it smell fantastic, but it's also a great stress-relieving essential oil (most citrus oils are) [source]. It helps to promote a calm yet uplifting environment. In fact, when I'm creating blends for stress and anxiety, I almost always include it in my formulations.
However, bergamot isn't just beneficial for stressful times. It also has a number of therapeutic properties that can benefit the skin and more.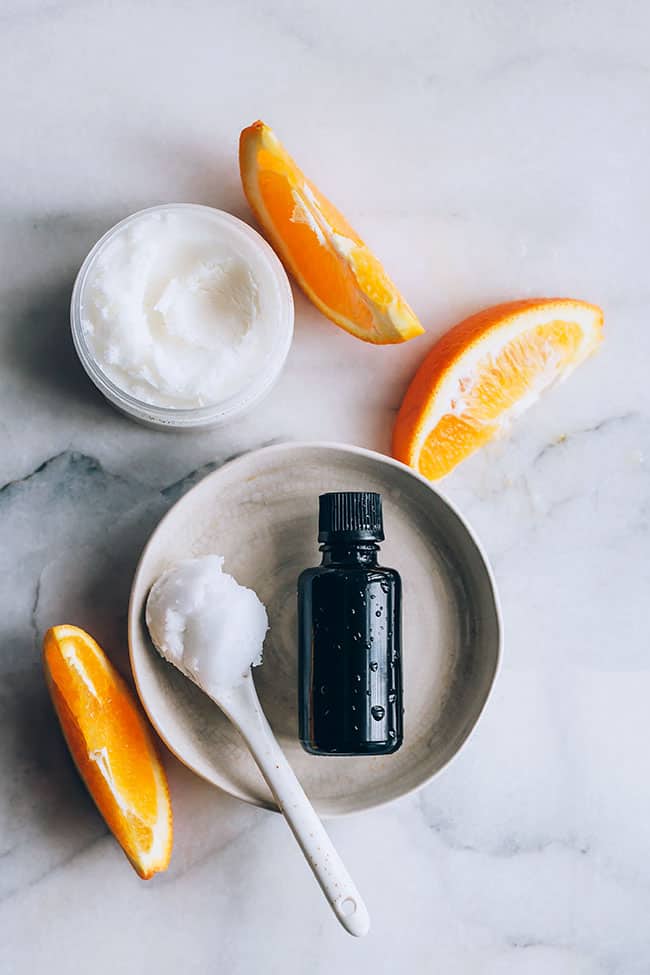 Uses for Bergamot
Skin Cleanser

Acne

Wounds

Sores

Infections

Eczema

Psoriasis

Anxiety

Stress

Depression

Insomnia

Colds
In general, bergamot is useful for a number of skin conditions. It's a great antibacterial and even has pain-relieving properties, so it can work nicely as an option for acne, wounds, sores, bug bites, and more [source]. As with all essential oils, just a small amount is needed, making it incredibly cost-effective.
I do want to mention that bergamot is a phototoxic essential oil. Because of this, there is potential for skin sensitization if it is used topically, and then you're exposed to sunlight, according to Essential Oil Safety. However, if you properly dilute and follow the recommended uses, you can greatly reduce the risk of sensitization.
Tips for Using Bergamot Topically
Never use bergamot undiluted on the skin.

Don't use bergamot on your skin if you have sensitive skin.

Do a patch test first to test for skin sensitivities.

To avoid phototoxicity, don't use bergamot in dilutions higher than 0.4%.

Avoid sunlight exposure for 12 hours after using bergamot on the skin, especially with higher dilutions.
You can keep things simple by adding bergamot to existing body care products, or completely customize your skincare routine by formulating your own products—the choice is yours!
Bergamot can be used for different skin types, including:
Acne-prone skin

Oily skin

Skin with wounds or sores

Skin with eczema or psoriasis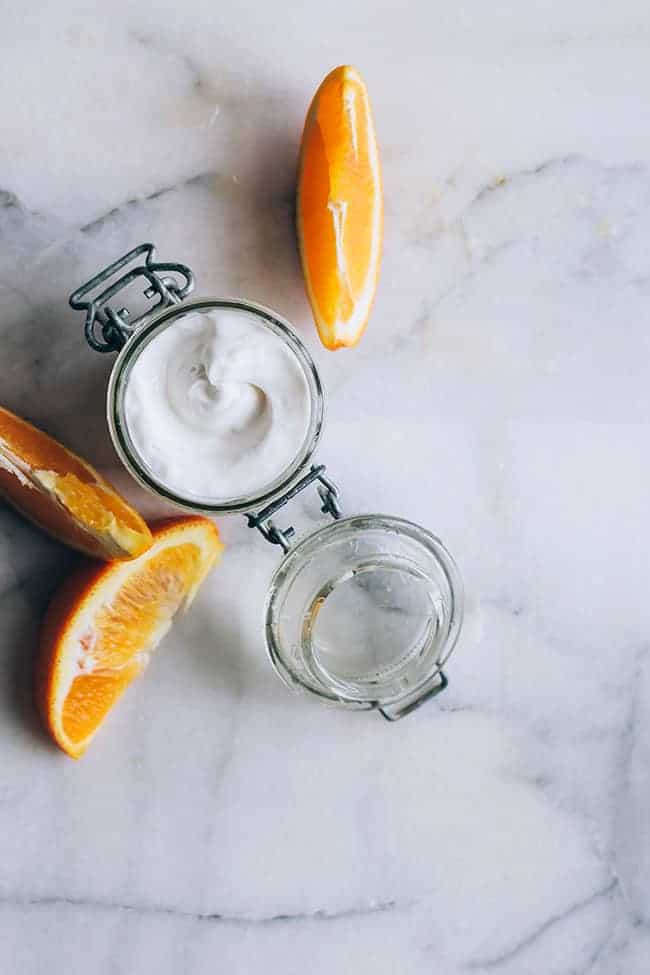 DIY Recipes with Bergamot
There are so many ways that you can use essential oils in your skincare products, and the same is true for bergamot. You can either use it to create your own unique formulations or you can add it to some of your store-bought body care products—like shampoo or facial cleansers.
Creating your own skincare products gives you the freedom to customize each recipe to suit your specific needs. Not to mention the fact that it's significantly cheaper and you don't have to worry about harmful ingredients.
Below, I've included three skincare recipes that include bergamot. However, these recipes are just a start. Feel free to get creative and come up with your own combinations to include this amazing essential oil in your daily routine.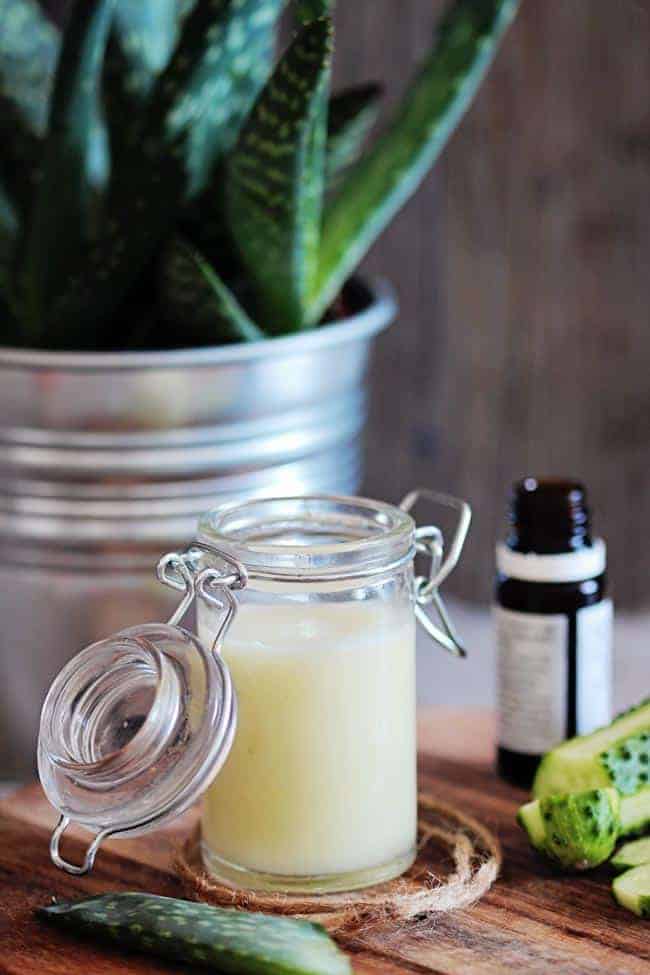 1. Facial and Hair Cleanser
One of the simplest and most effective ways you can use bergamot is as a cleanser for your skin and hair. It can be especially beneficial if you're prone to oily skin, acne, or psoriasis.
What's more, the antibacterial properties in bergamot can help eliminate bacteria [source] that may be contributing to inflammation and ensure that your skin, scalp, and hair are really getting clean.
2 oz of facial cleanser or shampoo

6–7 drops of bergamot essential oil

Mix well and store in a dark-colored bottle.
2. Facial and Body Scrub
I think a lot of times we underestimate the benefits of body scrubs. They may actually be quite therapeutic in numerous ways based on the ingredients used.
Not only can they stimulate circulation and lymph flow, but they also exfoliate the skin and give you a fresh, youthful look. As an added bonus, when you use bergamot in your scrubs, you get the acne-fighting action and stress-relieving benefits as well. A win-win!
½ cup grapeseed, sweet almond, olive, coconut, or jojoba oil (or other skin-nourishing oil of your choice)

1 cup sugar

10–15 drops bergamot essential oil

Mix bergamot essential oil and the carrier oil and then combine with the sugar.

Mix well and store in a mason jar.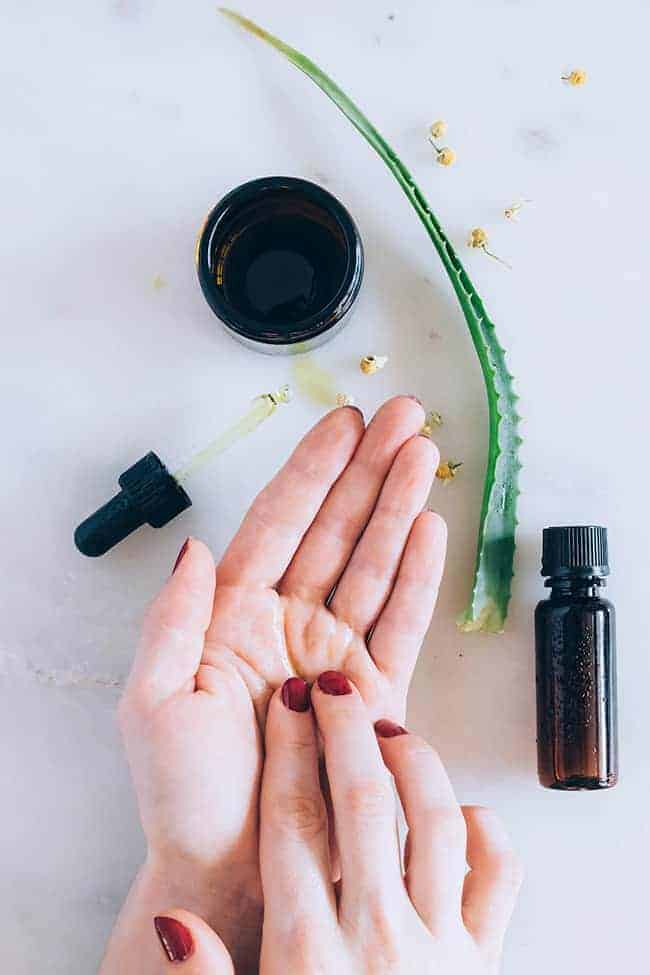 3. Acne Facial Gel Spot Treatment
As I mentioned above, not only does bergamot contain antibacterial properties, it has pain-relieving properties as well [source]. So, if you struggle with painful, cystic acne (I know I'm not the only one) or just acne in general, then this is the recipe for you.
You can either make a gel by using organic aloe vera gel, or you can make a facial oil with a skin-nourishing carrier oil—like rosehip or jojoba. It is great to have the option to use a healing application for your face that does not incorporate all of the chemicals found in store-bought solutions.
Feel free to use this recipe as a spot treatment or as a daily part of your skincare routine. You can even add in other skin-supporting essential oils—like frankincense or helichrysum!
No time to DIY?
You might want to try these bergamot natural beauty products instead: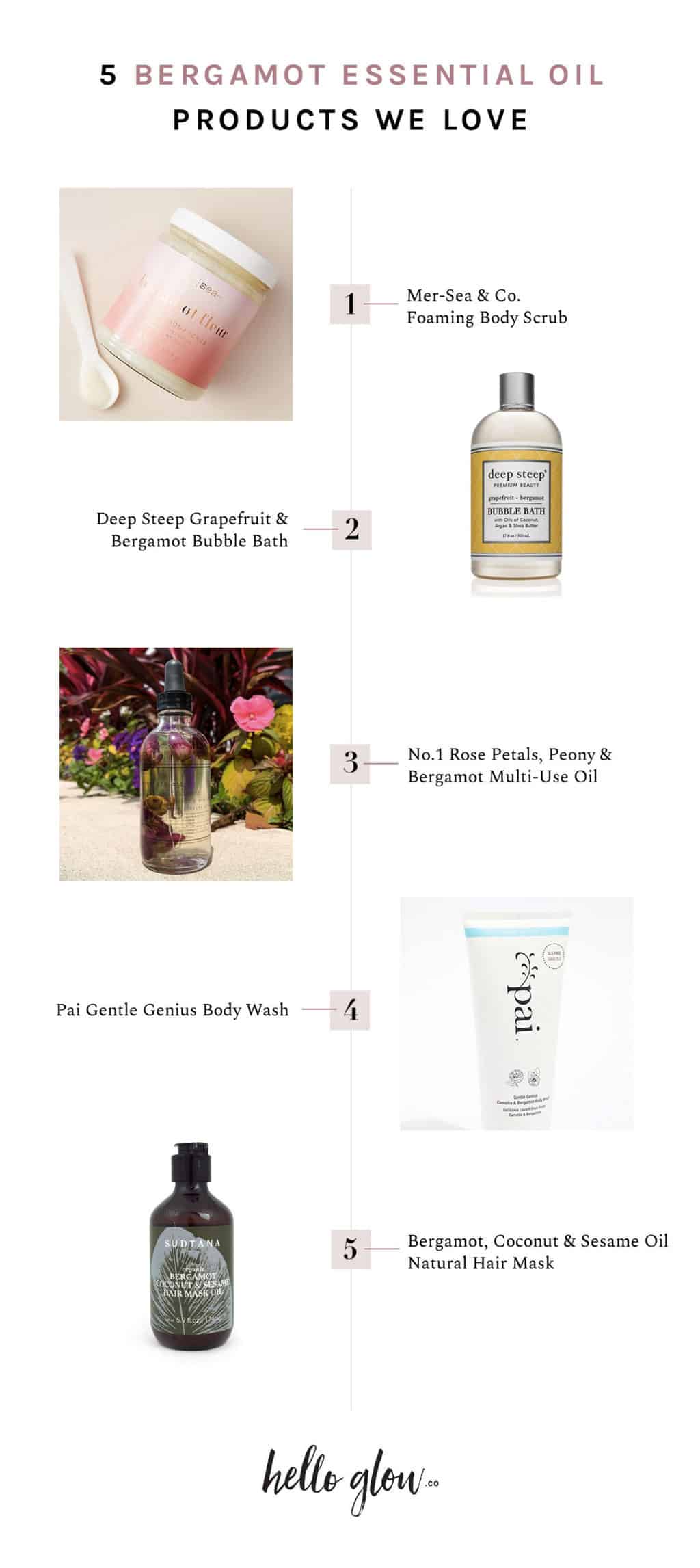 1. Mer-Sea & Co. Foaming Body Scrub, at Anthropologie 2. Deep Steep Grapefruit & Bergamot Bubble Bath, at Target 3. No.1 Rose Petals, Peony & Bergamot Multi-Use Oil, on Amazon 4. Pai Gentle Genius Body Wash, at Free People 5. Bergamot, Coconut & Sesame Oil Natural Hair Mask, on Amazon
59