This article was written by a licensed aromatherapist and medically reviewed by a board-certified physician.
There's just something so homey about the smell of cinnamon. It reminds me of fall and pumpkins and homemade baked goods. In fact, I frequently sneak dried cinnamon into my recipes—pancakes, cookies, sweet breads, and sometimes even my salsa. Not surprisingly, I love cinnamon essential oil just as much as the dried spice, and I use it just as much.
Read on to ways to use it!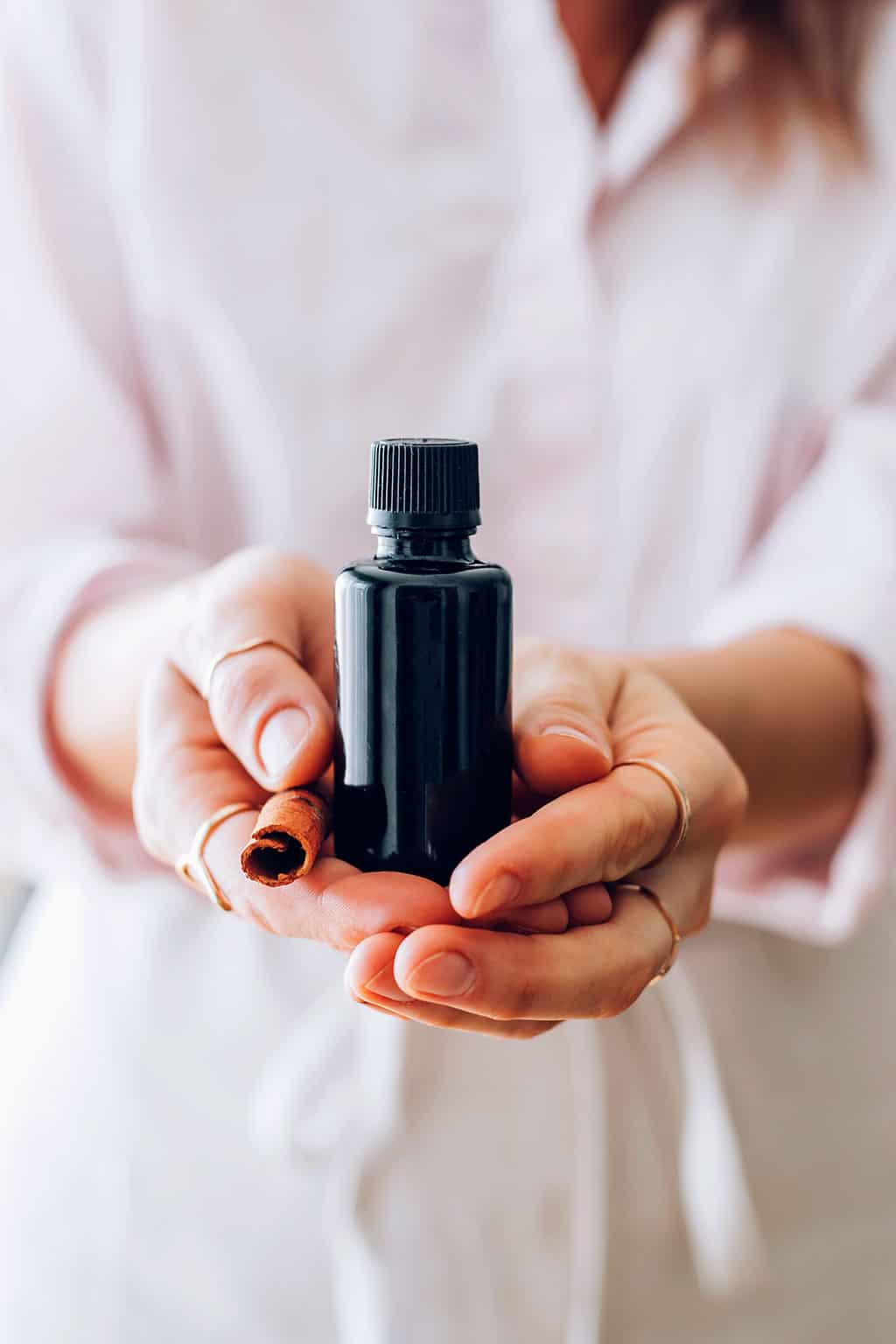 Benefits of Cinnamon Essential Oil
Cinnamon has a long history of use as an herbal medicine. Traditionally, it's been used to support the overall health of the body, including the digestive and cardiac systems, as well as the skin.
Additionally, it's a beloved culinary spice that is loved all over the world due to its sweet and spicy flavor. The essential oil of cinnamon is also incredibly versatile and has many benefits.
Antimicrobial
Cinnamon essential oil is a potent antimicrobial. It actually has antiviral [source], antibacterial [source], and antifungal [source] properties, making it a fantastic choice for anti-germ diffuser blends or cleaning formulations. It's a go-to in my house during cold and flu season for sure!
Anti-inflammatory
There is no doubt that cinnamaldehyde, the primary active compound in cinnamon essential oil, is a potent anti-inflammatory [source]. It has been shown to curb the effects of cells involved in inflammatory skin conditions [source]. Look for it in creams for joint pain or moisturizers for dermatitis or other causes of red, itchy skin.
Respiratory
Cinnamon is a great oil to consider when dealing with allergies, coughs, colds, or other respiratory issues. A small study conducted in 2014 found that cinnamon essential oil was beneficial for individuals struggling with seasonal allergy symptoms [source]. I frequently use it during cold and flu season since I find the spicy aroma to be especially beneficial when dealing with respiratory viruses.
Deodorizing
Cinnamon is hands down one of the best essential oils for eliminating unwanted odors and freshening up the air. Historical accounts refer to its use in Egypt for embalming and ancient Rome for funerals [source].
It works amazingly well as a bathroom spray or in a diffuser to freshen up stagnant, stinky air. I choose cinnamon every single time I need to make the house smell better.
Aphrodisiac
Cinnamon has long been considered a natural aphrodisiac. The warm, spicy aroma is comforting, but it has stimulating effects as well. In fact, an animal study conducted in 2013 found that treatment with cinnamon oil greatly increased sexual function in aged rats [source].

6 Easy Uses for Cinnamon Essential Oil
While there are a number of ways that you can use cinnamon essential oil – really, you're only limited by your imagination – there are a few tried and true ways that I find myself using this incredible oil over and over again. Here are just a few:
1. Anti-Germ Diffuser Blend
I use cinnamon in all my anti-germ blends during cold and flu season. I like the potent antimicrobial power that it brings to the table, and I'm in love with the aroma.
Just make sure not to overdo it with the cinnamon—it's pretty potent and can quickly overpower any blend if you use more than a drop or two. Here's a great anti-germ essential oil diffuser blend:
-1 drop oregano
-2 drops cinnamon
-3 drops lemon
-4 drops lavender
2. Deodorizing Room Spray
This is my favorite way to use cinnamon oil. Any time I need to freshen up the air somewhere, I always add cinnamon to the mix. One of the great things about room sprays is that they can easily be packed up and brought with you to different areas of the house or even on a trip!
Just follow these instructions on how to make your own room spray, and use any combination of essential oils that you prefer—although I'm partial to this recipe myself:
-5 drops cinnamon
-10 drops cedarwood
-15 drops orange

3. Natural Perfume
Making your own natural perfume is one of the most enjoyable ways to use essential oils. With this Perfume Guide, you can make solid, spray, or roll-on perfume—whichever you prefer!
Just don't be afraid to experiment with different combinations. You'd be surprised at how enchanting a drop of cinnamon combined with 5–10 drops of jasmine and 10–15 drops of vanilla essential oils can be!
4. Chest Salve
A respiratory chest salve is a great way to utilize the numerous benefits of cinnamon essential oil. But remember, it's a very potent oil; you don't want to use more than a couple of drops so that you can avoid potential adverse reactions.
To make the most of your salve, combine cinnamon with other essential oils that are good for combating congestion. This a great base salve recipe to get you started. Just swap out a couple of drops of one essential oil for the same number of drops of cinnamon.
5. DIY Candles
Making your own non-toxic candles can sound intimidating, but it's actually incredibly simple—especially if you use your slow cooker! Cinnamon is a fantastic fragrance choice for DIY candles because the aroma is stronger than most.
It's a great aroma on its own, but it would pair especially well with other essential oils like ginger, clove, nutmeg, vanilla, chocolate, or even coffee. Try these fun pumpkin candles.

6. Seasonal Diffuser Blends
Listen, if candles aren't your thing, maybe diffuser blends are the way to go. I love the holidays, and some of my favorite things about that special time of year are the amazing smells that seem to be permeating every building. However, I do prefer to scent my house with natural options as much as possible, and I don't use a ton of candles.
This is where diffuser blends come in handy. With just a handful of essential oils, you can create a number of unique blends to make your house smell festive without worrying about a lit candle. Here are two of my favorite seasonal essential oil diffuser blends:
-2 drops cinnamon
-2 drops clove
-5 drops vanilla
Or
-2 drops cinnamon
-4 drops pine
-5 drops orange
As you can see, there are a ton of ways you can use cinnamon oil around your house. The spicy aroma lends itself particularly well to deodorizing and freshening up the air, but there are numerous other options for using this amazing oil as well. I encourage you to experiment and see which ways are your favorite!
This article was medically reviewed by Dr. Gina Jansheski, a licensed, board-certified physician who has been practicing for more than 20 years. Learn more about Hello Glow's medical reviewers here. As always, this is not personal medical advice and we recommend that you talk with your doctor.
Photos by Ana Stanciu
13