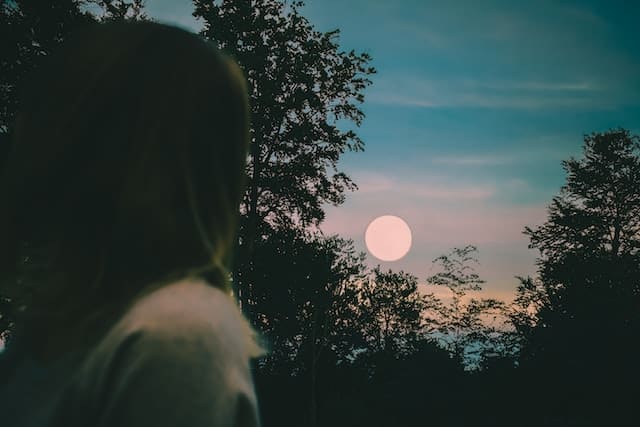 Full moons are all about energy and illumination. Since the moon's surface is lit fully by the rays of the sun, energetically, it is similarly thought to be a time when aspects of ourselves and our lives that may have previously been neglected, hidden, or in shadow are brought into the light.
While this may be challenging depending on what comes to the surface, this illumination allows us to see things more clearly and consider with discernment what cycles we need to close out or release. It's the perfect time of the month to schedule final presentations, culminating tasks, and deep house cleaning—anything that's about letting go of the old, the clutter, the things we no longer need to make space for what we are more closely aligned with.
Full Moon Rituals
There are so many different ways you can work with this potent full moon energy. While it's not considered to be the best time to plant seeds, set new goals, or kick-start new projects, it aligns well with getting grounded, reflecting on what no longer serves us, and figuring out ways to make space for new energies to come in.
Full moon focus: reflection, illumination, release
Mantra: all endings make way for new beginnings
Key crystals: moonstone or howlite, as both are great for intuitive work, healing, and letting go
Full moon activities
:
—Reflect on your recent achievements and completed goals.
—Write in a journal, identifying elements that have served their purpose and are ready to be released.
—Have a moon bath.
—Make moon water.
—Do a tarot reading on what your higher self would like you to release.
—Charge your crystals under the full moon light.
—Get grounded and meditate, incorporating crystals and essential oils to enhance the experience.
—Practice pranayama or breath work that focuses on the exhalations, which is a key release-and-relax signal to our nervous systems.
Full moon essential oils + aromatherapy
Essential oils have marked effects on our moods and minds, and finding the right notes and blends to either balance or enhance certain energetic states is key. When we are in a stimulating full moon phase, we may feel buzzed and scattered, a bit ungrounded, and in need of some emotional regulation. Quality sleep is also harder to come by at this peak of lunar light, so selecting oils that are deeply relaxing can help take the edge off during those few nights before and after as well.
Best single oils for the full moon
Use a few drops of grounding, neutralizing, and relaxing oils in your moon bath or in a reed or vaporizing diffuser. Whip up a batch of linen spray to create a more restorative vibe before bed—our blend uses lavender, which would work well here, though you can switch it up with any of these other tranquil oils.
Grounding full moon roller blends
For daily use, combine 4 drops of essential oil per 10-mL bottle, diluted with your favorite carrier oil such as fractionated coconut oil, jojoba oil, or almond oil. If you have sensitive skin or will be using this on kids, you can read more about essential oil dilution rate guidelines here.
The following blends are simple and focus on balancing the notes of two complimentary oils. To help manage the high-vibe full moon through energy and mood regulation, try pairing two drops each of the following essential oils:
—clary sage and cypress
—ylang ylang and frankincense
Full moon diffuser blends
Aromatherapy support can offer some welcome respite from the amplified energy and internal upheaval that can often accompany a full moon. These diffuser blends are earthy and restorative, perfect for use in a chill yoga or silent meditation session, to create a feeling of ritual around reflective journaling or tarot reading, to clear any heavy air, or to guide you toward a restful night of sleep.
Each of these diffuser blends is meant to be diluted in 200 mL of water.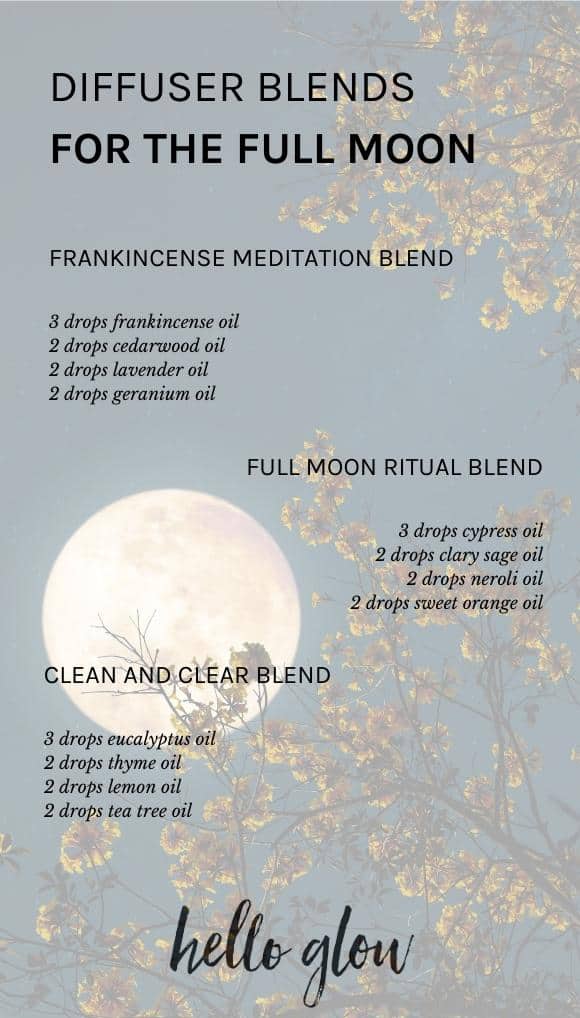 1. Frankincense meditation blend
Long used in special rituals [source] and for its ability to enhance relaxation and focus in meditation, frankincense is also a deeply grounding scent.
—3 drops frankincense oil
—2 drops cedarwood oil
—2 drops lavender oil
—2 drops geranium oil
2. Full moon ritual blend
When you want to observe some quiet time for reflection, card reading, or contemplation, this blend will help you maintain clarity and focus—the boon of a full moon blitz—while still keeping you settled.
—3 drops cypress oil
—2 drops clary sage oil
—2 drops neroli oil
—2 drops sweet orange oil
3. Clean and clear blend
Full moons are all about clearing out the old—metaphorically and literally. This fresh blend compliments that work, whether you're deep cleaning, sorting, discarding, or tending to some more internal emotional business.
—3 drops eucalyptus oil
—2 drops thyme oil
—2 drops lemon oil
—2 drops tea tree oil
Want to celebrate a new moon? Learn how here.
Photo by Emilia Niedźwiedzka on Unsplash
13