You know that old saying, "energy is contagious"? Well, at no point has that been more obvious than a couple of years into a pandemic—but, uh, who's counting? After being stuck inside for most of that time, my home is in desperate need of an energetic cleanse. Moon water—a simple way to boost intuition, clear energy, and bring your blessings—is a great tool for energetically cleansing your body, environment, or sacred objects. And it's incredibly simple to make, too.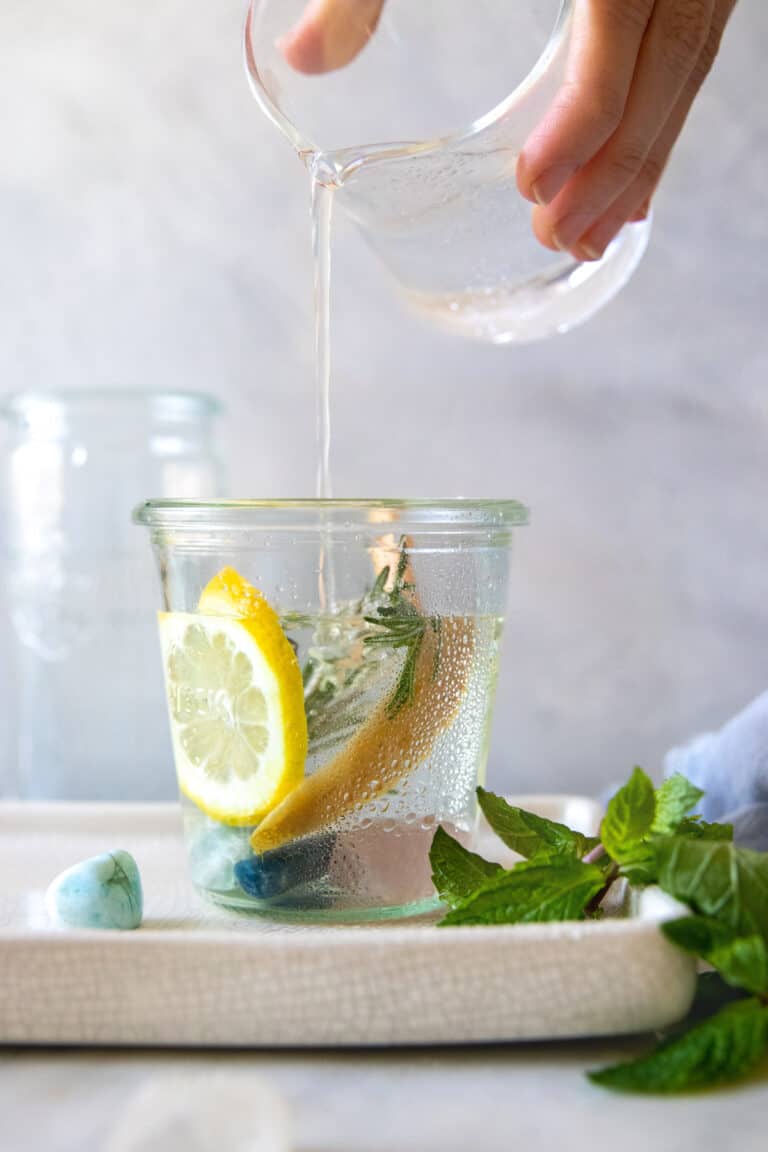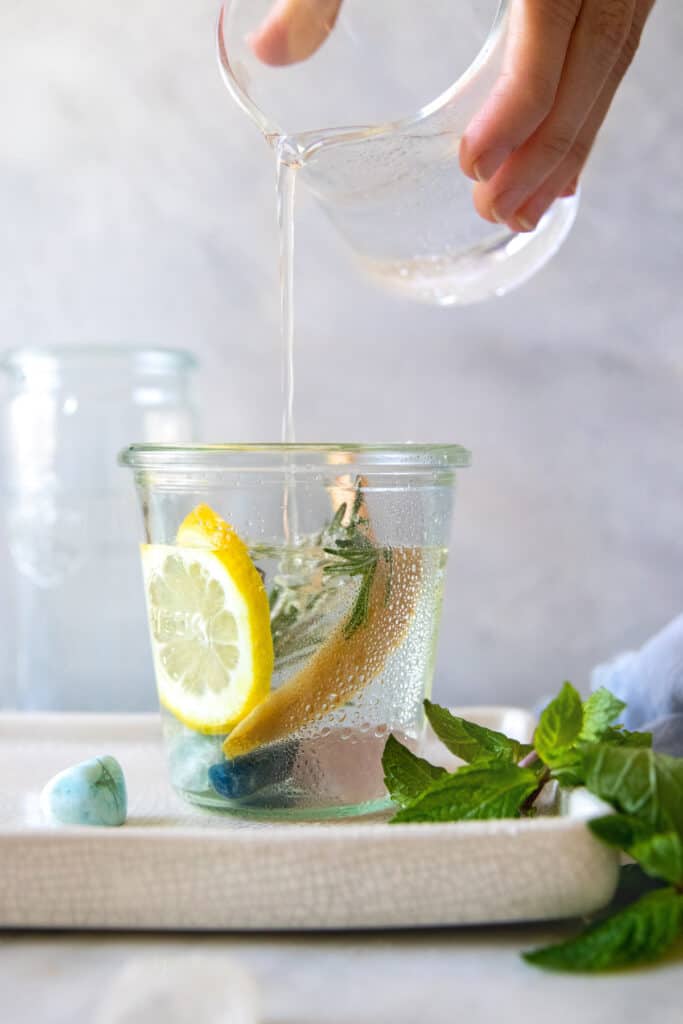 How to Make Moon Water
So, what is moon water?
As the name suggests, moon water is just water infused with the light and energy of the moon.
The moon is said to rule over the subconscious mind and intuition, and its waxing and waning cycles reflect that of our own bodies, moods, and energy. When we align ourselves with the moon and harness its energy, we're essentially tapping into an ancient energy current and using it to make changes in our lives.
Spraying it around your space or using its homemade beauty recipes is a fantastic way to purify stagnant energy and freshen your environment.
1. Gather your supplies
A lot of moon water recipes call for nothing more than water and the light of the moon. So, if you want to skip the frills and keep your moon water au naturale, go to town.
But since we're talking energy here, I like to add herbs, flower petals, crystals, and anything else that can boost the energetic imprint of my water.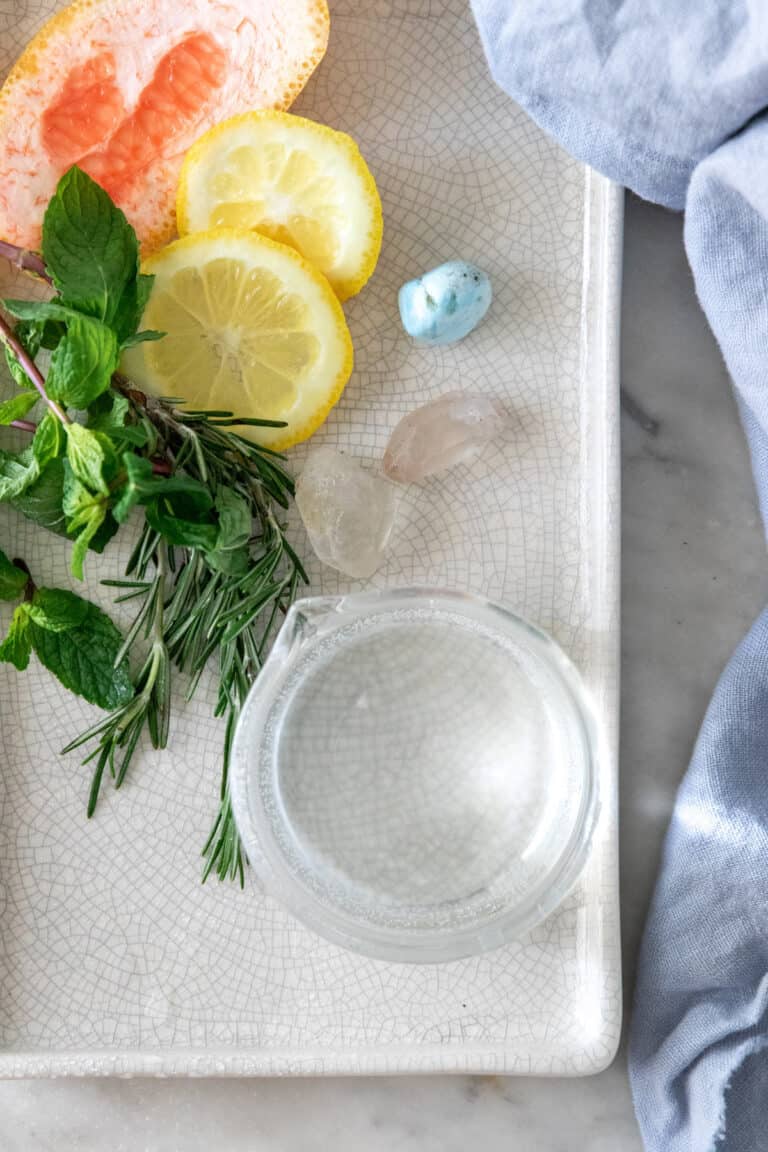 What to add to moon water
Gather whatever you have on hand, like:
Fresh herbs, like basil for prosperity or peppermint for energy
Rose petals for beauty
Dried lavender for relaxation
Citrus peels for happiness
Water-safe crystals, like rose quartz and amethyst, to amplify your intention
Sea salt for its cleansing properties
It doesn't have to be fancy. Just keep in mind what you'd like to use your moon water for (we'll be setting an intention in the next step) and choose herbs or crystals to match.
Place the ingredients in a glass jar or bottle and pour clean, purified water over them—rain water is great for this. Screw the lid on tightly.
2. Set Your Intention
It's important to set an intention for your moon water. If you have a specific goal in mind, hold the container of water in your hands and envision it coming to pass. I like to imagine the energy of the moon passing through the top of my head and out through my hands into the bottle of water. If I'm really feeling it, I try to sense the energy and emotion of the goal transferring into the water itself.
You can even say an affirmation or prayer over the water if you want.
There's really no right or wrong way to set your intention. The goal is simply to transmit the energy of what you want into the water. So, don't be afraid to get creative and try whatever comes to mind because that's what will work best for you.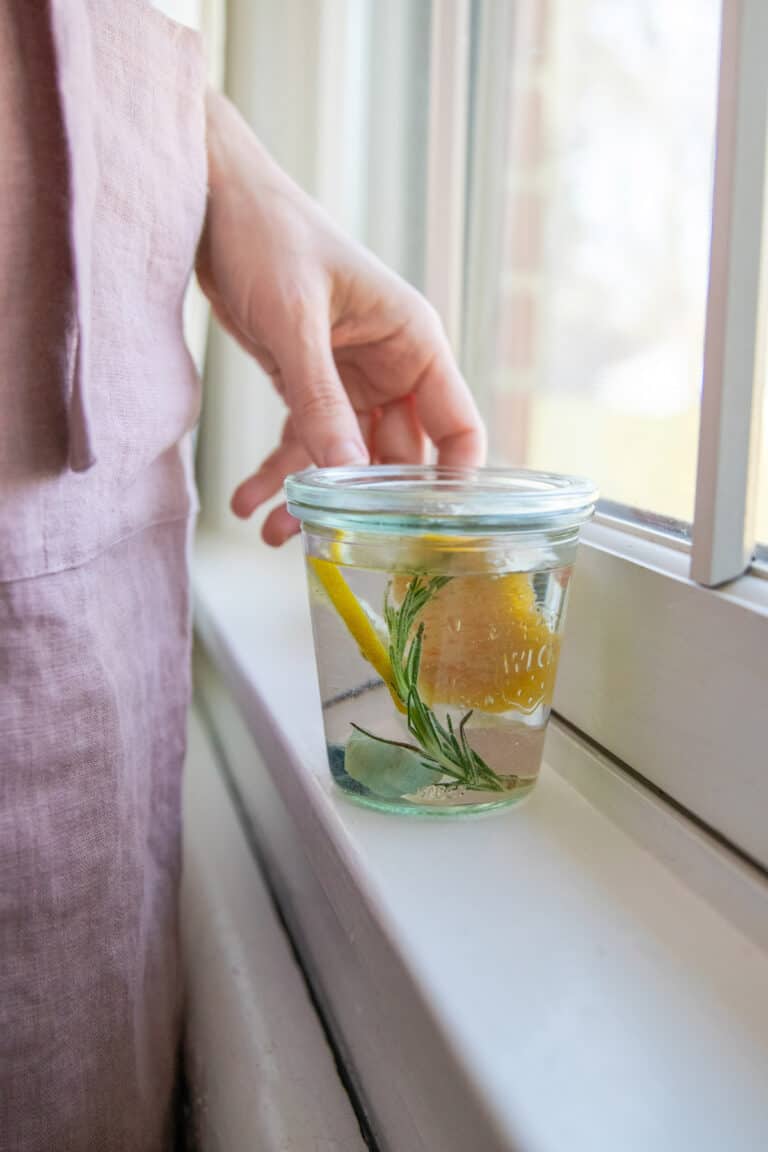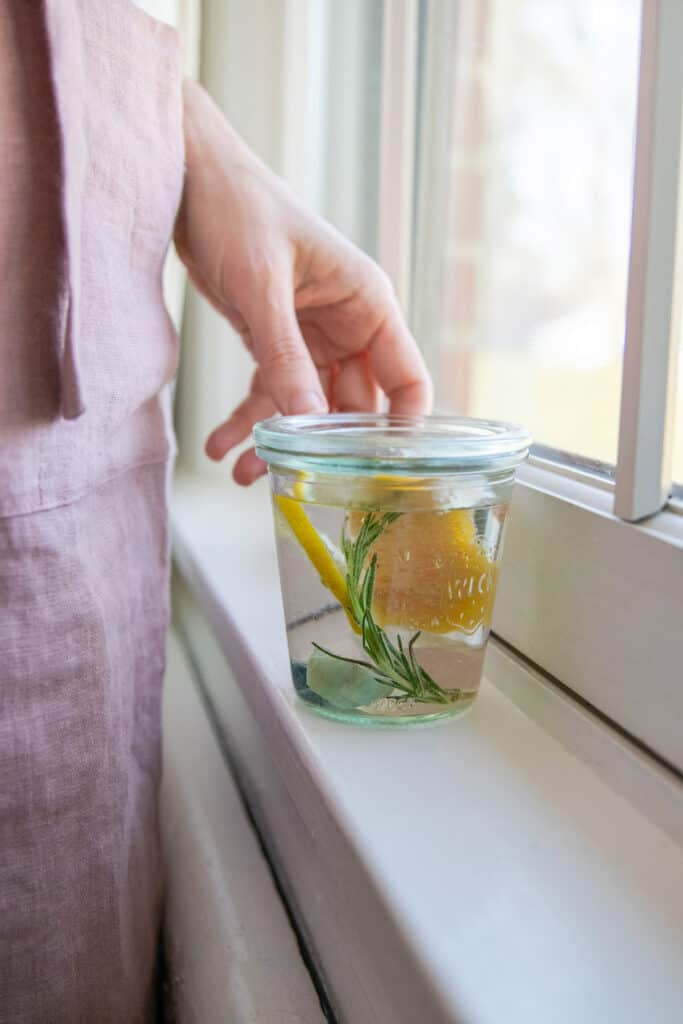 3. Place the Water Under the Light of the Moon
Replace the lid to keep dirt and bugs away. Then place your jar of water on the patio, windowsill, or anywhere it will be exposed to moonlight. Leave it outside overnight, and bring it inside before the sun rises.
That's it! In the morning, your water will be charged and ready to use.
Make sure to label and date your bottle of water so you know what intention you charged it with and when it should be used by.
12 Ways to Use Moon Water
This is the fun part. After brewing your moon water, you can use it for just about anything you'd use water for around the house.
1. Add it to homemade beauty recipes
2. Use it as a facial toner
3. Water the plants
4. Wash your hair and face
5. Wash the dog
6. Put it in homemade cleaners
7. Purify your space
9. Add it to your laundry
10. Bathe in it
11. Make perfume or body spray
While some say you can drink it, I don't recommend drinking water that's been left sitting outside overnight. Especially if you added herbs, flower petals, or other optional ingredients, your water could be a magnet for bacteria.
But hey, it's up to you!
Moon Water FAQs
What if I don't have access to moonlight
?
The good news is that you don't need to capture moonlight directly. The moon's energy will still be absorbed by the water, even if the moon's rays never touch it. Simply set an intention for the water to absorb the moon's energy overnight, and you'll be good to go.
When's the best time to make moon water
?
The full moon, when lunar energy is at its peak, is an ideal time to make moon water. But you can also make it during a new or Gibbous moon, when the moon is smallest (it's all about intention). Just be careful never to make moon water during a lunar eclipse since solar energy will overpower the lunar energy, potentially interfering with your intention.
How do I store moon water
?
If you can't use it immediately, it's best to store your water in a cool, dark place, such as the refrigerator. Use any leftover moon water within 1 to 2 weeks.

24