Build your immunity and keep your skin glowing during the cold months with this antioxidant-packed pomegranate and beet smoothie. We like to call it a "power elixir" because it's packed with beauty-boosting ingredients, like beets and pomegranate seeds that come with a unique antioxidant nutrient combo to nourish the skin from the inside out.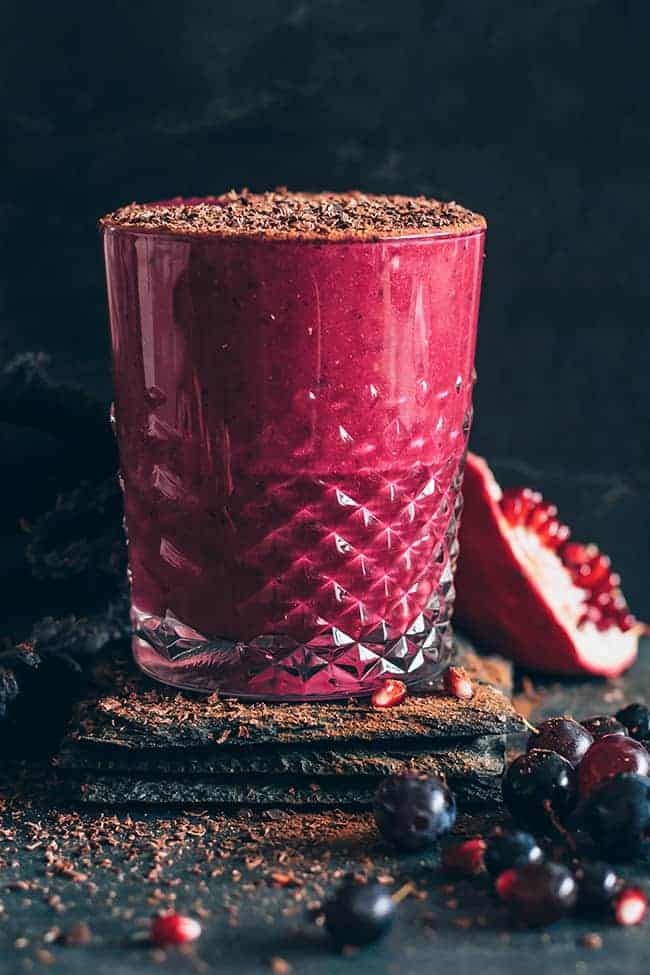 Antioxidant-Rich Pomegranate + Beet Smoothie
Even before the date on my computer changes or pumpkin-related Insta posts start popping up, my body knows exactly when summer is turning into autumn. Even if the weather is still warm, my skin and brain tell me that it's time to get ready for cold weather. This is when I know I have to switch to warming soups, roasted veggies, and beauty elixirs to make sure my cells get all the antioxidants they need to build immunity and keep my skin glowing even when it's freezing outside.
Seasonal fruits and veggies are the best way to fuel your body with fresh nutrients and enzymes. A walk in the park will show you every shade of red and yellow, and it's the same at the farmer's market. Say hello to pomegranates, pumpkins, red bell peppers, carrots, beets, plums, and red grapes! All of these are packed with the antioxidants your body craves before winter when fresh produce is rare.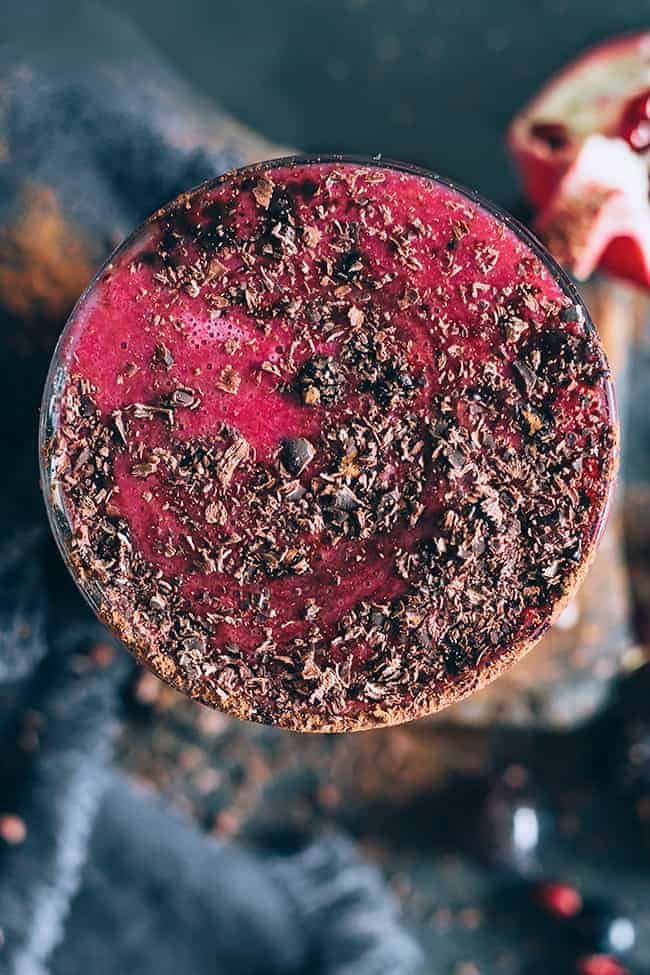 Yes, you can put beets in a smoothie!
To create this power elixir, I combined some of autumn's superstars—pomegranate, beet, and red grapes—with another favorite: dark chocolate. The result is nothing short of taste heaven. Plus, it's a nourishing combination of fresh vitamins, minerals, and enzymes to protect your skin and fuel the detoxifying activity of your liver.
The gorgeous pink color comes from the combination of betalains, anthocyanins, and resveratrol—a highly potent antioxidant mix to help your body stay healthy throughout the cold season.
Adding beets to a smoothie might seem weird, but beets are just for juicing! Their earthy taste and sweetness pair nicely with the pomegranate and chocolate.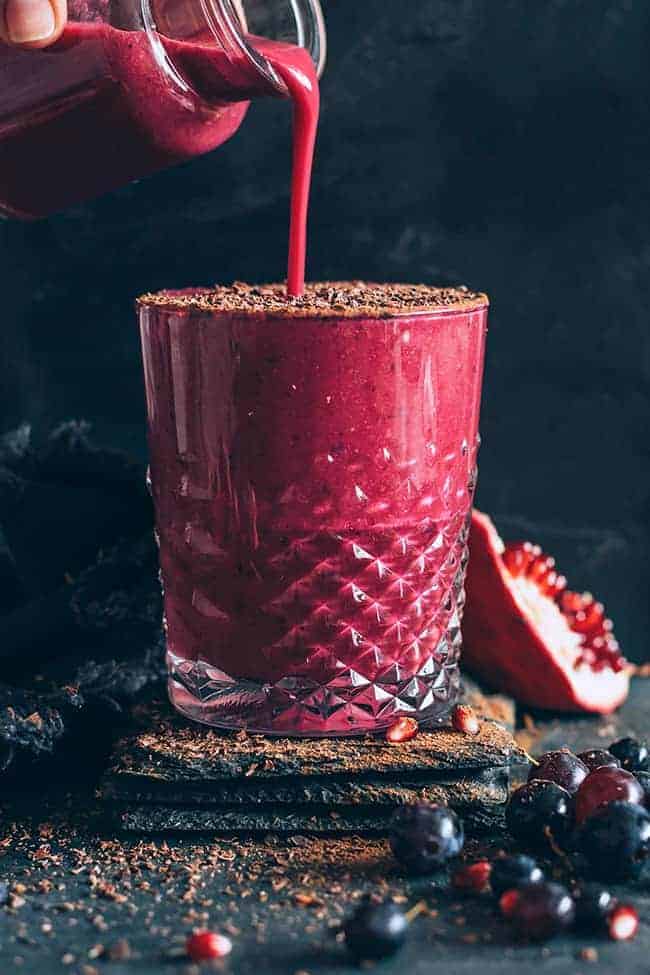 Pomegranate Beauty Power
Pomegranate is my go-to fresh ingredient in autumn and winter, and I add it not only to smoothies and juices but also to salads and as a garnish for hearty dishes. Their sweet and sour taste balances the earthy taste of some vegetables, adding a refreshing twist to some boring winter dishes. Try this pomegranate smoothie or this festive pink punch.
To get younger skin with pomegranates from the outside in, try these simple pomegranate face mask and scrub recipes, or treat tired eyes with this hydrating gel eye mask.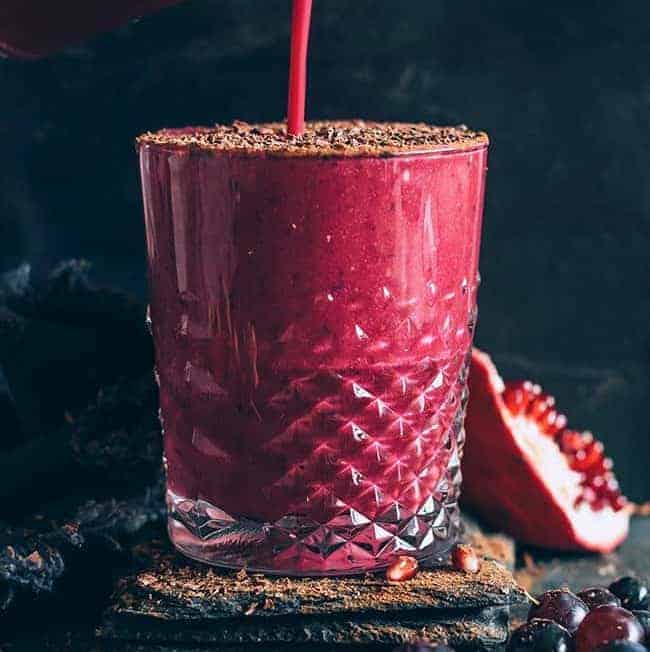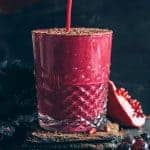 Print Recipe
Antioxidant Power Pomegranate and Beet Smoothie
Build your immunity and keep your skin glowing during the cold months with this antioxidant packed elixir drink.
Ingredients
1

pomegranate

seeds only

1

small beet

peeled and cubed

½

cup

red grapes

1

ripe banana

I used frozen banana for a creamier texture

2

teaspoons

raw cacao powder

1

teaspoon

coconut oil

1

cup

unsweetened almond milk

1

square dark chocolate

grated - to garnish
Instructions
Blend all the ingredients except the dark chocolate until creamy. Pour into a glass, garnish with the chocolate, and drink immediately.
Notes
Transfer leftovers to a lidded glass jar or bottle and store in the refrigerator for up to 48 hours. Add fresh ice and re-blend when ready to drink.
32