We've covered some nutrients for beautiful skin, and now it's time to talk about getting healthy, gorgeous hair. That's right—a delicious healthy hair smoothie. This Mango Strawberry Smoothie is full of protein, vitamins, and nutrients to help you achieve shiny, enviable locks.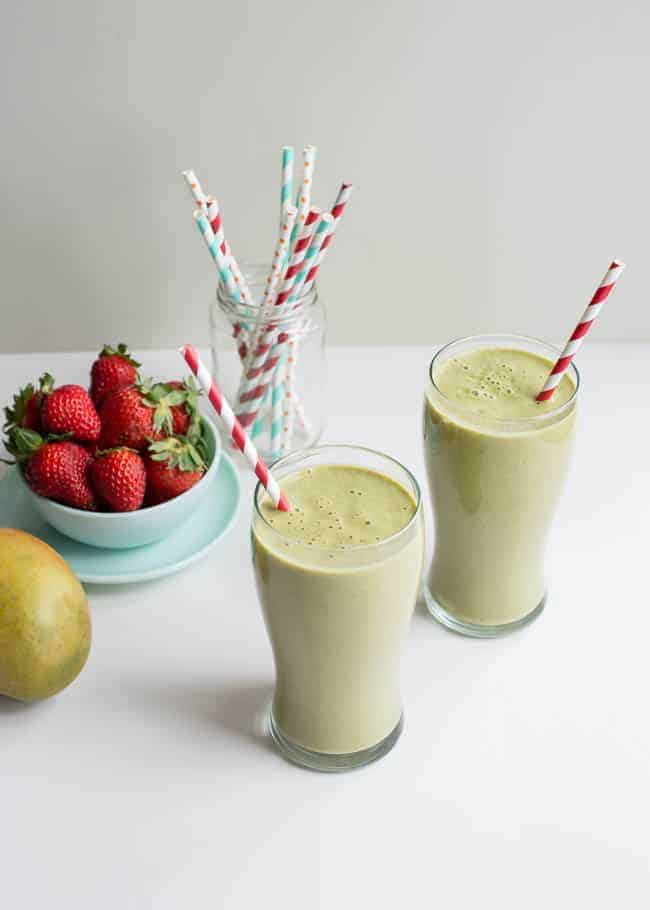 Hair is composed of protein, keratin to be exact [source]. And eating a balanced, healthy diet is the first step—that practically goes without saying—to getting those bouncy bangs. Protein will help keep hair strong and prevent breakage. Omega-3 fatty acids are essential for hair growth [source]. The B vitamins promote the functions that support hair follicles in metabolizing other nutrients to grow hair [source].
What could be better than eating your way to healthy hair by sipping a delicious smoothie?

Swiss Chard
This smoothie has loads of vitamin A from the chard and mangoes [source]. Dark leafy greens, such as chard, are also iron-rich, which helps prevent hair loss [source].
Strawberries
Another important nutrient is vitamin C, and strawberries are said to be one of the best sources. Vitamin C has a significant role in collagen production [source], and collagen supports both the scalp and hair follicles [source].
Mango
Mangoes are another great source of vitamins and minerals. High in fiber, vitamins A and C, folate, B6, and iron, mangoes can improve the overall health of the body, which in turn improves hair health. For similar benefits, you can substitute peaches in place of mangoes if you prefer.
Walnuts
Walnuts are one of the best nut-based sources of omega-3s and are also rich in biotin (vitamin B7) [source], zinc, iron, and vitamin E. Vitamins E and C, both powerful antioxidants, will help protect hair (and skin) against damage from UV rays [source]. Zinc helps in hair follicle recovery [source].
Flax seed
Flax seed contains lignans, protein, and omega-3 fatty acids, all of which are said to improve hair strength and texture. Lignans, in particular, improve hormone balance and decrease free androgen levels [source], which have long been known to exacerbate hair loss in both men and women.
Greek yogurt
And don't forget your dairy—Greek yogurt contains protein, vitamin D, and healthy fats that help nourish hair follicles from the inside out.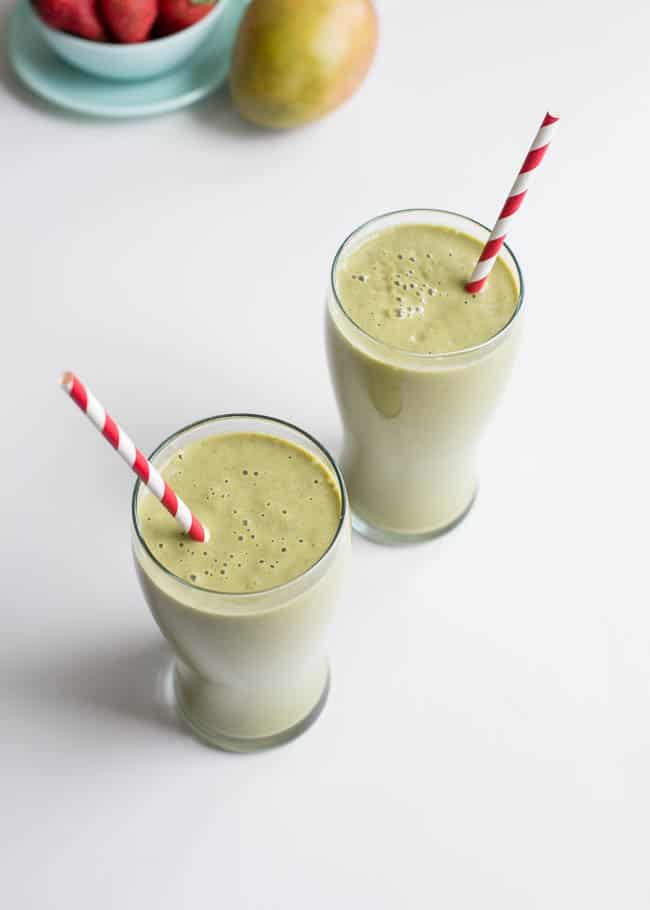 While you're at it, try this Blueberry Kale Healthy Hair Smoothie and this Almond Butter Fig Smoothie for Healthy Hair.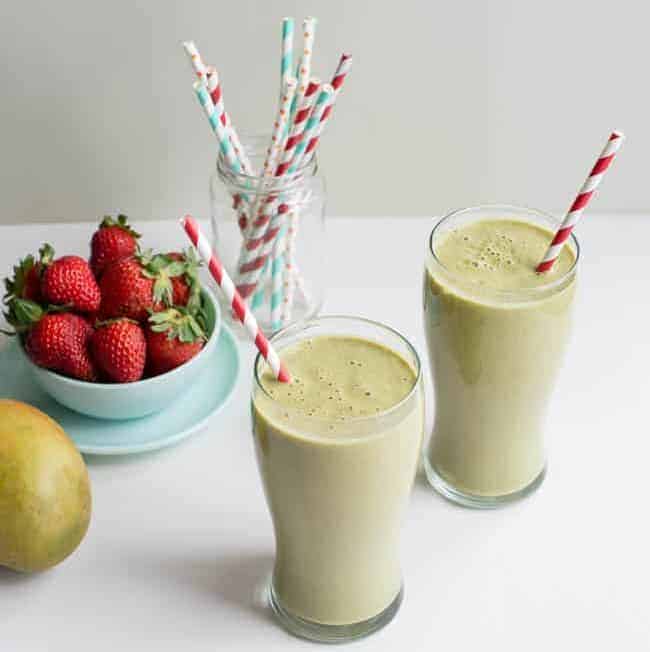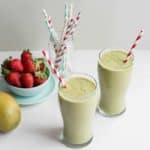 Print Recipe
3 Healthy Hair Smoothie Recipes
Try these 3 delicious smoothies packed with hair-healthy nutrients.
Ingredients
Mango Strawberry Healthy Hair Smoothie
3

large chard leaves

(washed well, tough stems trimmed)

1

cup

frozen mango*

1

cup

strawberries*

1

cup

plain yogurt

1/4

cup

walnuts

1

tablespoon

flax seed

1/2–1

cup

water
Blueberry Kale Healthy Hair Smoothie
1

cup

mixed berries, fresh or frozen

(I used blueberries and red cranberries.)

1.5

cups

unsweetened cashew milk

1

ripe banana

3–4

leaves

kale, fresh or frozen

1

handful

walnuts

1

teaspoon

bee pollen

1

teaspoon

coconut oil

5–6

leaves

fresh peppermint

1

teaspoon

organic raw honey

(optional)
Almond Butter Fig Healthy Hair Smoothie
1

cup

almond milk

1/2

cup

plain yogurt

4

dried

figs

3

tablespoons

almond butter

1/2

frozen banana

1

scoop

collagen peptides

pinch

nutmeg
Instructions
Mango Strawberry Healthy Hair Smoothie
Place the ingredients into a high speed blender. Add enough water for easier blending. Serve immediately, or refrigerate for up to 2 days.
Blueberry Kale Healthy Hair Smoothie
Blend all the ingredients until creamy and drink straight away.
Almond Butter Fig Healthy Hair Smoothie
Combine all of the ingredients in a blender and blend until smooth. Serve immediately.
Notes
If you have a high speed blender (like a Vitamix or Blendtec) it will handle the stems. Otherwise, remove the stems before blending. Pureeing the chard with a little water before adding the other ingredients will facilitate a smoother blend.
*Swap out peaches for the mangoes if desired.
*Blueberries can be swapped out for the strawberries.
45