It's winter and most people's lips are perpetually dry, even when wearing lip balm 24/7. But lips are a type of skin that is super delicate. So are scrubs really good for our lips, or do we love them mostly because they taste so good? We've put together a few tips on how to use a lip scrub properly when you notice your lips are lacking…(touches lips) like right now! Because yes, there is a right way to exfoliate your lips to keep them soft and healthy. Read on!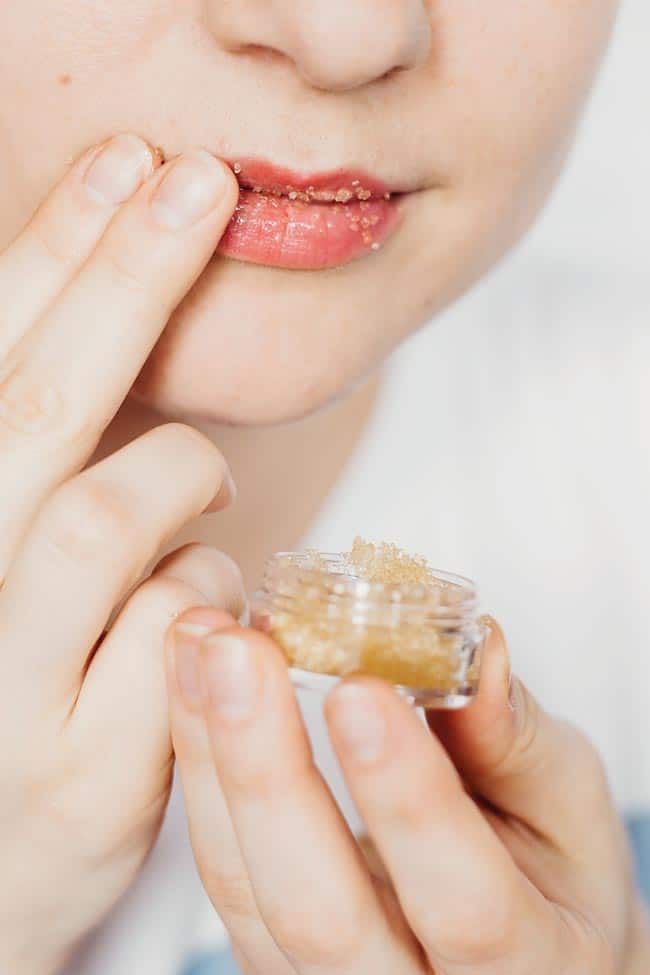 Why you should be using a lip scrub
Do they work? Yes. Do we need them? Not really. If your lips aren't chapped, it's not necessary to scrub them on the regular. So why do we use lip scrubs? Three reasons: Remove dead skin: Lip scrubs are a physical exfoliator. They work to essentially rub away a layer of dead skin. That's useful if you have a build-up of dead skin cells that don't want to shed on their own. Add moisture: Lip scrubs usually contain hydrating ingredients like oils or honey to make your skin soft and supple. Make wearing lipstick easier: If you love matte liquid lipsticks, lip scrubs are your friend for an even application. Long-wear lipsticks emphasize dry spots, so soft, smooth lips will help lipstick go on easier and not clump up. Plus, those lipsticks make your lips even drier.
How often should you use a lip scrub
?
No need to overdo it with the exfoliation. Scrubbing just 1 to 2 times per week is recommended.
How do you make a lip scrub
?
Simple DIY lip scrub formula: sugar + oil + honey Sugar is the best natural scrub for lips. And brown sugar is finer and gentler than regular sugar or salt, which makes it gentle enough for lips—and it tastes good! Mix it with an oil that will melt (like grapeseed, olive, or coconut), and then add a few drops of honey. Single use: Mix up a small amount for 1–2 uses at a time using a teaspoon of oil, a pinch of brown sugar (a bit less than ¼ tsp), and a few drops of honey. Big batch: Follow a larger recipe and store it in a jar. Tip: Store the jar upside down to prevent the oil from settling at the bottom.
How To Exfoliate Your Lips With Lip Scrub
Be careful using a scrub on your delicate lips! The skin is thin, delicate, and easily damaged. Here's the simple process of treating your lips with care.
1
.
Clean lips
Take off any remaining lipstick with micellar water and a cotton pad.
2
.
Soften lips
You'll want to prep your lips before scrubbing. Letting the dry skin soften a bit makes the scrub more effective and less abrasive. Here are a few options to consider: —Slather a heavy balm like Aquaphor on them and let it soften your lips for a while. —Use a lip mask the night before. It softens your lips and makes it much easier to exfoliate the next day. —Apply a hot compress for 3 minutes. —Scrub right after you get out of the shower and dry your face so the skin will be soft and dead cells will rub off easily.
3
.
Scrub lips
Mix your scrub ingredients in the palm of your hand with your ring finger. After wetting your lips, apply the scrub and leave it on for a minute. Then rub it between your lips or with your fingers for 10–15 seconds max.
4
.
Rinse scrub off
Remove the remains of the scrub by blotting your lips with a warm, wet towel. You can also splash some water on your lips or use a damp tissue or cotton pad to wipe off the excess. Don't go crazy wiping it all off—leave as much of the hydrating ingredients on there as you can! Don't lick it off of your lips! If you do this, you're removing the oils and adding saliva, which completely defeats the purpose. But if you simply must lick it off, wipe the saliva off with a damp tissue/cloth.
5
.
Apply a gentle lip balm or mask
Always follow up the scrub with a heavy dose of lip balm. Keeping lips moisturized will help prevent dried-out or peeling skin in the first place. Avoid plumping agents like peppermint or cinnamon oil. You would seriously regret applying that stuff after your lips have been scrubbed.
6
.
Apply lipstick
Now you have smooth lips, and you're ready to apply lipstick or stain.
7
.
Clean and hydrate lips before bed
You only need to physically apply a scrub 1 to 2 times a week. Scrubbing more often will irritate your lips, causing further damage and chapping. However, you can (and should) clean off all of your lipstick at night. Then it's best to apply a heavy coat of clean lip balm or a lip mask and wear it overnight.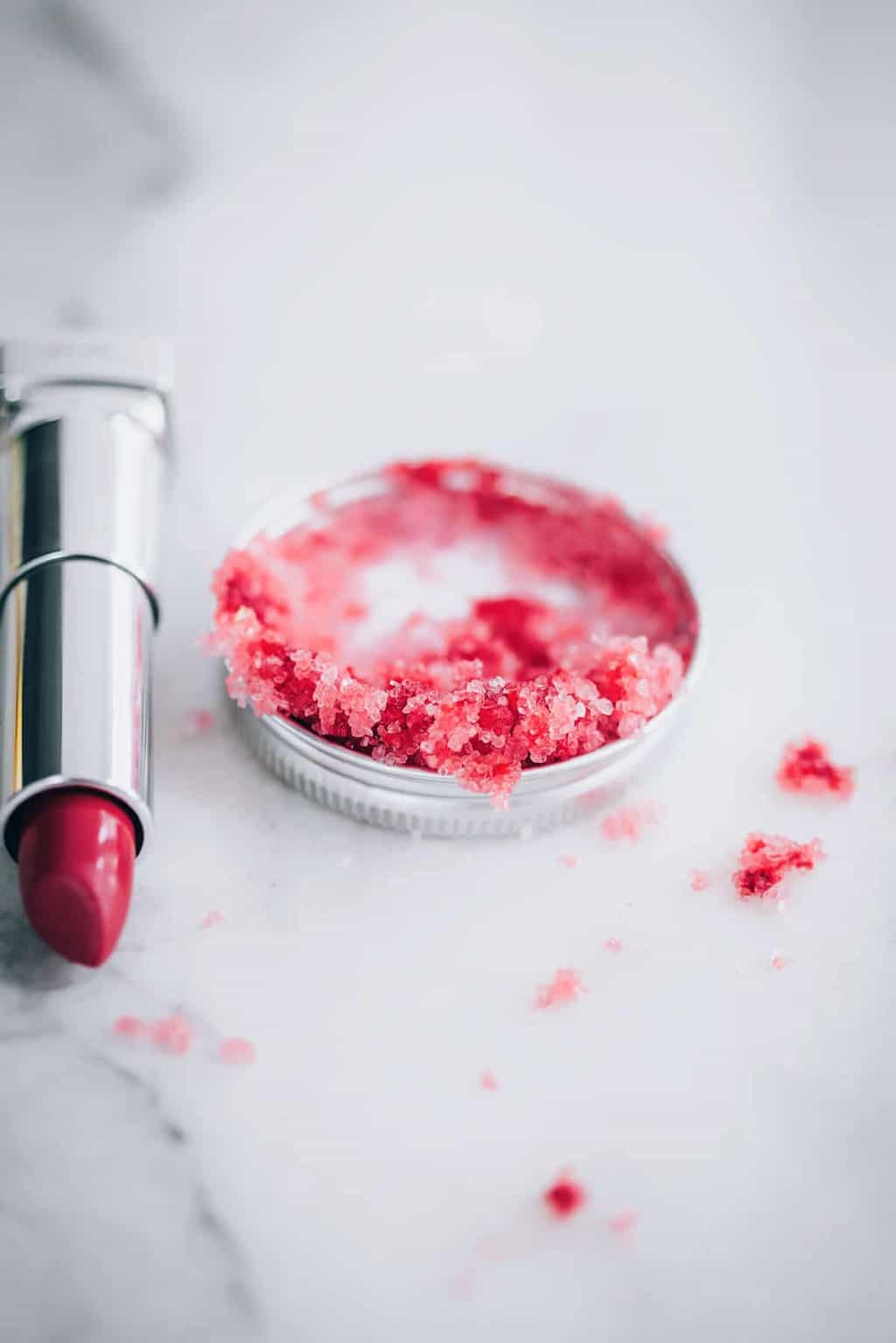 Make lip scrubs part of your skincare routine
If you want to scrub your lips at night
:
Follow the steps above to clean and soften your lips. Then scrub and rinse. After, apply a heavy-duty balm or lip mask and wear it overnight. Following this process makes lips super soft!
If you want to scrub your lips in the morning
:
Apply a lip sleeping mask or a heavy duty balm and wear it overnight. You can sleep with the mask nightly and exfoliate a couple of times a week. In the morning, scrub gently to remove the leftover mask/balm and dead skin cells. Then apply lipstick or lip balm.
What if my lips are too sensitive for a scrub
?
Warm washcloth: Use a wet face cloth instead, and rub it back and forth across the lips to gently exfoliate. If your lips are too sensitive for that, then apply a thick layer of balm, leave it on for 5 minutes, hold a warm wet cloth to your lips for 2 minutes, and massage. Baby toothbrush: Use a clean, wet baby toothbrush to give your lips a quick scrub after brushing your teeth, and then follow up with lip balm. This is great to do after brushing with coconut oil toothpaste—your lips will be so soft! Bare fingers: Wait for your lips to soften up in the shower, and then gently rub at the dead skin with bare fingers. Or use a lip mask at night and scrub your lips in the morning using only your fingers.
Using a Lip Scrub FAQs
How long do you leave lip scrub on?
Leave the scrub on your lips for about a minute before scrubbing for 10-15 seconds.
Do you wet your lips before using a lip scrub?
Yes. Don't apply a lip scrub to dry lips, or you risk tearing the skin.
Do you wipe off lip scrub? Can I lick it off?
Rinse lips off with water or gently blot with a warm washcloth. The idea is to remove the exfoliating elements (without licking them off), leaving the oils and honey to hydrate the skin.
Can I use a lip scrub everyday?
It's not recommended. Scrubbing every day is essentially buffing away all of your skin and can leave lips sore and irritated.
When should you not use a lip scrub?
If your lips are cracked, peeling, or flaking, definitely don't use a physical lip scrub. Use a more gentle exfoliation method, and focus on hydrating your lips to let the skin heal and regrow.
Why are my lips so chapped?
There are a lot of reasons why our lips get dry and chapped, so keep them hydrated and refill your water bottle often. Try to stop biting and licking your lips. Check your toothpaste. Some people find their lip issues improve after switching to a SLS-free toothpaste or staying away from peppermint flavors.
Can you leave a lip scrub on overnight?
Yes, you don't need to wipe off the oils or honey. Rinse off the exfoliants and leave the rest on as long as you like. We recommend applying lip balm or a lip mask after scrubbing.
My lips hurt after scrubbing, what am I doing wrong?
Check your technique - you don't need to aggressively rub off this skin. And don't scrub too often. If your lips are hurting, lay off exfoliating that area for a bit.
0