The skin on our lips is the thinnest we have, which makes it super sensitive to external factors. Since it's so exposed, humidity, wind, cold, and heat can affect it – we all know the feeling of painfully chapped lips on a winter day, don't we?
And while lip balm tends to be the most common weapon we use against 'the elements', there are more things we can do to keep those lips soft, smooth, and kissable. Here are the simple steps to getting – and keeping! – soft lips.
7 Moisturizing Treatments To Keep Lips Soft & Smooth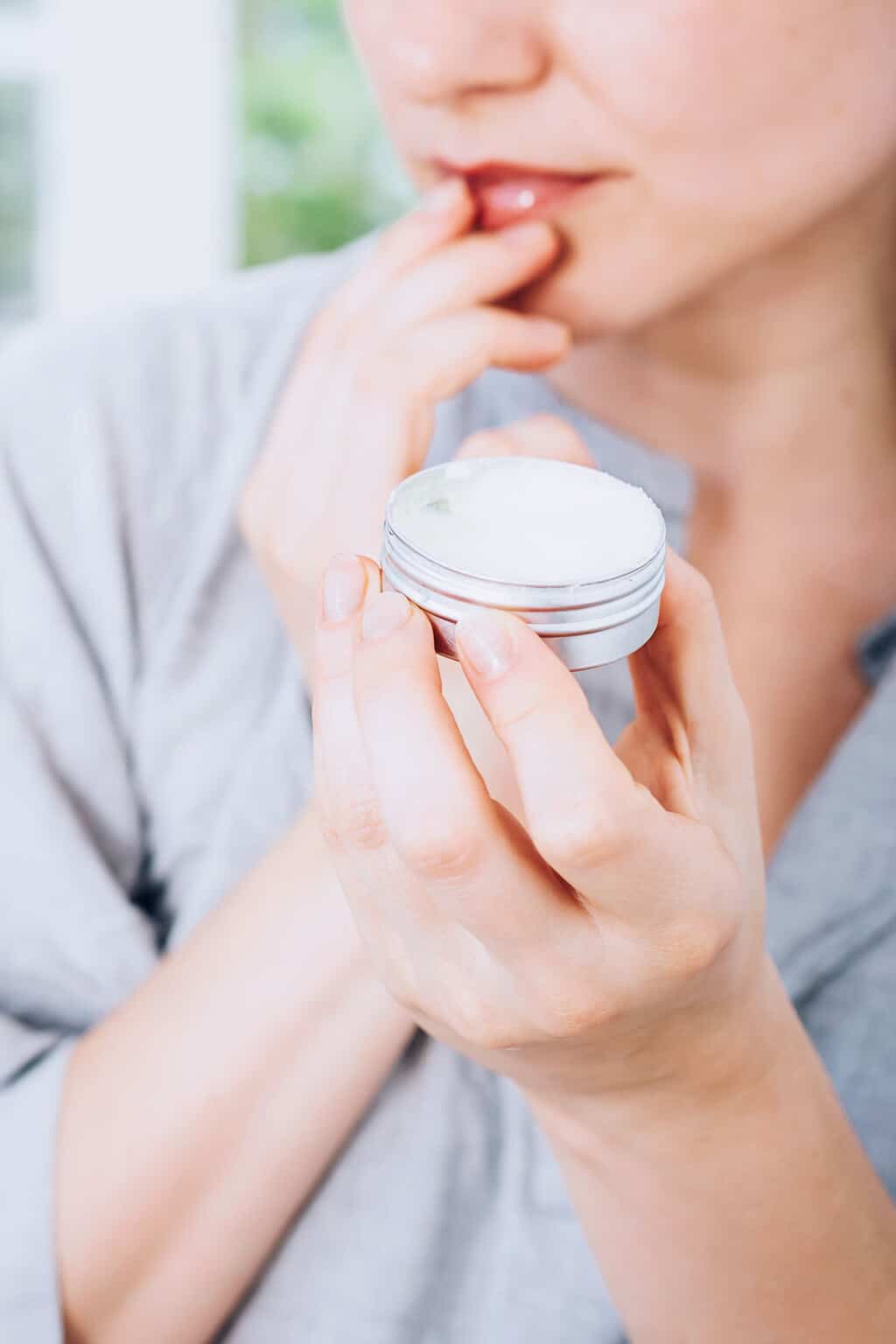 1. Hydrate with a beeswax lip balm
Just like the rest of your skin, lips need moisture to stay healthy and look good. Make sure you're hydrated throughout the day to prevent dryness, and apply lip balm a few times a day (especially before you go outside).
Having a few lip balms around the house and in your purse usually helps as a reminder to reapply. We like ones with beeswax because it's naturally hydrating but also creates a waterproof barrier on the skin.
If that sounds expensive, try making your own lip balm. You'll also be avoiding moisture-drawing ingredients such as camphor and menthol, which are often used in conventional lip products.
Here are two of our favorite DIY recipes:
Homemade Lip Balm for Chapped Lips
2. Use natural lipstick – or make your own
Lipstick is part of every woman's make-up bag. But not all lipsticks are created equal! Those long-lasting ones, for example, will dry out your lips the more you wear them. Not to mention the array of nasty ingredients you can find in most commercially-available products. Fragrance? No thanks!
Look for lipstick made with natural ingredients, especially those that actually moisturize with plant oils, beeswax or vitamin E. You can check out our ultimate guide to non-toxic lipstick here.
Alternatively, make your own lip products – the color won't be so intense, but you get complete control over the ingredients that go inside. Add 1/2 teaspoon of mineral glitter into a tablespoon of melted cocoa butter to keep your lips bright, smooth and shiny all year long. And these raspberry, cranberry and sparkle mica are all safe options you can use to get the color of your dreams.
3. Exfoliate with a lip scrub
The thin skin on our lips dries out the easiest, and it naturally has less water than other parts of our faces. This makes sloughing off dead skin with an exfoliant an important step in getting soft and smooth lips.
Exfoliating your lips can be as low-effort as using a soft toothbrush on them. Or you can opt for a lip scrub, which might just be the easiest beauty product to DIY. You only need to mix 2-4 ingredients, and you don't need big quantities of either.
Here are 18 lip scrub recipes you can choose from, depending on what you have at hand.
4. Dedicate a toothbrush for your lips
After cleansing your face, pour a little facial oil (or a regular carrier oil like grapeseed or almond) onto a clean toothbrush and gently polish your lips. Massage the remaining oil into your lips.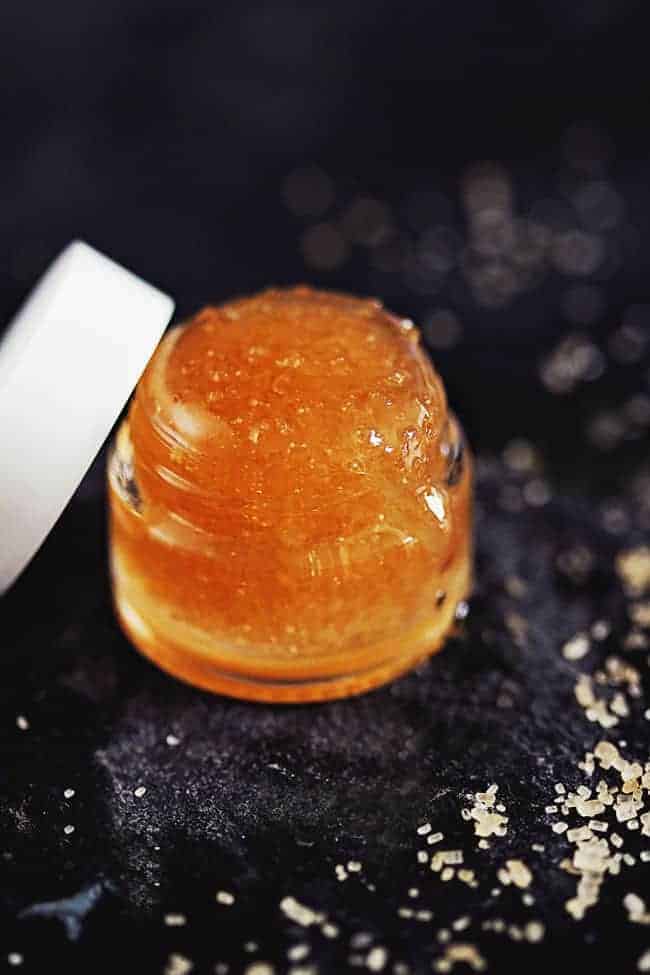 5. Hydrate with a honey lip mask
Most facial masks shouldn't be applied to the lips, and that makes sense – the thinner, sensitive skin in the area doesn't have the same needs as the rest of your face. A mask that's designed especially for your lips – now that's something you should add to your arsenal!
Making a lip mask can be as easy as mixing sunflower oil with honey – and you can't say you don't have those two ingredients at home! Honey acts as a humectant to draw moisture from the air, keeping lips soft and plump. Here is how you can make your own lip mask for a soft pout.
6. Try castor oil overnight
Castor oil is a heavy vegetable oil that provides a protective barrier against water loss on the skin. Dab on a layer of castor oil before bed to lock in moisture overnight.
7. Incorporate essential oils
Frankincense, lavender and myrrh essential oils are wonderful at boosting the healing of dry, chapped skin. Combine them with a thick carrier oil like jojoba or avocado or an emolient like shea or cocoa butter for best results. Use 12 drops of essential oil for every ounce of oil and apply to lips as needed.
6 Ways to Prevent Dryness for Soft Lips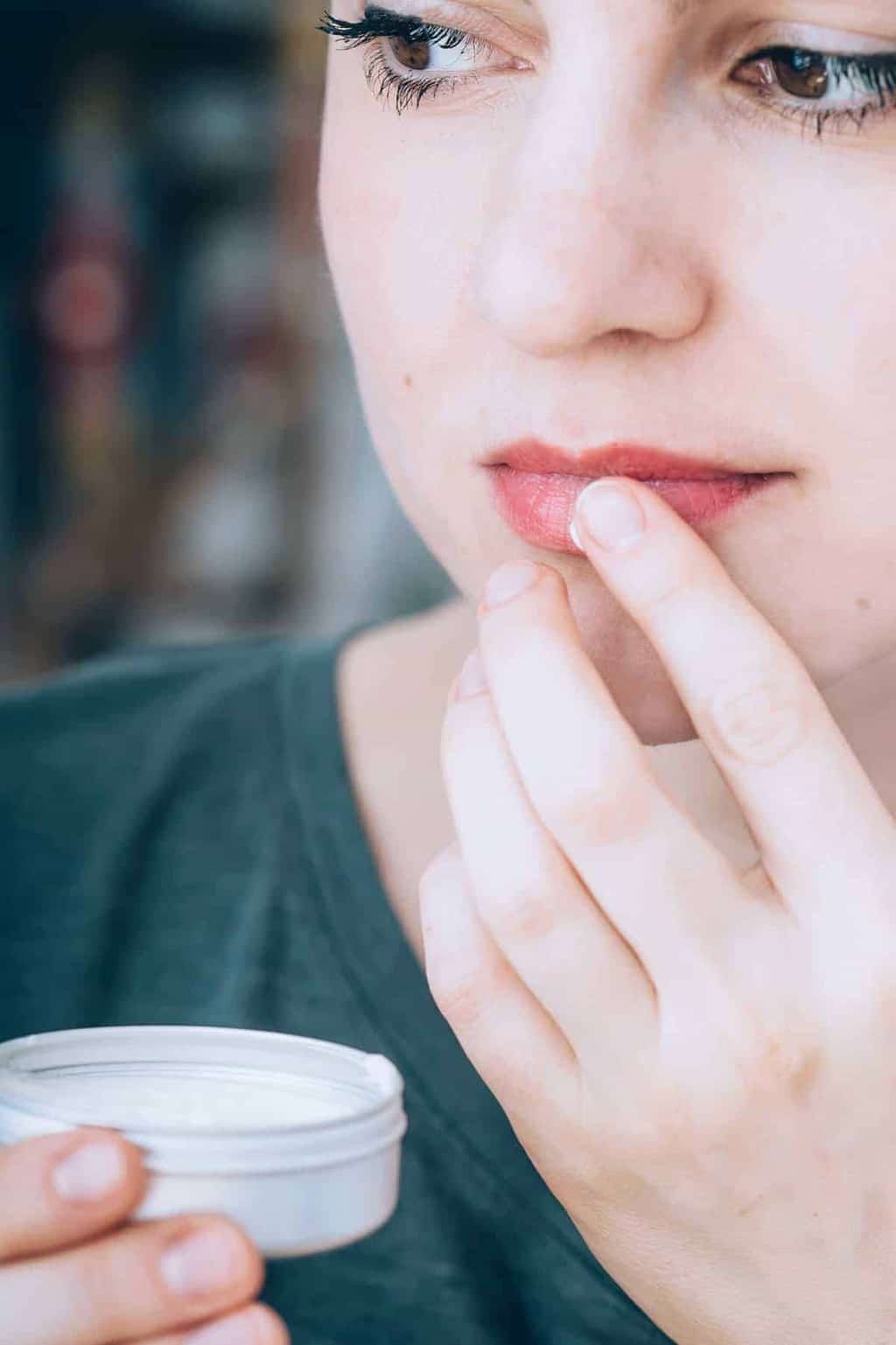 8. Don't forget SPF for your lips
Sunscreen is probably part of your skincare routine already, but what about your lips? Protect the delicate skin on this area from harmful UV rays with a SPF lip balm, which also helps keep them soft. And you'll avoid painful lip burns!
A lip compress can help ease the pain, but prevention is even better. Look for SPF of at least 15. Luckily, SPF lip balm is also fairly easy to make at home, using green tea as a natural sunblock.
9. Make sure you're not dehydrated
Drink eight 8-ounce glasses of water a day – 64 ounces seems like a lot but it's doable! Healthy fluids can come from water, green tea, herbal tea, and foods with high water content. Avoid coffee and alcohol, which act as diuretics and contribute to dehydration.
10. Eat more good fats
Your body needs certain healthy fats to keep skin supple and soft. You need both omega-3s and omega-6s, but most western diets are lacking in omega-3s, which can lead to dry, irritated skin. Give your diet an omega-3 boost with foods such as sardines, salmon, avocado, flaxseeds, chia seeds and hemp seeds.
11. Up your B vitamin intake
Dry lips can be a sign you're low in B vitamins so try eating more foods that rich in B vitamins, like whole grains, nuts and green vegetables.
12. Stop biting and licking your lips!
Especially during the cold season, we tend to lick and bite our lips once they dry out from the weather and lack of hydration and humidity. Though it may feel like a relief in the moment, this actually damages your lips, removing moisture and further drying them out.
Avoid lip balms with fruity, food tastes – you're be even more included to lick them off! Running a humidifier can also help keep your lips healthy even when it's cold and you're turning on the heating.
13. Get your beauty sleep
You always hear this, but you need a good night's sleep. Yes, even when it comes to smoochable lips. Call it beauty sleep or call it self care, the important thing is that you get at least 6 hours, if not more, so your body to rest and repair.
Apply an overnight mask with a hydrating oil to lock in moisture. Run a humidifier to prevent dryness. And try sleeping on your back to avoid rubbing your lips.
13