If you've ever wondered how to make rice water for hair, you've come to the right place! Because it contains some of the rice's essential starch, vitamins, minerals, and amino acids, rice water can take your haircare routine to a whole new level. Learn three simple step-by-step methods to create your very own rice water at home for a fraction of what it costs to buy.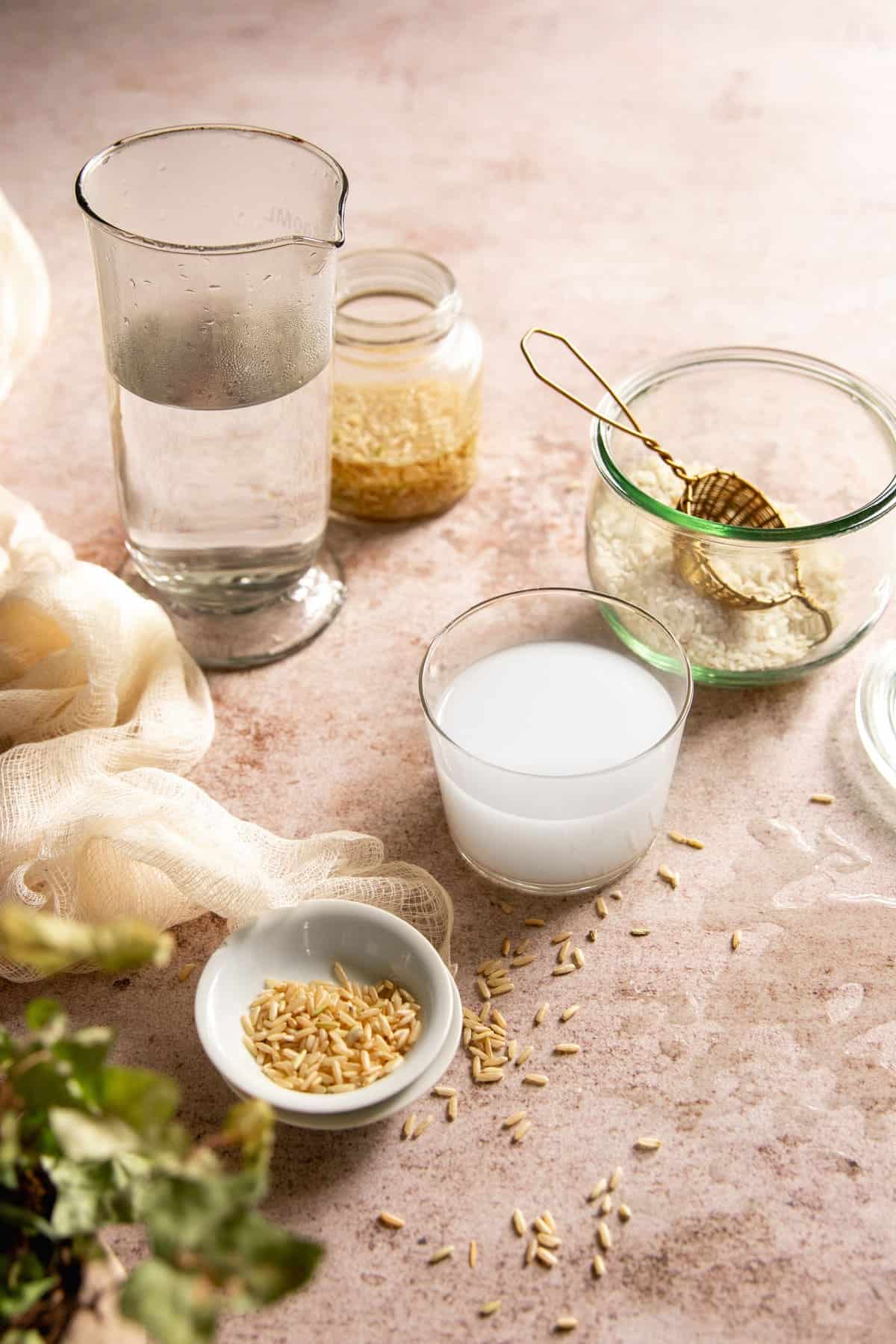 Whether you're looking to promote hair growth, add shine and luster, or repair damaged locks, experts agree that rice water is a must-have for fragile hair. I'm a total convert after adding rice water shampoo to my haircare routine!
Read on to learn the best ways to make your own and how to use it:
Jump to:
Ingredients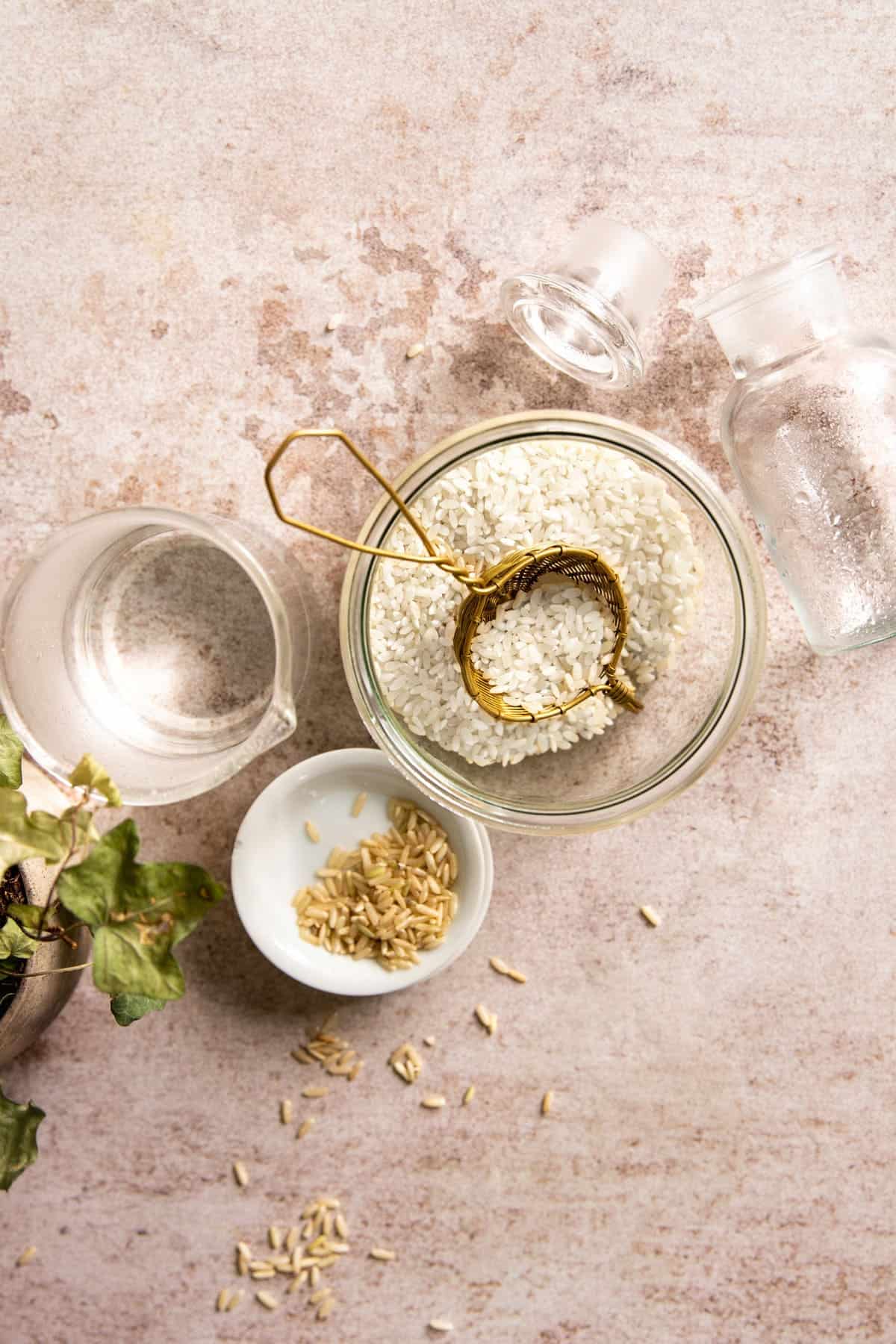 There are a few ways to make rice water, each with its own pros and cons. But they all require the same basic ingredients:
Uncooked white or brown rice
Water
Lidded bottle
1. Rice Water Boil Method
Thoroughly rinse the rice. Add 2–3 extra cups of water. Cook it on the stove like you normally would, and the extra water can be drained off at the end.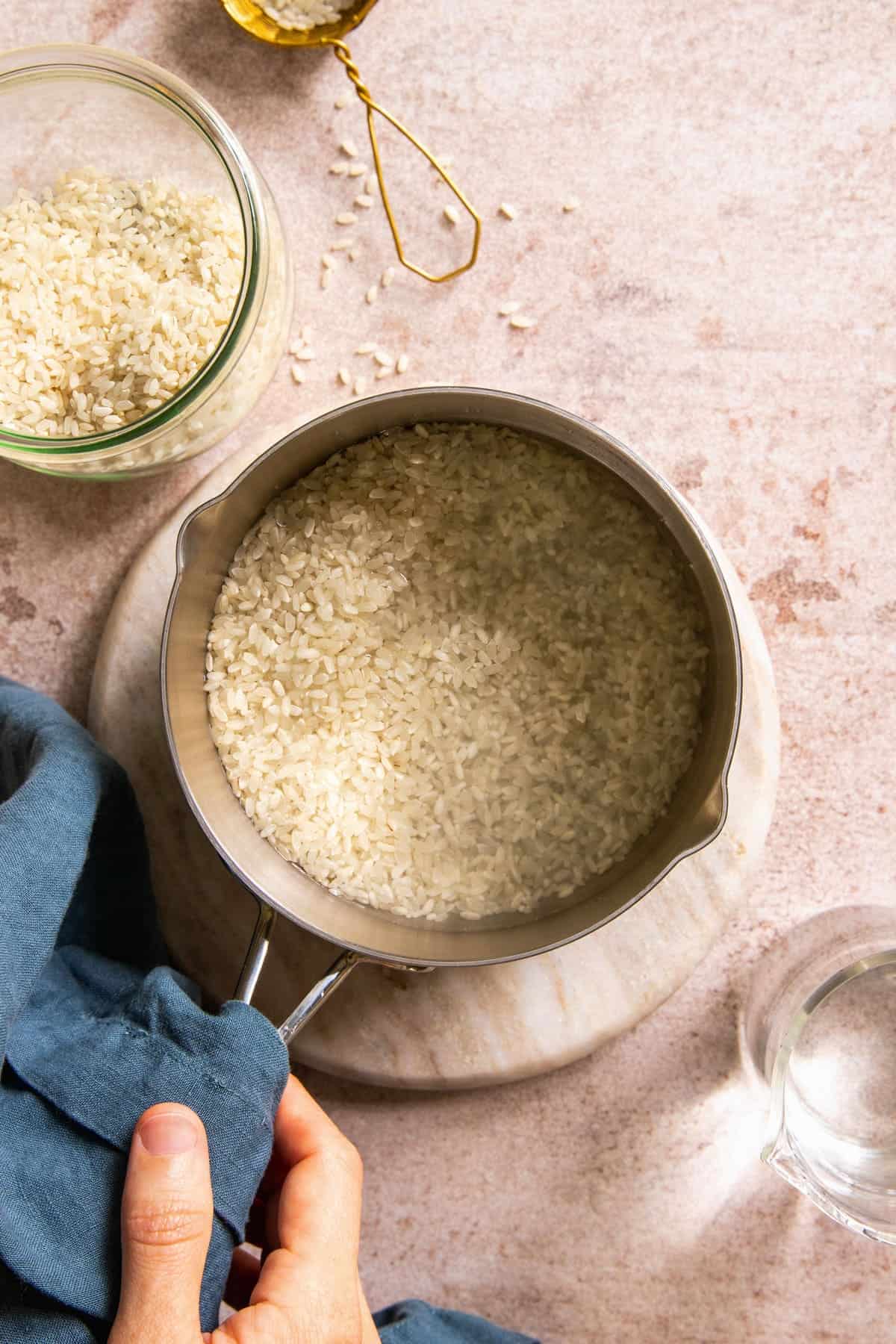 Pour the leftover water into a glass bottle, and store it in the bathroom for 3–4 days or in the fridge for up to a week.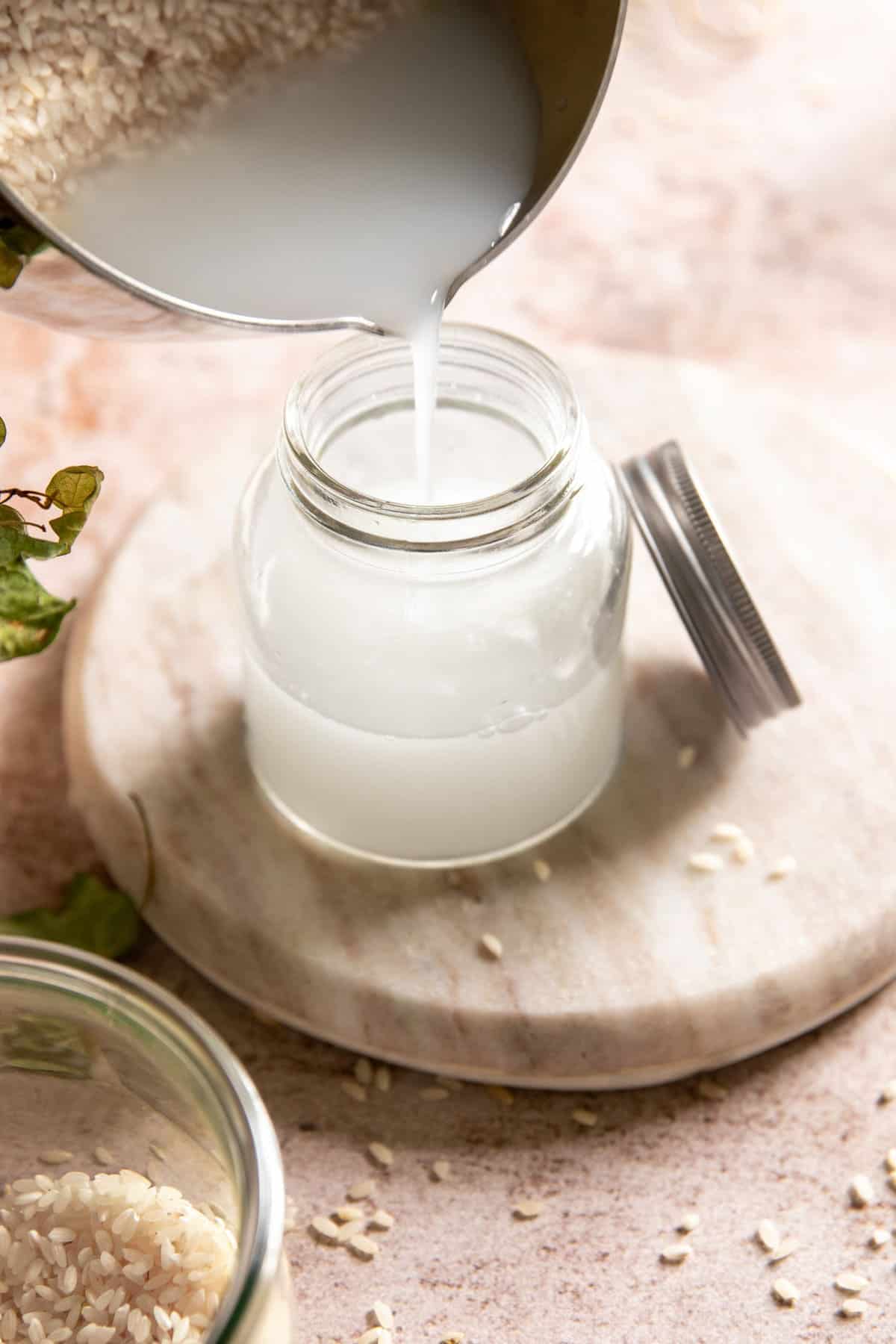 Pros: It's quick, and you can eat the rice when you're done.
Cons: The heat of the cooking process might destroy some of the vitamins and minerals, but an interesting study showed the water from boiled rice had excellent antioxidant activity [source].
2. Rice Water Soak Method
Rinse the rice thoroughly to remove any impurities. In a clean bowl, combine the rinsed rice and 2 cups of filtered water.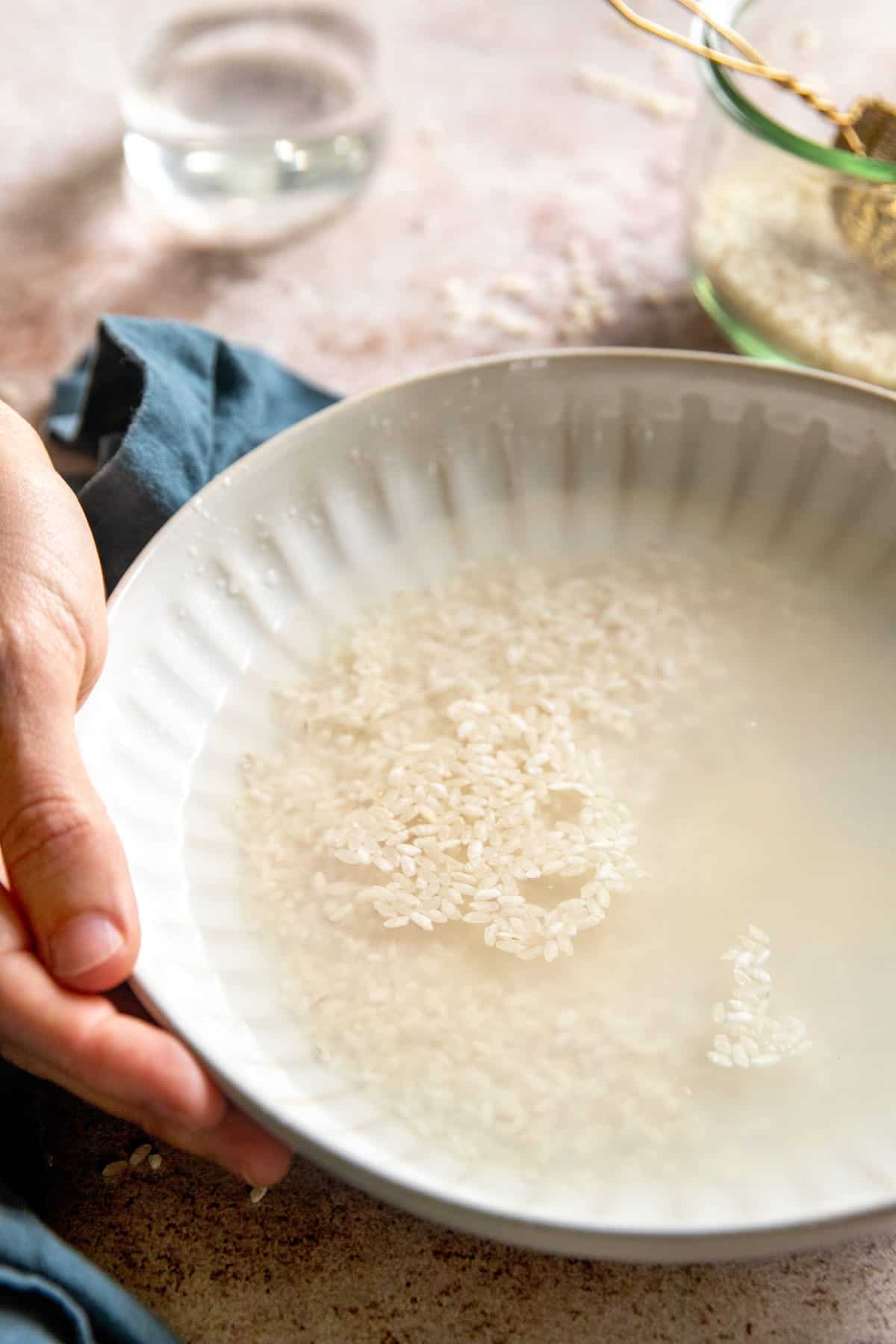 Allow the rice to soak in the water for an hour. Stir or swirl the rice around with your hand to encourage its nutrients to release into the water.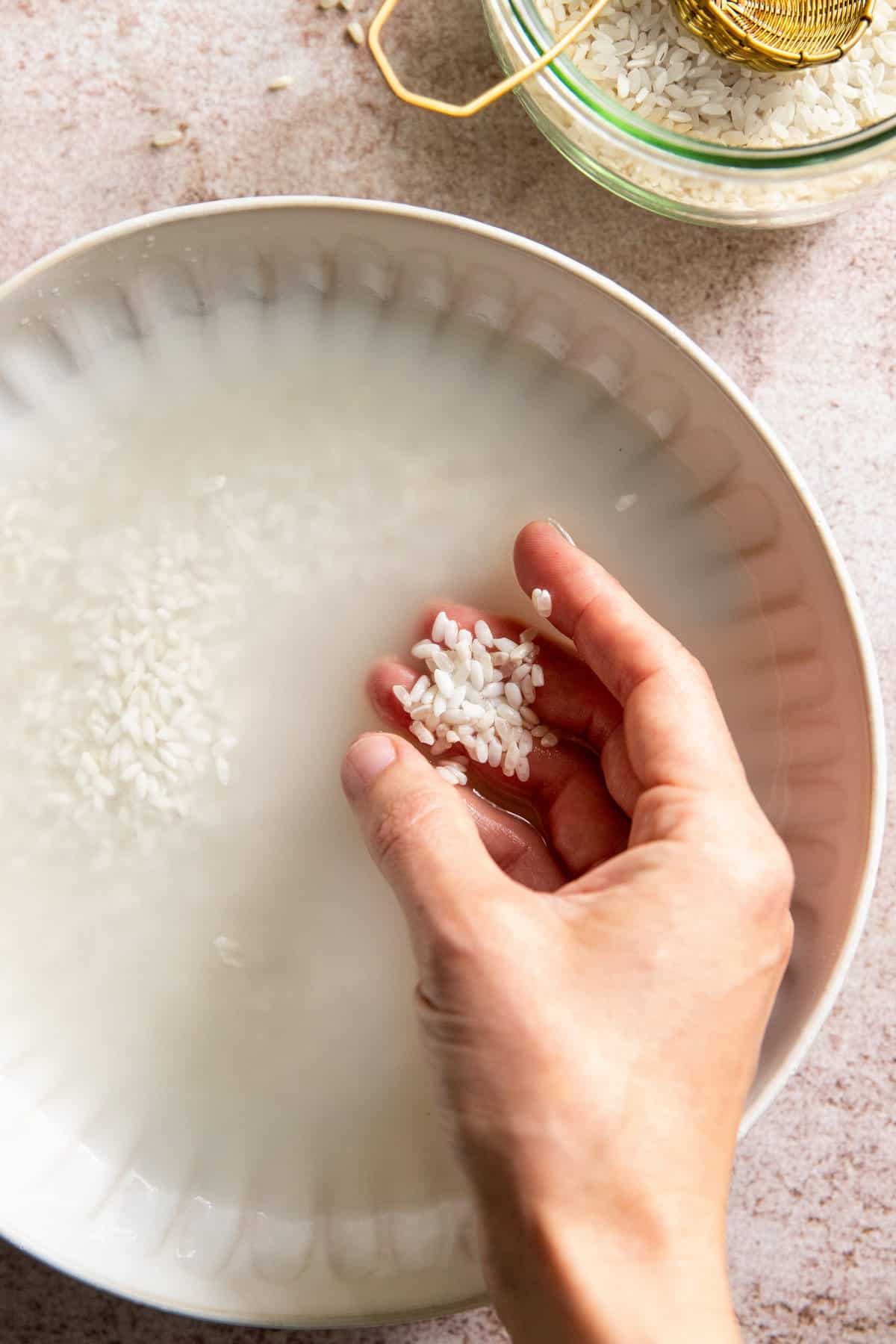 After soaking, strain the rice water into a clean and airtight container for storage. You can keep it in the refrigerator for up to a week.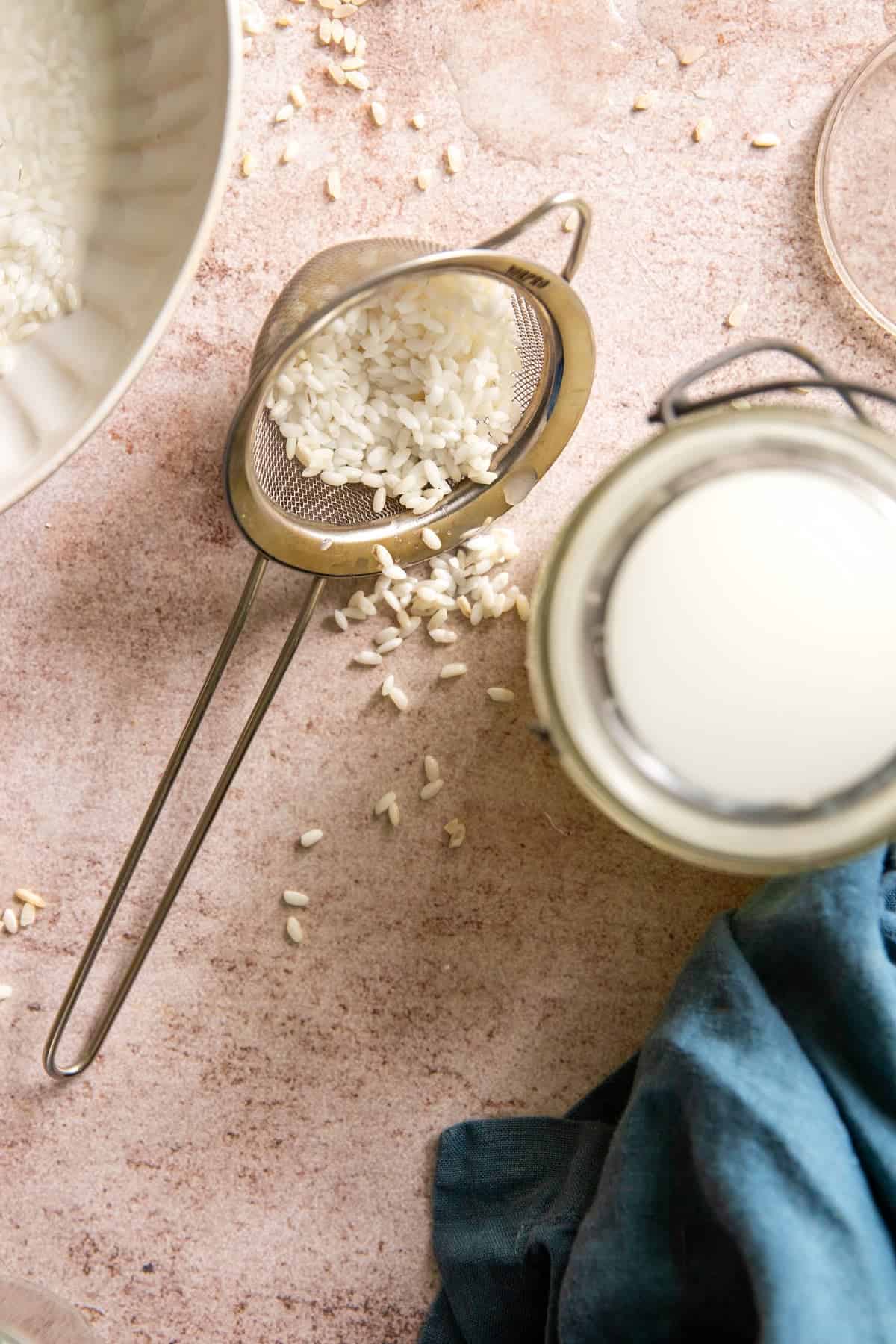 Pros: It's said to be more nourishing, and you can cook and eat the rice afterward.
Cons: It takes a bit longer.
3. Rice Water Fermented Method
This is like the soak method, except you'll leave the rice for a longer period to kick off its natural fermentation process.
Follow the steps above for the soak method. The strained rice water is your initial rice water solution.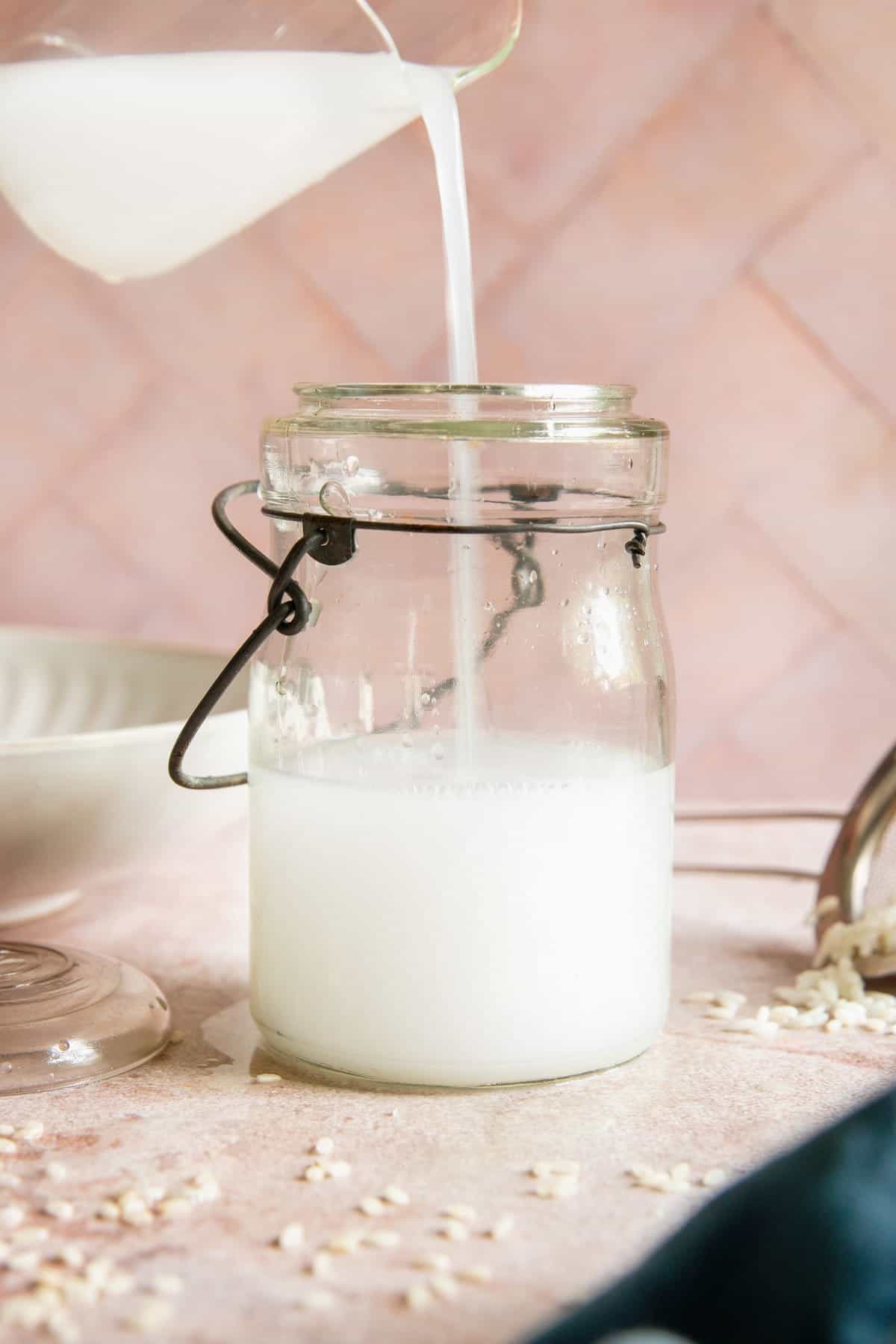 Cover the container with a breathable lid or cloth, securing it in place with a rubber band or string.
Let the rice water sit at room temperature for 24–48 hours to ferment. The fermentation time may vary depending on the temperature of your environment and the desired level of fermentation.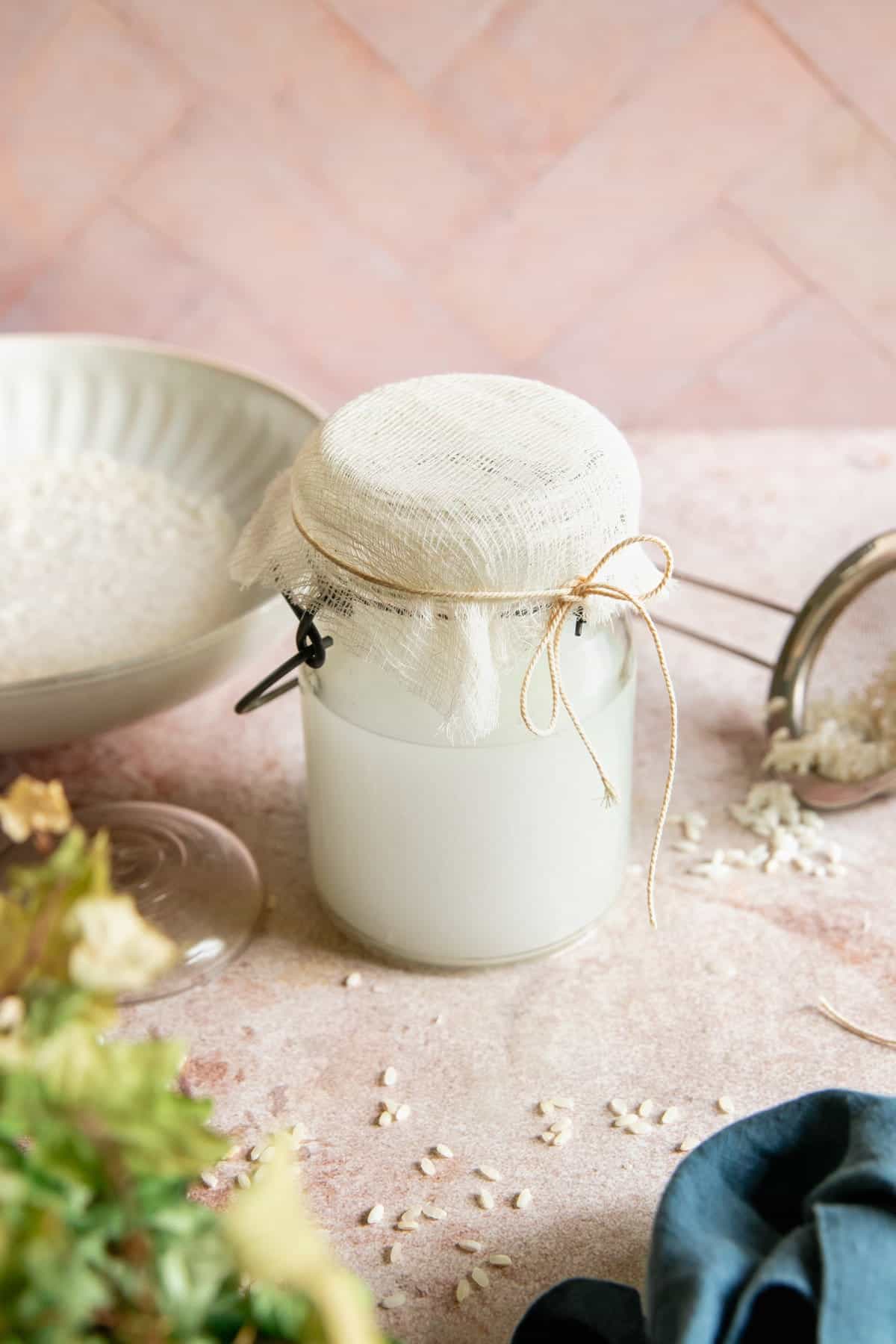 During the fermentation process, you may notice a slight change in the smell of the rice water, which is normal. It may have a mildly sour or tangy aroma.
After the fermentation period, give the rice water a gentle stir. It is now your fermented rice water, packed with enhanced nutrients and probiotics.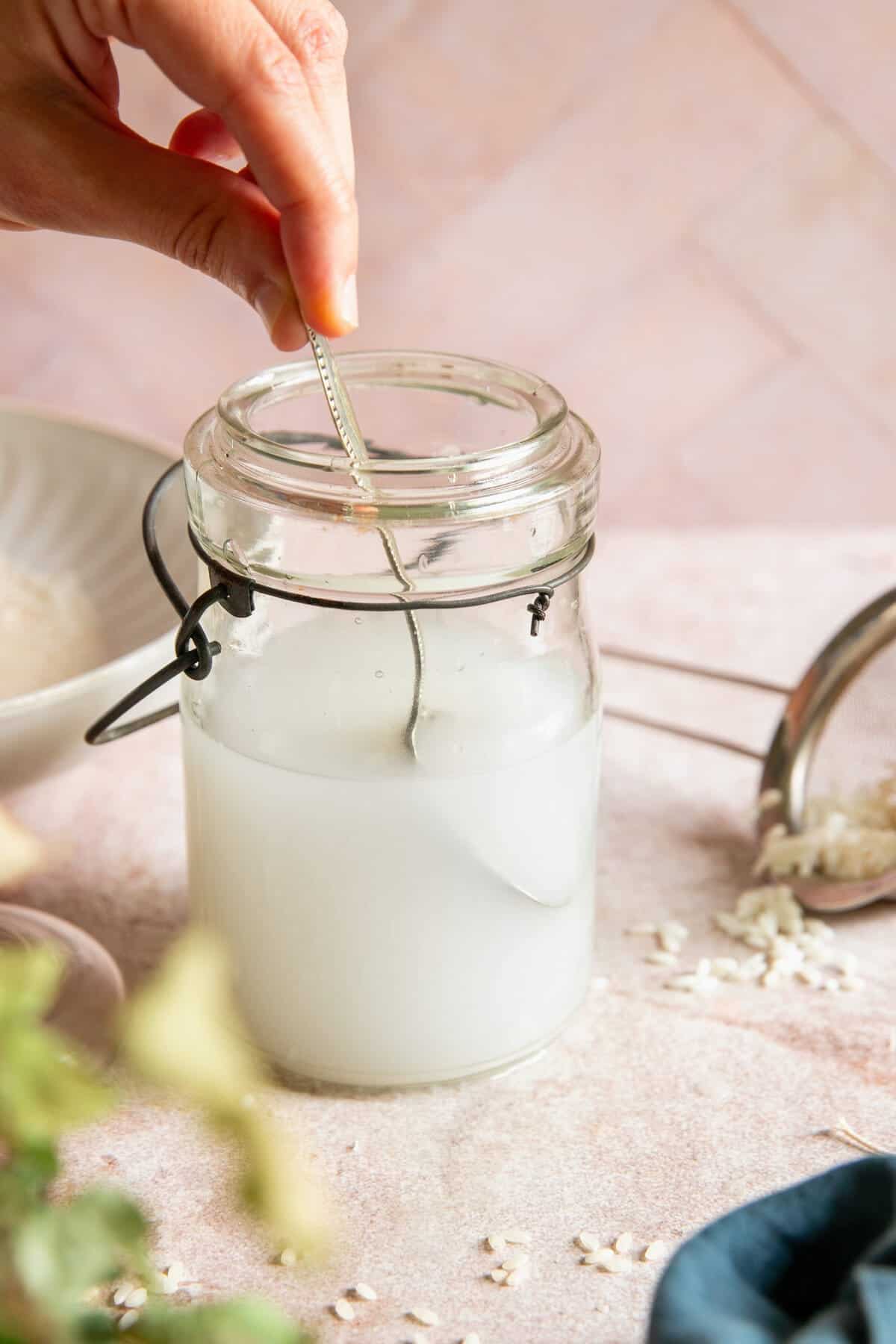 Transfer the fermented rice water to a clean and airtight container for storage. You can keep it in the refrigerator for up to a week.
Pros: Fermenting rice water increases its vitamin and nutrient content, making it even more effective in nourishing and improving the health of your hair. It is richer in antioxidants, minerals, vitamin B, vitamin E, and other nutrients that become more available due to the presence of lactic acid-producing bacteria. And, most of all, it contains healthy probiotics [source].
Cons: It's a hefty time investment and very potent, so use it sparingly. And it doesn't smell awesome.
Tips:
You can adjust the fermentation time based on your preference. A shorter fermentation time will result in a milder scent, while a longer fermentation time will yield a stronger fermented aroma.
If the fermented rice water is too strong for your liking, you can dilute it with filtered water before using it.
Storage
Keep your homemade rice water fresh and ready to use whenever you need it in your haircare routine!
Use a clean container: After preparing the rice water, transfer it to a clean and airtight container. Ensure the container is free from any dirt, oil, or residue that could contaminate the rice water.
Refrigerate promptly: Homemade rice water should be refrigerated promptly after preparation. Refrigeration helps slow down the growth of bacteria and extends the shelf life of the rice water.
Keep it sealed: Ensure the container is tightly sealed to prevent any air or moisture from entering, which can also lead to contamination or spoilage.
Use within a week: Homemade rice water typically remains fresh for about a week when stored in the refrigerator. It's best to use it within this time frame to ensure its efficacy and safety.
Make fresh batches regularly: To ensure maximum effectiveness and avoid contamination, make fresh batches of rice water regularly instead of storing it for extended periods.
Usage
Use your rice water as a simple hair rinse after shampooing to provide nourishment and shine to the hair. Or use the rice water to make your own rice water shampoo, leave-in conditioner, hair growth spray, or hair gel.
FAQ
What kind of rice should I use?
White rice, brown rice, and jasmine rice are all commonly used for making rice water. I used Mahatma long-grain white rice for mine since that's what I had in my pantry. 
How long should I let the rice soak to make rice water?
Soaking the rice for at least 30 minutes is recommended to allow the nutrients to infuse into the water. You can also soak it for up to 2 hours for more potent rice water.
Can I store leftover rice water for later use?
Yes, you can store leftover rice water in the refrigerator for up to a week. Make sure to keep it in a clean and airtight container.
4