A good hair day makes all the difference. So I get that a switch to a natural shampoo can be a bit stressful. My hair never took to any DIY product that included Castile soap (it turns my hair into a Brillo pad). It was necessary to find a safe brand that didn't contain parabens, sulfates, or phthalates.
It can take a bit of experimentation to find the right brand for your hair type. And more expensive doesn't always mean better! (I recently tried a fancy salon brand and hated it.) So we've rounded up 10 of the best natural hair care brands based on personal experience and positive reviews.
Whatever brand you try, give your hair at least two weeks to acclimate if you're switching from a traditional shampoo and conditioner. It takes a bit of time for your scalp to regulate its oil production after years of using cleansers that strip your strands with every wash.
Stick with a gentle shampoo, and you'll be rewarded with softer, healthier hair that's less dry or oily (depending on which one of those you struggle with). That lets you get by with washing your hair less often, which is a win-win in my book.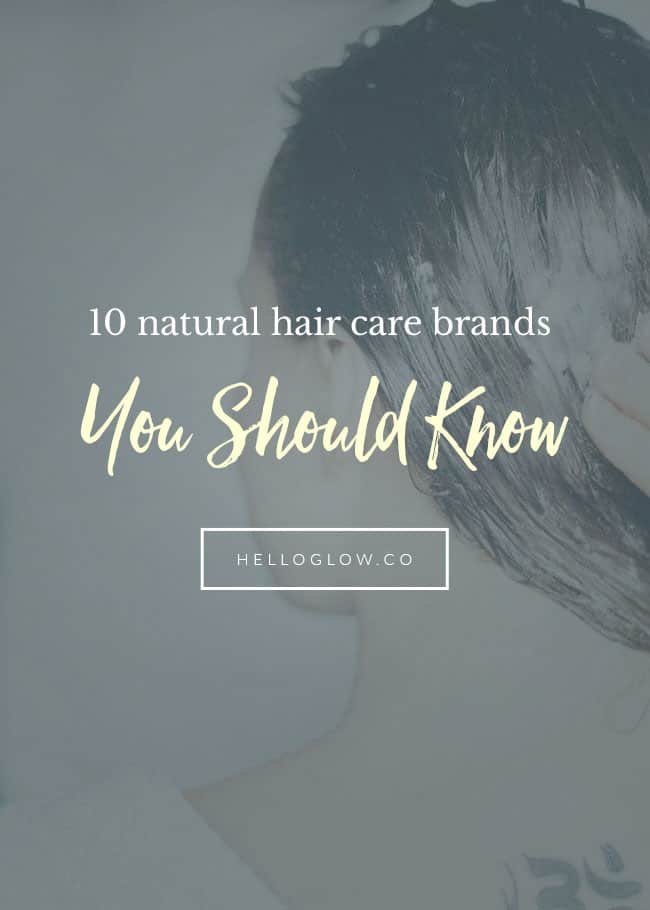 10 Best Natural Hair Care Brands

Founded by an Ecuadorian native, this organic vegan product line centers around an oil found deep in the Amazon rainforest called rahua. Instead of coating the exterior of hair strands like silicones do, rahua oil penetrates the hair shaft to fortify weak and damaged strands while smoothing the hair's cuticle for healthy, shiny hair.
Rahua products are sulfate- and paraben-free. They are created with sustainable production techniques that preserve the Amazon Rainforest and support the indigenous people.
Omega 9 Hair Mask // This conditioning treatment brings life and shine to the roots, promoting scalp health and preserving color vibrancy.
Leave-In Treatment // This healing treatment promises to repair even the most damaged strands from the first use.
Voluminous Dry Shampoo // This dry shampoo leaves the hair and scalp clean and refreshed, making styling effortless.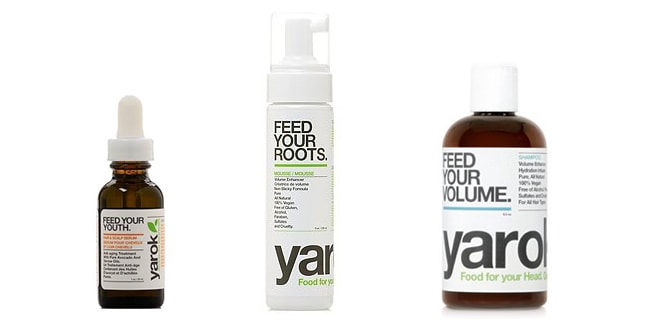 This vegan product line strives "to make the greatest positive impact on hair and scalp health with the least negative impact on the natural environment." Yarok started with its signature product, Feed Your Youth, a rich hair and scalp serum that promotes hair growth.
Now the brand is known for its styling products that contain all natural ingredients and aromatic essential oils. The mousse lifts limp hair with aloe and vegetable glycerin, and the hydrating leave-in conditioner protects hair with grapeseed, jojoba, and primrose oils. All products are free of alcohol, paraben, sulfates, chemicals, and gluten.
Feed Your Youth Serum // Apply the serum to the hair and scalp before shampoo to promote growth and prevent aging.
Feed Your Roots Mousse // Unlike conventional hair mousse, this one is eco-friendly, and it brings the beach hair texture we always strive for.
Feed Your Volume Shampoo // Amp up hair volume with a luxurious shampoo made with hair-friendly essential oils.

This French brand has been creating plant-based hair care products for nearly 50 years. Based on the belief that healthy hair begins at the root, PHYTO crafts gentle products enriched with over 500 active botanical extracts and essential oils. This pioneer in hair care combines scientific innovation with the power of pure botanicals to create products for beautiful and healthy hair.
Phytovolume Actif Volumizing Spray // This spray elevates the roots to create and hold voluminous styles throughout the day, leaving hair looking fuller, soft, and shiny.
Phytodefrisant Botanical Straightening Balm // This hair primer preps hair for a frizz-free, sleek, healthy, and beautiful blowout, taming hair to become more manageable.
Phytokératine Extrême Exceptional Mask // The ultra-rich formula replenishes and regenerates hair without weighing it down.

Briogeo is a 6-free hair care product line—meaning the formulas are free of sulfates, parabens, phthalates, silicones, DEA, and synthetic color. Founder Nancy Twine started making her own products at age five and based her nutrient-rich formulas on her grandmother's homemade beauty recipes.
Brio is an Italian word that means "vibrant and full of life," and geo is a Latin word meaning "of earth and nature." Each all-natural blend has pure yet potent ingredients like charcoal, ginseng, and rosehip oil. I love that each ingredient list includes the exact percentage of each ingredient (and its source).
Don't Despair, Repair! Deep Conditioning Mask, an Allure Readers' Choice winner for 2017, is the comprehensive remedy for dry, damaged, and chemically treated hair.
Blow Dry Perfection & Heat Protectant Crème // The lightweight formula smooths hair, enhances shine, tames frizz, and protects against heat.
Ginseng + Biotin Volumizing Spray // The spray adds volume to fine, thin, or limp hair, especially in combination with blow-drying.

Sachajuan started as a popular salon in Sweden, and its founders launched their natural product line in 2004 to make hair care less complicated. The products use ocean silk technology developed with sea algae to boost hair's moisture and shine.
While the light moisturizing ingredients restore your tresses, the brown glass bottles and minimal packaging have a clean design that's joyously simple and easy to use.
Ocean Mist // The spray gives you messy beach waves that look effortlessly chic.
Volume Powder // With this powder spray, you can feel fresh, cleansed, and grease-free without actually washing your hair.
Hair in the Sun // Protects your hair and color from the sun with a UV filter that remains in the hair even after a shower.

Avalon Organics is easy to find in most grocery stores (check for a natural products section). Their products are great for thin, dry hair, so everything is packed with nourishing ingredients like rosemary, quinoa protein, calendula, aloe, and vitamin E to cleanse and hydrate your hair from root to tip.
The gentle, plant-based shampoos and conditioners are vegan, non-GMO, and paraben- and phthalate-free. Plus, they don't contain any synthetic fragrances or colors. We tested the Volumizing Rosemary shampoo and conditioner and noticed less breakage and split ends. And the scent is ah-mazing.
Biotin B-Complex Thickening Shampoo and Conditioner // The duo cleanse and nourish fine hair, building volume even when there's not a lot to work with.
Volumizing Rosemary Shampoo and Conditioner // Wheat protein, aloe, vitamins, and rosemary essential oil strengthen and thicken for healthy-looking hair.

Abba uses a gluten-free combo of three powerful proteins—quinoa, barley, and soy—to strengthen and repair damaged hair. I'm hooked on these gentle cleansers that don't strip the hair, helping to maintain the scalp's oil balance and hair color. Abba claims to be the first brand to make 100% vegan hair care products.
Gentle Shampoo and Conditioner // The gentle shampoo is ideal for sensitive skin and even for children.
Curl Finish Spray // Amplify curls for long-lasting hold with this finishing spray made with grapefruit and avocado oil.
Volume Serum // Shield hair from heat while adding texture and dimension with this lemongrass serum from Abba.

The John Masters philosophy is that "it's better for the body and the earth to simply return to the source: super natural botanicals." And the company has a serious commitment to quality ingredients. All ingredients must meet John Masters' list of strict guidelines (and it's a long list).
The brand partners with local farmers for organic, wild-harvested botanicals. All plant oils must be cold-pressed, and all essential oils used must be steam-distilled to preserve their therapeutic properties. You'll never see artificial colors or fragrances in their ingredients.
Scalp Stimulating Shampoo // Spearmint and peppermint stimulate and refresh the scalp, while meadowsweet extract and eucalyptus oil act as natural astringents to balance sebum levels and lock in moisture for soft tresses.
Rose + Apricot Hair Milk // Nourish, strengthen, and build volume, leaving the hair healthy and manageable, with this hair milk from John Masters Organics.
Citrus + Neroli Detangler // This product diminishes tangles without overloading hair and can be rinsed or left in, depending on your preference.

Another European favorite, and this time, it's a product from Italy. The Davines Group started as a research lab, creating high-end hair care products for cosmetic companies.
After a decade of honing their expertise, they created their own hair care brand that's scientifically engineered to work. The brand balances the use of high-grade natural ingredients with scientific rigor to create sustainable beauty.
OI All in One Milk // The multi-function leave-in milk spray softens, detangles, controls frizz, and protects the hair from heat.
OI Oil // Add shine and softness with an oil that works on every hair type.
Vegetarian Miracle Conditioner // Repair dry and brittle hair with this impressive treatment that leaves the hair soft, shiny, and easy to comb.

We all want great hair, but how about great hair without all the plastic bottles? HiBAR makes solid shampoos and conditioners that are free of soap, sulfates, parabens, phthalates, and silicones but also free of plastic packaging.
These products are great for traveling, but you'll probably be a full-time convert soon—especially if you're going in the direction of zero waste beauty. The bars are reasonably priced and long-lasting.
Moisturize Shampoo & Conditioner Set // The moisturizing bars are great for thicker hair, dry hair, or if you tend to wash more frequently.
Maintain Shampoo & Conditioner Set // Maintain normal hair or help remove product build-up with this combination.
Volumize Shampoo & Conditioner Set // Add more body and definition to thin, fine, or lifeless hair with this solid shampoo and conditioner set.
356