The cosmetics, shampoos, lotions, and other products you apply to your skin can be just about as beneficial or harmful as anything you put inside your body. Almost everyone can agree that using more natural products or—better yet, making your own—is the safest bet for you and the environment. Learn about the skincare and makeup ingredients to avoid to keep you looking and feeling your best.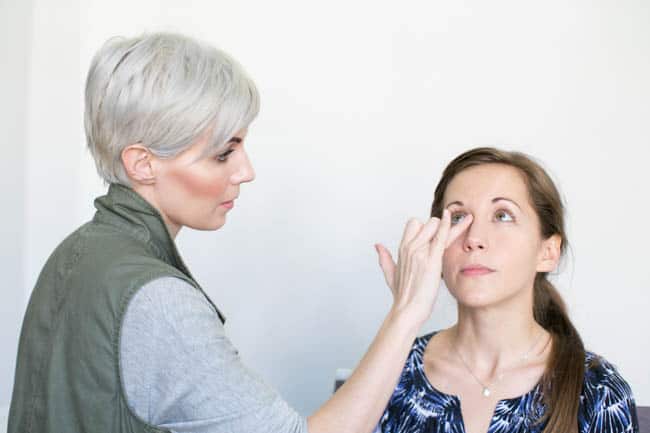 It is essential to nourish your body from the inside out as well as the outside in. Ingredients found in face washes, lotions, sunscreens, and more have been linked to everything from allergic reactions to hormonal disruptions to cancer.
What's worse is that some of them go directly into your bloodstream and build up over time when applied to the skin or hair [source]. Read on to learn which ingredients to avoid and how to find safer alternatives.
Jump to: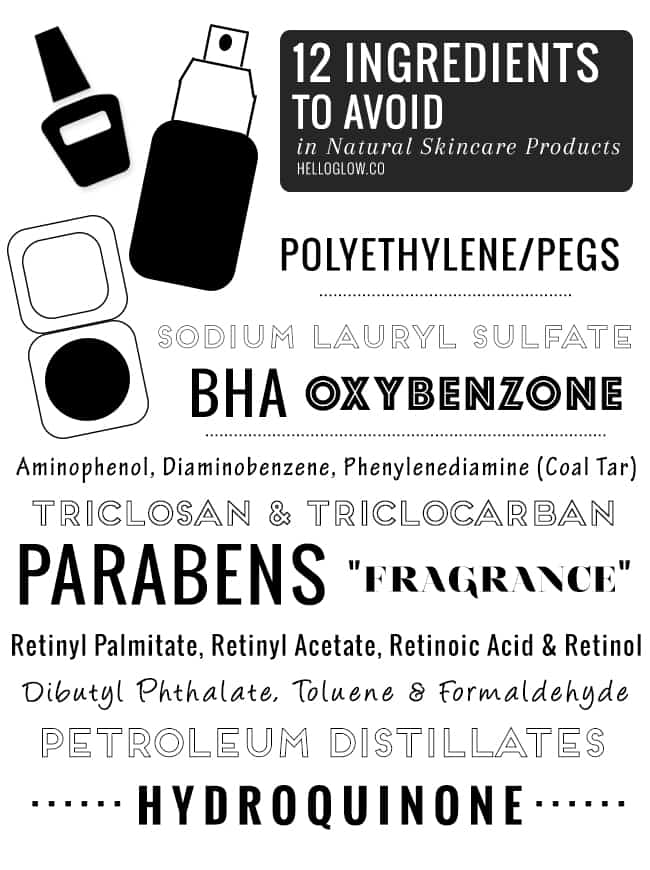 1
.
Sodium lauryl sulfate (SLS)
Found in: shampoo, body wash, foundation, face wash, mouthwash, and toothpaste
Sodium lauryl sulfate, or SLS, is a common surfactant used in many personal care and cleaning products. It's been shown to cause or contribute to skin irritation [source], canker sores [source], disruption of the skin's natural barrier function and oil balance [source], and eye damage [source].
It is also widely believed to be a major contributor to acne (especially cystic acne) around the mouth and chin because it is comedogenic (clogs pores). Opt for a natural shampoo, and try making your own chemical-free body wash, toothpaste, or cold process soap.
2
.
Butylated hydroxyanisole (BHA)
Found in: exfoliants, perfume, moisturizers, and lip balm
The National Toxicology Program classifies BHA (not to be confused with the other BHA: beta-hydroxy acid) as "reasonably anticipated to be a human carcinogen [source]." In animal studies, BHA has been shown to exhibit neurotoxic effects [source] and interferes with normal reproductive system development [source] and thyroid hormone levels.
The European Union considers it unsafe in fragrance. Opt for a BHA- and phthalate-free perfume. And try your hand at making your own lip balm and moisturizer.
3
.
Triclosan and triclocarban
Found in: toothpaste, deodorant, and antibacterial soap
Triclosan was all the rage as antibacterial products became ubiquitous in the 1990s. Even the US Food and Drug Administration (FDA) agrees that the use of triclosan brings no health benefit to humans [source].
And in 2013, it ruled that manufacturers will have to demonstrate that there are no long-term detrimental effects when using it in products [source]. The chemical was banned by the FDA in 2016 from use in certain soaps.
Still showing up in many remaining consumer products, triclosan (in liquid products) and triclocarban (in bar soaps) have been linked to hormonal disruptions [source], bacterial resistance, impaired muscle function, impaired immune function, and increased allergies [source].
Instead, use naturally antibacterial and antiseptic agents like tea tree and eucalyptus essential oils and alcohol-free witch hazel.
4
.
Aminophenol
,
diaminobenzene
,
phenylenediamine (coal tar)
Found in: hair dye and shampoo
Coal tar, a byproduct of coal processing, has been studied mostly for its effects after occupational exposure [source]. It is a known human carcinogen [source], according to the National Toxicology Program and the International Agency for Research on Cancer [source].
Hairstylists and other professionals are exposed to these chemicals almost daily. Europe has banned many of these ingredients in hair dyes. While the FDA sanctions coal tar in specialty products, such as dandruff and psoriasis shampoos, the long-term safety of these products has not been demonstrated.
If you have dandruff or other inflammatory scalp issues, you may find relief with a homemade apple cider vinegar shampoo instead.
5
.
Parabens
Found in: makeup, moisturizer, shaving gel, shampoo, personal lubricant, and spray tanning products
Parabens are commonly used as preservatives in bath and body products. Research studies have linked parabens, which are endocrine disruptors that mimic estrogen [source], to the promotion of breast cancer [source], skin cancer, and decreased sperm count, yet the FDA has not ruled that it is harmful [source]. The most recent concern has been for lifetime exposure to parabens, as cosmetic products are used daily over long periods of time [source].
According to the European Commission's Scientific Committee on Consumer Products, longer chain parabens like propyl and butyl parabens and their branched counterparts, isopropyl and isobutyl parabens, may disrupt the endocrine system and cause reproductive and developmental disorders [source].
The Campaign for Safe Cosmetics recommends you look to avoid ingredients with the suffix "-paraben," such as ethylparaben, propylparaben, and butylparaben [source] Also, paraben-free products will be labeled as such.
6
.
Polyethylene glycol
/
PEGs
Found in: scrubs, body wash, makeup, and toothpaste
Those tiny plastic beads in face or lip scrubs and exfoliating washes are made from polyethylene (used because they're gentler on the skin than natural exfoliators like walnut shells). These synthetic chemicals are frequently contaminated with 1,4-dioxane, which the US government considers a probable human carcinogen [source] and which readily penetrates the skin.
Polyethylene has been noted as a skin irritant and should never be used on broken skin. These polyethylene beads in scrubs and body washes are also not filtered by our sewage systems, meaning they can collect pollutants and travel into waterways, where they're consumed by fish and marine animals.
7
.
Retinyl palmitate and retinyl acetate
Found in: moisturizer, lip products, and sunscreen
Retinol products (often designated "anti-aging") have the opposite intended effect and become ineffective in sunlight, making it extra important to only use them at night and avoid any sunscreens containing retinyl-derived ingredients. Retinols can also be incredibly irritating and cause dermatitis, redness, scaling, or peeling if you have sensitive skin.
Try frankincense, a natural replacement for retinol, or bakuchiol, another plant-based alternative.
8
.
Petroleum distillates
Found in: mascara, lipstick, and body oils
Petroleum-extracted ingredients used in cosmetics may cause contact dermatitis and are often contaminated with cancer-causing impurities, such as polycyclic aromatic hydrocarbons (PAHs). They are produced in oil refineries at the same time as automobile fuel, heating oil, and chemical feed.
While petroleum distillates can provide a temporary emollient effect by sealing in moisture, they do not possess the same nourishing properties as natural oils. Instead, they act as occlusives, preventing moisture loss but not actively providing nutrients to the skin.
Find or make a non-toxic mascara to use instead. And always stick to natural plant-based carrier oils when making your own body oil or cosmetics.
9
.
"
Fragrance
"
Found in: moisturizers, deodorant, lotion, face cream, shampoo, and conditioner
Of all the ingredients to avoid in makeup, unnatural fragrances are some of the hardest to steer clear of. Federal law doesn't require companies to list on product labels any of the chemicals in their fragrance mixtures [source]. Recent research from the Environmental Working Group and the Campaign for Safe Cosmetics found an average of 14 chemicals in 17 name-brand fragrance products, none of which were listed on the label.
Fragrances can contain hormone disruptors and are among the top 5 allergens in the world. Our advice? Buy products that are fragrance-free or those containing beneficial essential oils wherever possible.
10
.
Oxybenzone
Found in: sunscreen
Oxybenzone is one of the highest-risk chemicals found in sunscreen. It acts like estrogen in the body, alters sperm production in animals, and is associated with endometriosis in [source].
Studies on cells and laboratory animals indicate that oxybenzone and its metabolites may disrupt the hormone system. It also has high rates of associated skin allergy.
Opt for safe physical sunscreens containing zinc oxide or titanium oxide instead. These are chemical-free, mineral-based ingredients. Don't forget to cover up with a hat and protective clothing, and stay out of the sun during peak hours of the day.
11
.
Dibutyl phthalate
,
toluene
,
and formaldehyde
Found in: nail polish and other nail products, perfume, and makeup remover
These chemicals, known as the "toxic trio," have been linked to birth anomalies, endocrine disruption, headaches, and respiratory problems—especially worrisome for nail salon workers and those who frequently get manis or pedis [source].
It's advised that pregnant women avoid nail products altogether. Non-toxic nail polish brands like OPI and Zoya have pledged to remove these chemicals from their products. Look for "toxic-trio-free" products or give yourself a safe, no-polish manicure.
12
.
Hydroquinone
Found in: skin lighteners
The FDA warns that this skin-bleaching chemical, when used chronically, can cause a skin disease called ochronosis, with "disfiguring and irreversible" blue-black lesions on exposed skin [source]. Illegally imported skin lighteners can contain mercury, which may poison adults and children and is especially toxic during pregnancy [source].
Be wary of imported skin lighteners, don't buy products without their ingredients clearly labeled, and always avoid products with "mercury," "calomel," "mercurio," or "mercurio chloride."
If your overall skin goal is evenness, there are three natural alternatives that don't involve harsh chemicals: neroli, orange, and chamomile essential oils.
Always Read the Label
Some ingredients in nail polish, body lotion, and makeup aren't just harmful to you; they can be harmful to the environment as well. Keep an eye out for any of these:
Chemical UV filters: Many sunscreens and other personal care products contain chemical UV filters, which can be harmful to coral reefs and marine life. Look for products that use physical blockers like zinc oxide instead.
Harmful chemicals: Unfortunately, many beauty products contain harmful chemicals such as phthalates, parabens, and formaldehyde. Try to avoid products containing these chemicals, as they can be harmful to your health.
Polyethylene glycol (PEG): This ingredient is often used in cosmetics as a thickener or emulsifier, but it can be detrimental for your skin and damaging to the environment. Look for products that don't contain PEG or other potentially harmful ingredients.
Synthetic fragrance: Many perfumes and other scented products contain synthetic fragrances that can trigger allergies and other health problems. Look for products that use natural fragrances instead.
Immune system and hormonal disruption: Some chemicals, such as triclosan and phthalates, can disrupt the immune system or interfere with hormonal balance. Look for products that don't contain these ingredients.
Developmental and reproductive toxicity: Some chemicals can be disruptive to fetal development or reproductive health. Look for products that are free of potentially dangerous chemicals like lead, mercury, and formaldehyde.
Mineral oil: This ingredient is commonly used in skincare and cosmetic products, but it can clog pores and prevent your skin from breathing. Look for products that use natural oils instead.
Shaving cream: Many shaving creams contain ingredients like SLS that can dry out your skin and cause irritation. Look for natural shaving creams that are free of harmful chemicals.
Known carcinogens: Some ingredients in makeup, such as coal tar and formaldehyde, are known to cause cancer. Look for products that are free of these ingredients.
Chemical preservatives: Many beauty products contain preservatives to extend their shelf life, but some of these can be harmful to your health. Look for products that use natural preservatives like vitamin E or rosemary extract.
Nail polish: Nail polish is often packed with toxic chemicals like formaldehyde resin, dibutyl phthalate, and toluene that can cause allergic contact dermatitis. Studies have shown that chemicals in nail polish can be absorbed into the body, which is why it's important to read the label and understand the contents of any product.
Chemical sunscreens: Some chemical sunscreens contain ingredients like oxybenzone and octinoxate that can be harmful to coral reefs and marine life. Look for sunscreens that use physical blockers like zinc oxide instead.
Zinc oxide: This ingredient is often used in natural sunscreens and other beauty products, as it provides broad-spectrum protection against UV rays. Look for products that contain zinc oxide to protect your skin from sun damage.
Lip balm: Many lip balms contain ingredients like petroleum jelly that do not nourish the skin and can contain impurities. Look for natural lip balms that use ingredients like beeswax and shea butter.
FAQ
What should I look for on product labels to avoid certain chemicals
?
Always look for products that specifically say that they are paraben-free, phthalate-free, sulfate-free, fragrance-free if you wish to avoid those specific chemicals. Reading the ingredient list is crucial, as some products may advertise themselves as natural and clean but still contain chemicals you prefer to avoid.
Are there certifications for chemical-free or natural products?
Yes, various certifications and labeling standards exist to help consumers identify products that meet specific criteria. Examples include USDA Organic, COSMOS Organic, EWG Verified, and Leaping Bunny (cruelty-free).

These certifications indicate that products meet certain standards for organic ingredients, the absence of certain chemicals, environmental impact, or cruelty-free practices. However, it's important to review the specific criteria to understand what each certification includes.
Are the amounts of chemicals in cosmetics too small to matter?
No. While the amounts of individual chemicals in a single product may be small, people often use a product every day or even multiple times a day. Over time, cumulative exposure to certain chemicals could potentially become a concern. It is important to consider the total exposure from various sources over time when evaluating potential risks.
I know SLS is bad
,
but what about SLSa or cocosulfates
?
Both SLSa and cocosulfates are generally considered milder and less likely to cause skin irritation compared to SLS. However, individual sensitivities can still vary, and some people may still experience mild reactions or sensitivities to these alternatives. It's always a good idea to perform a patch test or consult with a dermatologist if you have specific concerns or sensitivities.
Are all natural ingredients safe to use on skin
?
While natural ingredients can offer numerous benefits and are often preferred when seeking more natural alternatives, it's important that you approach them with care, as not all natural ingredients are universally safe. It's crucial to be aware of any potential allergies or sensitivities you may have and to read product labels to avoid ingredients that trigger adverse reactions.

Learn how to make just about any DIY personal care product on our DIY Bath + Body and Skincare + Makeup pages. You might even become a total DIY beauty routine convert. (I know I couldn't live without these homemade turmeric masks!)
This post was medically reviewed by Dr. Jennifer Haley, a board-certified dermatologist with extensive experience in medical, cosmetic, and surgical dermatology. Learn more about Hello Glow's medical reviewers here. As always, this is not personal medical advice, and we recommend that you talk with your doctor.
Hewitt NJ, et al. Measurement of the penetration of 56 cosmetic relevant chemicals into and through human skin using a standardized protocol. J Appl Toxicol. 2020.
Oosterhaven JAF. Anatomical location differences in sodium lauryl sulfate‐induced irritation. Br J Dermatol. 2019.
Alli BY, et al. Effect of sodium lauryl sulfate on recurrent aphthous stomatitis: a systematic review. J Oral Pathol Med. 2019.
Leoty-Okombi S, et al. Effect of sodium lauryl sulfate (SLS) applied as a patch on human skin physiology and its microbiota. Cosmetics. 2021.
Bondi CAM, et al. Human and environmental toxicity of sodium lauryl sulfate (SLS): evidence for safe use in household cleaning products. Environ Health Insights. 2015.
Department of Health and Human Services National Toxicology Program. Butylated hydroxyanisole. Report on Carcinogens. 15th ed. 2021.
Park S, et al. Butylated hydroxyanisole exerts neurotoxic effects by promoting cytosolic calcium accumulation and endoplasmic reticulum stress in astrocytes. J Agric Food Chem. 2019.
Jeong SH, et al. Effects of butylated hydroxyanisole on the development and functions of reproductive system in rats. Toxicology. 2005.
FDA issues final rule on safety and effectiveness of antibacterial soaps. US Food & Drug Administration website.
5 things to know about triclosan. US Food & Drug Administration website.
Triclosan. Environmental Working Group's Skin Deep website.
Weatherly LM, et al. Triclosan exposure, transformation, and human health effects. J Toxicol Environ Health B Crit Rev. 2017.
Moustafa GA, et al. Skin disease after occupational dermal exposure to coal tar: a review of the scientific literature. Int J Dermatol. 2015.
Coal tar and coal-tar pitch. NIH: National Cancer Institute website.
International Agency for Research on Cancer (IARC) - Summaries & Evaluations: coal-tars and derived products. WHO: INCHEM website.
Boberg J, et al. Possible endocrine disrupting effects of parabens and their metabolites. Reprod Toxicol. 2010.
Pan S, et al. Parabens and human epidermal growth factor receptor ligand cross-talk in breast cancer cells. Environ Health Perspect. 2016.
Parabens in cosmetics. US Food & Drug Administration website.
Matwiejczuk N, et al. Review of the safety of application of cosmetic products containing parabens. J Appl Toxicol. 2020.
Consumers: commission improves safety of cosmetics. European Commission website.
Parabens. Campaign for Safe Cosmetics website.
Godri Pollitt KJ, et al. 1,4-dioxane as an emerging water contaminant: state of the science and evaluation of research needs. Sci Total Environ. 2019.
Right to know: exposing toxic fragrance chemicals report. Breast Cancer Prevention Partners website.
Benzophenone & related compounds. Campaign for Safe Cosmetics website.
Perfect nails, poisoned workers. The New York Times website.
American Society for Dermatologic Surgery Association. Position on topical hydroquinone. Updated August 2019.
Mercury in skin lightening products. World Health Organization website.
919