No other makeup item can transform your look the way lipstick does. A bold red lip can take you from blah to boom in an instant. There's a color for every occasion and mood, so if you're on the market for a new shade, try these natural lipstick options and avoid the icky ingredients found in most lipsticks.
Meet the Experts

Alyssia Chang, makeup artist and founder of Prevail Beauty

Christina Flach, celebrity makeup artist
What Lipstick Ingredients Should You Avoid
?
Unfortunately, lipstick falls in the category of cosmetics that are not well regulated. In fact, they don't even have to be approved by the U.S. Food & Drug Administration (FDA) to be manufactured and sold, which means, more often than not, you're applying questionable and even potentially harmful ingredients on your face—and, in lipstick's case, on your lips.
While some of these ingredients used to be crucial to formulating the product, thanks to technological advancements, companies can now create long-lasting, hydrating lipstick using only natural, organic dyes and oils.
If you're looking for a new lipstick, remember to read the label first. And put that pretty tube back on the shelf if you see any of the following ingredients listed on it:
Polyparaben
Polyparaben is a chemical commonly found in cosmetics, such as sunscreen, foundation, eye shadow, and of course, lipstick. It acts as a preservative, preventing the formation of bacteria and mold, per the FDA [source]. And while it does keep your lipstick from going rancid, there is strong evidence that polyparaben is an endocrine disruptor, in addition to being a potential allergen, according to the Environmental Working Group (EWG) [source].
"The chemical structure of parabens is close to that of estrogen, which can lead to many health risks, for example, cancer," explains Alyssia Chang, makeup artist and founder of Prevail Beauty. As an alternative, natural lipstick brands use clay, honey, or salt as preservatives. While the shelf life may be slightly shorter, natural lipstick is definitely safer.
Methylparaben
Just seeing the word paraben, you probably already know this ingredient shouldn't be in your lipstick. However, a lot of companies still use it as a preservative to prevent fungal growth in lipstick, moisturizer, and mascara.
Again, methylparaben causes endocrine disruption [source], and its use is restricted in most European countries due to concerns linking the substance to cancer.
Essential oils, herbal extracts, and some vitamins can be used as natural alternatives.
Tocopheryl acetate
Also known as tocopheryl acetate or vitamin E acetate, tocopheryl is a synthetic form of vitamin E used as an antioxidant and conditioning agent in lipstick. Its side effects can include allergic reactions, burning, and blisters and one study linked it to increased carcinogenic effects of UV rays in animals, according to the EWG [source].
"Keep an eye out for this ingredient if you have sensitive lips and don't want to digest an acid commonly used in wood glue," warns Chang.
In the case of natural lipsticks, natural vitamin E might be used for the same purpose as tocopheryl acetate. While more expensive for the manufacturer, this version is much safer for consumers.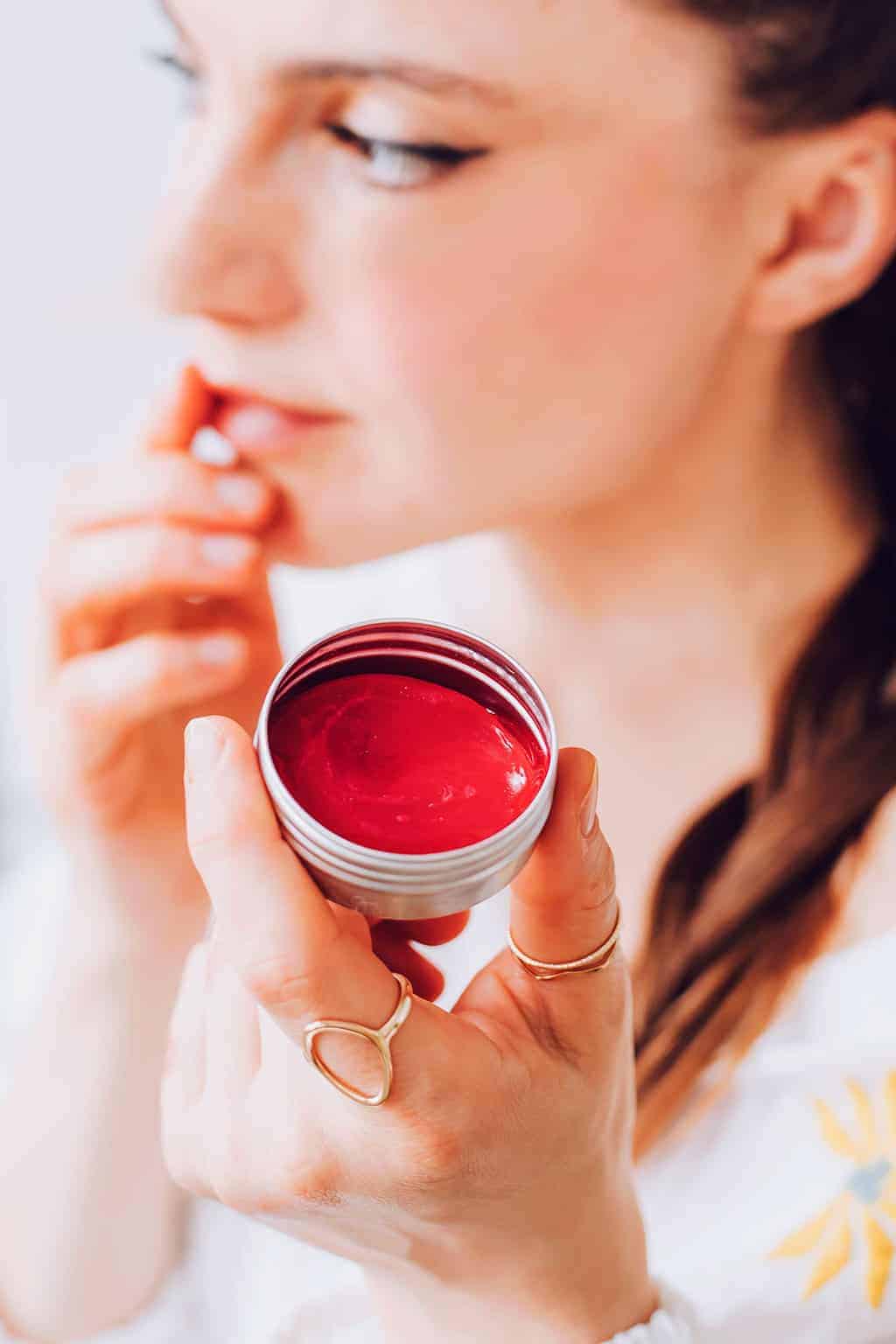 Dyes
We all love a pretty lipstick color to throw on just so, one that suits our complexion, making us look stylish and put together so easily. But many of these colors come from artificial dyes, which are derived from aluminum or petroleum products. Coal tar, for example, is a known human carcinogen and allergen, per the National Cancer Institute [source], yet it's an ingredient in many famous brand lipsticks.
Unlike many other ingredients in cosmetics, color additives (with the unexplained exception of coal-tar dyes) must be approved for use by the FDA [source]. You will find colorants that were not approved for food use listed as D&C.
Those that are food-safe are marked as FD&C, meaning they can be used in food, drugs, and cosmetics [source]. If you don't want a lipstick with ingredients you wouldn't be happy ingesting, opt for those in the latter category.
Natural colors can be obtained from cacao or beetroot, among others. And while carmine is technically natural and has been used for thousands of years, you should skip this colorant if you're vegan, as the color is actually obtained from the boiled bodies of beetles [source].
Does Your Lipstick Contain Lead
?
Unfortunately, many modern-day lipsticks do contain lead. "In 2010, the FDA conducted a study that found 400 of the most popular lipsticks contain lead, including products from Nars, Maybelline, Cover Girl, and L'Oreal," shares celebrity makeup artist Christina Flach.
In 2016, the Campaign for Safe Cosmetics conducted its own investigation, discovering that 61% of the lipsticks they surveyed contained lead [source]. Exposure to lead is harmful, linked to everything from brain and nervous system damage to lower IQ in children, per the Centers for Disease Control and Prevention (CDC) [source].
What Should You Look For in a Natural Lipstick
?
As with all cosmetics, start by reading the label. Make sure the ingredients are natural and organic, and watch out for hidden chemicals (here's looking at you, fragrance!). It never hurts to check the product on the EWG Cosmetic Database, where they list items they've inspected for safety and rate most cosmetics on the market.
While you're at it, also check the label for information on where the lipstick is produced. The regulations of countries differ, and you might find yourself getting more than you bargained for. The label is also where you might find information on whether the lipstick is vegan, cruelty-free, gluten-free, or certified organic.
Since lipstick is not just for looking pretty but also for protecting your lips, make sure the one you pick is moisturizing and won't dry out your lips. You will also want a brand with a variety of colors available so you have plenty to choose from.
How Can I Make Natural Lipstick Last
?
The pursuit of the perfect color is endless, but here are our 8 tips for making your lipstick last all day:
Skip the long-wearing lipsticks. They will suck the moisture out of your lips. And when the color settles into the grooves of your lips, it's not a pretty sight.
Go for bright or dark shades. Because they have more pigment, they tend to stay on longer than soft colors.
Start with smooth lips. Lipstick stays on best when your lips are smooth. If your lips are flaky, take a minute to exfoliate your lips with a sugar scrub (they're simple to make!) or rub them gently with a damp washcloth.
"A lip exfoliator should be applied at night before applying a lip mask to help prep your lips for the next day's lipstick application," says Chang. Don't do this too often, or you'll end up with more dryness. Then apply a lip balm and give it a minute to sink in.
Skip the primer. The more layers you add on your lips, the more likely your lipstick will smear and come off more easily.
Don't use a brush. You'll get more intense color when you apply lipstick directly from the tube.
Layer with lip pencil. "By using a natural lip liner that matches your lipstick shade and outlining the edges of your lips prior to applying lipstick, you can help create a barrier between your lips and the lipstick," says Chang. "The contrasting formula of the lip liner will also help the lipstick last longer." Choose a color that matches your lipstick (or one shade lighter if your lipstick is dark). Trace the edges of your lips and then fill in the color.
Blot. Once you've applied your lipstick, Chang recommends taking a tissue and pressing it gently against your lips to absorb any extra moisture or product. "This will help set the color in place and make it last longer," she says. "Blotting also helps prevent feathering and smudging."
Finish with powder. If you really want the lipstick to last all day, give your mouth a very light dusting of transparent powder and another layer of lipstick. This can dry your lips, so skip this step unless it's needed.
How Can I Find Clean Lipstick
?
The easiest way to make sure all the ingredients in your lipstick are safe is to make it yourself. We've created this creamy marsala lip gloss version with natural ingredients and still find it an excellent everyday color! However, we understand if you decide not to take the DIY route, as buying ready-made cosmetics can be more convenient.
If you're new to the world of natural cosmetics, you might be surprised to find that natural lipstick is actually easy to procure. You can even find a few options in the beauty aisle at Target or Walmart, not to mention the plethora of choices on Amazon.
You will also find options in every price range because natural lipstick is no longer the exception—and we hope that soon it becomes the norm! Scroll down for our favorite sources.
Our Pick for the Best Natural Lipsticks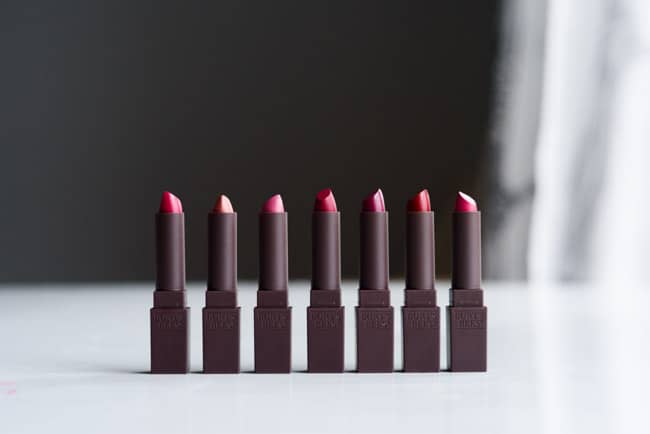 This is probably our favorite natural lipstick—it's moisturizing, long-lasting, and affordable. It's also free of parabens, phthalates, SLS, petrolatum, and synthetic fragrances. What's more, the 24 available colors allow you to mix and match according to your mood or the season.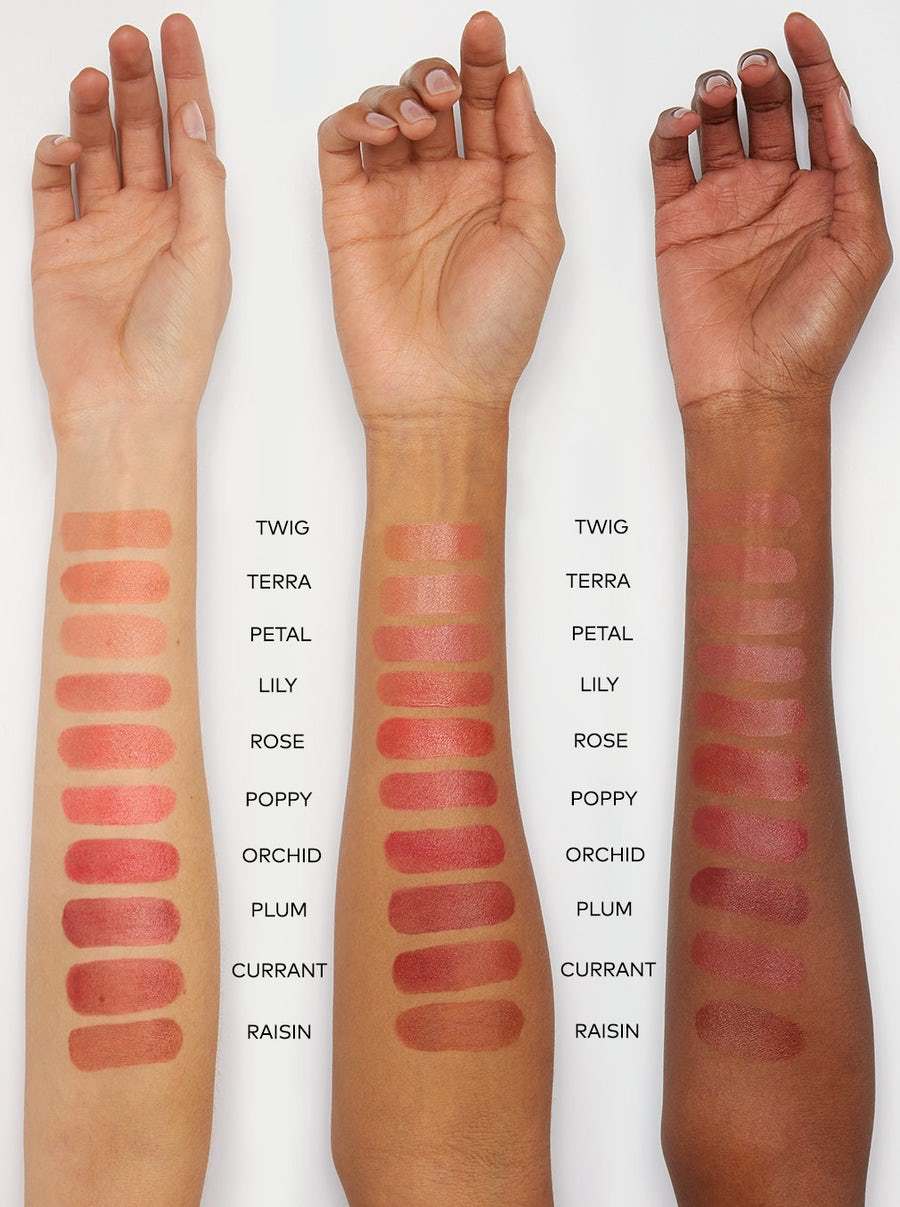 This sheer lipstick is ideal if you don't usually wear full face makeup and prefer a more natural look. The shade "Pearl" is rated 1 by EWG, while "Raisin," "Lily," and "Orchid" are still considered safe with a 2 rating. The lipstick is made with jojoba esters and carnauba wax that condition and hydrate lips, and it contains no artificial fragrance.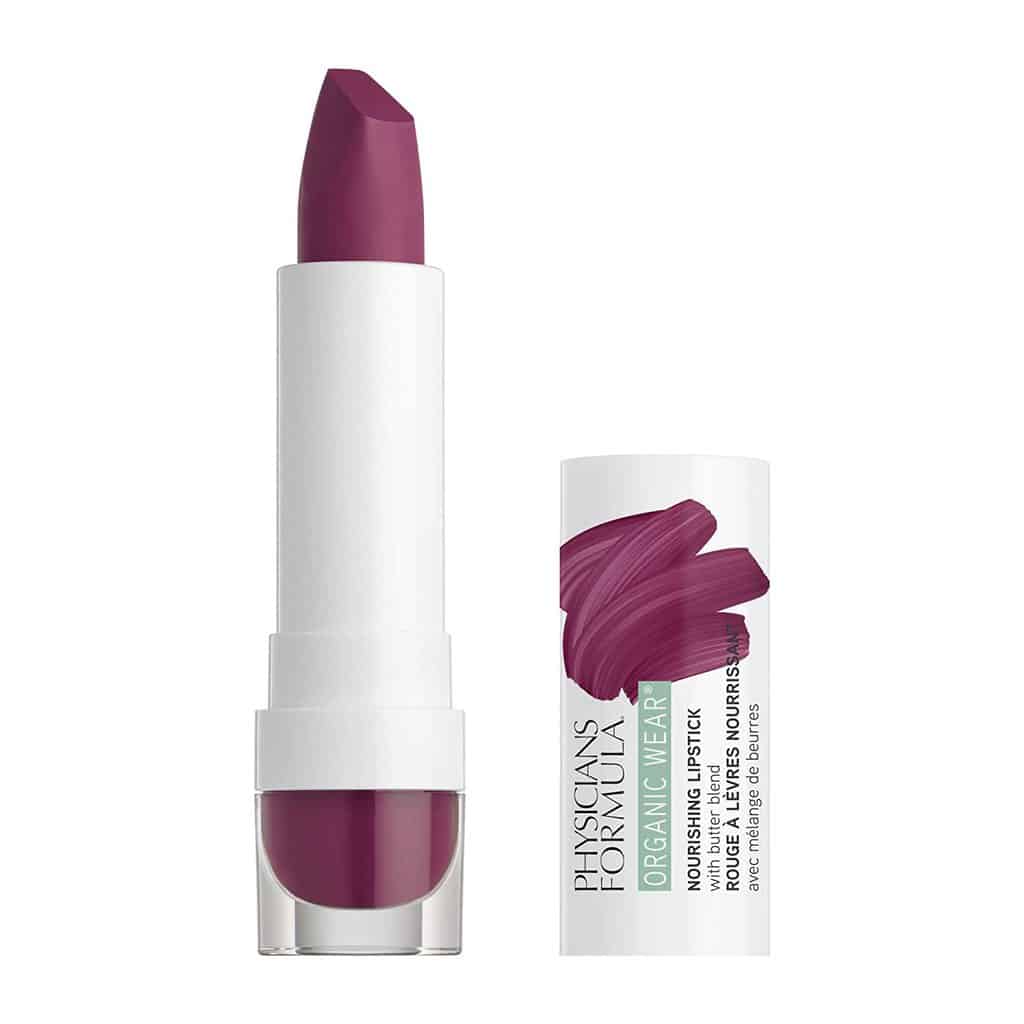 Affordable and available in most drugstores, this lipstick from Physicians Formula combines organic shea butter, coconut oil, jojoba oil, and vitamin E. It's hypoallergenic and paraben-, gluten-, and cruelty-free. Although there are currently only 6 shades available, they're all classics that never go out of style.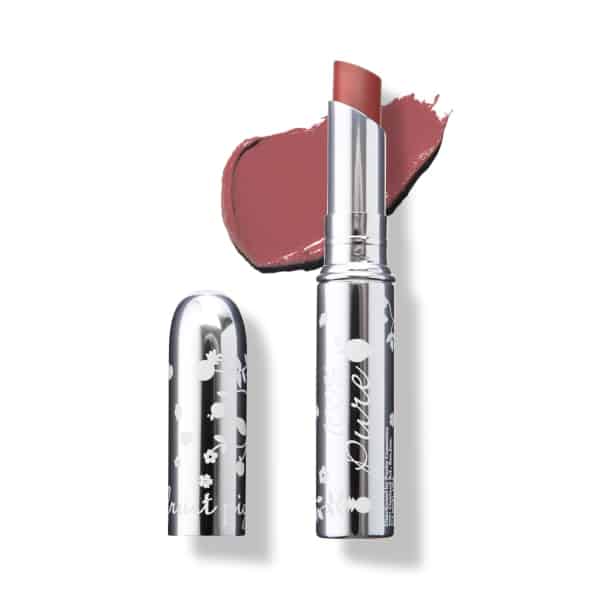 Colored with natural fruit pigments, the lip glaze from 100% Pure is the perfect compromise between a lipstick and a lip balm. It's light and nourishing, sheer, and just slightly glossy. The shade "Coquette" is rated 2 by EWG, and all of their lipsticks are free of parabens and synthetic fragrances.
Vivid in color with rich mineral pigments, this hypoallergenic, vegan lipstick glides smoothly onto the lips with a gloss finish, bursting with hydrating, lip-protecting antioxidants. It is EWG verified, meaning it meets the highest standards for safety and health, excluding any unacceptable, toxic ingredients.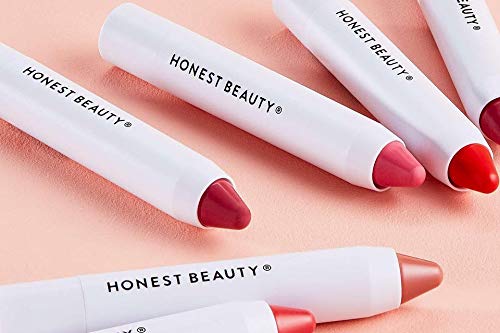 Though technically not a lipstick, this lip crayon from Honest Beauty can be used like one, as well as to contour the lips. Rated 1 on EWG, it's cruelty-free and formulated without parabens, phthalates, paraffins, silicones, or other problematic ingredients.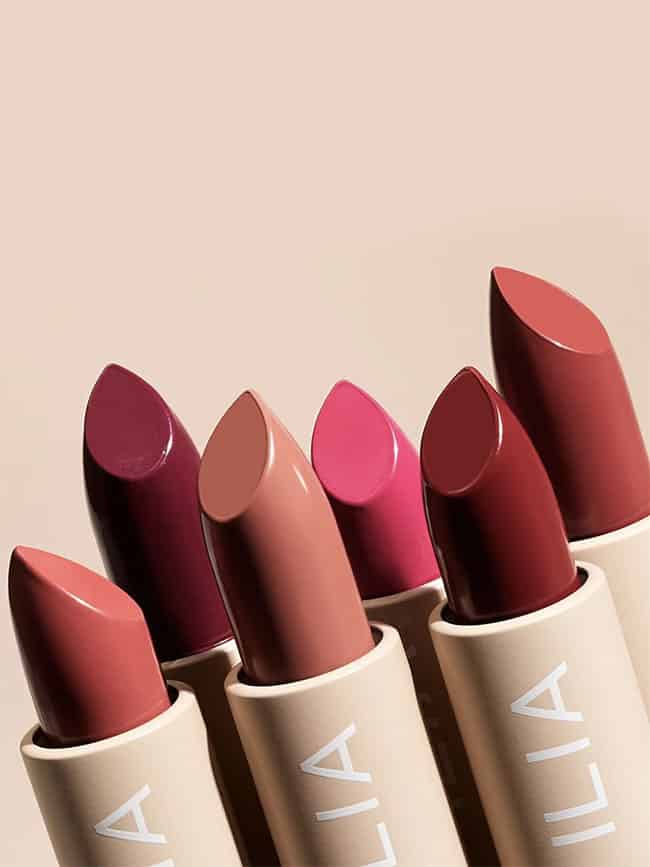 7. ILIA Color Block High Impact Lipstick
"These lipsticks are a dream for those who need hydration," says Chang. "It is vegan, super pigmented for buildable coverage, and long-wearing. And it has a satin finish." It only comes in 8 different shades, but each is designed to match most skin tones.

References:
1. Parabens in cosmetics. U.S. Food & Drug Administration website.
2. Propylparaben. EWG's Skin Deep website.
3. Methylparaben. EWG's Skin Deep website.
4. Tocopheryl acetate. EWG's Skin Deep website.
5. Coal tar and coal-tar pitch. NIH National Cancer Institute website.
6. Color additives and cosmetics: fact sheet. U.S. Food & Drug Administration website.
7. Summary of color additives for use in the United States in foods, drugs, cosmetics, and medical devices. U.S. Food & Drug Administration website.
8. Carmine. EWG's Skin Deep website.
9. Lead in lipstick. Campaign for Safe Cosmetics website.
10. Health effects of lead exposure. Centers for Disease Control and Prevention website.
11. Your guide to safer personal care products. EWG's Skin Deep website.
This post was medically reviewed by Dr. Jennifer Haley, a board-certified dermatologist with extensive experience in medical, cosmetic, and surgical dermatology. Learn more about Hello Glow's medical reviewers here. As always, this is not personal medical advice, and we recommend that you talk with your doctor.
20