Have you ever tried making an herbal infusion? You can transfer the aromatic and healing benefits of flowers, herbs or tea into oil – or even water or alcohol – by soaking them together.
I've tried two methods, solar and heat infusions, with a variety of carrier oils, like coconut, almond, olive and jojoba. It's a simple process – here's how to infuse body oil, 2 easy ways!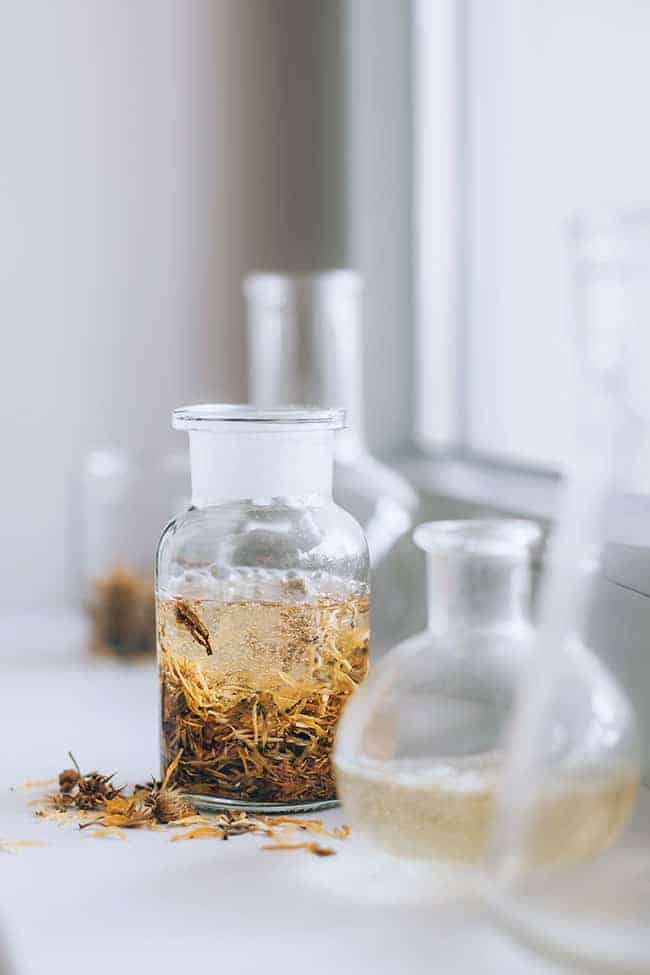 How to make solar-infused oil
It may take a bit longer to allow the heat of the sun to do the infusing work for you, but the results are amazing – and you get to enjoy looking at your pretty bottles every day. I used solar infusion for these botanical colognes (using vodka instead of oil and fresh citrus and herbs) and these headache and healing balms.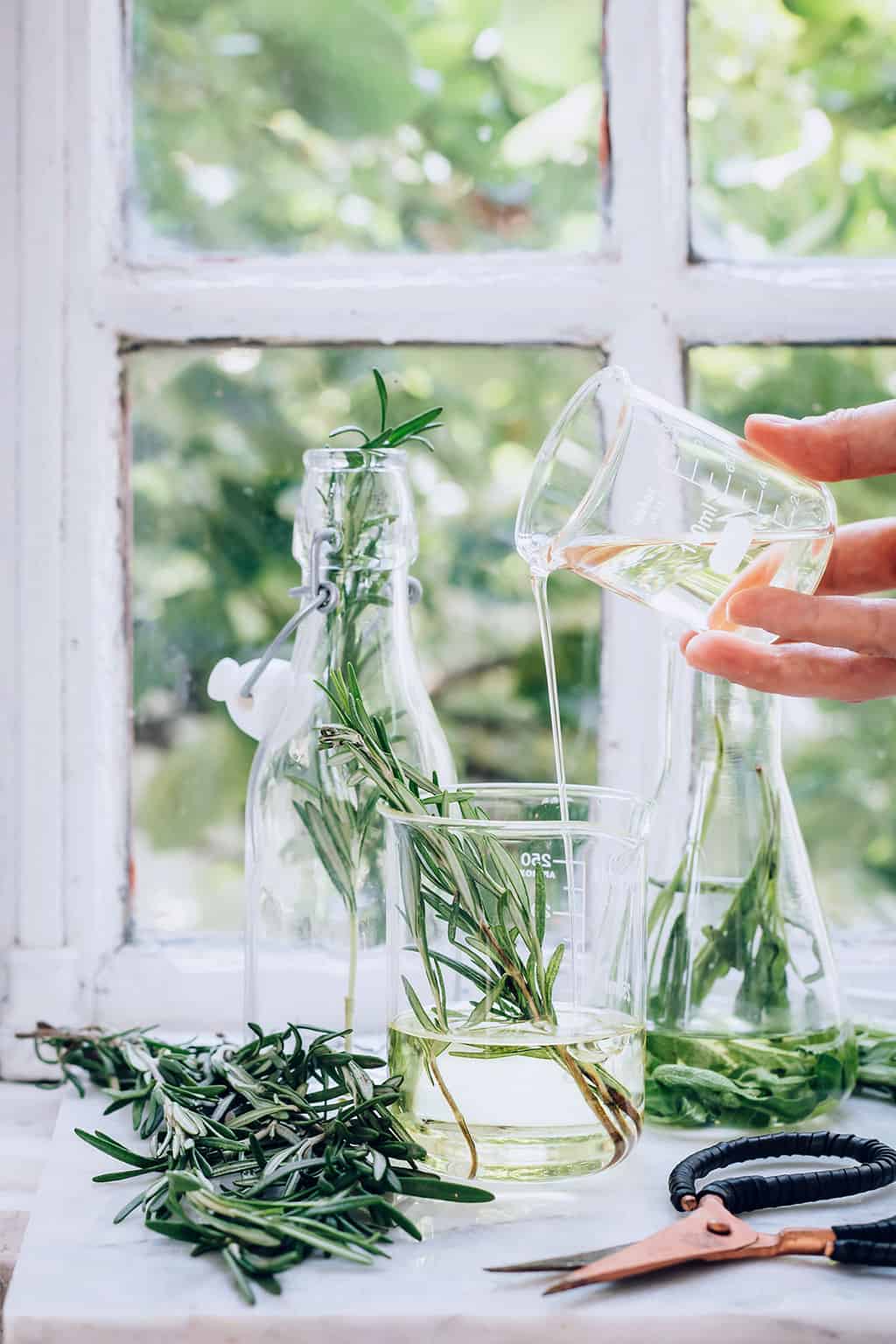 The process is simple. Place a handful or two of dried herbs in a clean, dry jar (make sure it's completely dry – you don't want mold to start growing) and cover the herbs with oil. Try to have at least 1-inch of oil above the herbs. This is so that the herbs will still be completely submerged even as they absorb oil and swell.
Seal the jar and keep it in a sunny place for a couple of weeks. Give it a shake every so often. After its time in the sun, strain the oil with cheesecloth, squeezing every bit of oil out of the herbs.
How to make heat-infused oil
These methods are a little quicker, but excess heat can lessen the herb's healing properties, so make sure to take it low and slow.
Double Boiler Oil Infusion Method
If you're impatient (like me) you can make an infusion in about an hour using your stove top. This vanilla chai body oil and this green tea-infused moisturizer were made using a low heat infusion. I like to use a ratio of about 1 cup of oil to 1/4 – 1/2 cup of whatever herb you're infusing.
The instructions are simple with a double boiler (or a make-shift saucepan / bowl combo). Put a few inches of water in a saucepan and bring to a boil. Reduce heat to low.
Combine the herbs and oil in a heat proof bowl. Place bowl over water and simmer for at least 1 hour, stirring occasionally. Don't let the oil get too hot as overheating can destroy the beneficial properties of the oil and keep an eye on the water to make sure it doesn't all evaporate.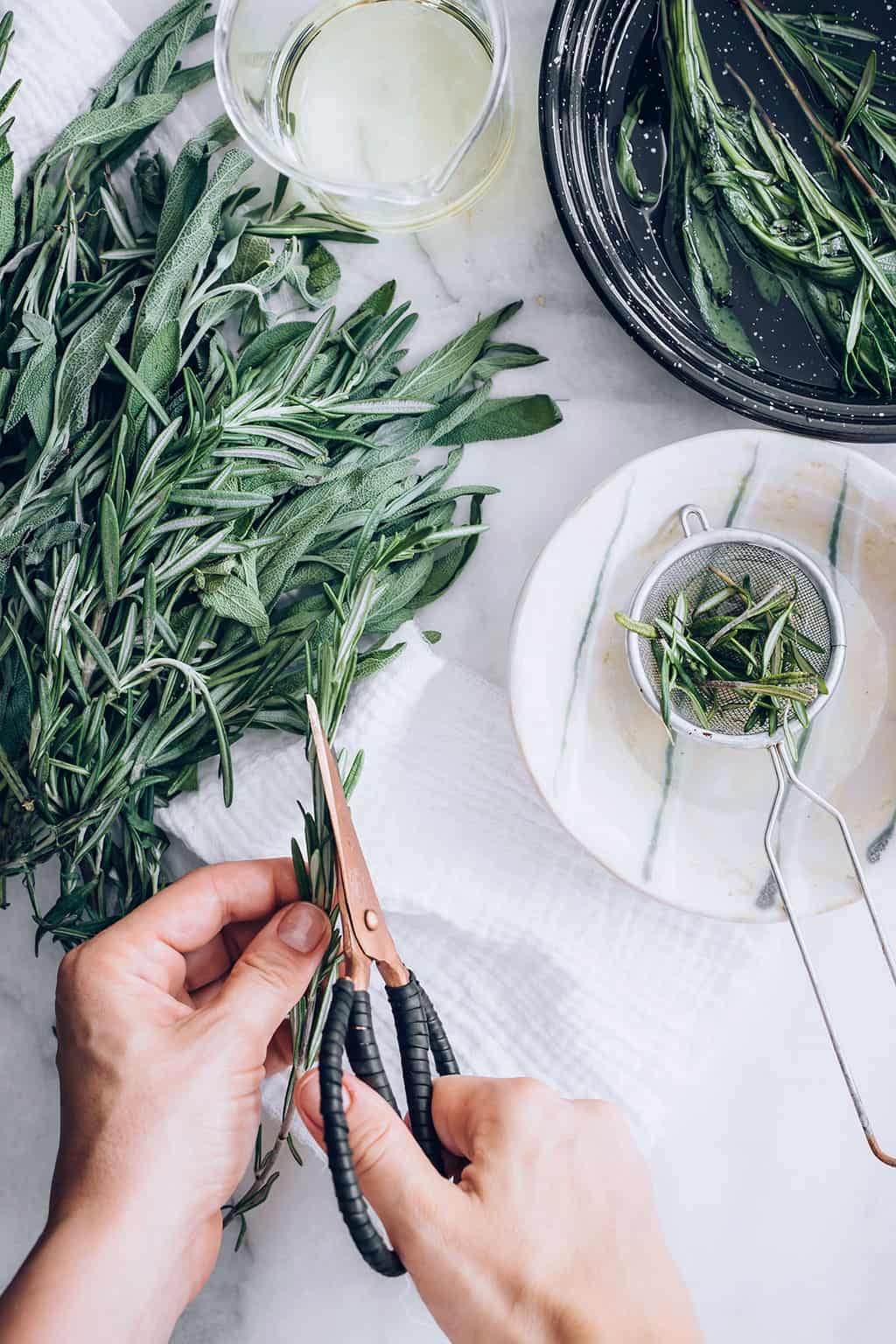 Remove from heat and let cool. Strain herbs (I use a paper towel to make sure I remove all small pieces). Transfer to a jar with a lid. If properly strained, the oil will last 1-2 years.
Crockpot Oil Infusion Method
You can also infuse oil in your crockpot. Combine oil and herbs and heat on low for 2-4 hours. Again, you don't want to get the oil too hot so if you're not sure of the temp of your crockpot use a kitchen thermometer to make sure it doesn't go higher than 125 degrees F. Let oil cool and then strain into a jar.
Nutty Coffee Body Oil
After getting totally spoiled with the vanilla chai body oil I turned to another favorite beverage – coffee – for the next batch. Almond oil is nice because it has amazing skin benefits and will remain liquid, unlike coconut oil. Plus, have we mentioned (about a million times) how awesome coffee is for cellulite?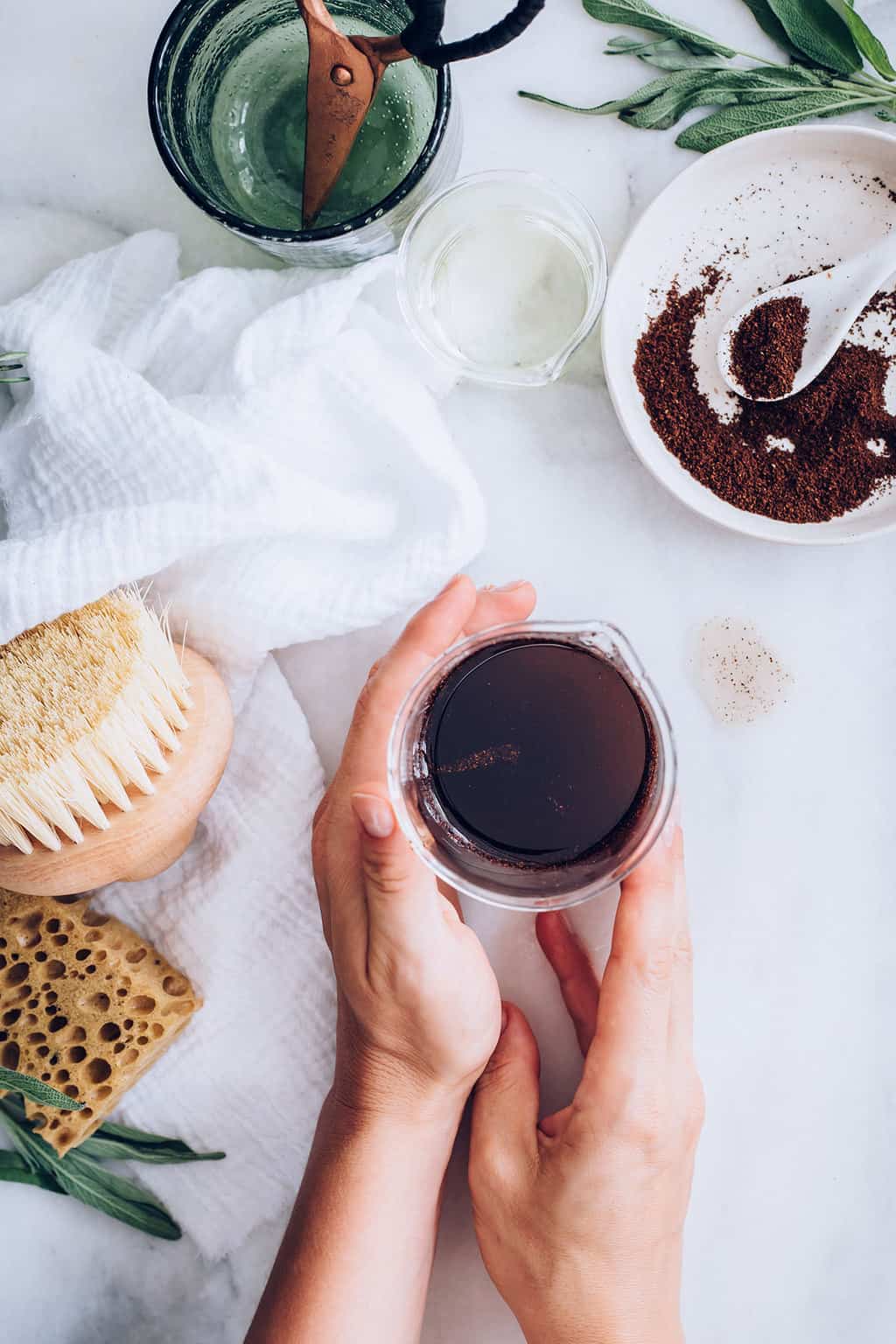 Ingredients
Instructions
Heat oil and coffee in a double boiler (or saucepan / bowl combo) over low heat for 1 hour. Let cool, strain well and transfer to a storage bottle.
Infused Oil FAQ
Can I make the coffee-infused oil with decaf?
Caffeine is what gives this infused oil its skin-tightening effects, so I don't recommend using decaf if you can help it. But if that's all you have on hand, you can give it a try and let us know how it works!
Can a few drops of essential oil boost the cellulite-fighting effects?
There aren't any scientific studies on the topic, but anecdotally, cedarwood, lemon, grapefruit, and rosemary essential oils might help lessen the appearance of cellulite. Even if they don't have much of an effect on cellulite, a few drops of essential oil will help boost the scent of your body oil, so it's worth a shot.
For additional at-home cellulite remedies, check out this post.
What oil can I use in place of almond oil?
Any liquid-at-room temperature oil can be used. Try jojoba, olive, avocado or fractionated coconut oil.
Why is my infused oil cloudy?
Some infused oils look cloudy because of sediment that builds up during the infusion process. It's not really anything to worry about and it won't affect the quality of your oil.
What's the difference between essential oil and infused oil?
Essential oils are extracted directly from the plant through pressing or some other mechanical/chemical process. Infused oils, on the other hand, are created by soaking herbs in oils until their botanical properties have been extracted from the plant.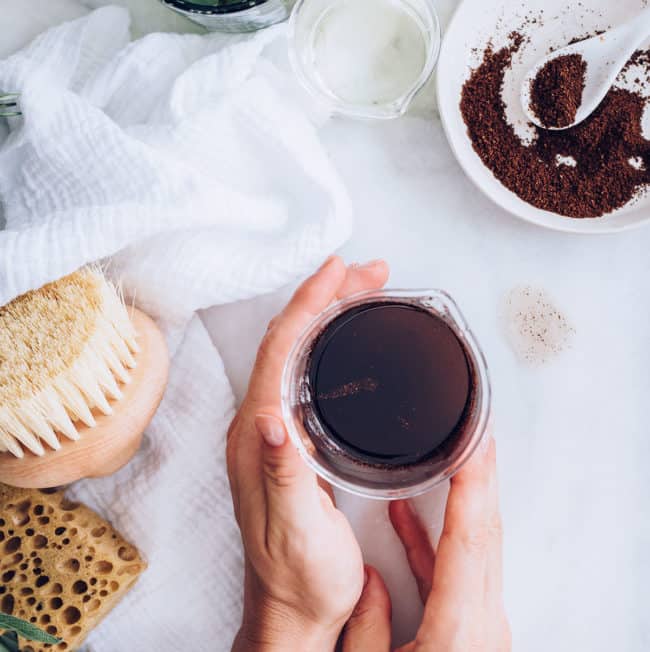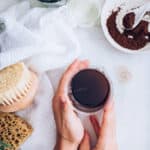 Print
Coffee-Infused Almond Oil
Learn how to infuse body oil 2 easy ways with this tutorial—and get a recipe for a cellulite-fighting Nutty Coffee Body Oil.
Equipment
Double boiler or saucepan

8-ounce glass bottle with lid
Instructions
Heat oil and coffee in a double boiler (or saucepan / bowl combo) over low heat for 1 hour.

Let cool, strain well and transfer to a storage bottle.
Notes
Your coffee-infused oil should keep for a few weeks. I prefer to store mine in the refrigerator to keep the oil as fresh as possible, but it's not necessary. 
And feel free to use other oils if you prefer. Almond oil is nice because it has amazing skin benefits and will remain liquid, unlike coconut oil. But you can get similar benefits from jojoba, grapeseed, and olive oil. 
This post was medically reviewed by Dr. Jennifer Haley, a board-certified dermatologist with extensive experience in medical, cosmetic and surgical dermatology. Learn more about Hello Glow's medical reviewers here. As always, this is not personal medical advice and we recommend that you talk with your doctor.
288