As if breakouts and blemishes weren't frustrating enough to deal with, they always seem to crop up at the most inopportune social times when you want to look your best. Then, they leave pink or brown residual marks that seem to take forever to fade or, worse, become permanent. Known as post-inflammatory acne scarring or hyperpigmentation, this skin discoloration is a result of the healing process.
Meet the experts

Sarah Akram, celebrity master aesthetician

Bonnie O'Brien, esthetician and co-creator of WildBloom Skincare

Cecilia Wong, celebrity facialist and founder of Cecilia Wong Skincare

Medically reviewed by Dr. Jennifer Haley, a board-certified dermatologist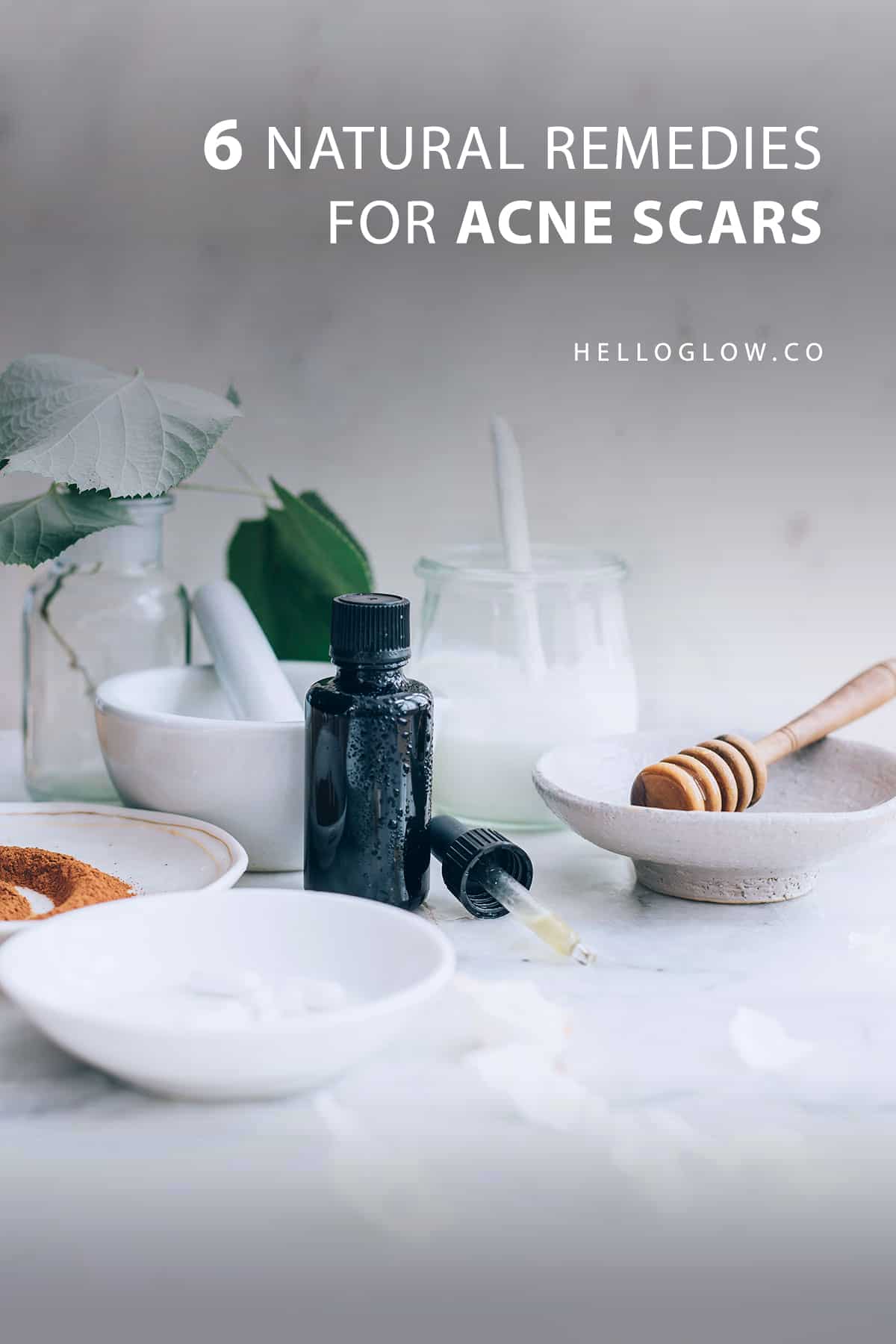 6 Natural Remedies for Acne Scars
When the inflammation caused by acne (or a scratch) resolves, there is some level of residual redness or discoloration—depending on your skin type and how much pigment it has. It is quite normal for this to develop as part of the healing process after any skin insult, but unfortunately, it's not always pretty and usually not welcome.
"Typical acne scars can be raised (when the skin overproduces collagen fibers during healing) or pitted (when the skin underproduces collagen fibers while healing). This happens due to genetics not treating at the onset of the breakout, or picking at the acne," explains Sarah Akram, a celebrity master aesthetician based in Alexandria, Virginia.
While prevention by reducing breakouts and inflammation is certainly key, there are plenty of all-natural remedies for acne scars that you can apply in the comfort of your home. In fact, you may have many of these ingredients in your medicine cabinet or pantry already! Here, skin experts share their best-kept secrets for treating acne scars the all-natural way.

Aloe vera
When it comes to healing the skin, few plants do it better than aloe vera—thanks to its rich supply of antioxidants that help reduce inflammation [source] and natural enzymes and growth factors that help fade dark spots and diminish scars [source].
"Aloe vera also contains antibacterial and anti-inflammatory qualities that help clear up active acne and serves as a natural astringent, removing dead skin cells and absorbing excess oil," says Bonnie O'Brien, esthetician and co-creator of WildBloom Skincare.
While there are plenty of over-the-counter products containing aloe, nothing beats using the real plant. If you have access to one, simply scrape the inside of a leaf, apply the gooey goodness to your face, and cover the area with plastic wrap. Leave it on for 10 to 20 minutes, then rinse thoroughly with cool water.
Aloe vera DIYs: Aloe Vera Face Pack | Aloe Vera Chamomile Face Serum | Anti-inflammatory Aloe Vera Face Masks | Acne Treatment Balm

Turmeric
This yellow-gold spice is certainly having a moment, but it's long been used for medicinal purposes as well as culinary—thanks to its healing properties [source]. "Turmeric is loaded with anti-inflammatory compounds, it's also antibacterial, which helps banish acne-causing bacteria, and it contains a ton of antioxidants that fight harmful free radicals formed from the environment," explains Cecilia Wong, celebrity facialist and founder of Cecilia Wong Skincare in New York City.
To use on your acne scars, she recommends mixing a teaspoon of turmeric powder with organic plain greek yogurt, applying it directly to the skin as a face mask, and leaving it on for 15 minutes until dry. Then, rinse with water. "You can also purée the turmeric root itself and apply directly to the affected areas, leaving it on for 10 minutes and then rubbing in a circular motion and rinsing off," she adds.
Turmeric DIYs: Glowing Skin Mask | Anti-inflammatory Face Mask | Turmeric Acne Mask

Honey
Not only is honey a natural humectant, meaning it moisturizes your skin, but it also can help with wound healing [source] and cleansing. "The antibacterial properties in honey also work to help prevent acne infections from occurring in the first place, as well as stimulate tissue regeneration that aids in healing scars," says O'Brien. "Plus, the additional nutrients and vitamins in honey will help keep your skin moisturized and glowing."
The application here is simple: Akram suggests applying organic raw honey, which contains more minerals and antioxidants, over the scars for an hour or two before bedtime.
Honey DIYs: 5 Honey Face Masks | Skin Soothing Agar Peel-Off Mask with Chamomile + Honey | Glycolic Acid Facial Mask

Baking soda
Most of us are familiar with baking soda use in cooking or cleaning, as it's a main ingredient in culinary recipes, but it also offers a whole host of benefits in other areas of health, including calming indigestion, keeping the mouth clean, controlling odors, and warding off acne scars.
"Baking soda balances your skin's pH and acts as a natural exfoliator, meaning it eliminates dead skin cells and leaves you refreshed without damaging the skin around the scar," says Akram. "Albeit messy, the best way to use baking soda for acne scars is to mix two parts water and one part baking soda, spread the resulting paste onto your face, and scrub. Rinse with water."
Baking soda DIYs: Gentle Bentonite Clay Cleanser & Mask | Activated Charcoal Scrub + Mask

Apple cider vinegar
Apple cider vinegar has plenty of uses in the beauty world, thanks to the benefits it provides for your hair and skin. To name a few, ACV serves as a facial toner, hair rinse, razor bump remedy, dandruff treatment, bug bite treatment, and a bruise healer, which is why it comes in handy for fighting acne scars. This is thanks to the fact that it is a natural skin resurfacing agent, meaning it can help shed dead skin cells and thus reduce the appearance of acne scars.
Akram suggests mixing one part raw organic apple cider vinegar, one part water, and a touch of honey and applying it over the acne scars once a day (let it soak in for around 20 to 30 minutes before rinsing).
Apple cider vinegar DIYs: Melaleuca & Clay Acne Mask | Apple Cider Vinegar At-Home Skin Peel | Balancing Facial Mist

Eucalyptus oil
This essential oil has antiseptic and anti-inflammatory properties [source], making it one of the top remedies for acne scars. "When applied topically, eucalyptus helps dry out blemishes without drying the skin and irritating things further," says Wong. "It's much gentler than tea tree oil but just as effective!"
She recommends making your own eucalyptus oil by adding 5 drops of eucalyptus essential oil to 0.75 oz of grapeseed or rosehip oil in an empty 1 oz bottle. Shake well before use, and apply it to the affected areas in the morning and at night.
Eucalyptus DIYs: Custom Face Oil | Rosemary + Eucalyptus Melt and Pour Soaps
This post was medically reviewed by Dr. Jennifer Haley, a board-certified dermatologist with extensive experience in medical, cosmetic, and surgical dermatology. Learn more about Hello Glow's medical reviewers here. As always, this is not personal medical advice, and we recommend that you talk with your doctor.
117