First up from the herb garden – my very own homemade soap with herbs and citrus! I thought this would be a lovely homemade Mother's Day or Teacher Appreciation gift. I picked up some plain, unscented glycerin soap and added herbs from the new garden and some citrus.
How to Make Homemade Soap with Herbs and Citrus
I love the smell and bright green color of mint! Finely dice fresh mint and add to the soap after the glycerin is melted.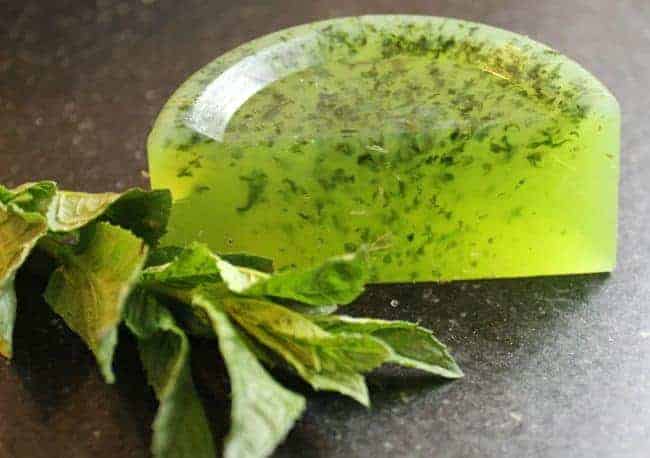 I also diced up some fresh rosemary and combined it with lemon zest. A great combination!
Herb and Citrus Soap
Recipe adapted from Martha
Supplies needed
Glycerin soap (sold at craft stores)
Assorted herbs & citrus – I used basil, mint, rosemary, orange and lemon
Food processor
Glass bowl or measuring cup
Plastic spoon or scraper
Soaps molds – any plastic or cardboard container will do
Cooking spray
Instructions
1. Melt soap
Put the soap blocks in glass bowl & melt in the microwave for 30 second intervals until melted. Stir every so often to break up big chunks.
2. Prepare additives
While melting, puree the herbs and squeeze out excess water in a paper towel. For citrus, zest the peel. You'll need about 1 tablespoon of additives for each cup. FYI – Orange + basil = an unattractive muddy green brown color.
3. Get containers ready
You can buy cute molds at the craft store, but any plastic container will work, even your Ziploc containers. Though you might want to use something you can just pitch in the recycle bin when finished rather than trying to clean. Use old milk cartons or even yogurt cups. Spray with cooking spray and wipe out excess.
4. Add purees
Once glycerin is melted, let it stand & cool for a few minutes. Before it sets too much, add the additives. Keep stirring to ensure they don't all float to the bottom. When you have the color you want (more time stirring = darker color) pour into container.
5. Setting the soap
Let the soap sit on the counter for about an hour to completely set. Then put in the freezer for another hour or so. Then it should pop right out. Slice with knife, give to someone you love and use within 3 months.
130