It's no secret we love activated charcoal face masks. Sure, they may not look flattering, but when has a face mask ever looked good? Exhibit A: Our favorite turmeric face mask!
We've learned to embrace activated charcoal in our beauty routines because we know how beneficial it can be for our skin, teeth, and tummy—bye-bye bloating!
8 Charcoal Face Mask Recipes
Charcoal has a unique ability to bind with toxins and impurities [source], so it's most likely that bacteria, dead cells, oil, and toxins are swept away when charcoal enters the game. Activated charcoal may bind to dirt on the skin only when in direct contact with debris. It naturally works together with popular face mask ingredients like clay, honey, and yogurt to make them even more effective.
Scroll down for some of our favorite ways to use activated charcoal in homemade face mask recipes: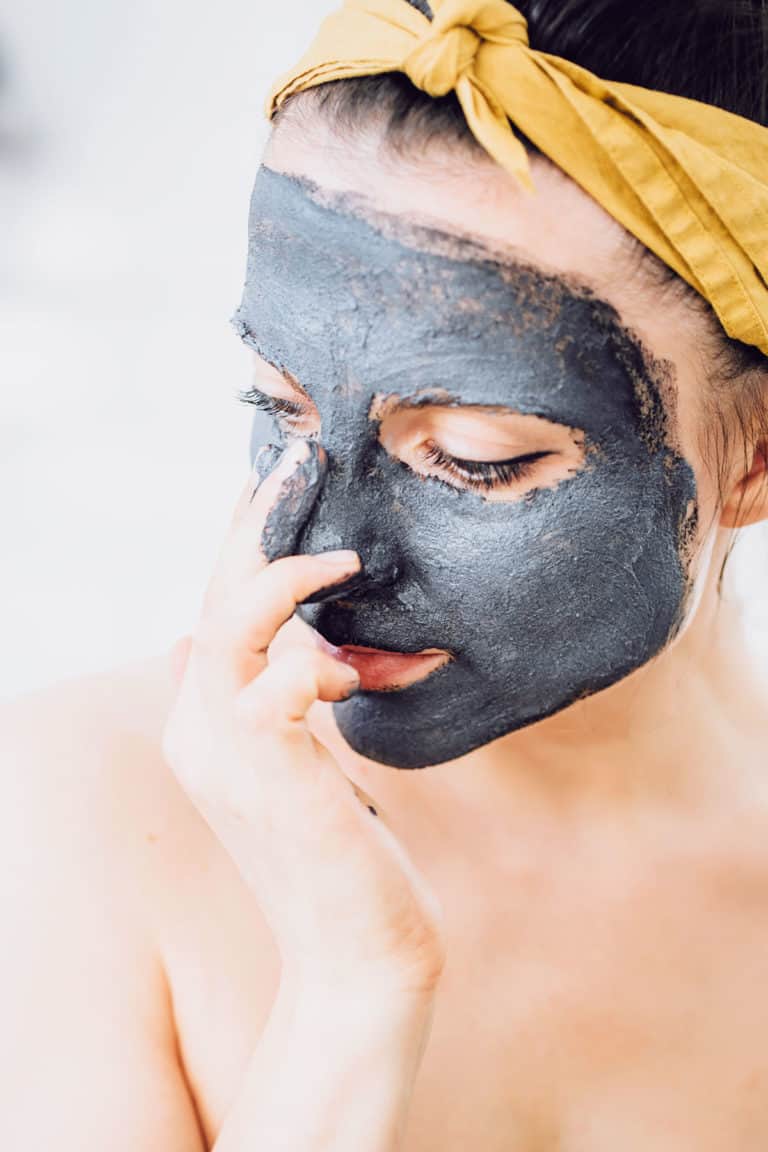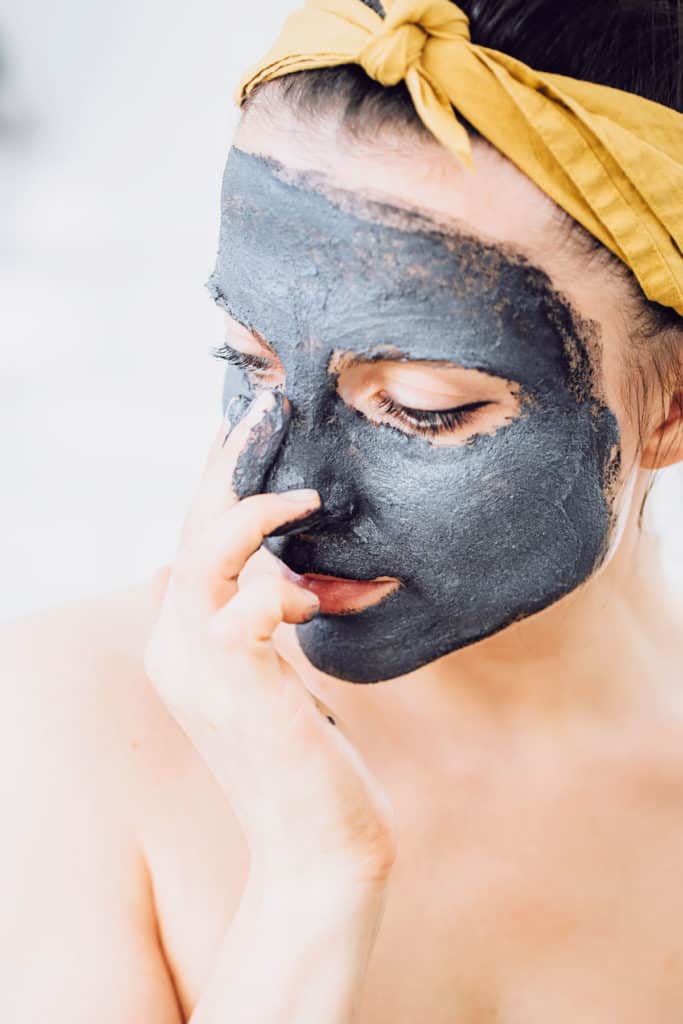 1. Charcoal Mask for Oily Skin
Clay and activated charcoal are excellent face mask ingredients for absorbing excess oil. Plus, the addition of probiotics and apple cider vinegar helps prevent acne. Probiotics contain ingredients that help fuel the growth of the helpful germs that already live on the skin and destroy the harmful bacteria that cause those painful acne bumps [source].
—1 tablespoon clay
—1 tablespoon activated charcoal
—1 probiotic capsule
—2 tablespoons raw organic apple cider vinegar
—1 drop essential oil for acne
Combine activated charcoal, clay, and probiotic powder in a small bowl. Add the ACV to make a paste. It's okay to use more, if needed, to get a smooth, spreadable consistency. Add essential oil and stir. With clean fingers, spread over the face and let sit for 15 minutes. Rinse with cool water and apply moisturizer.
2. Skin-Tightening Charcoal + Egg White Face Mask
An egg white face mask is the perfect complement for activated charcoal. Egg whites can help (temporarily) firm saggy skin while also tightening pores as charcoal draws out the gunk.
—1 egg white
—1–2 activated charcoal capsules
—¼ teaspoon lemon juice
Beat the egg white with a fork until fluffy, and then add in the charcoal and lemon juice. Apply the paste to your face or just your t-zone area if your skin is really dry. If the consistency is a bit thick, add a ½ teaspoon of water. After 10 minutes, rinse off the mask with warm water.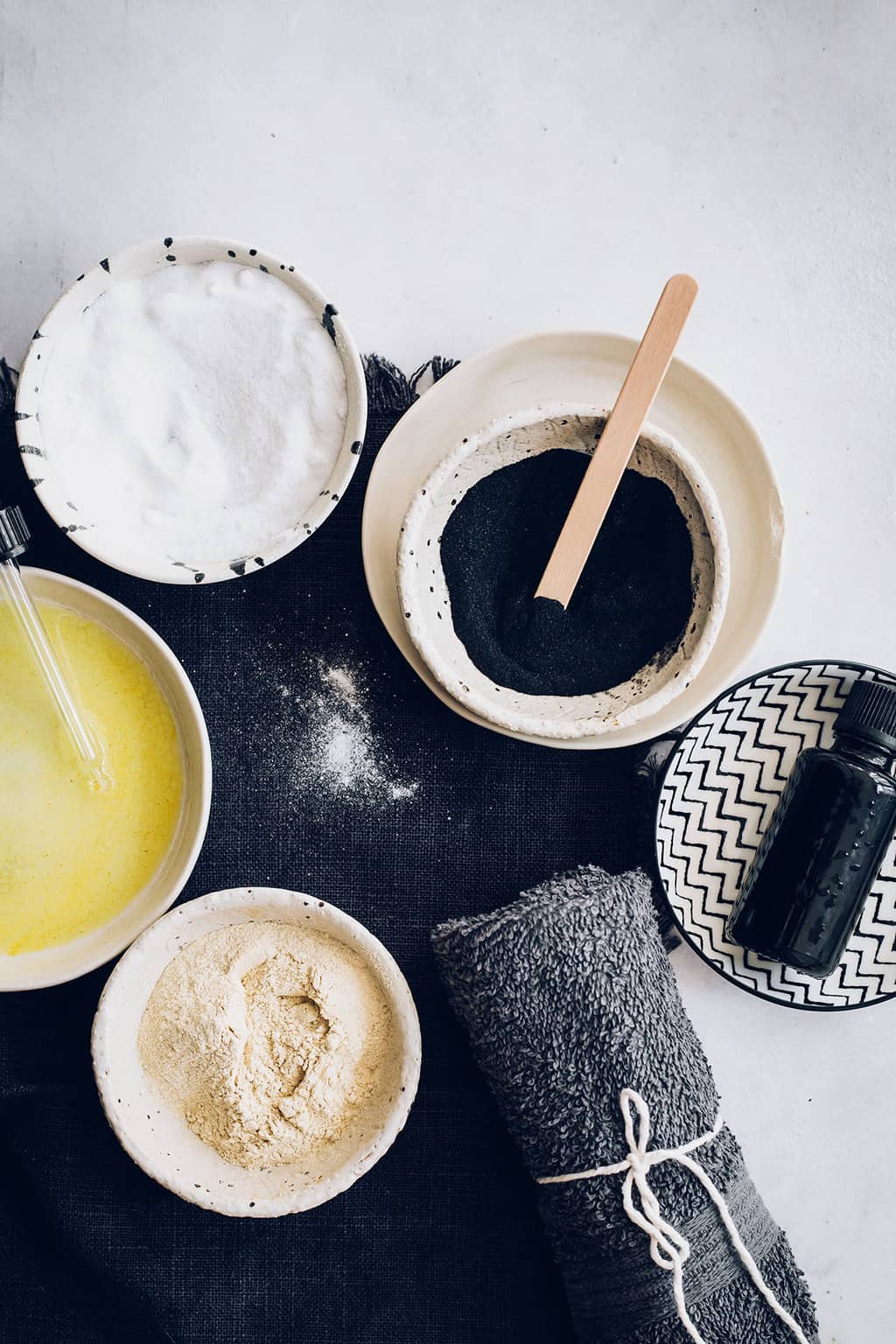 3. Foaming Charcoal Blackhead-Busting Mask
Because they draw impurities and bacteria to the surface of the skin, activated charcoal scrubs are perfect for binding to the oily residue and debris that are responsible for blocked pores (blackheads). This mask doubles as a face cleanser that you can use 2–3 times a week. If you want to apply it as a face mask after using a different cleanser, you can leave out the castile soap.
—2 tablespoons unscented liquid castile soap
—1 tablespoon almond, jojoba, apricot kernel, or vitamin E oil
—2 tablespoons finely ground brown or white rice flour
—1 tablespoon baking soda
—2 teaspoons activated charcoal
In a small bowl, stir together the castile soap and oil. Add the rice flour, baking soda, and activated charcoal. The mixture may bubble up a bit. Keep stirring until smooth and creamy. Store in an airtight container in a cool, dry place.
To use, splash your face with a little water, so it is damp. Take 1–2 teaspoons of the scrub and gently apply to the face with fingertips in small, circular motions, being careful to avoid the area around the eyes. To use as a mask, let the scrub sit on the face for 10 minutes to maximize its oil-absorbing benefits. Rinse with lukewarm water and pat face dry.
4. Charcoal + Honey Face Mask
This soothing honey mask with matcha relieves redness and inflammation, while charcoal helps to draw out the source of the skin irritation.
Honey has been used for decades in the treatment of wounds, skin rashes, and as a moisturizer and hydrating cream [source]. Matcha has been increasingly popular in the anti-aging skincare industry because of its antioxidant properties [source].
—1–2 tablespoons raw honey
—1 teaspoon matcha powder
—1–2 activated charcoal capsules
Add the honey to a small bowl, and stir in the matcha and charcoal powders. With clean fingers, spread over the face and let sit for 15 minutes. Rinse with cool water and apply moisturizer.

5. Acne-Fighting Charcoal + Aloe Face Mask
Combine charcoal with an aloe mask for a moisturizing treatment that won't clog pores or send oily skin into overdrive. Aloe skin benefits also include faster healing and reducing inflammation [source], so you can also use this mask to soothe itchy, irritated, or dry skin as well.
—Activated charcoal
—Aloe vera gel
—1 drop of tea tree oil
Mix ingredients together in a small bowl, and use your finger to mix them together before applying to the skin. In circular motions, work the charcoal mixture around your face for 1 minute, then let the mask sit for 10–15 minutes. Rinse thoroughly with warm water.
6. Charcoal Deep Cleansing Grains + Mask
Tired of mixing up a new face mask all the time? You'll love these cleansing grains with gently exfoliating ingredients like clay and oats that can sit on the counter, ready for use anytime you need a deep cleanse and gentle exfoliation. For aging skin, you can also add finely ground almonds.
—¼ cup oats, ground
—¼ cup kaolin clay
—¼ cup bentonite clay
—10 activated charcoal capsules
—7 drops each, lavender and tea tree essential oil
Combine powders, and stir in essential oils. Keep in a closed container. To use, dispense a small amount (about a teaspoon) of grains into the palm of your hand. Add a few drops of water or rose water to get a wet paste. Gently massage into skin, making small circles with your fingers. Leave the grains on your face for 10–15 minutes for a deep cleansing face mask.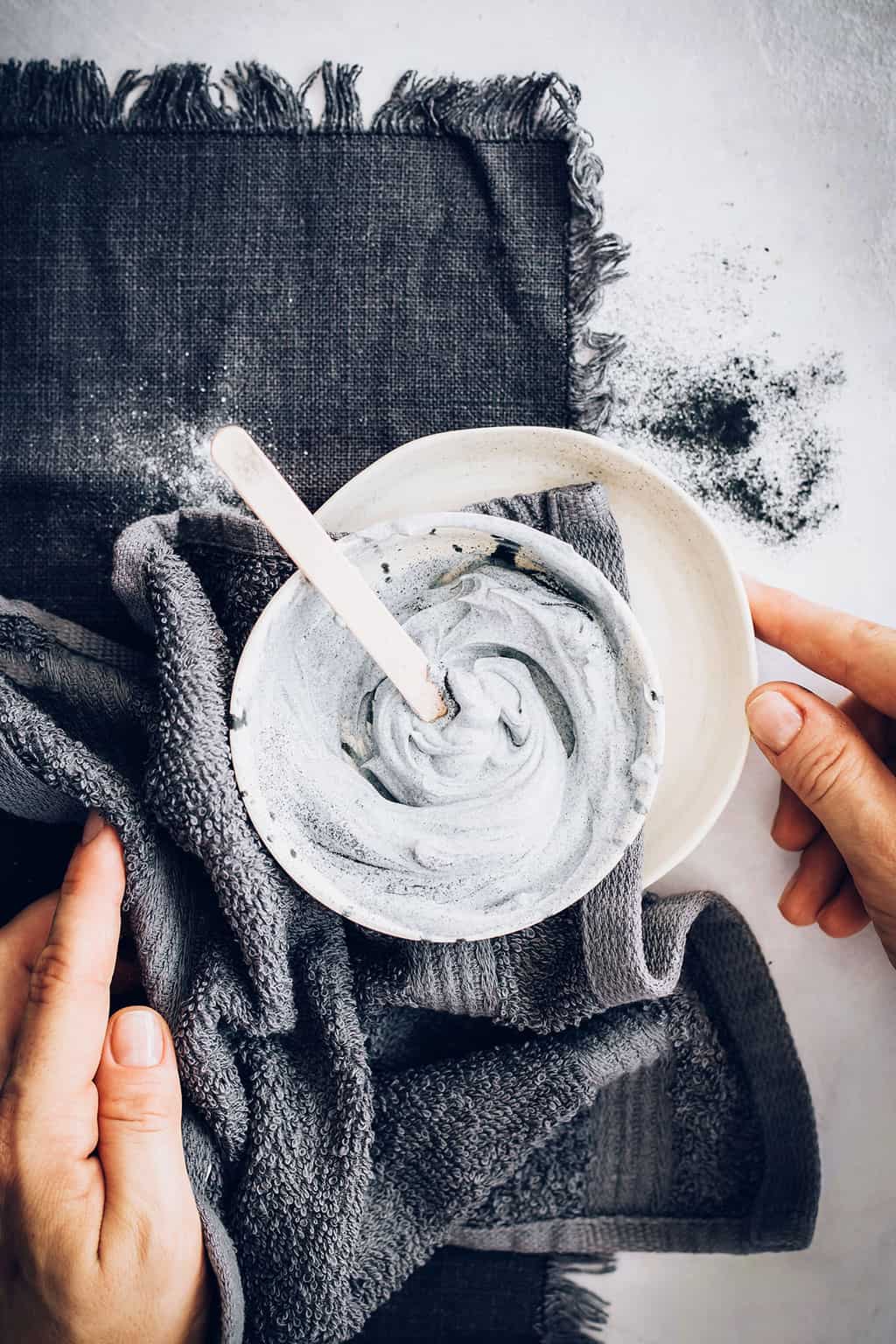 7. Charcoal + Yogurt Face Mask
The lactic acid in yogurt masks gently dissolves the layers of dead skin cells on your face, which lets charcoal get to work, drawing out the oil and dirt clogging your pores.
—2 tablespoons of plain, unflavored Greek yogurt, preferably organic and full fat
—1–2 activated charcoal capsules
—1–2 teaspoons of raw honey (optional)
Blend yogurt, charcoal, and honey (if using) together until you get a creamy paste. Then apply liberally to your face and neck with a brush or your fingers. Leave the mask on for 20 minutes, then wash off with warm water. Apply moisturizer and enjoy your bright, glowing skin.
8. Pore Cleansing Charcoal + Clay Mask
Think of clay and charcoal working together like a vacuum cleaner to clear out your pores. Adding a dash of cinnamon helps ward off acne-causing bacteria while stimulating blood flow to leave skin bright and glowing [source]. Patch test or leave out the cinnamon if your skin is sensitive or inflamed. Skip the water and add more oil if your skin is dry.
—1 teaspoon French green clay
—2 capsules activated charcoal
—¼ teaspoon organic cinnamon powder
—1 teaspoon water
—1 teaspoon almond oil
Combine ingredients and stir to make a paste. Use a brush or your fingers to apply a thick layer to the face, avoiding the eye area. Let the mask dry for 10–15 minutes, then rinse with warm water. Follow with moisturizer.
Before you go...
If you're new to activated charcoal, there are so many home and beauty uses for it! Yes, it can get a little messy, but don't be intimidated. After you whip up this face mask, try this charcoal face wash recipe or make these gut-healing gummies.
References:
1. Zellner T, et al. The use of activated charcoal to treat intoxications. Dtsch Arztebl Int. 2019.
2. Lee YB, et al. Potential role of the microbiome in acne: a comprehensive review. J Clin Med. 2019.
3. Mandal MD, et al. Honey: its medicinal property and antibacterial activity. Asian Pac J Trop Biomed. 2011.
4. Prasanth MI, et al. A review of the role of green tea (Camellia sinensis) in antiphotoaging, stress resistance, neuroprotection, and autophagy. Nutrients. 2019.
5. Sánchez M, et al. Pharmacological update properties of Aloe vera and its major active constituents. Molecules. 2020.
6. Ranasinghe P, et al. Medicinal properties of "true" cinnamon (Cinnamomum zeylanicum): a systematic review. BMC Complement Altern Med. 2013.
This post was medically reviewed by Dr. Rina Mary Allawh, M.D., a dermatologist who practices adult and pediatric medical dermatology, skin cancer treatment, and cosmetic dermatology. Learn more about Hello Glow's medical reviewers here. As always, this is not personal medical advice, and we recommend that you talk with your doctor.
Photos by Ana Stanciu
313