With a few simple ingredients, you can create a homemade eye shadow with personalized colors for a beautiful, eco-friendly makeup option. Learn how to customize and control the ingredients to find the perfect shade just for you!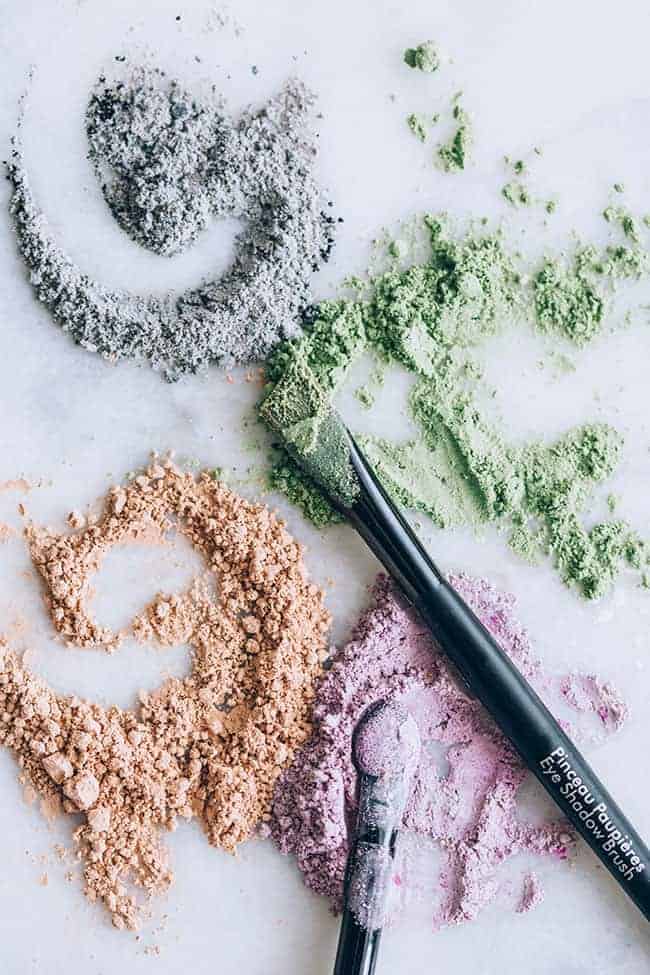 I'm a big fan of the natural look because, on most days, I only wear mascara and lipstick. There are so many ingredients that could be harmful; who can keep up with it all?
But when people say makeup is fun, this is what I assume they mean. While I may not apply it like an expert, mixing and matching colors to make my own eye shadow shade is so creatively satisfying. Plus, I'd add shimmer to just about every DIY project if I could!
Jump to:
Ingredients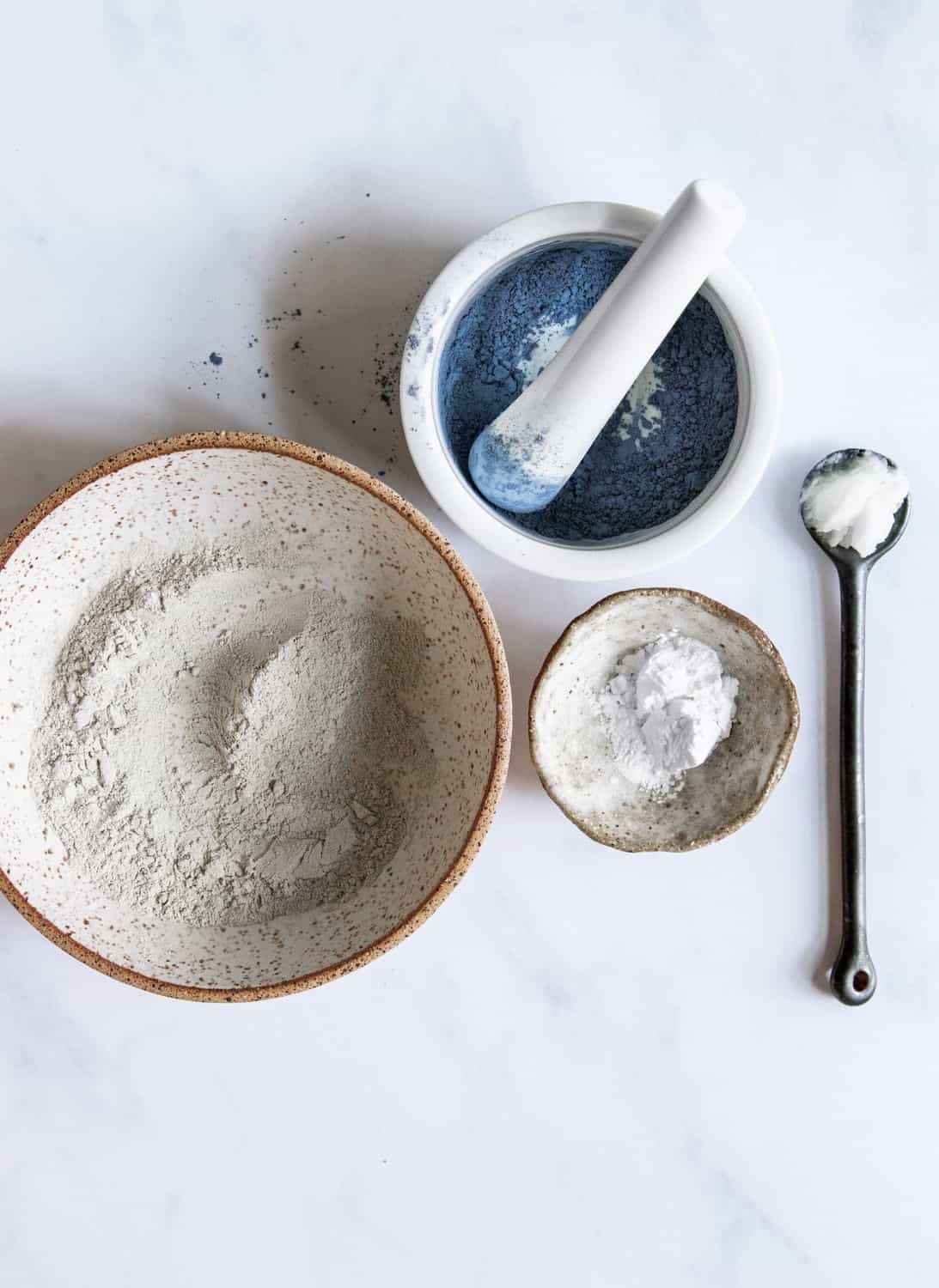 Bentonite clay — Truly, the most beautiful feature of this wonderfully simple eye shadow recipe is the healing bentonite clay. While it clearly isn't the star ingredient of your typical mineral makeup, this unassuming volcanic ash clay powder is well known for its ability to draw out and absorb toxins. Plus, it's antimicrobial and contains minerals such as magnesium, potassium, and calcium [source].
Because of these natural properties, bentonite clay is commonly used both internally and externally for detoxification and healing [source]. It's also used topically to help remove excess oils and debris from the skin.
Even though it hardens when it dries, bentonite clay is soothing and calming to the skin. And the additional mineral content it has to offer makes it a perfect starting place for homemade eye shadow.
Arrowroot starch — Like bentonite clay, arrowroot starch acts as a base for your eye shadow. It gives the powder a smooth texture, helps absorb excess oils on the skin, and contributes to the blending and adhesion of the color so it stays in place.
Almond oil — The oil acts as a binder so that the pigment better adheres to the skin. Almond oil is gentle, lightweight, and easily absorbed, and its moisturizing properties help the shadow go on smoother and blend easier. Plus, it helps nourish the delicate skin around the eyes, leaving it soft and hydrated.
Natural colors — Natural pigments, such as mica, iron oxides, and titanium dioxide, provide vibrant colors without the use of synthetic dyes. Spices like turmeric or cocoa powder can add warm tones and earthy hues to your eye shadow creations.
Botanical ingredients, like finely ground lavender, matcha powder, and butterfly pea powder, can infuse your eye shadows with vibrant color, soothing aromas, and potential skincare benefits.
See the recipe card below for quantities.
Instructions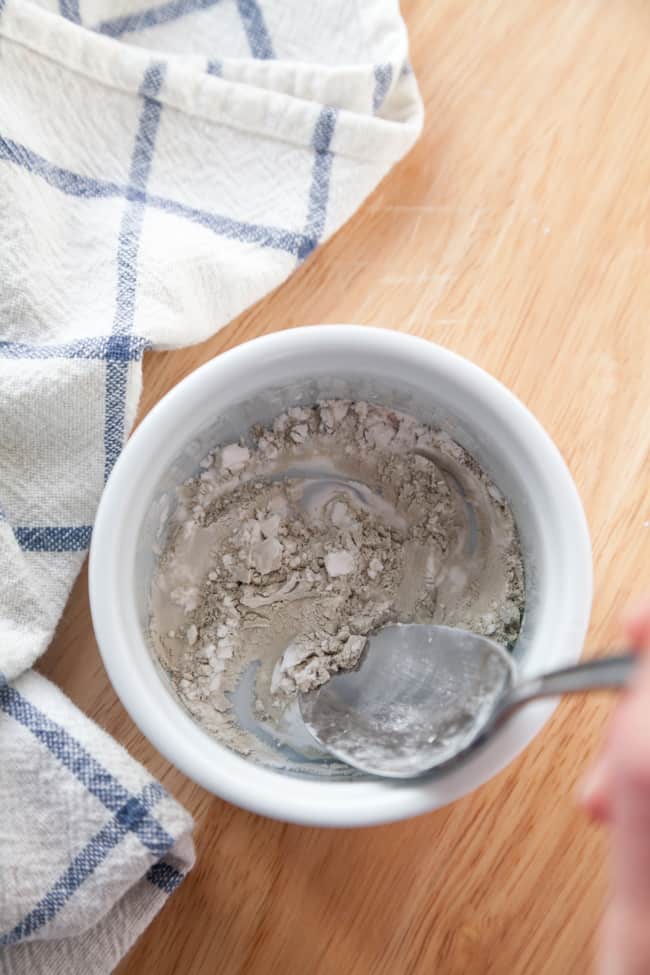 Begin by mixing the arrowroot starch and bentonite clay to create your eye shadow base.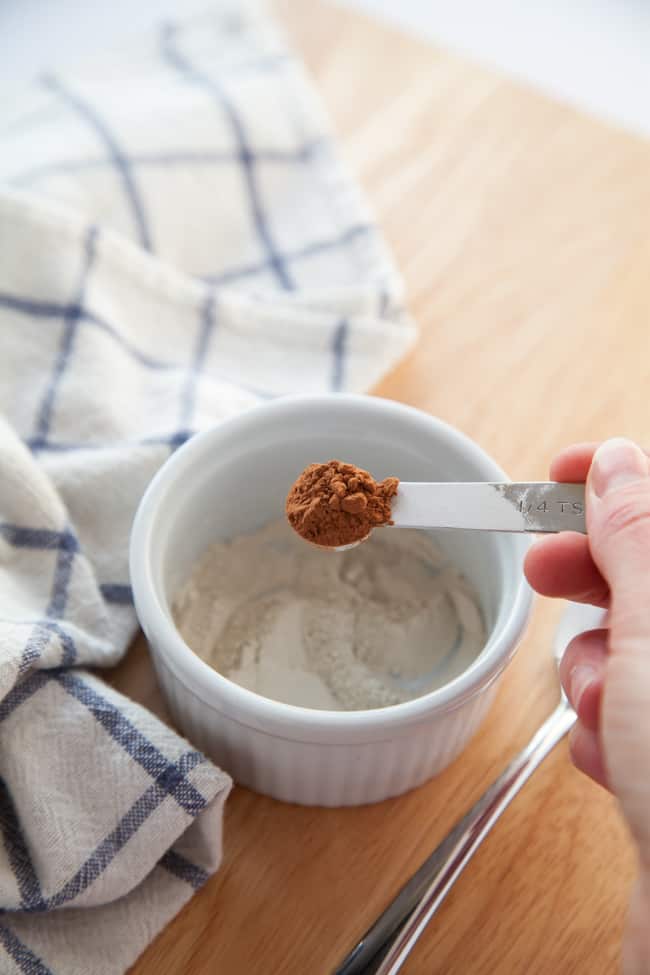 Now the fun part—adding your colors! Gradually add the powdered pigments, starting with ¼ or even ⅛ teaspoon. Mix well to incorporate the pigments evenly.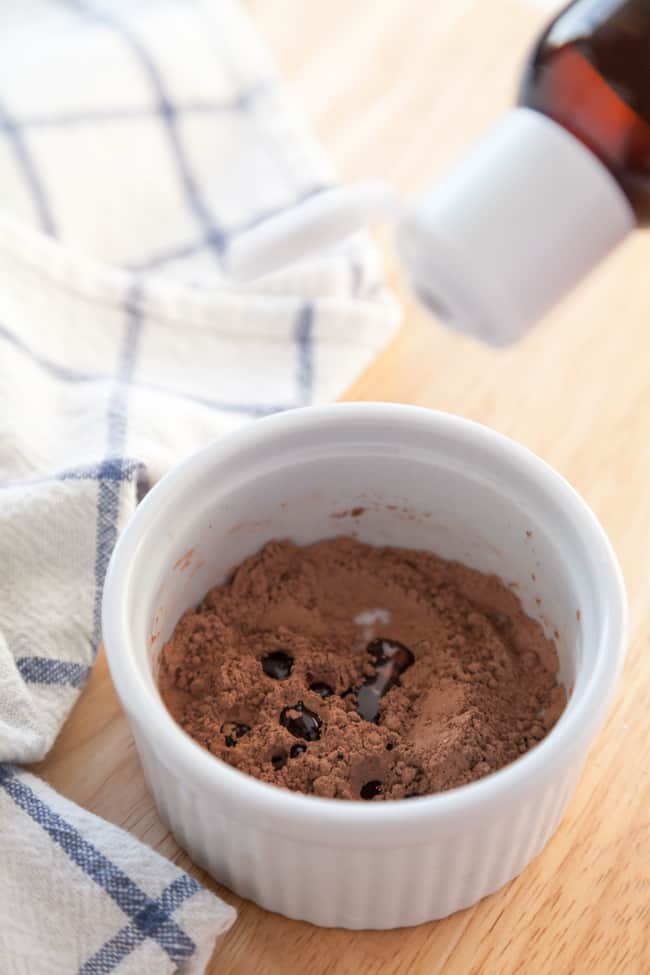 When you have your ideal shade, add a few drops of almond oil to the powder. Mash and mix the drops of oil into the mixture until they are completely combined.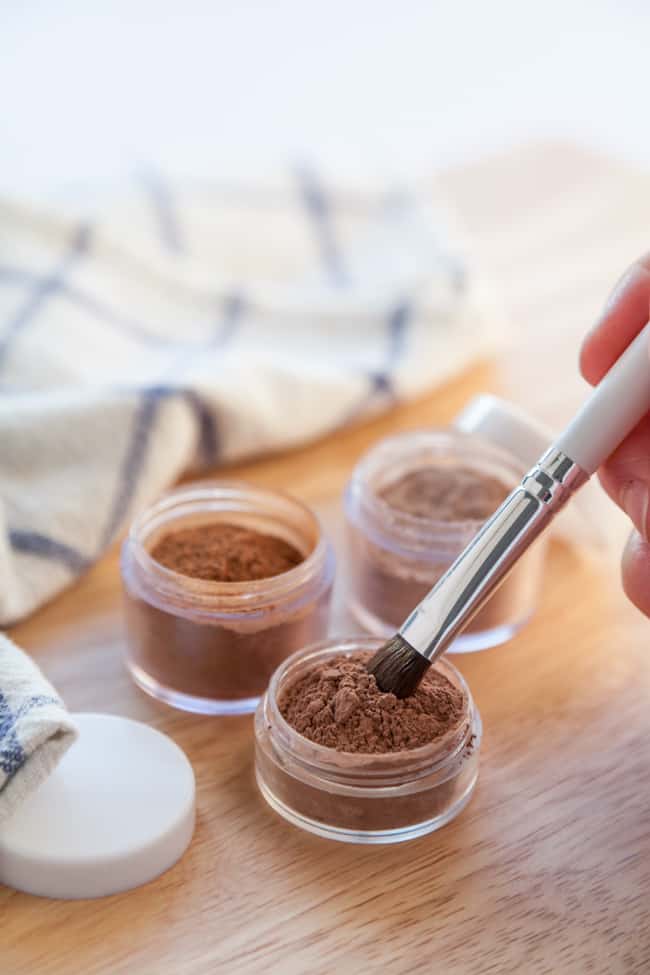 Transfer the mixture to a clean, airtight container or an empty eye shadow jar with a lid.
Hint: The more base ingredients you use, the lighter your eye shadow shade will be. So start with a small amount and add more clay/arrowroot as you go to formulate your various colors.
Substitutions
Carrier oil — If you don't like almond oil, you're free to use any eye-safe oil you like.
Natural colors — Grab cocoa powder for a rich brown color and spices such as cinnamon, ginger, paprika, nutmeg, and turmeric for fun variations on natural tones (just be wary of cayenne!).
If you lean toward darker shades, mix in food-grade activated charcoal. For brighter colors, experiment with ingredients like spirulina and beet root powders. And, of course, you can add a bit of shimmer (my favorite part!) with natural mica powders. Make sure to choose food- or cosmetic-grade sources, and organic is also best for plant pigments.
Try these pigment options for different eye shadow colors:
Brown - Cocoa powder, Rhassoul clay, ginger powder (golden brown), nutmeg powder (bronze/brown), cinnamon powder (warm brown)
Pink/red — Beetroot powder, hibiscus powder, rose petal powder
Green — Spirulina powder, French green clay powder (light green), matcha green tea powder
Orange/yellow — Turmeric powder, annatto seed powder, paprika (reddish-orange), chamomile powder (light yellow), marigold petal powder (yellow/orange)
Blue — Indigo powder (dark blue), ultramarine blue pigment powder (medium blue)
Black — Charcoal powder, iron oxide powder (red, yellow, black, brown)
Purple — Lavender powder
White/beige — Kaolin clay, Fuller's Earth clay, titanium dioxide (white), mica powder (pearlescent shimmer)
These ingredients offer a wide range of colors, from vibrant to earthy tones, allowing you to create your own unique eye shadow palette.
Variation: Pressed Eye Shadow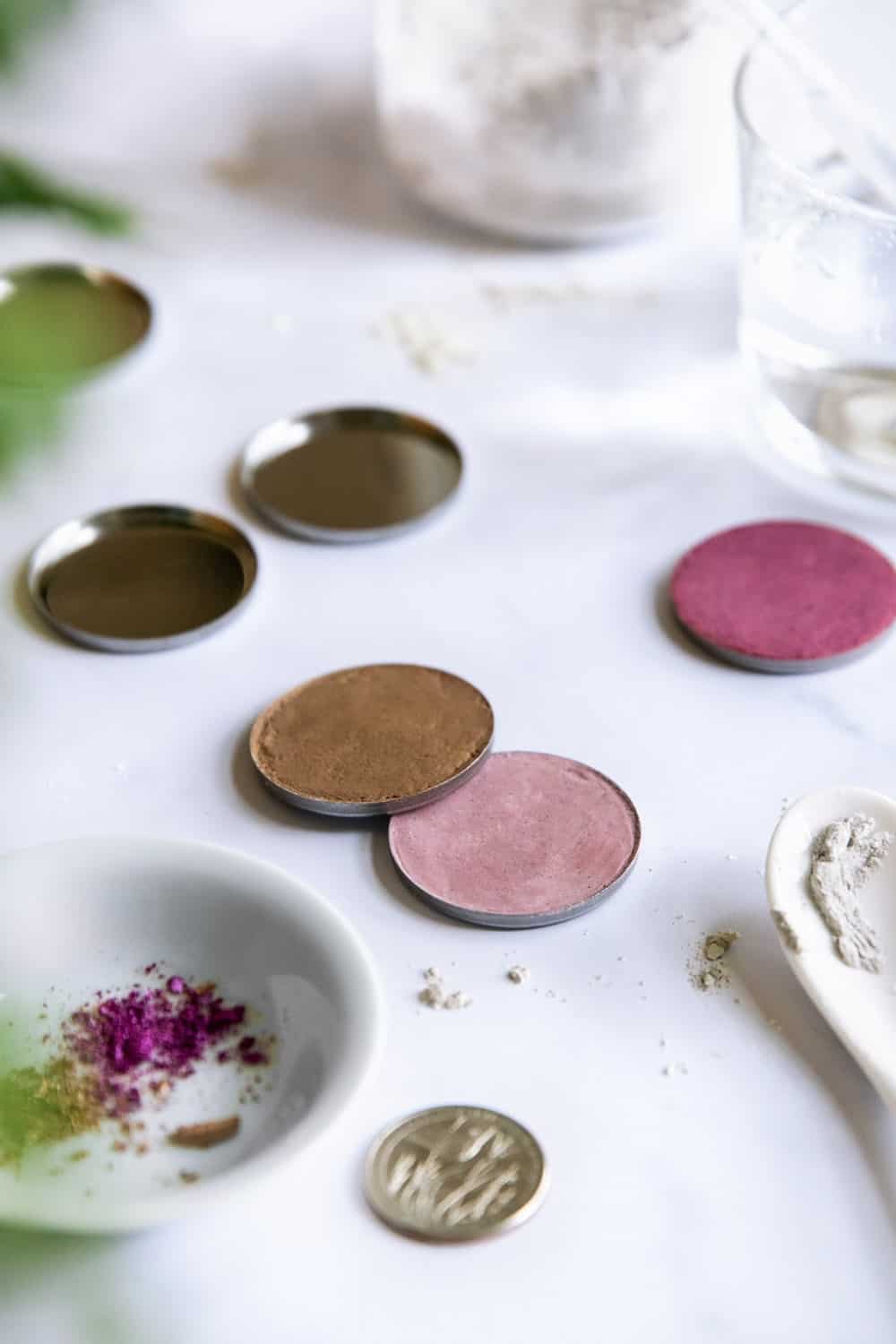 Turn your loose powder into pressed eye shadow with just a few extra tools:
Coconut oil - For pressed eye shadow, we use coconut oil because it hardens at room temperature without drying out the powder.
Vodka or rubbing alcohol — This makes it easier to press the eye shadow into a cosmetic pan.
Eye shadow pan — These are perfect for pressed shadow, blush, or powders.
Usage
Before using around the eyes, test the eye shadow on a small patch of skin on the inner wrist, and always avoid using any known allergens.
To apply, use an eye shadow brush or your fingertip to pick up a small amount of the mixture. Apply it to your eyelids and blend as desired.
Storage
This eye shadow is best stored in a small makeup jar with a sifter. The sifter will help keep your eye shadow from clumping while also ensuring that you don't accidentally spill the powder everywhere if you drop or bump it.
If your mineral clay eye shadow does clump eventually, simply use a mortar and pestle to break it up, then put it back in the jar. Stored in a cool, dry place, it should last up to 6 months.
Note that pressed eye shadows can be more prone to breaking compared to loose eyeshadows, so handle them with care.
Use homemade makeup remover or DIY wipes when it's time to remove your makeup.
Top tip
Don't be afraid to explore different natural ingredients to make your own personalized eye shadow shades! It's not an exact science, so keep adjusting the quantities of each ingredient until you find a color intensity that you like.
FAQ
Eye care
More DIY recipes for your eyes: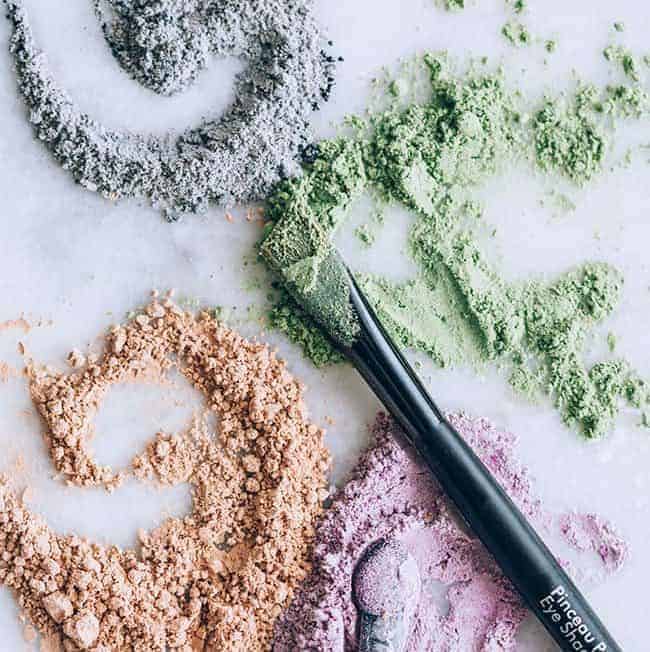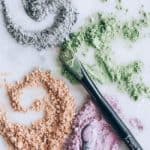 Print
How to Make Mineral Clay Eye Shadow (Loose or Pressed Versions)
This easy, mineral-rich DIY eyeshadow allows you to experiment with your natural look, without using ingredients that are harmful for your skin.
Equipment
Small bowl and spoon

Small jar or empty eye shadow pans or compact

Pressing tool (can be a coin or the back of a spoon)

Tissue or paper towel
Materials
Pressed Eye Shadow
1

tablespoon

bentonite clay

1

teaspoon

arrowroot starch

⅛

teaspoon

coconut oil

(adjust as needed)

¼

teaspoon

rubbing alcohol or vodka

(adjust as needed for desired consistency)

¼–½

teaspoon

powdered pigments
Instructions
Loose Eye Shadow
Add the arrowroot starch and bentonite clay to a small bowl and mix well to create your eyeshadow base.

Mix in desired colors until you have reached a shade that you like.

Add a few drops of jojoba oil to the mixture, and combine until the powder is no longer dusty but becomes soft and sticks together slightly.

Apply to well-moisturized skin. Jojoba oil may not only feel soothing on the skin, but it also has the extra benefit of adding back moisture and decreasing redness. 
Pressed Eye Shadow
In a small mixing bowl, combine the bentonite clay and arrowroot starch. Mix well to ensure they are thoroughly blended.

Add the coconut oil to the dry mixture and stir until it forms a crumbly texture.

Gradually add the rubbing alcohol or vodka, a few drops at a time. Mix well after each addition until the mixture has a damp, moldable consistency. It should be moist but not overly wet.

Add the natural pigments to the mixture, starting with 1 teaspoon. Mix thoroughly to evenly distribute the color. If you desire a more intense shade, add more pigments as needed.

Once the mixture is well blended, transfer it to an empty eyeshadow pan or compact. Use the back of a spoon or pressing tool to press the mixture firmly into the pan, ensuring it is evenly distributed.

Place a tissue or paper towel on top of the pressed eyeshadow and apply pressure with your pressing tool to remove any excess moisture. This step helps to compact the eyeshadow and remove any remaining alcohol or moisture.
312