With the prevalence of ingredients in cosmetic products that can cause issues ranging from clogged pores to hormonal imbalances [source], it's important to keep a wary eye on the contents of any product you put on your skin. But caring for your skin doesn't have to mean going without makeup!
Starting with a mineral-rich base, this easy DIY mineral clay eyeshadow allows you to experiment with your natural look, without using ingredients that could be harmful to your skin.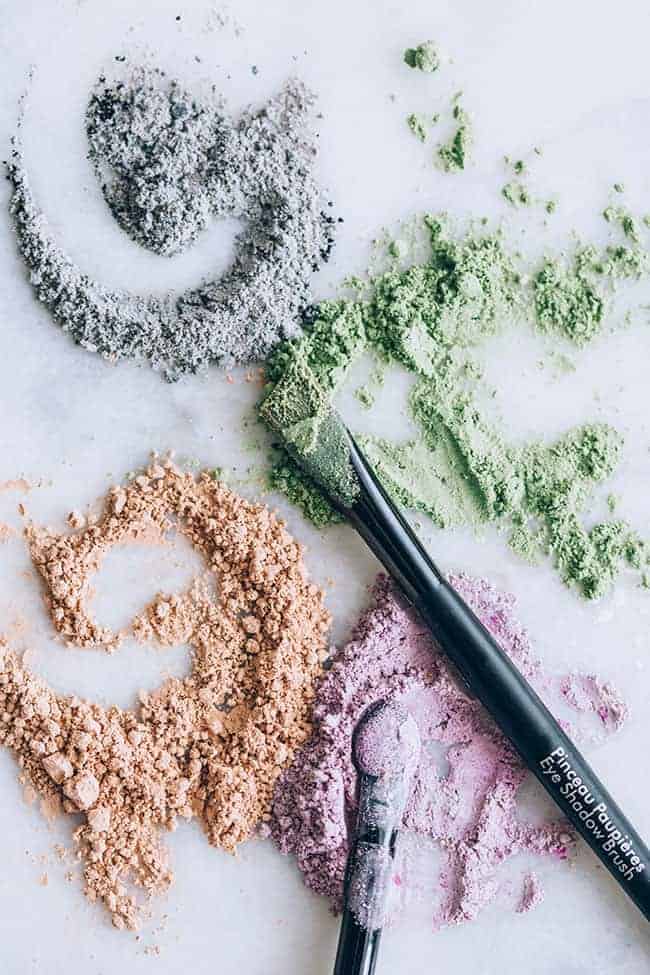 How to Make Mineral Clay Eyeshadow
Truly, the most beautiful feature of this wonderfully simple eyeshadow recipe is the healing bentonite clay. While it clearly isn't the star ingredient of your typical mineral makeup, this unassuming volcanic ash clay powder is well known for its ability to draw out and absorb toxins, plus it's antimicrobial and full of minerals such as magnesium, potassium, and calcium [source].
Because of these natural properties, bentonite clay is commonly used both internally and externally for detoxification and healing [source]. It is often used to help remove excess oils and debris from the skin. Even though it hardens when it dries, bentonite clay is soothing and calming to the skin. And the additional mineral content it has to offer makes it a perfect starting place for our eyeshadow base.
Perhaps the most difficult part of making this eyeshadow will be choosing what colors to try! For a super natural look at low cost, start by searching through your kitchen cupboards. Grab cocoa powder for a rich brown and spices such as cinnamon, ginger, paprika, nutmeg, and turmeric for fun variations on natural tones (just be wary of the cayenne!).
But you don't have to stop there. If you want to lean toward a little darker shades, mix in some food grade activated charcoal, or branch out to wider variations of color with ingredients like spirulina and beetroot powders. You can even spring for a bit of shimmer by adding in natural mica powders.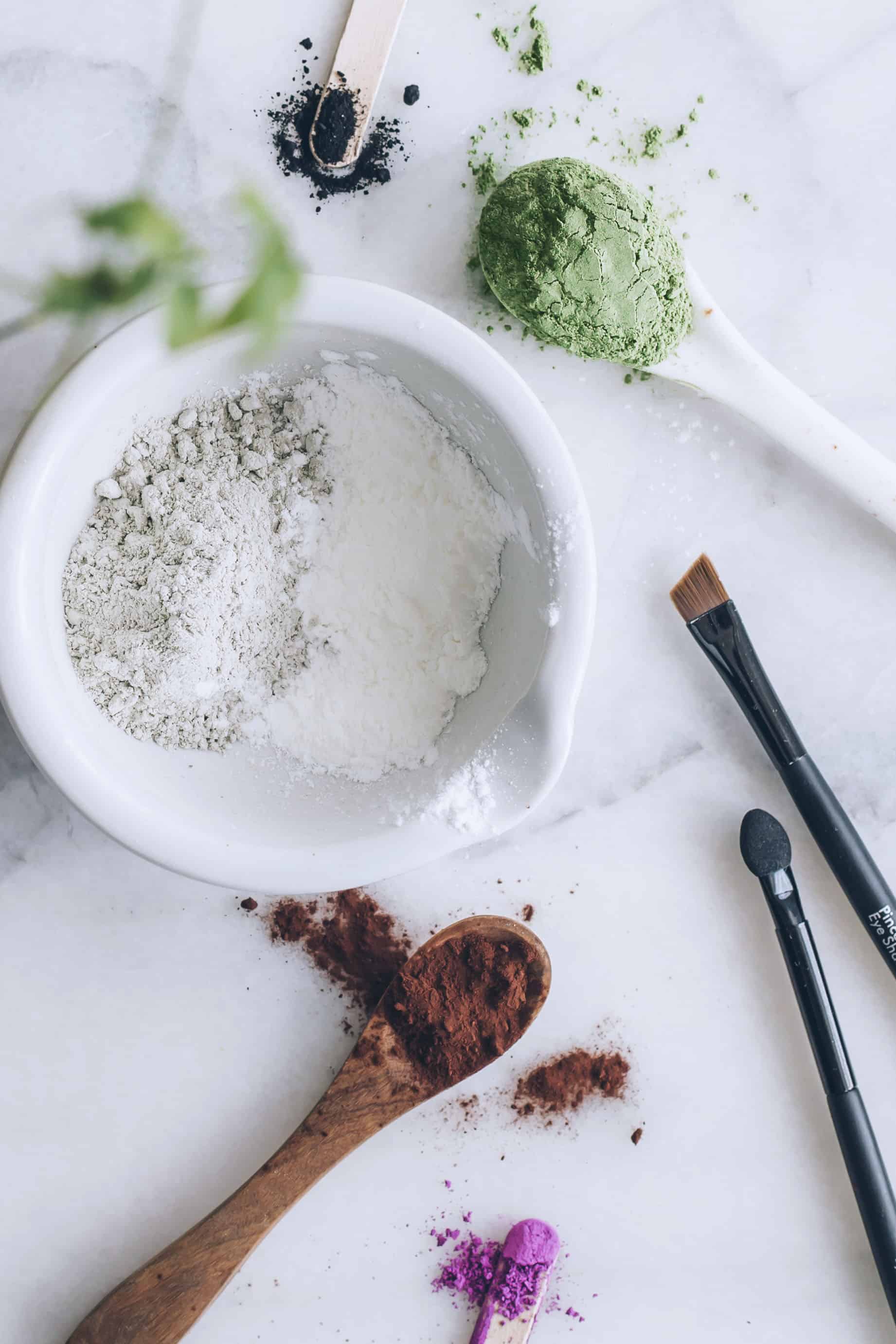 Let's Get Started
Begin by mixing the arrowroot starch and bentonite clay to create your eyeshadow base. Since I was making several different colors and shades of mineral clay eyeshadow, I divided the base into parts before the next step. Note that the more base you use, the lighter your shade will be, so you may want to start with a small amount first and add more as you go to formulate your various shadows.
Now the fun part—add in your colors! Experiment by building on them bit by bit until you have reached your desired tints. Then add a few drops of almond oil to the powder. Mash and mix the drops of oil into the mixture until they are completely combined. If you feel the powder is still too dusty, add 1–2 more drops of oil, and repeat until the eyeshadow is soft and sticks together just a bit.
Before using around the eyes, test the eyeshadow on a small patch of skin on the inner wrist, and always avoid using any known allergens.
And—voila! Simply apply your eyeshadow powders to well-moisturized skin, and have fun with your new natural look.
Homemade Eyeshadow FAQ
What can I use instead of bentonite clay?
If you prefer, you can leave out the bentonite clay altogether and just use arrowroot starch as the base. Organic cornstarch would also work.
Can grapeseed oil be used instead of almond oil?
Yep! Use whichever carrier oil you like. Just make sure to test it on your inner wrist area first to check for possible skin and eye irritation.
What is the shelf life of homemade eyeshadow?
As long as you don't see any changes in the consistency (such as clumping) and you keep it clean (I recommend using a sifter jar to prevent contamination), it should last 4–6 months.
How can I make a light, brightening eye shadow?
Try white kaolin clay (1:1 in place of bentonite clay) and arrowroot starch as the base. Then add a pinch of whichever pigment powder you like for color. You can also add some white mica powder for a soft shimmer.
Would this work on the face too?
Yes! Start with the bentonite clay and arrowroot starch base, then add pink pigments for blush or skin tone pigments for a face powder. I usually mix different shades of clay (this company makes a ton of skin-friendly shades) until I get a color that most closely matches my skin tone.
Looking for more DIY beauty recipes?
We've got you covered: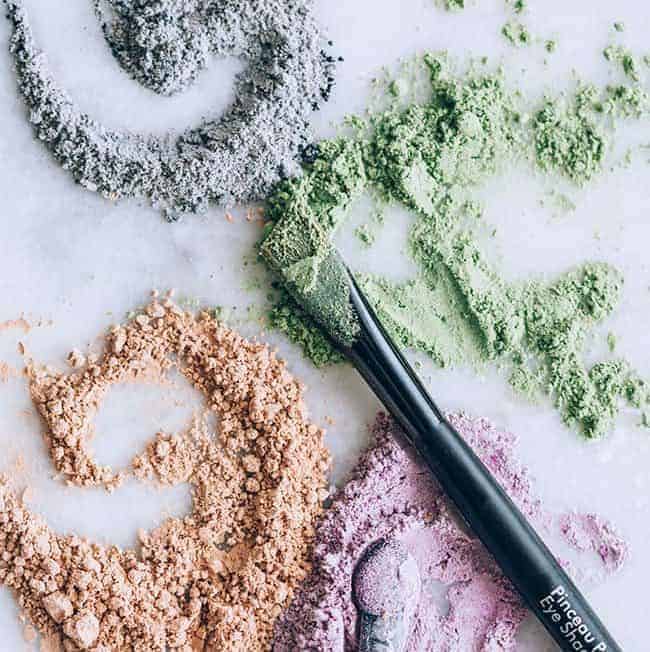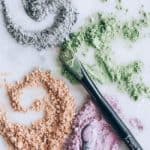 Print
Simple Mineral Clay Eyeshadow
This easy, mineral-rich DIY eyeshadow allows you to experiment with your natural look, without using ingredients that are harmful for your skin.
Instructions
Add the arrowroot starch and bentonite clay to a small bowl and mix well to create your eyeshadow base.

Mix in desired colors until you have reached a shade that you like.

Add a few drops of jojoba oil to the mixture, and combine until the powder is no longer dusty but becomes soft and sticks together slightly.

Apply to well-moisturized skin. Jojoba oil may not only feel soothing on the skin, but it also has the extra benefit of adding back moisture and decreasing redness. 
Notes
I like to store my eyeshadow in a small sifter jar to prevent spilling and control the amount I get on the brush.
Before using, test eyeshadow on a small patch of skin away from the eyes, and always avoid using any known allergens.
Use within 3–4 months.
This post was medically reviewed by Dr. Rina Mary Allawh, M.D., a dermatologist who performs adult and pediatric medical dermatology, skin cancer treatment, and cosmetic dermatology. Learn more about Hello Glow's medical review board here. As always, this is not personal medical advice, and we recommend that you talk with your doctor.
296