This homemade lip oil recipe is a cross between lip balm and commercial gloss—thanks to nourishing butters, oils, and humectants. It moisturizes lips just like lip balm, but it also has the shine of lip gloss. And it's easy to get a pretty, natural tint with lip-safe mica powders.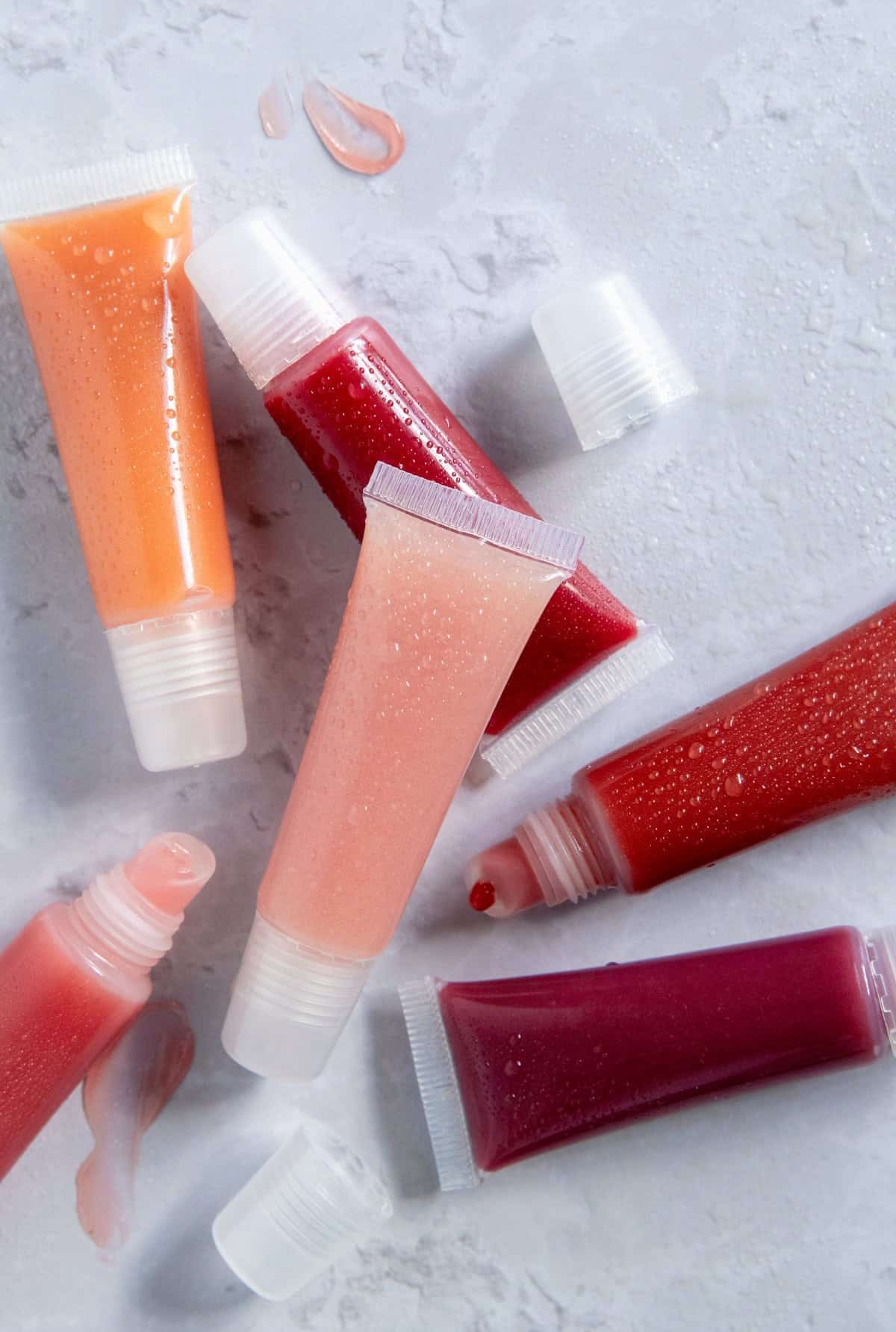 Making your own lip oil is as simple as warming a few different oils together in a saucepan and adding a colorant. Once it's cooled slightly, you can transfer the mixture to a lip gloss tube or small jar for easy access. Then toss the tube in your makeup bag or purse, and kiss your old store-bought lip gloss goodbye.
Jump to:
Ingredients
I made this oil using a bunch of ingredients I already had at home. As long as you keep the ratios the same, the specific oils you use aren't really that important.
Just make sure that, since you're putting this on your lips, the ingredients you choose are safe to ingest. You also want to choose high-quality ingredients to avoid potential health risks associated with harmful or toxic substances that might be contained in low-quality ingredients.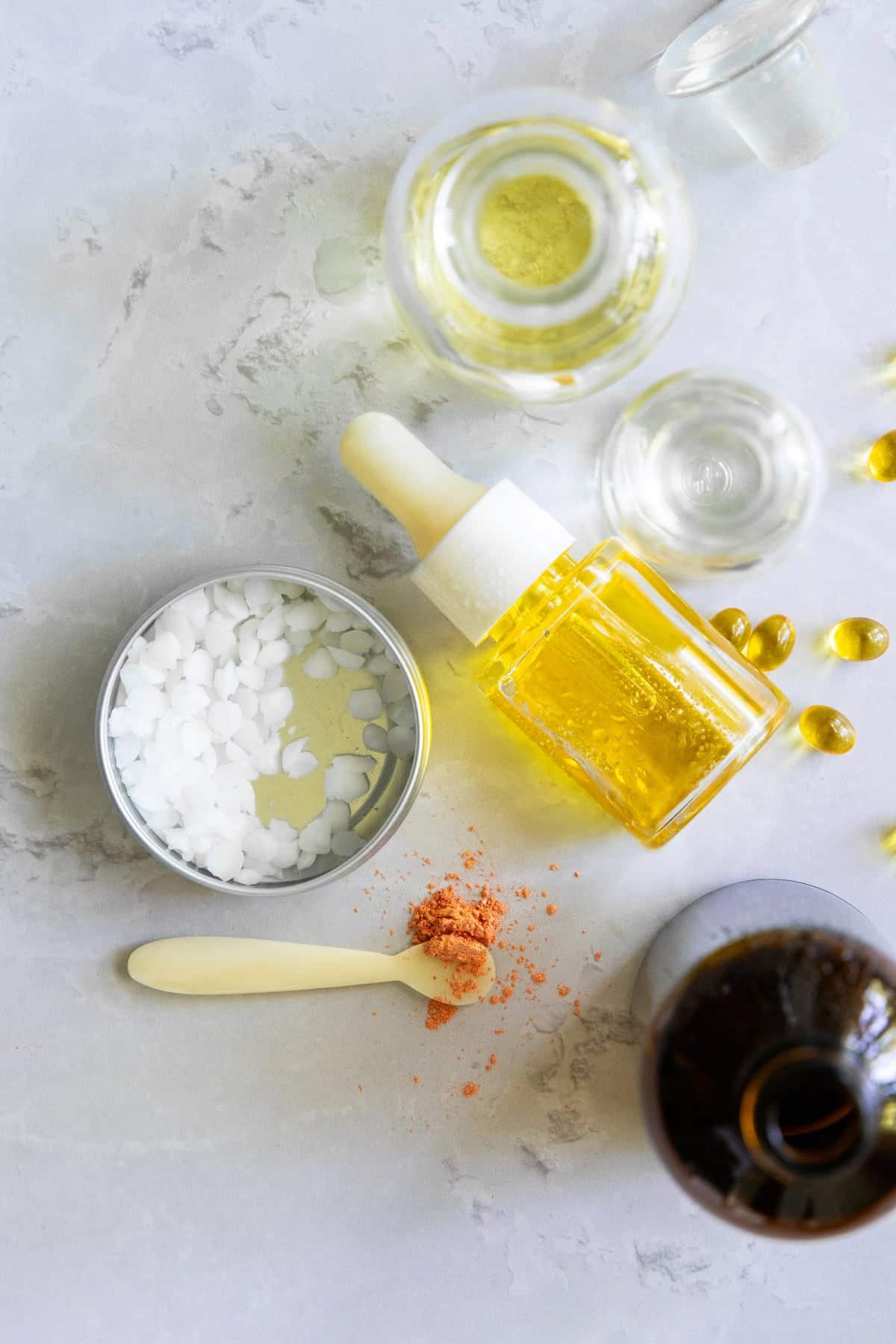 Castor oil: Known for its emollient properties, castor oil helps the lips retain moisture and provides a protective barrier due to its thick consistency.
Argan oil: Argan oil, with its high vitamin E content, nourishes and hydrates the lips, while its antioxidant properties help protect against environmental damage, keeping the lips soft and supple.
Cera Bellina wax: Often used in beauty products, this wax enhances the texture of lip gloss, providing a smooth and creamy consistency.
Rosehip oil: Rosehip oil is rich in vitamins and essential fatty acids, which may repair the lips, reduce dryness, and help to heal chapped lips.
Sweet almond oil: This gentle and soothing oil deeply moisturizes the lips, leaving them feeling smooth and hydrated.
Cucumber seed oil: With its light texture and natural antioxidants, cucumber seed oil revitalizes the lips and helps protect against damage from free radicals.
Vitamin E oil: This vitamin is a powerful antioxidant that nourishes and repairs the lips while it helps prevent dryness and cracking. It's also a low-grade preservative and can help keep your lip gloss from going rancid too quickly.
Mica powder: Commonly used for color and shimmer, mica powder adds a touch of sparkle to your lip gloss. Make sure to choose cosmetic-grade, lip-safe mica powder, which shouldn't contain heavy metals or other toxins.
See the recipe card below for quantities.
Instructions
This recipe doesn't solidify as quickly as some of the other cosmetics we've made before, so feel free to take your time if you're new to this.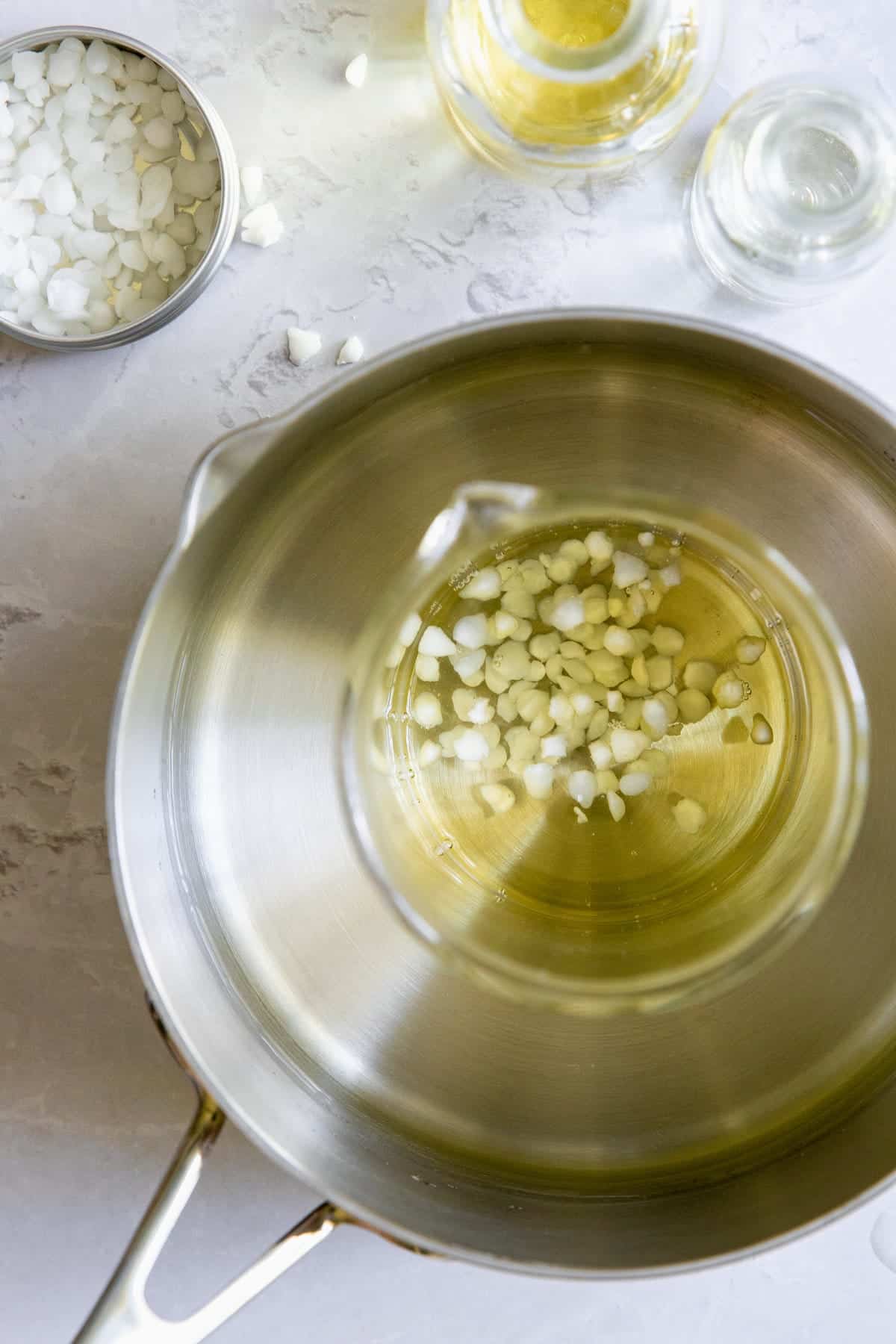 Start by combining the castor oil, argan oil, Cera Bellina wax, and rosehip oil in the top of a double boiler (I made my own using a heat-safe measuring cup and a small saucepan filled with water).
Simmer on the lowest heat setting until just melted (you want the water to be hot but not boiling).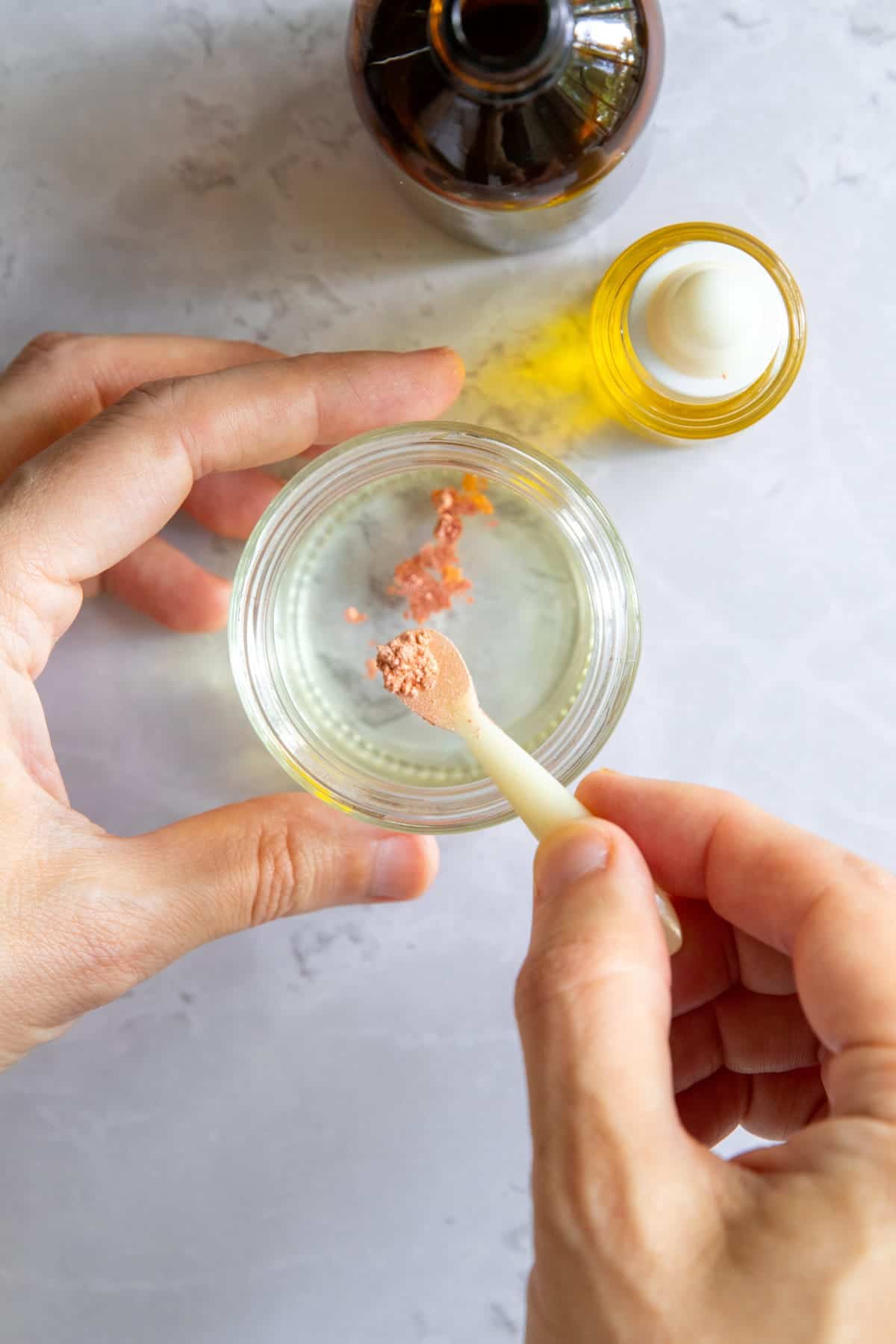 Meanwhile, combine the cucumber seed oil, almond oil, and mica powder in a separate container. Whisk well to remove any clumps and evenly disperse the mica.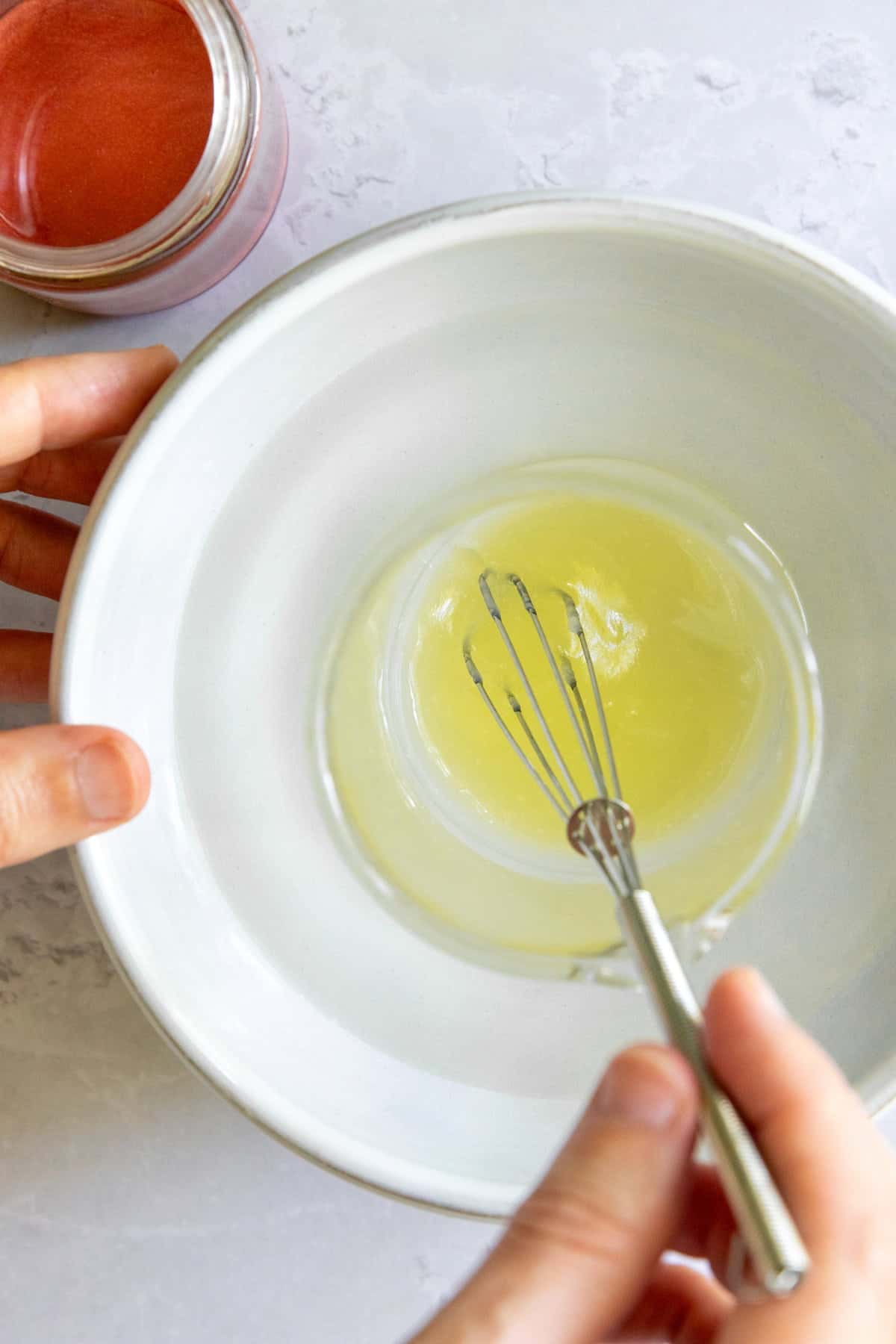 When the castor oil blend is completely melted, place the measuring cup into a bowl that's filled with lukewarm water. This will help cool the oils a little more quickly—but not too quickly. Whisk until the mixture starts to thicken.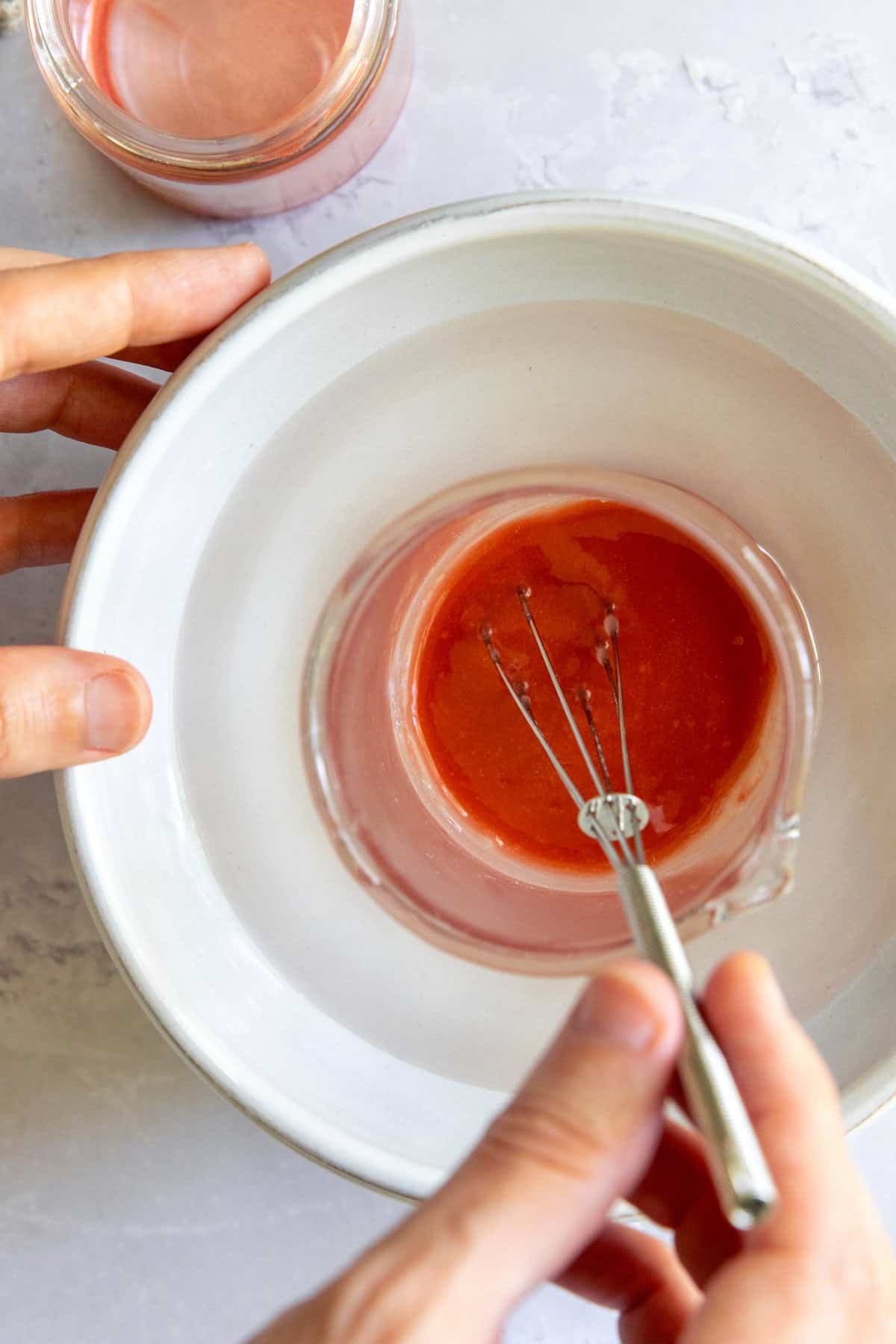 Add the mica oil mixture and continue whisking to ensure the mica is evenly distributed as the oils cool.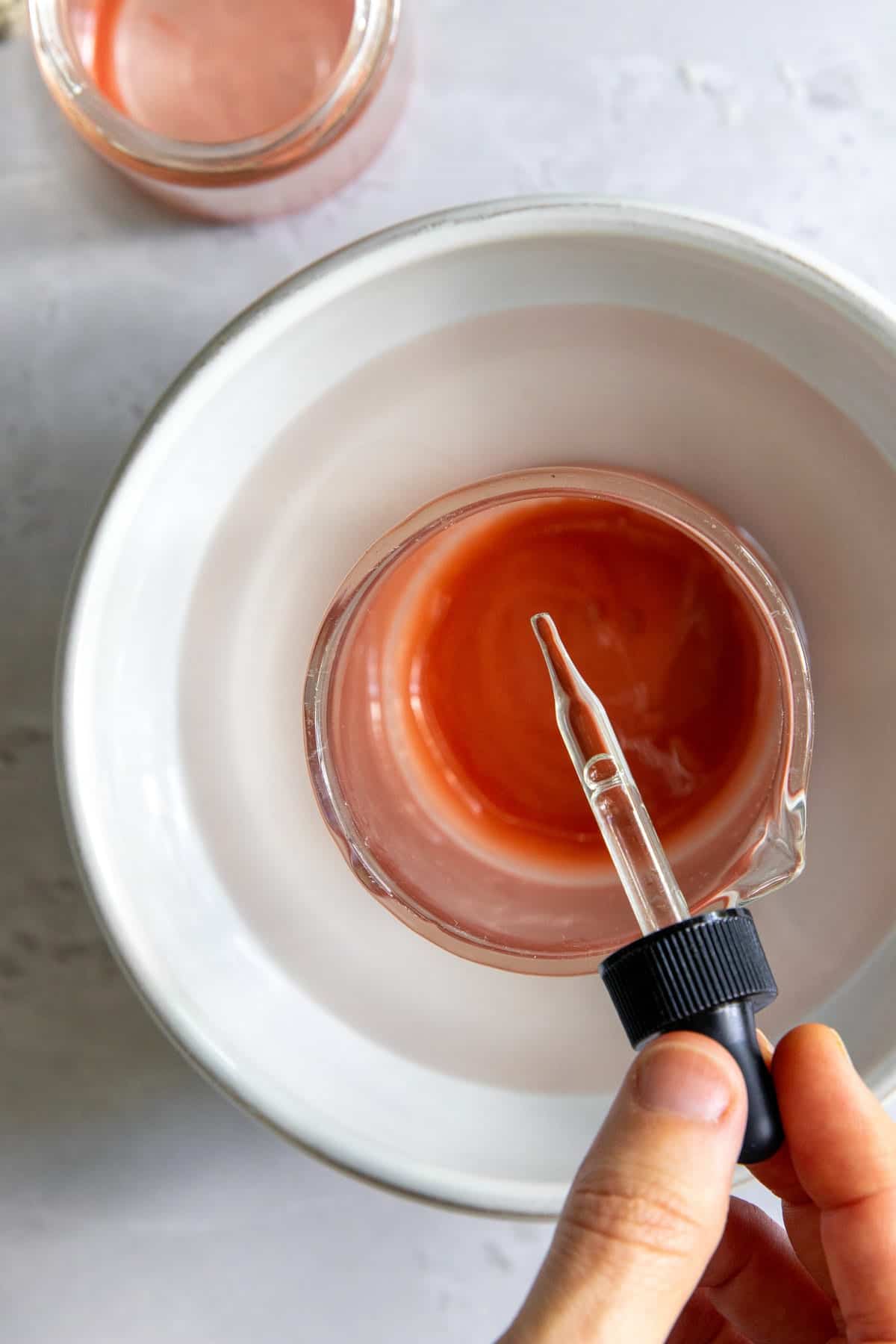 Lastly, add the vitamin E oil and any lip-safe essential oils (see the list below) you like.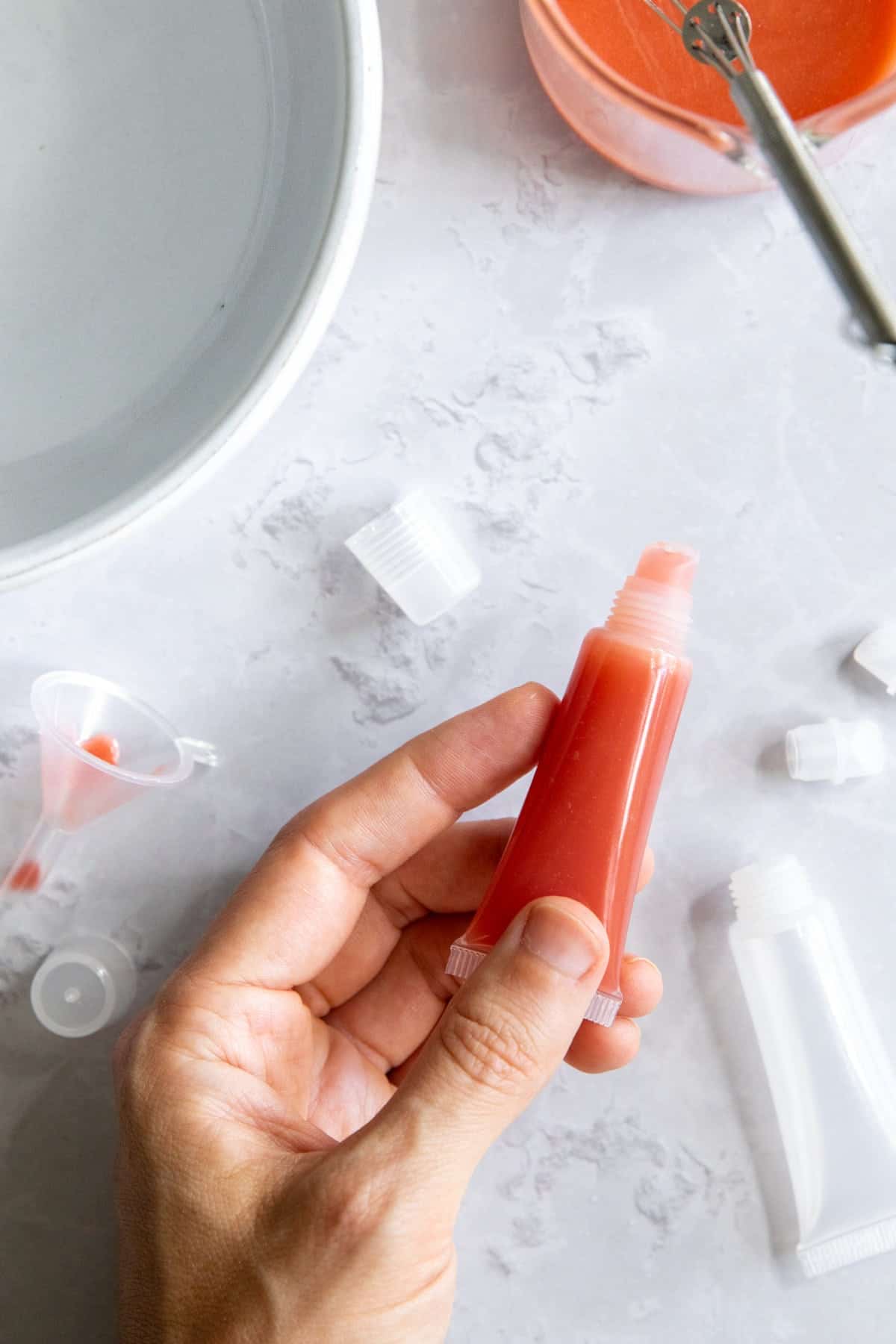 Transfer the gloss to a clean, dry tube or container. Let it cure for 2–3 days before applying.
Hint: If you're having trouble getting the lip oil into the container, place the oil mixture back on the stove for a couple of seconds to melt it slightly. When it's a little bit softer (but not hot!), you should be able to pour it directly into the tube.
Substitutions
If you can't get your on hands on the recommended ingredients, feel free to use some of these instead:
Carrier oils - Basically, any oil besides coconut oil (since it becomes solid at room temperature) will work in this recipe. But jojoba, sesame, or avocado oils make particularly great substitutes for any of the oils used in this recipe.
Cucumber seed oil - Cucumber seed oil is used for its healing properties, not necessarily because it's an oil. Carrot seed oil, red raspberry seed oil, or even sea buckthorn seed oil also have healing properties and can be used instead. Or leave the cucumber seed oil out entirely and replace it with another oil used in the recipe.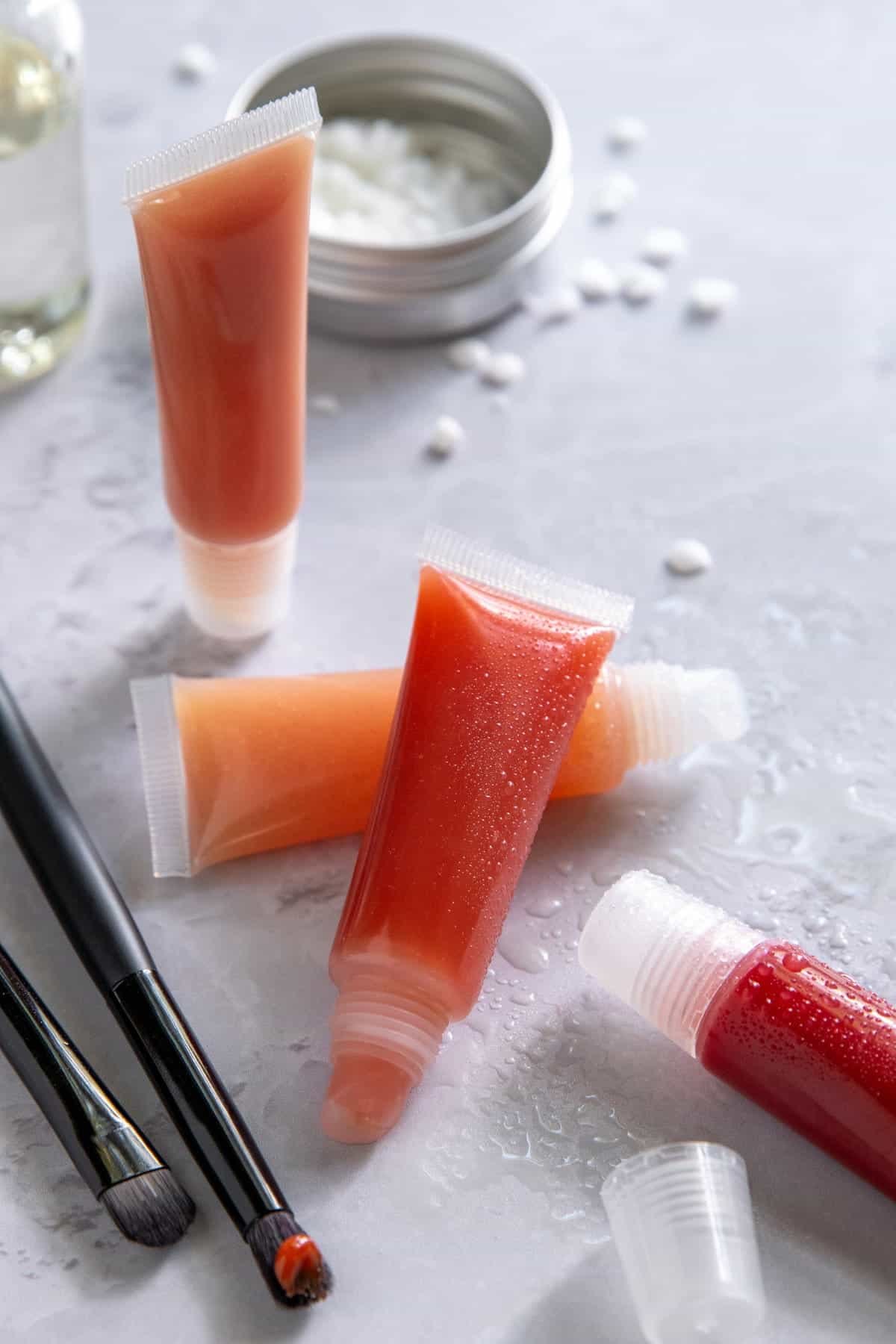 Adding Essential Oils
While you don't have to use them, essential oils can give your lip oil extra healing power. Consider both their scent and potential benefits. Opt for high-quality, pure essential oils from reputable brands.
Some popular essential oils for lips include:
Remember that essential oils are highly concentrated and can cause skin irritation or hypersensitivity if not used properly. Start by adding 2–3 drops of essential oil into your lip gloss mixture while it's cooling, and gradually increase it to a maximum of 6 drops per ounce of oil/wax mixture to achieve the desired scent.
Then conduct a patch test on a small area of skin to ensure you don't have any adverse reactions before using it for the first time on your lips.
Using Mica Powder
Just like with any powdered colorant, mica powder has a tendency to clump when mixing it with thicker waxes and oils. That's why I recommend adding it to the cucumber and almond oils, which act as a blending agent so you can easily disperse the powder throughout the mixture before combining it with the thicker oils.
Start by adding a small amount of mica, such as a pinch or a small scoop, and mixing it thoroughly into the oil.
If you want, you can mix different colored micas together to create a whole new shade.
Remember that mica powders can be highly pigmented, so a little goes a long way. Add more powder gradually until you achieve the desired tint.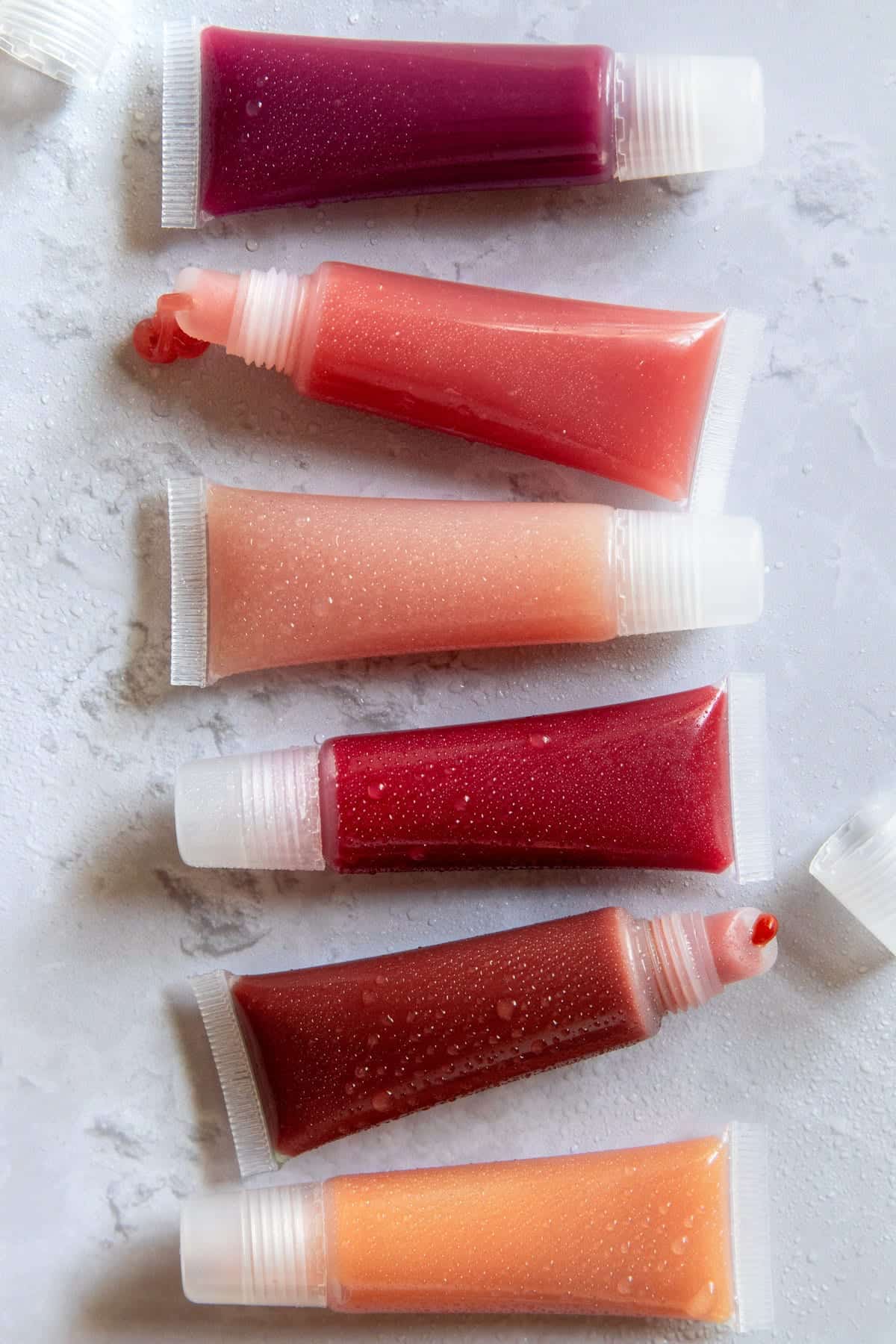 Storage
Properly storing your homemade lip gloss is crucial for extending its shelf life.
Ensure containers and application tools are clean and sanitized to prevent contamination.
Store the lip oil in a cool, dry place, away from direct sunlight and heat sources.
Label each container with its ingredients and creation date, and regularly inspect it for any changes in color, texture, or scent.
Since there isn't any water in this recipe it should last 6 months to 1 year without a chemical preservative. Vitamin E will help your gloss last longer without the need for stronger preservatives.
FAQ
How do I make homemade lip oil thicker or thinner?
To make your lip gloss thinner, simply use more castor or almond oil. To make it thicker, use more Cera Bellina wax.
Can I use containers with a sponge tip applicator instead of a squeeze tube?
Yes! Although, you may need to adjust the consistency of the gloss so it's a little thinner. To do that, simply use more almond or castor oil than the recipe calls for.
Will this lip oil dry out my lips?
Homemade lip oil, like any homemade beauty product, has the potential to cause dryness or irritation. However, since we formulated this recipe with hydrating and moisturizing ingredients, it should actually provide moisture and prevent dryness.
Lip Care Recipes
Looking for other recipes like this? Try these: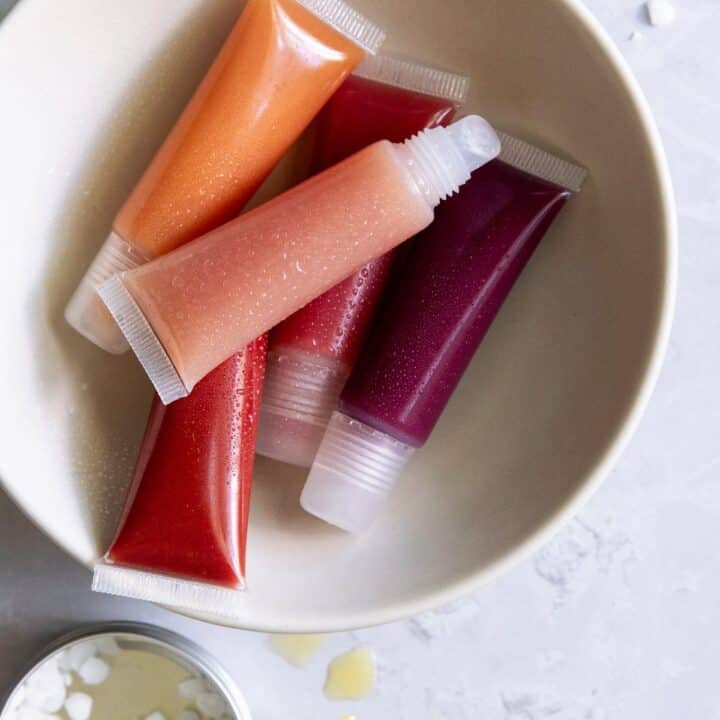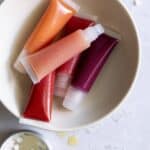 Print
Hydrating Tinted Lip Oil Recipe
This all-natural, easy-to-make lip oil moisturizes like the lip balm you're used to while giving you the high shine of a traditional gloss.
Equipment
Double boiler

Small wire whisk

Kitchen scale

Empty lip gloss tubes
Instructions
Combine the castor oil, argan oil, Cera Bellina wax, and rosehip seed oil in the top of a double boiler (or use a heat-safe measuring cup placed into a small saucepan filled with water). Simmer on the lowest heat setting until the wax is just melted.

Meanwhile, combine the cucumber seed oil, almond oil, and mica powder in a small bowl and whisk until you don't see any more clumps.

Place the melted castor oil mixture into a bowl that's filled with lukewarm water. Whisk until the mixture starts to thicken.

Add the mica oil and continue to whisk a little longer.

Add the vitamin E oil and any essential oils you might like.

Transfer the lip gloss to a clean, dry tube or container. Let cure for 2–3 days before applying.
Notes
To get the right consistency, it's really important that you weigh all the ingredients in this recipe using a kitchen scale.
6