Lavender oil has been and continues to be one of the most popular essential oils available. It's commonly used for bug bites and better sleep, but it also deserves a place in your hair care routine. Get 8 ways to use lavender oil on hair strands and scalp, from encouraging hair growth with a lavender scalp oil to soothing your scalp with homemade lavender shampoo.
Read on to learn how to make lavender hair masks, deep conditioners, and hot oil treatments with this versatile and popular essential oil!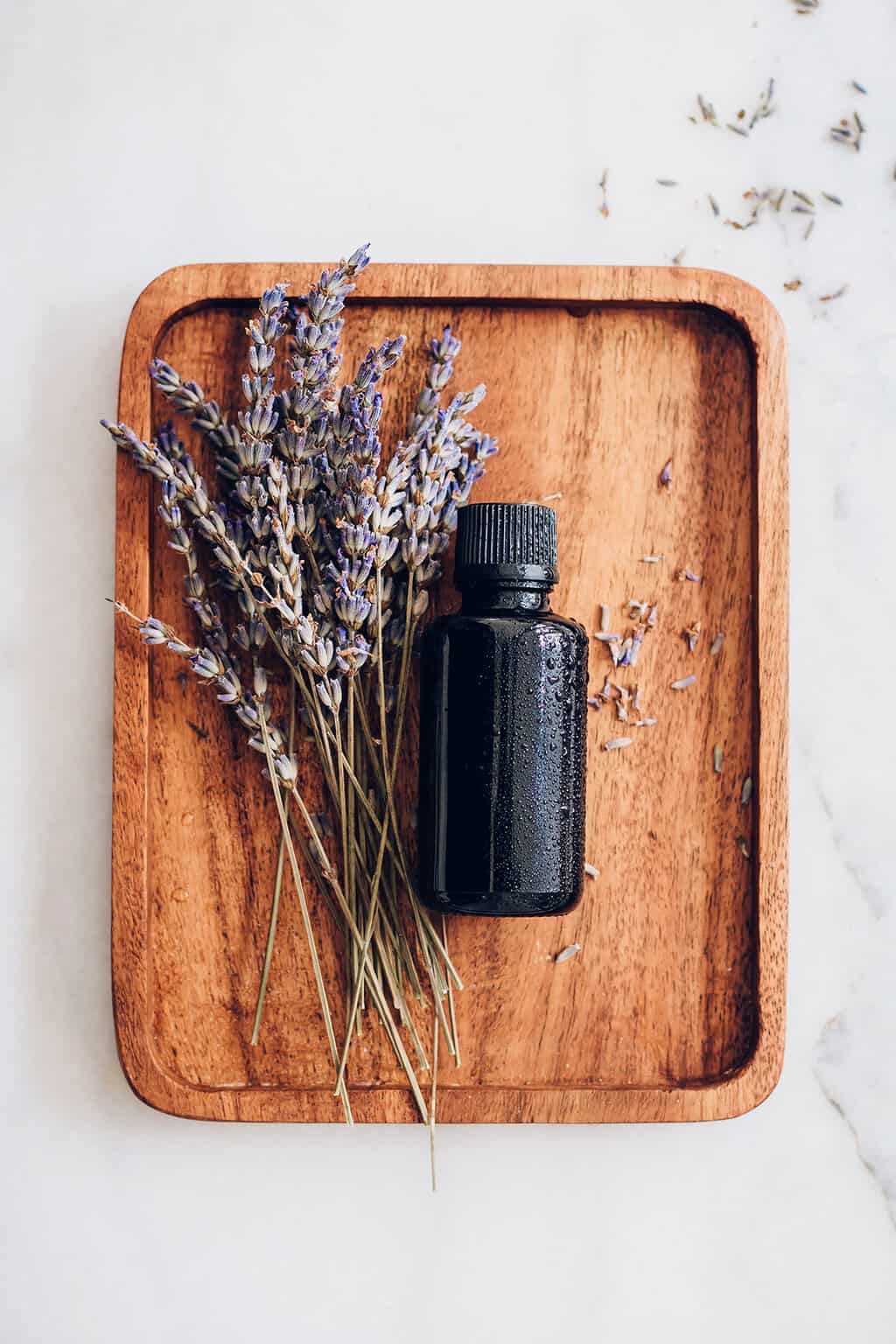 What is Lavender Oil
?
Lavender essential oil (EO) is obtained from the flowers of some species of the lavender plant via a distillation process. There are over 400 types of lavender plants, each offering slightly different scents. Like all essential oils, lavender EO is not a pure compound.
Lavender EO has earned a place of honor in aromatherapy because of its calming effects. It is also a multipurpose oil, offering antifungal, antimicrobial, antiseptic, and anti-inflammatory properties [source].
4 Science-Backed Ways Lavender Oil Benefits Hair + Scalp

Lavender essential oil can provide numerous benefits for hair and scalp health. Here are some ways it can help: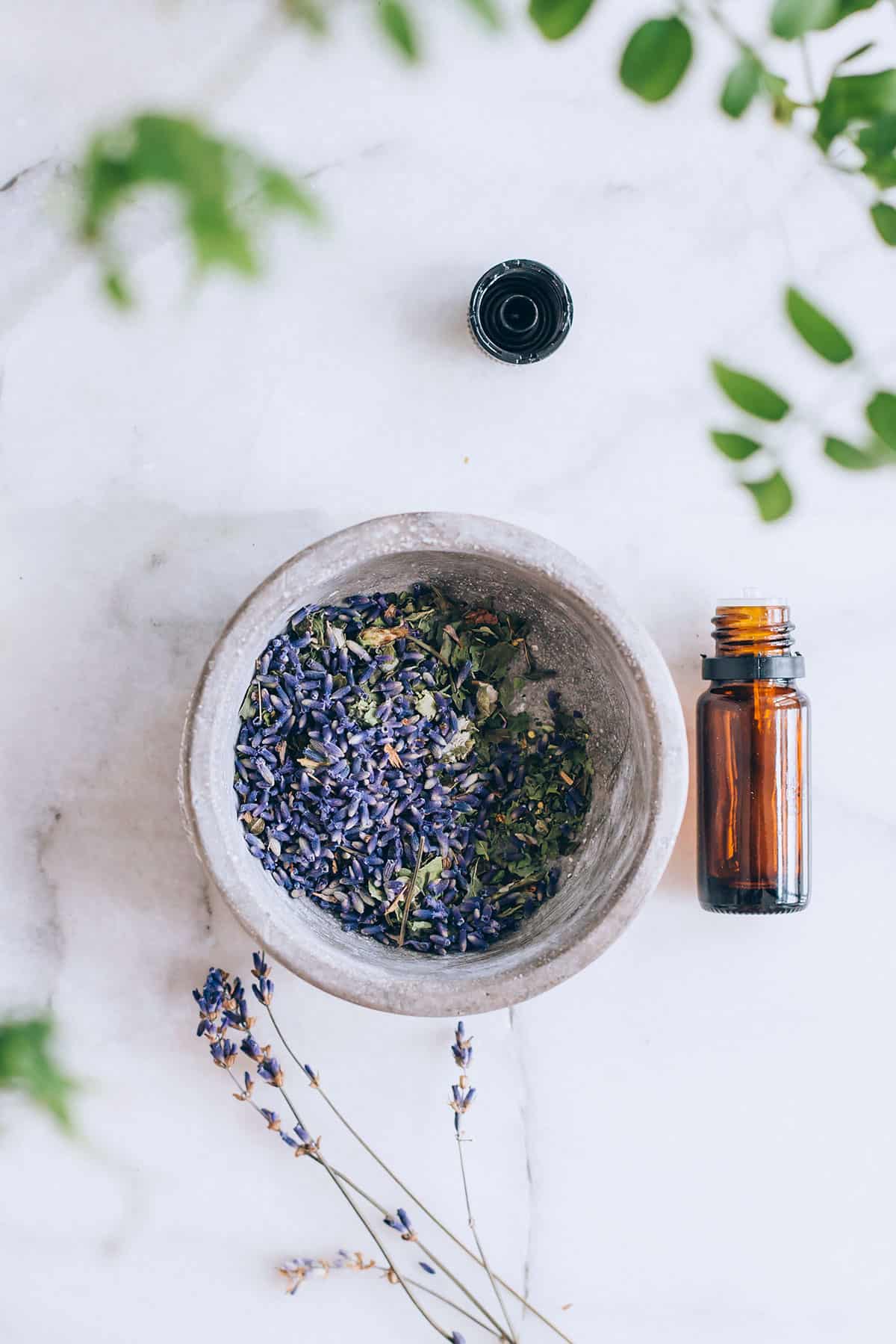 1. Promotes hair growth
Natural healers rave about lavender EO's hair growth-promoting properties. It has been thought to promote hair growth by increasing blood circulation to the scalp and promoting the growth of new hair follicles.
A study done in mice showed significant hair growth from the daily topical application of lavender oil over a 4-week period [source].
Lavender is known to reduce stress levels and promote relaxation [source], which may also help prevent stress-related hair loss. Next time your hair needs some TLC, give this scalp oil or a DIY deep conditioner with olive oil and lavender a try!
2. Treats dandruff
Lavender EO's antifungal and antimicrobial properties can help in treating dandruff and other scalp infections. Its soothing properties have also been shown to reduce inflammation and irritation [source].
It is an excellent option for people with sensitive scalps who cannot use harsh chemicals or commercial hair masks to treat and prevent dandruff.
3. Prevents and kills head lice
Lavender EO can help prevent the spread of lice and keep them from feeding on your scalp, according to one study in which it was shown to be effective in killing head lice when used along with tea tree oil [source].
4. Reduces scalp inflammation
Inflammation in your scalp can affect your hair as well as your overall health. It can lead to an itchy scalp, which may create dandruff and an environment that makes it more difficult for new hair to grow.
Lavender EO has anti-inflammatory qualities [source] that can help to reduce scalp inflammation and prevent conditions like psoriasis and eczema.
8 Ways to Use Lavender Oil on Hair + Scalp

There are many ways to incorporate lavender EO into your haircare routine, from hair masks to simple oil blends. You can add a few drops of lavender EO into other products and with other essential oils. Be sure to do a patch test before using any essential oil on your skin or scalp.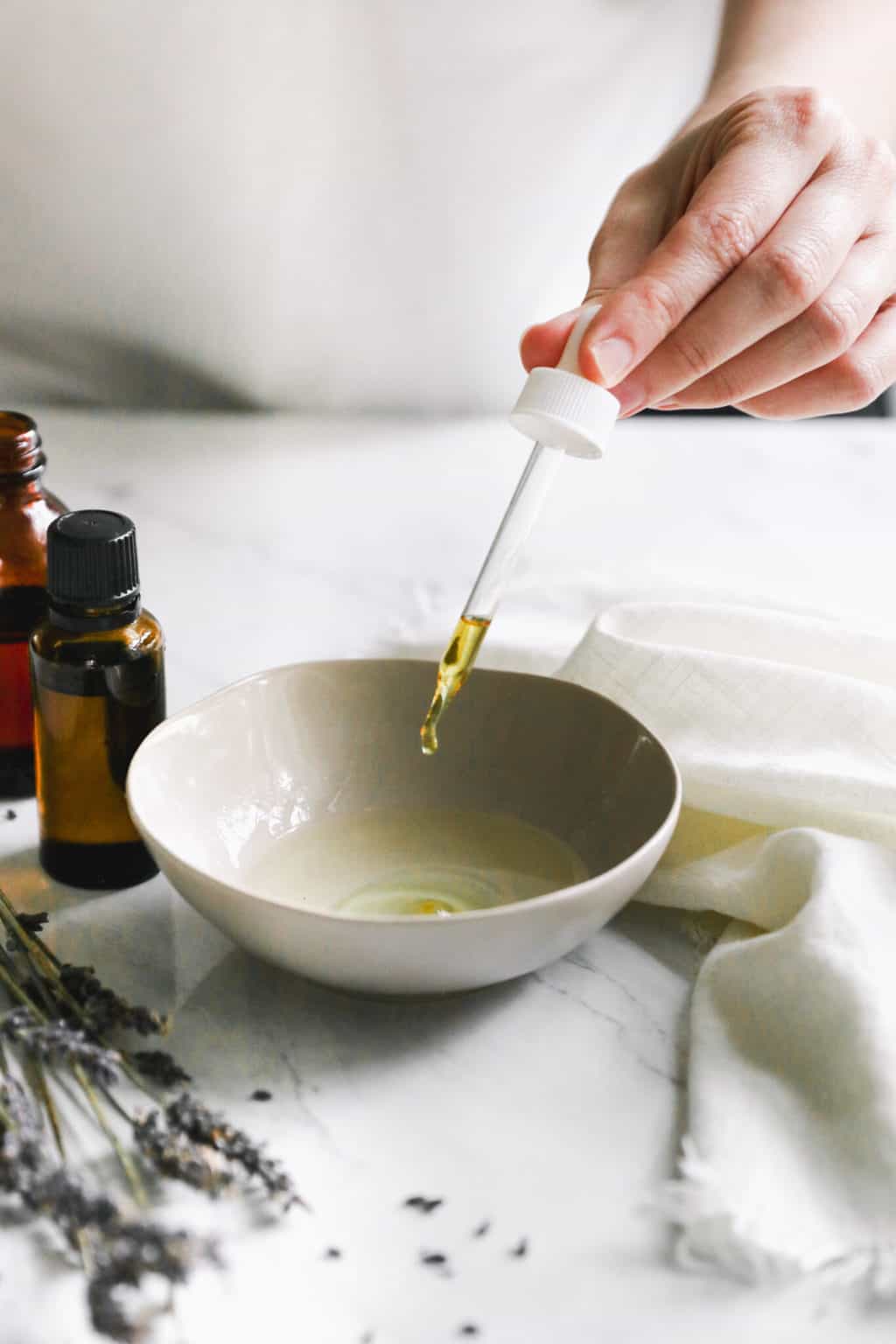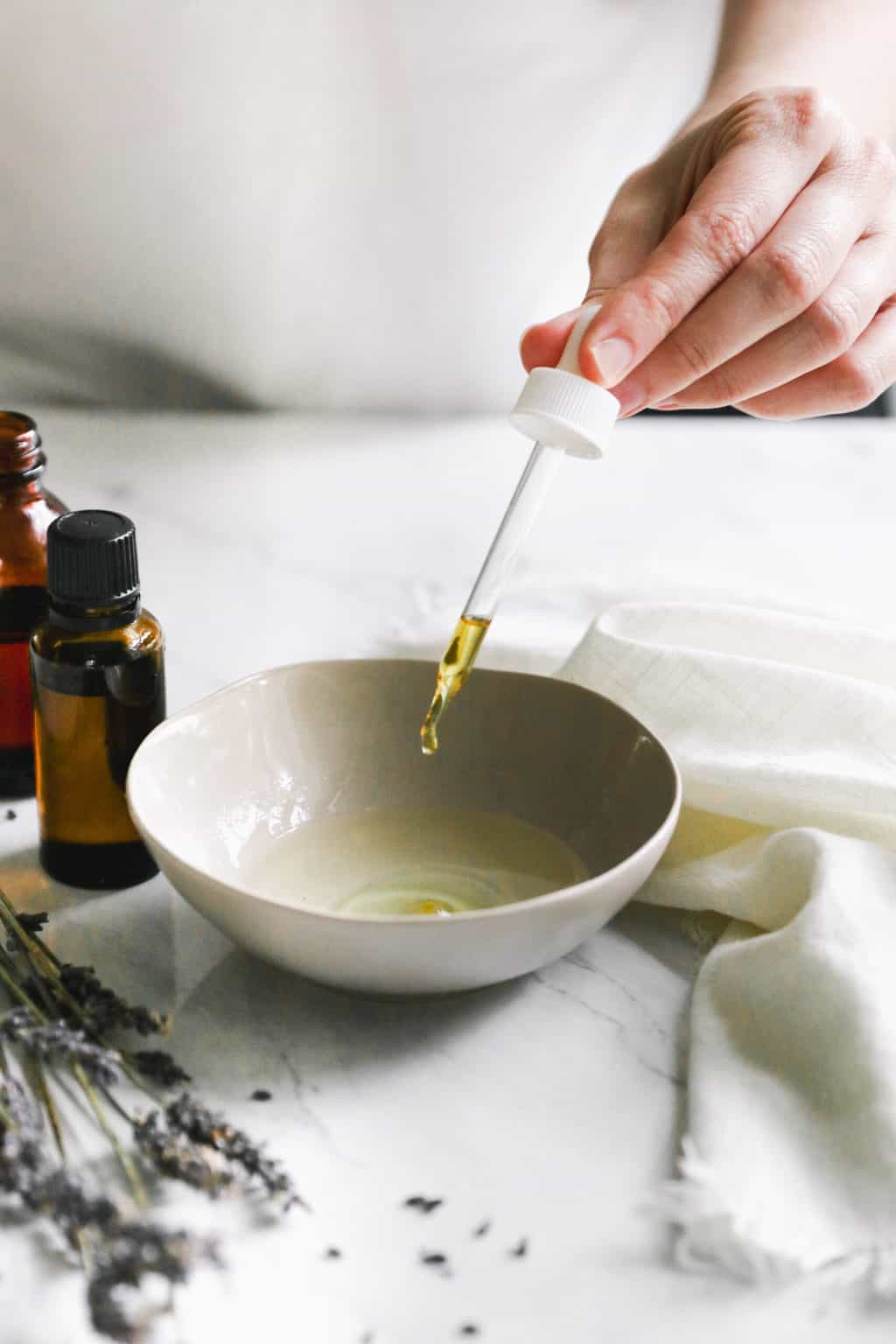 1. Lavender Scalp Oil - to encourage hair growth
To use lavender EO for hair and scalp, you will need these ingredients:
—6–10 drops lavender essential oil
—2 tablespoons jojoba oil
Combine the ingredients, and massage the mixture onto your scalp in a circular motion. Leave it on for an hour, and then wash it off with mild shampoo. For the best results, repeat this application once a week.
2. Weekly Lavender Hair Mask - to condition hair
A weekly lavender hair mask with jojoba oil and coconut oil can have a considerable impact on healthy hair growth and overall hair health. For this hair mask, you will need:
—10 drops rosemary essential oil
—20 drops lavender essential oil
—2 tablespoons jojoba oil
—4 tablespoons coconut or olive oil
In a small bowl, combine all of the ingredients well. Apply the mixture to your dry hair and scalp. Let it sit for about an hour, and then wash it off using a mild shampoo. If needed, you can shampoo twice.
3. Lavender Deep Conditioner - to hydrate dry hair
If you have dry hair, this deep conditioning mask can help. You will need the following:
—¼ cup honey
—1 cup yogurt
—5–10 drops lavender essential oil
Add the honey to the yogurt, mixing thoroughly, and then add the lavender EO. Blend until it becomes a paste, and then apply the paste to your scalp and along the length of your hair.
Keep the hair mask on with your hair wrapped for 30 to 40 minutes, and then wash the paste off.
4. Lavender Aloe Serum - to revive damaged hair
This aloe hair gel is as good and perhaps better than any hair serum product on the market. It is great for damaged hair. You will need these ingredients:
—6–9 drops lavender essential oil
—4 tablespoons aloe vera gel
Mix the two ingredients, and then apply the mixture to your scalp and hair.
5. Lavender Lemon Hot Oil Treatment - to nix dandruff
If you have dandruff, you can create this hot oil blend with these ingredients:
—2 tablespoons fresh lemon juice
—2 tablespoons olive oil
—6–9 drops lavender essential oil
Heat the olive oil until warm, then add the lemon juice and lavender EO. Apply the mixture to your scalp, and massage it for 5 to 10 minutes. Leave it for an hour, and then wash your hair with a mild shampoo.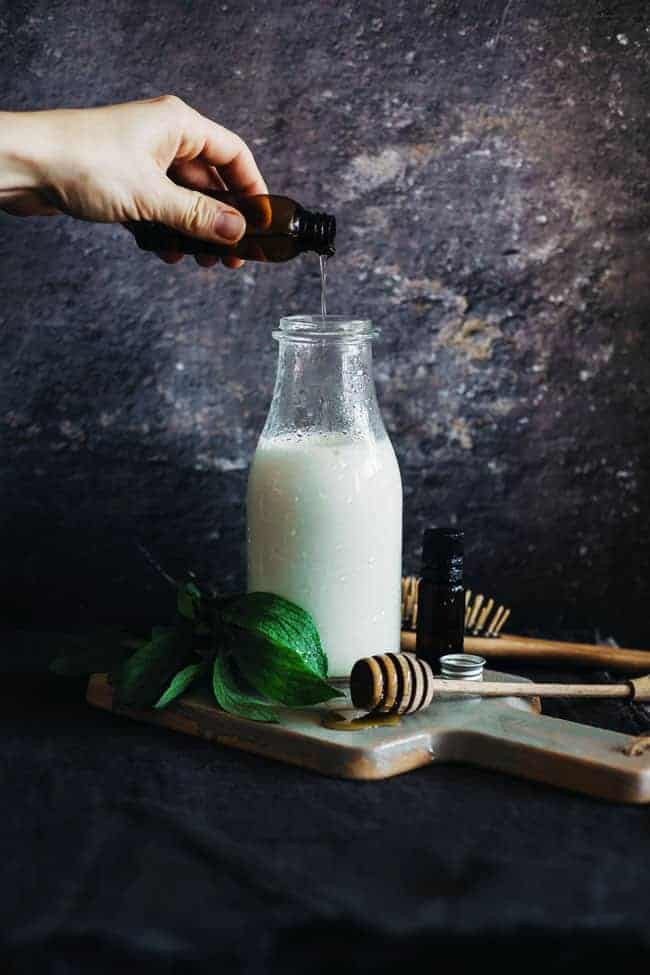 6. Homemade Lavender Shampoo - to soothe your scalp
You can also add a few drops of lavender EO to your shampoo or conditioner. Or you can make your own shampoo with just a few simple ingredients:
—1 can full-fat coconut milk
—1-½ cups liquid Castile soap
—30 drops lavender essential oil
Mix the ingredients in a bowl before adding the shampoo into bottles. Shake the bottle before every use. Wash your hair as you normally would, and then rinse.
7. Lavender Rice Water Rinse - to strengthen hair
Rice water is one of the best natural remedies for stronger hair, a key element for getting longer strands!
—1 cup rice water (learn how to make your own rice water here)
—5–7 drops lavender essential oil
Pour over hair after shampooing and massage into the scalp. Let it sit for 15 to 20 min then rinse.
8. Lavender Cider Rinse - to combat oily hair and dandruff
Due to its normalizing properties, lavender can also help support a healthy scalp, which can then support healthy hair. As an added bonus, it's also believed to deter lice. Rinse your hair with the essential oil mixed in warm water to help combat oiliness and dandruff.
—4 tablespoons apple cider vinegar
—4 tablespoons water
—10 drops lavender essential oil
Combine the vinegar and water in a small bowl, and then add the essential oil. Pour into a squeeze bottle, shake, and apply to clean wet hair. Leave on for 5 minutes, then rinse the hair thoroughly. Repeat 3–4 times a week.
Lavender Oil for Hair FAQ
Can you apply lavender essential oil directly onto the scalp?
Lavender EO is safer and more effective when you mix it with carrier oils like jojoba, coconut, or olive. This allows for more even distribution of the lavender throughout your hair and activates those scalp-healing effects we've been raving about. It's always best to do a patch test before doing a full first-time application.
Can you drink lavender essential oil?
It's never a good idea to ingest plain essential oils, and even a small amount of diluted lavender EO can make you sick. Essential oils should be applied externally, diluted, and sparingly.
What happens if you use too much essential oil?
Too much essential oil or too high a concentration can irritate your skin and counteract the hair growth-promoting effects you might be looking for. Dilute lavender EO with plain carrier oils, and do a patch test before applying to the scalp. Discontinue use if you notice a rash or any skin irritation.
What other essential oils are good for hair growth?
Essential oils can be very helpful in sparking hair growth! Rosemary oil is great for hair and so is peppermint. Tea tree is another oil to turn to if you have dry scalp or dandruff issues.
References:
1. Cardia GFE, et al. Effect of lavender (Lavandula angustifolia) essential oil on acute inflammatory response. Evid Based Complement Alternat Med. 2018.
2. Lee BH, et al. Hair growth-promoting effects of lavender oil in C57BL/6 mice. Toxicol Res. 2016.
3. Koulivand PH, et al. Lavender and the nervous system. Evid Based Complement Alternat Med. 2013.
4. Kajjari S, et al. The effects of lavender essential oil and its clinical implications in dentistry: a review. In J Clin Pediatr Dent. 2022.
5. Barker SC, et al. An ex vivo, assessor blind, randomised, parallel group, comparative efficacy trial of the ovicidal activity of three pediculicides after a single application - melaleuca oil and lavender oil, eucalyptus oil and lemon tea tree oil, and a "suffocation" pediculicide. BMC Dermatol. 2011.
6. Pandur E, et al. Anti-inflammatory effect of lavender (Lavandula angustifolia Mill.) essential oil prepared during different plant phenophases on THP-1 macrophages. BMC Complement Med Ther. 2021.
4