Salads are my favorite lunch, but I'm not talking a piddly little side salad–I'm talking a Power Salad. And if you love salad as much as I do, take some notes because I'm going to show you how to build a salad worthy of any appetite.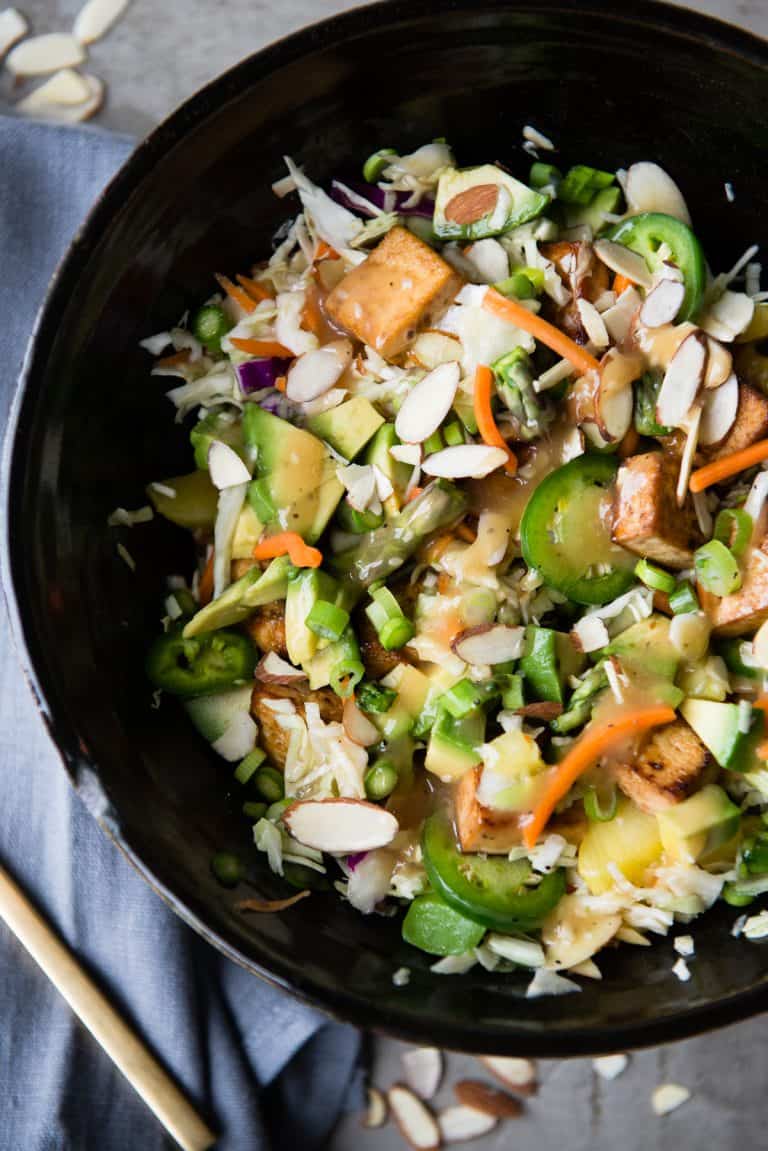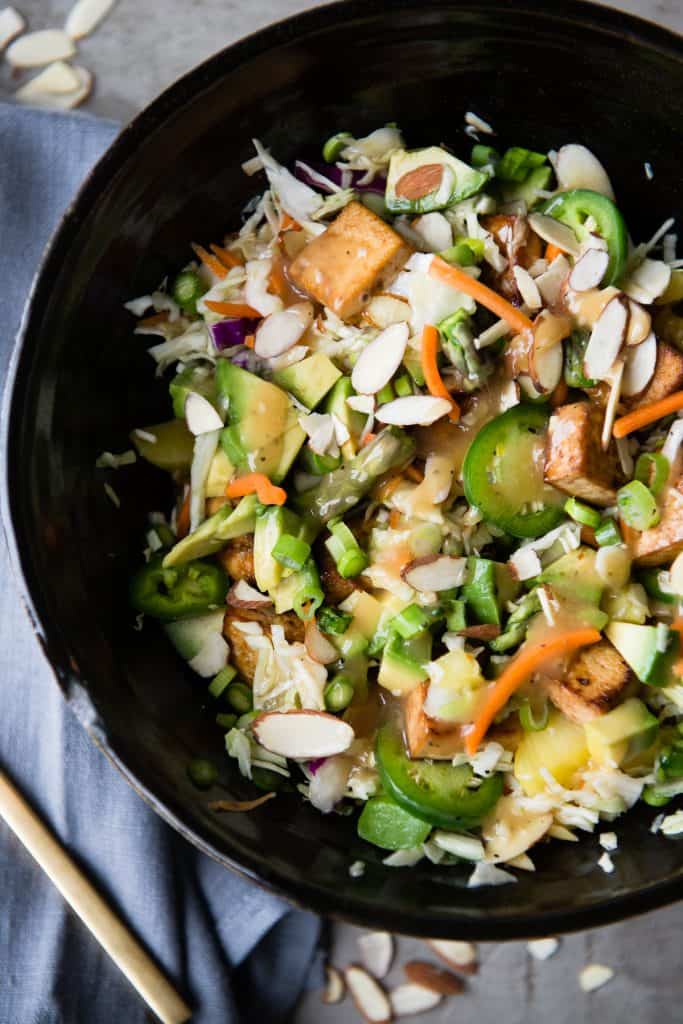 Power Salads are full of nutrients–vitamins, minerals, healthy fats, protein, and let's not forget, flavor. When I say flavor, I'm referring to each and every ingredient, but especially the dressing or vinaigrette. Dressing makes or breaks a salad, in my opinion, taking it from ho-hum to A+.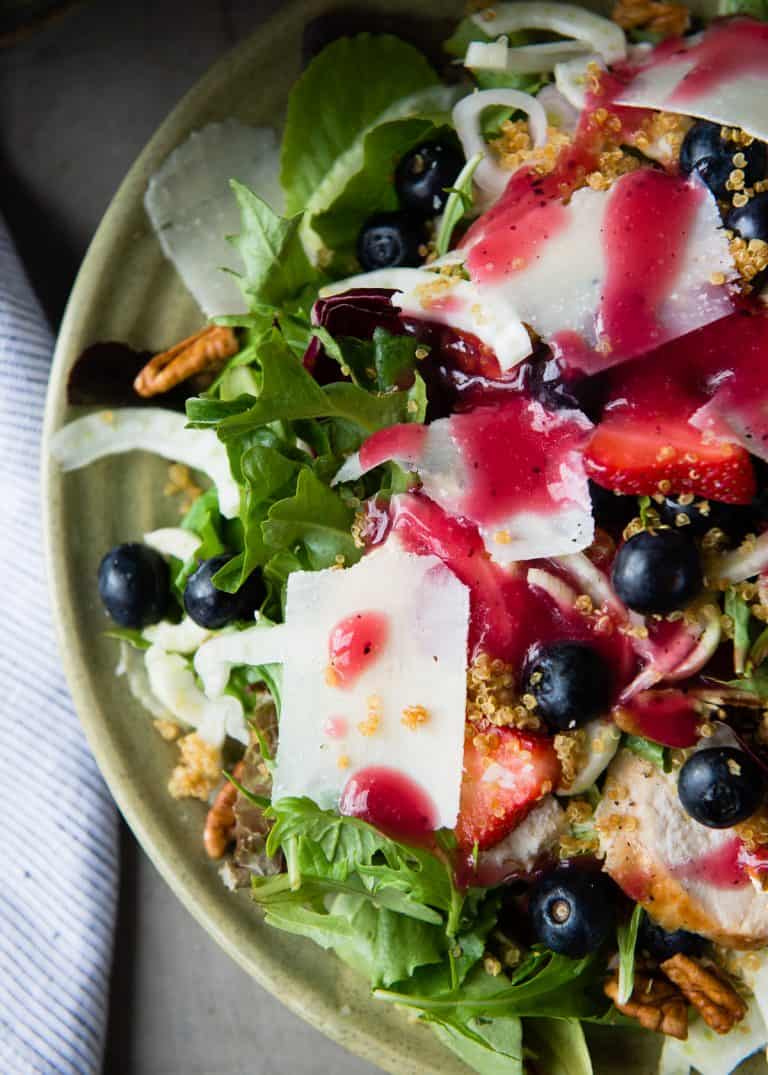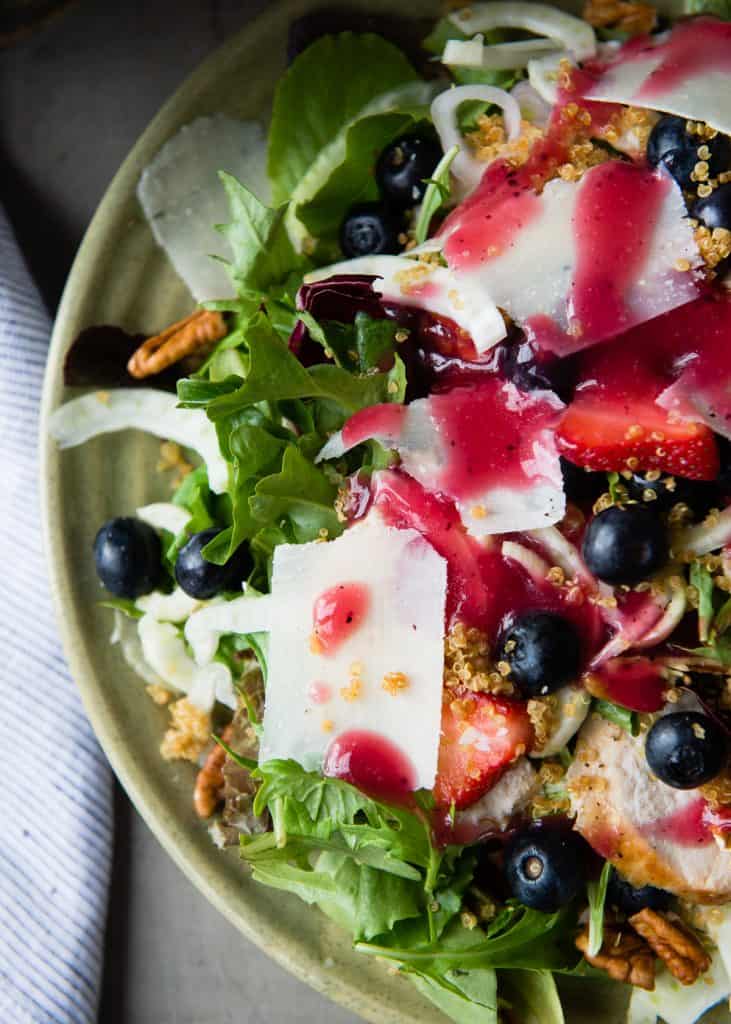 Let's break down the components of a Power Salad: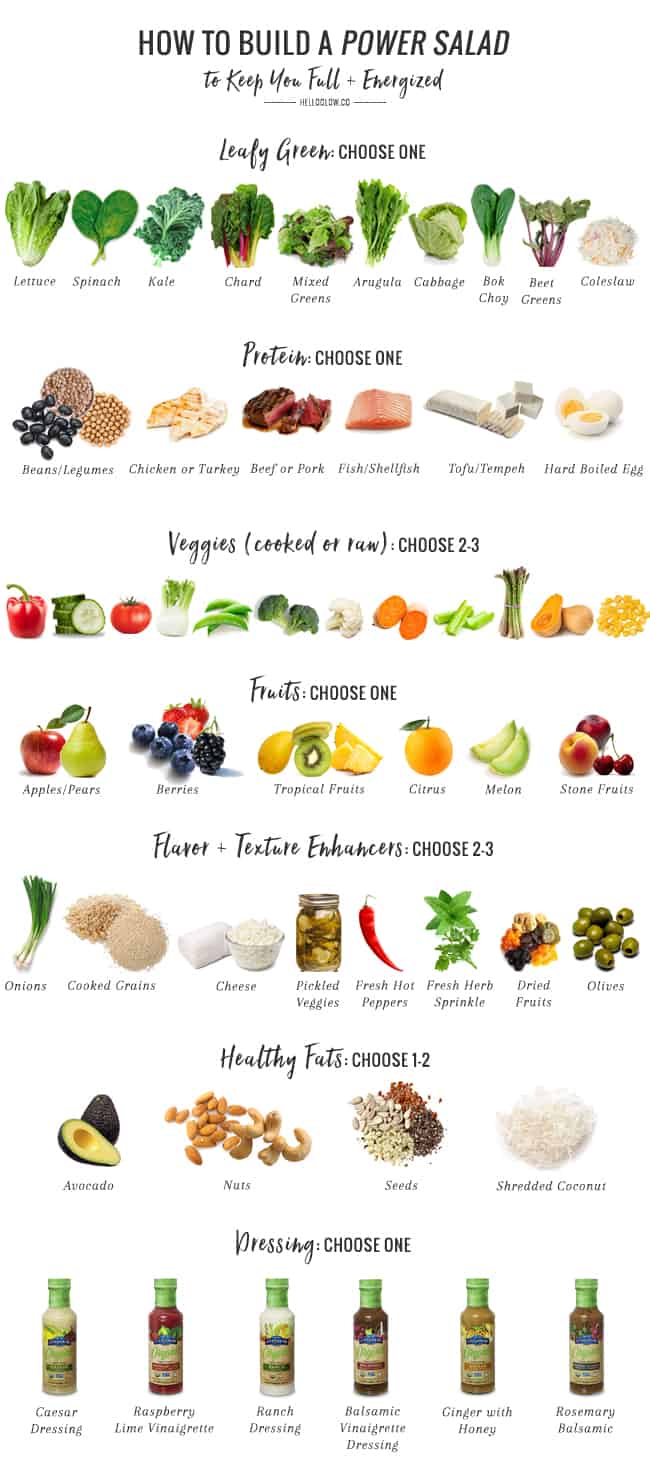 Although you can choose any dressing you like, I'm totally crushing on Litehouse Organic dressings right now, which are available at Target and other grocery stores nationwide. They come in a variety of irresistible flavors that are perfect for pairing with any power salad.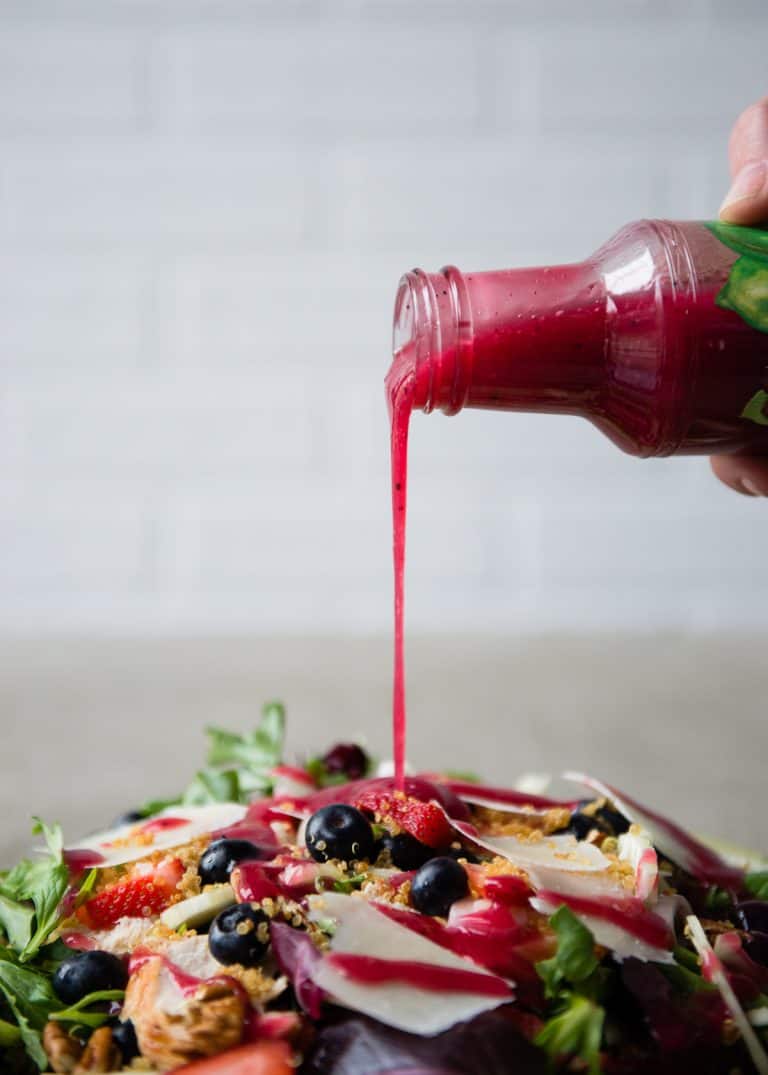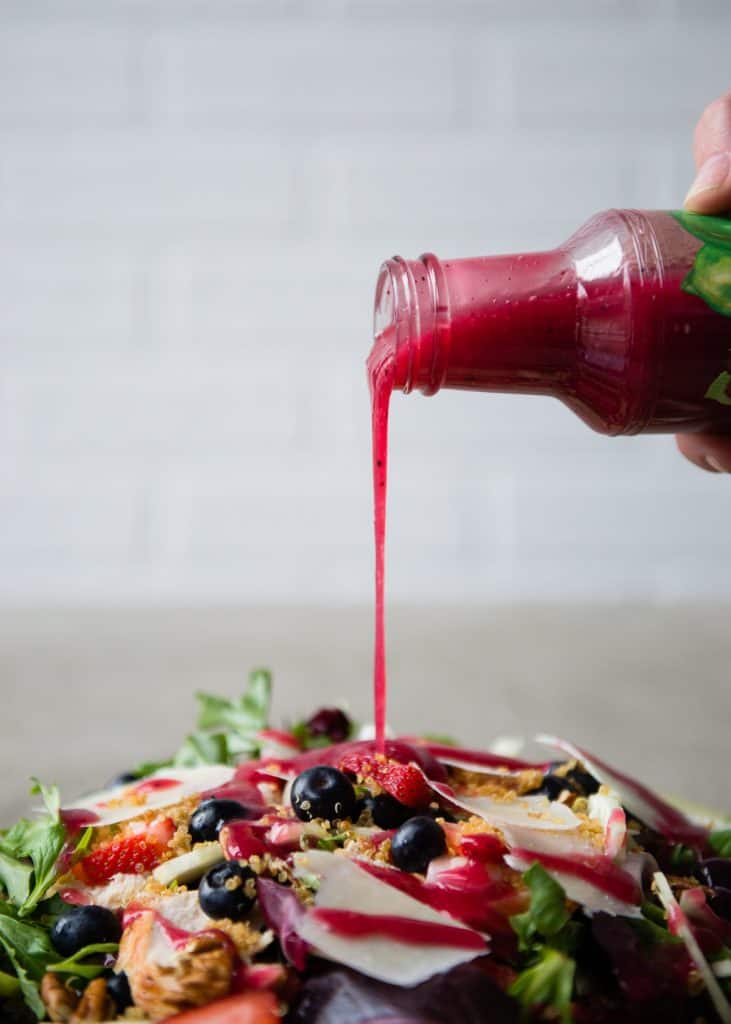 Organic Caesar Dressing: There's lots of savory flavor in this traditional Organic Caesar dressing made with organic parmesan cheese and herbs. It is great on salads or in chicken wraps!
Organic Raspberry Lime Vinaigrette: Just the right amount of lime adds zest to this fruity vinaigrette. A great complement to brighten up your salads!
Organic Ranch Dressing: This creamy, delicious blend of fresh herb and vegetable flavors is perfect as a dip for veggies or to boost the flavor of your sandwich or salad.
Organic Balsamic Vinaigrette Dressing: A flavorful blend of organic ingredients create a fruity, tart and delicious dressing that's perfect for salads or as a marinade.
Organic Rosemary Balsamic: The addition of fragrant rosemary complements the balanced blend of herbs and spices to create a wonderful marinade or finishing touch for any meal. With bold, herb-inspired flavors, Litehouse Rosemary Balsamic is destined to be a new family favorite.
Organic Ginger with Honey: The sweetness of honey perfectly balances out the bright ginger to provide a unique, complex flavor. As a delicious marinade or finishing sauce, Litehouse Ginger with Honey easily transforms a meal from ordinary to extraordinary!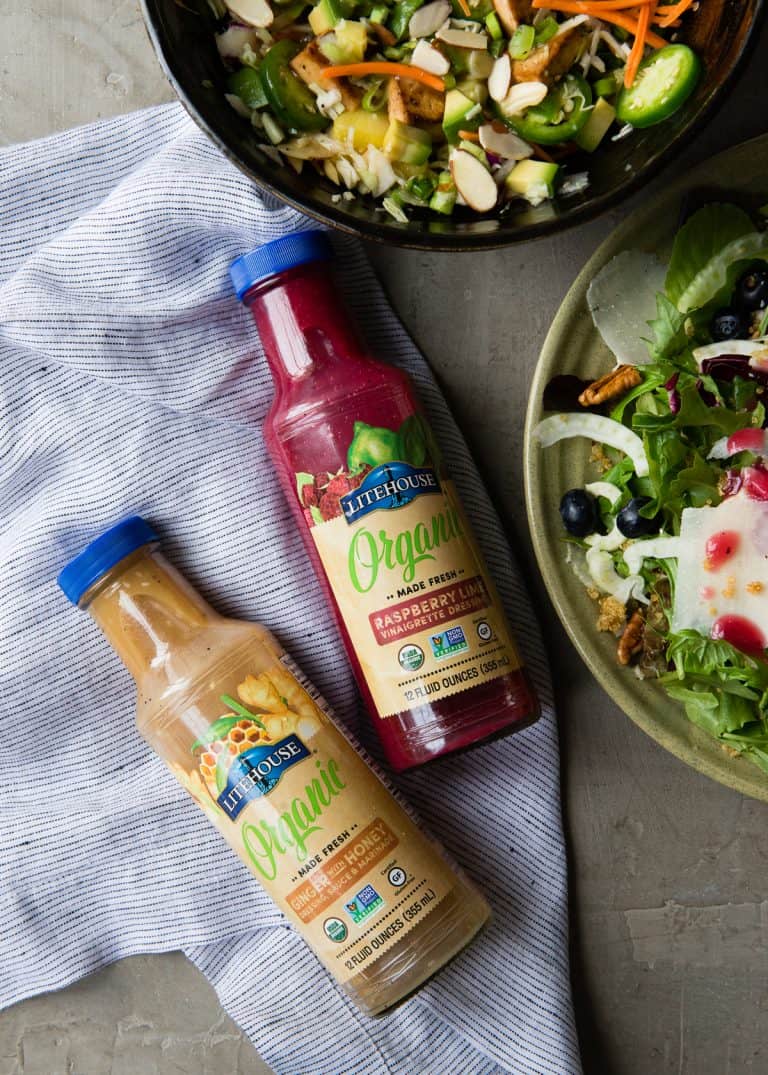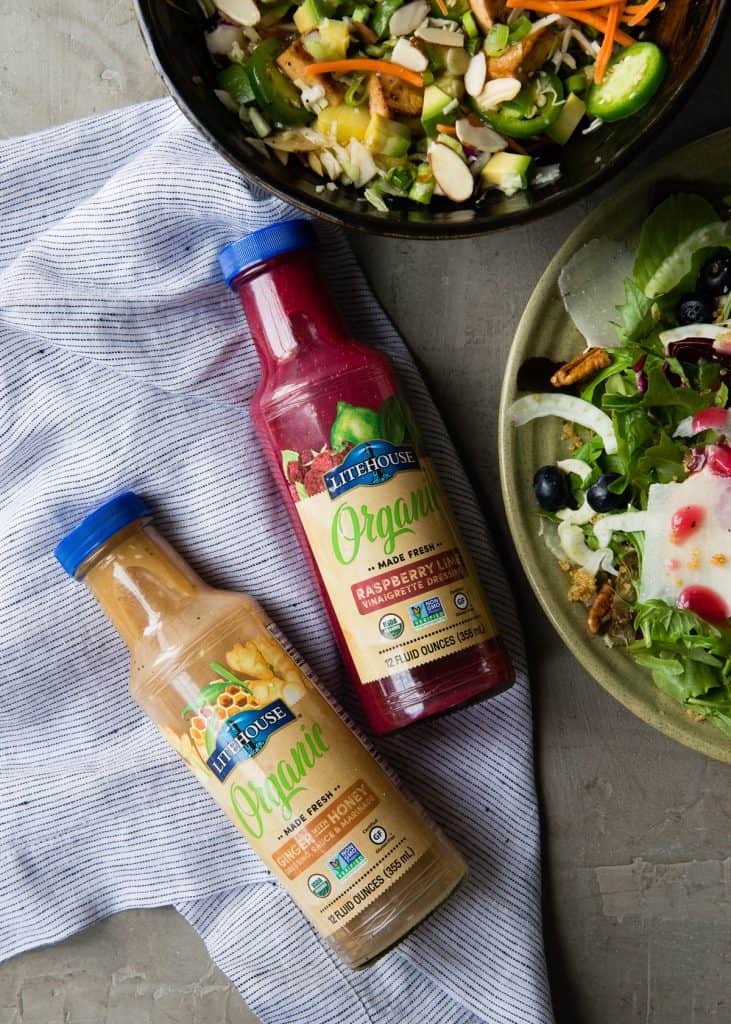 Since the goal here is to pack as much nutrition as possible into one bowl to power you through your day, these dressings, with their healthy fats and organic ingredients, help you accomplish that easily.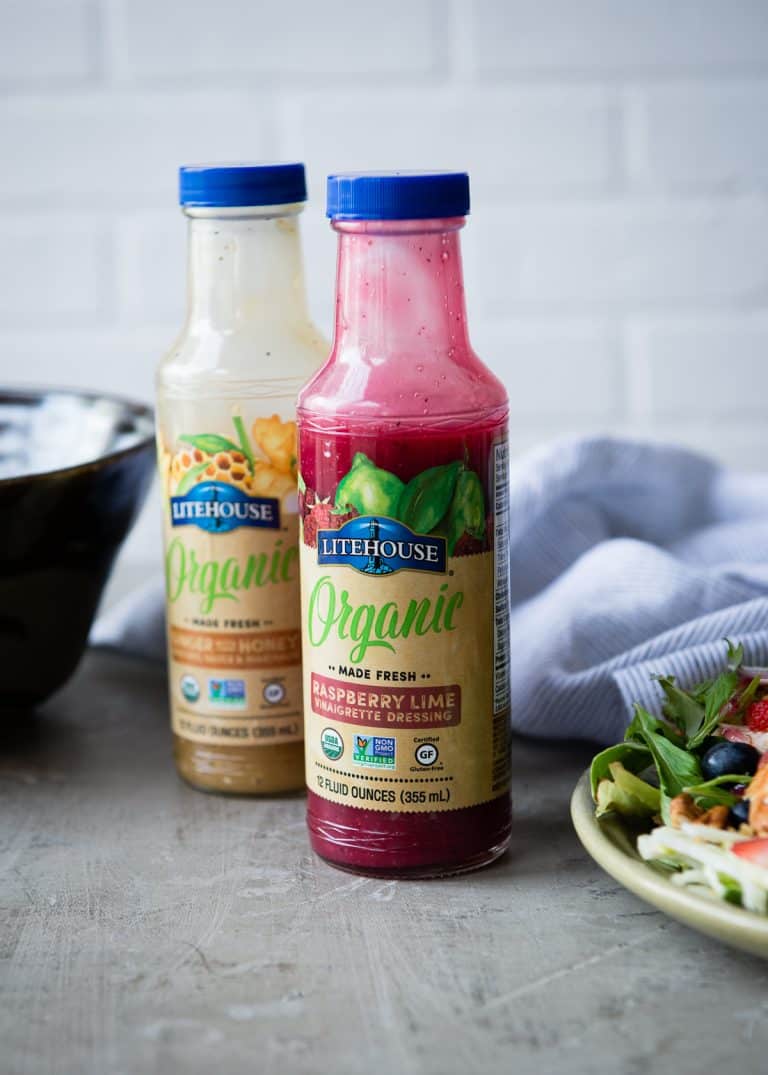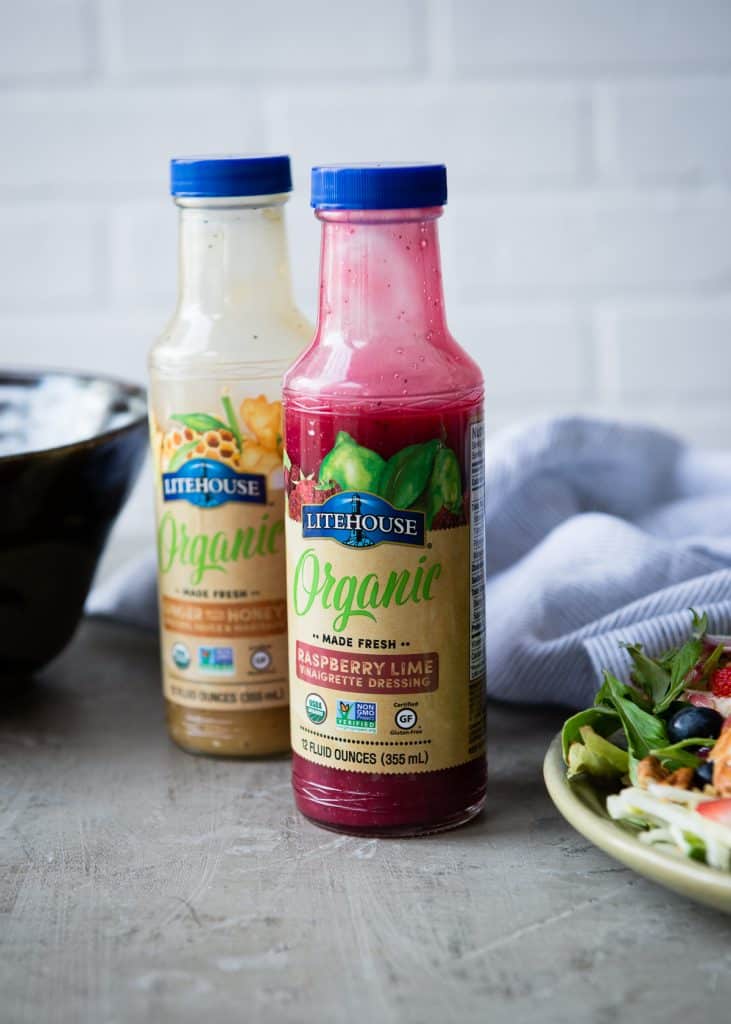 Another aim is to put together a healthy group of foods that taste great together. A lot of times I will start with my dressing and decide where to go from there. Then I'll choose a leafy green, followed by a protein, raw or cooked veggies, possibly a fruit (depending on the salad), then my favorite flavor + texture enhancers, and a healthy fat, usually avocado. (I cannot get enough avos in my day!)
I tend to go heavy on the add-ins to my salads because I want to know they're there. I hate it when I order a salad from a restaurant and there's a big pile of greens and hardly anything else. No, not when you're building a Power Salad. You've gotta go for it.
Here are two examples of salads I'm really loving at the moment: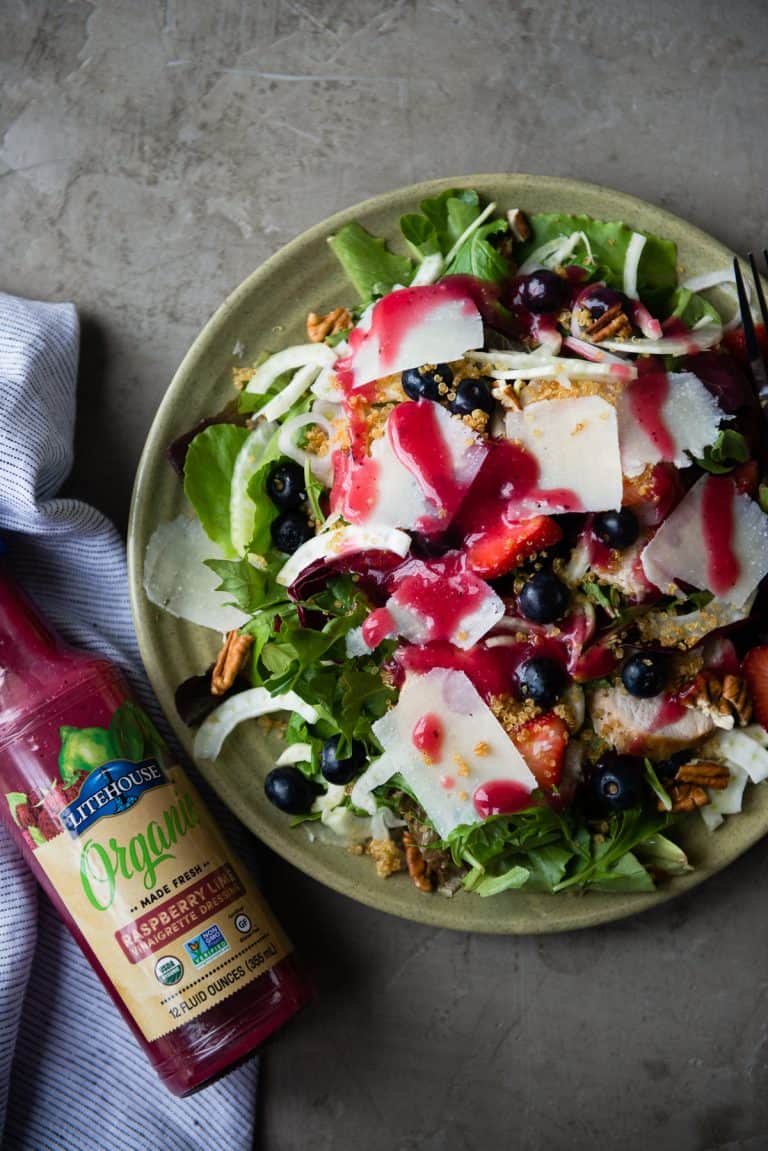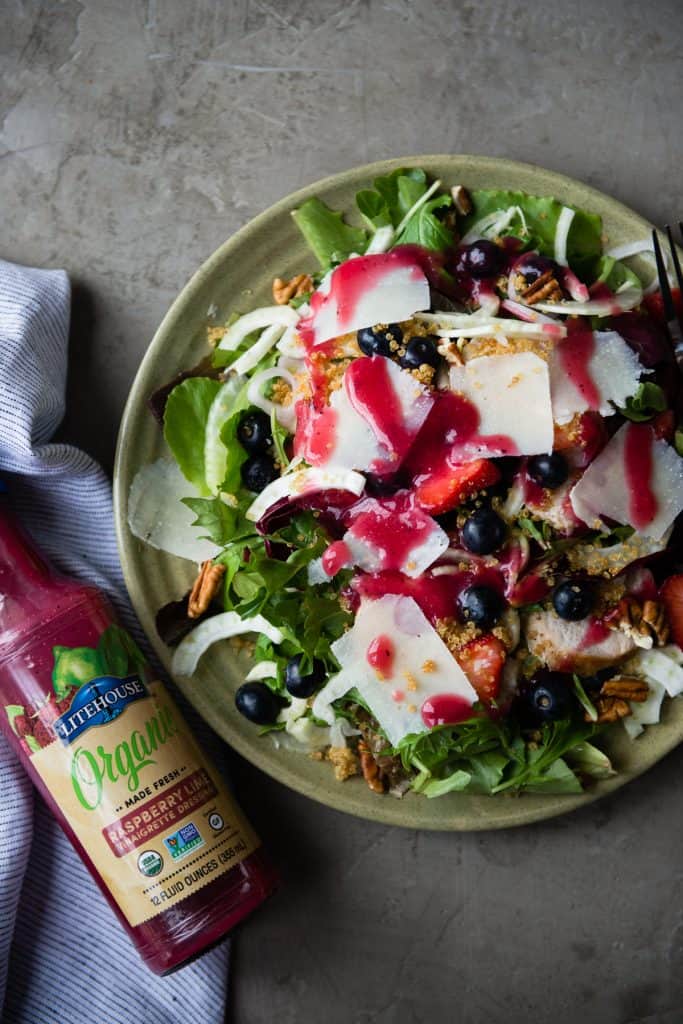 Litehouse's Organic Raspberry Lime Vinaigrette is refreshing, fruity, and sweet–perfect for this salad made with mixed baby lettuces, shaved fennel, fresh berries, toasted quinoa, shallots, pecans, and shaved pecorino. All of the flavors and textures are balanced, and the chicken adds a healthy dose of protein to bring it all together.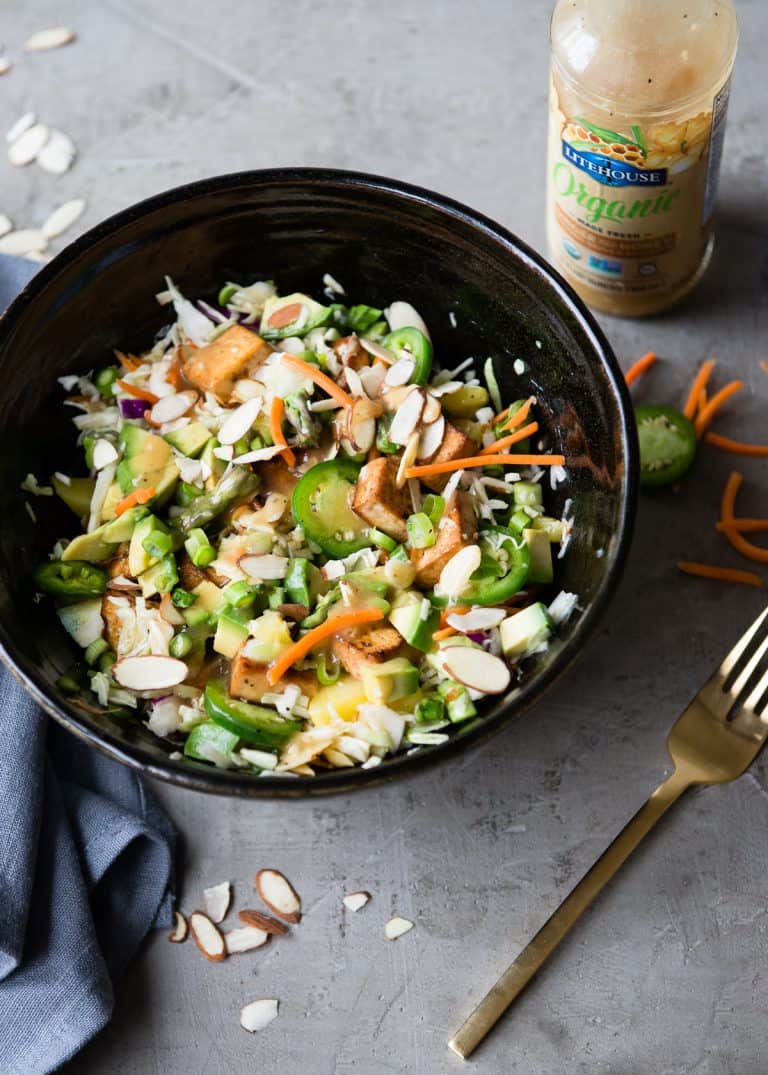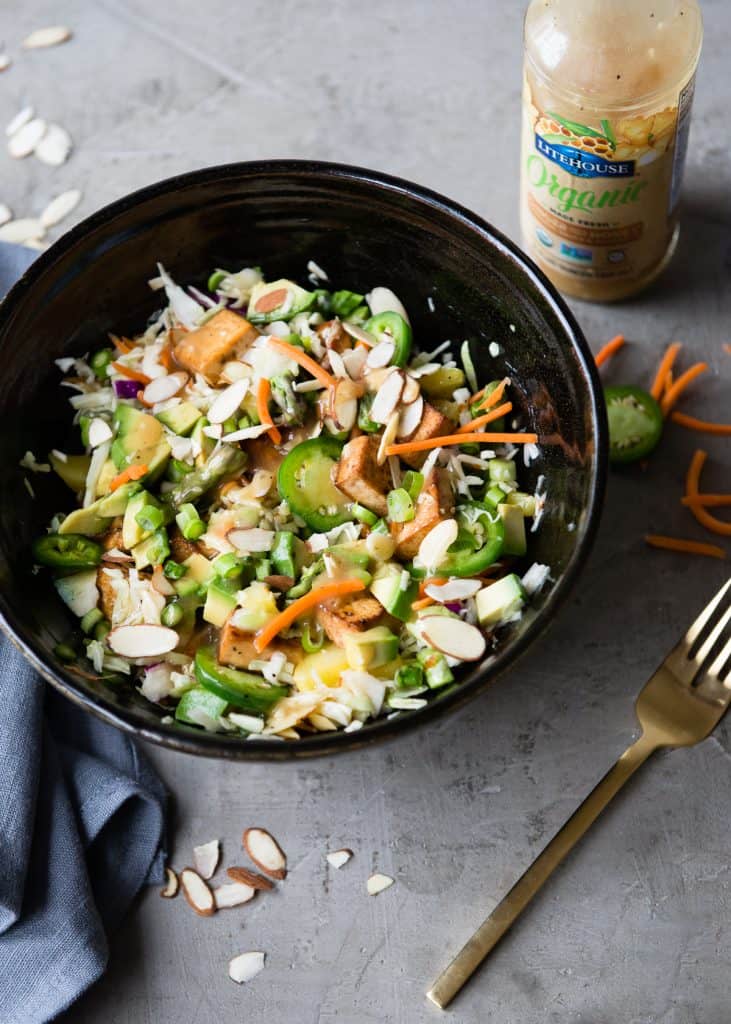 I've recently started using coleslaw mix to add extra crunch and flavor to salads. This one has an Asian feel thanks to the Organic Ginger with Honey Dressing, also from Litehouse. It's loaded with all of those things that make a salad great: flavor, texture, and a refreshing crunch. For my protein of choice, I've used tofu that is pre-cooked  plus an array of fresh, colorful veggies and fruit, with a kick of heat from sliced jalapeños.
Enter to Win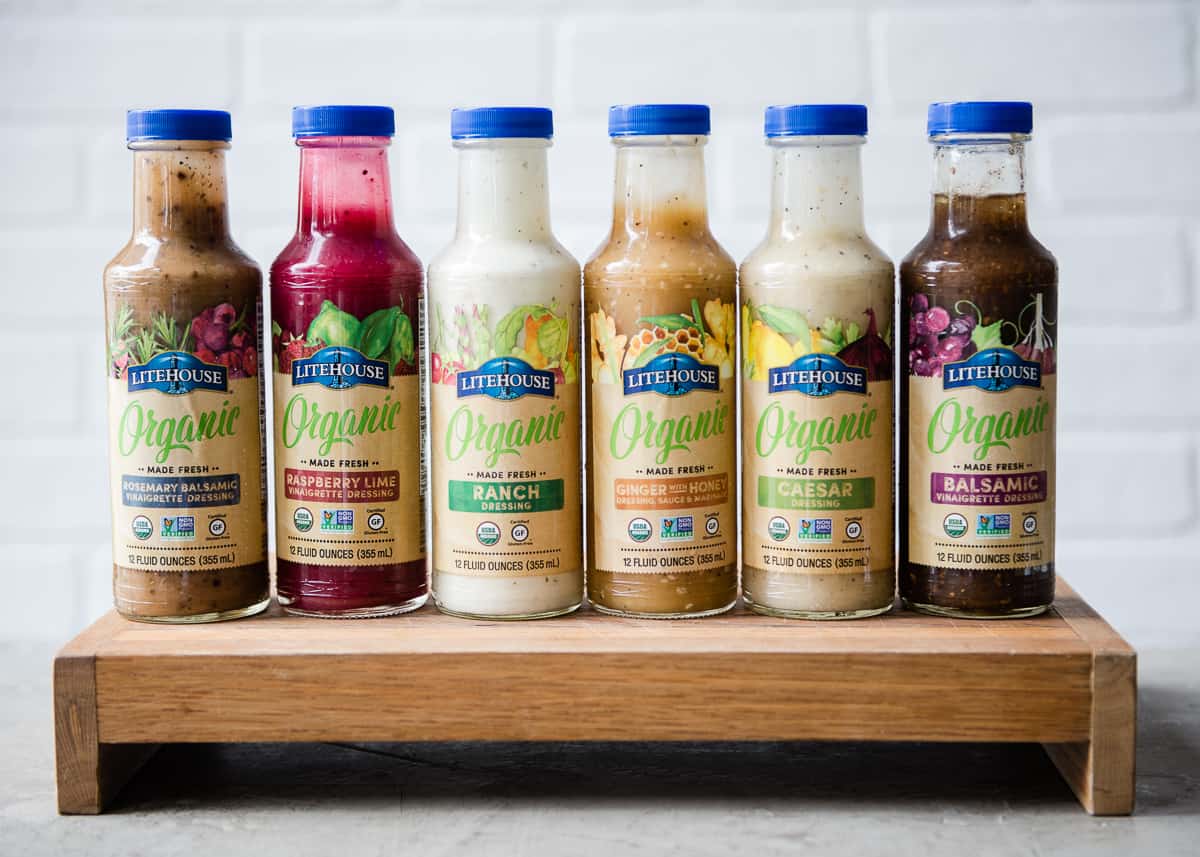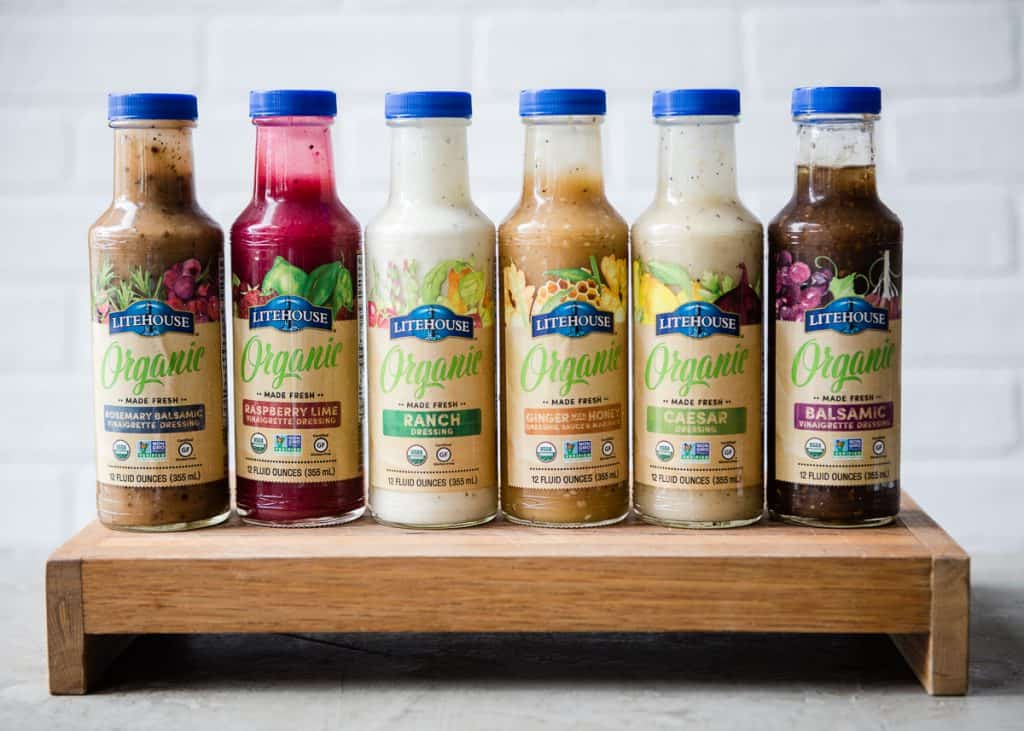 What's your favorite way to make a power salad? Share in the comments and use the Rafflecopter form below for a chance to win a variety pack of all 6 flavors of Litehouse Organic dressing.
16