Dry skin is the worst. Sometimes it feels like no matter how often I slather on lotion, my legs, elbows, and hands feel scaly and parched. Regular moisturizers just can't seem to keep up with all the drying effects of hot showers and copious hand washing, especially when temps start to drop!
So if there was ever a perfect time for a decadent body butter, this is it. With just 2 ingredients, this creamy lotion definitely does this trick! Here's how to make body butter with ingredients you probably have around the house. Seriously, it's that simple!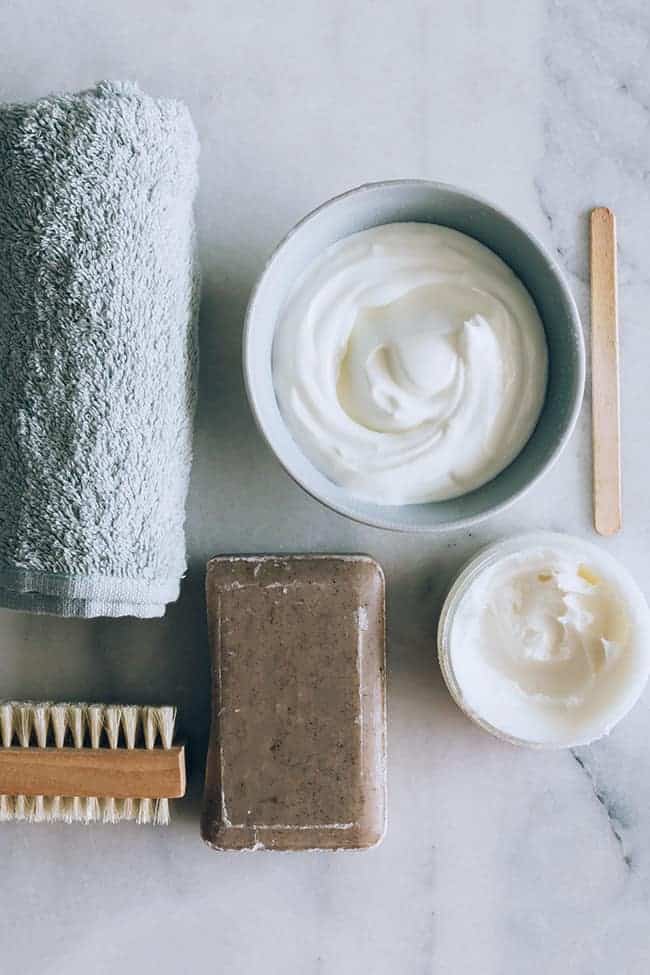 How to Make Body Butter
You might remember this citrus body butter from last year. Whipping butters and oils makes a super rich combination that your skin will definitely soak up.
This time I wanted to keep it simple—just coconut oil and shea butter. You can add essential oils or other butters if you want, but for me, the mild coconut smell is a perfect reminder of summer.
Why shea butter
?
I guess you could even make body butter with just coconut oil, but I wanted to get all the goodness of shea butter, too. In a clinical trial, it performed just as well as a medicated cream containing ceramides to heal dermatitis [source].
Shea butter also has antioxidant effects to protect skin from free radicals [source], as well as anti-inflammatory effects that soothe irritated skin [source]. So why wouldn't I want to use this amazing natural plant oil on my skin?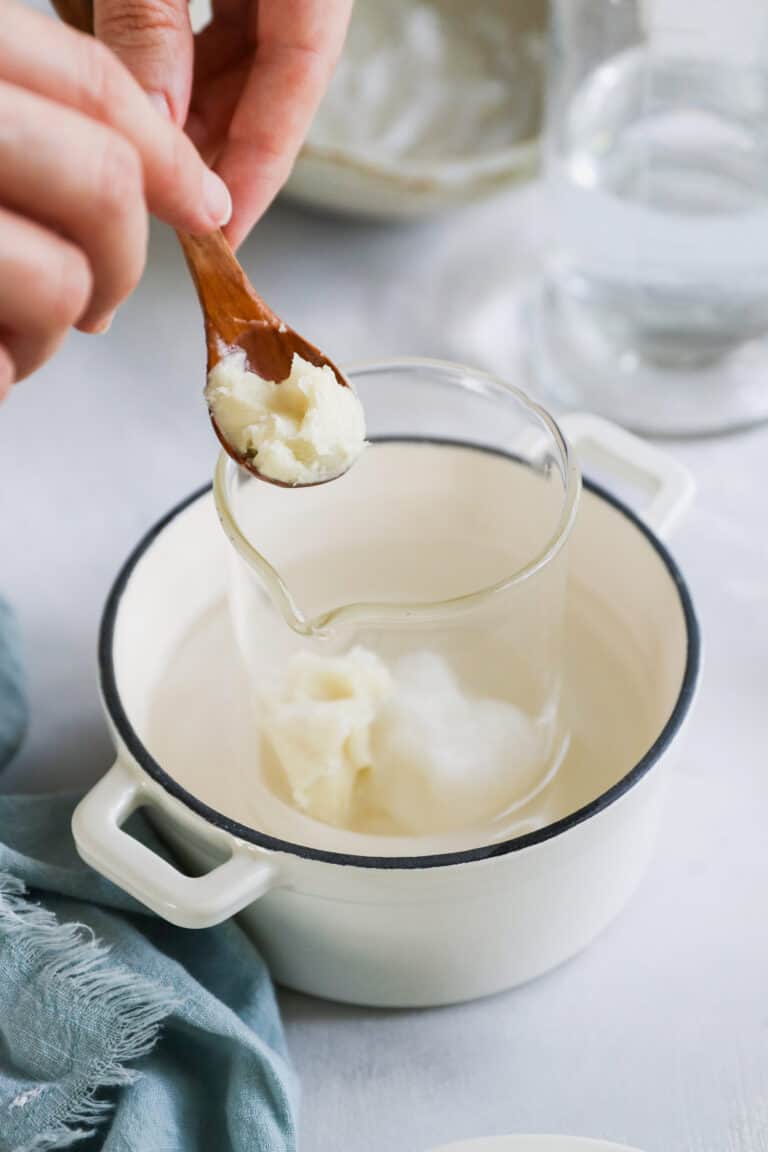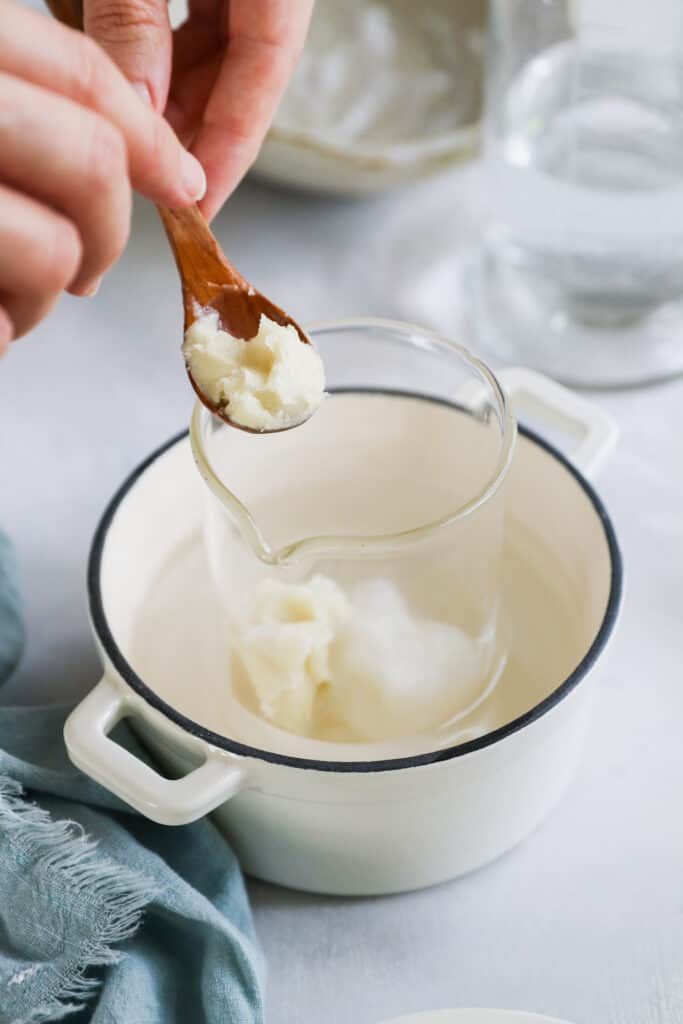 Melt oils together
Since I don't have a double-boiler, I place a small heat-proof jar inside a saucepan filled with 1–2 inches of water. That way, the oils can melt slowly, without getting damaged or so hot they catch on fire.
Then cool quickly
Place your melted oils in the refrigerator or freezer to help them cool down more quickly, stirring frequently to keep chunks from forming. The longer you whisk the butter after cooling down, the fluffier it's going to be—the texture of this is completely customizable to your (or your giftee's) preferences.
If you're a little pressed for time, you can pop the mixture in the freezer for about 20 minutes before whipping—the only requirement is that the mixture should be almost solid before whipping it.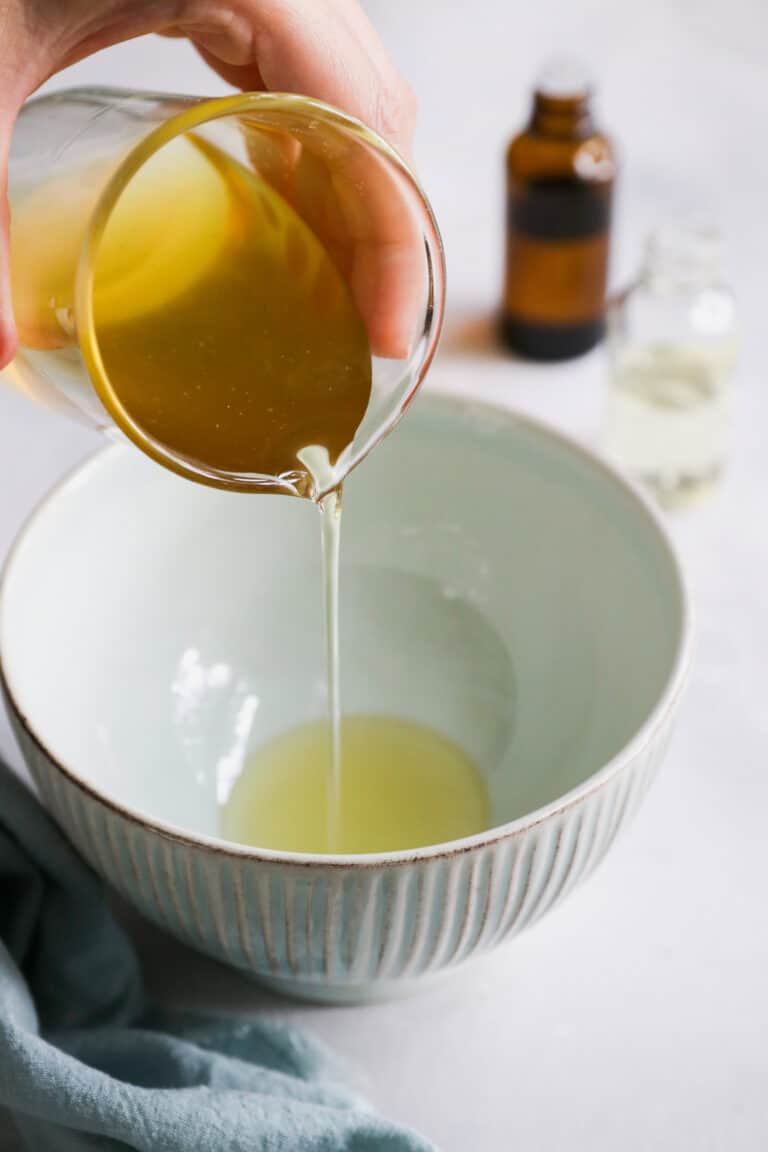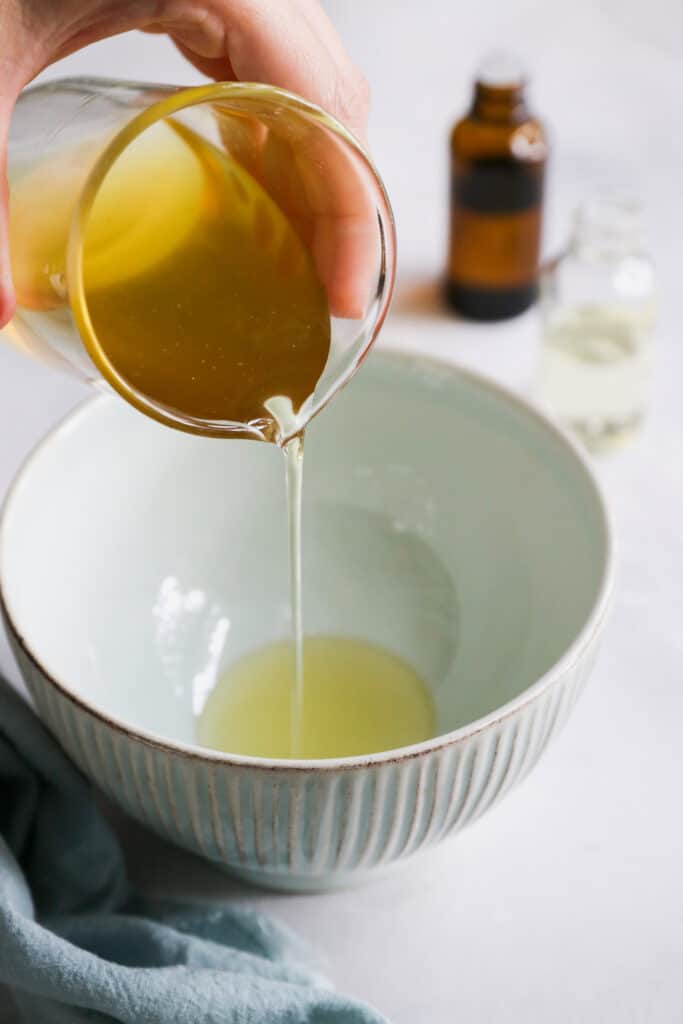 How to get fluffy body butter
The trick to getting fluffy body butter is to heat your oils until they're just barely melted. Then let them cool for at least an hour before you whip the mixture with an electric mixer on medium-high speed. This is way more important than people think.
How to avoid grainy shea butter
There are different types of beneficial fatty acids in shea butter [source], but the thing is, they cool down at different rates. When a product using shea hasn't been blended and cooled properly, that's when products can get a little grainy, thanks to the shea butter.
Luckily, it's easily avoided by rapid cooling—at least cooling down faster than room temperature. So cooling in the freezer or fridge is a must.

What to do if it's not whipping
If your body butter isn't getting as fluffy as you would like, I have found that it helps to whip it as well as you can. Then place it back in the refrigerator or freezer for another 5–10 minutes. Usually, it will have firmed up just enough to give it some body.
And just a heads up, the body butter doesn't stay as frothy as it looks immediately after whipping. It may harden some, but it will still easily rub into the skin without feeling super greasy. Shea butter also has a higher melting point than coconut oil, which helps keep this super luscious whipped butter from just melting in the summer heat.
Body Butter FAQs
Can I add colorant to my body butter
?
If you want your body butter to have a color, I recommend sticking with colorful herbs, like turmeric, beet root powder, and chlorella. They're non-toxic, and they'll give your butter some beauty-boosting benefits thanks to vitamins, minerals, and antioxidants. Just make sure to add a small amount to avoid staining your clothes.
Can I add magnesium to my body butter?
Yes! This recipe incorporates magnesium oil and other essential oils that can help your mood. Add 10 drops each orange, bergamot, and frankincense to the oils below to create a fragrance that can boost the mood and ease tension.
—¼ cup magnesium oil
—¼ cup shea butter
—¼ cup coconut oil
—¼ cup cocoa butter
Heat shea butter, coconut oil, and coco butter together in a double boiler over low heat until melted. Remove from heat and add magnesium oil and essential oils. Then follow directions for 2-ingredient body butter.
Can I use this body butter on my face
?
Sure, if you want to! Just melt a teaspoon or so between your hands and pat into skin.
Do I have to melt the oils before mixing them together
?
At room temperature, coconut oil and shea butter have a tendency to be pretty chunky—even after beating with a hand mixer. But melting them together and letting them cool gets rid of the chunks and gives you a smooth, buttery consistency.
What can I use in place of the coconut oil
?
Look for other solid-at-room-temperature oils and butters, such as ghee, cocoa butter, cupuacu butter, or palm oil (although, for ethical reasons, palm oil should be a last resort). Just note that you might need to add liquid oils to get the right consistency for whipping.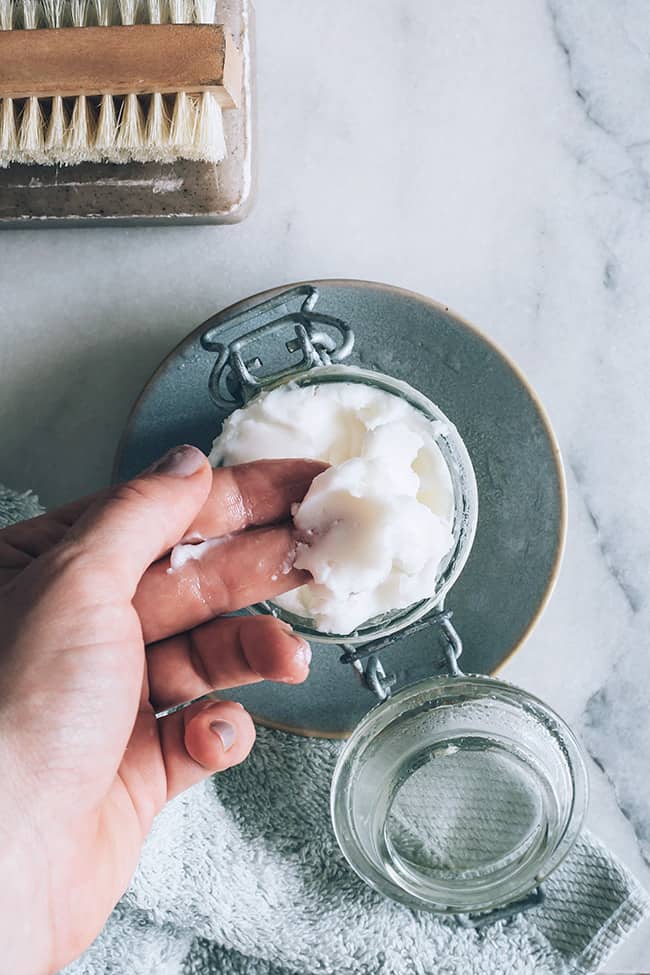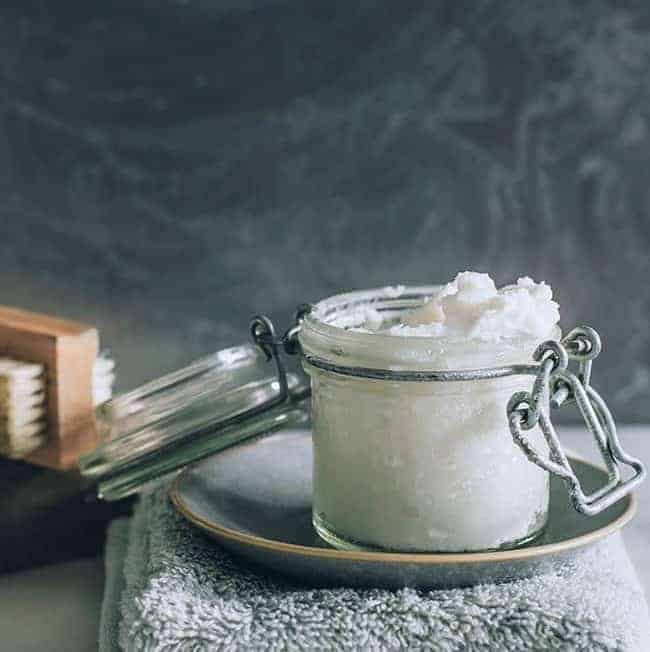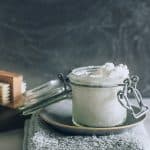 Print
2-Ingredient Body Butter
Stay moisturized this winter! Learn how to make body butter with 2 simple ingredients you probably already have in your house.
Equipment
Double boiler

Hand mixer

Glass container with lid
Instructions
Pour 1–2 inches of water in a small saucepan.

Place a heat-proof jar or measuring cup in the saucepan, and add the shea butter and coconut oil.

Stirring frequently, heat the oils over low heat until they're melted and well combined.

Pour the mixture into a separate bowl and pop into the refrigerator until cooled to room temperature (about an hour). You'll want to stir every now and then to help the oils cool evenly and prevent any chunks from forming.

If you're in a hurry, you can place the oils in the freezer for about 20 minutes. Just make sure to stir frequently.

With a hand mixer, beat the oil mixture for 5–7 minutes at a medium-high speed. The mixture should turn white and become fluffy, sort of like frosting.

If you're having trouble getting it to fluff, increase the speed and move your hand mixer up and down through the lotion add a little air. You can also try placing the whipped body butter back in the refrigerator or freezer for a few minutes before whipping again. Use a rubber spatula to scrape down the sides of your bowl occasionally.

If you plan on adding essential oils or colorants, you can do so now. Roughly 5–10 drops should be enough, but you're free to add as much as you like.

Transfer the mixture to a glass container with a lid and store in a cool, dark place like a drawer or medicine cabinet for up to 6 months.
Notes
Apply 2–3 times a day.
Should last at least 6 months.
This article was medically reviewed by Dr. Gina Jansheski, a licensed, board-certified physician who has been practicing for more than 20 years. Learn more about Hello Glow's medical reviewers here. As always, this is not personal medical advice and we recommend that you talk with your doctor.
257