Recently my kiddos have started wanting to make themselves "look pretty." Previously unbeknownst to me, this roughly translates to "I must douse myself in copious amounts of perfume." Forced to endure the lingering effects of a White Linen atom bomb in my bedroom, I decided to experiment with making my own perfumes.
As it turns out, it's not that difficult—and a whole lot less expensive. Plus, you know what ingredients are (or, better yet, aren't) lurking in your perfume. Here's how to ditch the chemicals and make your own perfume using essential oils.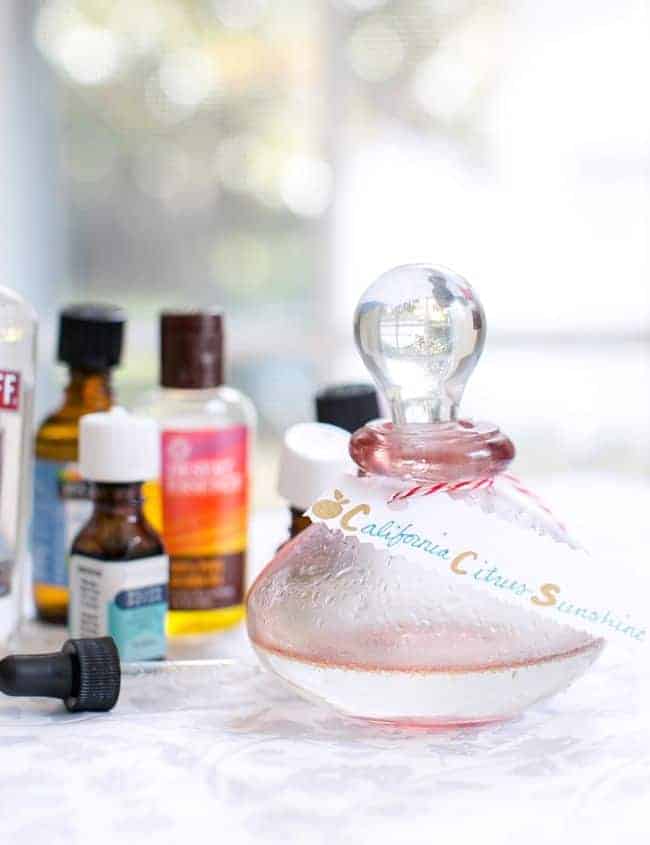 How to Make Your Own Perfume
Have you ever gotten a terrible headache a few minutes after spritzing on a certain scent? It can happen—and if a perfume or cologne has the ability to cause a panging headache, just imagine the havoc it could wreak on your skin or when it seeps into your bloodstream.
The Environmental Working Group (EWG) reports that many perfumes on the market today are filled with chemicals—even the ones that claim to contain "natural essences" actually don't [source].
To make matters worse, the makers of fragrances aren't required to reveal the myriad of hazardous ingredients they might be using [source]. Crazy, right? Needless to say, it is nice to know what you're putting on your body.
Another added bonus of making your own perfume is the fact that you get to experiment with different ingredients to find the scent that appeals to you most.
Personally, I'm always drawn to the clean scents of citrus and peppermint, so we concocted this homemade perfume that layers orange and grapefruit along with lavender and peppermint. And I'll be the first to admit that it smells heavenly!
California Citrus Sunshine Perfume
Supplies needed
Note: It is important to use glass, not plastic, when mixing the perfume as the essential oils will eat through the plastic.
Instructions
Step 1
Start by adding the jojoba oil to the small glass container or ceramic bowl. Then add the alcohol.
Step 2
Add the essential oils in this order:
Base Note – 10 drops of grapefruit
Middle Note – 10 drops of sweet orange and then 5 drops of peppermint
Top Note – 5 drops of the chamomile/lavender blend. If you don't have a blend, then just use lavender.
Step 3
Add distilled water with a dropper.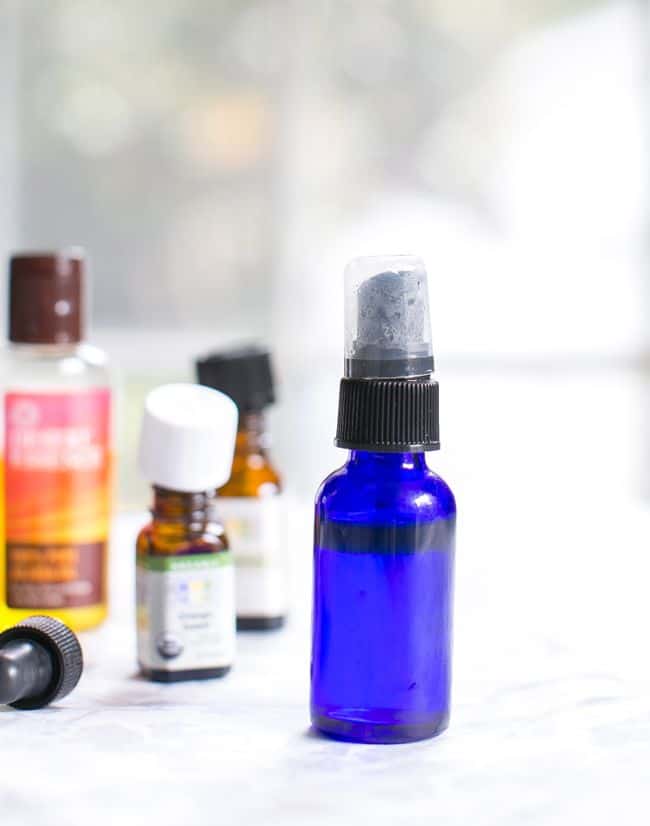 Step 4
Mix well and transfer to a dark glass container to store for 48 hours or up to 6 weeks. The longer it sits, the stronger the scent will be.
Note: if you're not in the mood to be patient (or just short on time), try a perfume made by mixing essential oils with a carrier oil.
Step 5
Transfer to a pretty perfume bottle after it has reached the desired scent.
Best essential oils for homemade perfume
The best thing about making your own perfume is that you can customize the scent with any oils you like. If you already have oils lying around, go ahead and experiment, making scents using the ones you have. But if you'd like to add more oils to your collection, here are some of our favorite oils for DIY essential oil perfume:
Base Notes (earthy, grounding scents)
Middle Notes (fruity and floral scents—will make up the majority of your fragrance)
Top Notes (light, citrusy scents)
How to experiment with making your own fragrance
There's no right or wrong way to make a fragrance. I prefer to start combining oils in small amounts until I find something I like. Then I simply scale up the ratio based on the amount of perfume I'm making.
But if you're just getting started and don't know what to do first, here's a good rule of thumb:
1. Choose 1–2 oils from each of the base, middle, and top note categories.
2. Combine oils as follows:
15 (total) drops base notes
30 drops middle notes
12 drops top notes
3. Dilute this mixture by adding into 2 ounces of the carrier oil or vodka. (Do not apply undiluted essential oils to your skin.)
You can use any combination of these essential oils, as suggested. Just make sure you dilute in the same amount of carrier oil and that the total number of drops does not exceed 60. Feel free to tweak the ratio of essential oils until you get a scent that really speaks to you.
Homemade Perfume FAQ
Will the finished perfume be yellow or clear?
The perfume will take on the color of your oils. So if you use a very yellow carrier oil (like jojoba oil), the perfume will have a yellow hue. But if you use lighter-colored oils, your perfume will have a lighter color.
Can I use rubbing alcohol in my perfume?
Rubbing alcohol has a pretty strong scent, which is why we recommend vodka or grain alcohol. But if it's all you have, make a small sample and see how you like it—you might find that the oils will mask the smell of the alcohol.
Even with the alcohol, my perfume separates. What am I doing wrong?
Water helps soften the scent of the alcohol, but it can also cause your perfume to separate. Just shake your perfume prior to each use to blend everything together.
If the separation bothers you, leave out the water altogether and add a bit more alcohol.
Will the essential oils be enough to create a lasting fragrance?
Essential oils are lighter (and more natural!) than chemical-laden perfume oils, but they're also not as long-lasting as chemical fragrances, so you might need to apply your perfume more often to maintain the scent.
Have you ever tried making your own perfume? What's your favorite scent? If you love citrus as I do, check out this handy guide to winter citrus and smoothie recipe.
Not ready to DIY? Try one of these phthalate-free perfumes that we love.
This article was medically reviewed by Dr. Gina Jansheski, a licensed, board-certified physician who has been practicing for more than 20 years. Learn more about Hello Glow's medical reviewers here. As always, this is not personal medical advice and we recommend that you talk with your doctor.
348