Ahh. Take a nice, deep breath. Do you smell that? I wish I could say it's the smell of autumn in the air but I think it's actually winter. Already. Virginia autumns are usually pretty magical, with jewel toned leaves and campfire aroma wafting in the breeze, but this year it missed us entirely and cut straight to winter.
For better or worse, I'm taking my cue from nature and embracing all things warm. This vibrant latte is actually a turmeric chai infusion that gets its pink color from a healthy dose of beetroot powder. It's naturally sweet and chock full of ayurvedic spices that have long been used to help warm and nourish the body from the inside out.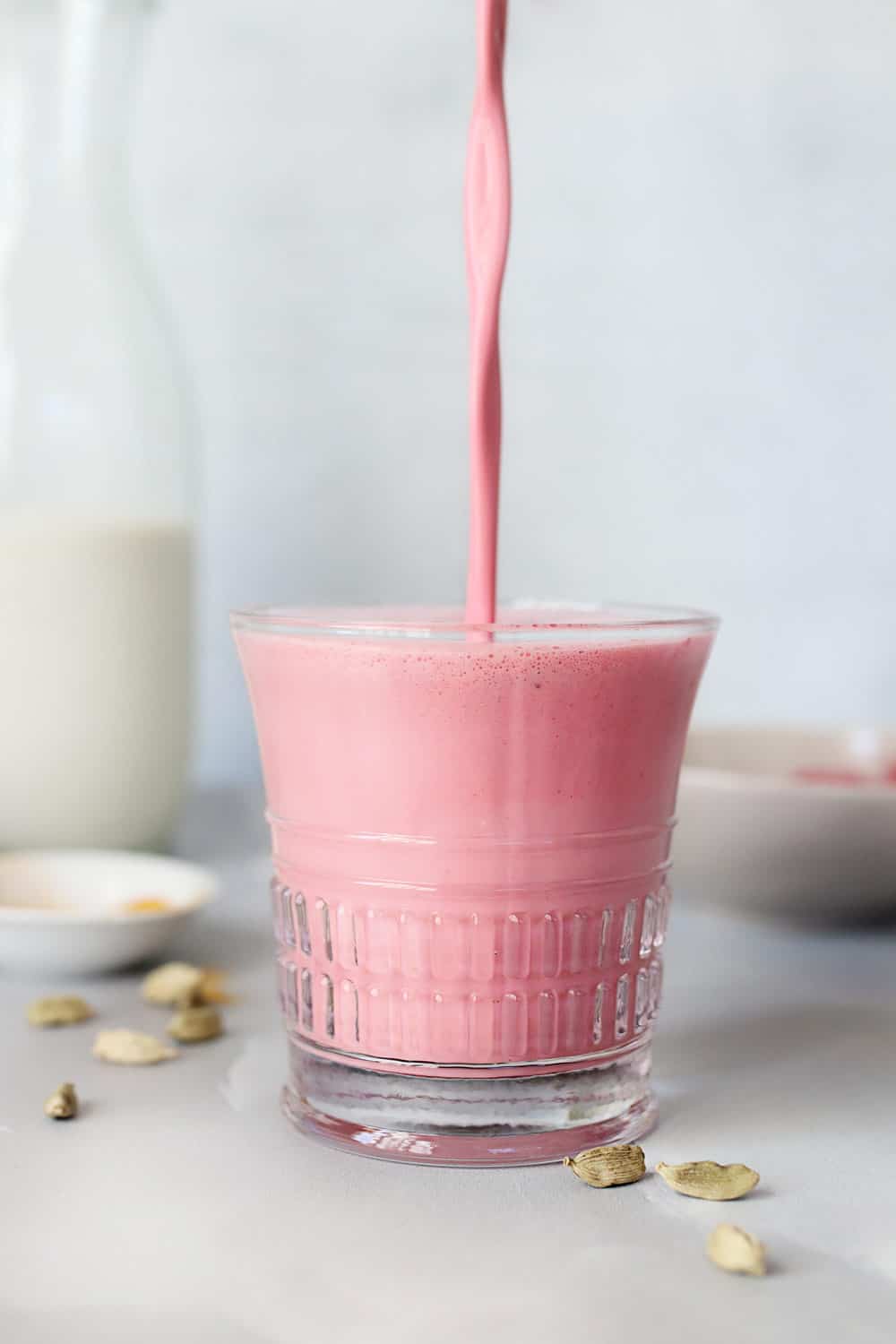 Pink Velvet Latte
I've been dabbling in Ayurveda for a couple years now and, while I'm not an expert by any means, I do know this: it's important to mind the seasons. In a nutshell, when it's cold outside, you should focus on eating warm, well-spiced foods and favoring a balance of tastes and flavors. And warm or hot beverages should be enjoyed often in order to help stoke the inner flame.
Simple, right?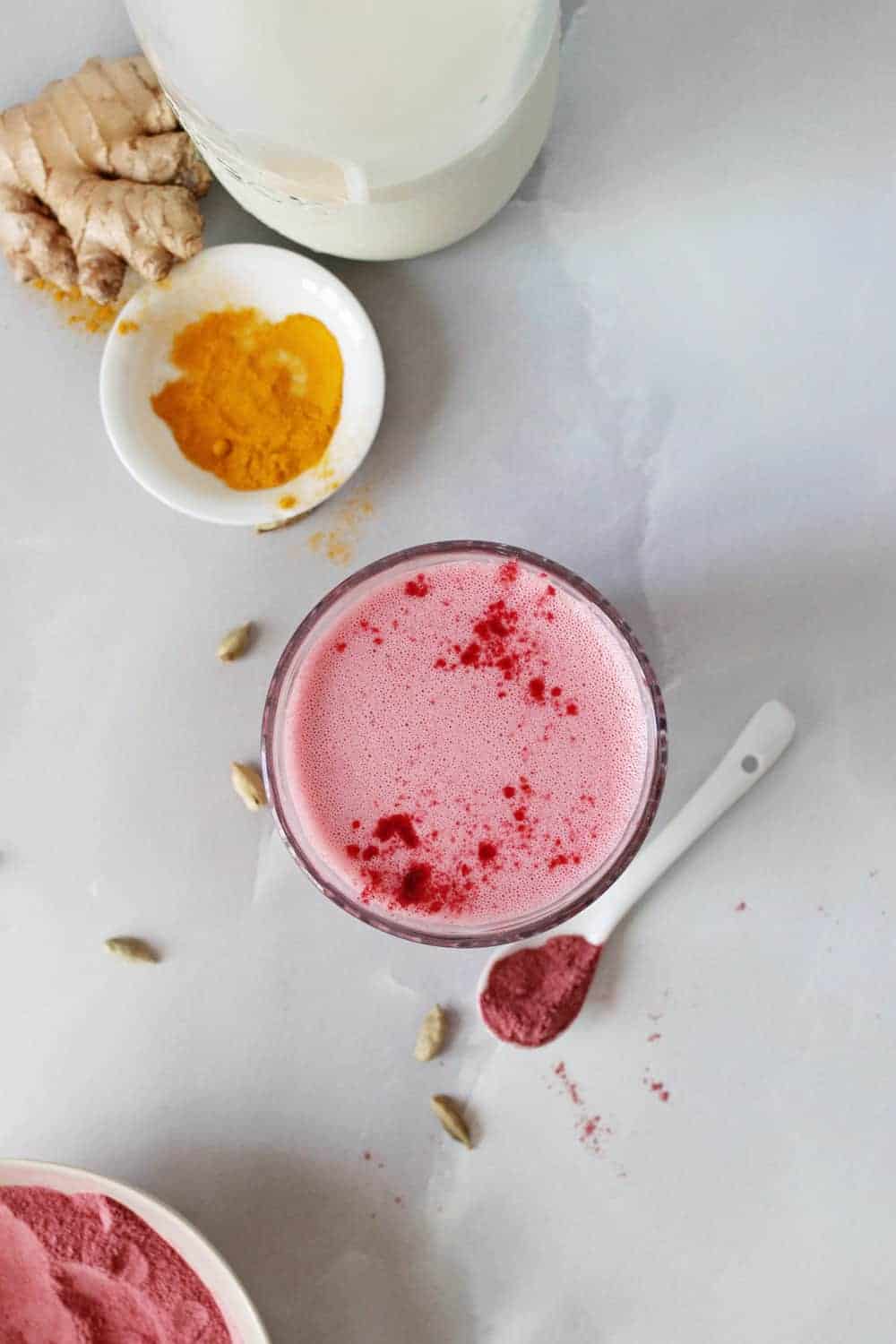 That's why this latte is so perfect this time of year. It's warm, as in physically warm, but it's also loaded with warming spices like turmeric, black pepper, cardamom and cinnamon, that are said to help stoke the inner flame and balance the body. Plus, thanks to a whopping dose of beetroot powder, it's a gorgeous shade of pink and slightly sweet without being overpowering.
But it's not just your doshas that benefit.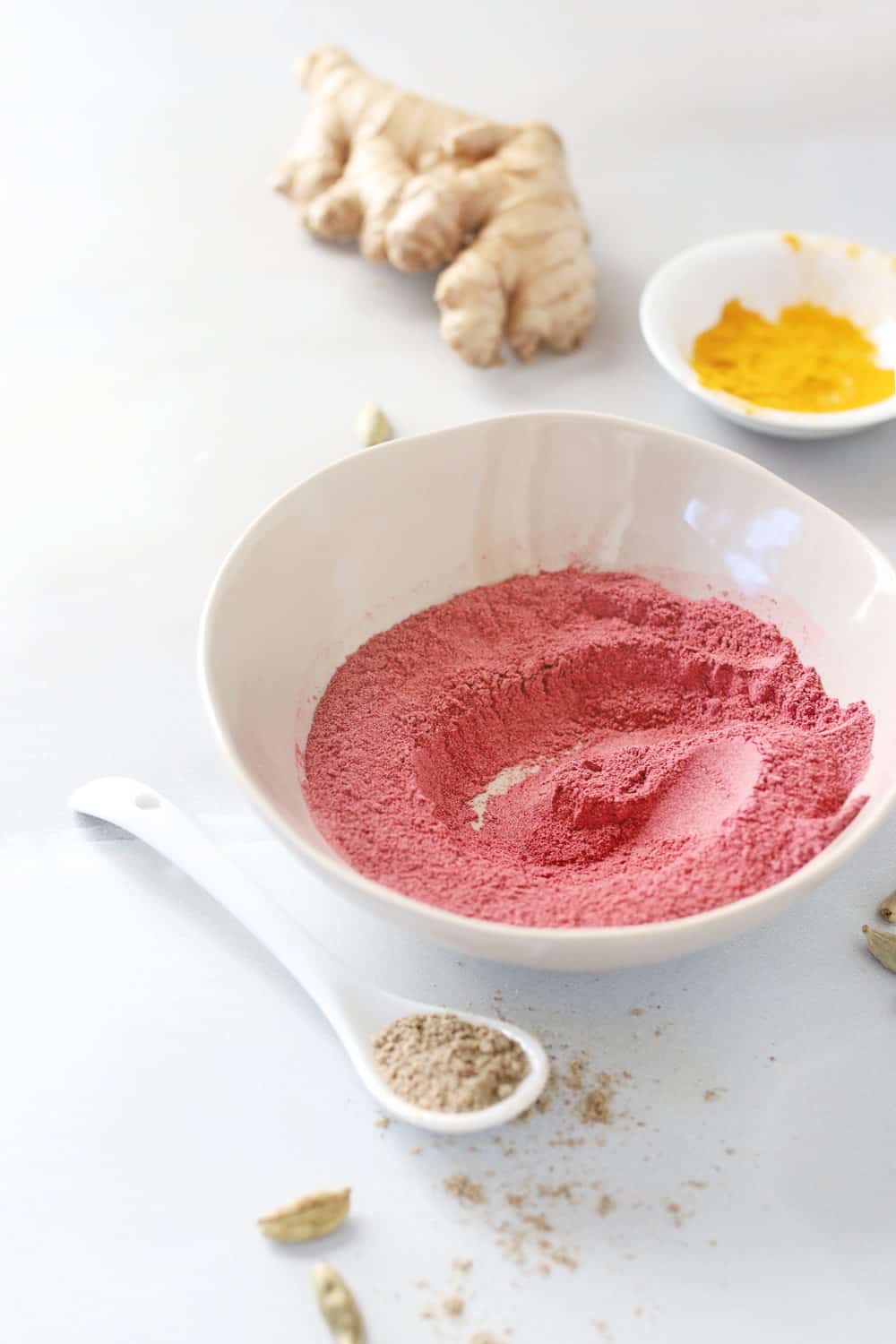 Here's a rundown of the ingredients and everything they do to help balance the body:
Turmeric
Curcumin, one of the most well-studied bioactive compounds in turmeric, is a potent anti-inflammatory that can help boost brain function, decrease pain and calm inflammation.
Ginger
Ginger is another herb known for it's anti-inflammatory effects. It's been used for ages to treat nausea and pain, and to help promote healing.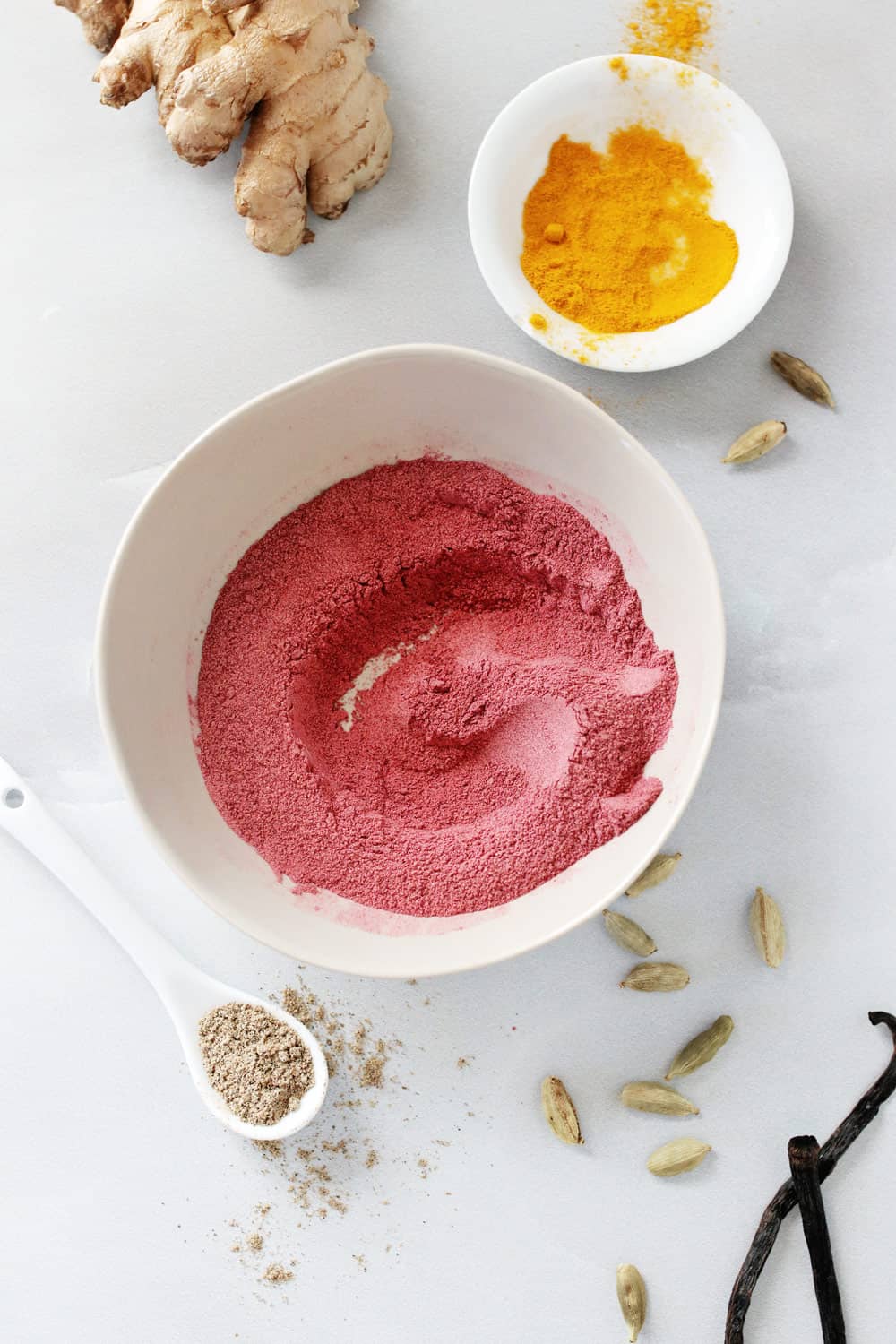 Beetroot powder
Beets are rich in antioxidants, iron, potassium and folate, along with other nutrients. They're also naturally high in nitrate, which is said to help improve blood flow and lower blood pressure.
Cinnamon
Cinnamon can lower blood sugar levels, cut the risk of heart disease, protect against cancer and help fight infections.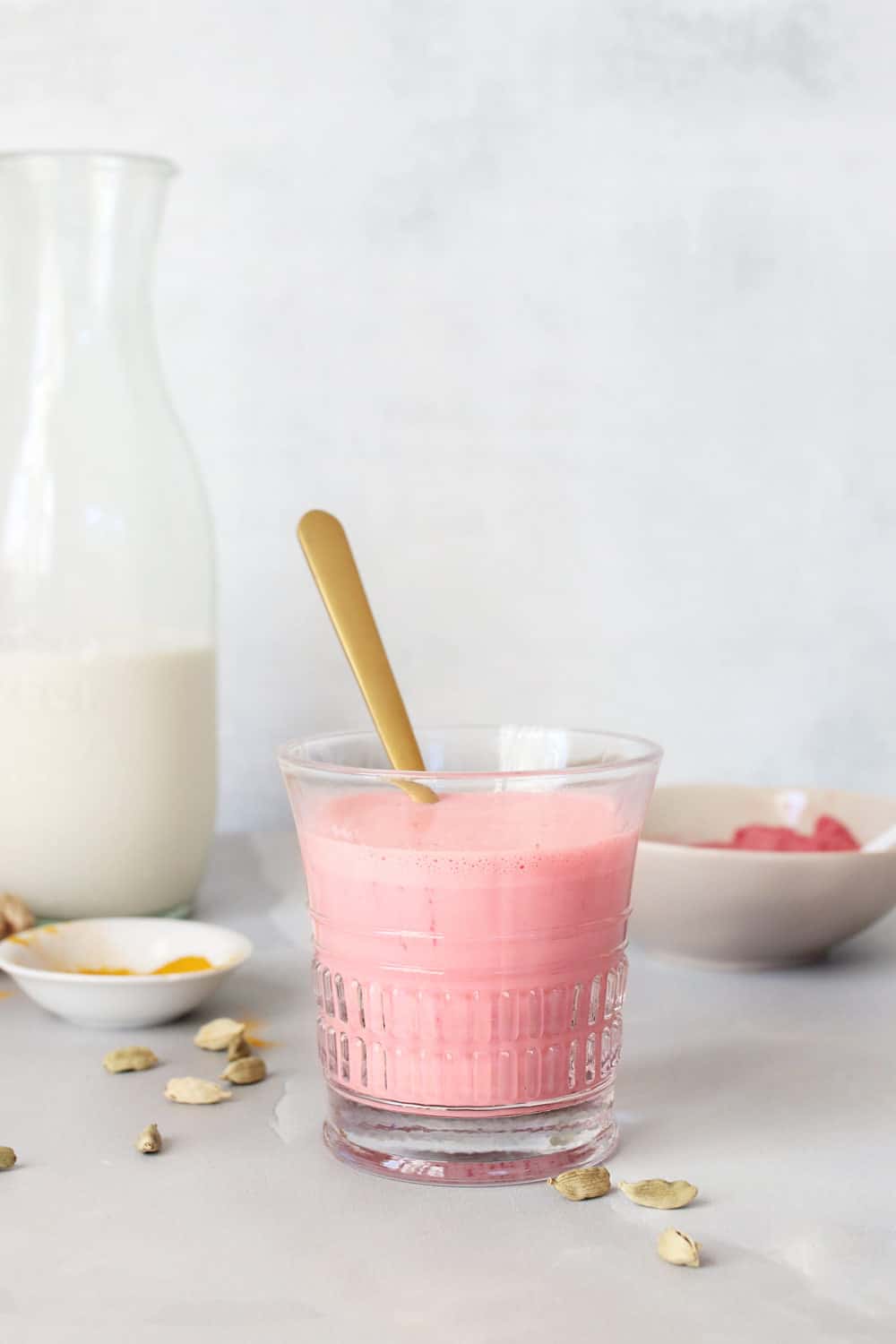 But this latte isn't just good at raising body temperature, lowering inflammation and fighting infection. It also has potent mood-lifting powers. The cold, bleak weather combined with way too much time inside is known to bring a lot of people down. But turmeric has been shown to help with the winter blues and insomnia. In fact, a recent study by Baylor University showed that taking as little as 1,000 mg of curcumin daily could have the same effects as taking an antidepressant!
So go ahead and drink this baby whenever you need relief from the winter doldrums–or any doldrums for that matter.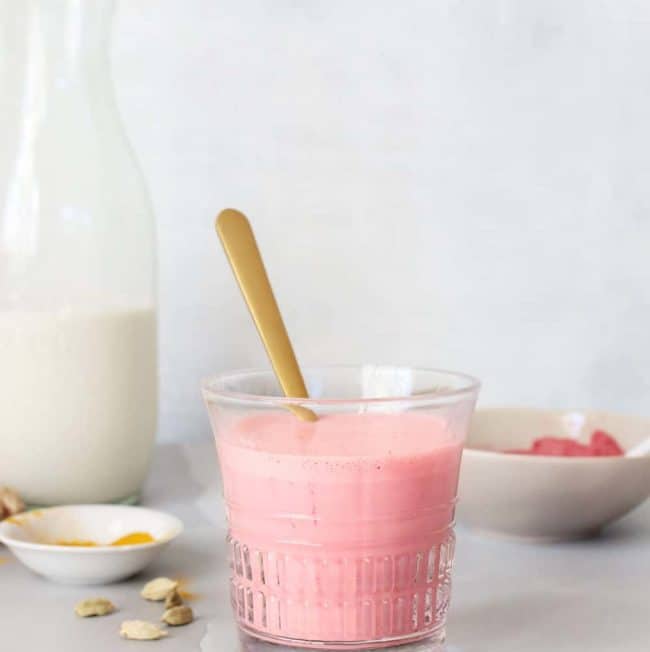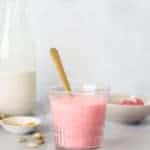 Print Recipe
Pink Velvet Latte
This vibrant latte is naturally sweet and chock full of chai spices that help warm the body from the inside out.
Servings:
8
dry latte mix
Ingredients
To make
1

cup

nut milk of your choice

Honey to taste

optional
Instructions
Combine all the spices in a small bowl and whisk well. Transfer to an airtight glass jar until ready to drink (or for up to 2 months).

To make the latte, place a splash of nut milk and 2 teaspoons of velvet latte mix in a small pot. Whisk to combine. 

Add the remaining nut milk, whisk to combine and heat over medium-high heat until steaming.

Carefully pour into a mug, add honey and enjoy!
74