I hate the phrase "that time of the month." Something about the way it's used makes the hair on the back of my neck stand up whenever I hear it. But to be honest, sometimes it just fits. Cramps, bloating, headaches and hormonal outbursts are all-too-common side effects of "that time of the month."
But it turns out that what you eat has a huge impact on your hormones, and the right foods can heal hormonal imbalances and decrease PMS symptoms. This PMS smoothie is packed with everything you need to get your hormones in check and make "that time of the month" a thing of the past.
PMS Smoothie Recipe
What makes this smoothie so great is that it's silky smooth and extra creamy, and it's loaded with vitamins, minerals and even some superfoods to help balance hormones. All without the help of dairy, excess sugars or refined carbohydrates that might make PMS worse.
For some of us, traditional dairy can exacerbate PMS symptoms. That's because cow's milk is a common allergen that may increase inflammation in the body. Not only that, but milk naturally contains small amounts of over sixty different hormones including everything from testosterone and insulin to progesterone and casein.
And it is believed that those added hormones may affect our own, either causing or aggravating imbalances. That's why avoiding dairy can be especially helpful for decreasing PMS symptoms.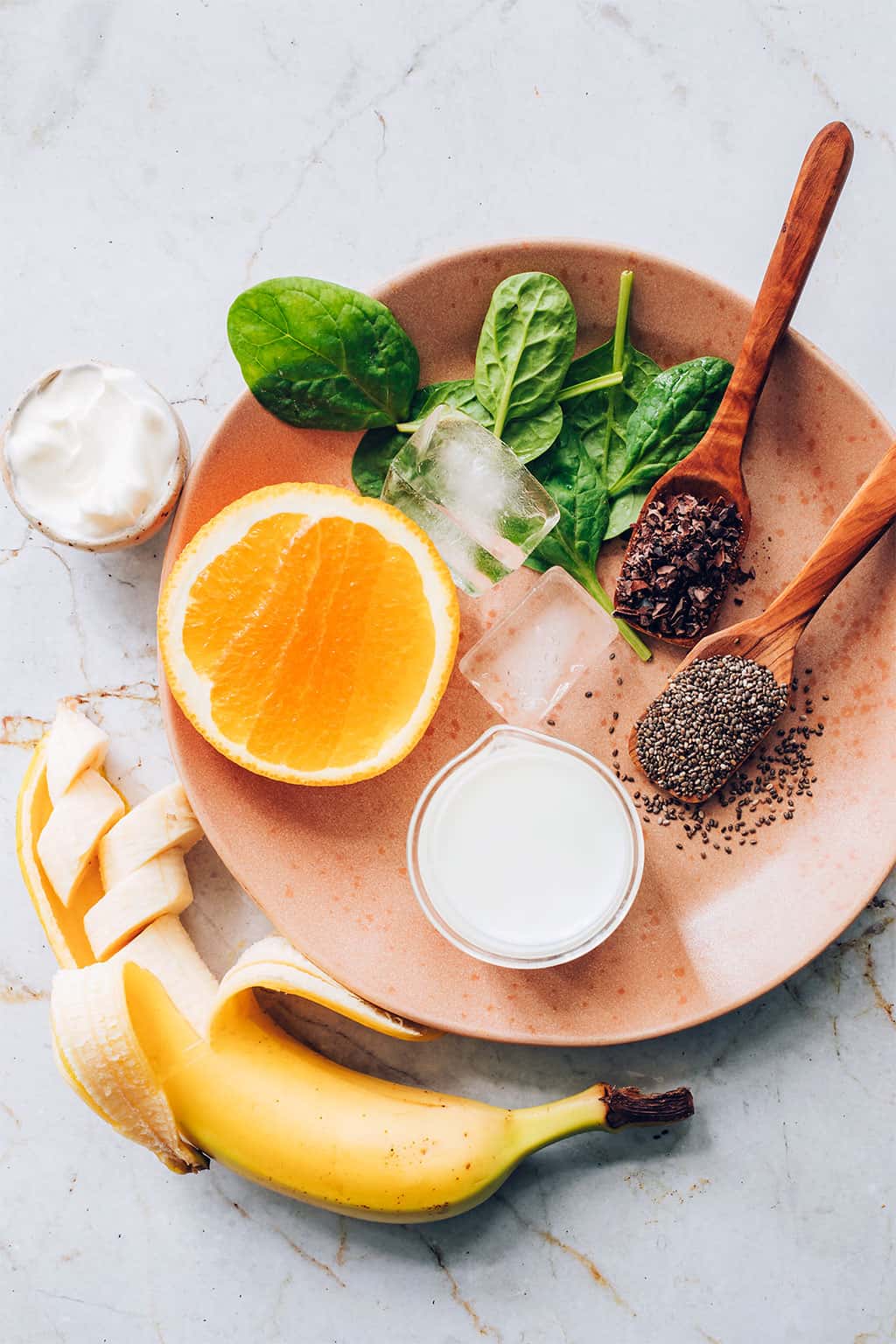 I always choose unsweetened cashew milk for my smoothies because it's super thick and creamy and it doesn't contain any added sugars. Plus, since it's completely plant-based, it doesn't cause the same inflammatory or hormonal response that regular milk can.
While you can use almond milk or another plant-based milk here, I think cashew milk is by far the creamiest and it helps your smoothie feel more substantial (ie. less watery) than other nut milks.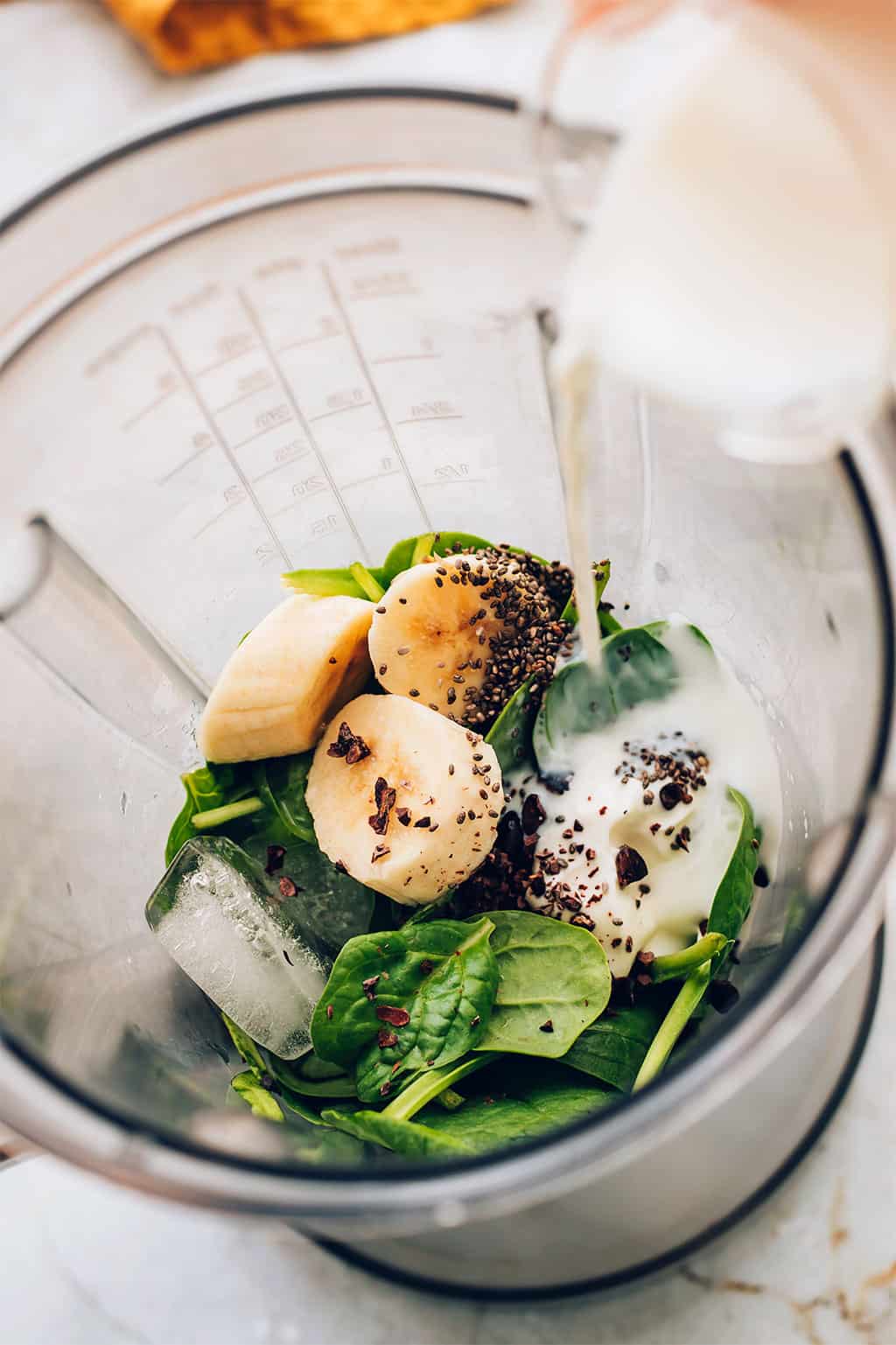 Next, I like to toss in some spinach and almonds, both of which are loaded with magnesium (a must-have for problem periods), followed by bananas for extra vitamin B6 and potassium, and orange juice for an extra dose of Vitamin C.
If I have them on hand, I'll add a sprinkle of cacao nibs and chia seeds for extra vitamins and minerals, like calcium, zinc, copper and potassium. And last but not least, almond yogurt to give it a creamy, almost milkshake-like consistency and a helping of probiotics to nourish the gut.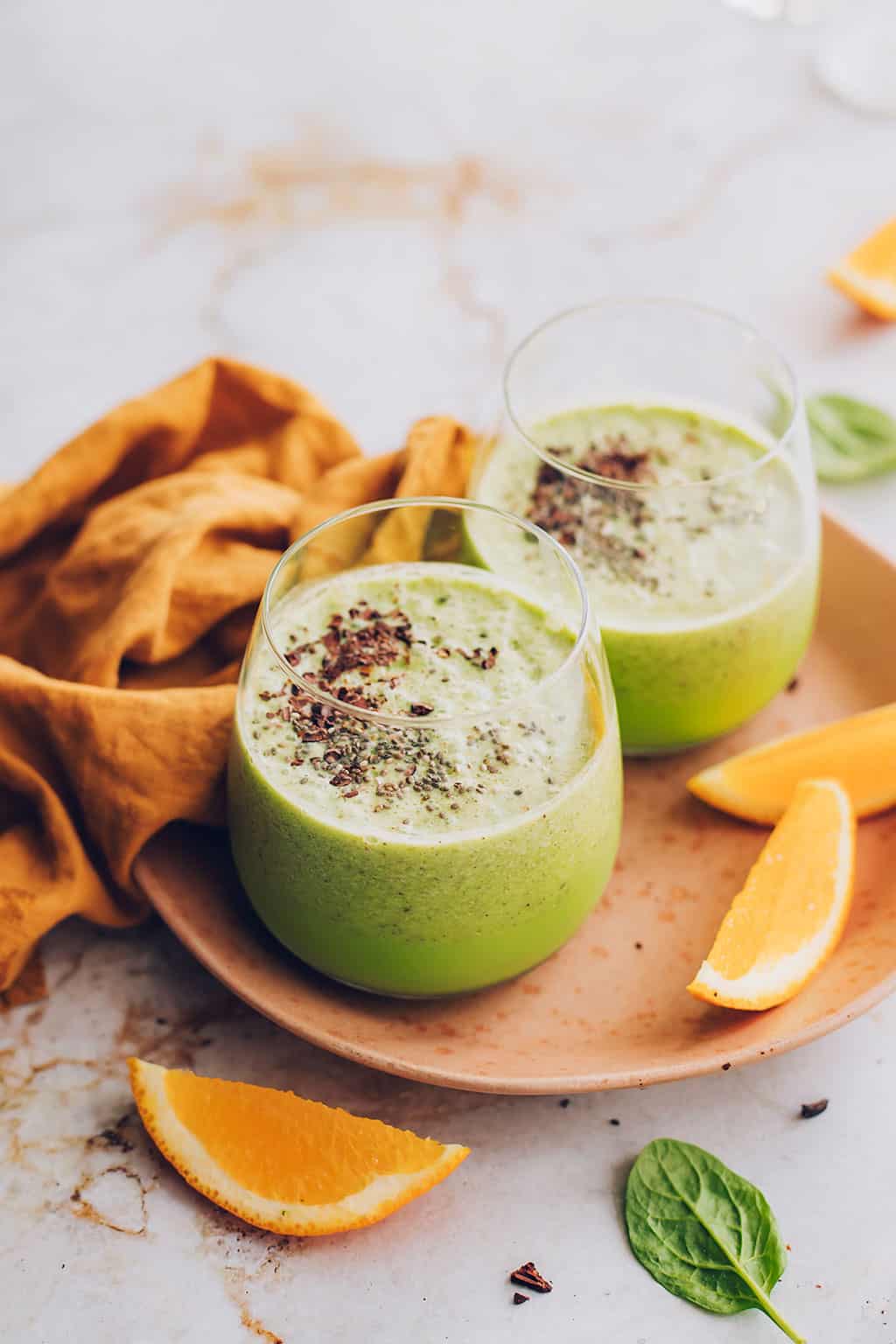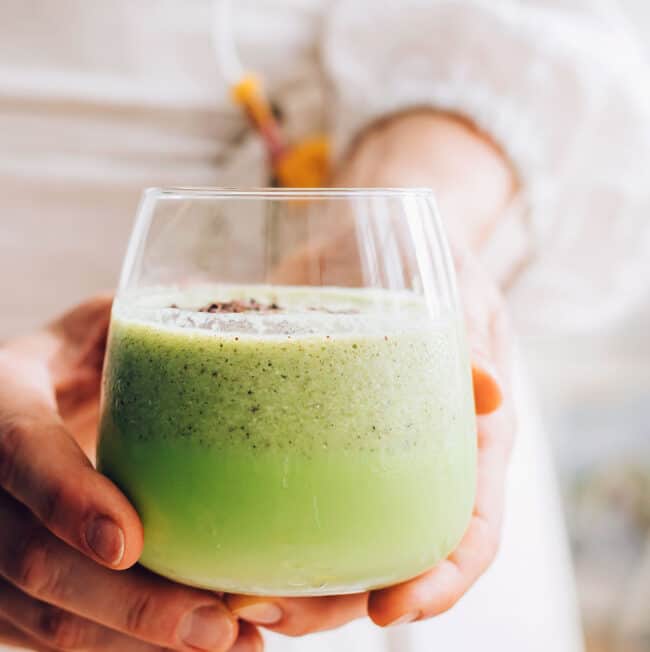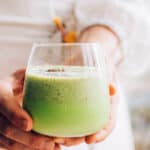 Print Recipe
Hormone-Balancing PMS Smoothie
This PMS Smoothie contains ingredients to help balance your hormones, alleviating symptoms of PMS like cramps and bloating.
Ingredients
1

banana

Juice from 1 orange

1

cup

spinach

1/4

cup

almonds

1

tablespoon

each chia seeds and cacao nibs

1/4

cup

almond yogurt

2/3

cup

unsweetened cashew milk

6

ice cubes
Instructions
Combine everything in the base of a blender, and process until smooth.

Pour into two glasses and sprinkle with extra cacao nibs and chia seeds, if desired.
Notes
Best served immediately. Feel free to scale the recipe down if you can't drink it all in one sitting.
Photos by Ana Stanciu
This post was medically reviewed by Dr. Kimberly Langdon, M.D., a university-trained obstetrician/gynecologist with 19 years of clinical experience. Learn more about Hello Glow's medical reviewers here. As always, this is not personal medical advice and we recommend that you talk with your doctor.
26