Is it possible to keep your complexion plump, happy, and luminous throughout the colder months? At least for me, winter = acne + flakes. Oof. But with a little know-how and the right skin elixirs, winter skin might just be your happiest skin. This tea tree toner facial spray—a DIY version of Lush's tea tree water—ditches the heavy-hitting cleansers and uses gentle, plant-based ingredients like tea tree oil, grapefruit, and juniper berry to soothe irritation and hydrate dry skin at the same time.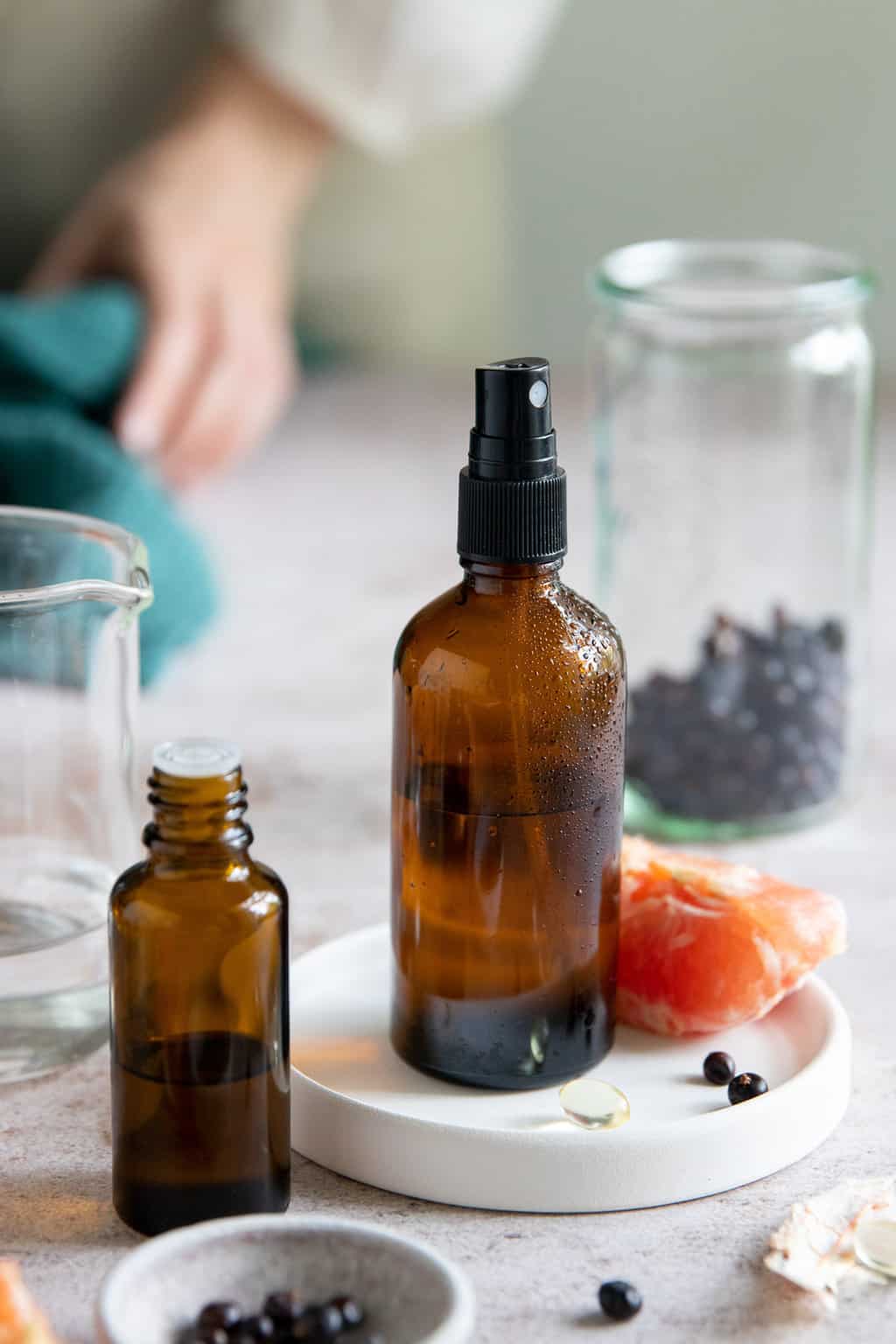 Benefits of Tea Tree Toner
Tea tree essential oil is a winter skin game changer.
Tea tree helps battle acne
Those with acne-prone skin [source] and fungal skin conditions may benefit from its antibacterial and anti-inflammatory properties [source].
Tea tree helps with dryness

But even if you just suffer from a little seasonal dryness, tea tree oil helps tone skin and encourages wound healing [source], which can help tackle redness and that tight, dry feeling that often accompanies freezing temperatures.
Tea tree acts as an astringent

While this formula is amazingly effective in cooler weather, thanks to its astringent benefits, it helps keep excess oil in check all year long. So go ahead and spritz it on during the spring and summer months, too!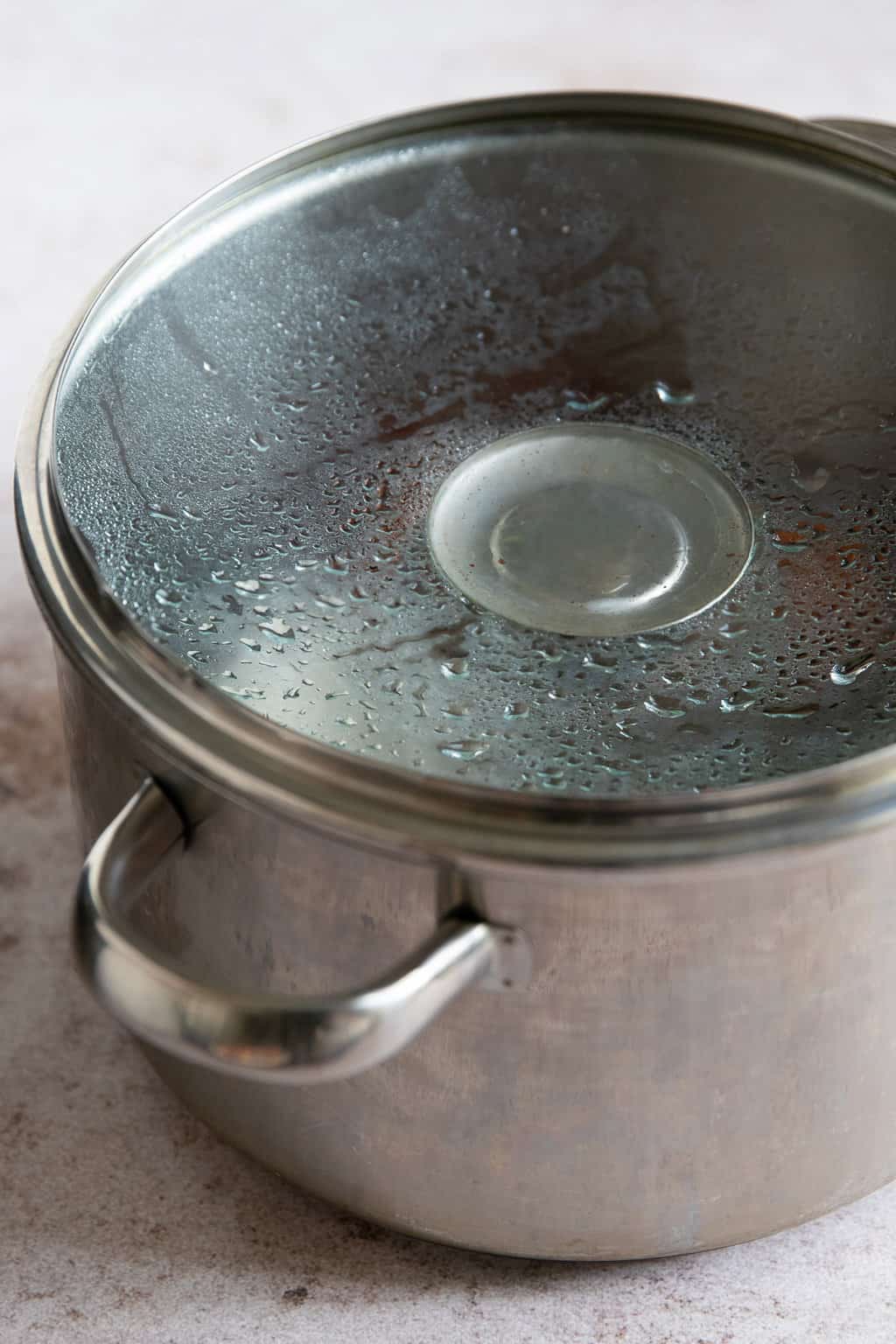 Making hydrosol with grapefruit + juniper berry
This homemade toner also harnesses the complexion-brightening power of grapefruit and juniper berries in the form of an herb distillate, or hydrosol. While it may sound complicated, the process of making a hydrosol simply requires simmering some fresh grapefruit peel and dried juniper berries in a pot of water.
As the water turns into steam, it extracts the plant's essential oils and organic compounds along with it. This enriched steam then condenses into an aromatic water that can be used in homemade bath and body products. It's the same process as making your own rosewater.
Last but not least, we use vitamin E and glycerin to help replenish hydration and repair the skin's moisture barrier. Vitamin E is a potent antioxidant [source], which helps protect skin from the brutal winter elements. And glycerin, a humectant, helps draw moisture into the skin and keep it there to keep skin feeling soft and supple.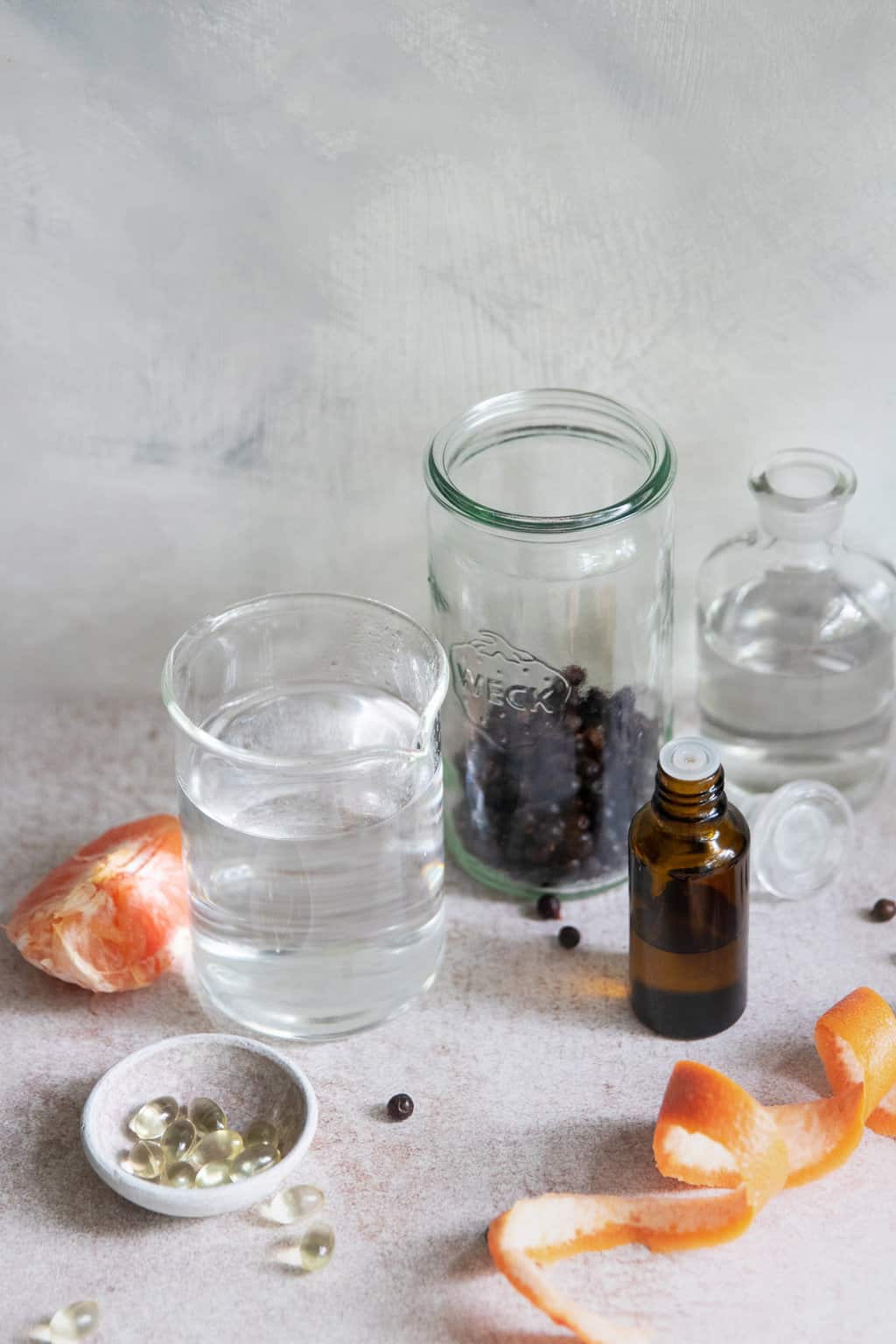 Tea Tree Toner Supplies
—15 drops tea tree essential oil
—10 drops vitamin E oil (or the oil from 2 capsules)
—½ teaspoon vegetable glycerin
—2 tablespoons dried juniper berries
—Peel from 1 grapefruit
—3 cups distilled or filtered water
—Ice in a plastic bag
—Stockpot with domed lid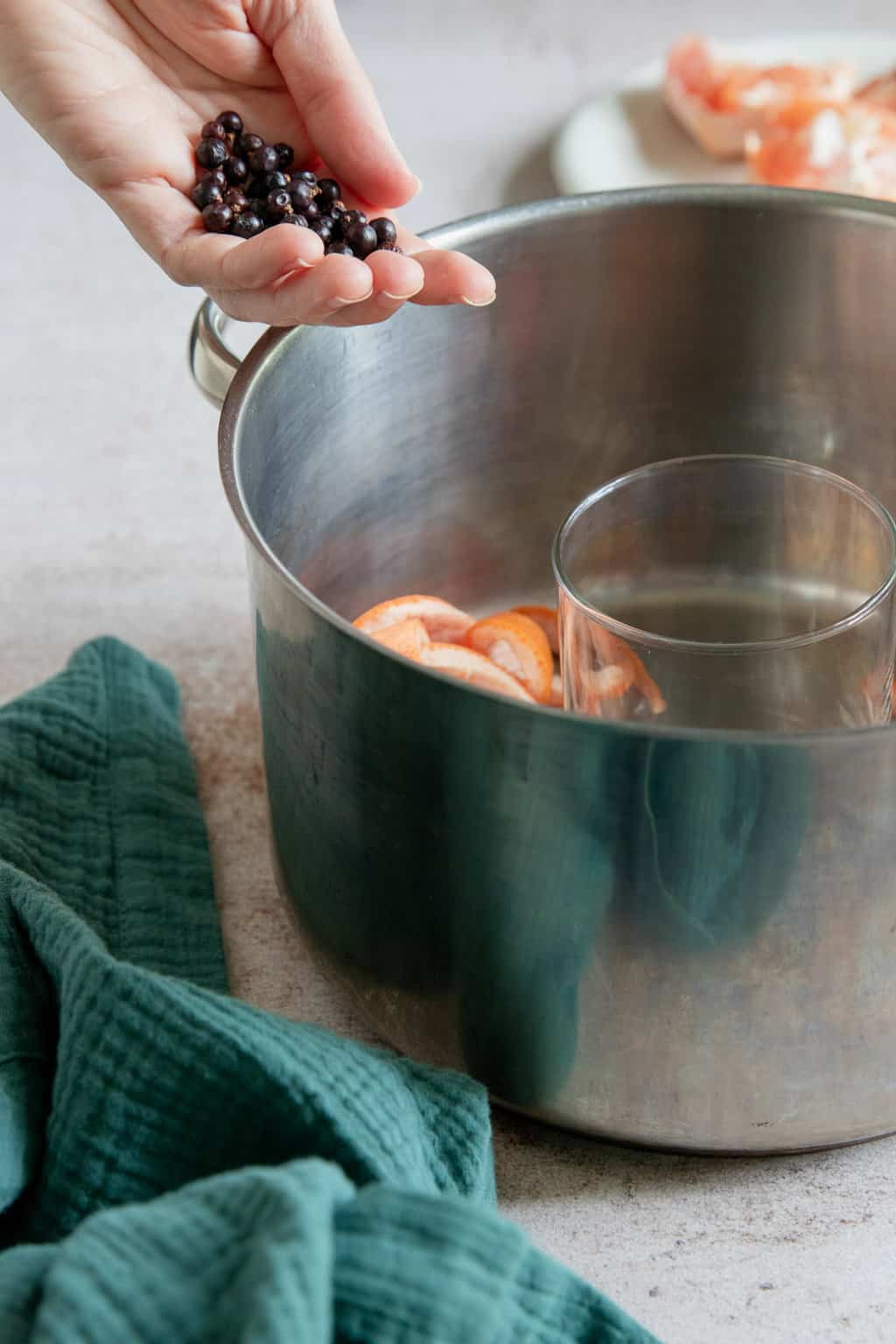 Step 1 | Make hydrosol

To make the hydrosol, place a glass measuring cup in the center of a stockpot. Sprinkle the grapefruit peel and dried juniper berries around the measuring cup. Pour the water into the pot and set the pot lid upside down on top.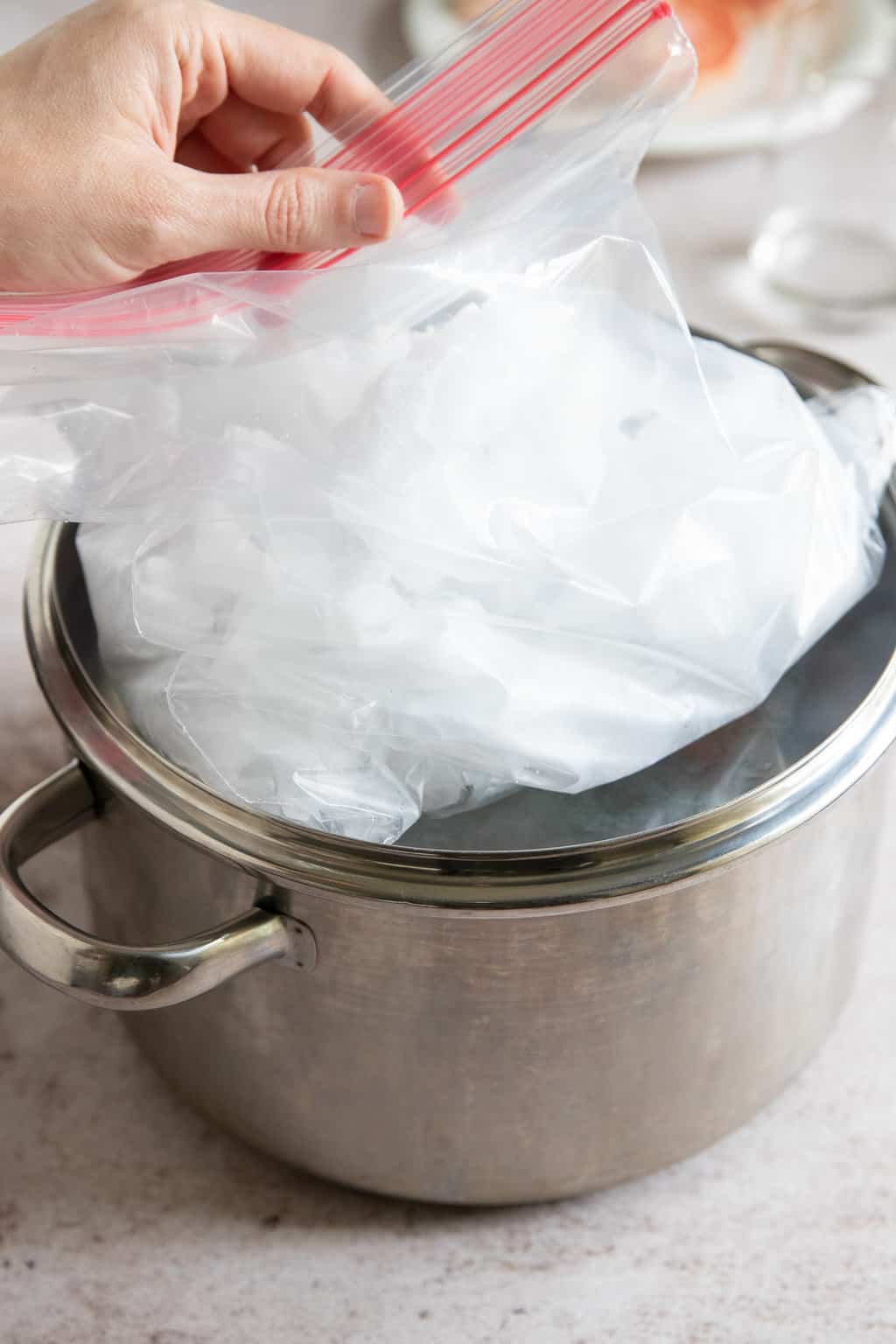 Step 2 | Collect hydrosol
Place a bag of ice in the center of the lid. Simmer for 30 minutes. As it simmers, water will condense on the lid and drip into the measuring cup. The liquid that collects is the hydrosol.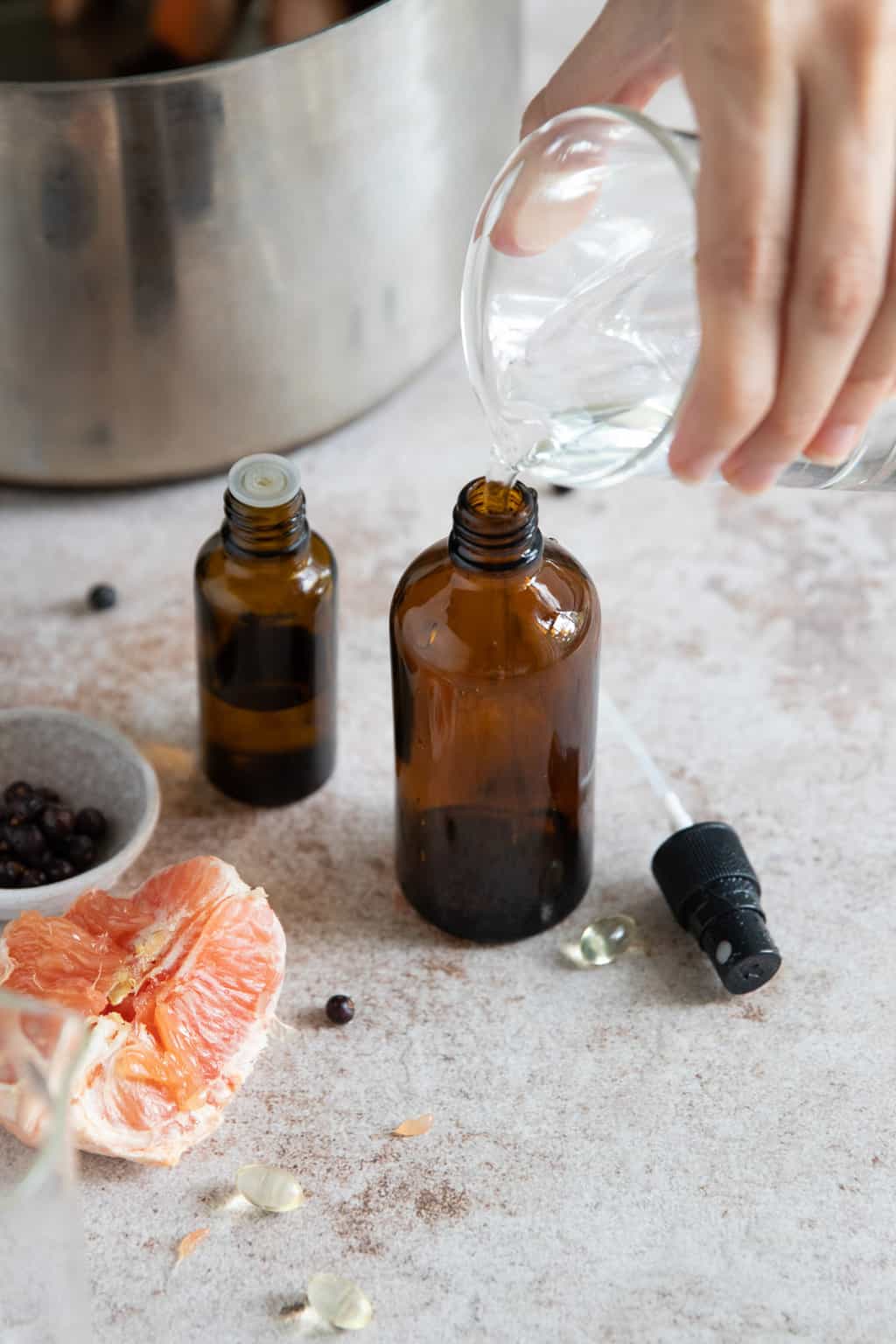 Step 3 | Add tea tree oil
Let the hydrosol cool. Then pour the hydrosol into an 8-ounce glass spray bottle and add tea tree oil, vitamin E, and glycerin. Shake well.
How to use a tea tree oil toner

Bring oily, dull or tired skin back into balance with a spritz of this refreshing toner! To use, apply the tea tree toner as a face mist onto freshly cleansed skin morning and night. Remove any excess with a clean cotton round, and let it dry before following up with serum and moisturizer. The spray will separate as it sits, which is totally normal, so shake it well before each use.
How long will this recipe last?
Vitamin E is a natural preservative, but unfortunately, it won't kill bacteria, yeast, or fungi. And since this concoction is mostly water, it will spoil quickly. Make sure to store it in the refrigerator and use it within 14 days. If needed, freeze your homemade hydrosol in ice cube trays and make smaller batches of this facial spray, so you'll have less to work with.
Safety note: grapefruit oil can make skin more sensitive to the sun's rays. While this facial spray doesn't contain a substantial amount of grapefruit oil, it may still make skin burn more easily. Make sure to wear sunscreen daily and stop using it if you notice redness, irritation, or signs of sunburn.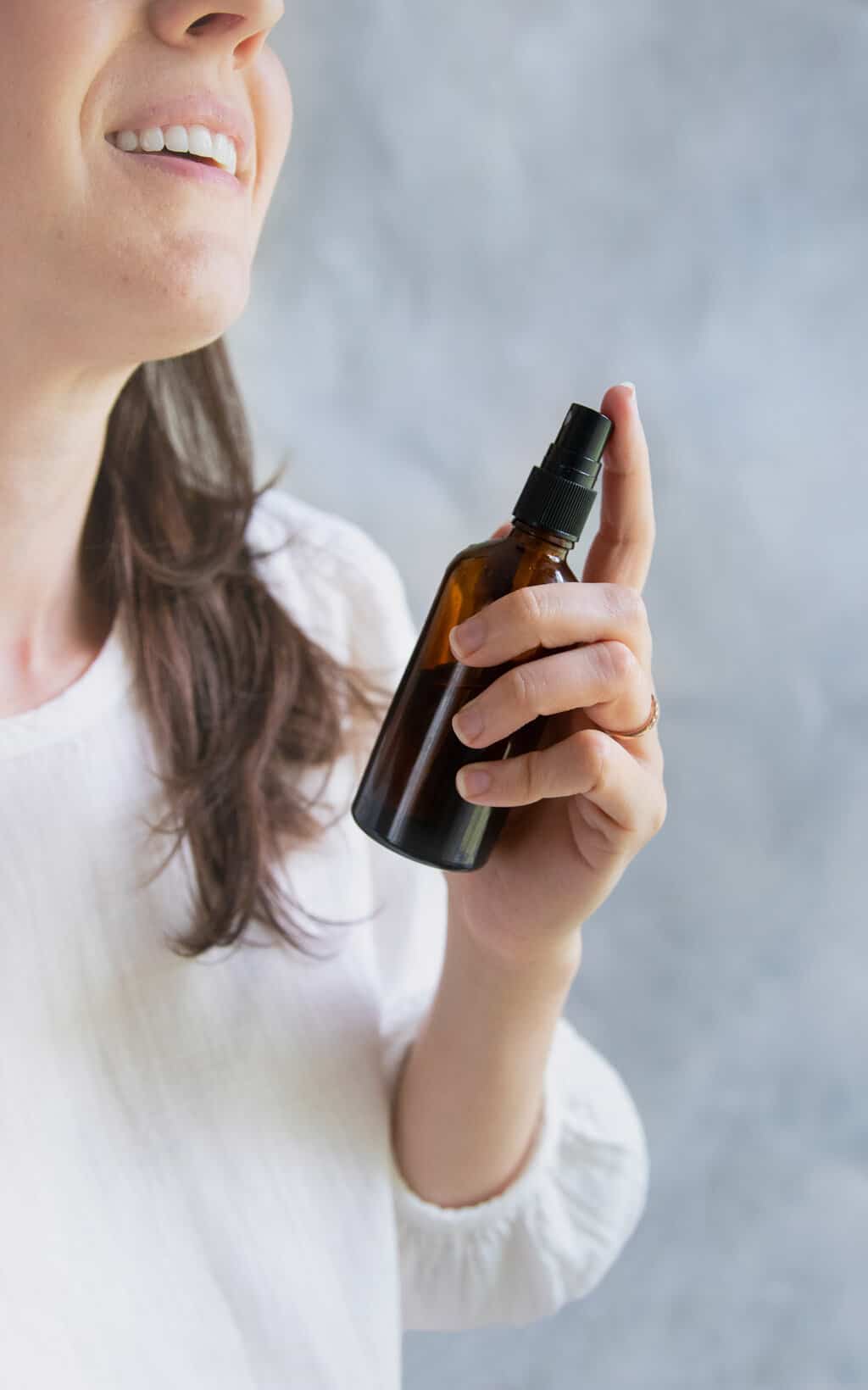 7