In need of some natural sunburn relief? Applying this body spray recipe just out of the fridge feels so good on hot, parched skin! Soothing essential oils for sunburn, like lavender, help heal tender skin while peppermint provides cooling relief.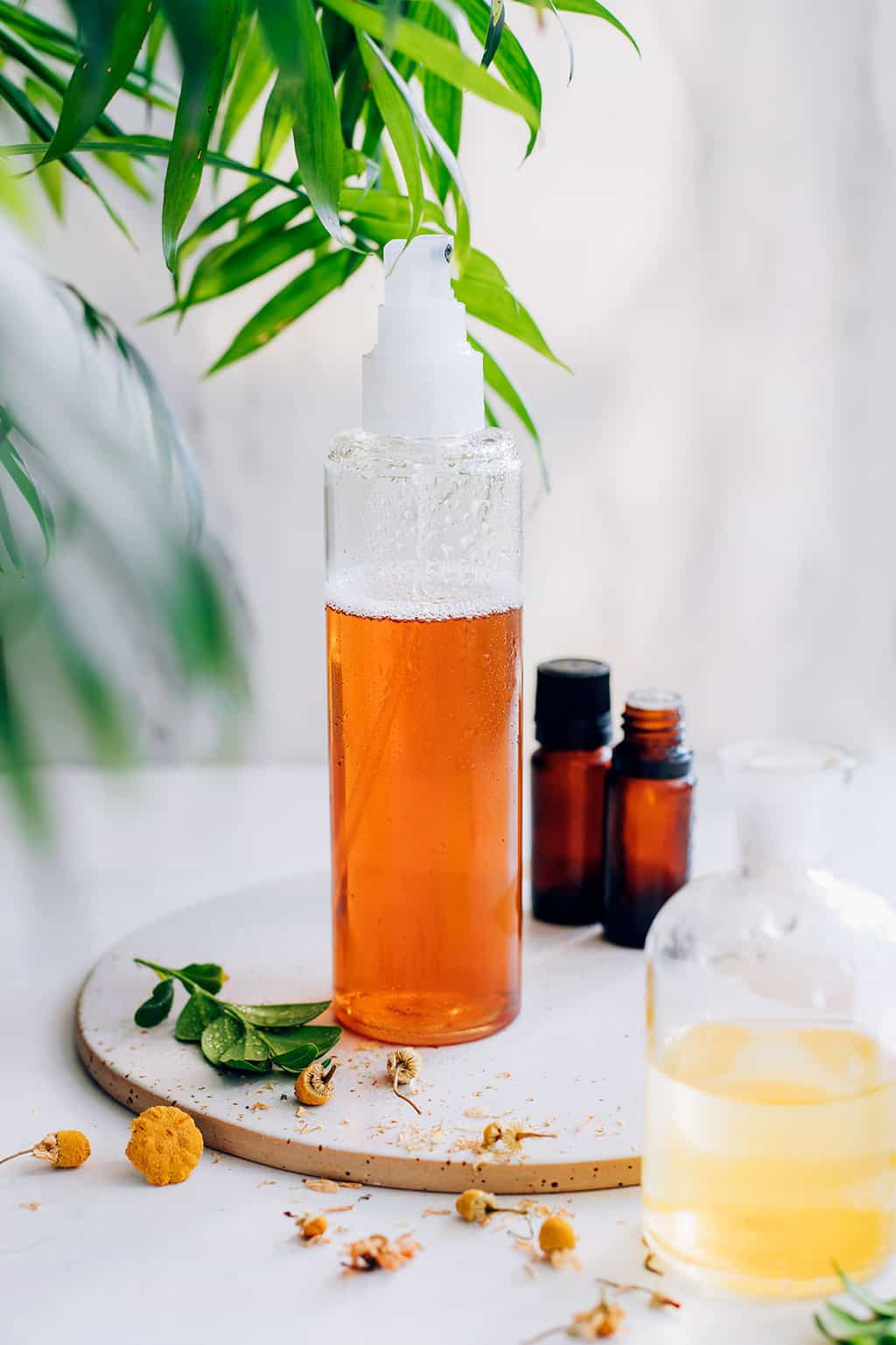 Despite using sunscreen, wearing hats, and avoiding the hottest part of the day, it's inevitable that I overdo it once or twice each summer. I'm good about putting on the sunscreen—it's the reapplying that I always forget! Then I'm left with the hot and painful feeling that comes with a sunburn that is so unpleasant.
Like this sunburn-soothing bath, this cooling spray can help soothe irritated skin and prevent peeling (ugh). And don't forget to drink plenty of water and moisturize, moisturize, moisturize.
Jump to:
Ingredients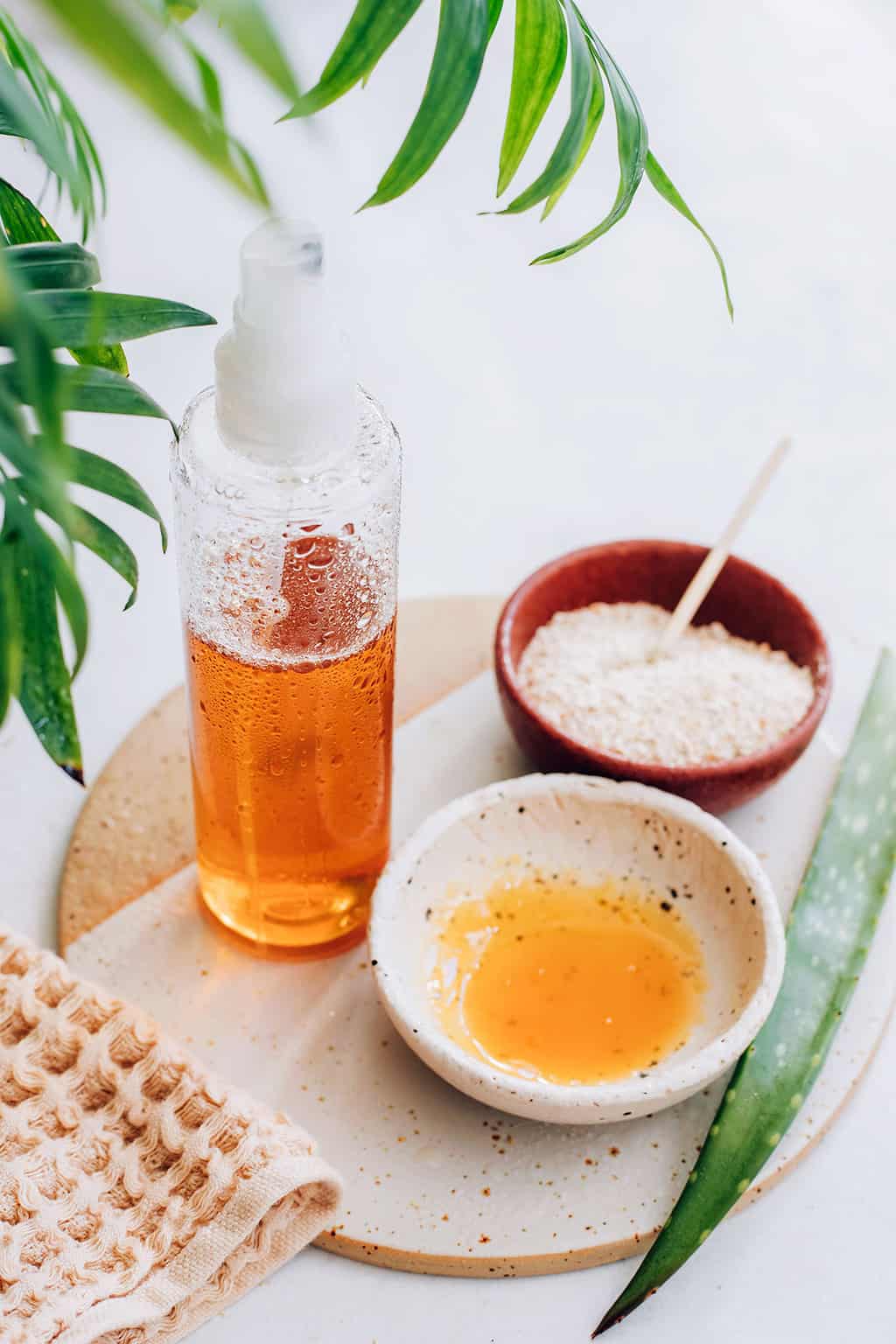 This spray combines skin-calming chamomile and antioxidant-rich green tea to bring down redness and heal the skin. The moisturizing ingredients help to minimize peeling, although you may want to top up the moisture with some pure coconut oil or lotion after you spritz.
Peppermint: Peppermint has a cooling effect on the skin, which can help alleviate the heat and discomfort associated with sunburn. The essential oil also has anti-inflammatory and analgesic properties that may provide temporary pain relief [source].
Chamomile: Chamomile also possesses anti-inflammatory properties that can help reduce redness, inflammation, and irritation of the skin [source]. Both the tea and essential oil are known for their calming effects, promoting relaxation and aiding in the healing process of sun-damaged skin.
Lavender: Soothing lavender is commonly used to promote relaxation and reduce inflammation [source]. It can help calm the skin, reduce pain, and promote healing.
Green tea: Green tea has tannic acid and antioxidants that soothe irritated skin and help heal sun damage [source].
Aloe vera gel: Aloe works as an anti-inflammatory on reddened skin and is one of the most commonly used ingredients on burns—plus it provides cooling relief [source].
Fractionated coconut oil: Liquid coconut oil is used to both hydrate the skin and dilute the essential oils. You can use whatever carrier oil you have on hand.
See the recipe card below for quantities.
Instructions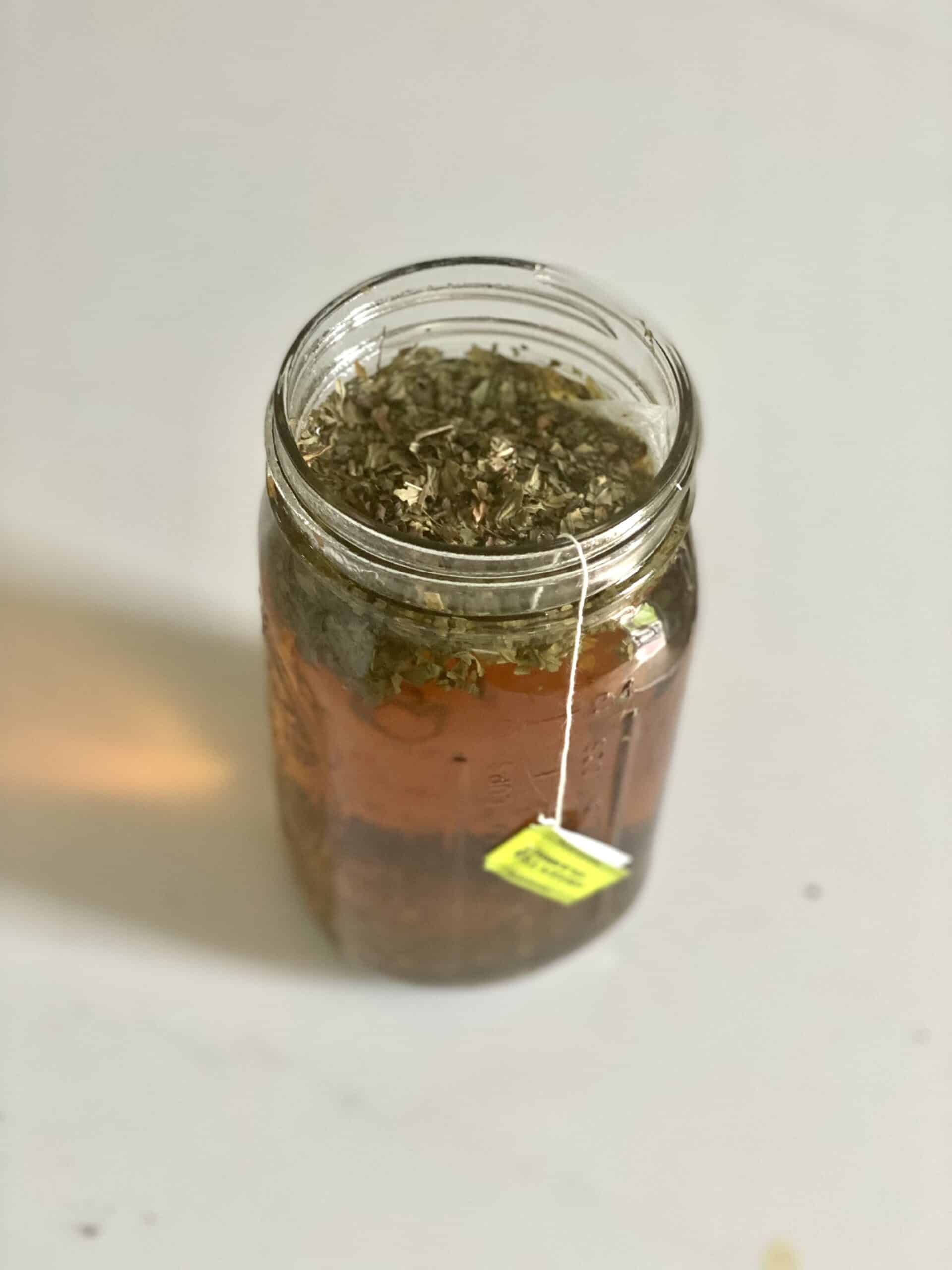 Bring 4 cups of water to a boil. Remove from the heat and steep tea bags for 10 minutes. Discard the used bags and let tea cool completely.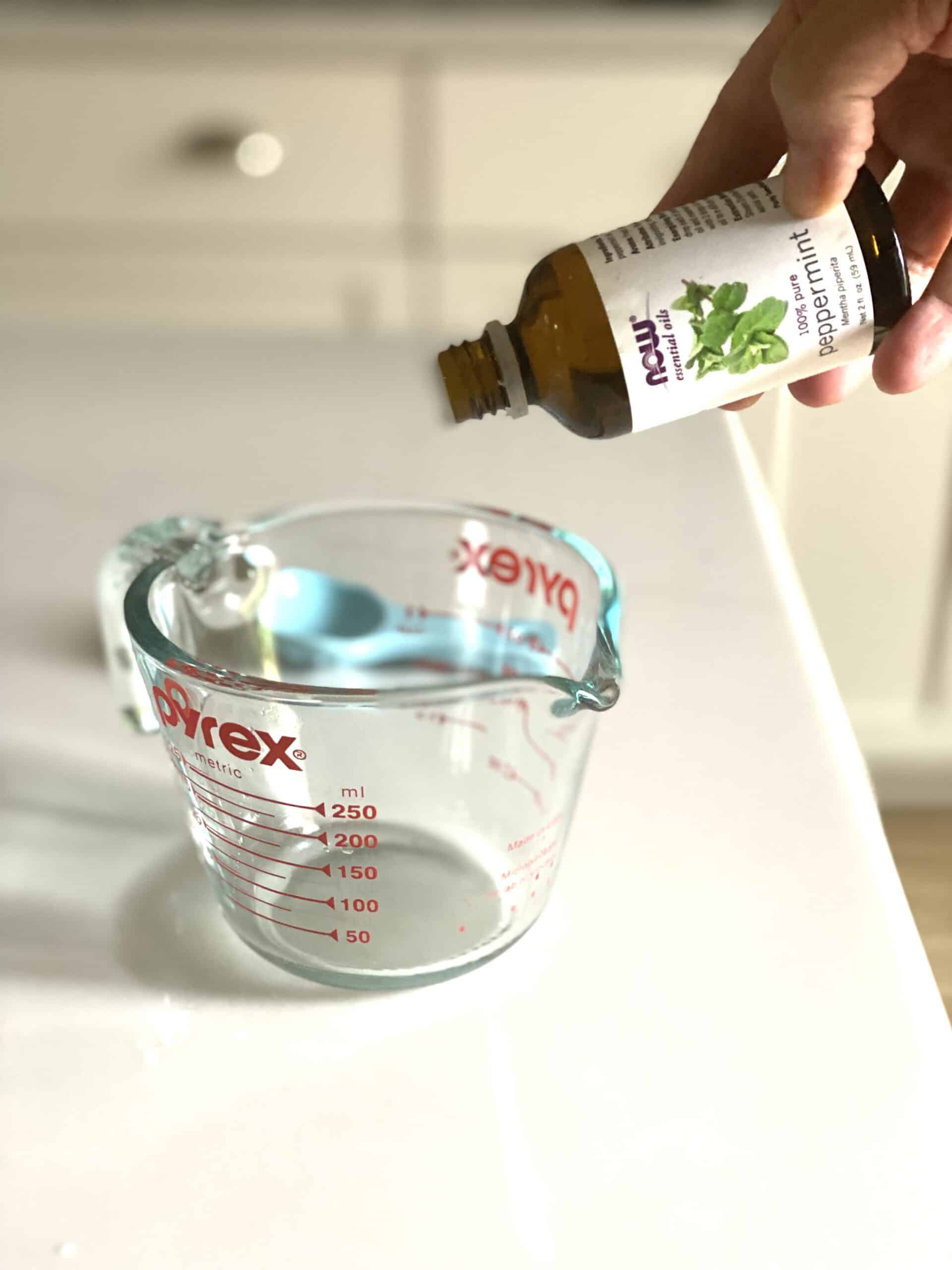 Add fractionated coconut oil to a measuring cup (or directly into the bottle you'll be using) and then add the essential oils. Swirl to combine.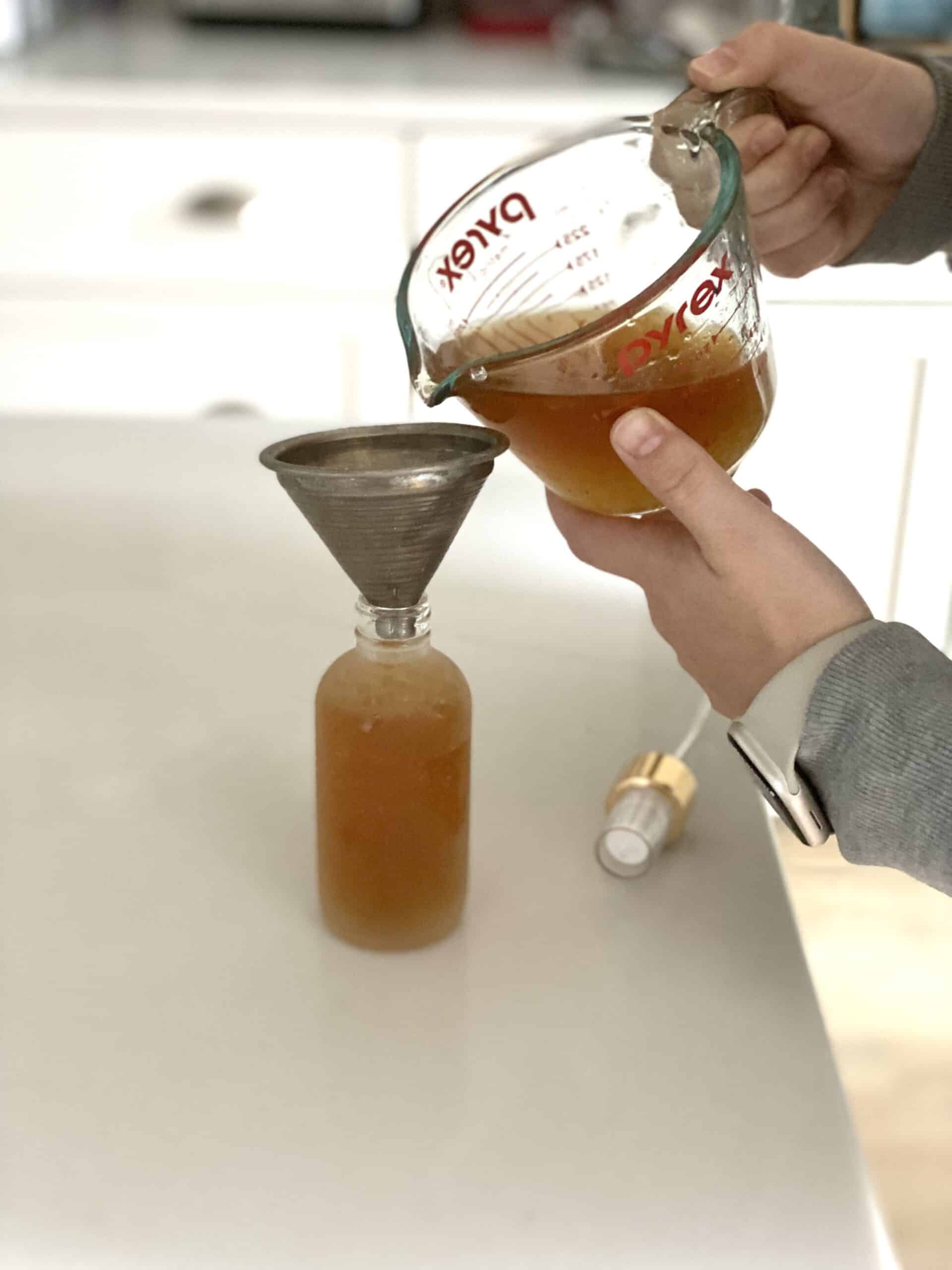 Add aloe vera and cooled tea to the measuring cup and stir until combined. Pour 1 cup of the solution into an 8-ounce spray bottle.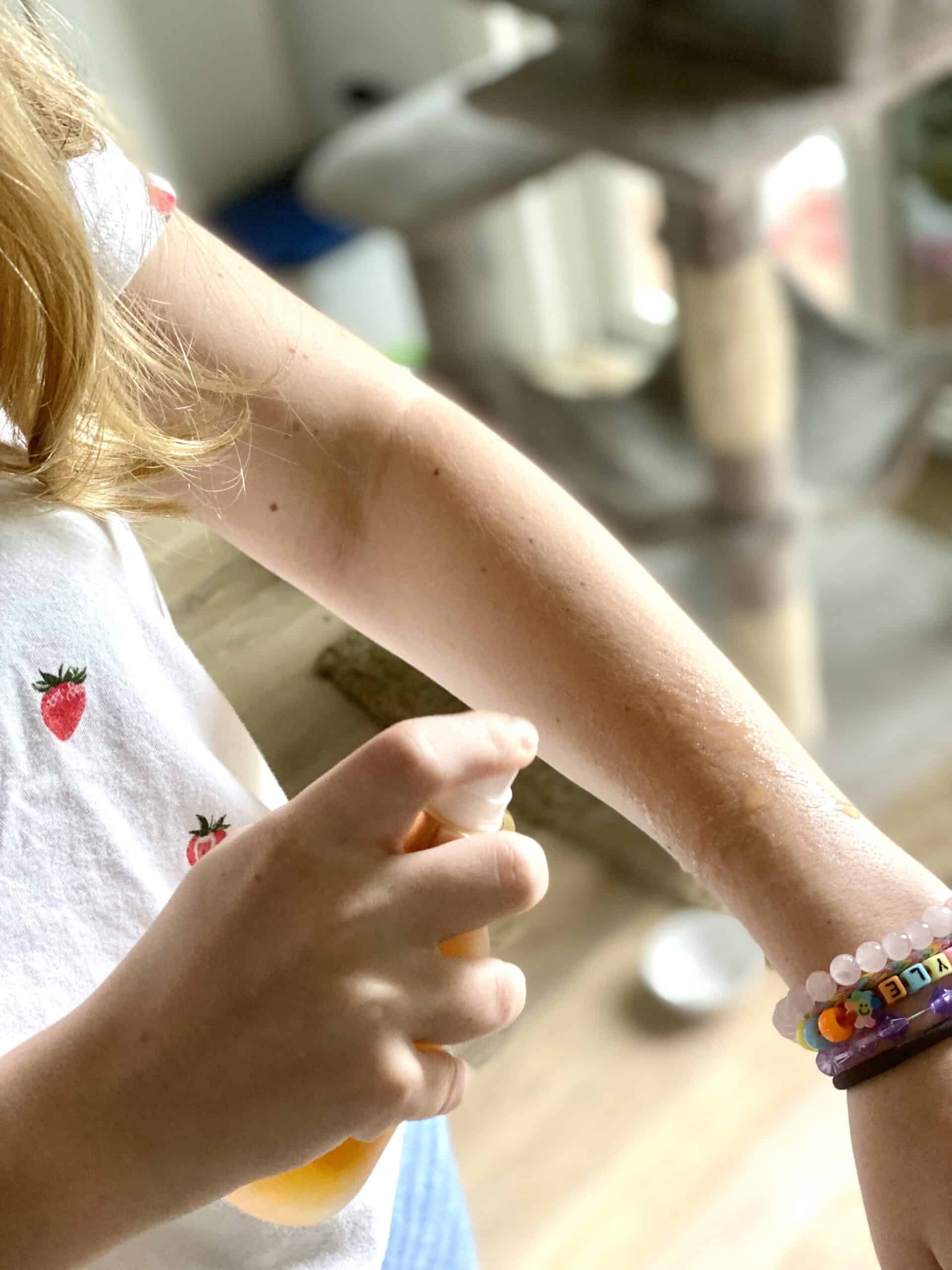 Mist it onto your skin for a refreshing and soothing sensation.
Hint: Green tea can help prevent sun damage, too, so try spritzing this on your face before your daily moisturizer and sunscreen.
Essential oil substitutions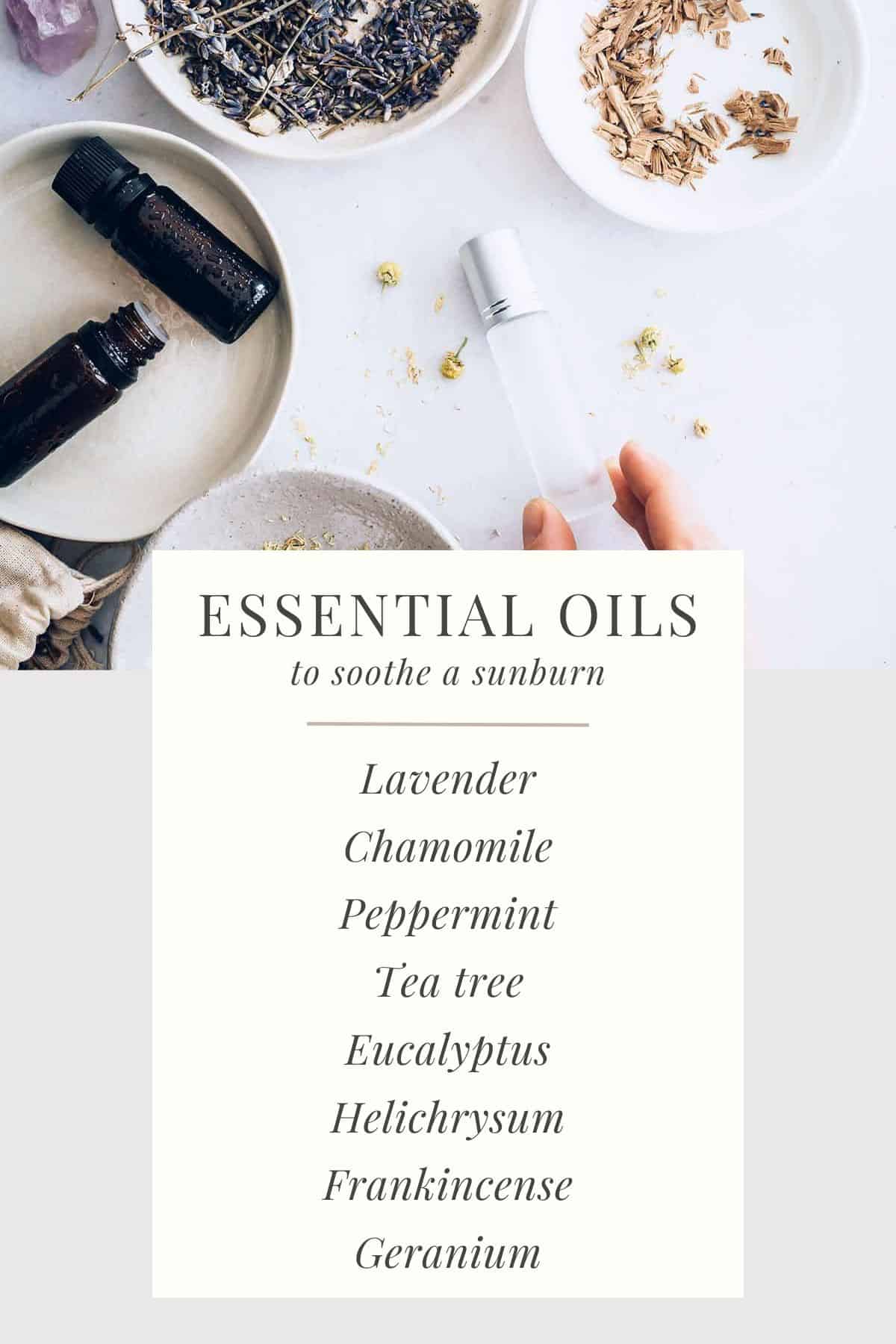 When it comes to soothing mild sunburns, several essential oils can provide relief and aid in the healing process.
Tea tree: Tea tree essential oil has antibacterial and anti-inflammatory properties [source], which can help prevent infection and reduce inflammation in the damaged skin caused by sunburn. It is important to dilute tea tree oil with a carrier oil before applying it to the skin.
Eucalyptus: The cooling sensation eucalyptus oil provides can provide relief from sunburn pain. Its anti-inflammatory properties may also help reduce redness and swelling [source].
Helichrysum: Helichrysum oil is known for its skin-regenerating properties. It can help promote healing and reduce inflammation [source] associated with sunburn.
Frankincense: Its soothing and anti-inflammatory properties [source] make frankincense oil useful for sunburn relief. It can help reduce redness, pain, and swelling while supporting skin rejuvenation.
Geranium: Geranium oil has a cooling and balancing effect on the skin. It has many components that can help soothe sunburned skin, reduce inflammation, and promote skin repair [source].
More sunburn soothers
There are a few more ways to use essential oils to soothe a mild sunburn:
Soak in a tea bath — Soak in a lukewarm bath infused with brewed chamomile, mint, or green tea combined with lavender or chamomile essential oil to soothe your sunburned skin and promote relaxation.
Apply a compress — Use a soothing essential oil, like geranium [source] or lavender [source]. Dilute 2–3 drops of essential oil with 1 teaspoon of carrier oil, such as almond, jojoba, or coconut.
Create a cold compress by soaking a soft cloth in cold water mixed with the diluted essential oil. Gently apply the compress to the affected area for relief.
Make a cooling lotion — Make a sun-relief lotion by combining cucumbers, aloe vera gel, and frankincense essential oil. Cucumbers are one of nature's best anti-inflammatory agents, and adding aloe vera provides cooling, anti-inflammatory relief that takes the sting out of a sunburn [source]. Keep it in the fridge for extra cooling relief!
DIY sunburn gel — Enhance the benefits of aloe vera gel by adding tea tree or eucalyptus essential oil. Mix 2–3 drops of essential oil with 2 teaspoons of aloe gel to create a safe dilution for the skin. Apply the infused gel to the sunburned area for soothing effects.
Soothe with a face mask — If your nose and cheeks are the first to burn, a soothing aloe face mask with healing honey and helichrysum essential oil will help bring down redness and draw in moisture to dry skin. You can also use this to soothe a sunburned scalp.
Storage
Store your body spray or any of the above recipe variations in the refrigerator—the cold will help preserve its freshness and provide cooling relief on the skin!
Shake or stir before each use to redistribute the ingredients. Apply liberally because these recipes won't last long; use within 2 weeks.
Top tip
Dilute essential oils properly before applying them to mildly sunburned skin. Start with 2 drops of essential oil per teaspoon (or 6 drops per tablespoon) of carrier oil. Don't use essential oils on blistered skin.
FAQ
Are essential oils safe to use on sunburned skin?
Essential oils can be safe and beneficial when used properly on mildly sunburned skin. However, it's important to dilute them correctly and perform a patch test first to ensure you don't have any adverse skin reactions.
How should I dilute essential oils for sunburn relief?
It's recommended to dilute essential oils with a carrier oil, such as coconut, almond, or jojoba oil, before applying them to sunburned skin. A typical dilution ratio is around 1–2 drops of essential oil per teaspoon (5 mL) of carrier oil.
Can I apply essential oils directly to the skin without dilution?
It is generally not recommended to apply essential oils directly to the skin without dilution, especially when treating sunburn. Essential oils are highly concentrated and are more likely to cause skin irritation or allergic reactions if used undiluted.
How often should I apply essential oils for sunburn relief?
Apply essential oils to mildly sunburned skin as needed for relief. It's best to do a spot test on another area first, then start with small amounts and monitor your skin's reaction. If you experience any discomfort or irritation, discontinue use.
Are there any essential oils I should avoid using on sunburned skin?
Some essential oils may be more irritating to sunburned skin, so it's best to avoid oils that are known to be potentially irritating or sensitizing, such as citrus oils (lemon, lime, grapefruit), cinnamon, and oregano. Stick to gentle, soothing oils like lavender, chamomile, or tea tree.
Soothing soaks
Pair the sunburn spray with a soothing bath. A milk bath can calm the heat from sunburn, while its proteins work to reduce inflammation and soothe the skin. Oatmeal baths are a remedy that goes back a long time for irritated skin conditions, including sunburns.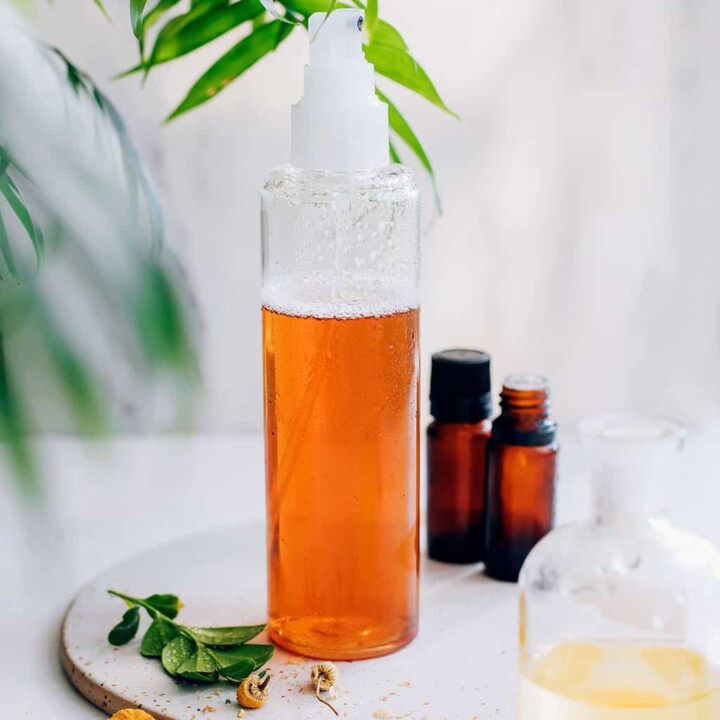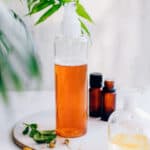 Print
Sunburn-Soothing Body Spray with Essential Oils
Instructions
Bring 4 cups of water to boil. Remove from the heat and steep the tea bags for 10 minutes. Discard the used bags and let the tea cool completely.

Pour 1 cup into a small spray bottle and reserve the rest of the tea in the fridge for up to 2 weeks.

Add the remaining ingredients to the spray bottle and shake to combine. Store in the refrigerator and shake before each use.
6