Acne isn't always an affliction that disappears as we leave our teenage years behind. Unfortunately, adult acne is very prevalent today, and I see clients who've enjoyed clear skin all their lives only to develop acne later in life. Before turning to expensive products or strong prescriptions, give these simple and easy DIY acne remedies a whirl the next time you are battling a breakout.

The most common cause of adult acne that I see is major hormonal shifts. There are two distinct periods in our lives when this occurs, one is puberty, and the other is perimenopause. The change and fluctuation in hormones during these times can trigger acne in very similar ways. To keep acne at bay, keep your hormones in balance and try these simple solutions.

Our Favorite DIY Acne Remedies
Consistent, thorough treatment at home and reflecting on your lifestyle habits are often enough to kick acne to the curb. Here are a few effective remedies to try:

1. Acne Tomato Sugar Scrub
Tomatoes are very rich in vitamins A, C, and K, all of which you can find in a slew of facial products today. These vitamins contribute to healthy skin, and the acidity of tomatoes works wonders to reduce clogged pores and acne.
Lycopene, the red pigment found in tomatoes, is a potent antioxidant that works to reduce free radicals resulting from exposure to sunlight and pollutants that can damage our healthy skin cells [source].

Tomato Face Scrub
—1 tomato, halved
—½ teaspoon fine granulated sugar
Instructions
1. Using half a tomato, sprinkle the fine granulated sugar on the exposed part of the tomato.
2. With slow circular motions, gently rub the tomato half onto your cheeks, chin, forehead, and nose area. Just one or two passes on each area are enough, and remember to use only light pressure!
3. After a few minutes, rinse the scrub off with warm water and follow with a moisturizer. Some people are sensitive to nightshades, including tomatoes, so avoid this strategy if you have sensitive skin.
Why it works

This scrub is best for treating blackheads and not for inflammatory acne. It can be done once or twice a week, which is sufficient for a good physical exfoliation.
2. Tea Tree Spot Treatment
Tea tree essential oil is praised for its antibacterial and antiseptic properties in fighting acne [source]. Not only is it effective in treating mild to moderate acne, but it isn't as irritating or drying to the skin as other active acne ingredients, such as benzoyl peroxide. Don't apply undiluted tea tree oil to your skin until you've spot tested to make sure it won't irritate the problem further.
This easy-to-make spot treatment is great to leave on overnight. Consider combining with a drop or two of lavender [source] or calendula oil [source] to reduce inflammation.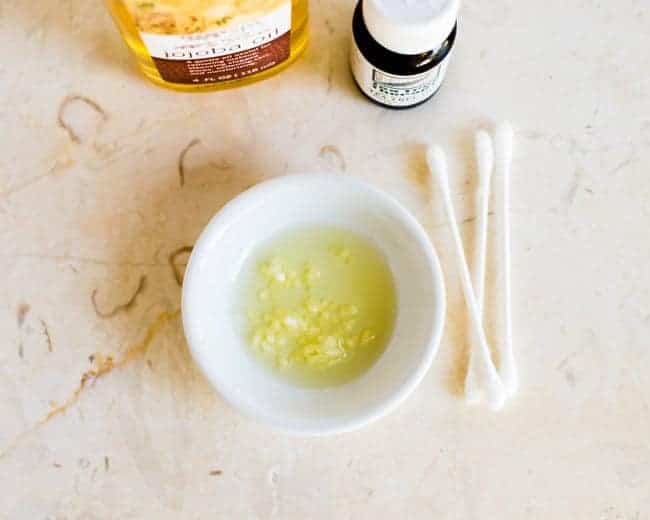 Tea Tree Blemish Treatment
—½ clove fresh garlic, crushed and finely mashed
—½ teaspoon jojoba oil
—1–2 drops tea tree essential oil
Instructions
1. Take half a garlic clove and chop finely or mash it really well with the back of a spoon (or mortar and pestle).
2. Add ½ teaspoon jojoba oil to the garlic. Do not substitute another oil for jojoba, as some oils can clog your pores, defeating the purpose of the treatment.
3. Add 1-2 drops of tea tree essential oil and mix.
4. Apply the mixture to any acne spots or pimples with a clean finger or cotton-tipped swab. Don't be afraid to leave pieces of garlic on pimples to let them work their magic.
5. Leave the spot treatment on overnight, and then wash it off in the morning.
6. This spot treatment works best when it's made as fresh as possible, so make small batches. The mixture can be stored in the refrigerator for a few days, but fresh is best for potency.
Why it works
This spot treatment combines the healing power of tea tree and garlic to fight flare-ups. Garlic works to prevent clogged pores, kill off acne-causing bacteria, and reduce inflammation.
Crushed garlic releases the compound allicin, which contains antibacterial, antiviral, and antifungal properties that work well on acne and athlete's foot. It also acts as a drying agent for oily skin.
3. Toner for Acne-Prone Skin
Acne becomes visible because of the inflammation within the pores. The raised, red, and swollen appearance can be reduced somewhat with the right toner. This easy, two-ingredient homemade face toner with apple cider vinegar and green tea [source] is anti-inflammatory and will help reduce that redness.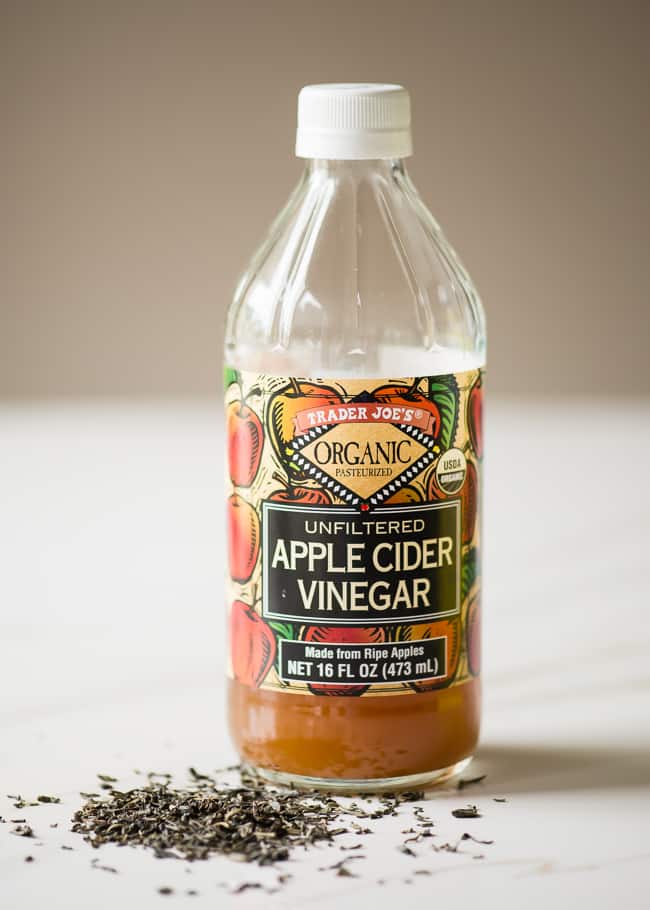 ACV Acne Toner
—¾ cup steeped organic green tea
—¼ cup apple cider vinegar
Instructions
1. After steeping a green tea bag in hot water, bring the tea to room temperature, then discard the tea bag.
2. Add the apple cider vinegar and mix.
3. You can apply the toner with a cotton ball or spritz with a spray bottle. Store the remainder in the refrigerator for no longer than 10 days.
Why it works
Apple cider vinegar works wonders on acne, killing pimple-causing bacteria and reducing skin inflammation.
4. Chamomile Acne Serum
To make the best natural serum for your skin, start with one of these three oils, all ideal for acne-prone skin:
Jojoba oil mimics our body's natural oils and is a great multi-use oil for moisturizing skin. It's non-greasy, anti-inflammatory, and a natural emollient.
Hemp seed oil is noncomedogenic, which means it won't clog pores, and it also has anti-inflammatory properties. It protects the skin from free radicals and helps maintain its elasticity and softness.
Grapeseed oil has both astringent and anti-inflammatory properties. It helps regulate the skin's natural oil production and brightens it with vitamin C.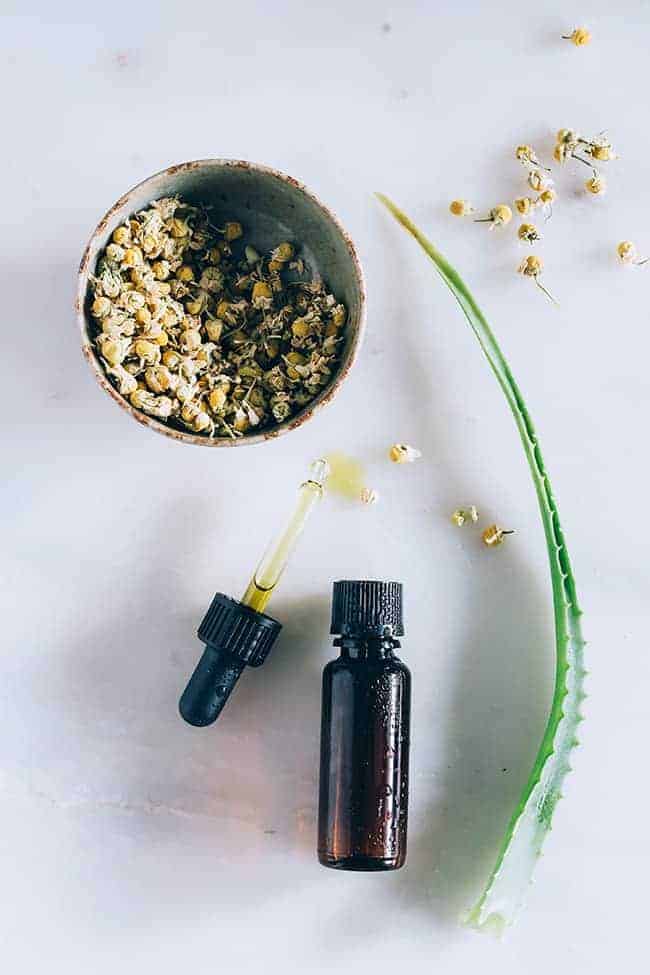 Acne-Fighting Chamomile Face Serum
—2 tablespoons carrier oil (grapeseed, hemp, or jojoba)
—6–9 drops Roman chamomile essential oil
—Aloe vera gel
Instructions
Mix the Roman chamomile essential oil into your chosen carrier oil and store in a dark glass bottle. In order to avoid using preservatives for this serum, you'll add the aloe vera gel before each use to create the serum.
To use, place a pea-sized amount of the oil in the palm of your hand and add a few drops of aloe vera gel. Mix together and apply the serum all over your face and neck.
Why it works
Chamomile essential oil will calm irritated and inflamed skin [source], while aloe is anti-inflammatory, hydrating, and antiaging [source], boosting the skin's natural healing powers. Lavender, tea tree, and frankincense essential oils are all effective at diminishing acne and scarring and can be swapped in for the chamomile oil if you already have them on hand.
5. Raw Honey Acne Spot Treatment
Raw honey is praised for its antibacterial properties [source], so this sweet treatment will kill off the bacteria in zits. Rather than turn to harsh pimple creams, apply a dab to the inflamed areas. It's gentle, nourishing, and effective. This skin soother also calms swelling and redness and acts as a humectant to lock in moisture and plump skin. Combine naturally antiseptic and antibacterial turmeric [source] with honey to soothe inflamed skin and acne.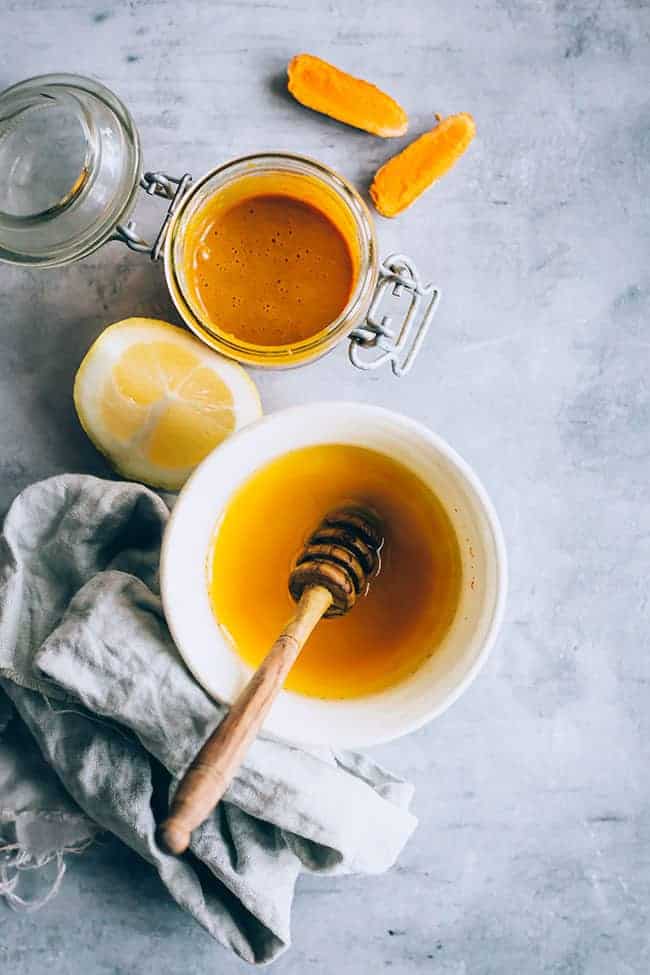 Honey Turmeric Treatment

—1 tablespoon raw honey
—¼ teaspoon ground turmeric
1. Combine the ingredients and leave the mixture on for 10 to 15 minutes before rinsing off.
2. Or just dab on a bit of honey and let it sink in overnight, and then rinse it off in the morning.
3. Continue to apply it nightly until the zit has disappeared.
Why it works
A dab of raw honey is a gentle, nourishing, and effective acne spot treatment. Raw honey is loaded with antioxidants, vitamins, and minerals [source], so it heals without aggravating the skin further. Plus, its antibacterial and anti-inflammatory effects make it an amazing remedy for breakouts.
Nutmeg is an anti-inflammatory and antibacterial spice [source] that helps reduce redness and clear out pores. It also works beneath the skin to fill in fine lines and diminish acne scars.
Yogurt is a powerhouse food containing lactic acid and zinc, both of which are beneficial for our internal and external health. Plain, unflavored yogurt (use the one with no added sugar) that is high in fat is the ideal type to keep skin glowing and help fight acne.
Aspirin contains salicylic acid, a beta-hydroxy acid that has gentle exfoliating properties to reduce acne. Topical aspirin application also reduces pimple swelling and redness.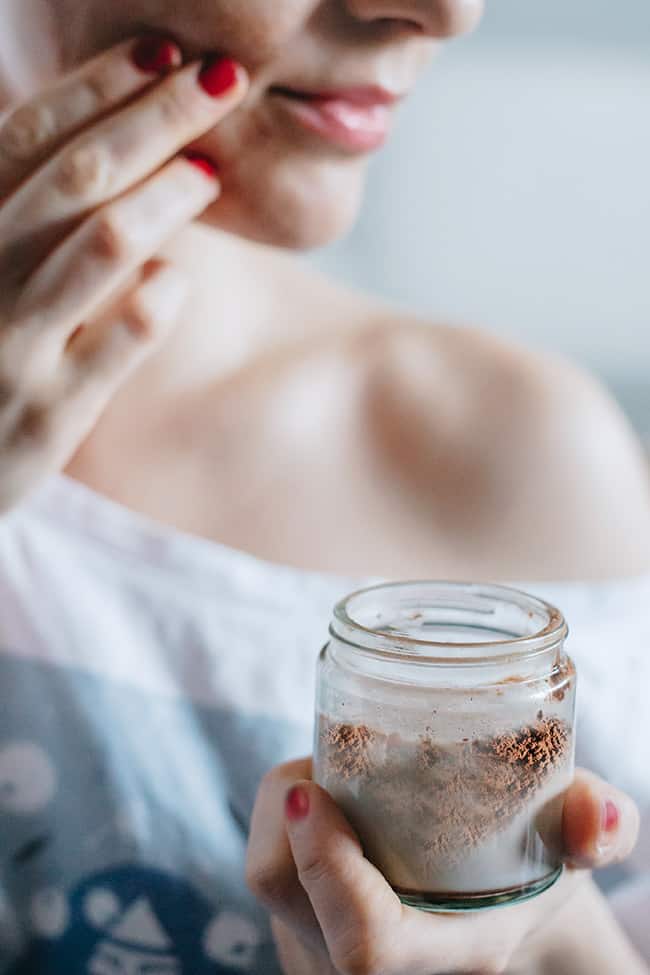 3-Ingredient Acne Mask
—1 crushed aspirin
—¼ teaspoon nutmeg
—1 tablespoon yogurt
Instructions
1. Mix the ingredients together to make a paste and gently dab it on the zit.
2. Leave it on for 10 to 15 minutes, and then rinse with warm water.
3. For a full face mask, use your middle and ring fingers to gently massage the face in circular motions, avoiding the eye area. After a few passes, rinse with warm water and follow with toner and moisturizer.
Why it works
Three acne fighters combine to shrink a pimple fast without leaving your skin dry or flaky.
Examine Your Eating Habits
In addition to these DIY acne remedies, another way to reduce inflammation in acne is to examine your eating habits. Are there any foods contributing to inflammation in your body? Science has shown that inflammatory foods, including highly processed, sugary foods and dairy, may be significant contributors to acne [source].
I usually also recommend reducing dairy and red meat consumption and evaluating after a few weeks to check for improvement. When in doubt, eat real food that you prepare yourself, and avoid any food that is packaged and processed.
Increasing your water intake is also a very easy and inexpensive way to improve your skin. I know water can get boring, so change it up a little! Infusing water can motivate you to drink those ounces and help flush toxins from your skin—and your whole body [source]. A good rule of thumb for water intake is half your body weight in ounces each day [source].
Certain chemicals are considered endocrine disruptors, which means that they really mess with your hormones [source] and may cause deep, tender cysts around the chin and jawline. To prevent this from happening to you, minimize animal products (and when you do consume them, choose organic and pasture-raised), reduce your use of canned foods [source], and avoid ALL plastic, even BPA-free. Choose glass or stainless steel for drinking bottles and food containers.
Adequate Rest & Physical Activity
Sleep can evade us as we get older, and lack of sleep can negatively impact our skin. The stress from work, family, finances, friends, kids, and home responsibilities can contribute to bouts of insomnia.
Do you have a nighttime routine? Consistently doing the bedtime wind down in the same order is a trigger for your body that sleep is coming.
Avoid screens before bedtime, don't work from or eat in your bed, and keep the thermostat at a cool temperature to encourage restful sleep. Some other things that could help with sleep are drinks like chamomile tea [source], essential oils such as lavender [source], and a real book with actual pages to turn.
Just as sleep is crucial for healthy skin, exercise is important as well. Improved circulation and the oxygen that feeds our skin after exertion can be seen in that rosy, post-workout glow. A brisk walk, a yoga class, floor pilates, or even a great stretch session does wonders for our skin, muscles, lymphatic system (think: toxins), and stress levels.
If you've adjusted your diet, increased your water intake, examined your skincare products, gotten adequate rest and exercise, and you're still battling adult acne, you may want to make a visit to your board-certified dermatologist. Our hormones shift as we age, and one symptom of hormonal imbalance is adult acne [source].
Fortunately, medications have come a long way over the last decade, and the options are numerous. It could even be just as easy as adding a missing vitamin or mineral into your daily diet.
Let us know what you've found to be successful in fighting adult acne.
References (in order of appearance):
1. Story EN, et al. An update on the health effects of tomato lycopene. Annu Rev Food Sci Technol. 2010.
2. Pazyar N, et al. A review of applications of tea tree oil in dermatology. Int J Dermatol. 2013.
3. Esteves Cardia GF, et al. Effect of lavender (Lavandula angustifolia) essential oil on acute inflammatory response. Evid Based Complement Alternat Med. 2018.
4. Shedoeva A, et al. Wound healing and the use of medicinal plants. Evid Based Complement Alternat Med. 2019.
5. Saric S, et al. Green tea and other tea polyphenols: effects on sebum production and acne vulgaris. Antioxidants (Basel). 2017.
6. Srivastava JK, et al. Chamomile: a herbal medicine of the past with bright future. Mol Med Report. 2010.
7. Surjushe A, et al. Aloe vera: a short review. Indian J Dermatol. 2008.
8. Mandal MD, et al. Honey: its medicinal property and antibacterial activity. Asian Pac J Trop Biomed. 2011.
9. Vollono L, et al. Potential of curcumin in skin disorders. Nutrients. 2019.
10. Eteraf-Oskouei T, et al. Traditional and modern uses of natural honey in human diseases: a review. Iran J Basic Med Sci. 2013.
11. Ashokkumar K, et al. Nutmeg (Myristica fragrans Houtt.) essential oil: A review on its composition, biological, and pharmacological activities. Phytother Res. 2022.
12. Baldwin H, et al. Effects of diet on acne and its response to treatment. Am J Clin Dermatol. 2021.
13. Nakamura Y, et al. Effect of increased daily water intake and hydration on health in Japanese adults. Nutrients. 2020.
14. Elkaim Y. The truth about how much water you should really drink. U.S. News website.
15. Petrakis D, et al. Endocrine disruptors leading to obesity and related diseases. Int J Environ Res Public Health. 2017.
16. Bisphenol A (BPA). NIH: National Institute of Environmental Health Sciences website.
17. Lillehei AS, et al. Effect of inhaled lavender and sleep hygiene on self-reported sleep issues: a randomized controlled trial. J Altern Complement Med. 2015.
18. Adult acne. American Academy of Dermatology Association website.
This post was medically reviewed by Dr. Jennifer Haley, a board-certified dermatologist with extensive experience in medical, cosmetic, and surgical dermatology. Learn more about Hello Glow's medical reviewers here. As always, this is not personal medical advice, and we recommend that you talk with your doctor.
201