Acne isn't always an affliction that disappears as we leave our teenage years behind. Unfortunately, adult acne is very prevalent today, and I see clients who have enjoyed clear skin all their lives, only to recently develop acne. The solution to acne doesn't have to be expensive products or strong prescriptions. Consistent, thorough treatment at home and reflecting on your lifestyle habits is often enough to kick acne to the curb. Give a few of these simple, easy to make at-home acne treatments a whirl the next time you are battling acne.
Acne Tomato Sugar Scrub
Tomatoes are very rich in Vitamins A, C, and K, all of which you can find in a slew of facial products today. These vitamins contribute to healthy skin, and the acidity works wonders to reduce clogged pores and acne. Lycopene also works against free radicals such as pollutants that can damage our healthy skin cells.
1 tomato halved
½ teaspoon fine granulated sugar
This scrub can be done once or twice a week, which is plenty for a good physical exfoliation. Using half a tomato, sprinkle the fine granulated sugar on the exposed part of the tomato. With slow circular motions, gently rub the tomato onto your cheeks, chin, forehead and nose area. Just one or two passes on each area, and remember light pressure!
After a few minutes rinse the scrub off with warm water and follow with a moisturizer. Some people are sensitive to nightshades, including tomatoes, so avoid this strategy if you have sensitive skin. This scrub is best for treating blackheads and not for inflammatory acne.
Tea Tree Spot Treatment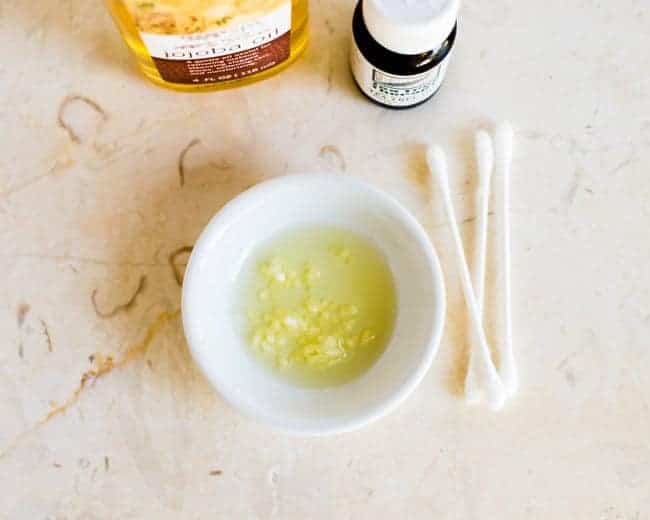 Tea tree oil is one of the most powerful ingredients to fight acne. Its properties are both antibacterial and antiseptic. This easy to make spot treatment is great to leave on overnight. Consider combining with a drop or two of lavender or calendula oil to reduce inflammation.
Toner for Acne Prone Skin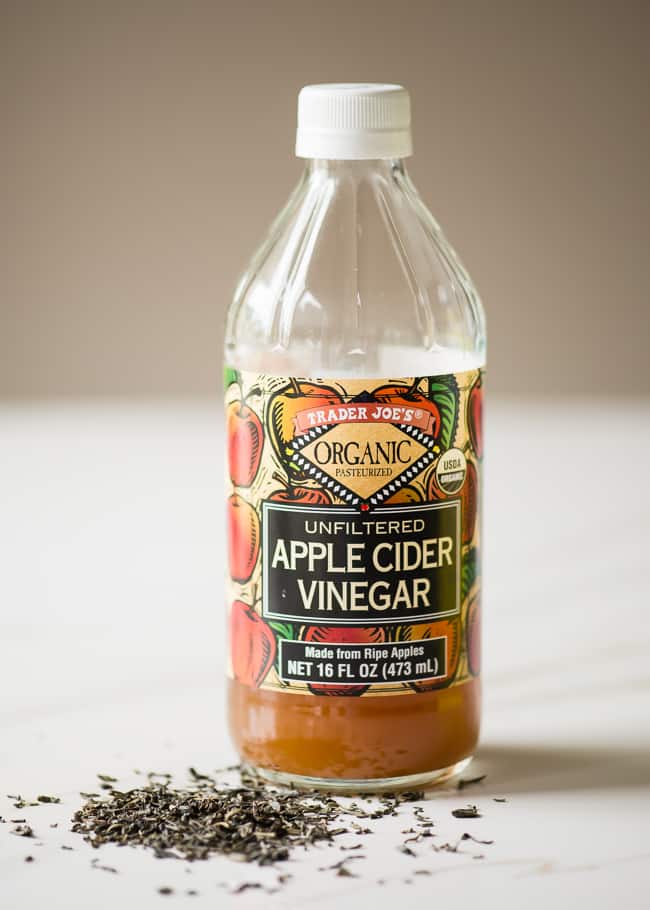 Acne is often visible because of the inflammation in the pores. The raised, red, swollen appearance can be reduced with the right toner. This easy, two ingredient toner with apple cider vinegar and green tea is anti-inflammatory and will help reduce that redness.
Examine Your Eating Habits
In addition to these DIY acne remedies, another way to reduce inflammation in acne is to examine your eating habits. Are there any foods that are contributing to inflammation in your body? Science has shown that high sugar foods and dairy may contribute to acne. I usually recommend reducing dairy and red meat consumption and evaluating after a few weeks to check for improvement. When in doubt, eat real food that you prepare yourself and avoid packaged and processed food.
Increasing your water intake is also a very easy and inexpensive way we can all improve your skin. I know water can get boring, so change it up a little! Infusing water can motivate you to drink those ounces and help flush out toxins from your skin.
Certain chemicals are considered "endocrine disruptors," which means that they really mess with your hormones and often cause deep, tender cysts around the chin and jawline. To prevent this from happening to you, choose organic and pasture-raised animal products and avoid ALL plastic, even BPA-free. Choose glass or stainless steel for drinking bottles and food containers.
If you've adjusted your diet, increased your water intake, examined your skincare products, and still are battling adult acne, you may want to make a visit to your Board Certified Dermatologist. As we age, our hormones shift, and one symptom of hormonal imbalance is adult acne. Fortunately, medications have come a long way over the last decade and the options are numerous. And oftentimes, it could just be a missing vitamin or mineral that should be added into our daily diet.
What have you found to be successful in fighting adult acne?
This post was medically reviewed by Dr. Jennifer Haley, a board-certified dermatologist with extensive experience in medical, cosmetic and surgical dermatology. Learn more about Hello Glow's medical review board here. As always, this is not personal medical advice and we recommend that you talk with your doctor.
134