There are many things we can do to improve our skin's look and feel—and when we feel good on the inside, we know that we also look better on the outside. We should all eat healthy for many reasons, and your skin is certainly one of them. It can be hard, but junk food has been proven to have negative effects on our skin.
13 Colorful Foods for Healthy Skin
Many foods—especially fruits and dark veggies—are known to help our skin look nourished and glowing. According to Mind Body Green, it's important to foods of all colors to keep a good glow going. It's easy to fill your plate with quick, beige meals, but aim for foods that are red, orange, yellow, and green. Not only will it taste great, your plate and skin will look great. And, although we're here today to talk about food for glowing skin, it's incredibly important that you also stay hydrated and drink plenty of water!
Red Foods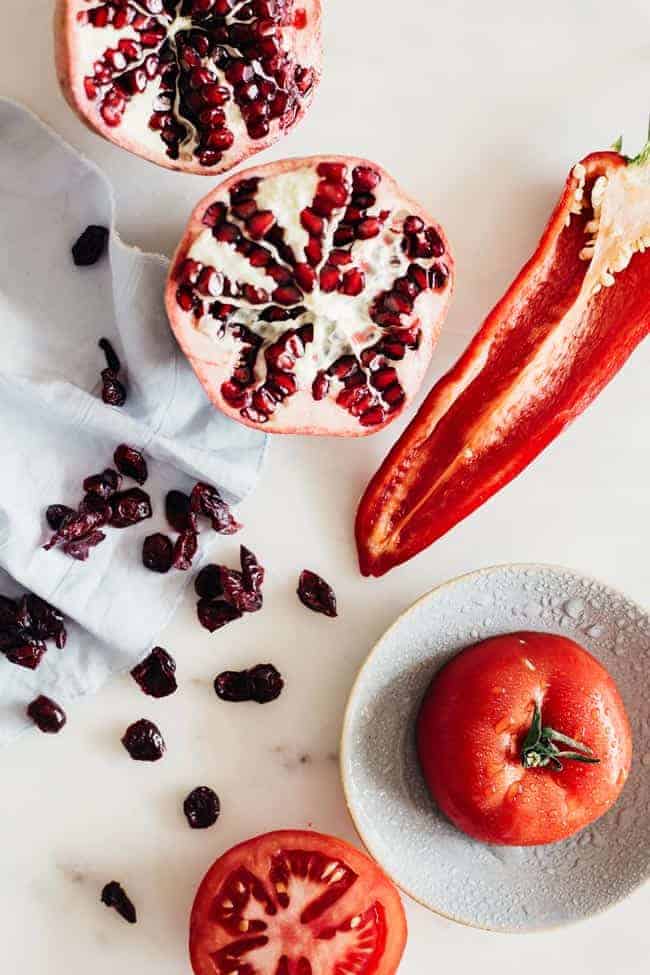 1. Cherries
Cherries have 17 antioxidant compounds, making them a real super fruit! They also contain loads of vitamin C to stimulate collagen, which keeps your skin youthful and glowing. Even better, cherries contain melatonin to protect your skin from harmful UV radiation. This recipe combines cherries and berries into delicious popsicles guaranteed to make your skin glow.
2. Pomegranates
Pomegranates certainly have plenty of health benefits, and our skin included. Pomegranates have very high levels of vitamins and tannins, which can help fight fine wrinkles and improve overall health. When we're feel good all over, it shows. And, a nice pomegranate vodka fizz is also certain to help you feel great.
3. Tomatoes
We don't always hear about selenium, but it's an incredibly powerful antioxidant that works with vitamin E and vitamin C. Several studies have shown selenium to fight against skin cancer, age spots, and sun damage. Tomatoes also contain high levels of lycopene, which also fights damage from the sun. Furthermore, the lycopene is even stronger in cooked tomatoes—so load up on recipes like our tomato-baked cod!
Orange Foods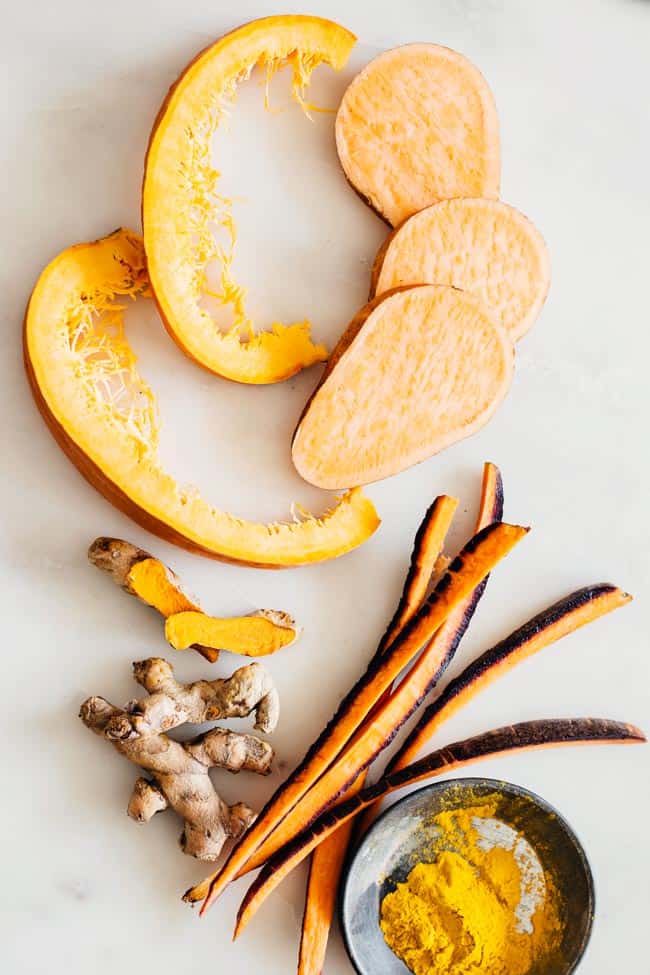 4. Turmeric 
We love to boast about the many uses and benefits of turmeric, and it's sure to work for glowing skin. Turmeric has anti-inflammatory properties and high levels of antioxidants, which helps to prevent wrinkles and slow the aging process.
5. Carrots
Like many other skin-loving ingredients, carrots contain high levels of vitamins A + C, which prevent early aging and protect collagen. Carrots also have anti-inflammatory properties to fight puffiness. Ever try a carrot smoothie? Well, this one is delicious and has added benefits from coconut and strawberries.
6. Pumpkins
Love a good pumpkin pie? Pumpkins not only taste sweet and delicious, they are full of vitamins, minerals, and antioxidants. Specifically, pumpkins have loads of potassium, vitamin A, and vitamin E—all amazing for your skin. And, as much as we love pie, here are 25 non-pie pumpkin recipes for you to enjoy just as much.
7. Papayas
Papayas are an absolutely delicious tropical fruit, and they also have great benefits for your skin. Topically, it's a natural exfoliant, which is an essential part of creating a glow effect. It's also full of antioxidants! Our vitamin C smoothie with papaya is a wonderful way to get your daily dose of vitamins.
Green Foods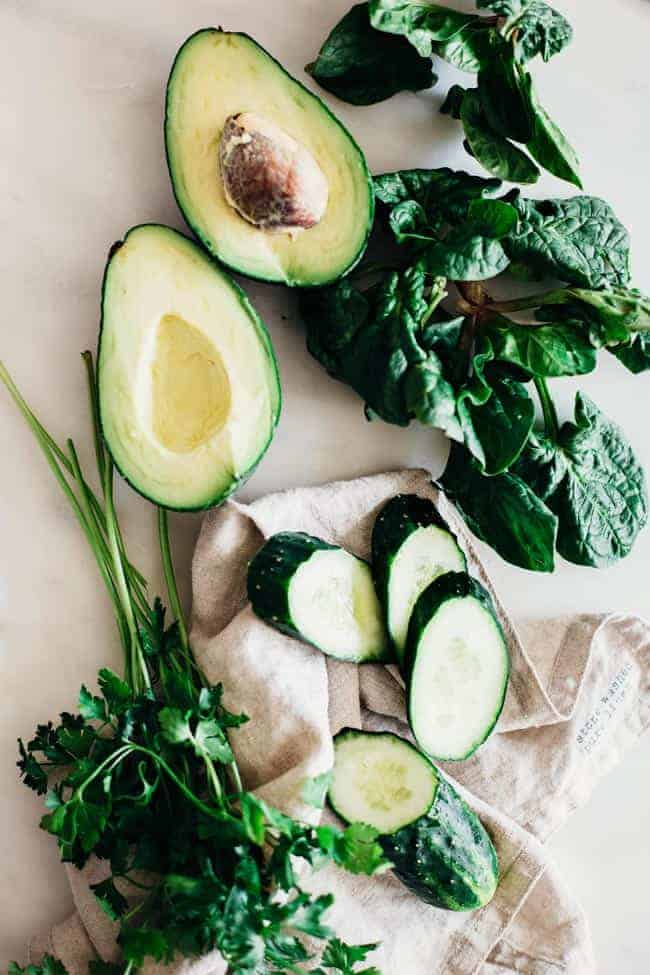 8. Cucumbers
Cucumbers are in plenty of beauty recipes, but it's important to also eat them! Whether cutting slices for your water or topping your salad, they are full of water, which can reduce puffiness and even your skin tone. Try this delicious cold spaghetti squash salad to get a boost of cucumbers.
9. Avocados
This fruit is great for just about anything—hair, nails, health—and it's also great for glowing skin! Vitamin E and vitamin C increases the luminosity of your skin. And, full of antioxidants, it works with selenium and fights against free radical damage. Best of all, there are plenty of amazing ways to use avocados beyond guacamole. Check out 50 recipes that do just that.
10. Dark, leafy greens
Spinach and kale are great sources of beta-carotene (the plant form of vitamin A), which is known to help protect skin against the sun's harsh rays. Protecting our skin while out in the sun—no matter the season—is crucial in keeping glowing skin. Vitamin A also promotes new cell growth, which keeps skin looking fresh, while iron aids in circulation. We have the ultimate kale salad that packs other skin glowing ingredients, too!
Purple + Brown foods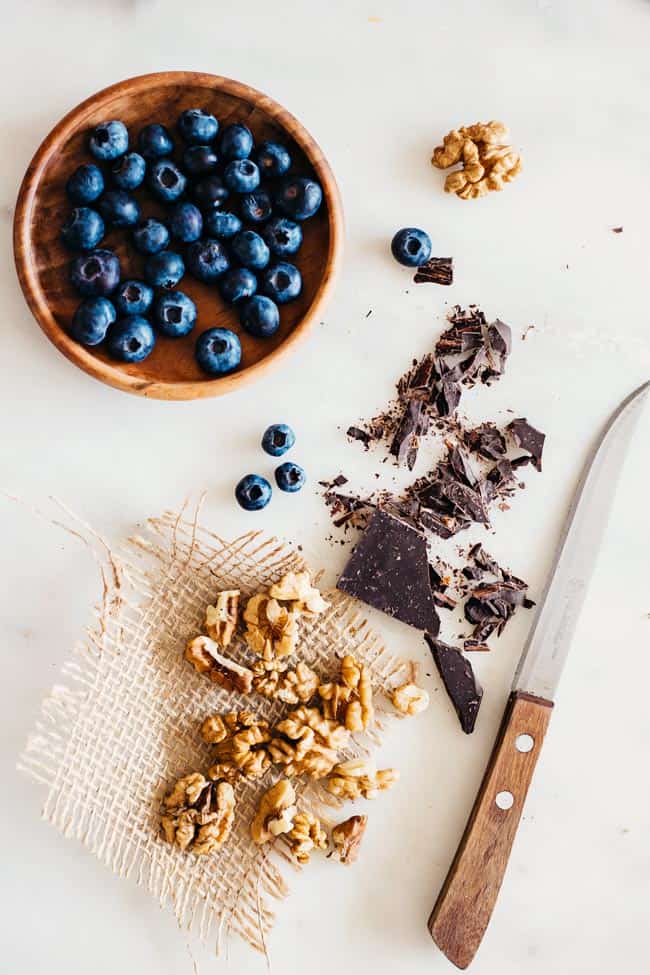 11. Blueberries
Plumping your body with antioxidants is essential to healthy skin, and blueberries have plenty of vitamin C antioxidants to go around. Antioxidants help fight and neutralize free radicals, which damage collagen and causes wrinkles and dry skin—all which affect the look and feel of your skin. Try our homemade blueberry granola bars to get your extra dose of antioxidants for the day.
12. Chocolate
I know, right? The antioxidants in dark chocolate are shown to increase skin hydration. Just make sure that your chocolate has at least 70% cacao and keep your intake low. So, how about this blueberry chocolate vegan ice cream?
13. Walnuts
Walnuts contain high levels of omega-3 fatty acids, which improve your skin's elasticity, and vitamin B, a natural anti-aging tool. Like other nuts, their oil makes a great moisturizer. You can also easily incorporate nuts into your diet, including desserts, salads, muffins, and much more. Nuts in general include zinc, which helps eliminate blemishes and prevent stretch marks. Try this salmon recipe and trade out the pistachios with walnuts.
Photos by Ana Stanciu
3