This post is sponsored by iHerb. All opinions are my own.
I hate to say it, especially since we're just barely into fall, but I can already feel my sensitive skin getting tight and itchy, thanks to the cooler weather. If you're also suffering from flaky skin, rest easy, there's hope—I mean, soap—for that.
First things first: we'll gently slough away dead skin cells so your skin feels fresh and smooth. Then we'll replenish nutrients and lock in moisture.
All of this can be done with one magical DIY bar soap and a little in-shower scrub session.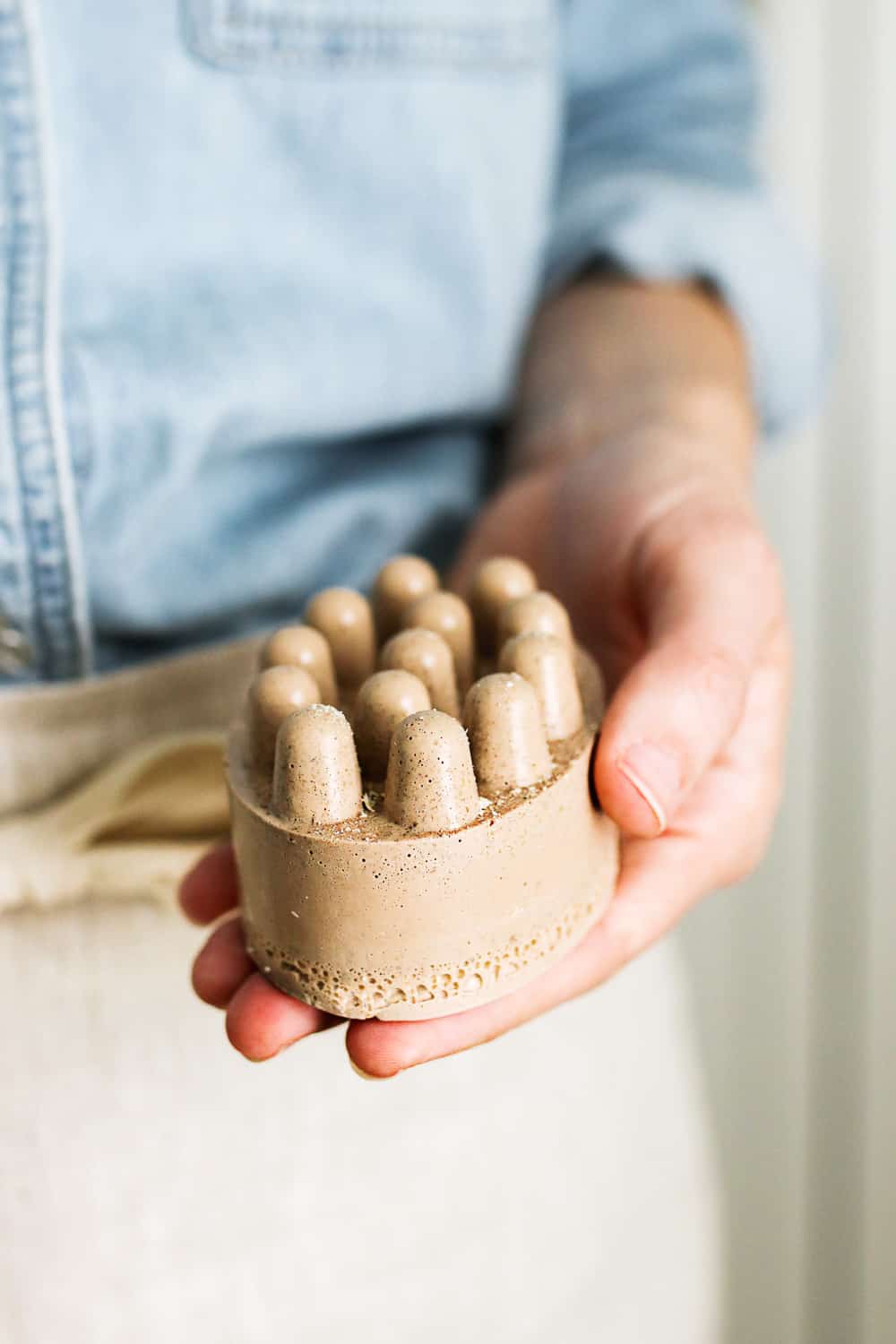 We teamed up with our friends at iHerb to make these gentle scrubbing soaps to add to your fall skincare routine. They contain all-natural oat bran, which helps polish away dead skin without leaving you with that post-exfoliation burn.
And they're infused with the most moisturizing body butter to replenish what's been zapped by cool air. Plus, vitamin E and essential oils like chamomile, bergamot, and ylang ylang smell amazing, up the aromatherapy action, and nourish skin.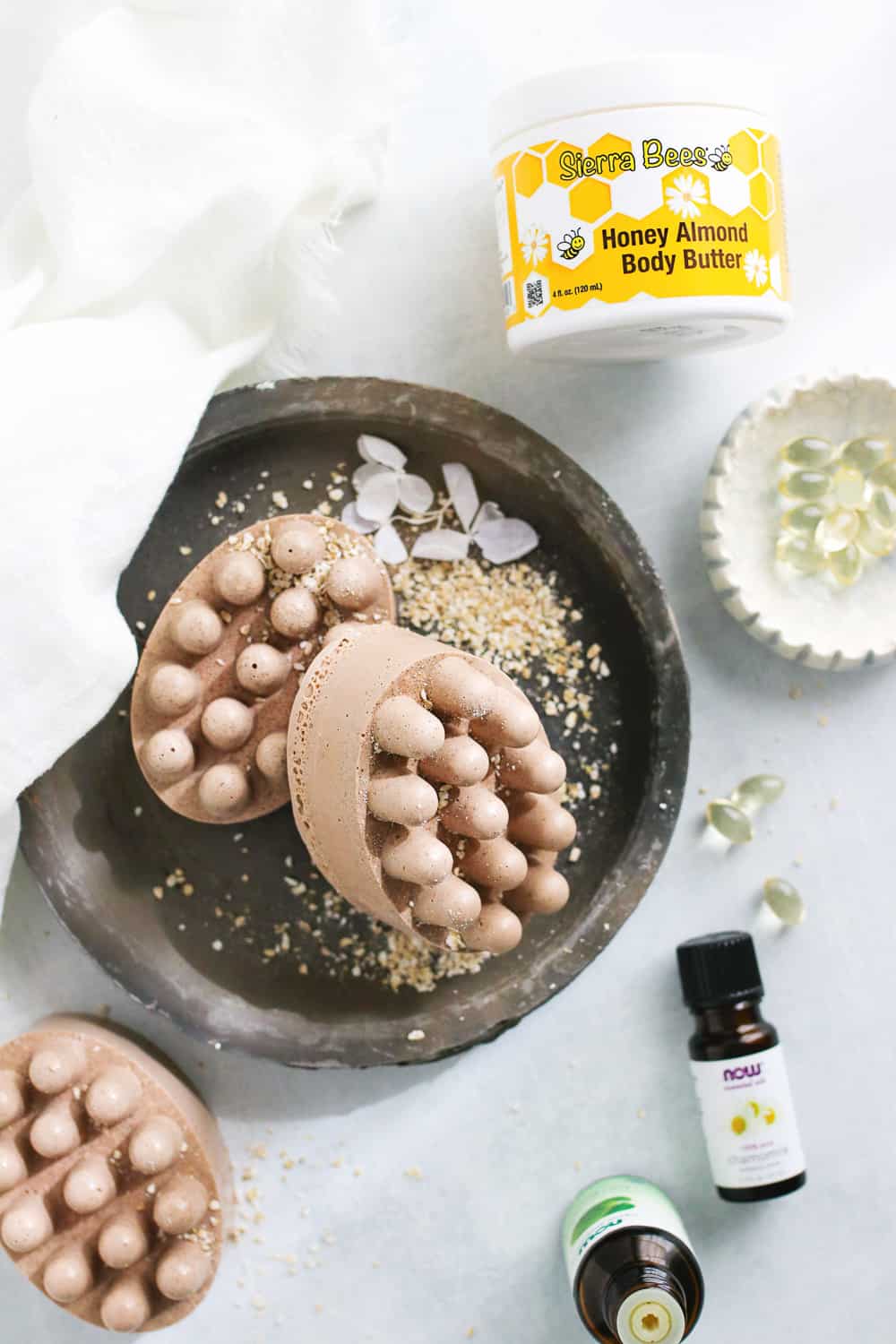 I'm sure you've heard me talk about iHerb before (I'm a huge fangirl), but they're a natural superstore with over 30,000 natural products—often at discounted prices—gracing their shelves. I'll usually put in a huge order at the beginning of the month and impatiently wait for the box to arrive a couple of days later.
Since they provide all sorts of discounts (quantity discounts, flash sales, and loyalty credits) in addition to their already low prices, I often get everything I need for a lot less than I would from other online retailers.
No kidding, I once purchased a box of monthly health and beauty supplies that should have cost $75 for less than $15 by stacking promotions, discounts, and loyalty credits. I can't praise them enough.
And did I mention they ship from climate-controlled distribution centers to ensure the quality of their products to over 180 countries (often with free expedited shipping on orders over a certain amount) and offer customer service 24 hours a day, 7 days a week in 10 different languages?
They stand behind their products and their business model, so you never have to worry about something going wrong.
Because these DIY soaps are so easy to customize, definitely check out iHerb's line of essential oils and body butters before ordering your supplies. You never know what other fun ingredients might spark your interest.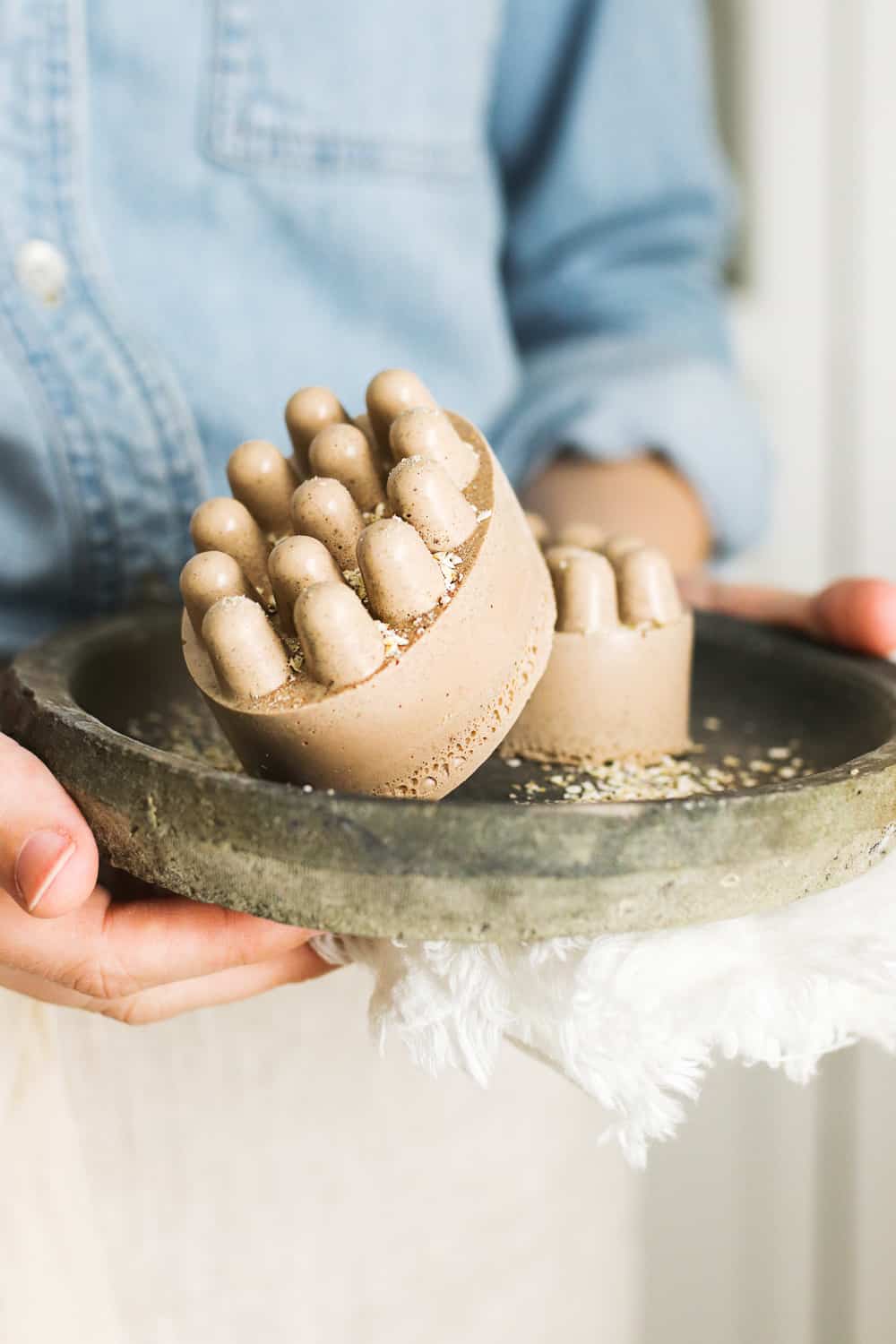 And trust me, after a few weeks of using these babies, don't be surprised if your friends are all, "You look so radiant!" next time you catch up.
DIY Scrubbing Soap Bars
While you can tell by the shape that these soaps will be effective, it's the ingredients that really make them shine:
NOW Foods Organic Oat Bran – Small bits of ground oat bran help to gently exfoliate dry skin cells without damaging the skin or causing irritation that may make flakes worse.
Lake Avenue Nutrition Vitamin E – Vitamin E is a fat-soluble antioxidant that's essential for maintaining healthy skin.
Sierra Bees Honey Almond Body Butter – Made with a variety of nourishing oils (sunflower, coconut, and jojoba, to name a few) and butters (like cocoa, mango and capuacu), this rich body butter gives your soap a dose of healthy fat.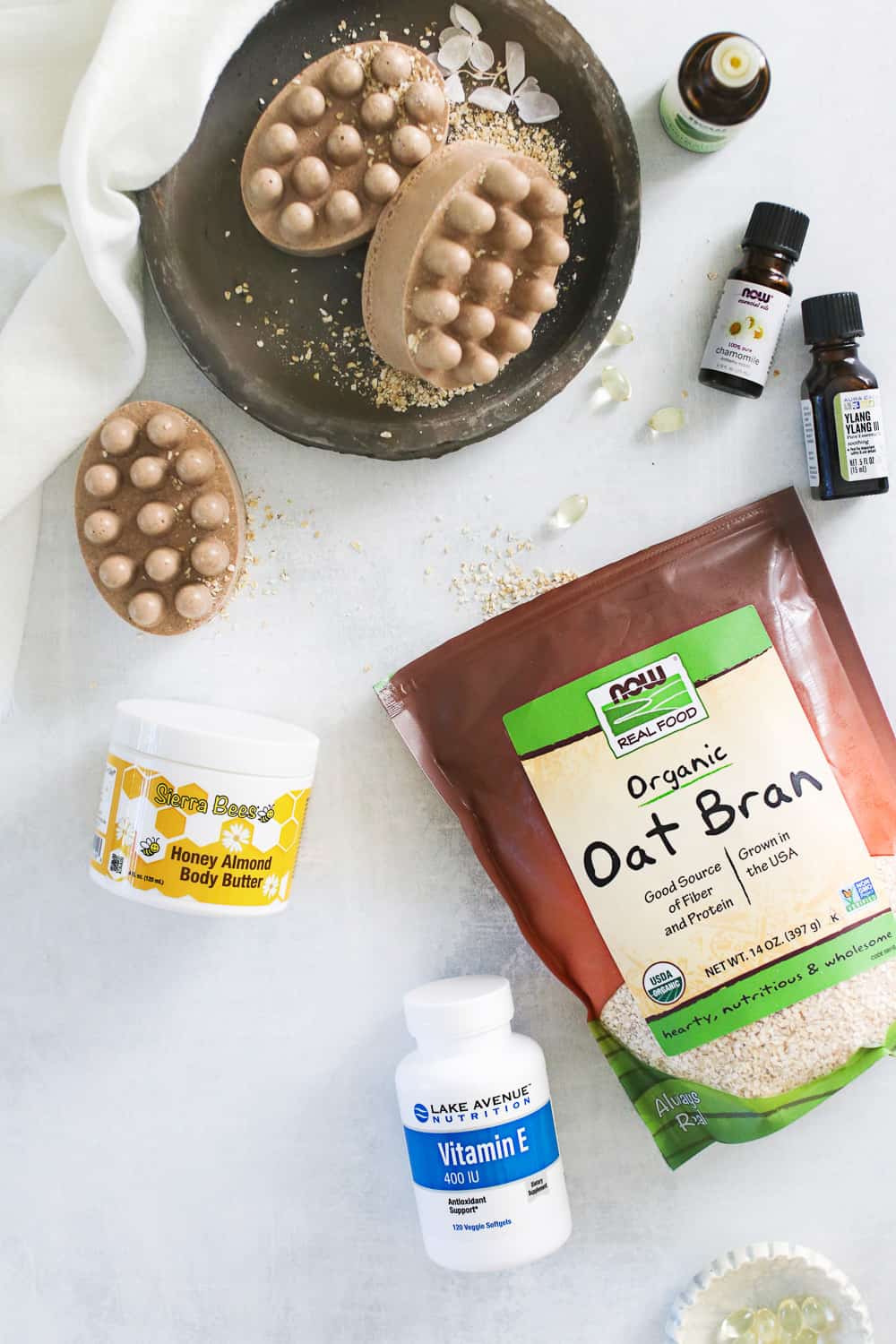 NOW Bergamot Essential Oil – Bergamot has natural cleansing properties that help tone the skin. (Note: Bergamot comes with a photosensitivity warning, so use it sparingly and apply sunscreen if you'll be spending time outdoors)
Aura Cacia Ylang Ylang Essential Oil – Ylang ylang helps boost mood, which is a must (at least for me!) this time of year.
NOW Chamomile Essential Oil – A potent anti-inflammatory, chamomile is said to help calm and soothe the skin.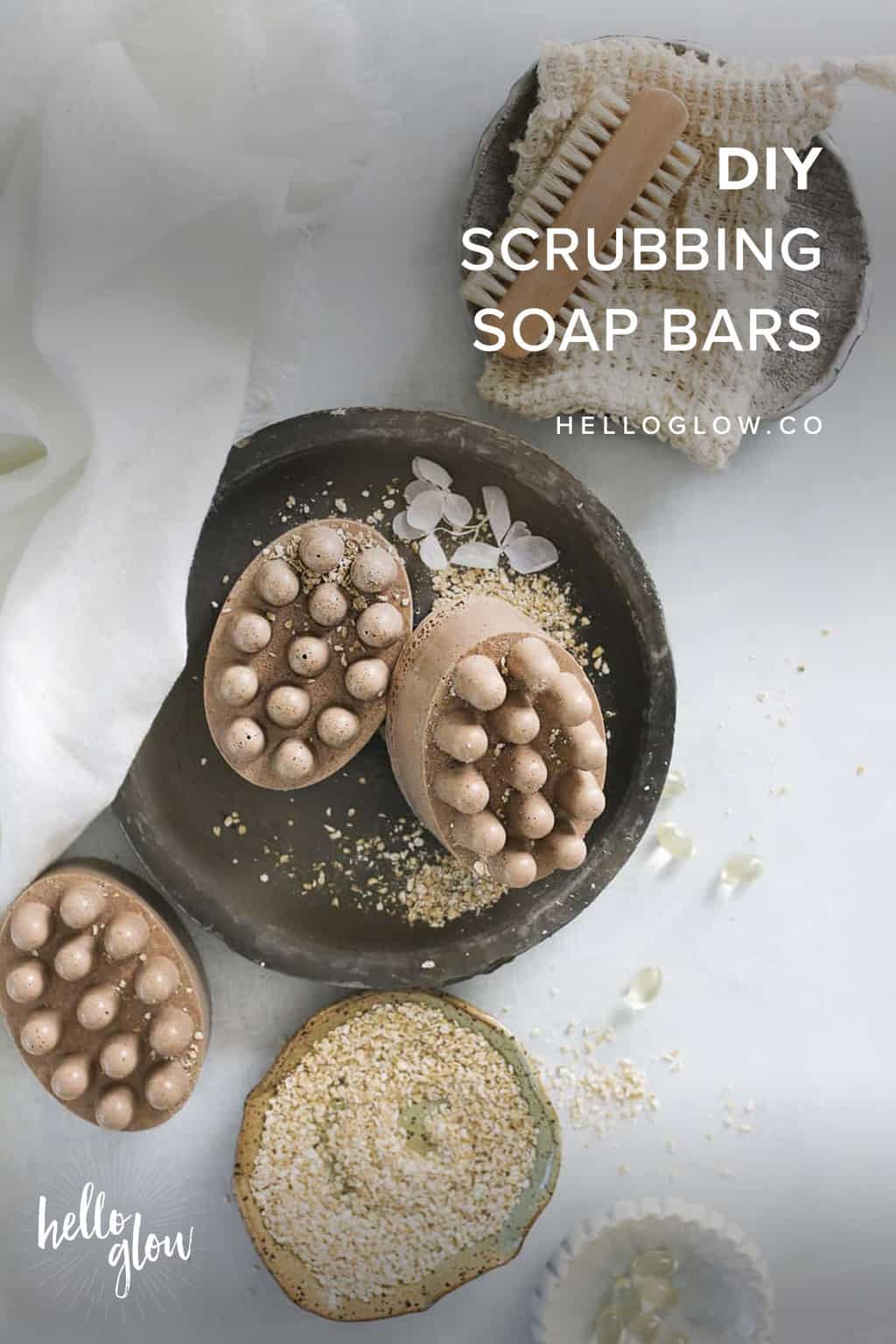 Special Savings for iHerb Customers!
New and returning customers will get a discount on their iHerb order with no minimum purchase by clicking here.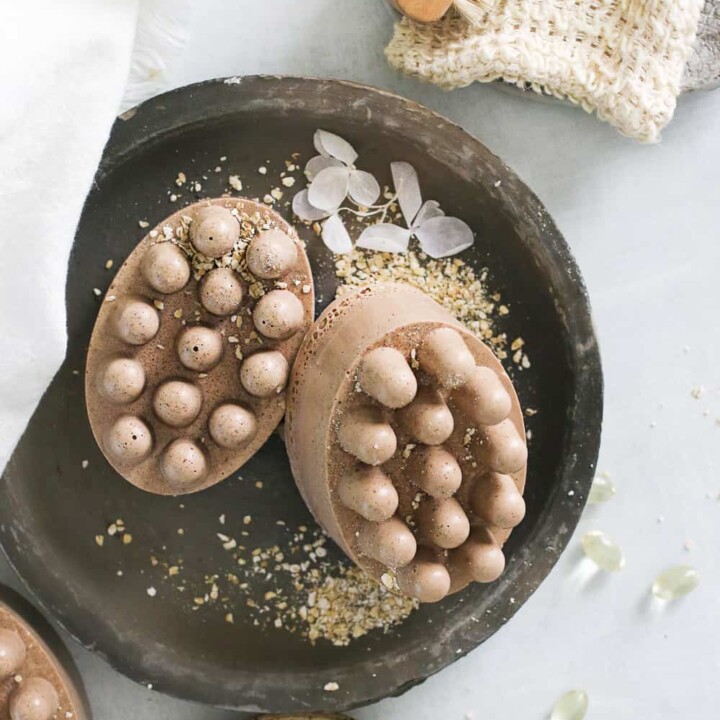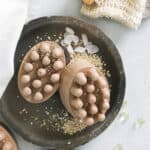 Print
Oat Bran + Essential Oil Scrubbing Soap
These scrubbing soap bars will leave your skin feeling smooth and hydrated, thanks to gentle oat bran, nourishing body butters, and essential oils.
Equipment
Massage bar soap molds

Medium microwave-safe bowl
Materials
2

pounds

melt-and-pour soap

(I used the shea butter kind, but use any kind you like!)

3

tablespoons

Sierra Bees Honey Almond Body Butter

⅓

cup

NOW Foods Organic Oat Bran

6

capsules

Lake Avenue vitamin E

(400 IU each)

8

drops

NOW Bergamot Essential Oil

5

drops

Aura Cacia Ylang Ylang Essential Oil

12

drops

NOW Chamomile Essential Oil
Instructions
Chop the soap into cubes and place in a microwave-safe bowl. Microwave in 30-second intervals until just melted (be sure not to overcook, or it might change the texture of your soap).

Add the oat bran and body butter and stir well.

Let the mixture cool slightly before adding the vitamin E (use a knife to create a small hole in the capsule, and squeeze out the oil) and essential oils. Stir again.

Pour the soap into your molds and let cool completely (I usually let mine cool overnight) before removing.
Notes
If you pour the soap mixture into your molds while the soap is still hot, the oat bran will sink to the bottom. If that bothers you, let your soap cool to almost room temperature, give it one last stir (it will be slightly chunky by that point), and then pour it into your molds. This will help suspend some of the oat bran throughout the soap.
Your soap should last at least 6 months. If needed, feel free to halve the recipe to make fewer bars.
43