Blue tansy oil, derived from a native European plant named for it's vivid blue color, is popping up in skin care products everywhere lately—and with good reason! And no, this intense blue won't stain your skin.
Why Blue Tansy?
Blue tansy is not only antibacterial, but also anti-fungal, making it a stellar ingredient for all skin types from sensitive to acne prone. Its anti-inflammatory properties also make this oil a choice ingredient for use on psoriasis, dermatitis, or inflamed skin.
Going on a camping adventure this spring? Or are you just planning on spending time outside enjoying nature? Blue tansy repels insects as well! It can be diluted with various carrier oils and applied topically to repel mosquitoes and other insects.
A few precautions to be aware of:
Blue tansy has a high camphor content, making it dangerous to use if you suffer from epilepsy or Parkinson's disease.
This oil is safe for use during pregnancy, however it's always best to check with your doctor when applying essential oils to the skin.
Blue tansy is not for ingestion.
Since this oil is highly prized, unfortunately you'll find fakes on the market in skincare products. Here are a few authentic blue tansy products we can vouch for and highly recommend.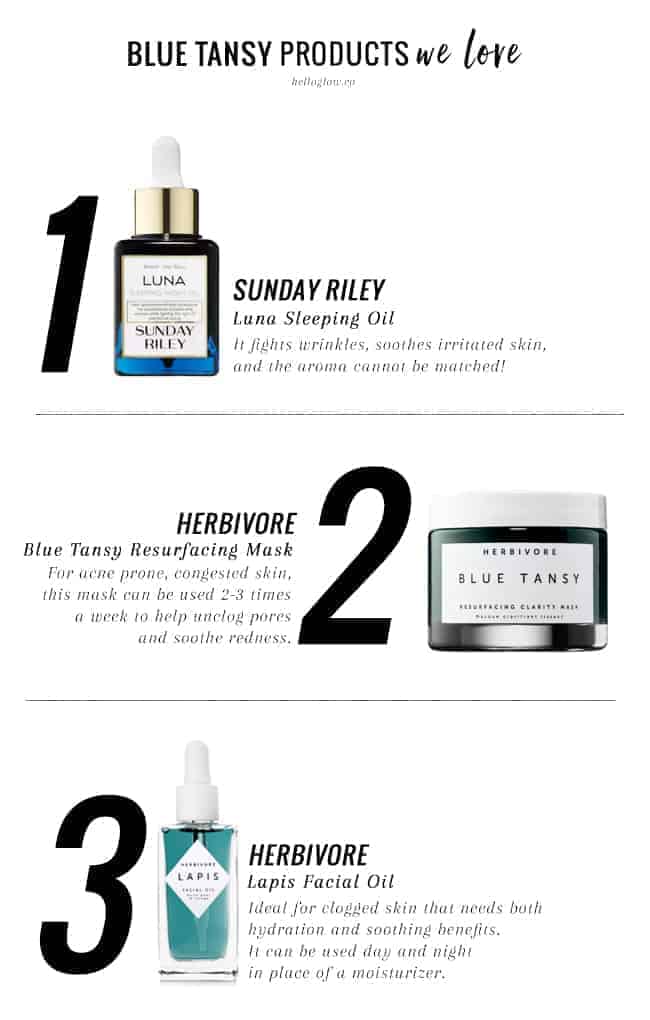 Sunday Riley Luna Sleeping Oil // This is my most favorite oil because it boasts both retinol and blue tansy oil. For use at night time, it fights wrinkles, soothes irritated skin, and the aroma cannot be matched.
By combining retinol and blue tansy in a formula, the team at Sunday Riley have created a serum that is super effective against the signs of aging, but also wards off the potentially irritating side effects of retinol at the same time with blue tansy.
Herbivore Blue Tansy Resurfacing Mask // For acne prone, congested skin, this mask can be used 2-3 times a week to help unclog pores and soothe redness. Leave on for 15 minutes or until dry; for sensitive skin only leave on 5 minutes. Herbivore makes some of the best natural skincare and this mask is no exception.
Seriously—their stuff is so natural that depending on the individual mask batch, this mask can vary from blue to a deep turquoise. However, that doesn't mean the mask is off—it's just testament to their brand ethos. The resurfacing mask uses a combination of naturally sourced salicylic acid and fruit enzymes to exfoliate, and brings in the blue tansy as the skin soother afterwards.
Herbivore Lapis Facial Oil // This wonderful, all-natural moisturizing oil is ideal for clogged skin that needs both hydration and soothing. It calms down redness and comforts irritated skin, totally naturally. It can be used day and night in place of a moisturizer all in one, making this an amazing multi-use product.
Unlike the Sunday Riley oil, this should be used towards the end of your routine as a final product to seal everything in. Ideally, you could use this right after using the Resurfacing Mask for skin that's absolutely glowing with health!
129