Retinols, also known as retinoids, are a derivative of natural vitamin A. You've undoubtedly seen the name on bottles and jars every time you set foot in Sephora, since retinoids are the star of the anti-aging beauty industry. The terminology for retinoids can be confusing so we are going to break it all down and find out why they are so important, who should be using them, and how they should be used.
Our guide to retinols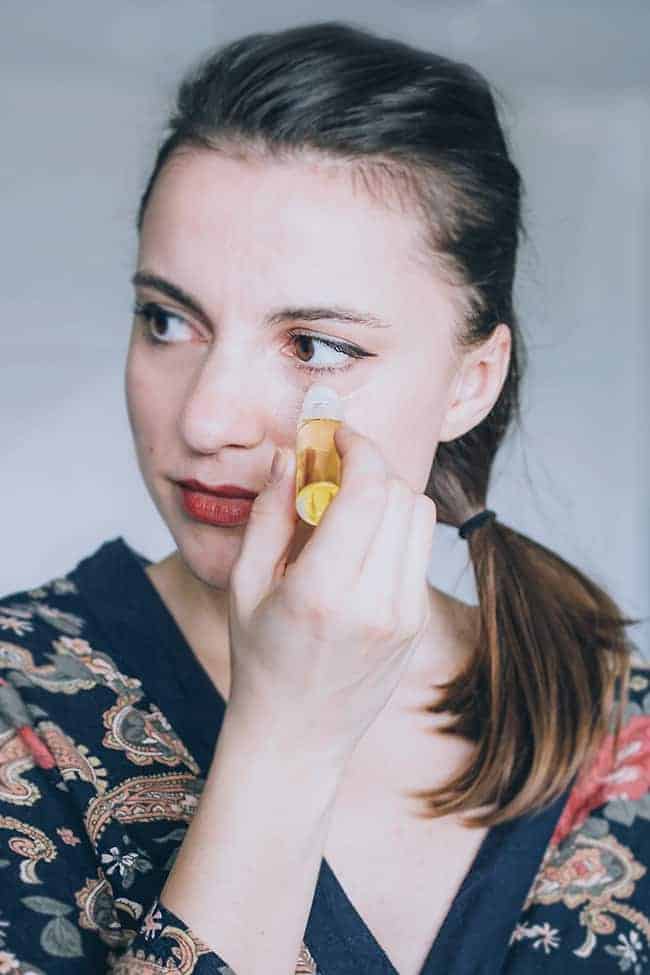 Is Retin-A the same thing as Retinol?
No. Although they are both derivatives of vitamin A, Retin-A is a brand name retinoic acid, prescription-only product, and much more potent than any over-the-counter product containing retinol. Retin-A is not only prescribed as an anti-aging remedy, but it's also extremely effective in fighting acne and reversing sun damage. When retinol is applied to the skin, it stimulates the production of retinoic acid, so some of its' strength is lost in the conversion process. Retinoic acid can reduce fine lines, pigmentation, increase collagen production, and give an overall tightening and smoothness to skin. Retin-A, on the other hand, doesn't need to create this process–it is the retinoic acid, so the effects happen much more quickly and strongly.
A few of the retinoid brands you might be prescribed by your dermatologist include: Retin-A Micro, Atralin, Renova, Tazorac, and all with varying strengths identified in their percentages (ranges 0.02-0.3%). Differin used to be a prescription only medication and can now be found over the counter.
There are also products containing ingredients such as retinyl palmitate and retinyl linoleate. While these ingredients are found in abundance in skin care products, they are less irritating because they are ineffective in improving the health of your skin.
Is Retin-A always better since it's stronger?
No. Retin-A does have some side effects to be aware of, including irritation, redness, and/or peeling. I always recommend starting with a retinol and then working your way up to Retin-A. Retin-A prescriptions, however, can be more cost effective than retinol because it could take several months (and bottles) before you see results with the less potent retinol.
This doesn't mean that retinol is free from potential side effects! You may see similar irritation and redness when first using retinol. This is because retinoids stimulate removal of dead skin cells and rev up the engine to produce new, fresh skin. Initially, this may present with peeling and redness if the regimen is started too aggressively or too much product is applied.
Start slowly, every 2-3 nights, and stick with it for a few weeks while your skin adjusts. Most people find that by applying only a pearl-sized amount to their entire face after applying a moisturizer and by increasing the use of it slowly over weeks to months, their skin adjusts quite well.
More product is not more effective – only more irritating. Never use retinol or Retin-A when pregnant of breastfeeding. Sunlight deactivates retinoids so always use them at night when your skin is in repair mode. While retinoids tend to thicken the collagen in the skin over long periods of time, they may make your skin more sensitive so always stop them one week prior to any waxing procedure.
Who should be using retinoids?
If your teenager is suffering from chronic acne, consider visiting a Board Certified Dermatologist to start them on a low dosage of a Retin-A prescription. Retin-A is usually recommended 2-3x a week.
Retinol can be used every other night. If pigmentation and fine lines are starting to appear, retinol should definitely be a part of your skincare routine. But always check instructions, read labels and work with your doctor on frequency and duration of use.
What Retinol products should I try?
A few personal favorite Retinol products to try: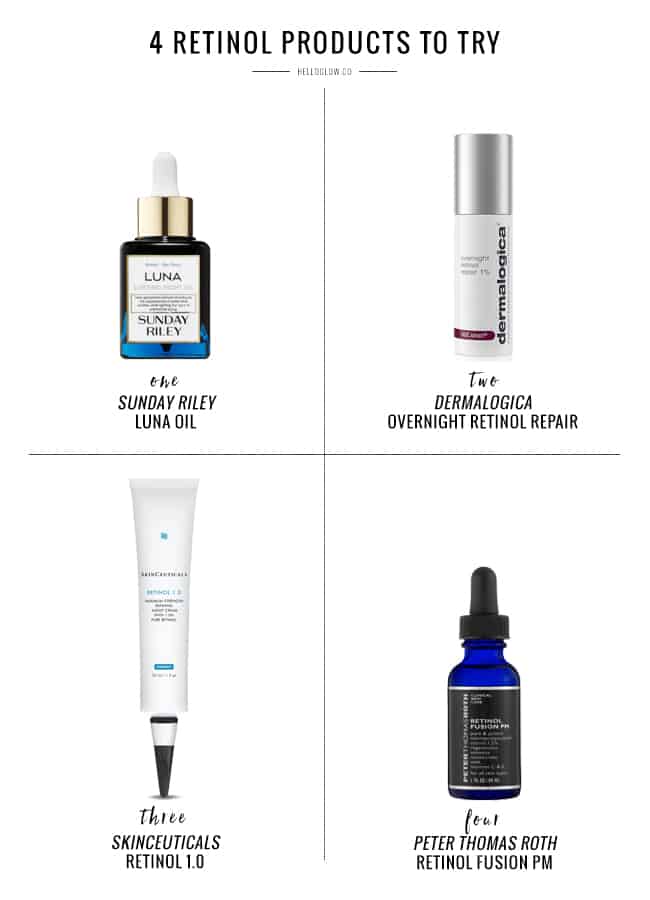 1. Sunday Riley Luna Sleeping Night Oil // Use this oil at night after cleansing your skin to reduce the appearance of lines, wrinkles, and pores.
2. Dermalogica Overnight Retinol Repair // Active 0.5% microencapsulated pure retinol helps increase collagen production and cell turnover.
3. Peter Thomas Roth Retinol Fusion PM // Vitamins E and C combine with encapsulated retinol to maximize results.
4. Skinceuticals Retinol 1.0 // If your skin has already adjusted to lower concentrations of retinoids, you'll love this night cream with 1% retinol.
5. SkinMedica Retinol .5 // Also available in .25 and 1.0 formulations.
This post was medically reviewed by Dr. Jennifer Haley, a board-certified dermatologist with extensive experience in medical, cosmetic and surgical dermatology. Learn more about Hello Glow's medical review board here. As always, this is not personal medical advice and we recommend that you talk with your doctor.
23