I've finally reached a point where I make 99% of our bath and body products by hand. In fact, my husband doesn't even bat an eyelash anymore when I pull homemade beard wax from the closet or toothpaste from the refrigerator. And while homemade lotion is always a favorite (this vitamin E lotion is seriously to die for), lotion bars make for a new variation on an old theme.
These super hydrating bars stay solid at room temperature but melt ever-so-slightly when rubbed on the skin, leaving behind a thin layer of moisture. Plus, they're infused with matcha tea and sweet orange oil, so they pack an antioxidant punch and smell amazing at the same time.
Matcha Lotion Bars
I absolutely love lotion bars because, since they hold their shape at room temperature, they're super portable and always available in a pinch. Plus, they're relatively inexpensive to make (a little bit goes a long way), so you can whip up a huge batch and store them in the closet until you need them. I always keep a few on hand for emergencies: in my purse, next to the bathroom sink, and on my bedside table for whenever dry skin keeps me up at night. I always have a some squirreled away to give away as last-minute gifts too.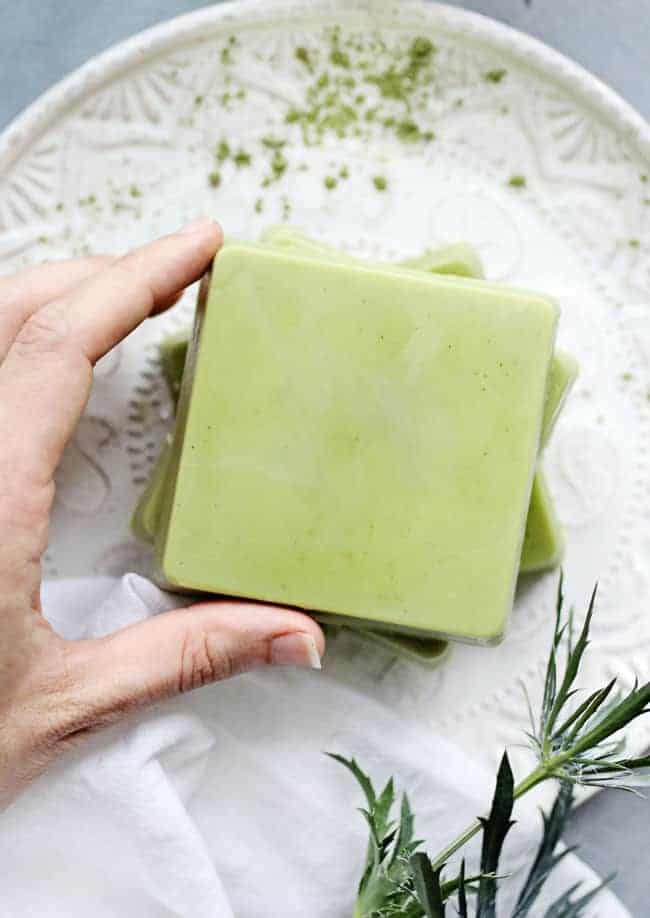 Lotion bars aren't just relegated to the winter months when dry skin comes back with a vengeance. They're perfect as an after-sun-soother, a bug-bite balm, or even as shaving cream in a pinch. I've found them especially helpful for dry patches on elbows, knees, feet, and hands.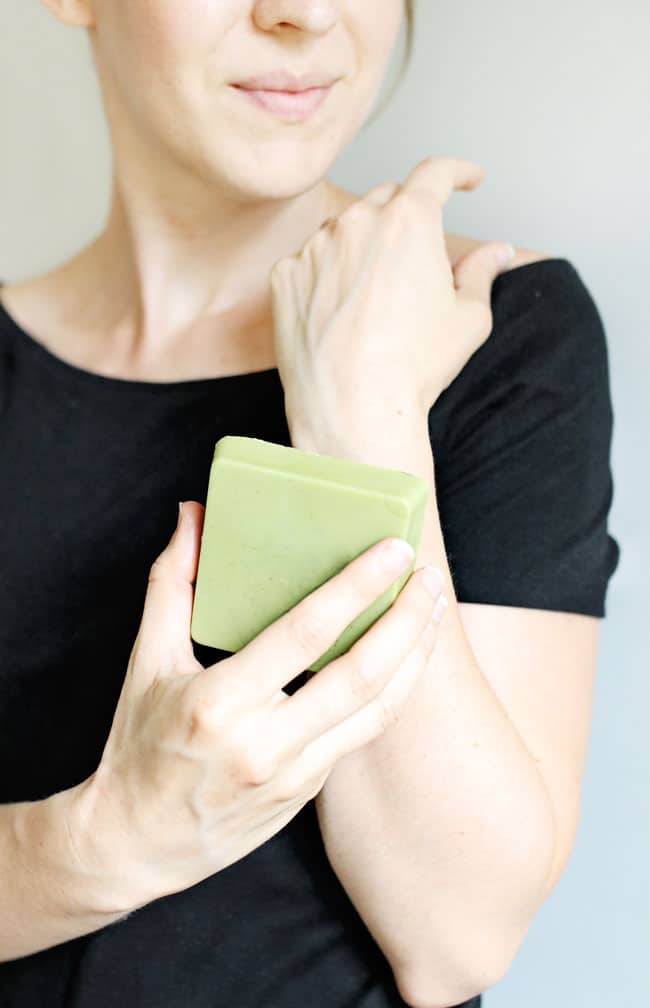 To make them, all you really need is coconut oil, cocoa butter, beeswax, and matcha. Coconut oil is an excellent moisturizer that helps feed and nourish the skin. Cocoa butter is rich in vitamin E and fatty acids and is often used to soothe dry skin, calm eczema, and reduce the appearance of scars and stretch marks.
Beeswax provides anti-inflammatory, antibacterial, and antiviral benefits, plus it binds the other ingredients together, so the bars stay solid at room temperature. And lastly, matcha—finely powdered green tea leaves—contains antioxidants to help combat free radicals and slow the signs of aging.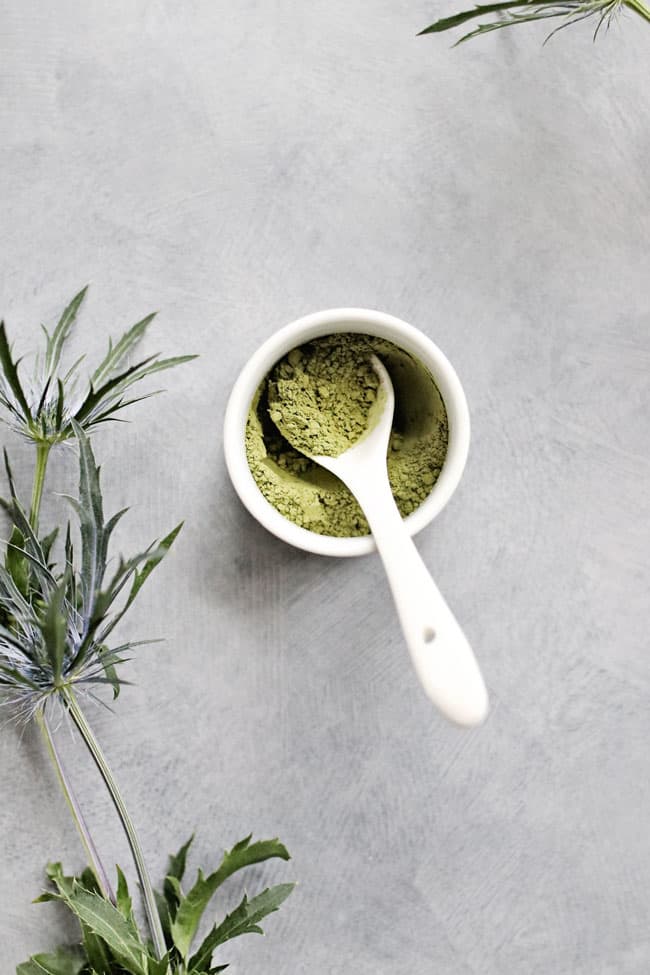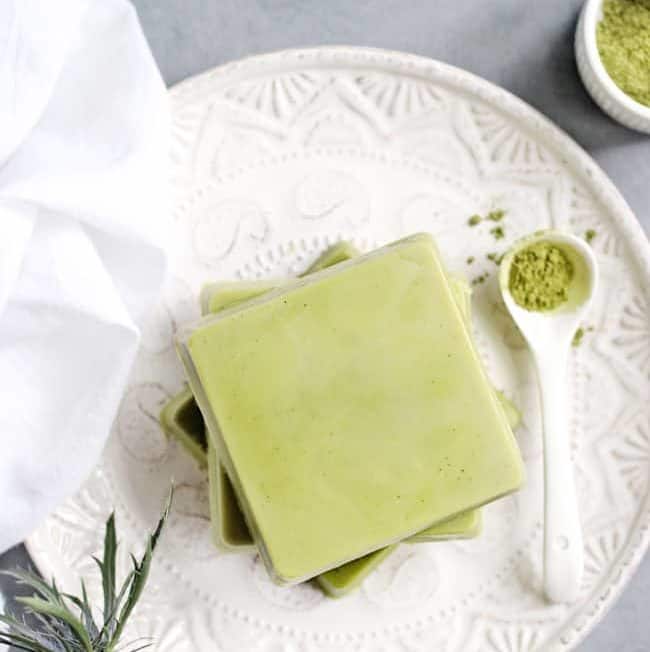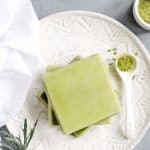 Print
Matcha Lotion Bars
These matcha lotion bars are solid at room temperature but melt into a luxurious, moisturizing cream when rubbed onto the skin.
Equipment
Double boiler or saucepan and heat-proof glass container

Silicone mold
Instructions
Fill a medium pot with 2 inches of water and bring to a boil. Place a mason jar inside the pot to create a double boiler.

Add coconut oil, beeswax, and cocoa butter to the jar and stir occasionally until the mixture is fully melted.

Remove from the heat and add your essential oils and matcha powder. Stir. Pour the liquid into your molds and allow the lotion bars to cool fully before removing.
Notes
To use, simply rub the bars on your skin. As they warm up, they'll leave behind a thin layer of moisture.
178