You're not 21 anymore, so it's time to step up your cocktail game. Or maybe you are 21, in which case: enjoy your youth! Soon you will be old and burdened by student loan debt!
Anyway. You're older now and looking for drinks that are a little more sophisticated than Flaming Dr. Pepper.
With flavors like Hibiscus + Ancho Chile and Lemon Cayenne + Thyme, these probiotic cocktails have that high-end feel to them without being loaded with calories or strange ingredients. Plus, they have an added, unexpected benefit: they're made with probiotic-rich mixers, like kombucha and water kefir.
Not only do they taste upscale, but they pack a probiotic punch to soothe your stomach and promote good digestion. And, if that doesn't make you feel old, I don't know what will.
Cheers!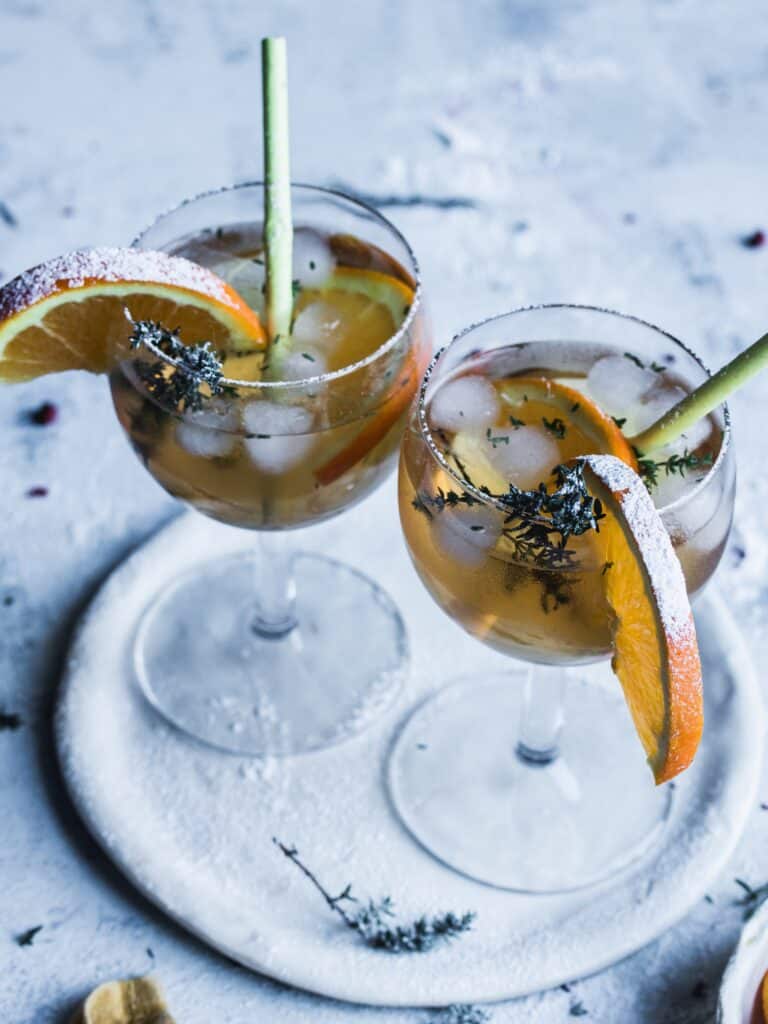 How to Make Probiotic Cocktails
Typical cocktail mixers, such as soda and fruit juice, are chock full of not-so-great ingredients (I'm looking at you, sugar). They're high in calories and caffeine, to say the least. And they'll do a number on your body over time.
That's where fermented drinks, like kombucha, kefir, fire cider, and shrubs, come into play.
Fruity, tangy, and full of good-for-you bacteria [source], fermented drinks taste great with a dash of alcohol, fruit, and fresh herbs, making them the perfect addition to cocktails.
Tips for Fermented Cocktail Recipes
But there are a few things to keep in mind:
Add kefir, kombucha, or whatever fermented mixer you're using last. Since it's carbonated, you wouldn't want to use it in a cocktail shaker or give it a vigorous stir.
Mind the sugar. Sweetness varies by brand and flavor, so taste your mixer first before adding any additional sweetener.
Skip the alcohol if you want. I love making kombucha mocktails with nothing more than kombucha, a dash of juice, and some ice. If I'm really feeling crazy, I'll add some agave nectar. You can't even tell the alcohol is missing.
Feel free to play around with different mixers. I'm a fan of kombucha and kefir because they're the easiest to find. But that doesn't mean you're limited to just those. The flavor profile (e.g., ginger, lemon, berry) is more important than the type of fermented drink, so play around with whatever you can find at your local grocery store.
Make drinking vinegar. This is basically fruit, sugar, and vinegar combined in a mason jar and left out at room temperature for a week and shaken periodically. These are perfect in cocktails! Two ideas to try:
Blackberry: ½ cup apple cider vinegar + ¼ cup sugar + ½ cup blackberries
Strawberry: ½ cup champagne vinegar + ¼ cup sugar + ½ cup strawberries

When crafting my cocktails, I start with a basic mixed drink recipe, like a Paloma (tequila and grapefruit juice) or a John Daley (vodka and lemonade), and then add complementary flavors from there. Fresh herbs and spices create wonderful garnishes, while kombucha and kefir enhance the flavor and make amazing replacements for soda water.
If you're going low-sugar, stick to fresh citrus juices, which are tart and flavorful, but also pretty dry (in sugar terms). Since most citrus juices taste about the same, feel free to mix and match them based on what you already have at home or can easily find at the store.
Lastly, use sweetener as necessary, depending on the amount of sugar in your mixer.
And that's it! From there, you can mix and match your way to a healthier cocktail.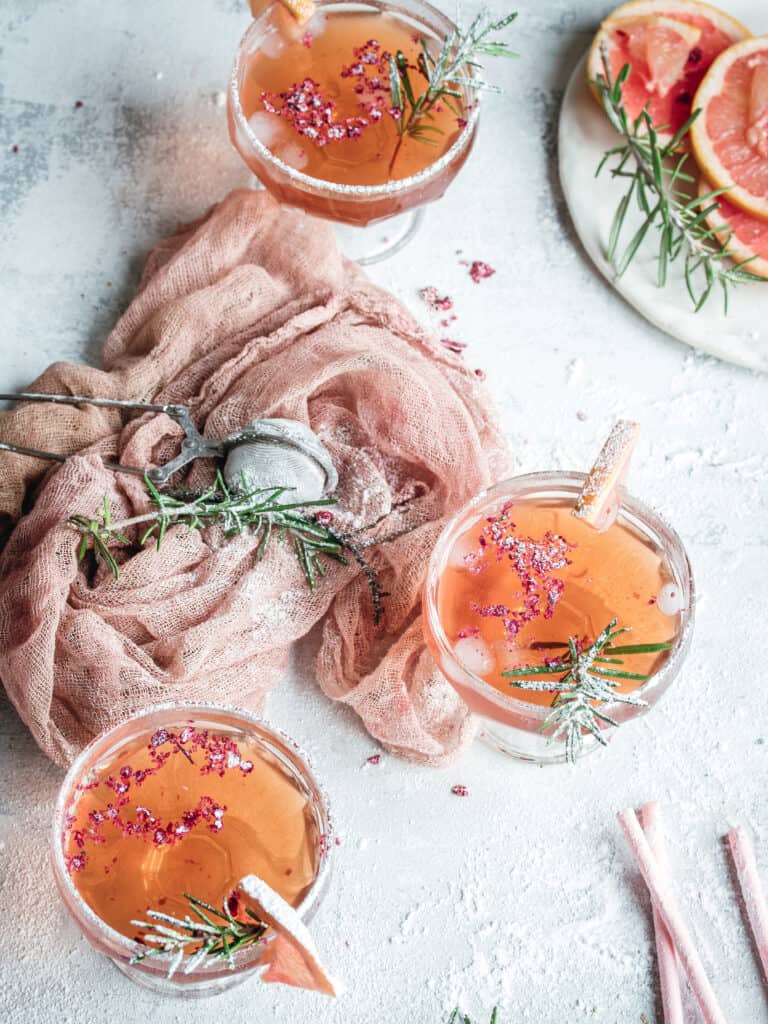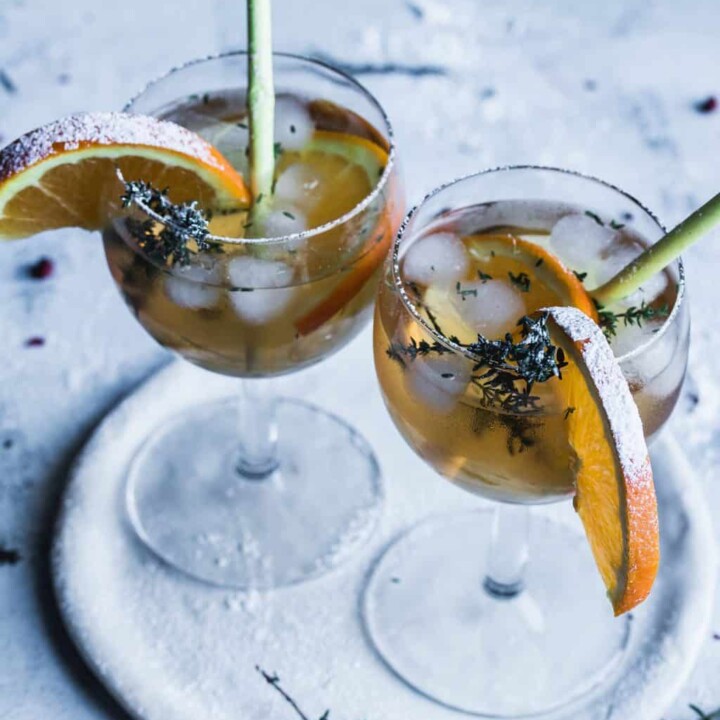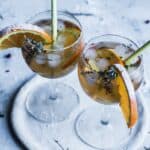 Print Recipe
2 Probiotic Cocktail Recipes
Cocktails that are good for your gut? Yes, it's true! These probiotic cocktails get a healthy boost from the addition of organic fermented drinks.
Ingredients
Spicy Lemon + Cayenne Cocktail
½

bottle

lemon kefir

(I used Kevita's Lemon Cayenne water kefir.)

1

ounce

freshly squeezed lemon juice

1

ounce

vodka

Agave, coconut nectar, or stevia

(as needed for sweetness)

Pinch cayenne pepper

Thyme

Ice
Hibiscus Chile + Rosemary Cocktail
½

bottle

ginger kombucha

(I used GT's Gingerade kombucha)

¼

cup

hibiscus tea,

cooled

1

ounce

tequila

¼

grapefruit,

juiced

Agave, coconut nectar, or stevia

(as needed for sweetness)

Rosemary

for garnish

Pinch chile pepper flakes

for garnish

Ice
Instructions
Spicy Lemon + Cayenne Cocktail
Fill a tall glass with ice. Combine the vodka, lemon juice, and agave in a shaker with ice. Shake for 5–10 seconds, then pour into a glass. Top with kefir, and garnish with fresh thyme and a pinch of cayenne pepper.
Hibiscus Chile + Rosemary Cocktail
Fill a tall glass with ice. Add hibiscus tea, tequila, and grapefruit juice. Top with kombucha, then add sweetener as needed. Garnish with chile flakes and a sprig of rosemary. Enjoy!
Notes
Make sure to taste your fermented mixer before adding sweetener to your cocktails. Their sweetness varies drastically by brand and by flavor, so you don't want to add any more sugar than you need to. I don't like my cocktails to be overly sweet, so I usually buy low-sugar kefir or kombucha and add a teaspoon or two of agave for more flavor when needed. 
This article was medically reviewed by Dr. Gina Jansheski, a licensed, board-certified physician who has been practicing for more than 20 years. Learn more about Hello Glow's medical reviewers here. As always, this is not personal medical advice and we recommend that you talk with your doctor.
Photos by Natalia Vanthienen
View this post on Instagram
20