Apple cider vinegar is a polarizing topic. Most people I know gag at the mere sight (uh, smell) of it. Just about everyone else loves the stuff. I personally consider myself a tweener: I don't love it but I can drink it without making a face. I'll gladly sip some before meals, toss it in salad dressings and make a wicked cold remedy with it.
But just like other fermented foods, I've found that homemade apple cider vinegar is better and cheaper than the store bought kind. Plus you don't need a starter culture or any fancy equipment to make it. Just a jar, apples and some sugar water. Seriously, it's fool proof.
Read on to learn how to make your own.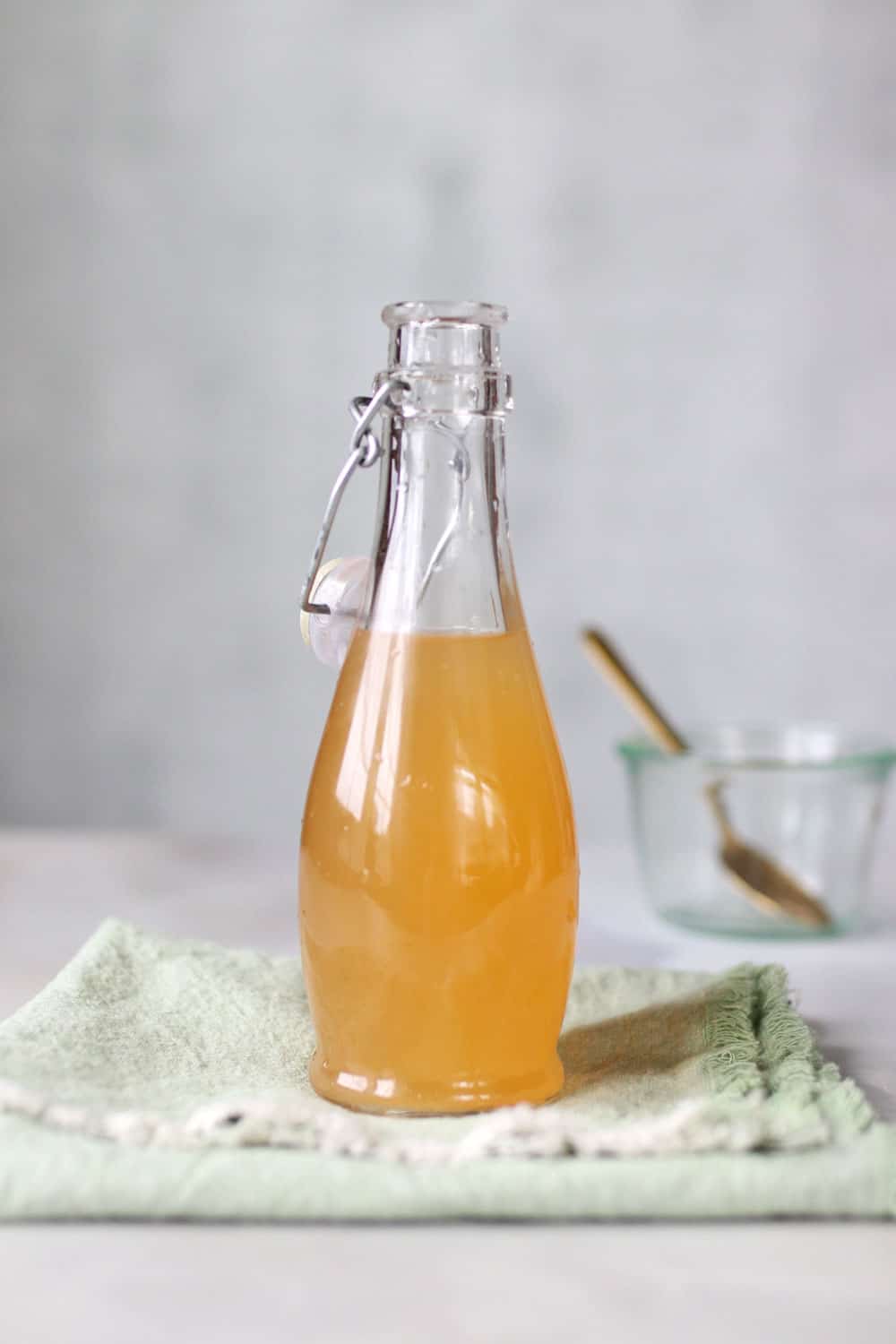 How to Make Your Own Apple Cider Vinegar
I hate to break it to you, but a lot of the ACV you find in supermarkets is pasteurized and highly processed. That means that all of the beneficial bacteria is long gone before it even gets to you. And while it still works well for cleaning, you can kiss all the health benefits goodbye.
Those ACV brands that haven't been pasteurized (often referred to as "with the mother") are loaded with beneficial bacteria leftover from the fermentation process. And because it still contains enzymes, proteins, amino acids and probiotics, raw apple cider vinegar has a plethora of home, beauty and health benefits.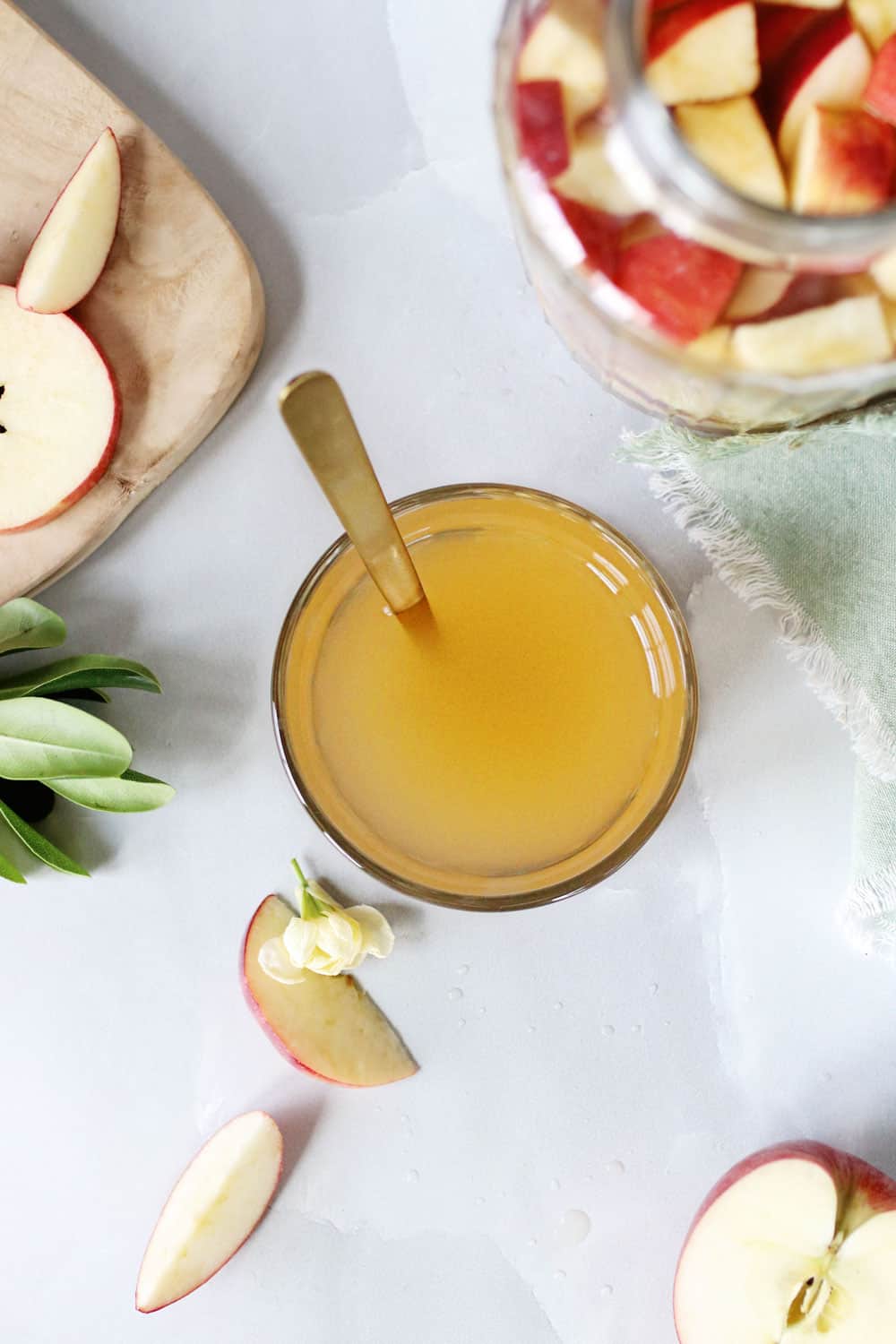 When used topically, it helps balance pH and soothe skin irritation in the form of dandruff, eczema and acne. When consumed, it can help your stomach break down food and reduce acid reflux afterwards. AVC diluted in water can even help with an upset tummy or bloating as well.
But buying the raw, unfiltered stuff can get pricey quickly. Especially if you're using it for everything from homemade beauty recipes to cold and flu remedies. Thankfully making your own ACV is dead simple.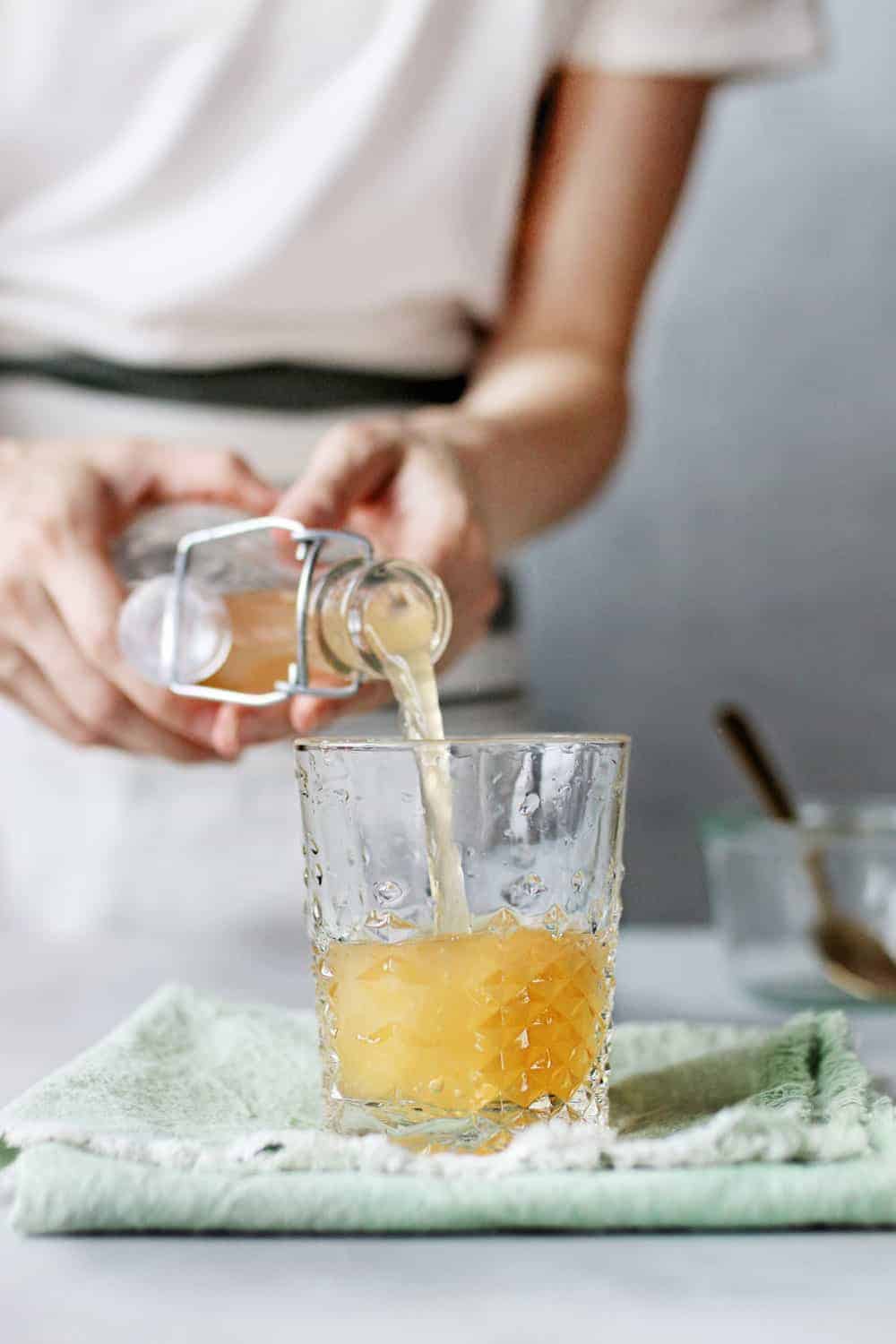 While you can always buy a cheap bag of organic apples from the store, you can also make vinegar from apple scraps. Every time you eat apples, toss the leftover peels and cores in a food safe container in your freezer.
When you have enough to make vinegar (about 6 apples worth), simply let them thaw on the kitchen counter before tossing them in a jar with sugar water. Place the jar in a warm, dark pantry for several weeks to kick off fermentation and turn the apples into vinegar.
You will know your vinegar is ready when you see a dark, cloudy foam in the jar. This is "the mother" which makes raw vinegar so good for you. Enjoy it straight or dilute a tablespoon in water for maximum health benefits.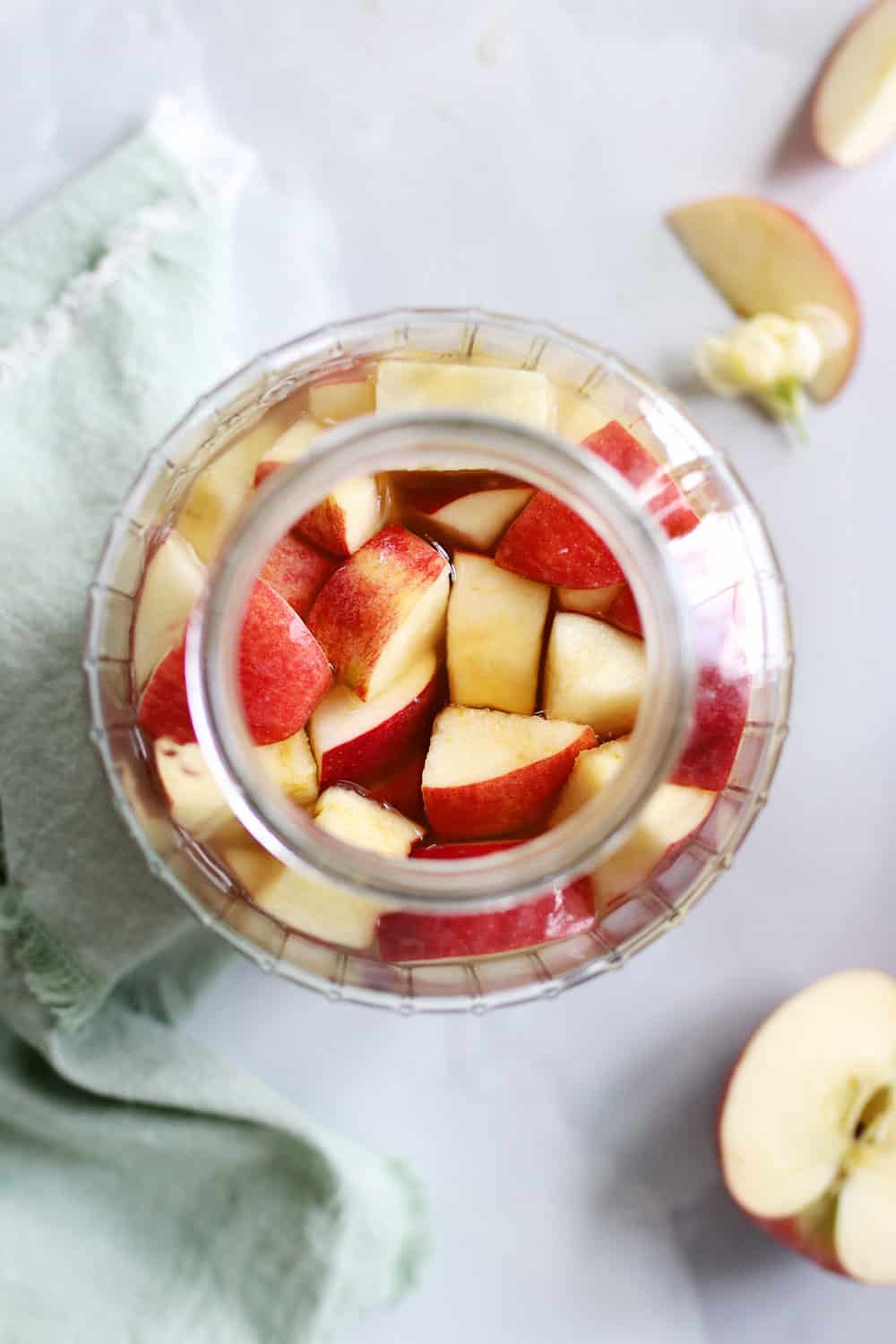 Ingredients
3 whole apples or scraps from about 6 apples
2 tablespoons raw sugar
Filtered water to cover – I used about 3 cups but you might need more or less depending on the size of your container
Large glass jar
Paper towel and a rubber band
Fermentation stone or cabbage leaves to keep the apples submerged (optional)
Instructions
1. Wash and roughly chop your apples into one-inch pieces. Place them in a clean jar.
2. Mix the sugar with 1 cup water and pour on top of the apples. Add more water so that apples are covered by about an inch.
3. To keep fruit flies away, cover the jar with a paper towel and secure it with a rubber band.
4. Depending on how small your apple chunks are, you might find that some pieces float to the top. If they continue floating after 24 hours, use a fermentation stone or large cabbage leaves to weigh them down and keep them fully submerged. This will prevent mold from forming in your vinegar.
5. Place the jar in a warm pantry for 2 weeks. Strain out the liquid and discard the apple pieces.
6. Return the liquid to the same jar. Cover it again and place it back in the pantry. Continue fermenting for an additional 4 weeks, stirring every few days. After 4 weeks, taste test your vinegar. Once it reaches an acidity you like, transfer to a bottle and begin using it.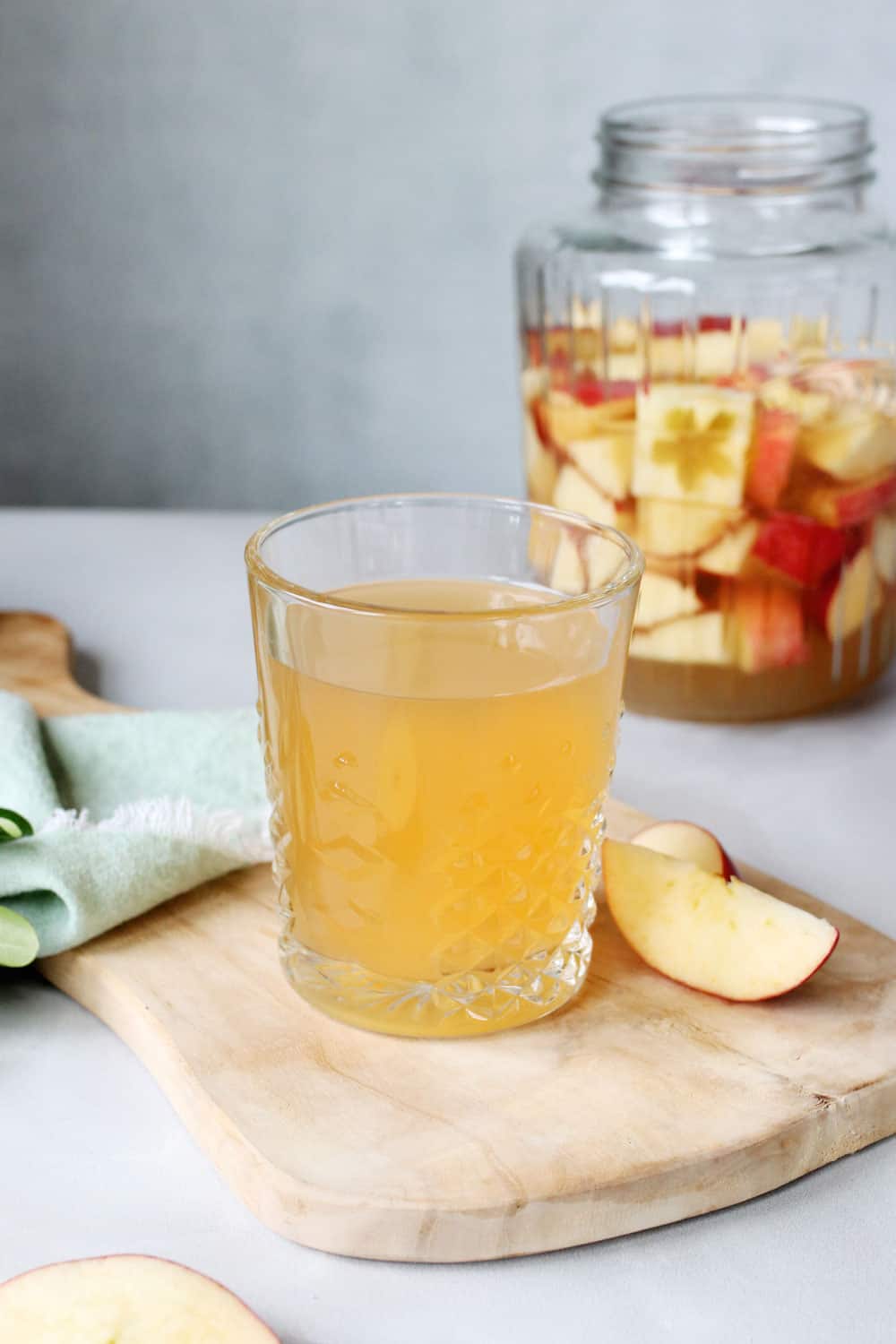 186