Ah, the elusive full night of sleep. I often find myself tossing, turning, or lying awake staring at the ceiling (or worse, my phone), probably way more than I should. I don't even have kids, and I don't know how those of you with little ones in the house ever catch more than a few hours of Z's.
According to the CDC, adults need a minimum of 7 or more hours of sleep per night [source]. In fact, we spend more than 30% of our lives asleep [source]!
Sleep truly is a basic human function. All of us (and animals too) need it to survive [source], and the lack of it is linked to obesity [source], type 2 diabetes [source], cancer [source], cardiovascular disease and stroke [source], high blood pressure [source], chronic inflammation and immune dysfunction [source], car accidents [source], and anxiety [source].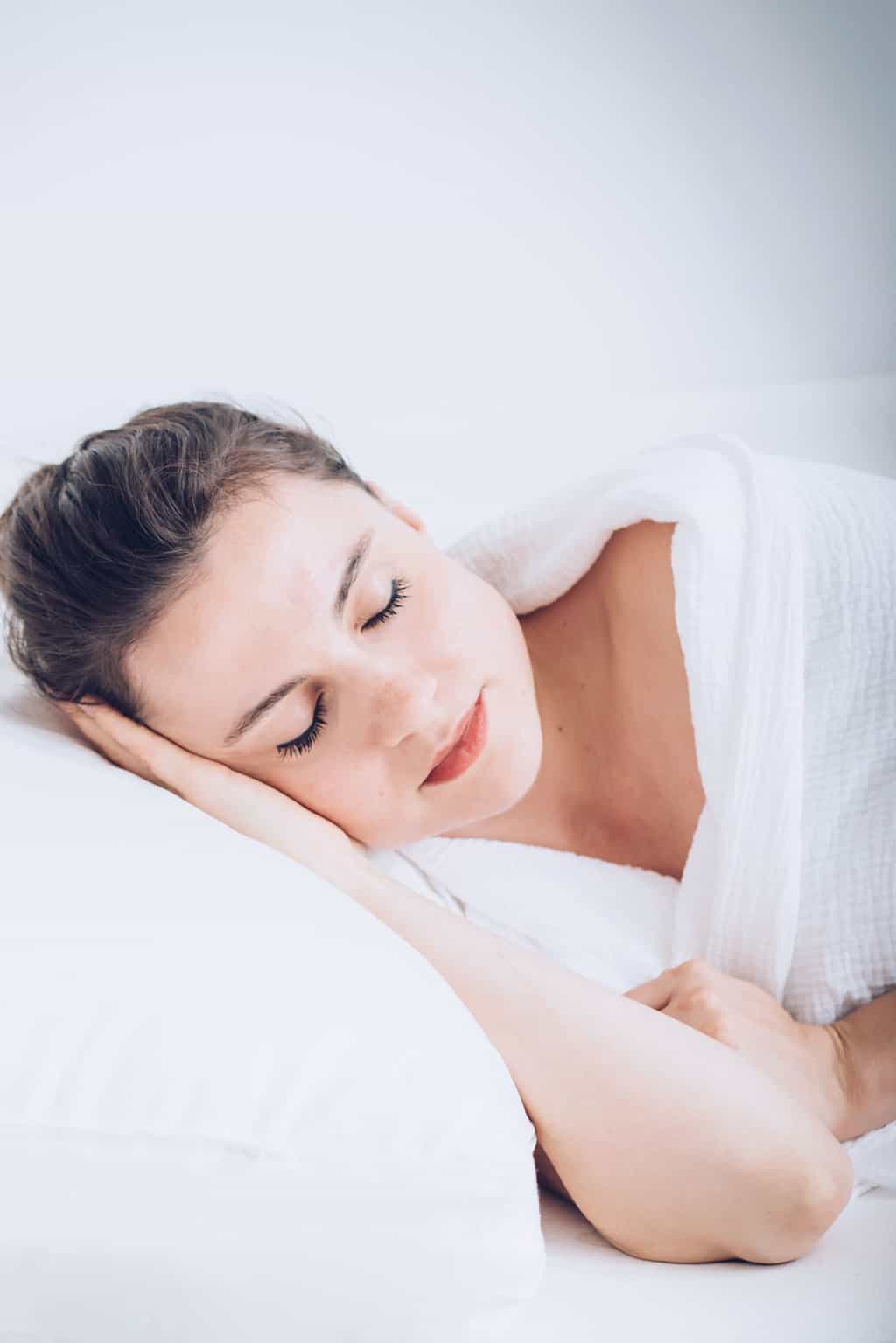 10 Steps to a Better Night's Sleep
It's easy to dismiss the need for sleep, especially when you're younger and can bounce back more quickly. When you think about how easy it is to miss out on needed sleep, it's better to realize that, no, we're not superhuman, and yes, our bodies really do require good, consistent sleep to survive and thrive.
What to Do During the Day
:
1
.
Avoid caffeine
,
nicotine
,
and alcohol
.
It seems like a no-brainer to stay away from caffeine when you frequently have a hard time dropping off to sleep—and it's part of most people's morning wake-up routine anyway. So why mention it here?
You'd be surprised how many people depend on sodas or Starbucks runs to fight the post-lunch or late afternoon slump. And what about that indulgent restaurant dessert accompanied by the requisite espresso? Unfortunately, these habits can wreak havoc with your sleep patterns. It has been shown that caffeine intake 3 to 6 hours before bedtime has significant effects on sleep quality [source].
Nicotine and alcohol within 4 hours of bedtime also had a negative impact on sleep in a recent large study on sleep outcomes [source]. Alcohol helps people fall asleep, but it disrupts sleep patterns later on in the night, so they don't get a full night of restful sleep [source].
Try this homemade turmeric tea instead, which has calming effects and helps to mitigate some of the negative consequences of sleep deprivation [source].
2
.
Avoid long daytime naps
.
A regular sleep-wake cycle—ideally from 10 p.m. to 6 a.m.—clearly sets the stage for attaining your best sleep. But there are many disruptors to this pattern, such as sleeping in on the weekends, staying up late, using electronics, and a lack of daytime activity/exercise. One of the indulgences that interrupt nighttime sleep patterns is taking long daytime naps. They also, unfortunately, seem to affect your intellectual brainpower [source].
Studies show that a short nap under 30 minutes can promote wakefulness but not detract from the quality of your overnight Z's [source]. So, by all means, go ahead and take a power nap in the daytime, stay active, and get yourself a regular bedtime at night [source].
3
.
Get some daytime light exposure
.
Natural light from the sun is the most important regulator of the body's circadian rhythms [source]. When you are exposed to light in the daytime, it sets your rhythms to promote wakefulness in the daytime and stimulates evening melatonin production to cause sleepiness at night [source].
The earlier in the morning the exposure happens, the earlier the body's sleep clock will begin at night. If this system gets out of sync, like when you have jet lag, poor, unrestful nighttime sleep is the result.
Now, this doesn't mean baking in the sun, but just try to get outdoors a bit so your eyes can be exposed to a little natural light. It also brings the added benefit of suppressing melatonin production to keep you from getting sleepy during the day. Then maybe you won't need the caffeine and naps that prevent you from getting those Z's in the best hours of the night!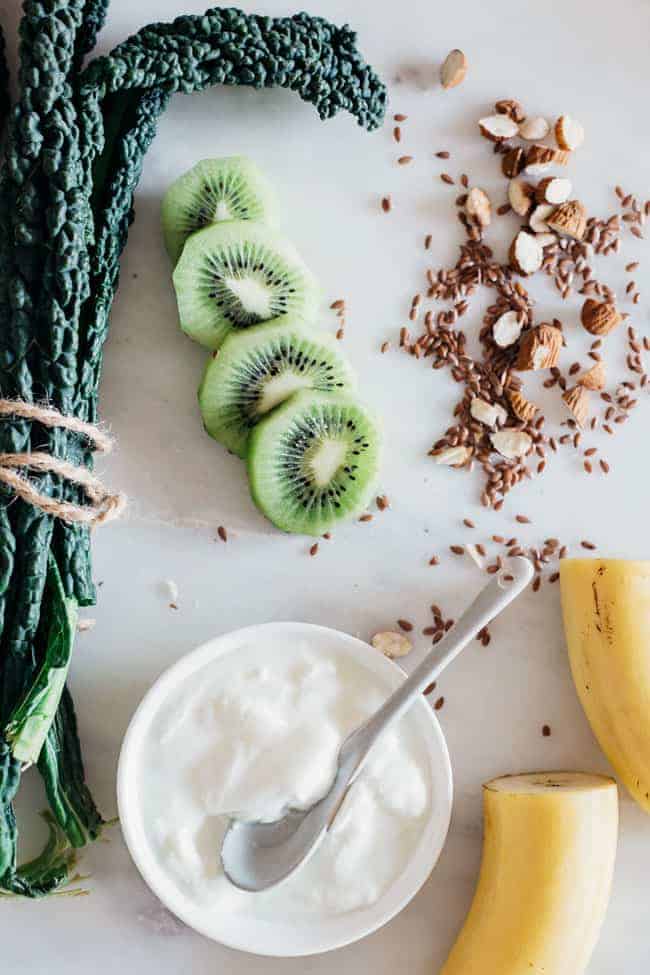 4
.
Eat foods rich in magnesium
.
A recent review looked at all of the past studies on the use of magnesium for sleep, and although there seems to be some conflicting evidence, it highlighted a few that supported magnesium supplementation for insomnia [source].
This mineral helps muscles relax, which helps you relax. Nuts, seeds, green veggies (for their chlorophyll), and fish are just a few good food sources [source]. Seek your doctor's advice on taking a supplement if needed.
5
.
Do some yoga
.
Studies have shown that practicing yoga helps you fall asleep faster and directly impacts sleep quality [source]. It reduces blood pressure and heart rate, stretches and relaxes the muscles, and even improves your mood [source].
This doesn't necessarily have to be part of a bedtime routine. Even study participants who had a daily morning yoga practice or tai chi several times a week demonstrated improved sleep patterns [source].
What to Do at Night
: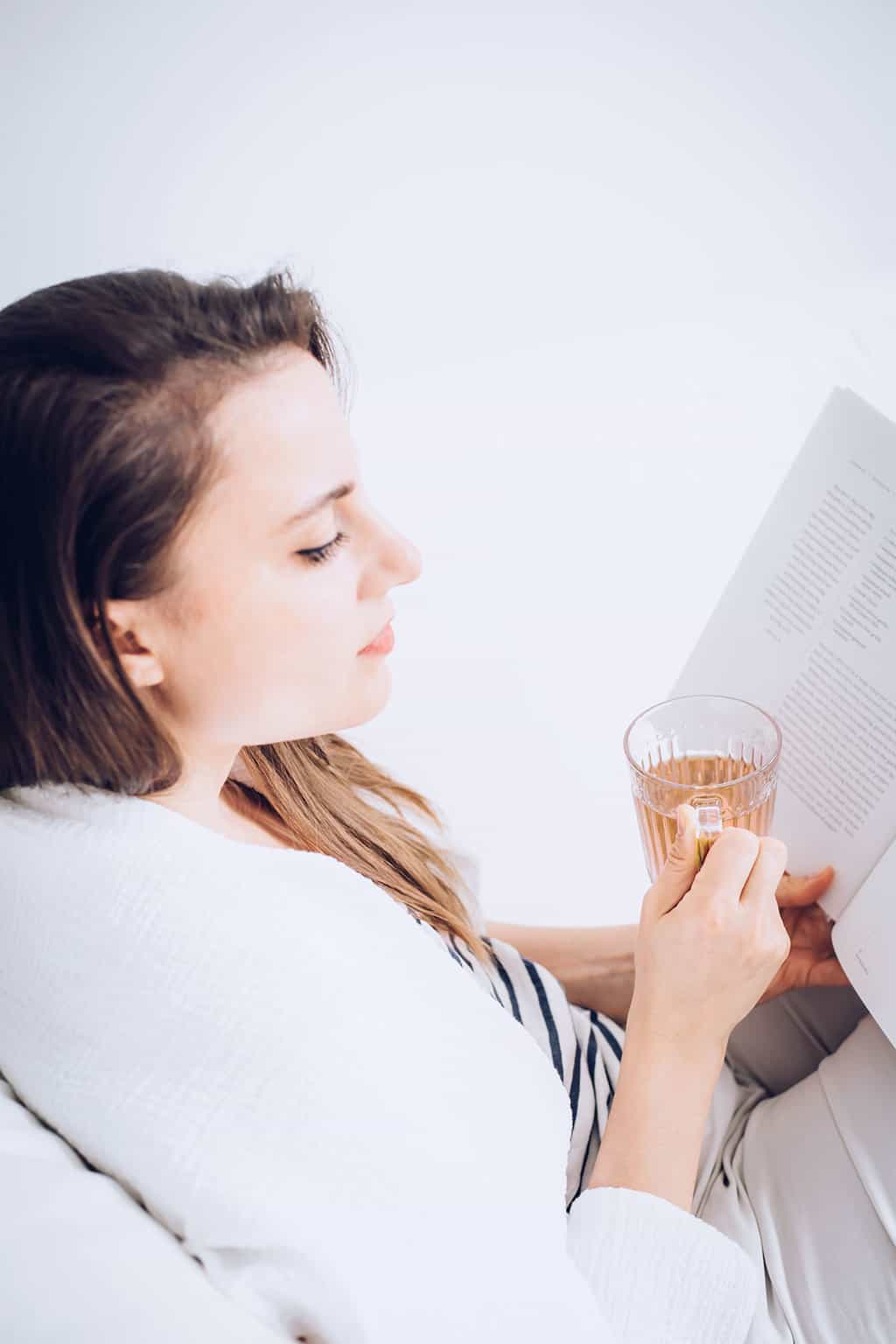 6
.
Detox your environment
.
Sleep hygiene involves setting up your bedroom and bedtime routines to enhance falling asleep and maintaining uninterrupted, restful sleep [source]. Your bedroom should be a sleep-friendly environment. Keep the temperature cool, eliminate noise and light sources, have a comfortable bed with natural bedding and pillows, and make sure it smells nice.
When your room is clean, eReaders [source] and other electronic screens [source] are shut down and put away, and the ambient light is blocked out [source], you'll have a much easier time drifting off. Music can help some people fall asleep more easily and feel that their sleep was more restful [source].
Some strategically placed healing crystals like quartz and agate can relieve anxiety and stress, sending you off to sleep faster and more relaxed.
7
.
De-stress the mind
.
Anxious thoughts can really disturb your bedtime routine, even if your body is now relaxed. So take some time to clear your head, too, before laying it down on the pillow.
When you have a lot of stress in your life, your body and mind are kept in an "always on" state until you just burn out from exhaustion. You can use some very simple techniques to create de-stress habits that will calm your mind and prepare it for a restful sleep.
If to-do items are flowing through your thoughts, just go ahead and make a list or spend a few minutes in your appointment book in the evening. Give yourself a time and reminder note to get them all set in your mind before getting ready for bed.
Controlled breathing techniques like pranayama and relaxation or guided imagery have been shown to calm those racing thoughts [source]. Mindfulness practices [source] and meditation [source] are now being recognized for their beneficial effects on sleep patterns.

8
.
Adopt a relaxing nighttime beauty routine
.
Slow down and make your nighttime beauty routine as relaxing as possible—you'll even start to look forward to it! Essential oils, stress-busting body spray, and a relaxing face mask are all surefire ways to get settled in for the night.
9
.
Keep a regular bedtime
.
Who doesn't love sleeping in on the weekends, especially after a tough week? One way to look at this would be to liken it to the irregular sleep patterns of shift workers. Instead of "catching up on sleep," these alterations seem to wreak havoc with the circadian rhythms, leading to sleep disturbances and negative impacts on health [source].
Choosing a time for bed and sticking with it is important for any nightly routine. It's okay to stay in bed a little longer on weekends, but just by an hour or two at most, so you will still be sleepy around the same time at night.
10
.
Play some music
.
Music as therapy has really been undervalued in the past, but that is changing. Many people not only enjoy listening to their favorite music, but they know about its relaxing, calming effect on a mind that seems to be having difficulty settling down at bedtime.
A review of the many studies looking at music and its impact on sleep found overwhelming evidence to consider using it as a prescription for insomnia [source]. Listening to music has the potential to calm and settle anxious or sleep-disturbing thoughts and helps the body wind down and get ready for rest. It also seems to replace many of the bad bedtime habits that prevent sleepiness.
It turns out that making it a habit to follow a bedtime routine before trying to sleep helps to set the stage for successful sleep. Training the mind and body to recognize and ease into those Z's makes for a more restful night and a refreshed, more energized start to the day.
What are your natural tips and tricks for falling asleep?
This article was medically reviewed by Dr. Gina Jansheski, a licensed, board-certified physician who has been practicing for more than 20 years. Learn more about Hello Glow's medical reviewers here. As always, this is not personal medical advice, and we recommend that you talk with your doctor.
94