Sleep is one of the biggest factors in how we look and feel because it's the time our body heals and regenerates. Prolonged sleeplessness prematurely ages us (so unfair!), but there are some easy things we can do to help get more sleep.
Beauty Sleep Is Real
!
Most people can imagine how sleep deprivation affects your beauty routine by thinking about that last time they stayed up too late. Droopy, swollen eyes with dark circles, pale skin, and facial wrinkles are a few of the effects seen in a study of sleep-deprived individuals [source].
Your skin is working overtime while you sleep to:
Recover from UV sun damage: While you sleep, the blood circulation to your skin improves, which will then deliver more nutrients to help your skin recover from a day of sun exposure.
Regenerate skin cells: Collagen is generated more quickly at night, giving your skin greater elasticity and volume.
Absorb moisture: Your skin will retain moisture at a greater rate at night, maximizing the benefits of a skin moisturizer.
How to Fix Overnight Beauty Bummers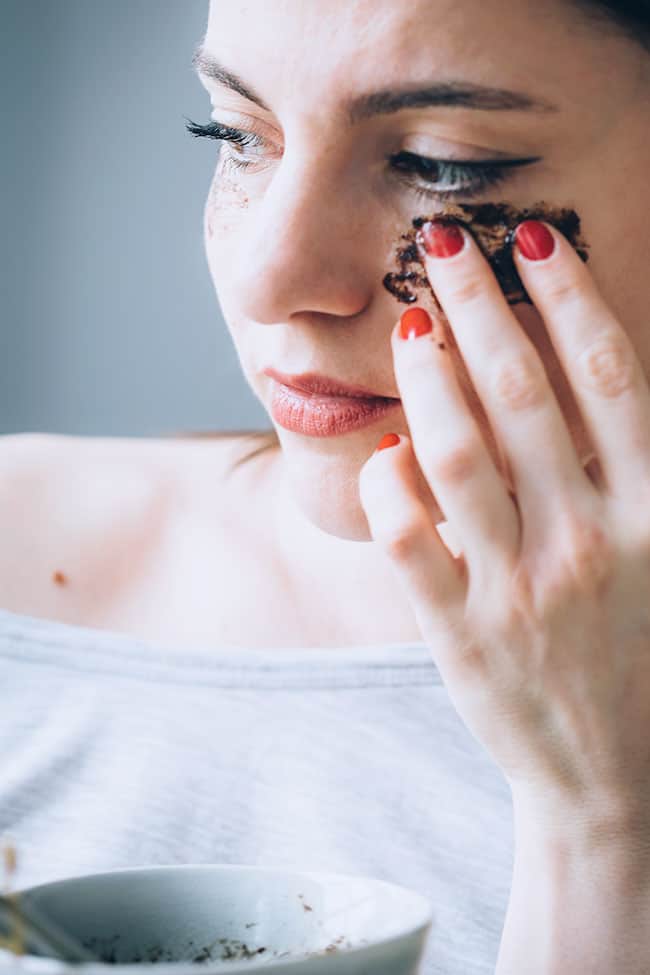 1
.
Puffy eyes
The good news is that experts say eye puffiness does not necessarily result from a lack of sleep, but a good night's rest can certainly help! Puffiness can be caused by excess fluid from water retention, which can build up around the eyes overnight.
Prevent it: Get gravity on your side by sleeping with your head elevated and preferably on your back to prevent excess fluid buildup [source].
Reverse it: A caffeine-infused eye cream will rev up blood flow to the area and reduce swelling. Massage puffy skin in the morning with a chilled jade roller to release trapped fluid. Just make sure to go gently around the eyes.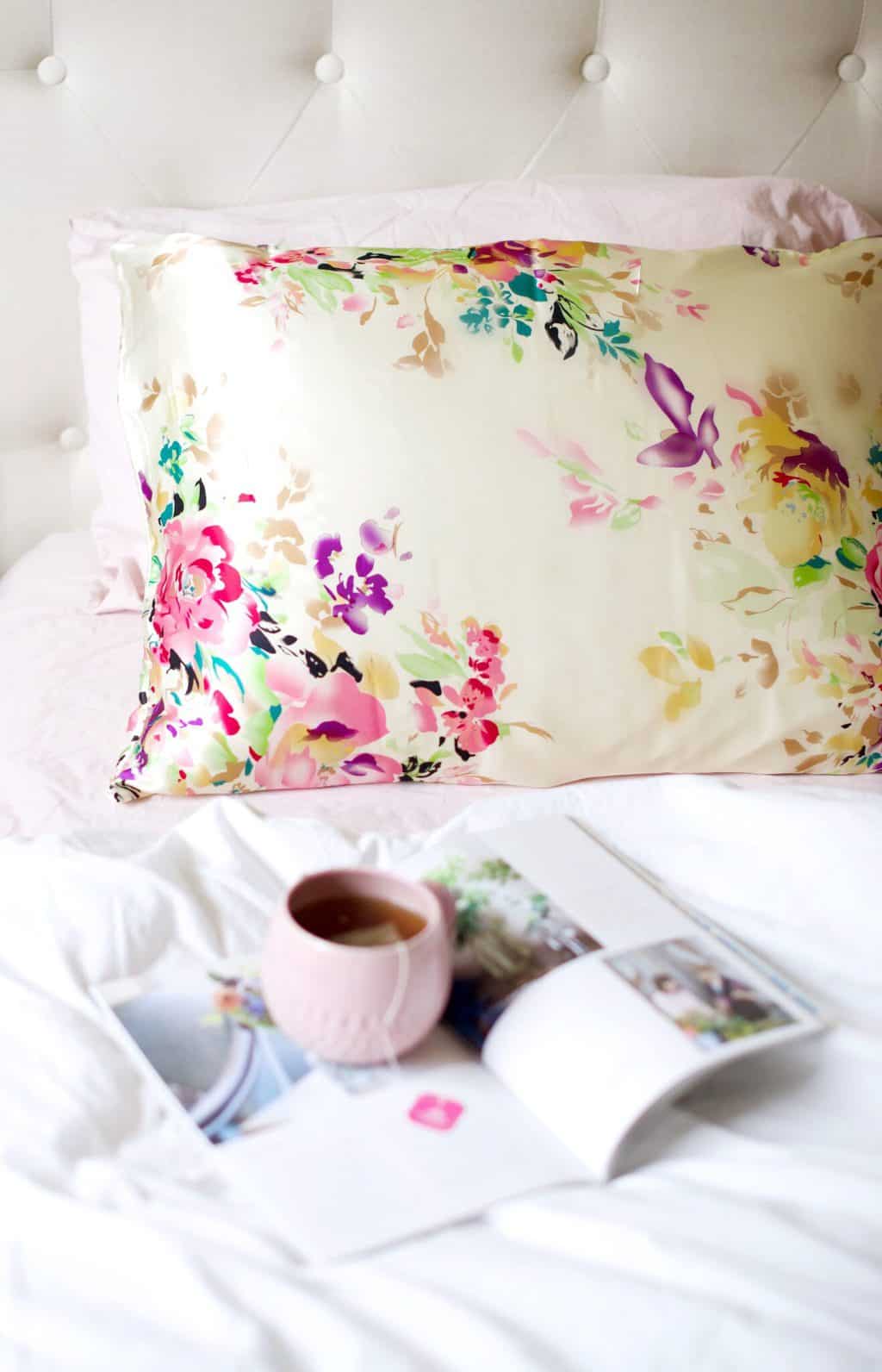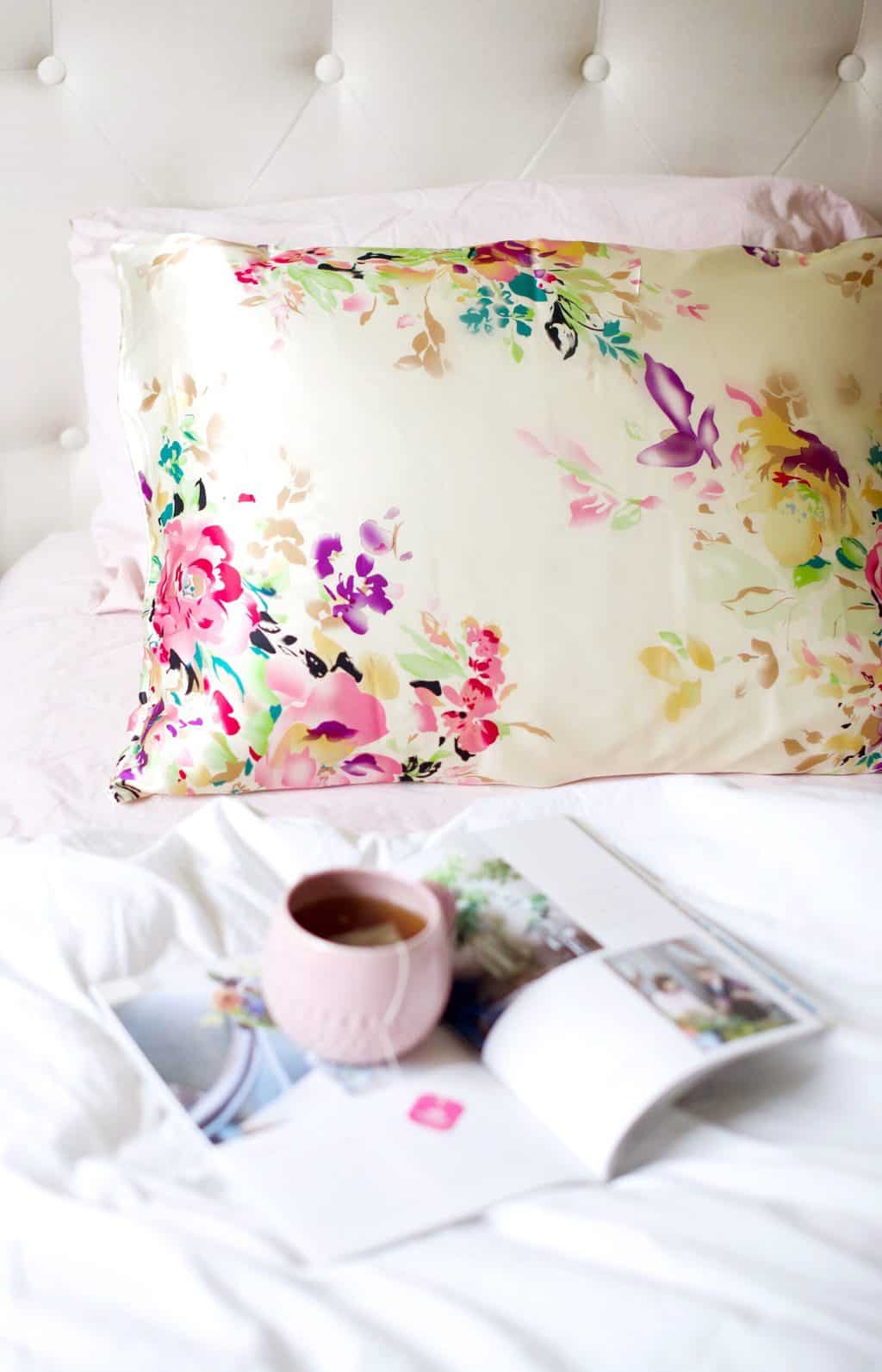 2
.
Flat / frizzy hair
Especially when it's hot outside, waking up to frizzy hair is a given. If you're rubbing your hair dry with a towel and then twisting and turning in your sleep, you're actually disrupting the hair cuticle, causing frizziness.
The friction created between hair and the pillowcase leads to breakage that results in thinner-looking hair. Plus, traditional pillowcases are made of porous cotton that absorbs moisture from hair, leaving it dry and flat.
Prevent it: Switch to a silk pillowcase. The soft, slippery fabric allows the hair cuticles to glide across the pillow. Silk pillowcases are also recommended in the prevention of facial wrinkles, so win-win!
Reverse it: Slather on an avocado hair mask to moisturize your strands and strengthen hair to prevent breakage. Mix half of an avocado with 1 tablespoon of olive oil and apply to damp hair from roots to ends. Let sit for 30 minutes, and then shampoo out.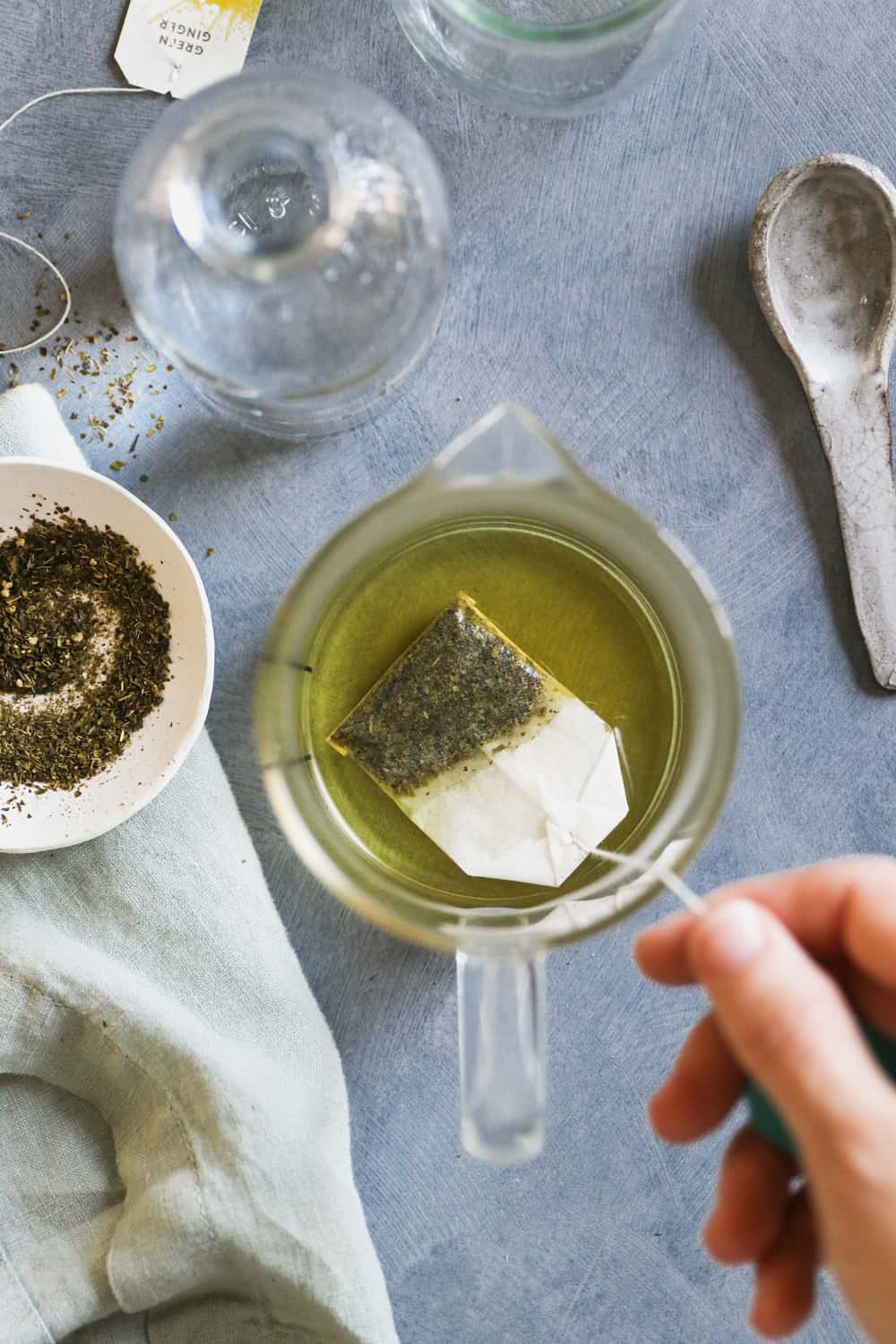 3
.
Dark eye circles
Most people with dark eye circles have a genetic predisposition to this condition. Combined with fatigue and other factors, the darkened areas can be tough to get rid of.
Light in any form, like the clock next to your bed or outside street lights, can interfere with sleep [source]. That lack of sleep can cause blood vessels under the eyes to swell and leak, leaving dark circles behind.
Prevent it: Avoid electronic screens a few hours before bedtime, as their blue light can cause significant eye strain. The skin surrounding your eyes can darken due to the capillaries in the area enlarging. Make sure you're staying hydrated, and try applying tea bags or a chilled eye mask to your eyes before bed. The cold, gentle pressure shrinks vessels, stops blood from pooling, and blocks out light.
Reverse it: Dab on a turmeric-infused eye cream. The spice is a natural anti-inflammatory that blocks the inflammatory response in the tissues that leads to fluid buildup, damage, and aging [source].

4
.
Chest wrinkles
We're often neglecting this area of our bodies, though it's one of the first to show signs of aging due to collagen loss over the years. And constant movement during sleep puts pressure on skin that worsens creases on the chest. Moisturize this area often to keep it hydrated and healthy.
Prevent it: Sleep on your back rather than pushing the skin centrally by sleeping on your side and stomach. If you must sleep on your side (I hear you!), wear a silicone patch that separates the breasts to fight the overnight creasing process. The patch pulls skin taut to keep older wrinkles from deepening and new ones from forming.
Reverse it: Mix equal parts of coconut oil and rosehip seed oil together and store in a lidded container. Massage onto the chest twice a day for smoother skin.
5
.
Dry skin
Skin loses hydration overnight, which translates into you waking up to unpleasantly dry skin.
Prevent it: Drink plenty of water. Wear an overnight hydrating mask. You can get the most out of your eye creams, moisturizers, and serums when you use them before bed, but you might want to consider incorporating overnight face masks into your skincare routine too.
They're specially formulated to take advantage of that nighttime renewal process, essentially giving you a facial while you sleep. I mean, don't you want to wake up to glowing and refreshed, vibrant skin in the morning?
Reverse it: In case you need an extra reason to love coconut oil, it really is one of the best natural moisturizers out there. It's quickly absorbed into your skin to keep it soft and supple without clogging pores. Just plain coconut oil is all you need, but we also recommend trying our Whipped Coconut + Green Tea Moisturizer. So easy, yet so luxurious!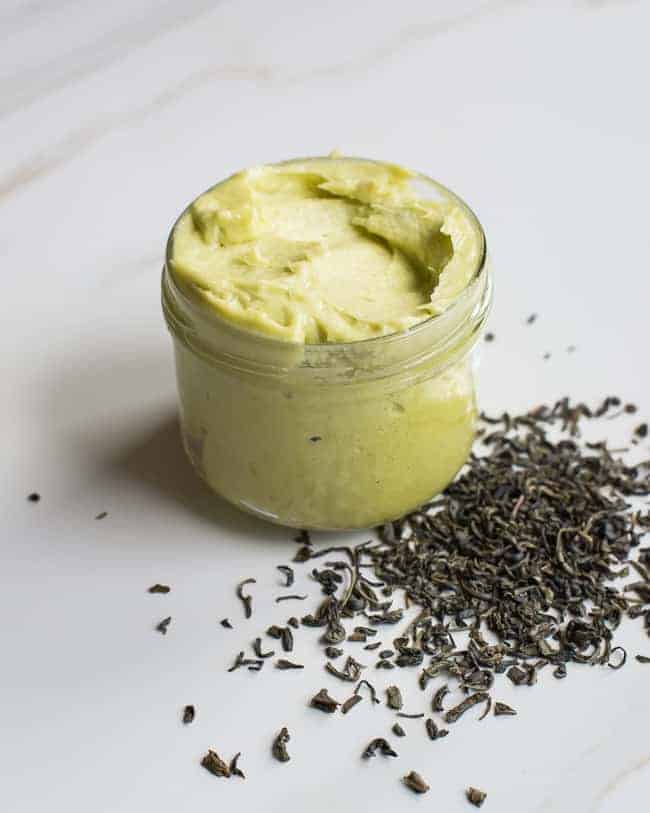 6
.
Rough hands
/
feet
Whether they're dry from the cold or thickened from sandal wearing, you can soften your heels overnight with a simple method. The same can be used for dry hands.
Prevent it: At bedtime, apply a thick layer of lavender and shea butter balm to hands, nails, and feet, and then put on a pair of socks and cotton gloves. Crawl into bed and let the oils work overnight, repairing your dry hands and feet.
If my feet are in need of some serious love, I'll carefully wrap them in saran wrap and pop on some socks. The saran wrap ensures the moisture penetrates into your skin (not your socks), while the socks keep the saran wrap in place.
Reverse it: Whip up this Lavender Calendula Healing Hand Salve. It's the best salve I've ever used to not only combat dryness but also to heal cracks or sores on dry hands. Treat your feet to a Banana Foot Mask with a little honey and let it sit on your feet, then remove any hard calluses or rough patches with a pumice stone.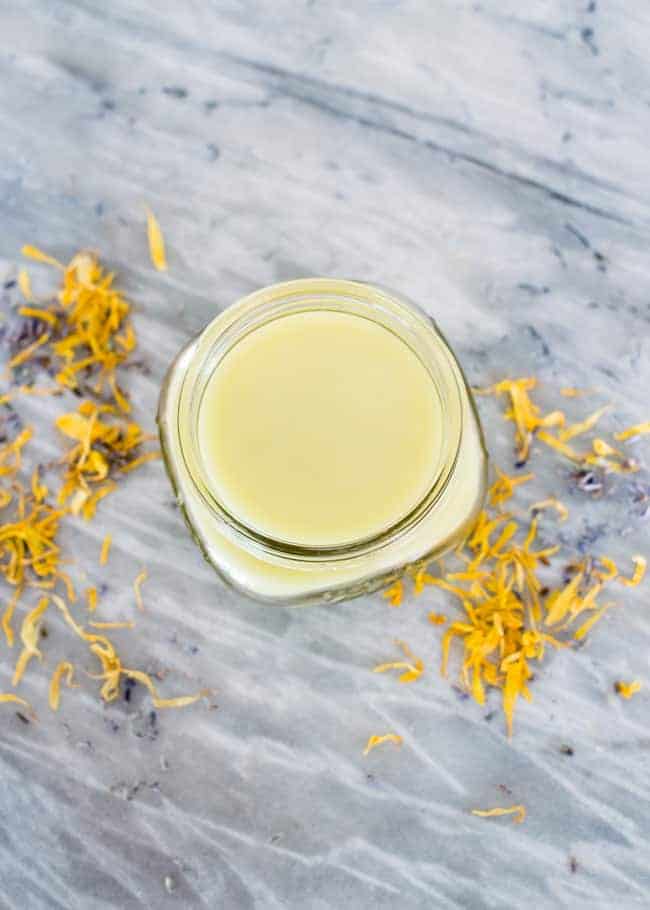 7
.
Breakouts
When you take the time to really enjoy your skincare routine (here's mine), it can be incredibly soothing. Self-care is how you communicate that you love yourself. So quit rushing through it, feeling guilty about taking a few minutes for yourself, or worse, sleeping in your makeup!
Prevent it: Always wash your face and remove all makeup before bed. Change your pillowcase at least once a week to keep germs and dead skin from building up and causing breakouts.
Reverse it: Clean out your pores with a simple face mask. Combine a tablespoon each of activated charcoal and bentonite clay. Use organic apple cider vinegar to make a paste. With clean fingers, spread the paste over your face and let it sit for 15 minutes. Rinse with cool water and apply moisturizer.

Can't Fall Asleep
?

Create a Nightly Beauty Sleep Routine

Slow down and make your nighttime beauty routine as relaxing as possible—you'll even start to look forward to it! Essential oils, stress-busting body spray, and a relaxing face mask are all surefire ways to settle in for the night.

Need more tricks for falling asleep? Start here:
1
.
Incorporate aromatherapy
.
The power of smell should not be underestimated! You can use it to create an atmosphere conducive to sleep, one that your brain will recognize and respond to.
Aromatherapy has been shown in many studies to improve sleep, particularly when used in people with sleep disorders [source]. The most widely used essential oil for this purpose is lavender. It has a beneficial effect on anxiety and stress [source], which sure do interfere with falling asleep and maintaining uninterrupted sleep.
So break out your essential oils, and try some of these relaxing diffuser blends for sleep. Or make an aromatherapy roll-on with chamomile and lavender to promote pleasant dreams.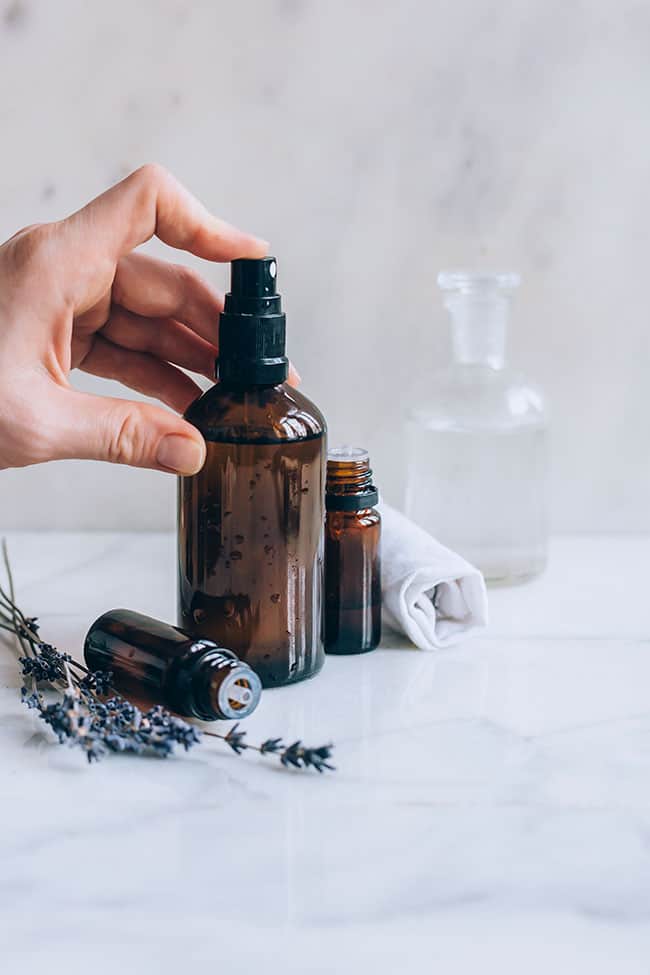 DIY It
:
Beauty sleep body spray
Spritz the soles of the feet, back of the neck, and your pillow with the Beauty Sleep spray (recipe below), again thinking about relaxing the body or your favorite peaceful place. Make sure the room is completely dark, and sleep well!
2
.
Take a hot bath
.
What better way to wind down before bed than to light some candles, turn on your most calming music, and linger in a hot bath until the water gets cold? Baths have been shown to positively affect health and the sense of well-being [source]. Their soothing warmth lends to relaxation and a lowering of stress and tension from the body.
The insomnia-beating dynamic duo of lavender and chamomile strikes again—mix up a scented bath with these herbs to wind yourself down before bedtime, or try an Epsom salt bath.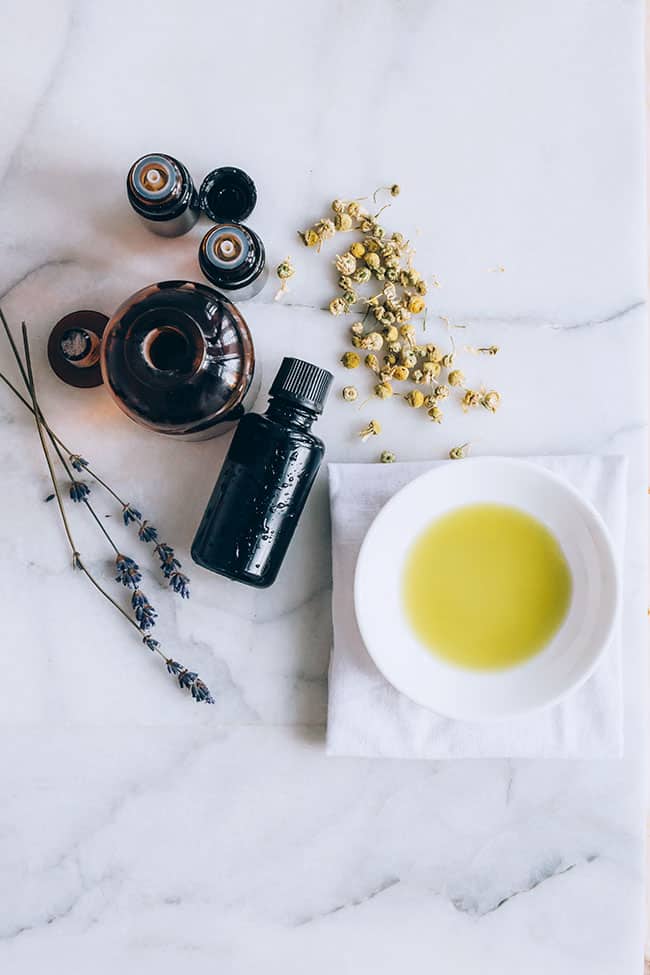 DIY It
:
Beauty sleep bath blend
Run a bath (or foot bath if you don't have a tub) and inhale the Beauty Sleep bath blend (recipe below) by taking a few deep breaths with your nose above the bottle opening. Lavender and chamomile essential oils are the big guns for help to get back on the sleep wagon. Valerian and vetiver essential oils are optional extra-heavy artillery, but I should warn you they both have unusual fragrances that can be a bit weird for some people.
Add 7 drops of the bath blend to a bath or foot bath. Dab 1 drop of the bath blend on the back of the neck and base of the big toes. Relax in the bath for 20 minutes, imagining the body relaxing muscle by muscle. Or think of your favorite place and how you felt while you were there.
Once a week, apply the Beauty Sleep face mask while in the bath. Rinse off and hold on to the relaxed thoughts while you get ready for bed.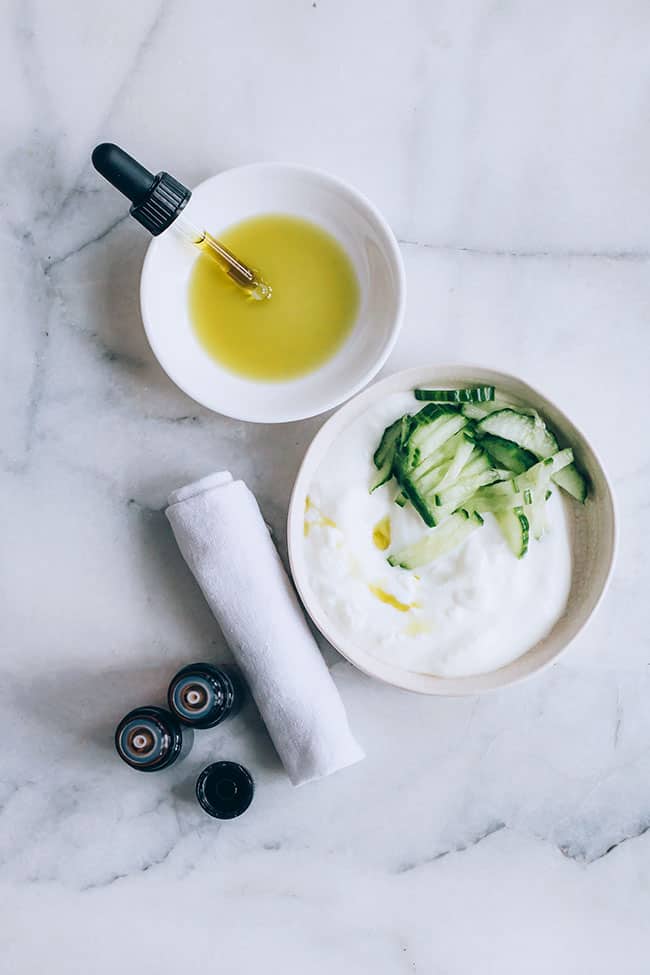 3
.
Sip on calming herbal tea
.
Instead of an over-the-counter sleep aid, turn to essential oils, tinctures, or teas made from herbs like lavender, passionflower, and California poppy. Lavender essential oil is the titan for treating sleep issues, often used in aromatherapy to improve the quality of sleep [source].
Long used in many cultures as a bedtime tea, chamomile has calming effects, almost like sedative medications [source]. Valerian has been shown to have sedative properties [source] and promotes falling asleep faster [source]. Passionflower is also known as a sedative that contributes to better sleep [source].
DIY it: Try this chamomile lavender latte to de-stress before bed.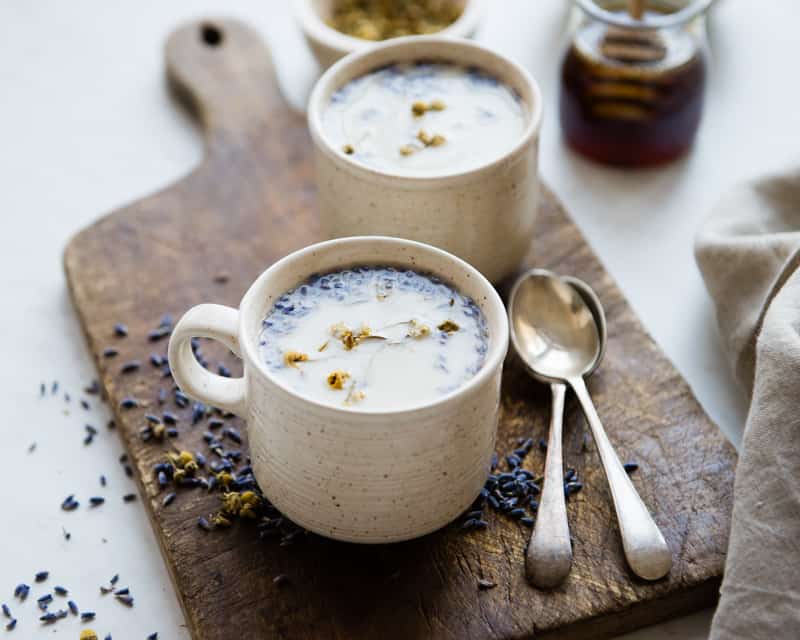 4
.
Give yourself a massage
.
Try a hand or foot massage. Or give yourself a scalp massage; the rubbing stimulates nerve endings that activate the body's parasympathetic system, helping you relax and fall asleep faster.
DIY it: Combine 10 drops of lavender essential oil with 1 ounce of a carrier oil like sweet almond or grapeseed (or use the Bath oil blend below) and massage into your hands and feet. Apply a small amount to your hands and massage into the scalp with the pads of your fingers.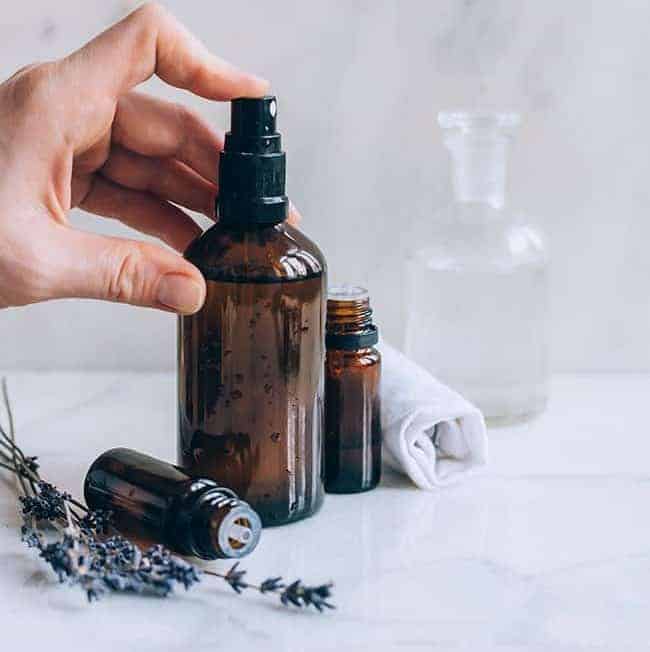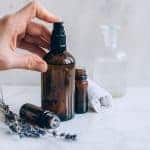 Print
Beauty Sleep Bath Blend, Spray, and Mask
Get your beauty sleep with these relaxing, easy-to-make DIY products.
Equipment
Bowl

Glass jar or dropper bottle
Materials
Face mask
2

tablespoons

grated cucumber

2

tablespoons

plain yogurt

6

drops

bath blend
Instructions
Bath Blend
Mix all the ingredients together in the glass dropper bottle (use one that is new or has been sterilized), label the bottle, and shake well before use.

Add 7 drops to the bath or foot bath, and dab 1 drop on the back of your neck and the base of your big toes.
Face Mask
Combine grated cucumber, yogurt, and the bath blend.

Apply a liberal amount of the mask to your clean face. Wait 15–20 minutes before rinsing with clean, tepid water.

Follow with your favorite toner and moisturizer. It's best used fresh but will keep for 3 days in the fridge.
Body Spray
Blend all the ingredients together in the glass spray bottle (use one that is new or has been sterilized) and label the bottle. Shake well before use.

Spray the back of the neck, soles of the feet, and pillow before going to bed, avoiding the face. Sleep well!
Notes
Use at least 1 hour before bedtime. Combine with other nighttime elixirs such as sleepytime tea and soothing pillow spray.
This article was medically reviewed by Dr. Gina Jansheski, a licensed, board-certified physician who has been practicing for more than 20 years. Learn more about Hello Glow's medical reviewers here. As always, this is not personal medical advice and we recommend that you talk with your doctor.
19