Maybe I'm jumping the gun but it seems like fall's already gearing up to be colder and dryer than usual. In the last week, my skin has gone from supple to parched (and not to mention tight and itchy).
You know we love our homemade scrubs and lotions around here, so this morning I hauled my buns to the kitchen and made a few shea butter bars to tide me over. If I'm being honest, though, I can be pretty lazy when it comes to making my own bath and body products.
I always favor things that do double-duty like these sugar scrub bars. And the fact that you use them in the shower is a total bonus. Zero in on flakes, condition rough patches and replenish moisture–without the hassle or the mess? Yes, please.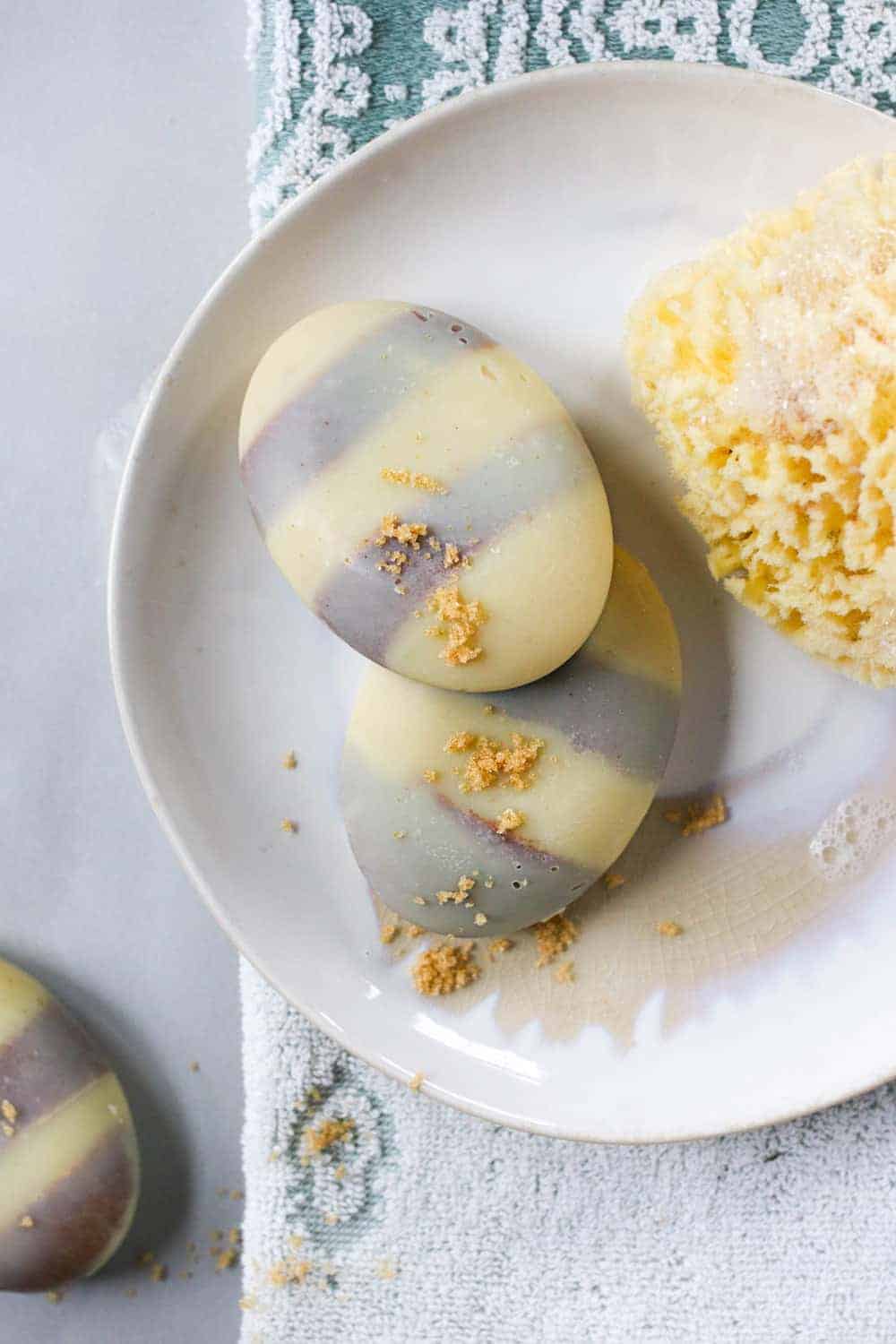 DIY Sugar Scrub Bars
LUSH, often considered the gold standard in bath products, may have been the first to start selling shower scrub bars, but that doesn't mean you can't do one better. These solid scrubees are chock full of nourishing butters, essential oils and sugar to moisturize and exfoliate at the same time. Seriously, just take one in the shower and emerge with silky soft skin! But whereas their bars sell for 8-bucks a pop, I made six for just $20 in supplies and an hour of elbow grease.
They might look complicated but these scrub bars are actually pretty easy to whip up. All you need is an old bowl and a few super soothing ingredients like shea butter, cocoa butter, coconut oil and brown sugar. But the recipe is so versatile that you can mix and match ingredients or use things you already have on hand. In fact, the LUSH bars only use coconut and almonds in their scrub, but I used brown sugar since I already had some in my pantry. Be creative and don't feel like you need to follow this recipe to a T.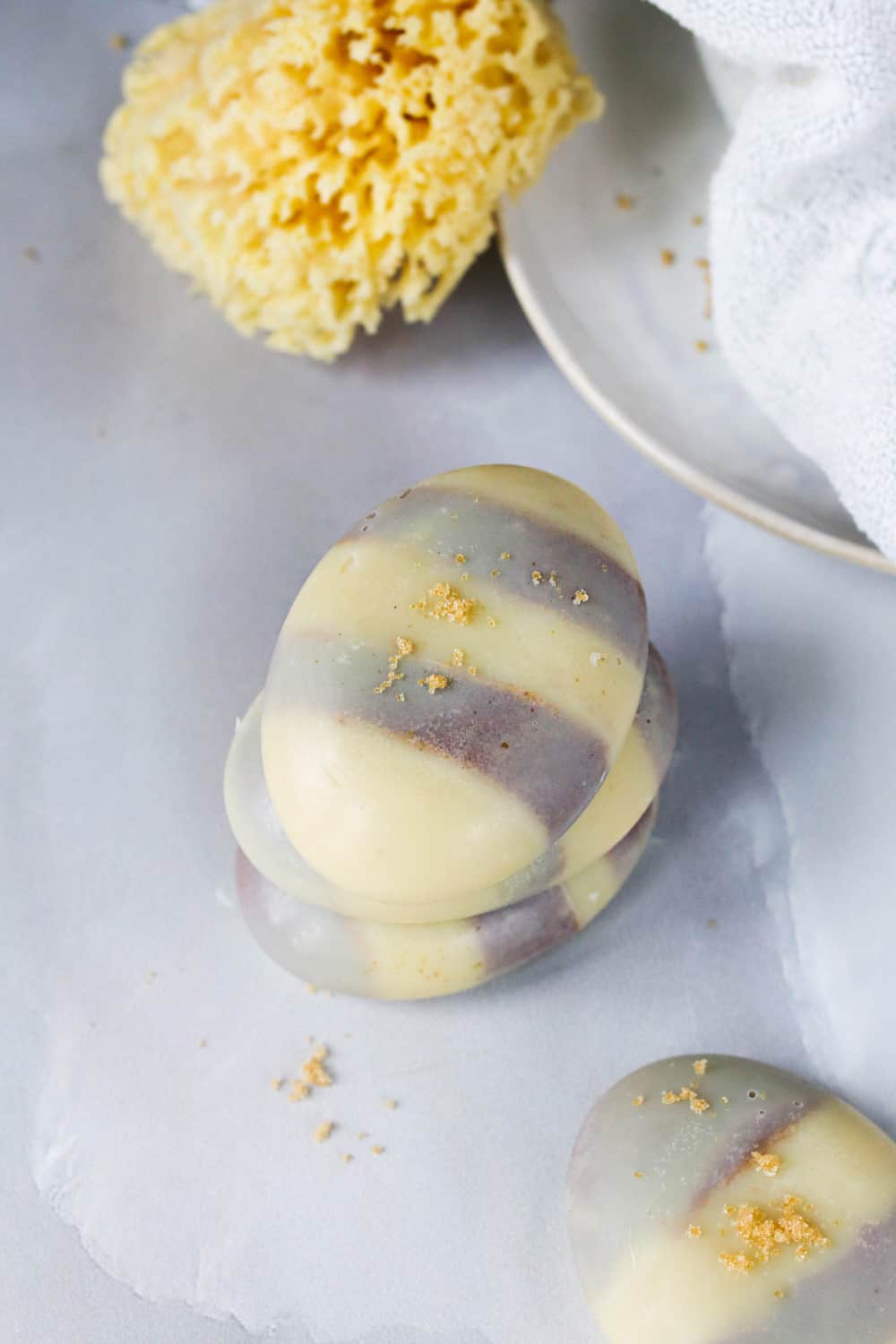 To make the stripes, I poured a mixture of butters and brown sugar in some silicone molds and let it cool. Then I popped 'em out and sliced them into thin little strips. I placed the strips back in the mold (leaving space in between each one) and covered them in the same butter mixture, this time without the sugar. After cooling in the refrigerator for an hour or two, they were completely solid and ready for the shower.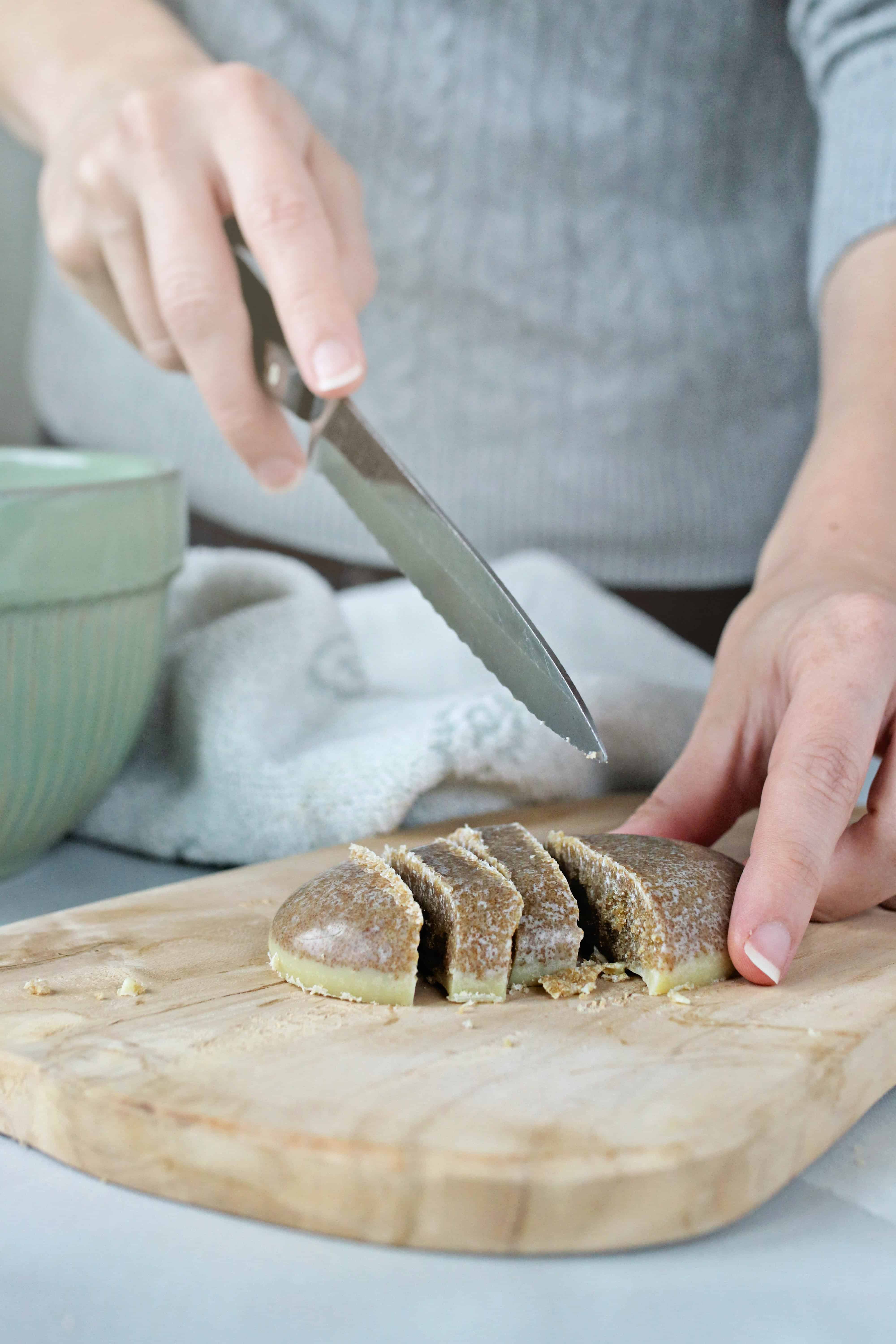 Because the butters can soften quickly in hot water, I don't use my scrubee to exfoliate directly. Instead I generously apply the scrub to wet skin, then use my hands to simultaneously exfoliate and moisturize. You can make your scrubees last longer if you don't let them linger in running water. You need a splash of water so the lotion glides easily over skin, but not enough to rinse the butters down the drain. And if you put your bar away so it can dry out between showers, you should be able to get 9 or 10 uses out of each one.
When you're done, quickly rinse off the sugar scrub and pat skin dry. The oils will linger on skin so you don't have to apply extra lotion afterwards. Just rub any excess butter into skin and let it absorb completely before getting dressed.
Oh, and I learned this the hard way, but when the butters melt they have a tendency to coat the floor of the shower (another reason not to let your scrubee sit in hot running water). Using your scrub bars sparingly and not letting them melt in the shower will help cut down on slip factor. But even so, be careful!
This post was medically reviewed by Dr. Rina Mary Allawh, M.D., a dermatologist who performs adult and pediatric medical dermatology, skin cancer treatment and cosmetic dermatology. Learn more about Hello Glow's medical review board here. As always, this is not personal medical advice and we recommend that you talk with your doctor.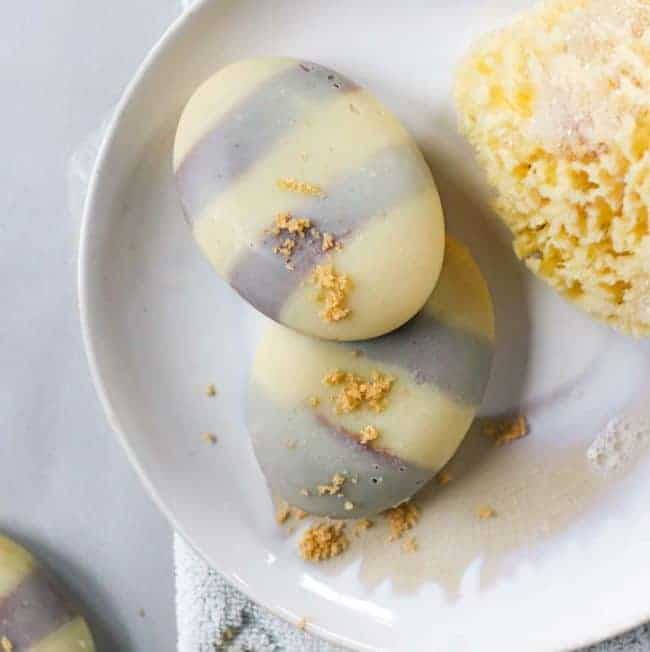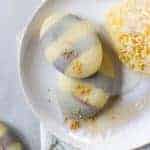 Print
Sugar Scrub Bars
If you love Lush body "scrubees", you'll love these DIY sugar scrub bars, made with a blend of nourishing oils and exfoliating brown sugar.
Equipment
Silicone mold

small microwave-safe bowl
Materials
For the Brown Sugar Stripes
For the Shea Butter Stripes
Instructions
Start by making the sugar scrub stripes. Combine the cocoa butter, shea butter and coconut oil in a small bowl. Microwave in 30-second intervals until completely melted.

Add the brown sugar and stir to combine. The mixture should be the texture of sand, not runny or soupy. Add more sugar if needed.

Spoon the sugar mixture into your silicone molds (it might not be enough to fill all the cavities in your mold, which is fine since you'll be cutting it up and evenly distributing the stripes among all the cavities). Place in the refrigerator for 30 minutes, or until solid.

Remove the solid sugar scrub bars from the mold and slice each one into approximately 6 segments. Place the segments back in the mold with plenty of space in between each one. Put the mold in the freezer while you make the shea butter mixture.

Combine the remaining 3/4 cup cocoa butter, 3/4 cup shea butter and 2 tablespoons coconut oil in a clean bowl. Microwave in 30-second intervals until melted.

Add the honey and bergamot oil and stir to combine.

Let the shea butter mixture cool for about 25 minutes. Then remove the mold from the freezer and pour the shea butter mixture into each of the cavities, making sure to cover and surround all of the sugar segments. Use your fingers to adjust the stripes should they start to shift.

Put back in the refrigerator until solid.

Remove the scrub bars from the mold and store in an airtight container in the fridge.
Notes
These bars should last forever if stored properly. I keep mine in the refrigerator and pull them out one-by-one when I'm ready to use one. I have kept the spares in the fridge for up to a year without any issues,
Make sure not to let them sit in standing water in the shower. And don't hold them under hot running water for too long or they'll fall apart.
The melted oils may leave a slippery coating on the floor of the shower, so be careful when getting out!
220