As any herb gardener will tell you, toward the end of the growing season, you usually have a lot of plants left over. I have a small herb garden outside my living room window, and it takes until about August or September for the seeds I planted in April to grow wild. While they'll probably thrive well into the fall, it's time to start planning ahead so all those herbs don't go to waste. You can eat them, dry them, soak them in olive oil and freeze 'em, or—my personal favorite—use them to make herbal oils.
Herbs are said to have healing benefits [source]—thanks to the nutrients, bioactive compounds, and antioxidants they contain [source]. And herbal oils are simply extracts that harness the therapeutic properties of the different herbs. You can use them straight out of the bottle or in salves, lotions, lip balm, hair oils, or other beauty recipes. Or, if you're using culinary herbs, you can use their oils to enhance the flavor in cooking recipes. They come in handy in a variety of ways!
Here's everything you need to know about making, storing, and using herbal oils.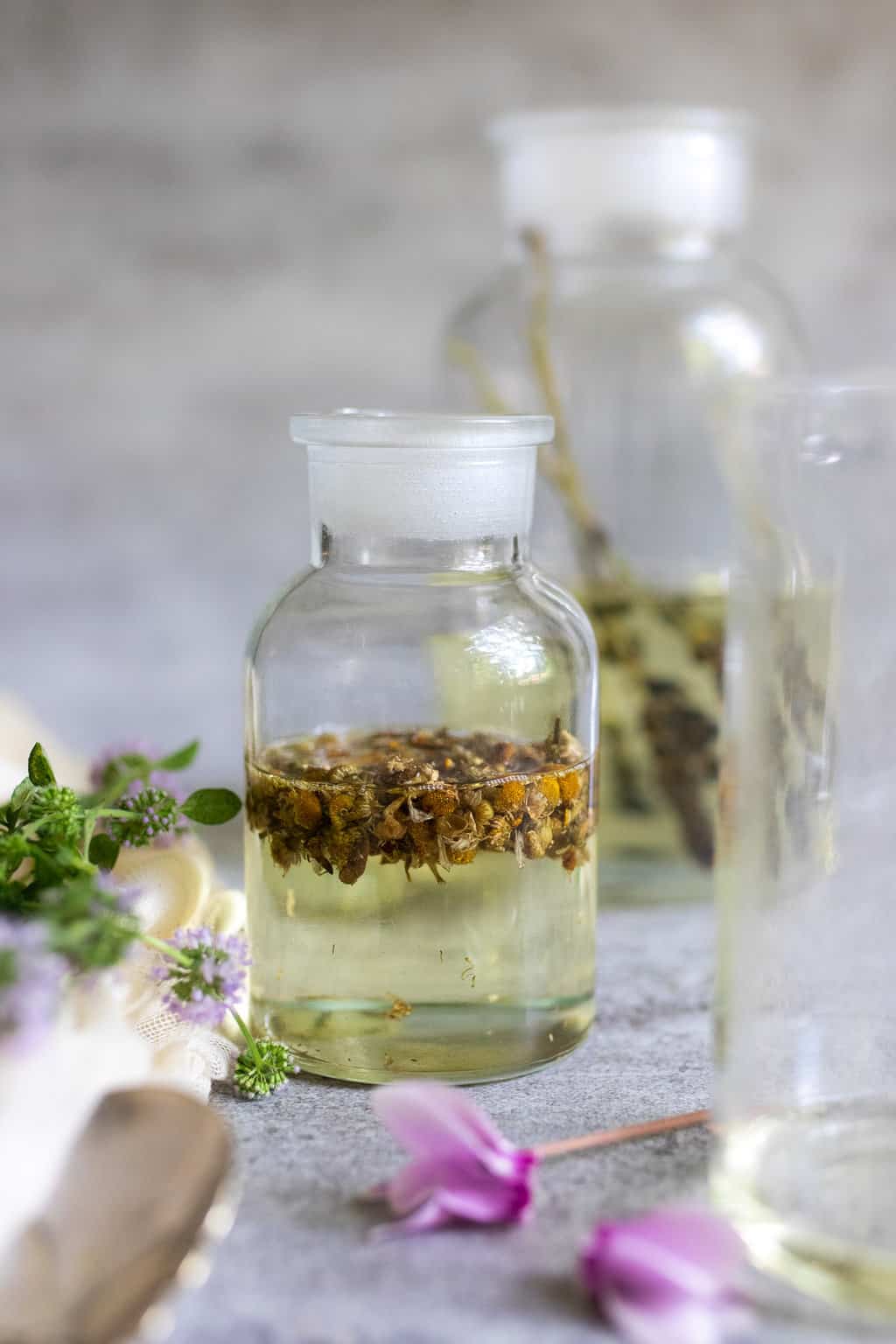 The Best Herbs to Use in Herbal Oils
Medicinal herbs are traditionally used for making herbal oils, but most herbs have beneficial properties, so don't limit yourself to this list. Since they're easy to find, you can always use culinary herbs, like basil, thyme, rosemary, or even garlic and turmeric, to make flavored cooking oils or scented oils for homemade beauty products.
These are 12 of the most common herbs you can use:
—Arnica
—Calendula
—Mullein
—Comfrey
—Rosemary
—St. John's wort
—Peppermint
—Plantain leaf
—Lavender
—Chamomile
—Lemon balm
—Chili flakes
How to Make Herbal Oils
While you can combine herbs together to make a multi-herb oil, I find it best to use them one at a time. Herbs interact with each other, which can change the effectiveness of your oil. And when you combine herbs at the start, you don't know the true ratio of each herb in your oil. For that reason, it's best to make each oil separately and combine the oils later, if desired.
You'll also want to start with dried herbs. Fresh herbs contain moisture, which can cause the oil to mold. The good news is that if you don't have an herb garden, you can buy dried herbs in bulk online or at a local health food store, saving you a step. However, if you're starting with fresh herbs, I recommend drying them first. You can do this in a dehydrator over the course of several hours or with an herb drying rack over a few weeks to a month.
Once you've got your dried herbs on hand, it's time to make your oil.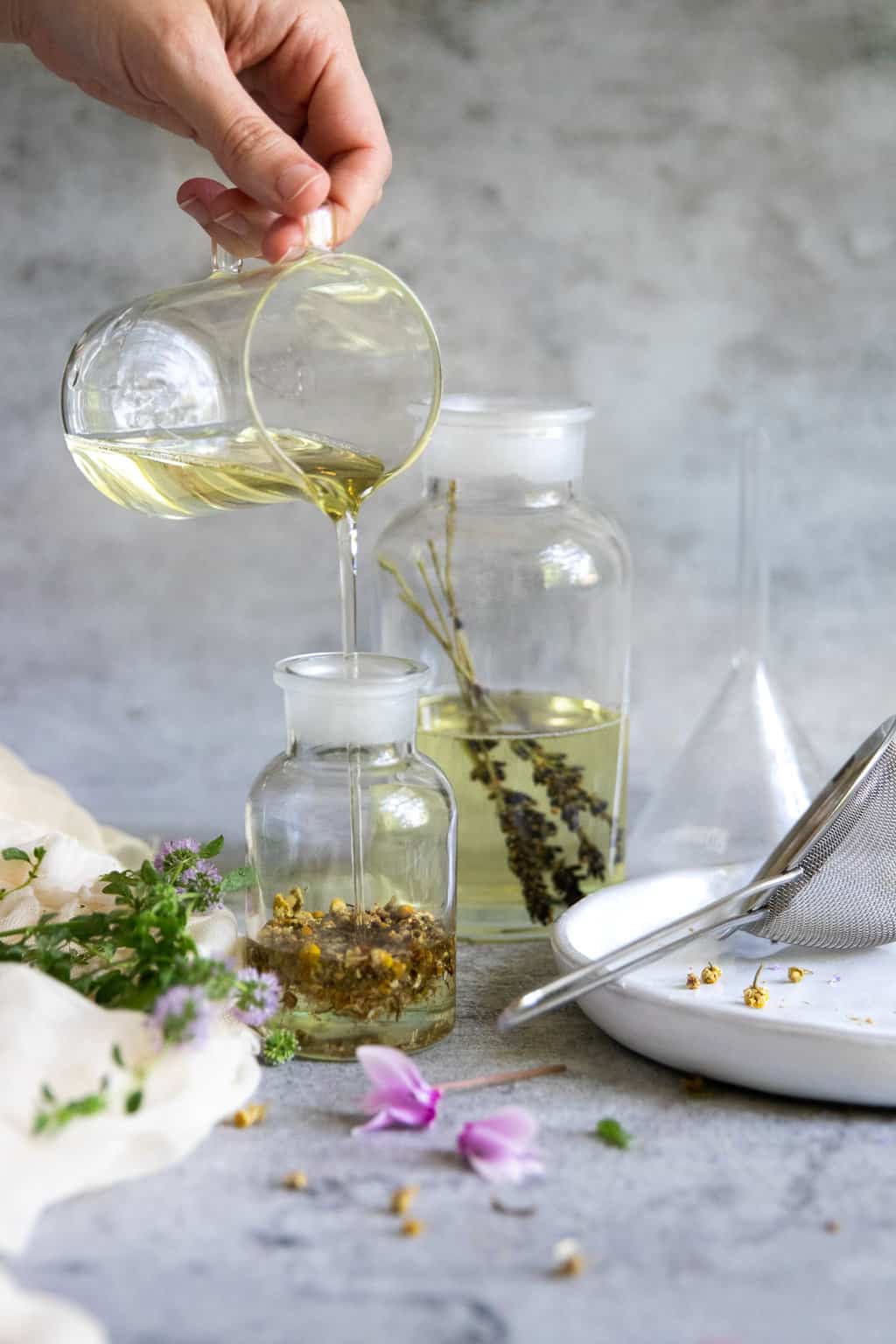 3 Ways to Make Herbal Oils
There are three ways to make herbal oil (okay, probably more, but we're sticking with three…): the fast method, the slow method, and the alcohol method.
To make herb-infused oil quickly, you need heat that breaks down the bioactive compounds and makes your oil less potent. The fast method gently heats the herbs in a double boiler or slow cooker to extract the compounds quickly without overdoing things too much.
The slow method uses the gentle heat of the sun to do the extraction. Because it's a slow, clean extraction method, the resulting oil is incredibly potent, but the process takes a few weeks to complete.
Lastly, there's an alcohol option, which is kind of a cross between the first two methods. Alcohol helps extract the volatile compounds over the course of a day or two. The resulting liquid is then blended with oil to create an herbal oil.
Choose the method that works best for you.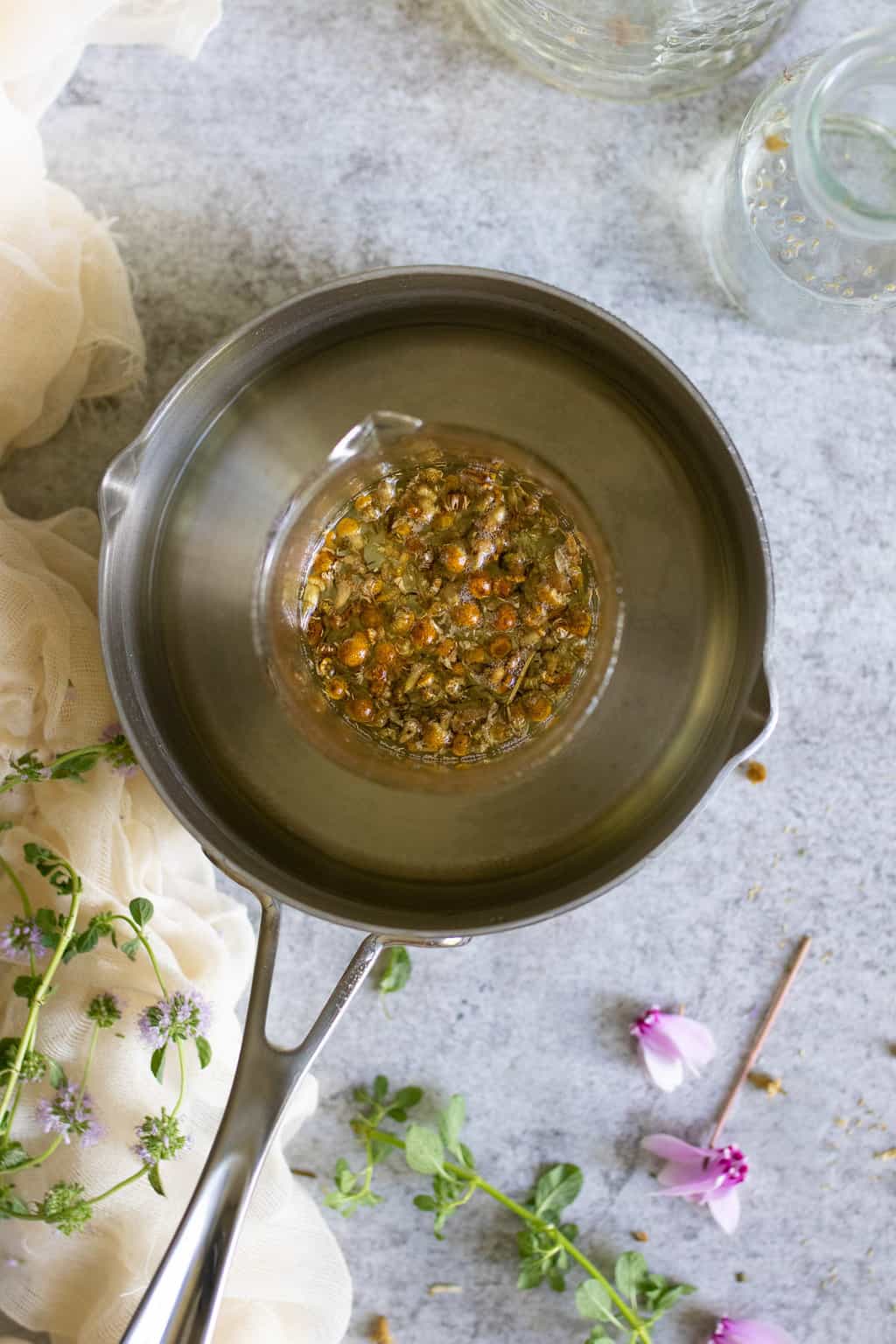 The Fast Heating Method
For most of us, infusing herbs for weeks on end isn't an ideal option. We're busy people! To cut down on the time it takes to make oils, use a bit of heat to speed the infusion process along.
You'll need:
—Double boiler (or place a heat-proof glass container inside a small saucepan that's filled with water)
—Dried herbs
—Olive oil or fractionated coconut oil
—Cheesecloth
How to do it:
1. Fill the upper chamber of your double boiler ¾ of the way with dried herbs. Then fill the rest of the way with oil, covering the herbs by about 2 inches.
2. Fill the bottom chamber with water, and place the double boiler on the burner over low heat (ideally, the temperature should stay below 140°F).
3. Simmer on low for about 5 hours or until the oil takes on the scent and color of the herb. Turn off the heat and let the oil cool to room temperature.
4. Using cheesecloth, strain out the herbs and transfer the oil into an airtight glass bottle.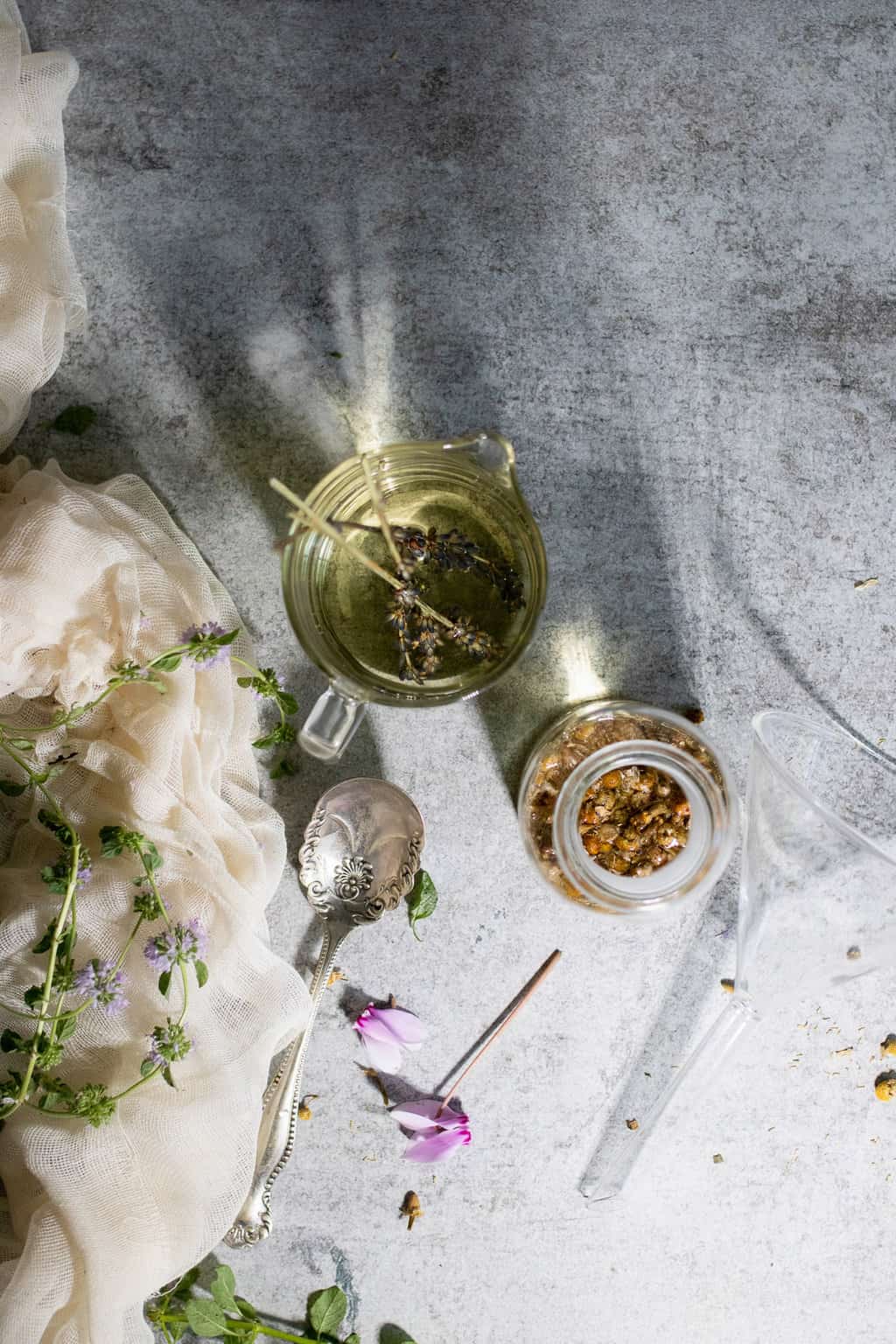 The Slow Infusion Method
If you have some time on your hands, this extraction method is a great way to infuse oils without much effort. Simply soak the herbs in oil for 3–4 weeks, shaking every couple of days, and let the sun do the rest.
You'll need:
—1-quart mason jar
—Dried herbs
—Olive oil or fractionated coconut oil
—Cheesecloth
—A sunny window
How to do it:
1. Fill the mason jar ⅔ of the way with dried herbs, leaving about 2 inches of space at the top.
2. Fill the rest of the way with oil, covering the herbs by 2 inches.
3. Replace the cap on the jar and give it a good shake.
4. Place the jar on a sunny windowsill. Let the herbs steep for 3 weeks, shaking once every day or two.
5. Using cheesecloth, strain out the herbs. Transfer the oil to a glass jar with a lid.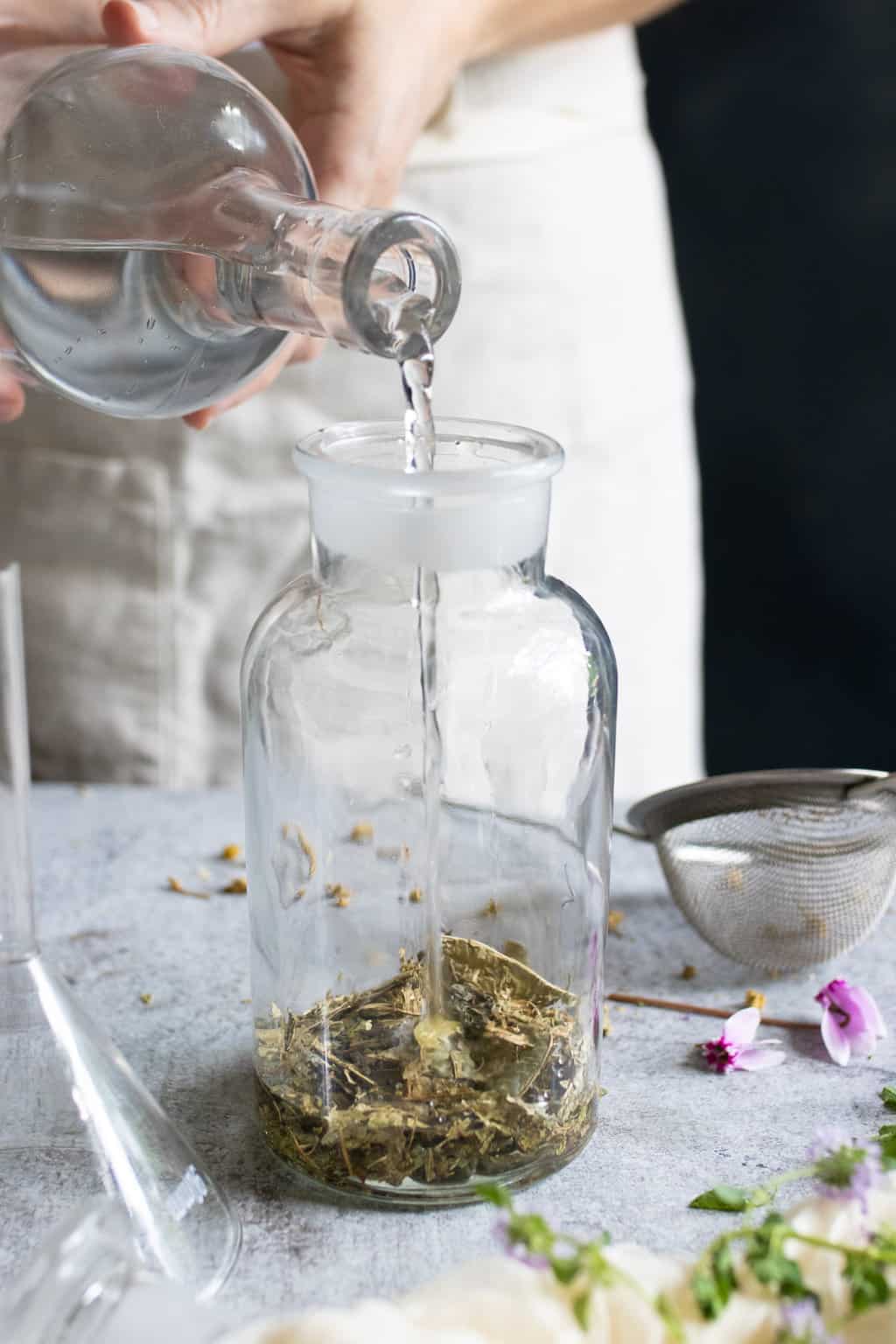 The Alcohol Extraction Method
A strong alcohol like vodka or gin can help extract the herb's volatile compounds in about 24 hours, without the need for heat.
You'll need:
—½ ounce vodka or gin
—Blender
—Coffee grinder or mortar and pestle
—Glass jar with lid
—1 ounce dried herbs
—8 ounces olive oil or fractionated coconut oil
How to do it:
1. Grind the dried herbs using a coffee grinder or mortar and pestle.
2. Place the herbs in a glass jar, leaving 2–3 inches of room at the top.
3. Fill the jar with vodka or gin, just enough so that the herbs have the consistency of wet sand. You want the herbs to be damp and soft but not soaked.
4. Replace the lid and place the jar somewhere it won't be touched for 24 hours.
5. Place the damp herbs in the base of a blender and cover with olive oil. Blend on high for about 5 minutes (the oil should be slightly warm).
6. Strain the oil through cheesecloth, and then transfer to a clean glass bottle or jar.
How to Store Herb-Infused Oils
Always store the oil in a glass bottle with a tight-fitting lid, and label it with the contents and date. An amber bottle will help keep the oil from going rancid, letting you store it in the medicine cabinet or on a side table. But if you don't have one, a clear glass bottle is fine. Simply store it in a cool, dark place.
Feel free to add vitamin E oil at a concentration of 1% to help keep the oil from going rancid.
When using an herb on your skin for the first time, you should consider doing a spot test to make sure you do not develop a reaction when applied on a larger area. Use your herb-infused oil within one year.
How to Use Herbal Oils
Obviously, some herbs are better suited for certain purposes than others, but here are a few ideas for using your herbal oils:
—To soothe aches and pains
—To encourage minor wound healing
—To moisturize dry, cracked skin
—To soothe inflammation and rashes
—As a facial oil
—As a first aid remedy
—As a massage oil
—As a hair mask
—In food, such as salad dressing or marinades
—In the bathtub
—In a diffuser for aromatherapy
—In bath and shower bombs
—In homemade soap
10