With all the debate over sugar lately, chances are you've tried—or at least considered trying—to give it up. With its links to obesity and diabetes, inflammation and high blood pressure no wonder everyone's scrambling to reduce their sugar intake.
Researchers are hesitant to say that people can be truly addicted to sugar, but many of us know we'd still be better off with less of the sweet stuff in our lives. Some people do fine with just cutting back a bit, but for others, doing a cold-turkey no sugar period seems to be the way to go.
That's easier said than done given that sugar is in just about every food we buy, from pasta sauce to meat products. A sugar detox can help get your body off the "sauce" (syrup?) and reset itself, but it's not always easy.
How To Survive Sugar Withdrawal?!
As anyone who has tried completely cutting out sugar can tell you, it can be really tough! When you're used to grabbing sugary snacks and your brain is accustomed to that quick fix of simple carbohydrates, not eating sugar can really fell as if you're in withdrawal.
Worry not, though, we've got allllll the tips for surviving your sugar-free withdrawal and cravings.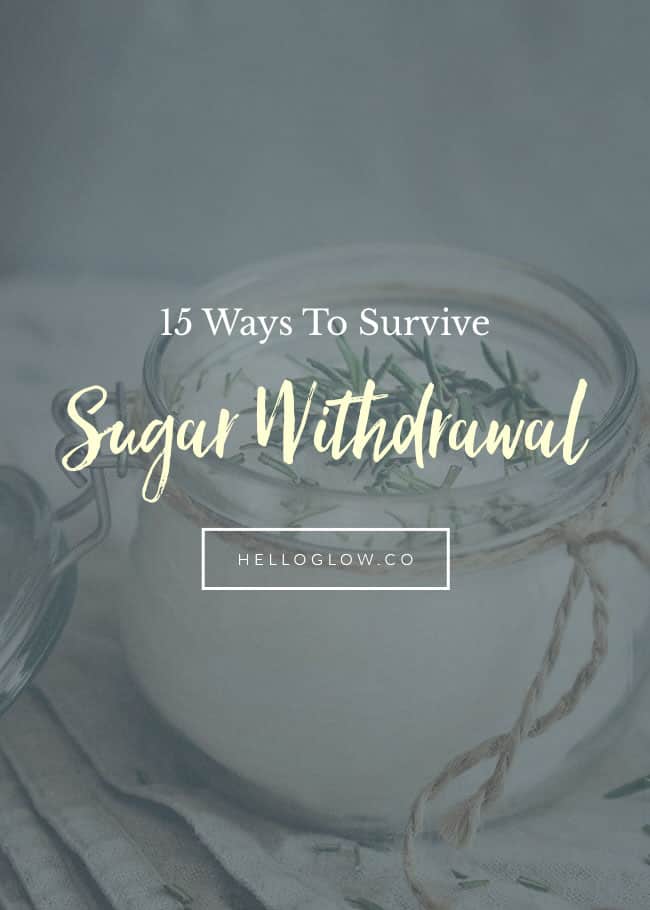 1. Wean Yourself Off
Going cold turkey might be for some, but for others not so much. If you normally consume a lot of sugar, plan ahead. A week or two leading up to your detox, start eliminating it wherever you can: Stop putting sugar in your coffee, switch from soda to sparkling water, buy unsweetened nut butters and nut milks for your smoothies.
2. Prepare for Side Effects
Even if you didn't have a raging sweet tooth before, you'll probably experience some headaches once you give up sugar. Many people abandon a detox when they get to this point, but if you can work past it, it gets much easier. Make sure to support your liver and other elimination organs in the meantime by drinking plenty of water, eating lots of nutrient-rich foods like leafy greens getting enough sleep, taking relaxing baths, and dry brushing.
3. Be Smart About Substitutes
Diet soda might be free of sugar and calories, but it's got its own laundry list of risks. In addition to altering our gut microbes and contributing to diabetes, researchers have attributed soda to weight gain (especially around the waist) stemming from aspartame's effect on blood glucose levels.
Artificial sweeteners are also to blame for altering our taste buds (training us to seek out sweeter foods) and triggering insulin resistance and headaches. At that point you'd probably be better off with sugar! Stick to whole foods that aren't marketed as "light" or "diet," and keep an eye on labels for artificial sweeteners.
So-called "natural" sweeteners like stevia or xylitol, which are in everything from natural teas to gums, can cause some of the same physiological reactions as artificial sweeteners like aspartame, including but not limited to increased cravings and digestive upset.
Katie Trant, the resident nutritionist at Hey Nutrition Lady, puts it this way: "The reality is there is no magic bullet, and if it seems too good to be true, it probably is." Opt instead for naturally sugar-free (as in, there was never sugar in it to begin with) products.
4. Watch for Hidden Sources
Pasta sauces, yogurt and kefir, non-dairy milks, cereals, energy bars, protein powders and salad dressings can all be sources of unbelievable amounts of sugar, some of it naturally occurring, but some of it added in. (Many low-fat or low-calorie foods add in sugar to trick your brain into thinking it tastes good.)
Always buy unsweetened, or make your own. Look for sugar synonyms like corn syrup, maltose, fructose and evaporated cane juice, too.
5. Don't Buy It
The easiest way to not think about sugar is to not have it in the house—no excuses! So what if the kids love sugary fruit snacks? They can deal with eating real fruit or other non-sugary snacks for a week, and they'll probably be better for it.
Make sure to anticipate cravings so you don't cave and hit the post-Halloween candy sales, though. I used to not believe my life was complete until I had a glass of orange juice in the morning, but now I make sure to keep clementines and carrot juice (both of which have sugar, but aren't just empty calories) in the house to fill that void.
Replace the fun-size candy bars with expensive high-cacao dark chocolate so you don't eat as much, and get tons of antioxidants when you do. Grab a green juice instead of a soda when you're tired.
6. Replace sugar with protein
When cutting out sugar, many people report headaches, moodiness, stomach discomfort and sleeping problems. These symptoms can be calmed by eating or drinking something with protein because it helps regulate blood sugar, which can get out of whack when we suddenly change our intake.
Good sugar-free protein snacks include greens, sunflower seeds, nuts and lean meat (not cold cuts, which are often processed with sugar).
7. Satisfy cravings with fruit, nuts, seeds and spices
You need some simple carbs in your diet, and fruit—which contains sugar—is a great way to get them because you're also getting nutrients such as fiber, antioxidants and anti-inflammatory benefits. Be smart about your fruit consumption, though; it's a good idea to stick to just 1-2 servings a day.
And make to sure to eat the fruit as whole as you can: leave the skin on your apple or pear, and opt for a small orange or tangerine rather than a glass of orange juice (even fresh-squeezed), so you get the fiber.
Adding a little cinnamon or nutmeg (like these cinnamon apple chips) adds sweetness without cheating. A handful of nuts and seeds can also help calm cravings.
8. Distract yourself
Sometimes all it takes is a little distraction to get over the hump!
Whether it's taking a nap, going for a walk to clear your head or playing a game or reading a book to pretend you're not having that craving, doing something with your mind or body can really make a big difference.
9. Hydrate!
A lot of the symptoms people feel when eliminating sugar from their diets can mimic signs of dehydration. And the truth is, you may just need some water! Always remember to hydrate, especially when you're making a change to your usual diet.
10. Exercise
If you feel up to it, doing some exercise can help with a lot of sugar withdrawal. Going for a short run or a class at the gym can be a great distraction and, of course, is great for your body in general.
Taking a yoga class or practicing at home can have the added benefit of reducing headaches and some stomach discomfort. Just remember Tip 3 and be sure to hydrate!
11. Meditate
Mindfulness and deep breathing are wonderful stress relievers, and many people swear by them as part of their daily routine. Even if you're generally pretty chill, making sudden changes to your diet can put stress on your body and mind.
Take some time to either clear your mind and just be present, or use the practice to focus on the reason you're eliminating sugar in the first place and what you hope to get out of the experience.
12. Pay attention to food combinations
Even if what you're eating doesn't include refined sugar, the way you pair foods may have an impact on you.
According to the Ayurvedic practice of food combining, fruit should be eaten by itself, and vegetables and starches should be paired with protein, but not necessarily with each other.
13. Try a castor oil pack
Many people swear by a castor oil pack when bloated. It involves putting a castor oil-soaked piece of cloth over the affected area with a heating pad or hot water bottle on top for about 45 minutes.
(Special note: this isn't recommended for people who are pregnant or menstruating, and it's for external use only. Always talk to your doctor about this kind of thing first!)
14. Take Epsom salt baths
If a castor oil pack seems too intense, try an Epsom salt bath. It's relaxing, and Epsom salts contain magnesium, which is a vital mineral that many people lack, but can become even more deficient when not properly hydrated.
15. Be patient
In the end, the uncomfortable symptoms associated with cutting sugar from your diet usually don't last very long. Headaches tend to subside after a day or two, and moodiness and other symptoms fall away soon after.
Once your sugar detox is over, don't think of it as license to jump right back in; your blood sugar levels will not be happy if you overload your system suddenly. Ask yourself if those store-bought cookies sitting out at the office are really worth falling off the wagon for.
Maybe you find you don't even like sugary cereals or granola bars anymore, either because the flavor is too much, or because of how you feel afterwards. The more you make those seemingly little choices, the more your tastes will change and the less you'll want sugar going forward.
If you find you've made your way back to sugar (it happens!) just try to minimize the damage, and do another detox when you feel mentally prepared. Get back on that horse, and you'll be phasing unnecessary sugar out of your life in no time.
127