I've been oil pulling now for nearly a year and I'm still loving it and not ready to quit anytime soon. That being said, I would still love to have whiter teeth.
Years ago when I went to my dentist, I asked about professionally getting my teeth whitened. My dentist and his hygienist both cautioned me about getting the procedure. They told me the chemicals used were very harsh and would leave me with really sensitive teeth and gums; something I was already struggling with.
Instead I turned to nature's natural whiteners – hydrogen peroxide and sage! Not only are they gentler on teeth and gum than traditional whiteners, but they actually clean the mouth and keep bacteria at bay. Winner winner chicken dinner.
Here's how to use them to freshen you mouth and brighten your smile.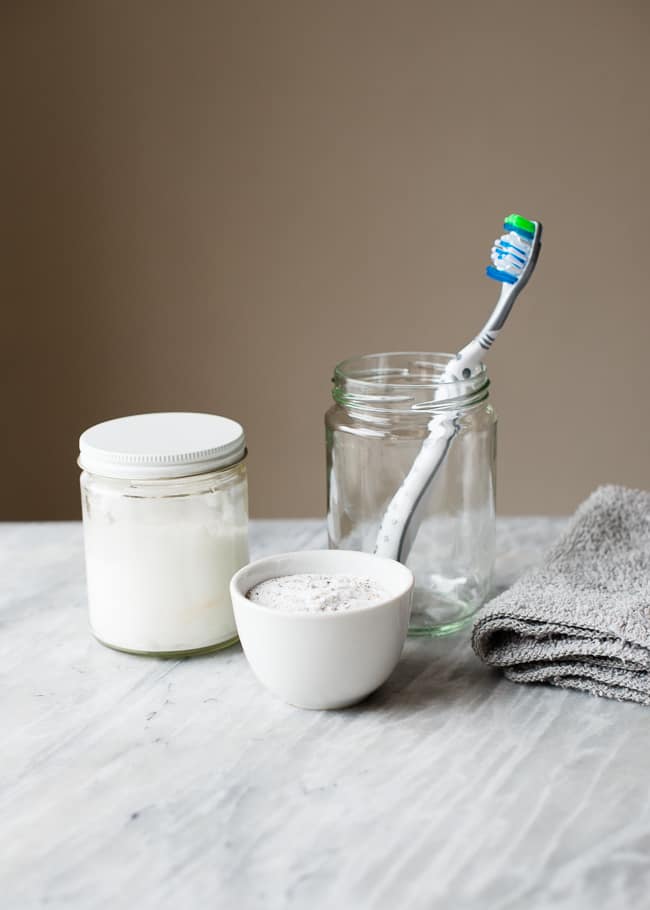 Homemade Teeth Whitening Paste
I love making my own natural toothpaste, so I decided to try adding some hydrogen peroxide for more natural teeth whitening benefits. I swish with hydrogen peroxide every day after I brush, which is after I oil pull. (So, to clarify: oil pull, brush, swish with peroxide–in that order.)
After my cleaning routine, my mouth always feels so fresh and clean. Almost like I just back from the dentist. I love it! The hydrogen peroxide paste kills two birds with one stone and works great, too.
Ingredients needed
Combine the ingredients together to form a paste. Transfer to an airtight jar and store in the cupboard. Use two to three times a day as needed.
Whitening Sage Tooth Scrub Powder
Recently I found out about a teeth whitening scrub or powder made with dried sage, a little salt and baking soda. It only needs to be used once or twice a week because it can be slightly abrasive.
The sage acts as another natural whitening agent. I've been excited to watch my teeth getting whiter without the use of harsh chemicals. But when used sparingly, it will naturally remove buildup and stains where cause yellow-looking teeth.
Ingredients needed
2 tablespoons baking soda
1 tablespoon dried rubbed or ground sage
2 teaspoons fine sea salt
15-20 drops peppermint essential oil
Combine the dry ingredients in a bowl and add the peppermint oil. Stir well to combine. I like to transfer my sage tooth scrub powder to an airtight jar that I can keep in my bathroom, but you can also store it in a bowl covered with plastic wrap.
To use, dip a wet toothbrush into the scrub and brush teeth as normal, making sure to be gentle and pay attention to brushing the front of teeth really well. Rinse your mouth out with warm water and run your toothbrush under the tap for 30 seconds to get rid of any lingering powder. Do this once or twice a week as needed.
Note: If not using ground sage, pulse the mixture in a food processor or spice grinder to make a finer powder.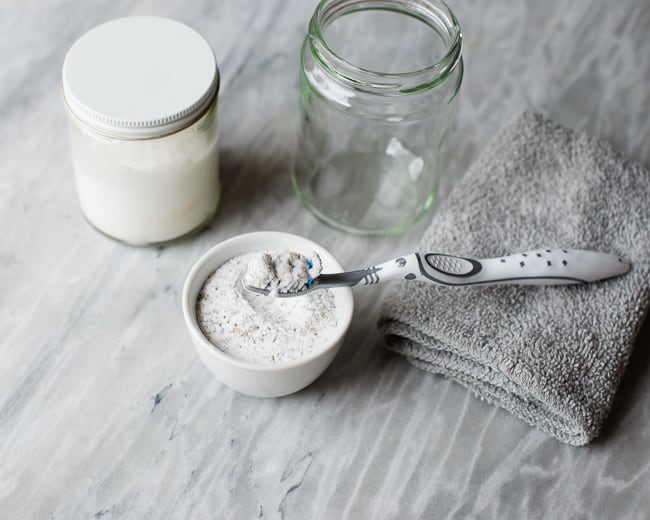 100