One of the easiest ways to elevate your bath ritual is by using bath bombs. They come in just about every scent, size, color, and shape. But if you've ever wondered how to use a bath bomb, you're not alone! Let's look at the benefits of bath bombs and how to use them as part of your bath experience.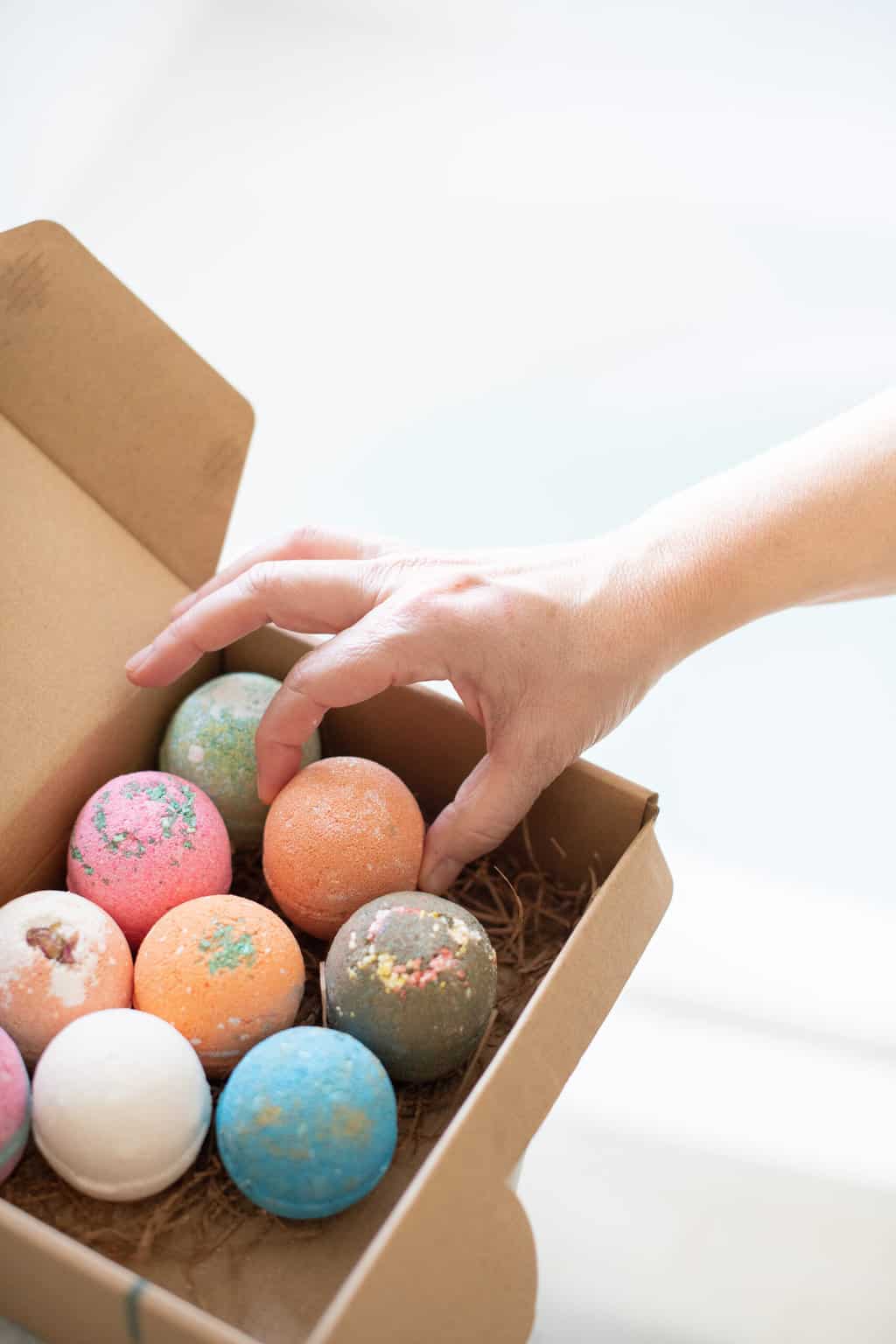 Everyone seems to have a different bathing routine. And that's a good thing because everyone should use products that make the experience feel special for them. If you need help creating a game plan for your soak, here's how I use a bath bomb to create a self-care ritual.
Jump to:
Benefits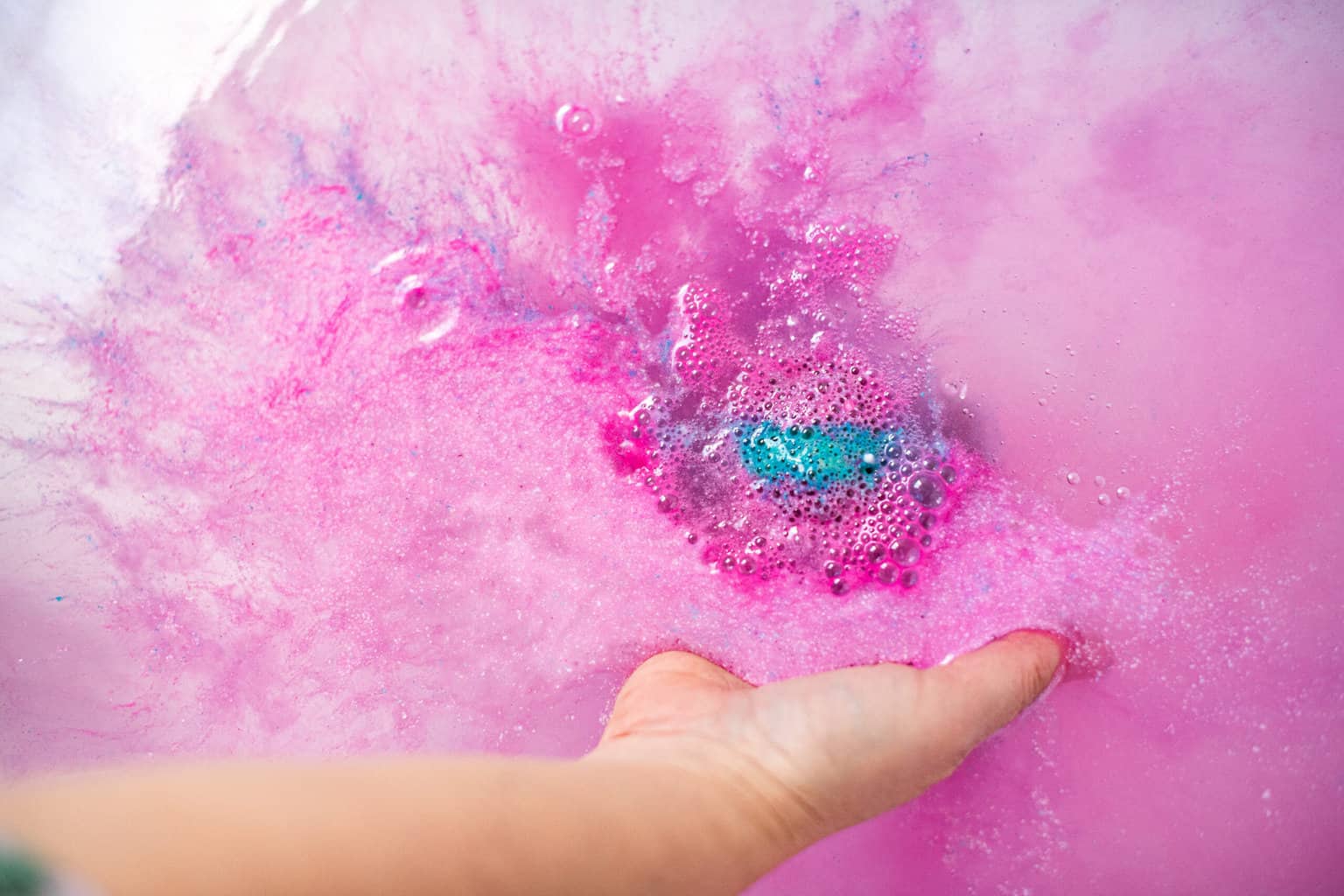 Bath bombs are often packed with different oils and butters that can help repair the skin while making it look more youthful. Shea butter is one of the ingredients commonly found in bath bombs, and it has sun-protective, anti-aging, and moisturizing properties [source].
They are great for detoxing—thanks to the citric acid and bicarbonate they contain.
Some bath bombs are infused with stress-relieving scents, helping reduce your anxiety in the process. Lavender is one of the best scents for helping you unwind and feel better [source].
Bath bombs can provide hydration for dry skin.
And they're fun! A bath bomb turns your water into something like art with all of the colors, fizzing, and bubbles.
Step 1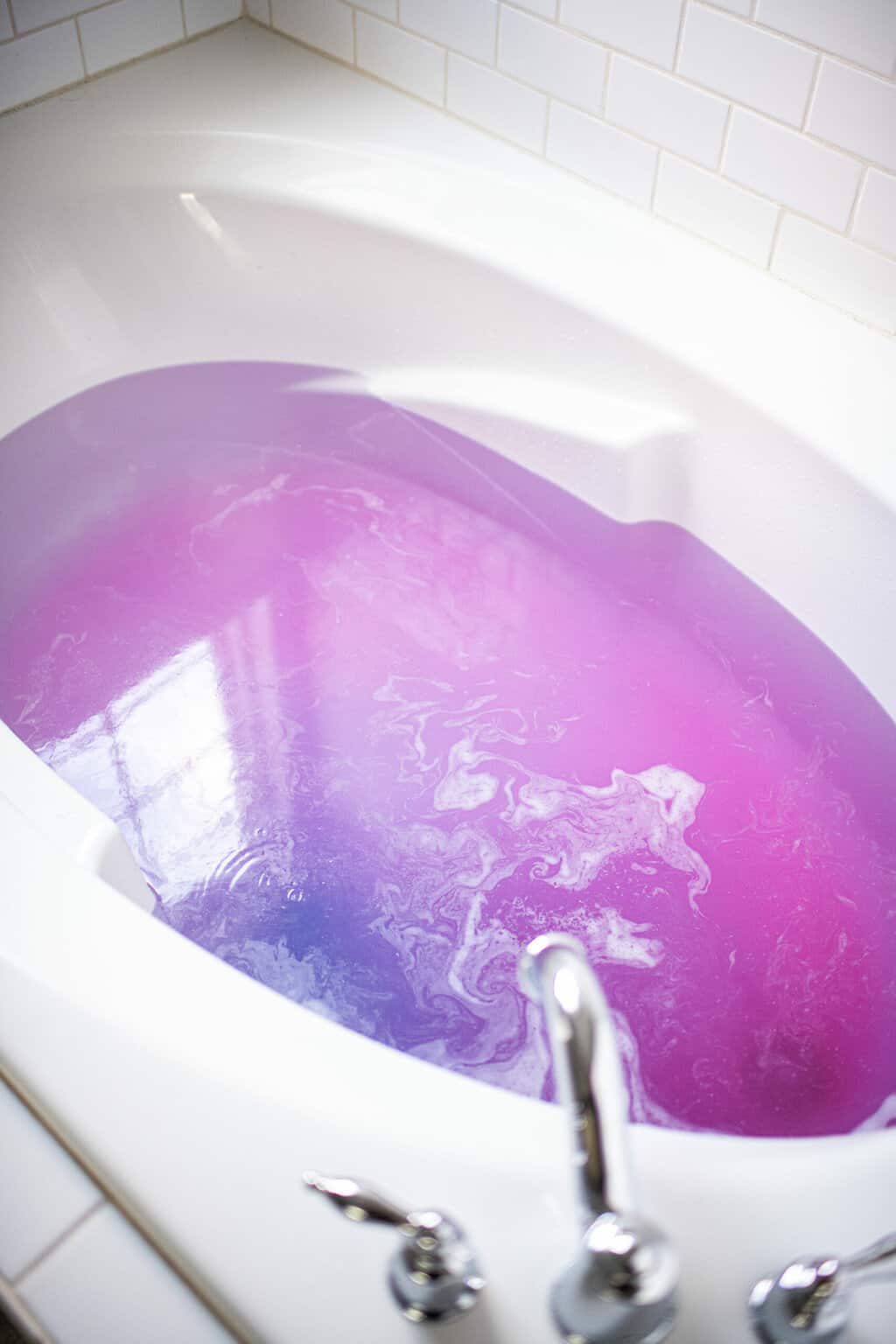 Choose Your Bath Bomb & Set the Mood — Make bathtime a date with yourself! Start by choosing a bath bomb that fits your needs. For instance, you may want to soothe sore muscles, relieve anxiety and stress, or enjoy a better night's beauty sleep.
Different bath bombs have unique properties—thanks to the ingredients added to them. Some contain shea butter that can repair and soothe your skin, while others have calming scents like rose [source] or lavender to make you feel like you're in heaven. Others contain almond or coconut oil to hydrate your skin.
Then lower the lights and light a candle or two. Put on some music. Get a glass of cold water (or wine) in a plastic cup.
Step 2
Prep your body & supplies — Before hopping in, make sure you're all set for while you're in the bath and when you're ready to hop out. Make a bath cocktail by adding extras like bubble bars, bath oils, bubble bath, or bath salts. You can add those before or after putting your bath bomb in.
Grab any body scrub, hair mask, or shaving supplies you plan to use. Keep a hand towel close by to wipe your hands (if you need to touch your phone) or face. Get your cozy towel out and set out a robe or PJs.
To prep your body, do a few minutes of dry brushing, or give your body a rub down with a massage bar. Pre-bath is a great time to apply a hair and/or face mask because you can rinse it off in the bath.
Step 3
Fill Bath ½ Way + Add Bath Bomb — Do you put the bath bomb in before you get in? Or after? That seems to be the question everyone asks! And the answer is it depends on the bath bomb or just your personal preference.
Team Dissolve First: Start filling the tub, adjusting the temperature as needed. When the tub is about half full, drop in the bomb.
It can be nice to add the bath bomb first if you're trying out a new bath bomb or using one with dramatic colors. That way, you can stand back for a few seconds and watch it do its thing. Plus, this is the perfect time to take bath art photos.
You can wait for it to stop fizzing or hop in right away. If your bomb has bright colors or glitter, you might let the color completely disperse before getting in to avoid any staining.
Plus, if you're using the bath bomb with something like a bubble bar, you'll get more fizz and bubbles if you wait to get in.
Team Get In First: I'm a fan of getting in the tub and then adding the bath bomb. If your bath bomb is designed to moisturize, your skin has more time to soak up the softness while the bomb is melting.
And if your bath bomb is only one color (or you've seen its show already), feel free to get in first and enjoy it up close. Relax with a bath pillow and zone out while watching the bath art.
I find watching the bath bomb to be a good opportunity to work on mindfulness. You can focus on what your body is experiencing. How does the water feel, what colors do you see, and what scents are you picking up? It's a great way to help yourself learn how to relax.
Step 4
Time to relax — Now that the bath bomb has fizzled out, are you wondering what to do? Sometimes the hardest thing to do is relax and let yourself enjoy the experience! Think of it as a whole body experience for 30 to 60 minutes.
—Read a book or magazine
—Listen to music or a podcast
—Watch a show
—Zone out and do nothing
If you need a task:
—Exfoliate your whole body with a sugar scrub
—Do a hair mask
—Trim cuticles and scrub feet
When you're done with the bath, hop out, lotion up, grab a warm cup of tea, and revel in the relaxation. You don't need to shower or rinse off after.
Ideally, you let the moisturizing contents of the bath bomb linger on your skin. If you want to wash your hair afterward (mine always ends up wet), tip your head into the water to just get your hair wet so you can avoid getting your body wet.
FAQ
Can you use a bath bomb without a bathtub?
You can use a bath bomb without a bathtub by letting it dissolve in a bowl filled with some hot water. Bring it into the shower, and you'll still get to enjoy the sights and smells. Soak your feet in it, or pour the water over yourself if you want its skin-moisturizing benefits or the scent to linger.
Why should you use a bath bomb?
Bath bombs have various benefits for your skin. Depending on their ingredients, they can moisturize your skin, heal it, and even relieve your stress and anxiety.
How many times can you use a bath bomb?
Bath bombs can be used twice if you cut them in half. Or just take the bath bomb out of your bath water when it's about halfway dissolved. You can keep the other half in an airtight container until you take your next bath.
Can you use a bath bomb in the shower?
Yes, you can use a bath bomb in the shower by putting it in a porous bag and hanging it on the shower head or smashing the bomb and sprinkling ⅓ or ½ of the powder and crumbs onto the shower floor.
Do you put the bath bomb in before or after you get in?
Put the bomb in first if you want to view the full bath show experience from above or you want to fully disperse the bomb's colors and ingredients. Or you can get in and then add the bath bomb. It's up to you!
Do you just drop the bath bomb in water?
Yes, a gentle plop into the water is all you need to do.
Are you supposed to shower after a bath bomb?
No, you don't need to rinse unless you want to. It's best to let the scents and hydrating ingredients from the bath bomb stay on your skin.
More Bath Bombs
If you love bath bombs, you'll be happy to know that you do not have to limit yourself to the options you have in your local shop – you can make your own—even Lush bombs!
Baths
More ways to enjoy a soothing soak:
2