Thoroughly removing makeup each and every night before bedtime is a must. Our esthetician always stresses the importance of sleeping on clean skin, which is vital to keeping blemishes away.
There are certainly plenty of products on the market for makeup removal, but it can easily be made at home with a DIY approach. Plus, you probably already have all the ingredients at home to create it.
Make sure you're removing your makeup—and saving money while doing it—with these simple recipes.
How To Make Natural Homemade Makeup Remover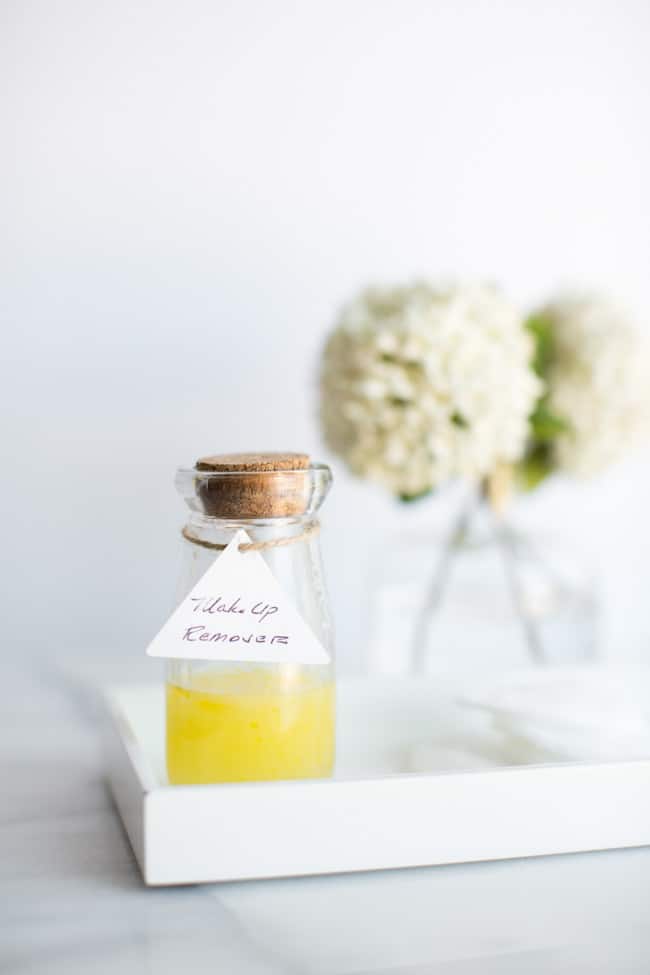 I don't wear a lot of makeup, but mascara is on my list of daily must-haves. That plus under eye concealer and lip gloss makes up the majority of my day 'look.'
Lots of natural face cleansers (like my favorite cleansing grains) don't remove mascara so I researched a recipe for a simple all-natural homemade makeup remover that can handle even the toughest mascara – and save you money, too.
I love the ritual of curling my lashes and sweeping on a couple of coats of mascara. It takes me back to watching my mom get ready in the morning with curlers in her hair.
I learned how to remove eye makeup from my mom, too. Her go-to was baby oil. It definitely worked, but as I've since moved away from mineral oil and other petroleum byproduct ingredients.
Removing your makeup is worth the extra step!
Let's be honest, taking off your makeup at night is a pain. Yes, it's an essential step in your skincare regimen, but it's an easy one to skip when you're tired. I avoid wearing eyeliner quite often just because I hate taking it off.
And I know I'm not the only one who sometimes 'forgets' to remove their makeup? Sleeping in makeup can clog pores, leading to blemishes and premature aging. So the solution needs to be simple – and it is!
I tried several liquid removers that were none-too-gentle and required lots of wiping, tugging and pulling on the delicate eye area. A big no-no if you want to avoid wrinkles!
Another easy natural solution is coconut oil. It definitely removes eye makeup, but it can feel a bit greasy. And if it gets into your eyes, yikes! That stuff stings.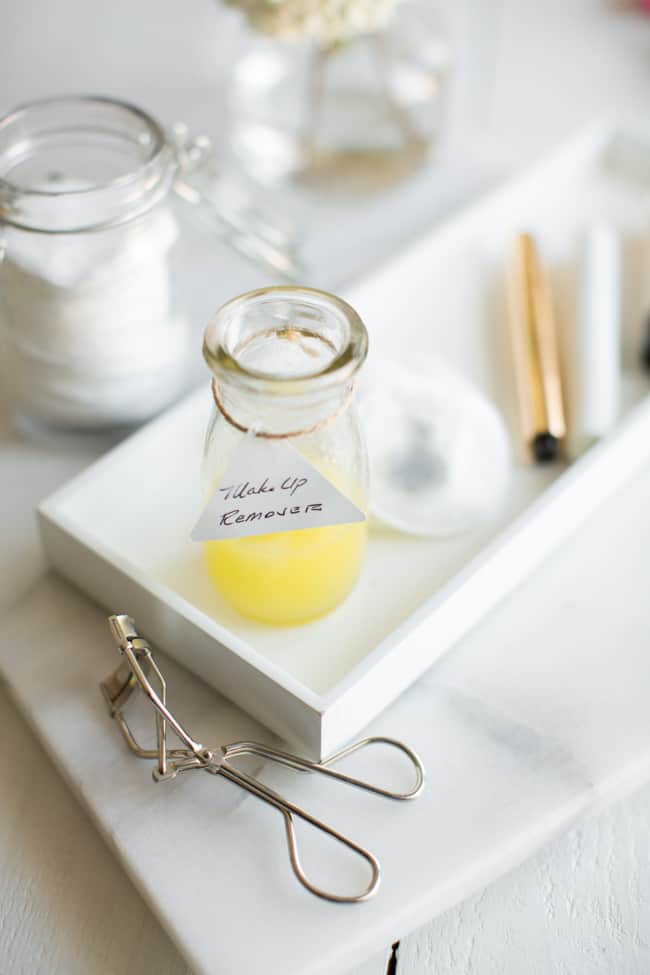 My Favorite DIY Makeup Remover
2 tablespoons witch hazel
2 tablespoons aloe vera (or filtered water)
Jojoba oil combined with witch hazel and aloe vera is tough on mascara and eye liner but gentle on the eyes and won't cause irritation. Combine everything in a bottle and shake the bottle to combine the ingredients before each use.
Use a round cotton pad or cotton ball soaked with the remover to remove makeup. Close your eyes and sweep the pad over your lids. Be gentle around the eyes as this skin is the most delicate area of the face.
Make Your Own DIY Makeup Remover Wipes
Store-bought makeup-removing wipes are super convenient, but they also can get expensive, and luckily those too can be easily made at home as well.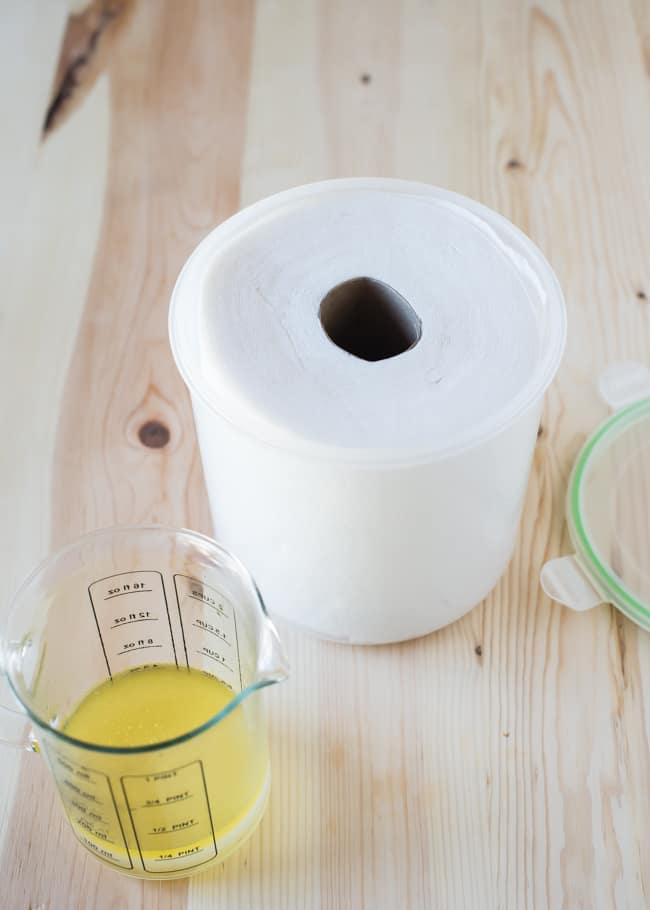 To make pre-soaked wipes you'll want to add a drop or two of tea tree oil in order to keep bacteria away. Take a roll of paper towels and cut the roll in half cross-wise.
Using an airtight container, place one half of the cut roll into the container and pour the solution over the roll. If you need to increase the amount of solution to cover the wipes, keep the 1:1:1 ratio of the three ingredients above, and add 1-2 more drops of tea tree oil per batch.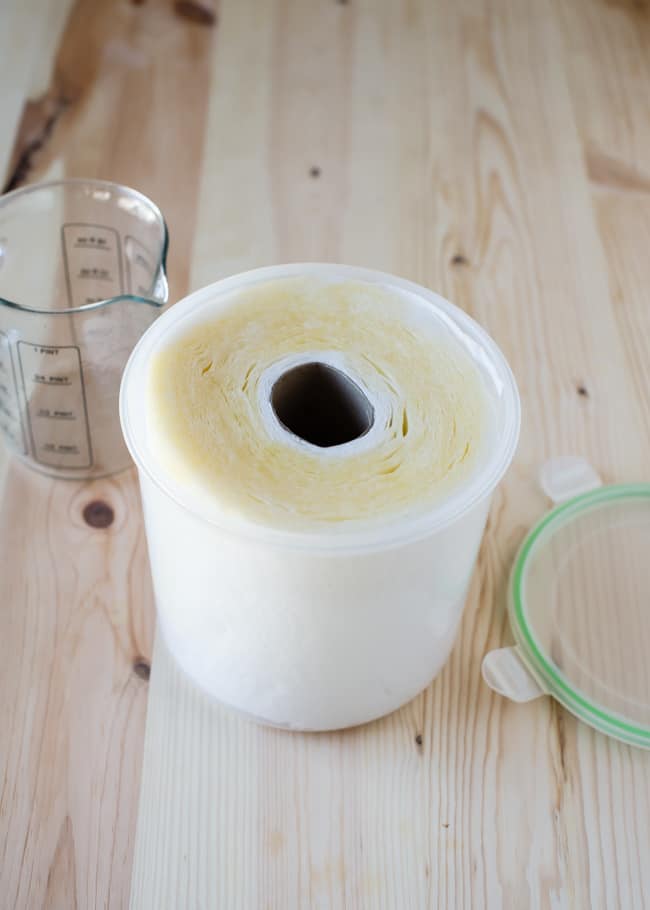 The cardboard tube should easily come out once the solution is soaked through the paper towels. Flip the paper towel roll over in the container to make sure the other side of the roll is also soaked.
Keep the lid on the container until needed, and pull wipes from the center of the roll. Use the wipes to remove eye makeup before climbing into bed. And follow with your regular skincare regiment.
P.S. change your pillowcases frequently!
More frequently than you change your sheets. I recommend fresh pillowcase changes every 2-3 days.
This will keep bacteria to a minimum, especially if you happen to drool in your sleep, battle breakouts, or your hair tends to get oily. Keep in mind products migrate, especially when we are asleep and moving around a lot.
The hair products you use can end up on your face and likewise the face products you use can end up on your hair! All the more reason to keep those pillowcases switched out every few days, or even invest in a few silk pillowcases which are wonderful for skin, and help smooth hair as well.
What's your favorite way to take off your eye makeup?
175