Thoroughly removing makeup each and every night before bedtime is a must. Our esthetician always stresses the importance of sleeping on clean skin, which is vital to keeping blemishes away. Luckily, whipping up your own DIY makeup remover couldn't be easier—sometimes you only need one ingredient! And that means you won't have any excuses for letting that days-old eye shadow live to see another day.
So, make sure you're rinsing away the dirt and grime from the day—and saving money while doing it—with one of these simple recipes.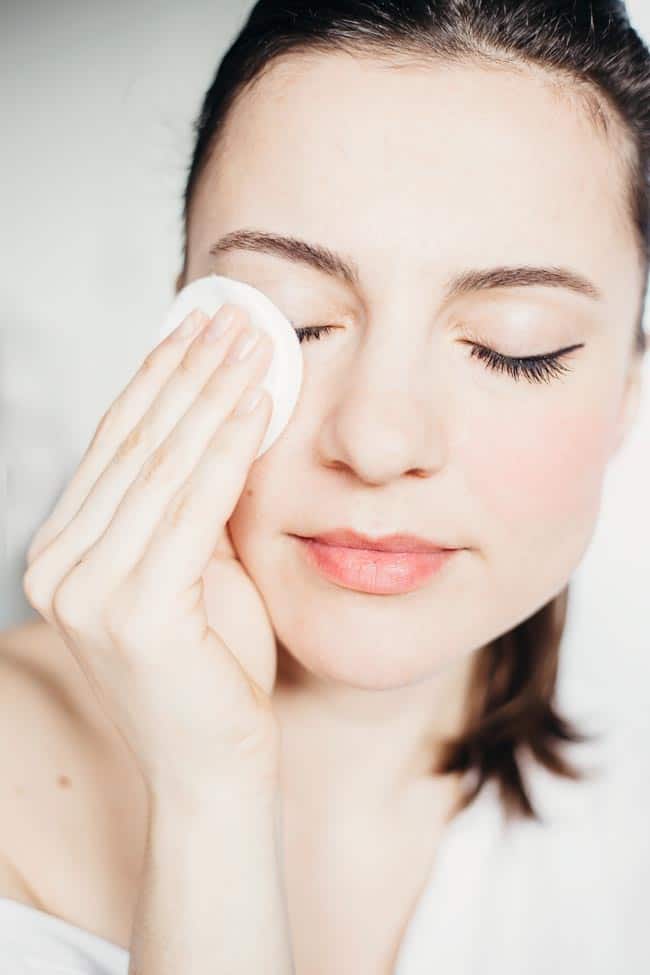 Why is it important to remove makeup before bed?
I know I'm not the only one who sometimes 'forgets' to remove their makeup? Just as you apply makeup every morning, you need to remove it every night to give your skin the ability to breathe and repair itself while you sleep.
Sleeping in makeup can:
1. Clog Pores
Makeup products, especially heavy ones like foundation, concealer, and powder, can form a layer on your skin. This layer then mixes with natural oils, sweat, and environmental pollutants throughout the day, creating a buildup that sinks into pores overnight (especially after rubbing your face on a pillow for 8 hours). Makeup also traps sweat, oil, and dead skin cells inside pores, which then creates a breeding ground for bad bacteria.
2. Lead to Blemishes
Once bacteria takes hold, blackheads, whiteheads, and acne breakouts become a lot more common.
3. Accelerate Aging
Sleeping in makeup may accelerate the aging process because it can speed up the breakdown of collagen and elastin, which are responsible for maintaining the skin's elasticity and firmness. Not to mention, leaving makeup on overnight can further contribute to moisture loss, leaving your skin feeling dry and making it look older than it actually is.
4. Cause Allergic Reactions
Some people may develop allergic reactions to certain makeup ingredients over time. Leaving makeup on overnight increases the risk that you may develop redness, itching, and swelling in response to an ingredient in your makeup.
So the solution needs to be simple - and it is!
Benefits of Homemade Makeup Remover
There are so many reasons you might want to make your own makeup remover. For starters, it lets you customize the ingredients to suit your skin's unique needs, helping to minimize the risk of redness and irritation.
You can also whip up makeup remover in a pinch, ensuring that you won't go a single night with a dirty face. But if you're still not sold, here are a few more reasons to DIY your own makeup remover: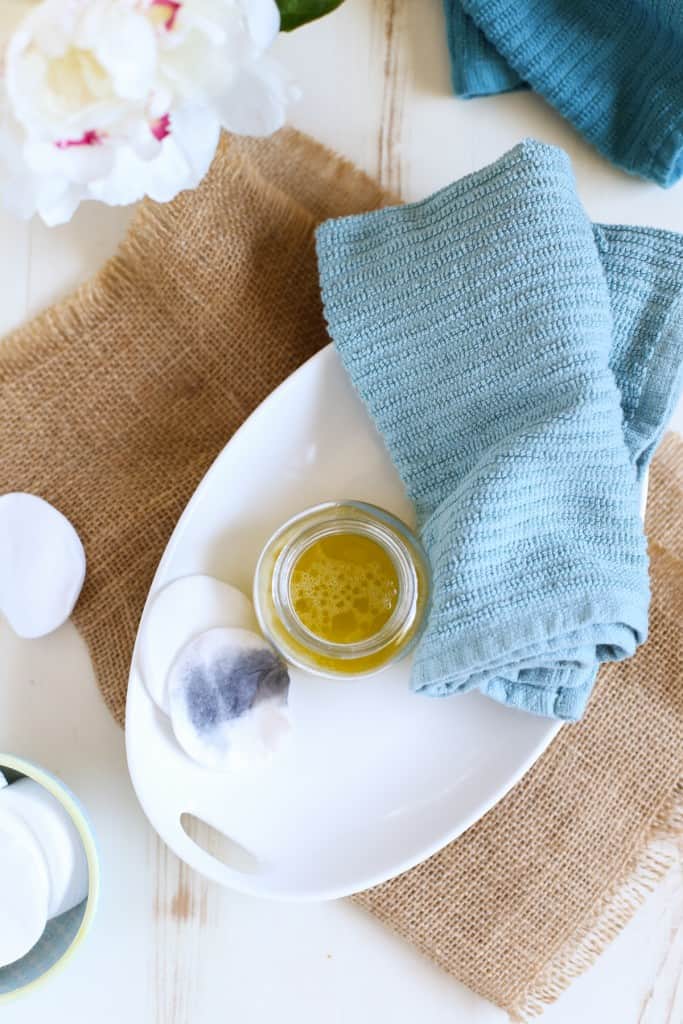 1. You can make gentle formulas

I tried several liquid removers that were none-too-gentle and required lots of wiping, tugging and pulling on the delicate eye area. A big no-no if you want to avoid wrinkles! The secret is using a little bit of eye-safe oil in your remover to help it glide over skin and reduce the risk of pulling or stretching delicate skin.
2. They're just as effective
Lots of natural face cleansers (like my favorite cleansing grains) don't remove mascara, so I researched a recipe for a simple all-natural homemade makeup remover that can handle even the toughest mascara—and save you money, too.
The oil in these formulas melt any silicone or oil-based makeup for easy removal. This includes long-wearing waterproof mascara, which is probably some of the most difficult to remove makeup known to mankind—not if you have the right makeup remover!
3. They use natural ingredients
I learned how to remove eye makeup from my mom, too. Her go-to was baby oil. It definitely worked, but as I've since moved away from mineral oil and other petroleum byproduct ingredients. Instead, these recipes rely on natural ingredients, like rosewater, coconut oil, and jojoba, to melt makeup without the toxic chemicals.
4. They're less expensive
There are certainly plenty of products on the market for makeup removal, but it can easily be made at home with a DIY approach. Plus, you probably already have all the ingredients at home to create it, making it super affordable.
5. They won't strip your skin

The oils in homemade makeup removers moisturize the skin instead of stripping it like the conventional makeup wipes tend to do. This is critical for an area as delicate as the eyes—it's ten times thinner than the rest of the skin on our face and is easily irritated.
10 Simple Makeup Remover Recipes
Our basic eye make remover recipe is my favorite, but there are plenty of options. Combine the ingredients in a small bowl and whisk well.
You can store the makeup remover in a jar in the fridge and pour it onto cotton wipes just before using it. Since it'll be cold, it will help tighten the under-eyes and shrink those pesky eye bags.
Or place several cotton rounds in a glass jar and pour the eye makeup remover over the top to DIY makeup remover wipes.
What oil should I use?
You can pretty much use whatever oil you're most comfortable with. Sweet almond, olive, rosehip, sesame, grapeseed, and even argan oil are all great for the skin and safe for the eyes. As always, make sure to test the oil first (even some eye-safe oils may irritate sensitive peepers) and use what works best for you.
1. Coconut Oil Makeup Remover
The easiest way to remove makeup? Using coconut oil! You don't need anything else to remove even waterproof makeup! Plus, it will also coat and strengthen lashes.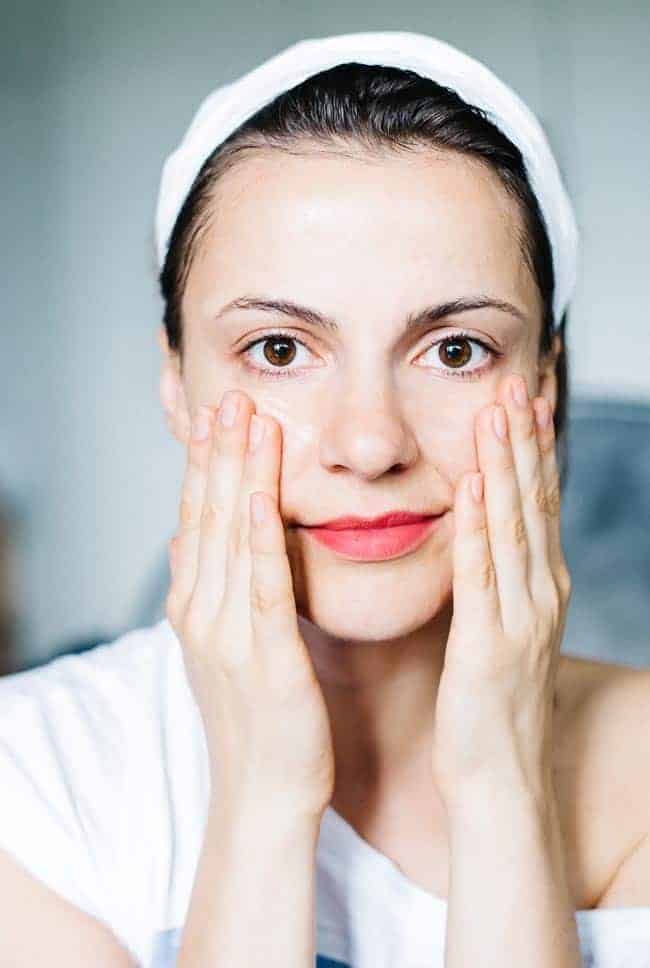 Coconut oil makeup remover recipe

—1 teaspoon coconut oil (melted may be easiest to work with, but it's not necessary)
—Cotton round or cotton ball
1. Apply coconut oil to a cotton round and sweep over the eyes.
2. If you have sensitive eyes, carefully wash the eye area with gentle soap, such as Castile soap, to get rid of any excess oil. Otherwise, no rinsing is necessary.
Why it works
This is excellent for when you're traveling and don't want to carry tons of products with you since coconut oil has tons of beauty uses. Keep in mind: coconut oil can sting if it gets into your eyes! If you are prone to breakouts, keep coconut oil confined to the eye area as it could cause or exacerbate breakouts if used on acne-prone areas.
2. Witch Hazel Makeup Remover
Combining jojoba oil and witch hazel creates an effective formula that removes eye makeup, including stubborn waterproof products, while being gentle on the sensitive skin around the eyes. It'll also leave the skin feeling nourished, cleansed, and refreshed afterwards.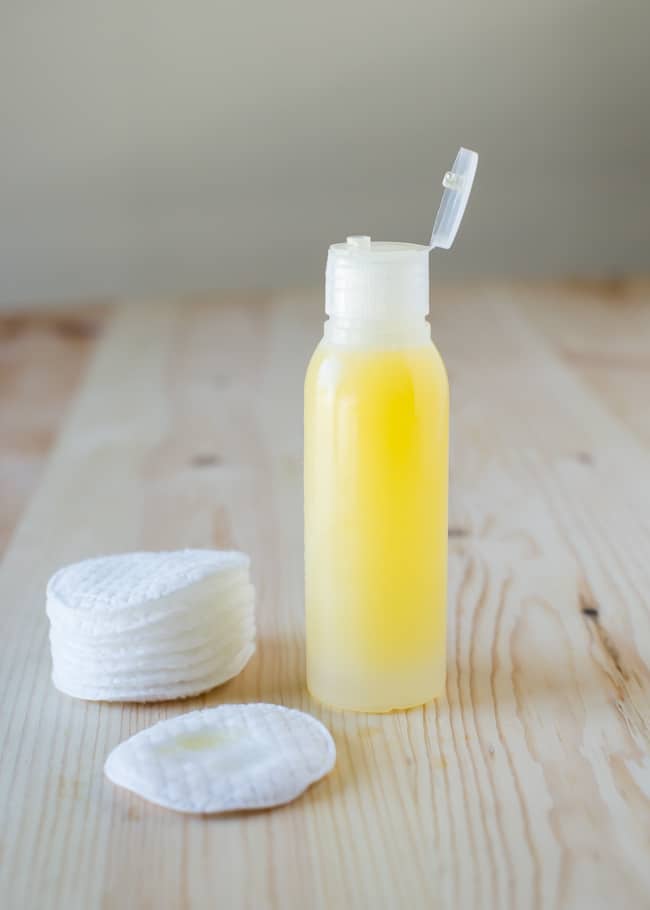 Witch Hazel Makeup Remover Recipe
—2 tablespoons witch hazel
—2 tablespoons jojoba oil
—2 tablespoons aloe vera (or filtered water)
1. Combine everything in a bottle and shake the bottle to combine the ingredients before each use.
2. Use a round cotton or cotton ball soaked with the remover to melt away makeup.
3. Close your eyes and sweep the pad over your lids. Be gentle around the eyes as this skin is the most delicate area of the face.
Why it works
Light jojoba oil soothes and protects the skin, while also removing impurities and makeup. Witch hazel improves your skin by clearing acne and locking in moisture.
3. Castile Makeup Remover
Mixing Castile soap with a gentle oil makes a potent combo for removing makeup. I opt for jojoba oil, which is gentle on the eyes, but not greasy. Whichever oil you choose, when combined with a dash of baby unscented Castile soap, it'll melt your eye makeup in a flash.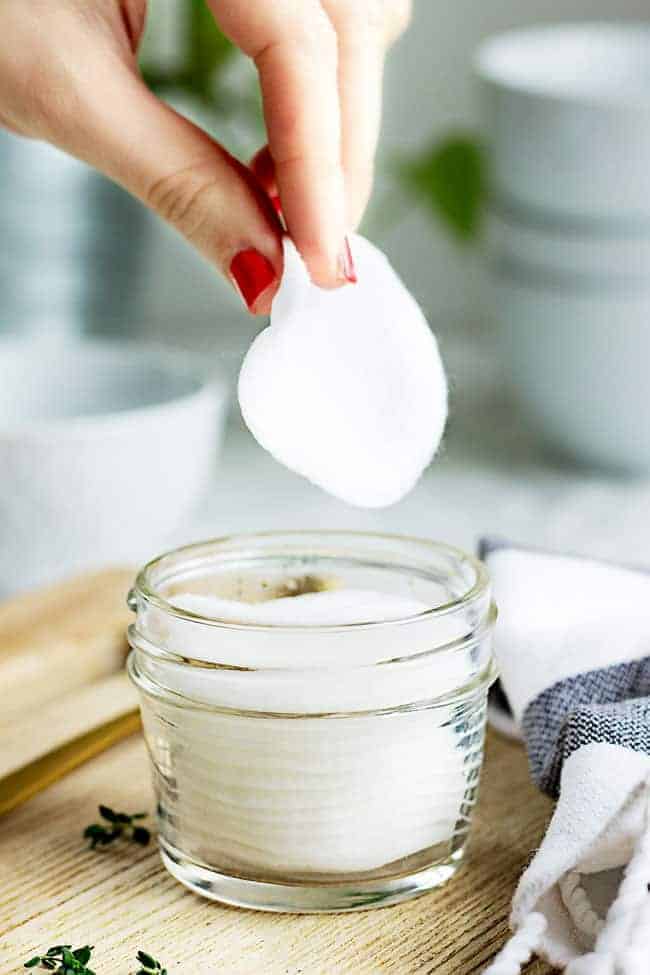 Castile Makeup Remover Recipe
—1 cup filtered water
—1 teaspoon jojoba oil
—¼ teaspoon unscented Castile soap
1. Transfer to an airtight bottle and store in the fridge until you're ready to use it or pour over cotton rounds to make makeup remover wipes.
2. Sweep over eye area.
Why it works
The blend of Castile soap and water in this formula help to carry away the dissolved makeup from your skin, leaving it feeling super fresh, clean, and ready for the next part of your skincare routine.
4. Rosewater Makeup Remover
Rosewater is a gentle and refreshing option for effectively removing eye makeup while caring for the delicate skin around the eyes. With the help of a few nourishing oils, this makeup remover effortlessly lifts away even stubborn makeup, including mascara and eyeliner, without tugging on or irritating sensitive skin.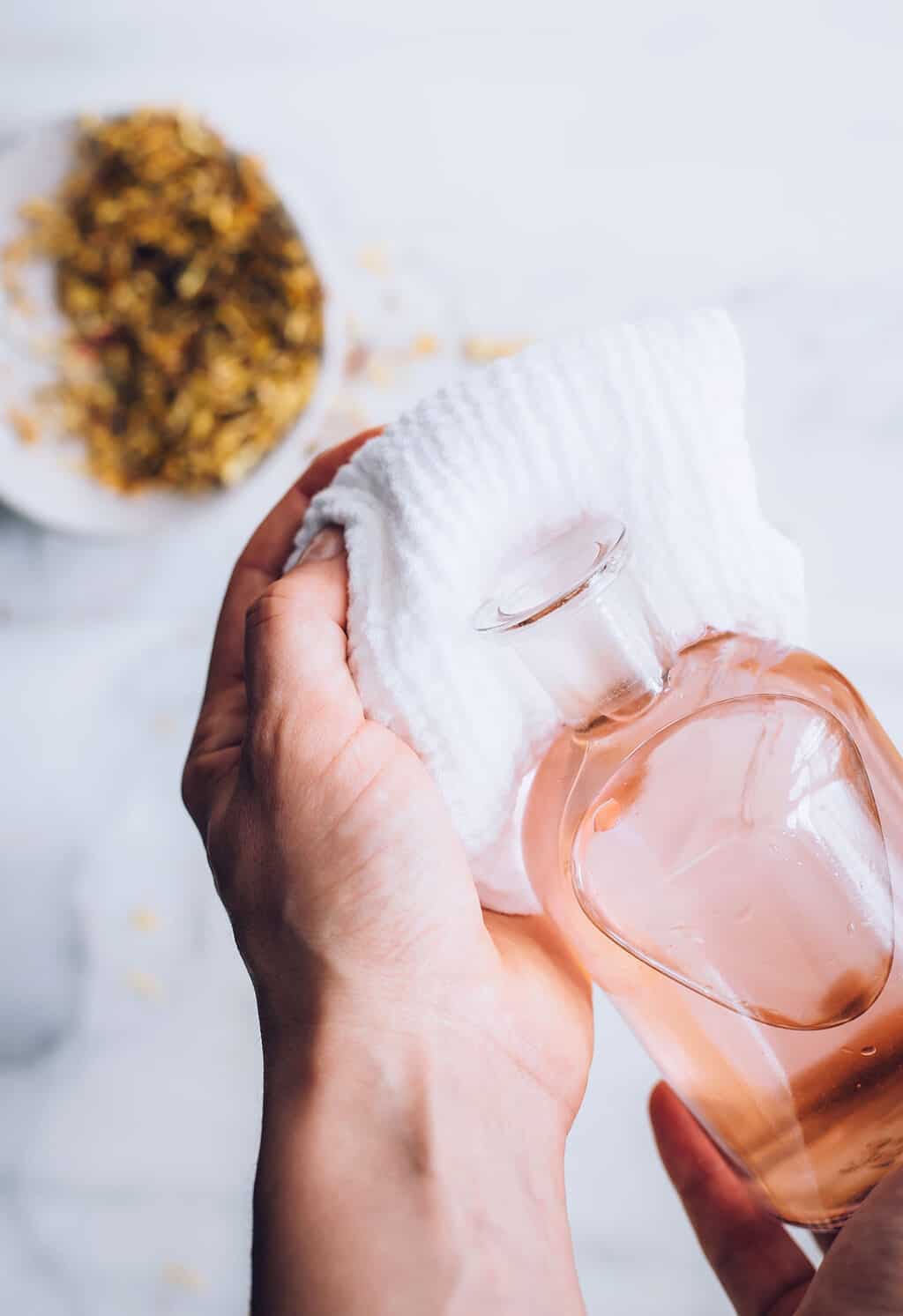 Rosewater makeup remover recipe
—½ cup rosewater
—½ tablespoon sweet almond oil
—2 vitamin E capsules
—3 drops lavender essential oil
1. Combine ingredients in a small bottle. Swirl to combine ingredients before each use.
2. Pour a small amount onto a cotton round or cotton ball and gently apply to the eye area.
Why it works
Rosewater soothes and tones the skin while providing gentle hydration. Sweet almond oil easily dissolves makeup without leaving a greasy residue, and its nourishing properties help moisturize and protect the skin. Meanwhile, vitamin E provides antioxidant protection and helps repair the skin, and lavender essential oil tames redness and inflammation.
5. Micellar Water Makeup Remover
You can make homemade micellar water or buy it to make this makeup remover recipe that's gentle on the eyes. Plus, it removes dirt and makeup in one easy step, with no rinsing required.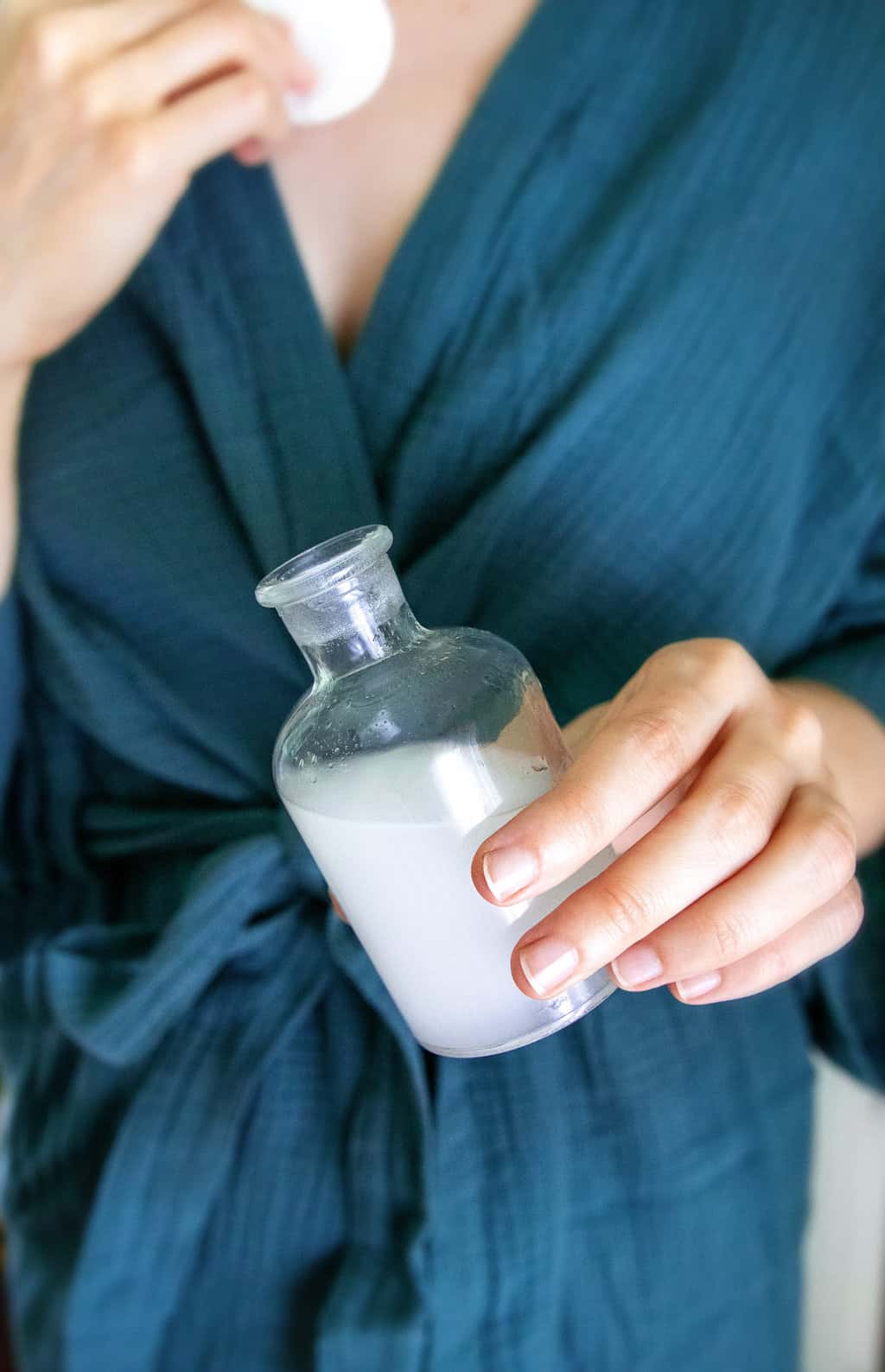 Micellar Water Makeup Remover Recipe
—⅓ cup micellar water
—¼ cup filtered water or alcohol-free witch hazel
—½ teaspoon carrot seed oil
1. Combine all the ingredients in a clean container.
2. Stir or shake the mixture gently to ensure that the ingredients are well blended.
3. Store your homemade makeup remover in a sealed bottle or container in the fridge.
Why it works
Micellar water acts as a gentle cleanser that effectively lifts and removes makeup, dirt, and impurities from the skin. Witch hazel, a natural astringent, helps to tighten pores and soothe the skin. And carrot seed oil contains vitamins and antioxidants that promote a healthy complexion.
6. Aloe Makeup Remover
You probably already know about the miraculous benefits of this plant. Turns out it a makes a great addition to your evening cleansing routine as well.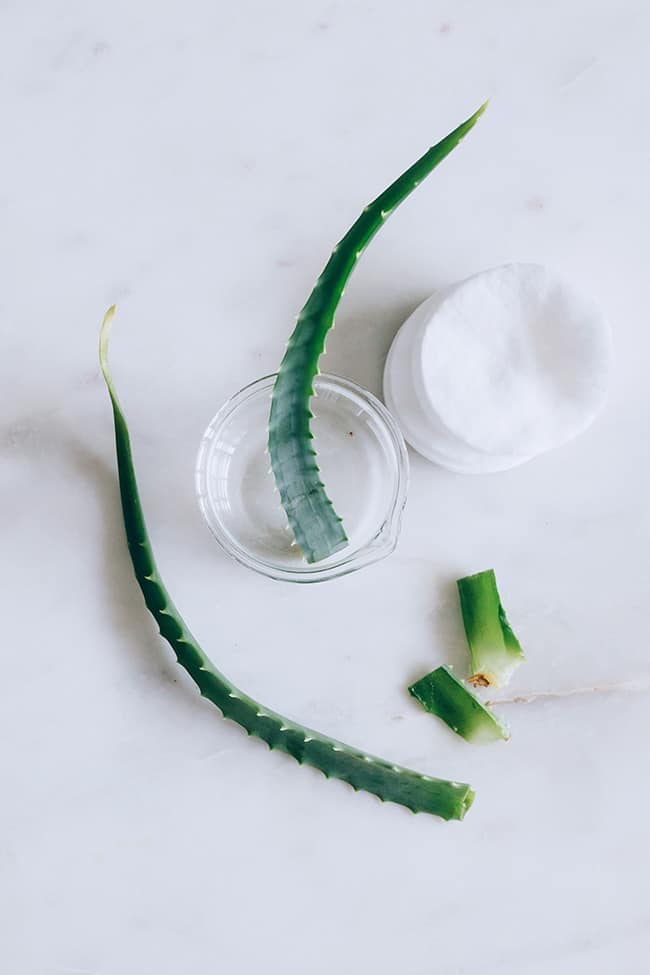 Aloe Makeup Remover Recipe
—⅓ cup filtered water
—¼ cup aloe vera gel
—1 teaspoon vegetable glycerin
1. In a clean container, combine the water, aloe vera gel, and vegetable glycerin.
2. Shake well to ensure all the ingredients are thoroughly mixed.
3. Transfer the makeup remover to a bottle or container with a tight seal. Store in the refrigerator for up to 7 days.
Why it works
Aloe vera gel helps to soothe and hydrate the skin while providing additional cleansing properties, while vegetable glycerin acts as a humectant, attracting and retaining moisture to keep skin hydrated.
7. Olive Oil Makeup Remover
Isn't it cool that you already have makeup remover in your pantry? Hydrating olive oil removes impurities without irritating dry or sensitive skin. And fragrant orange blossom hydrosol gives it a soothing, aromatherapy boost.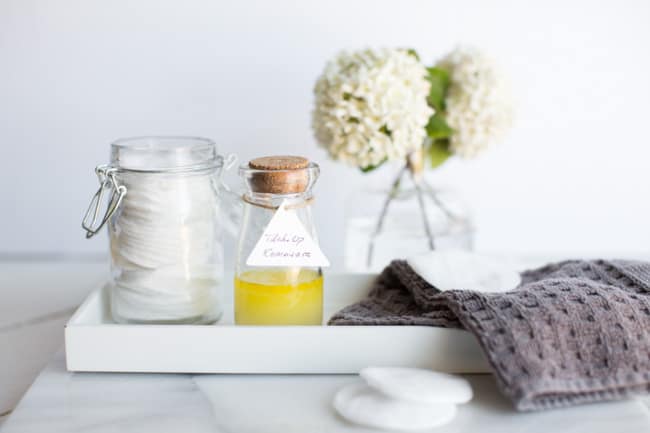 —2 tablespoons witch hazel
—2 tablespoons extra virgin olive oil
—2 tablespoons orange blossom hydrosol
1. In a clean container, combine the witch hazel, olive oil, and orange blossom hydrosol. Mix well to ensure thorough blending.
2. Before each use, give the container a good shake to evenly distribute the ingredients.
Why it works
Witch hazel acts as an astringent, helping to tighten pores and provide a soothing effect on the skin, while olive oil effectively dissolves makeup and moisturizes the skin.
8. Honey Makeup Remover
Mixed with baking soda, honey becomes a powerful cleanser! Yet it's gentle on the skin as it exfoliates and removes makeup.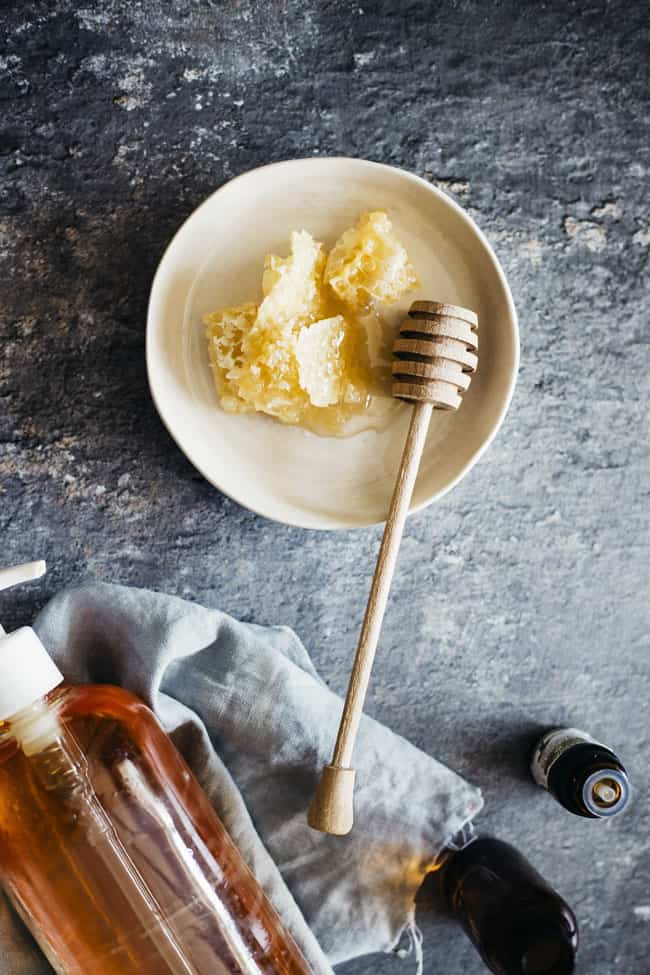 Honey Makeup Remover Recipe
—1 teaspoon baking soda
—2 teaspoons raw honey
—⅛ teaspoon jojoba oil
1. Combine ingredients and stir to make a paste.
2. Massage into skin with your fingers or a warm, wet washcloth. Rinse.
3. Store leftover makeup remover in the refrigerator for up to a week.
Why it works
This DIY makeup remover is especially effective thanks to its cleansing, moisturizing, and soothing properties. Baking soda acts as a gentle exfoliant to remove makeup and impurities, while honey provides antibacterial benefits and helps retain moisture. Jojoba oil nourishes and hydrates the skin, leaving it feeling soft and supple.
9. Shea Butter Makeup Remover
A cleansing balm can remove makeup and excess sebum without stripping your pores. Warm up a small amount of this balm with your hands, gently massage it onto your face, and watch makeup melt away.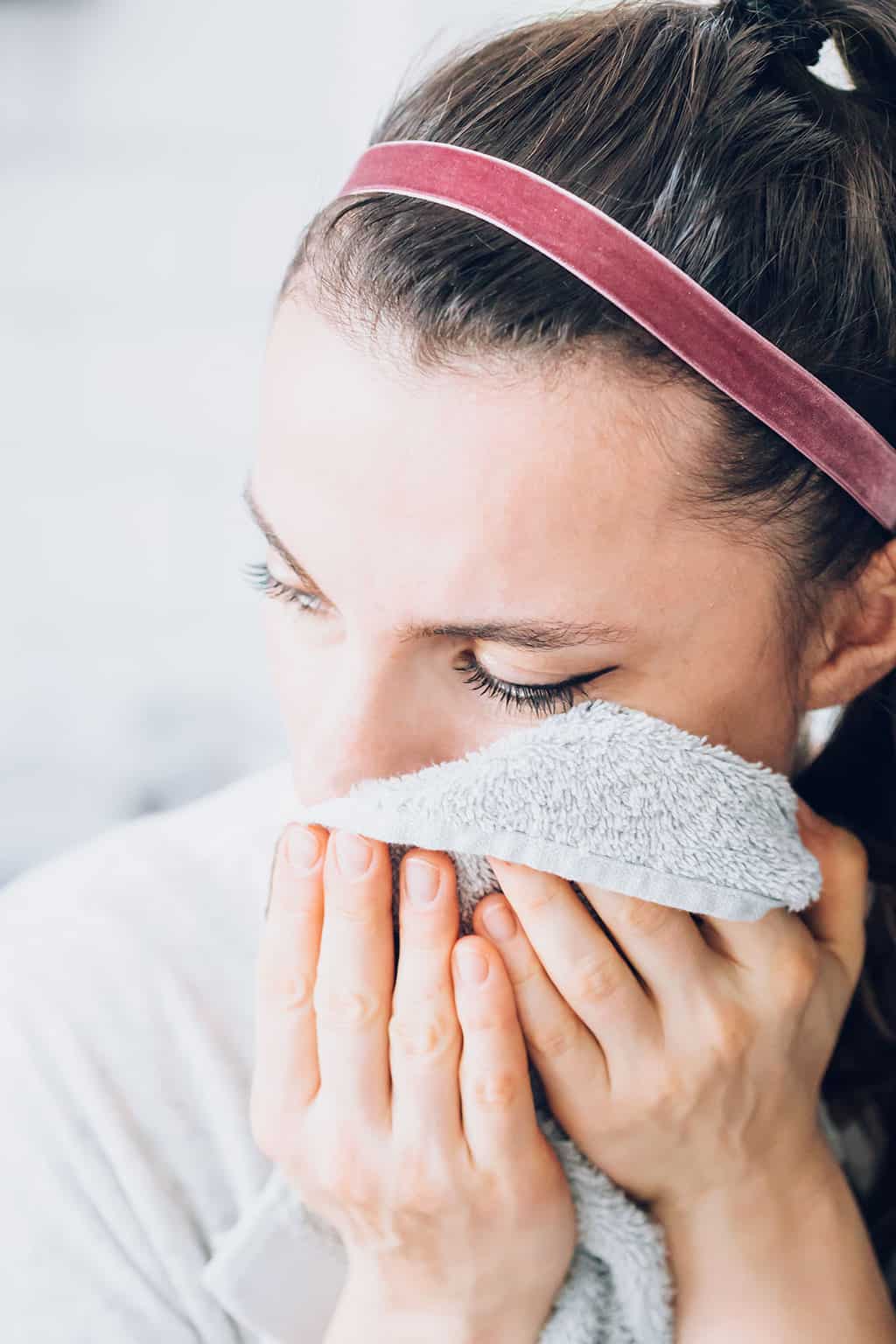 Shea Butter Makeup Remover Recipe
—1 tablespoon shea butter
—1 teaspoon sesame seed oil
1. In a small heat-safe bowl, melt the shea butter using a double boiler or in short bursts in the microwave.
2. Once melted, remove from heat and let it cool slightly.
3. Add the sesame oil to the melted shea butter and mix well.
4. Pour into a jar or tin, and allow the mixture to solidify by placing it in the refrigerator for about 30 minutes.
Why it works
Shea butter is a natural emollient that helps break down and dissolve makeup, including stubborn products like mascara and long-lasting lipsticks. The addition of a carrier oil helps create a smooth consistency and further enhances the makeup-removing abilities while providing additional hydration.
10. Cucumber Makeup Remover
Oils are a great natural way to dissolve makeup, but they need a little help getting off your skin since they won't rinse away easily. Taking a two-step approach is also the best way to ensure that your skin is totally clean and ready for bed—remember, sleeping in makeup is one of the worst things you can do for your skin!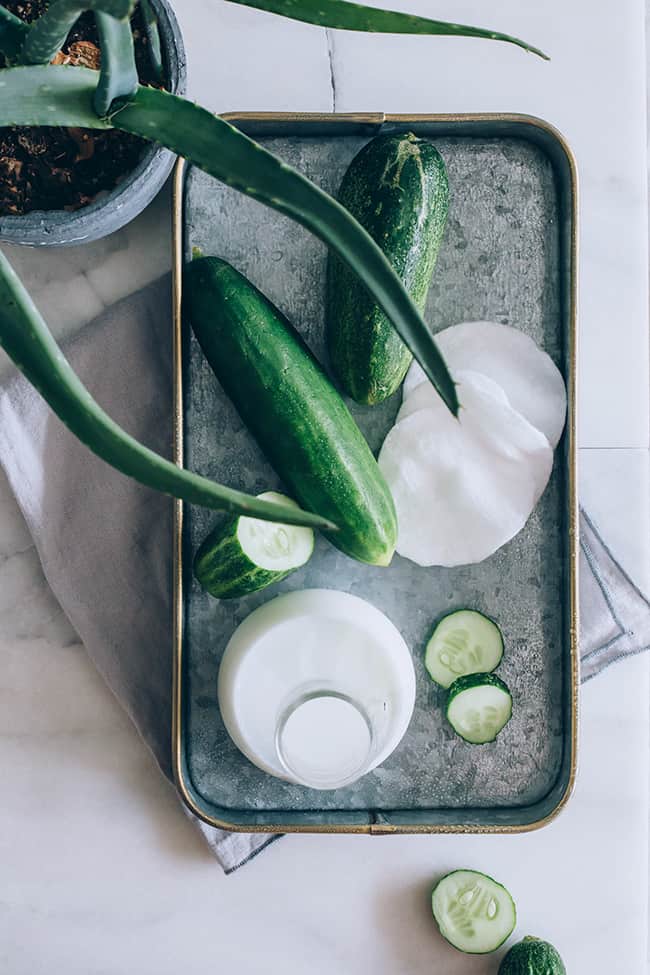 Cucumber Makeup Remover Recipe
—2 tablespoons cucumber juice
—1 tablespoons whole milk
1. In a small bowl, combine the cucumber juice and milk.
2. Stir the mixture well to ensure the ingredients are thoroughly blended.
3. Soak a cotton pad or ball in the mixture, making sure it is saturated. Gently swipe the soaked cotton pad over your face, focusing on areas with makeup.
4. Refrigerate leftover remover for up to 7 days.
Why it works
Cucumber juice contains natural enzymes and antioxidants that help soothe and refresh the skin while providing a gentle cleansing effect. It can help remove dirt, oil, and makeup residue without causing irritation. And milk contains lactic acid, which acts as a mild exfoliant to remove dead skin cells and unclog pores.
Tips for Keeping Skin Clear While You Sleep
To maintain clear and healthy skin while you sleep, here are a few additional tips to incorporate into your nighttime routine:
Cleanse your face right before bed
Thoroughly remove all makeup, dirt, and impurities from your face using a gentle cleanser before going to sleep. This helps prevent clogged pores and allows your skin to breathe overnight.
Wash your pillowcase regularly
Regularly change your pillowcase to avoid the buildup of oils, dirt, and bacteria that can transfer onto your skin while you sleep. Opt for soft, breathable fabrics like cotton to minimize friction and irritation.
Sleep in a cool and well-ventilated room
High temperatures and poor airflow can lead to sweat and excess oil production, potentially clogging pores and causing breakouts. Set your bedroom temperature to a comfortable, cool level and ensure proper ventilation for a fresh sleep environment.
Consider using a humidifier
If you live in a dry climate or use air conditioning or heating that dehydrates the air, consider using a humidifier in your bedroom. This helps add moisture to the air, preventing your skin from drying out overnight.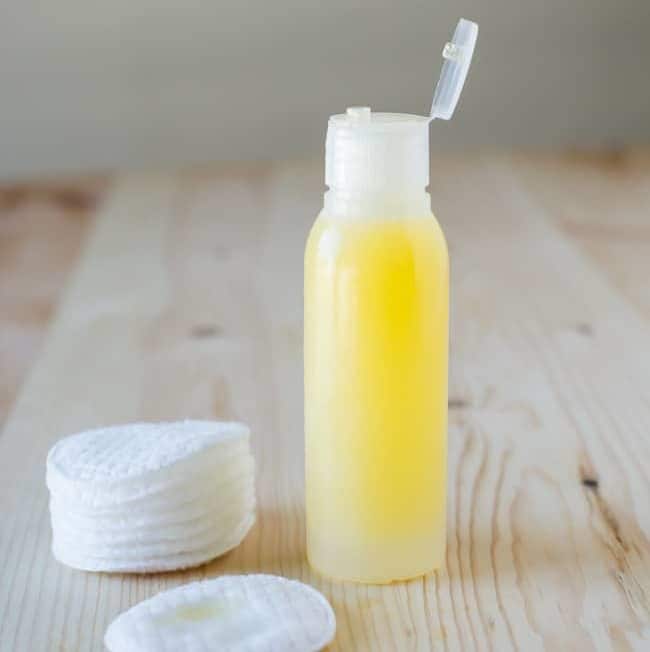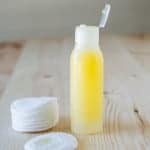 Print
Homemade Makeup Remover
A simple all-natural homemade makeup remover that can handle even the toughest mascara - and save you money, too.
Equipment
Funnel

4-ounce container with lid

Cotton pads
Instructions
Using a funnel, pour witch hazel, jojoba and aloe vera into a small container with a lid. Swirl to combine ingredients.

To use, dispense a small amount onto a cotton pad and wipe gently over eye area. Don't pull or tug.
Makeup Remover Wipes
Make a batch of makeup remover and add two drops of tea tree oil

Cut a roll of paper towels in half cross-wise.

Place one half into an airtight container and pour the solution over the roll.

Close the container and flip the paper towel roll over to make sure the other side of the roll is also soaked. Pull out the center cardboard tube.

Keep the lid on the container until needed, and pull wipes from the center of the roll.
210