I don't wear a lot of makeup, but mascara is on my list of daily must-haves. That plus under eye concealer and lip gloss makes up the majority of my day 'look.' Lots of natural face cleansers (like my favorite cleansing grains) don't remove mascara so I researched a recipe for a simple all-natural homemade makeup remover that can handle even the toughest mascara – and save you money, too.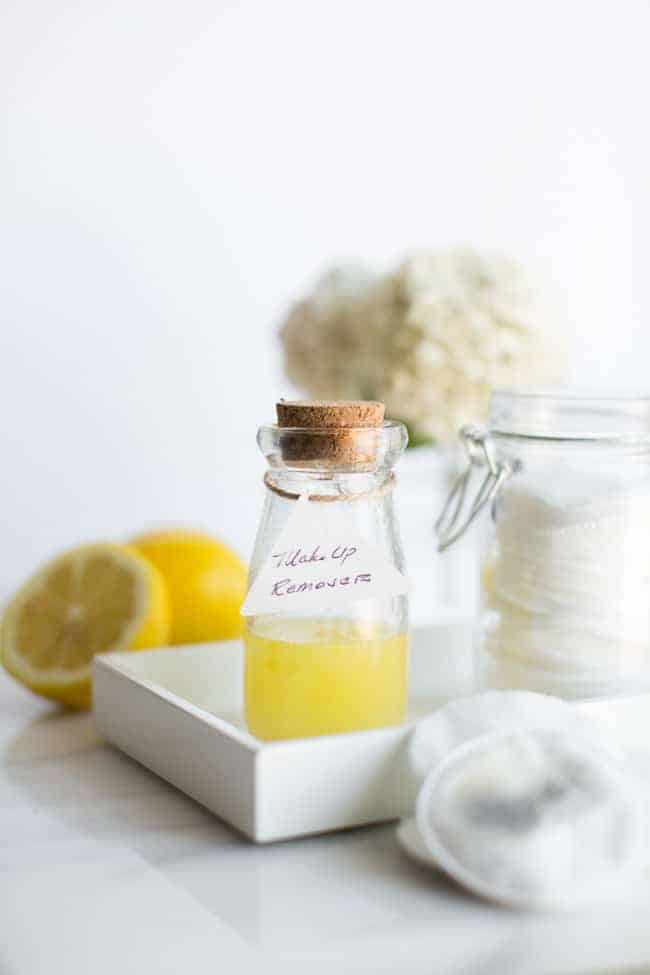 I love the ritual of curling my lashes and sweeping on a couple of coats of mascara. It takes me back to watching my mom get ready in the morning with curlers in her hair. I learned how to remove eye makeup from my mom, too. Her go-to was baby oil. It definitely worked, but as I've since moved away from mineral oil and other petroleum byproduct ingredients.
And let's be honest, taking off your makeup at night is a pain. Yes, it's an essential step in your skincare regimen, but it's an easy one to skip when you're tired. I avoid wearing eyeliner quite often just because I hate taking it off. And I know I'm not the only one who sometimes 'forgets' to remove their makeup? Sleeping in makeup can clog pores, leading to blemishes and premature aging. So the solution needs to be simple – and it is!
Natural Homemade Makeup Remover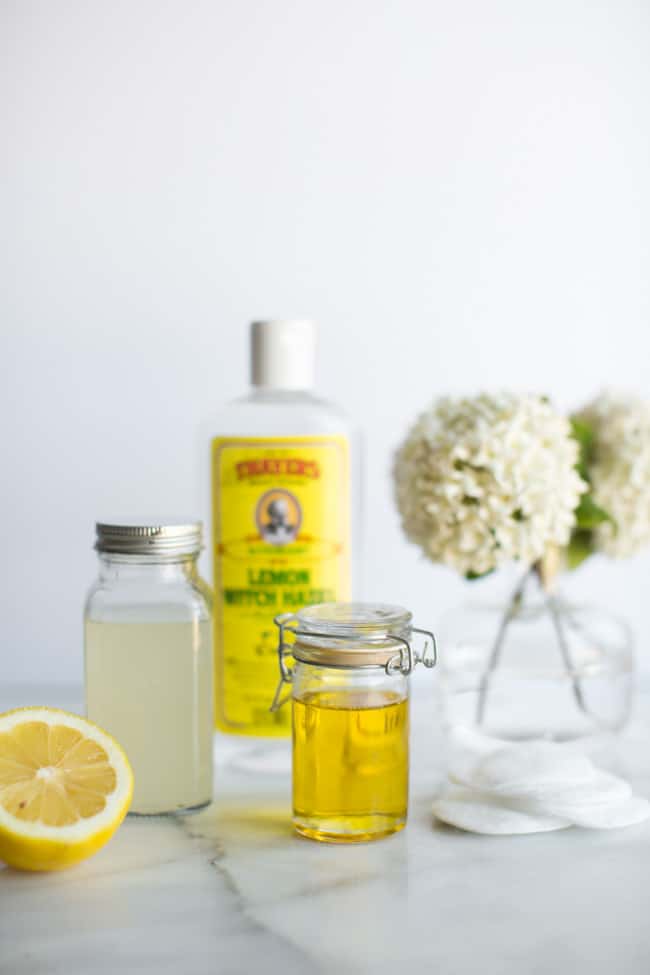 I tried several liquid removers that were none-too-gentle and required lots of wiping, tugging and pulling on the delicate eye area. A big no-no if you want to avoid wrinkles! Another easy natural solution is coconut oil. It definitely removes eye makeup, but it can feel a bit greasy. And it sometimes sting my eyes.
Jojoba oil combined with witch hazel and aloe vera is gentle on the eyes without irritation. I added just a couple of drops of lemon essential oil for its natural grease cutting ability.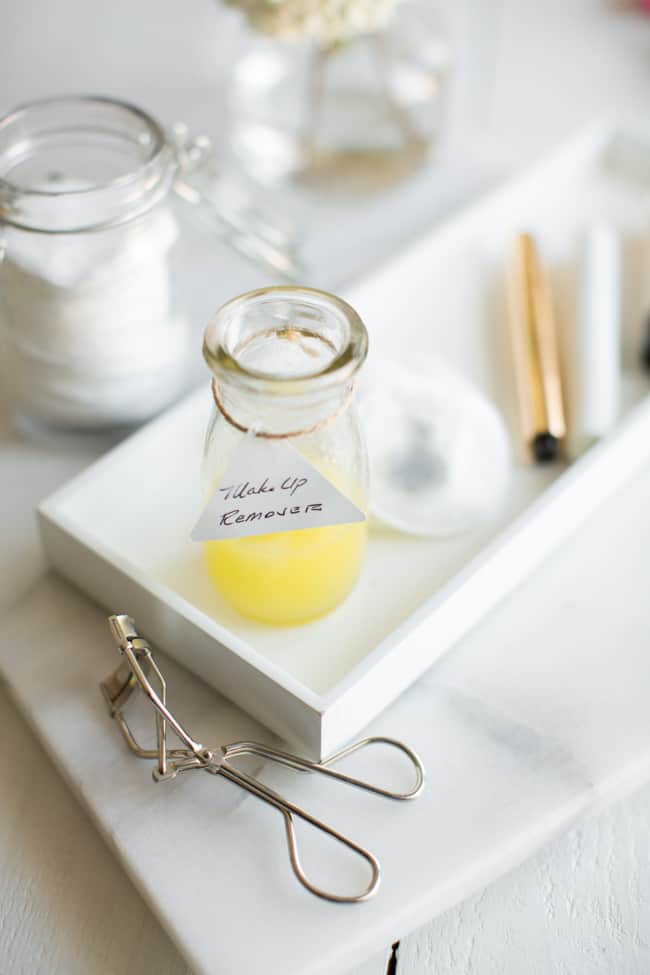 Shake to combine the ingredients before each use and then saturate a cotton pad. Close your eyes and sweep the pad over. Or you can also make makeup remover wipes by pouring the solution over a stack of pads in a jar. Easy peasy!
What's you're favorite way to take off your eye makeup?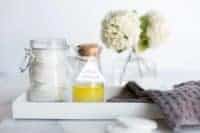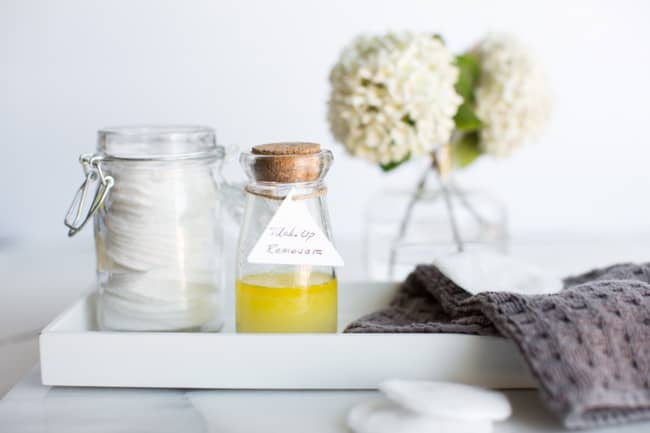 Print
Homemade Makeup Remover
Yield 2 .5 oz
Instructions
Using a funnel, pour witch hazel, jojoba and aloe vera into a small container with a lid.
Add 2 drops of lemon essential oil.
Swirl to combine ingredients.
To use, dispense a small amount onto a cotton pad and wipe gently over eye area. Don't pull or tug.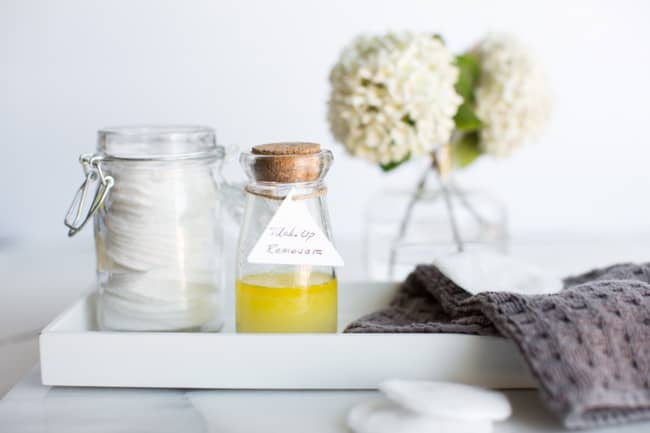 89