This is a sponsored post written by me on behalf of FANCL. All opinions are 100% mine.
This month's agenda: eat, sleep, and take care of your skin. I'm a big believer that a quality skincare routine is a form of self-care. Not only does life run more smoothly when you're not overly self-conscious about how your skin looks, but glowing skin is a reflection of what's happening both outside and inside our bodies. Aside from drinking enough water, eating as healthy as we can and getting enough sleep, a clean beauty routine is vital for keeping skin healthy and glowing (simple, right?).
That means saying goodbye to the big offenders: additives, preservatives, petroleum-based surfactants, fragrances, synthetic dyes or toxic chemicals like parabens and phthalates. And embracing good-for-you beauty products.
My skin has practically staged a revolt in the last few months. Between the stress (oh, boy, the stress!) and the lack of the healthy food options I'm used to, my skincare routine has become that much more important. Gone are the days when I can splash some almond oil on my face and call it day.
It actually requires a routine and some targeted TLC to be happy. So I'm sure you can imagine my excitement when FANCL approached us to test out their clean skincare line.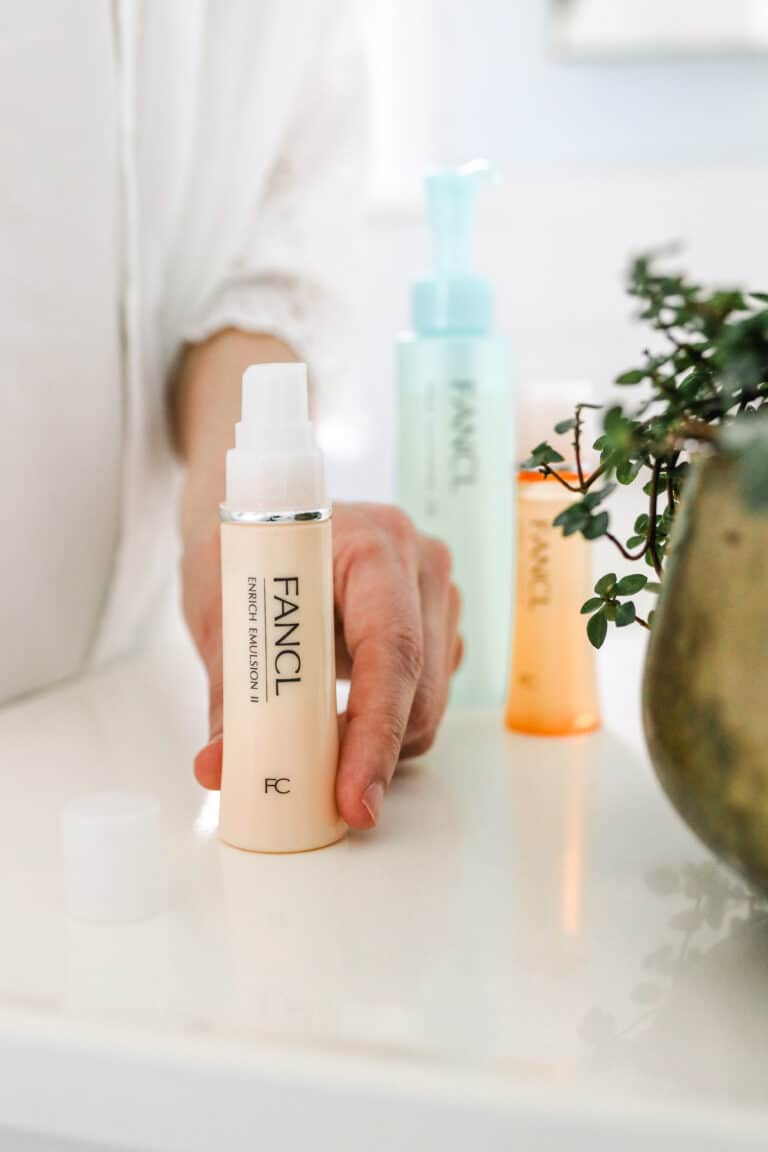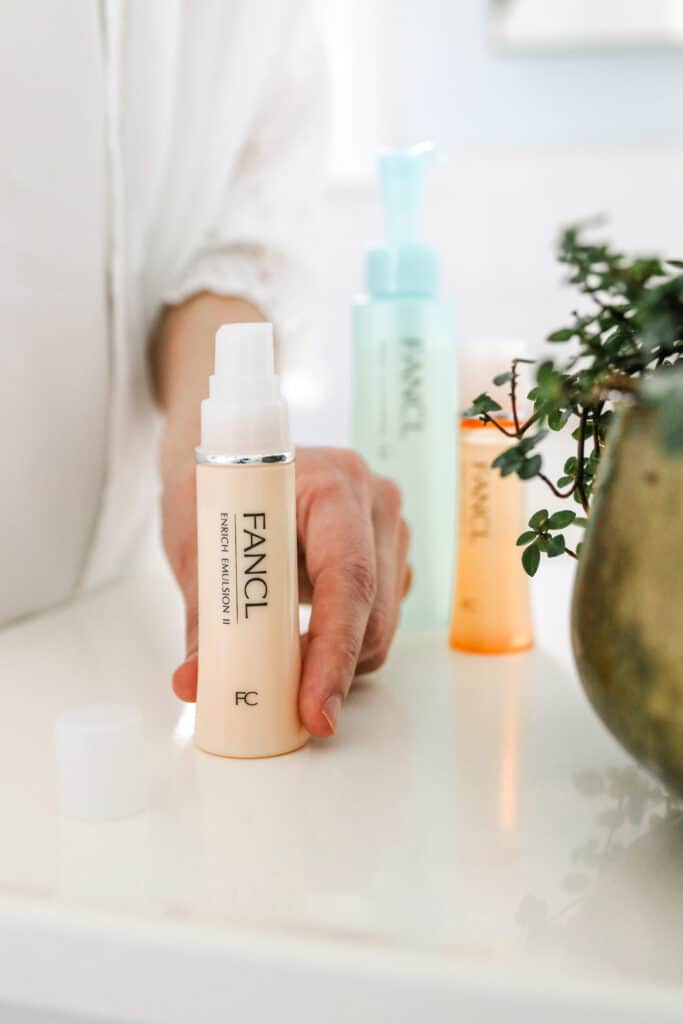 We tried FANCL – Here's what we thought
FANCL is the brainchild of Japanese beauty aficionado Kenji Ikemori. What began in Japan in 1982 as a way for Kenji to help his wife who suffered from skin problems caused by additive-laden beauty products, has morphed into a clean skin-care powerhouse.
Unlike other beauty products, FANCL doesn't contain preservatives, fragrances, artificial colors, petroleum surfactants or ultra-absorbing agents. And it's designed for all skin-types, especially those of us who suffer from dryness, irritation and sensitive skin.
More than just calling themselves a clean skin care company, FANCL actually invests the time, money and research into ensuring every bottle is clean and effective. Plus, they pride themselves on being on the cutting edge of beauty technology: everything from packaging to ingredients are carefully thought out and tested from start to finish.
They really are the gold standard when it comes to preservative-free beauty.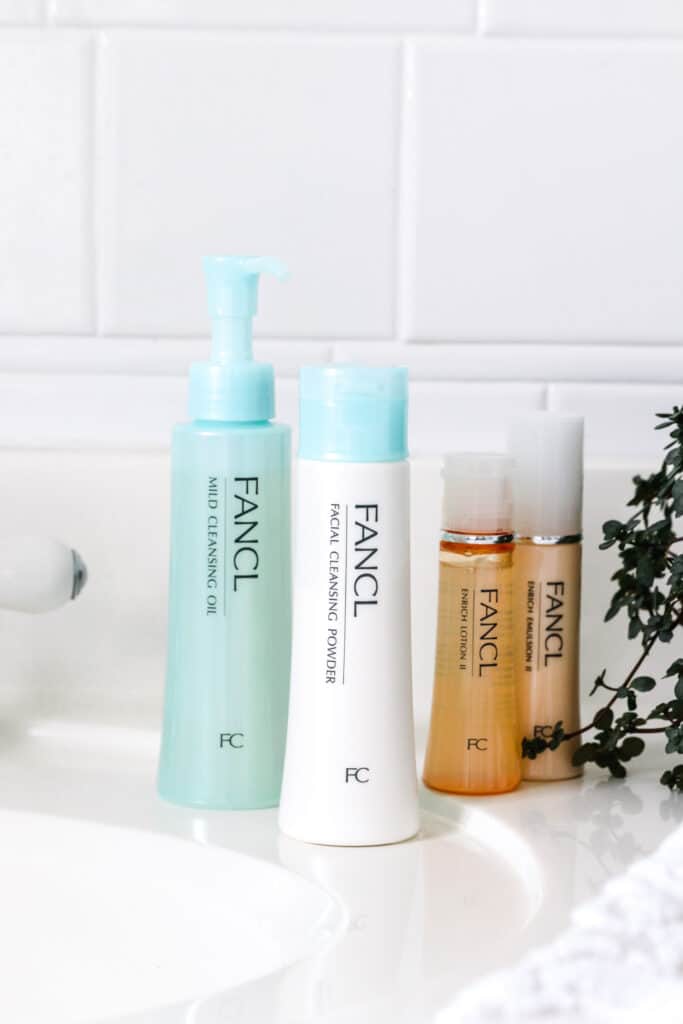 Sound too good to be true? I thought so too, but after testing their products for a few weeks, I'm now borderline obsessed. They're everything they're cracked to be and my skin feels so, so good.
Without further ado, let me introduce you to the 4-step skincare routine you didn't know you needed until now.
Step 1: Remove Makeup with Mild Cleansing Oil
The first step any skincare routine is removing dirt, impurities and makeup to keep pimples and irritation at a minimum. FANCL's Mild Cleansing Oil is a rich, nourishing skin oil designed specifically to dissolve stubborn makeup without the need for rubbing or pulling at the skin.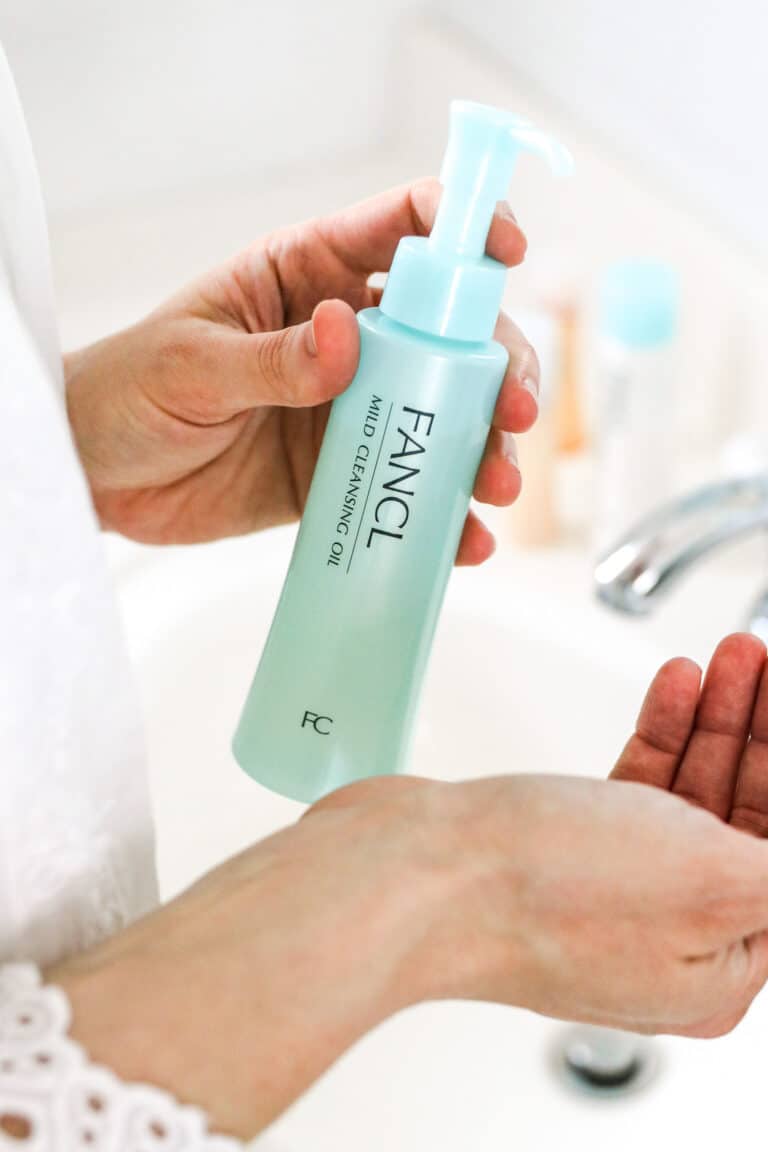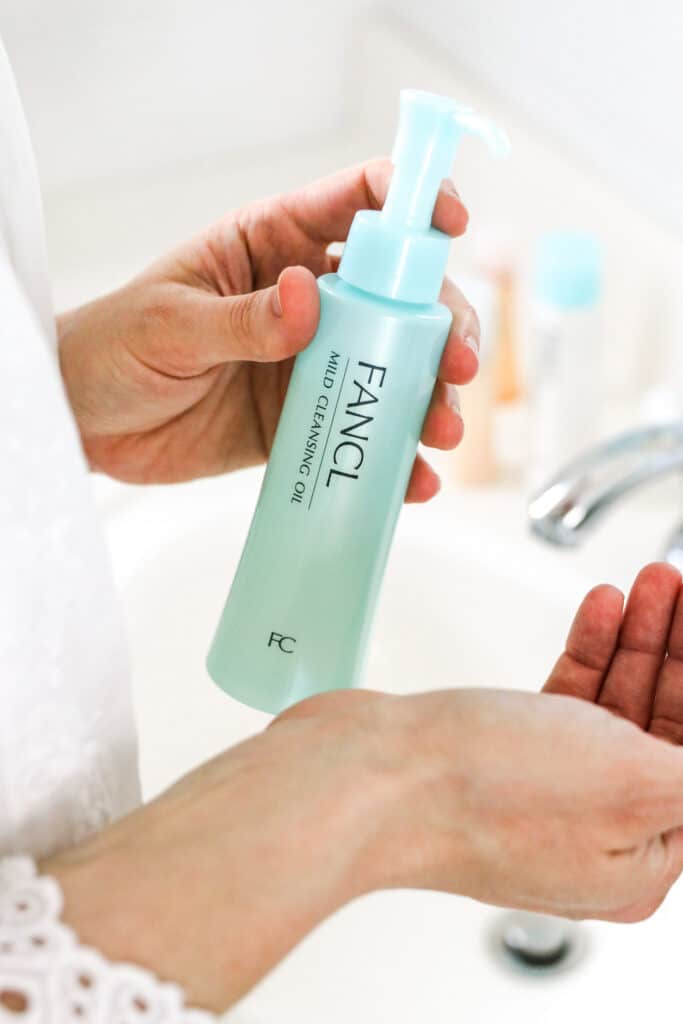 Simply apply two pumps of cleansing oil to the face. Gently massage on in a circular motion, working from the center of the face to your jawline and hairline. Then glide fingertips across eyelids and lips to remove any lingering makeup. That's it!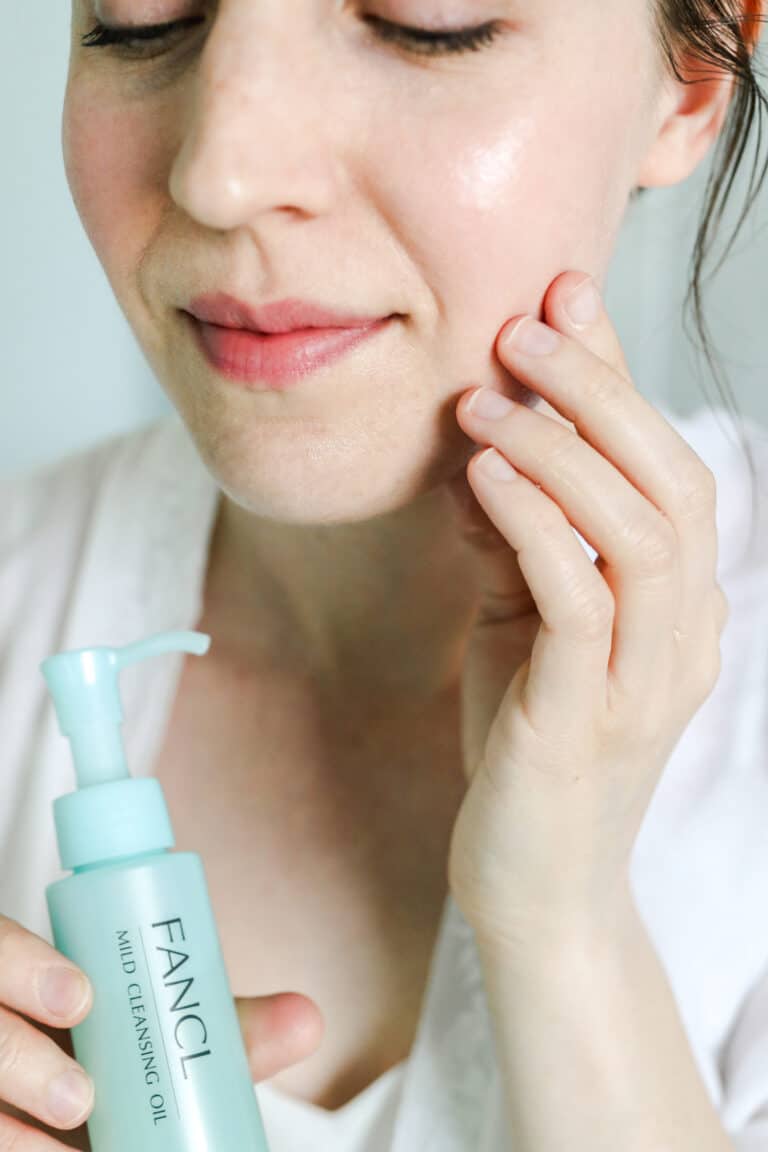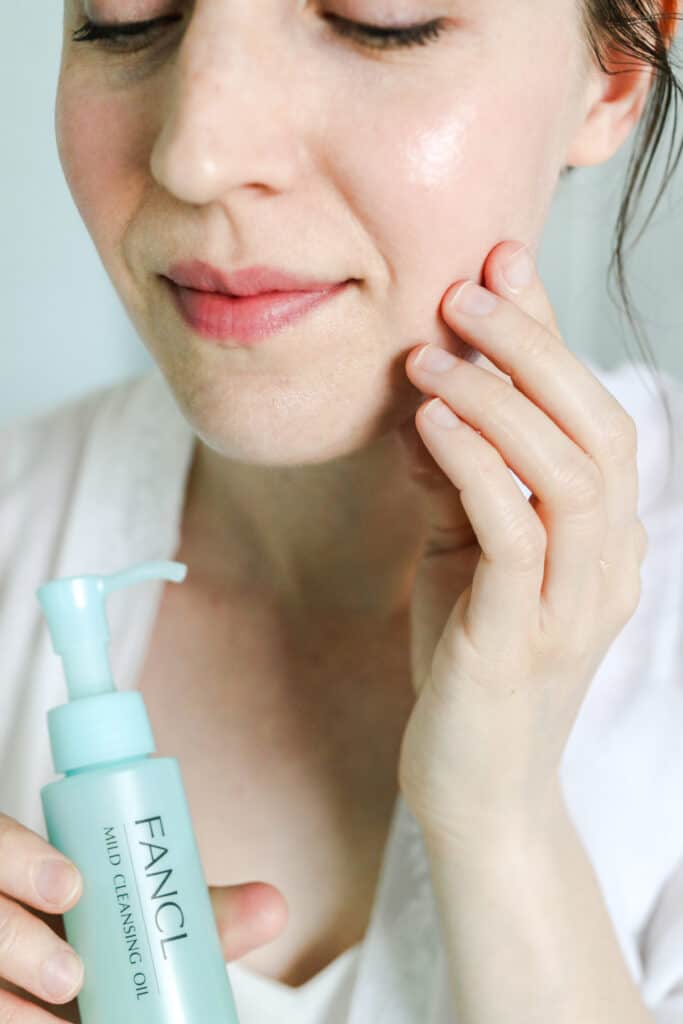 To be honest, I was pretty surprised by this product. I love a good cleansing oil, but this was better than any of the oils I've tried before. It's thick so it melts makeup like a dream, but a little also goes a long way.
Once it warms up it glides over skin without hard rubbing or pulling. Wash it off thoroughly with lukewarm water, the makeup will drop off surprisingly.
Step 2: Wash with Facial Cleansing Powder
After removing makeup and dirt, you'll want to get rid of dead skin cells and cleanse pores with a face wash. Unlike the liquid face wash most of us are used to, FANCL has concocted a powder that, when combined their "foaming net" creates the richest, dreamiest foam.
Simply sprinkle a teaspoon of Facial Cleansing Powder on the net (place your hand underneath to catch any powder that falls through) and apply a bit of water.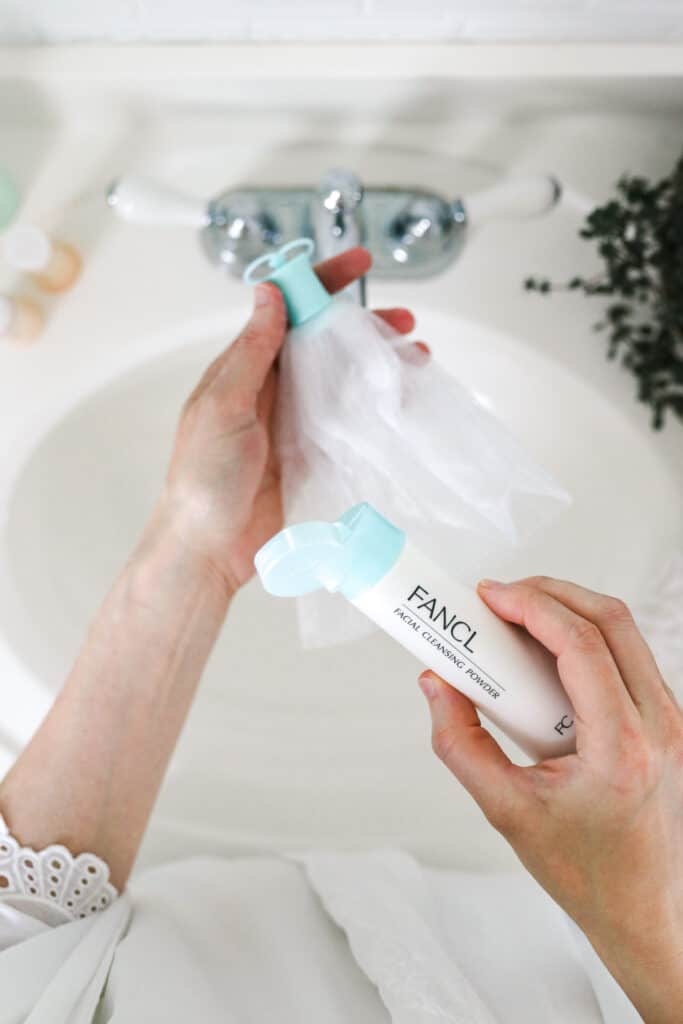 Then, using your hands, rub the net together to create a rich foam. The foam lifts dirt from pores and gently washes away impurities, leaving skin feeling soft and hydrated.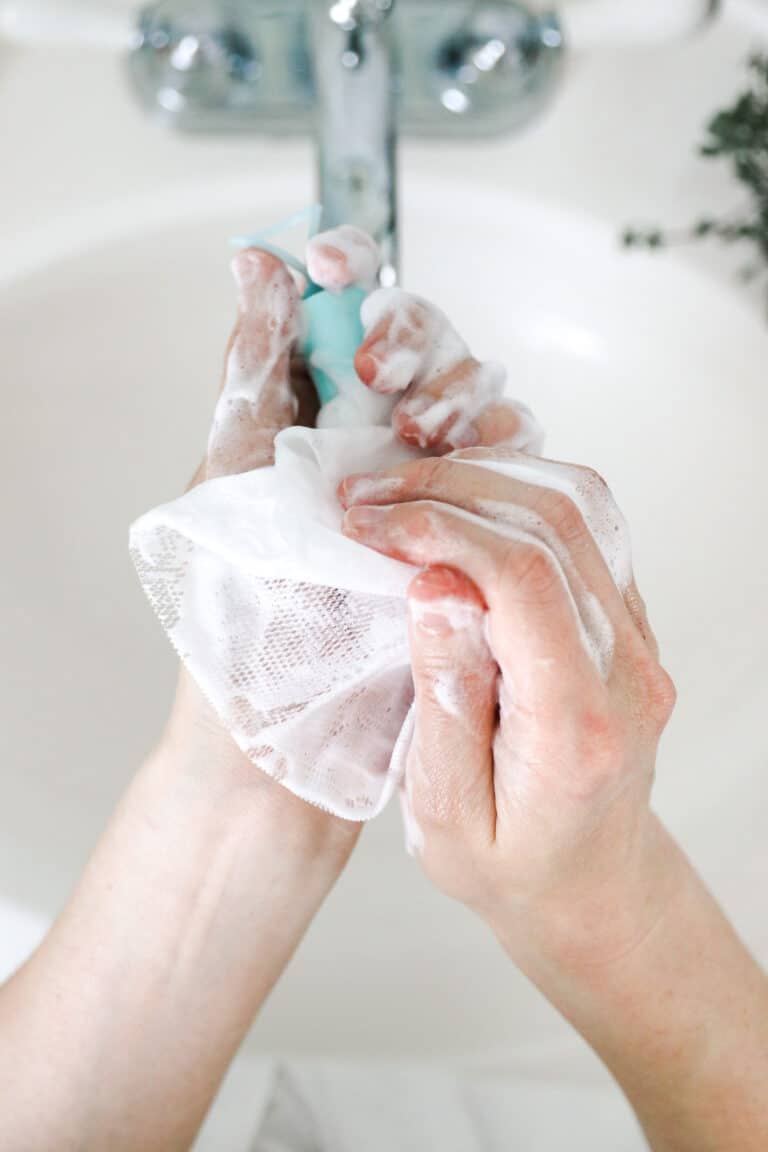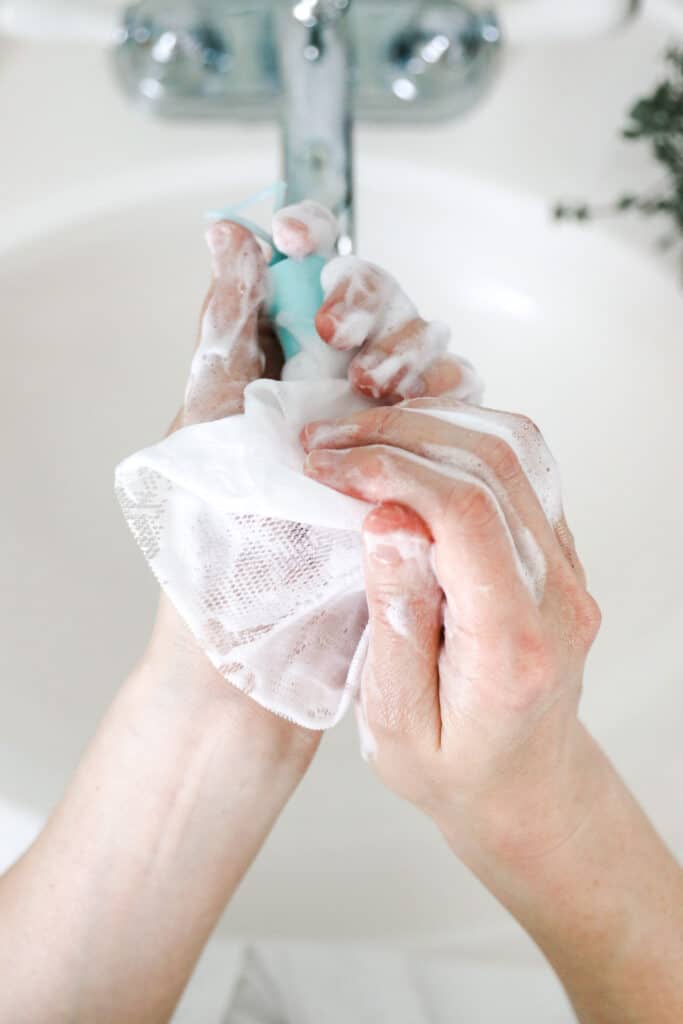 This is my favorite part of the whole process. Just a little bit of powder creates the thickest, most decadent foam (almost like shaving cream!) and it feels amazing on your skin.
Gently apply it to your face in a circular motion, then rinse with warm water and pat dry. After steps 1 and 2, my skin already felt clean and radiant without feeling dry in the slightest, which I love.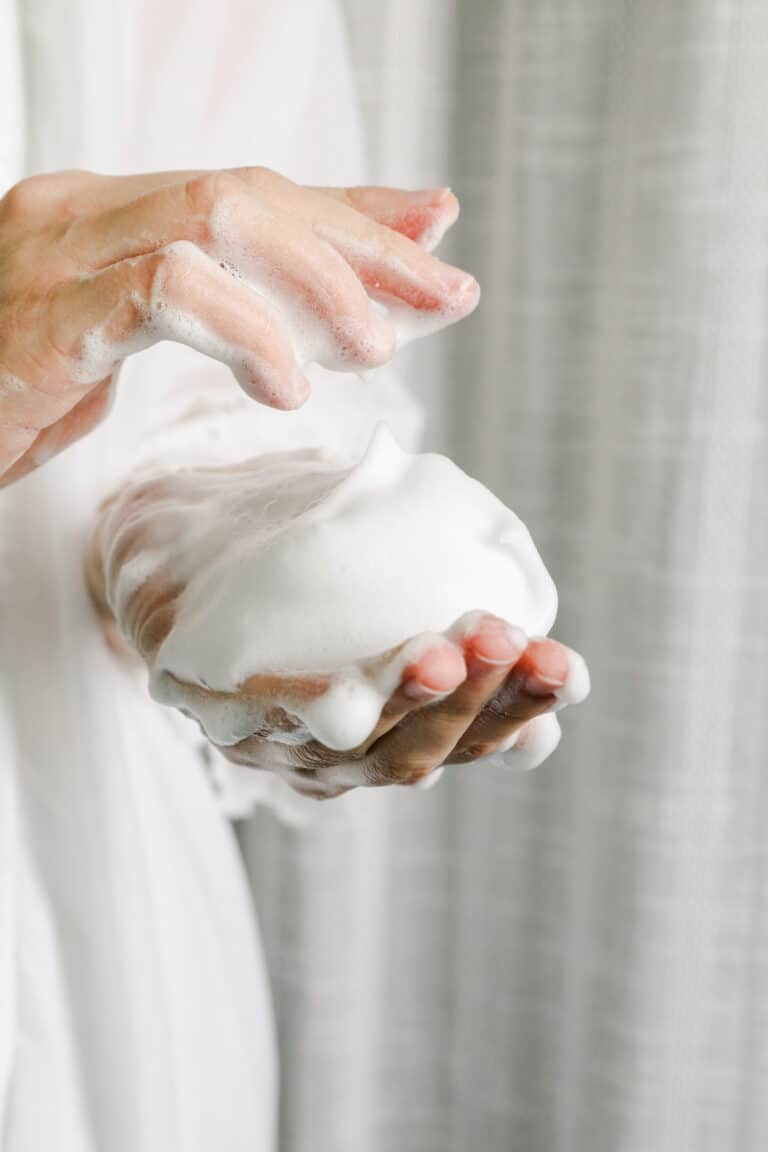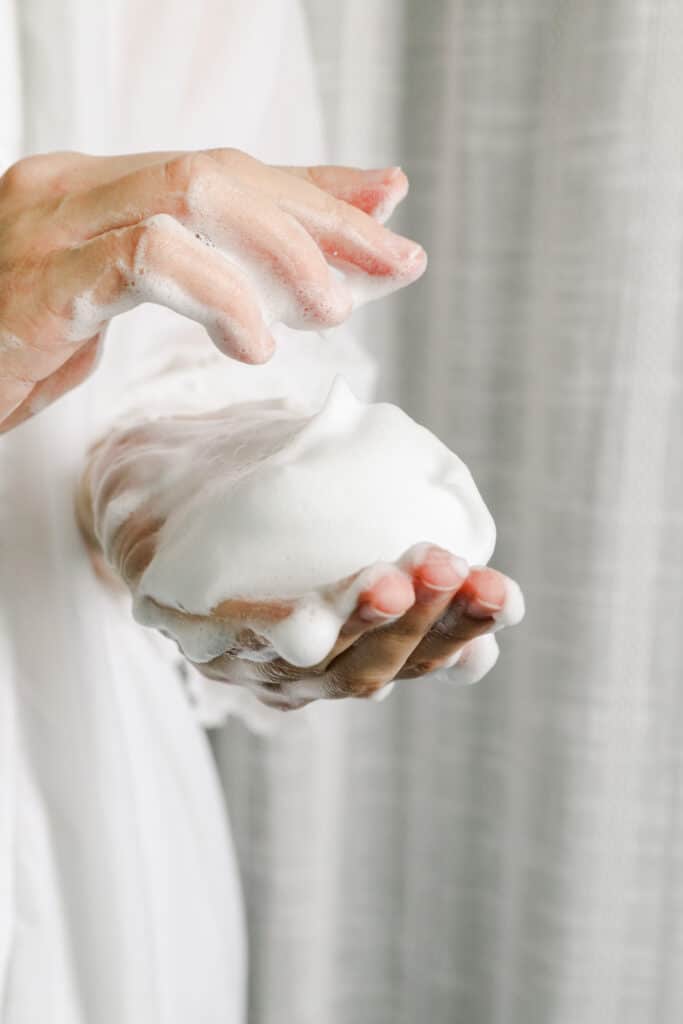 But you still need to replenish and lock in moisture, so on to step 3…
Step 3: Tone, Treat and Hydrate with Enrich Lotion
After cleaning your skin, you'll want to moisturize and nourish skin with ceramides (to bolster your skin's moisture barrier) and collagen (to plump). Enter FANCL's Enrich Lotion II. Applying this light, airy lotion twice a day helps keep skin looking soft, dewy and young.
To use it, dispense a bit of lotion into your palm and gently apply to freshly cleansed skin with fingertips. For best results, never rub it – either with your hands or with cotton – simply tap it into skin with your fingertips.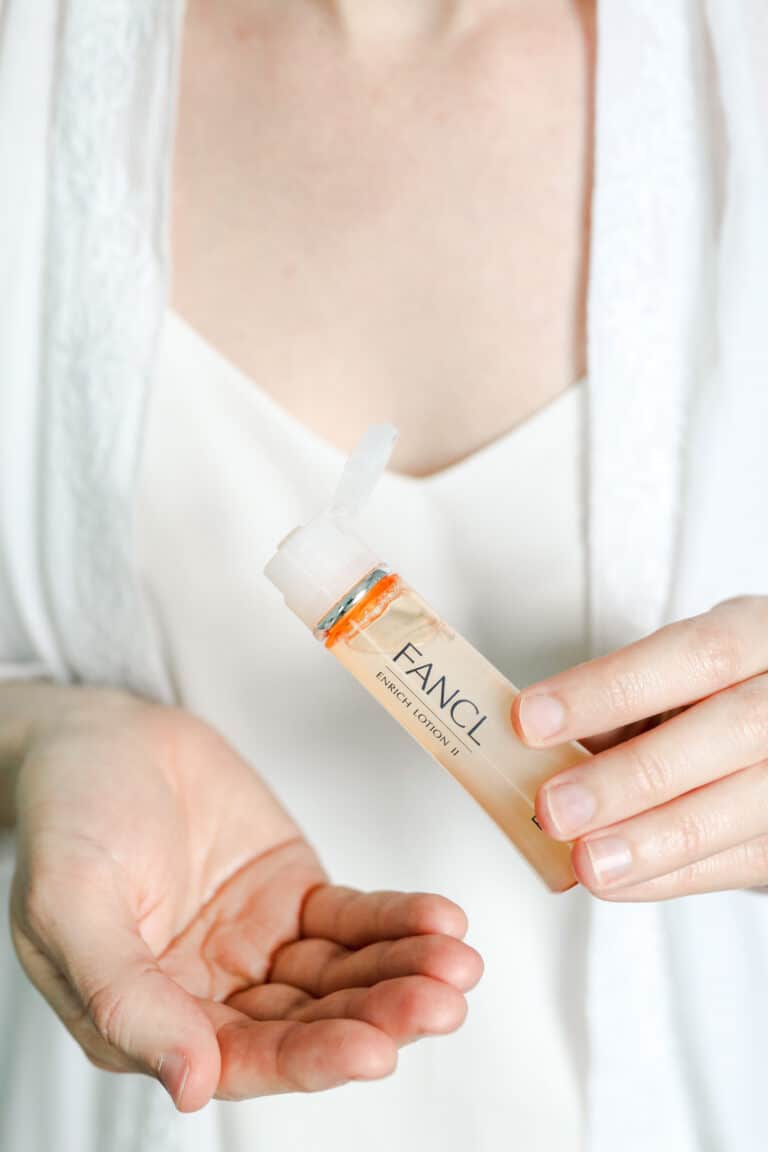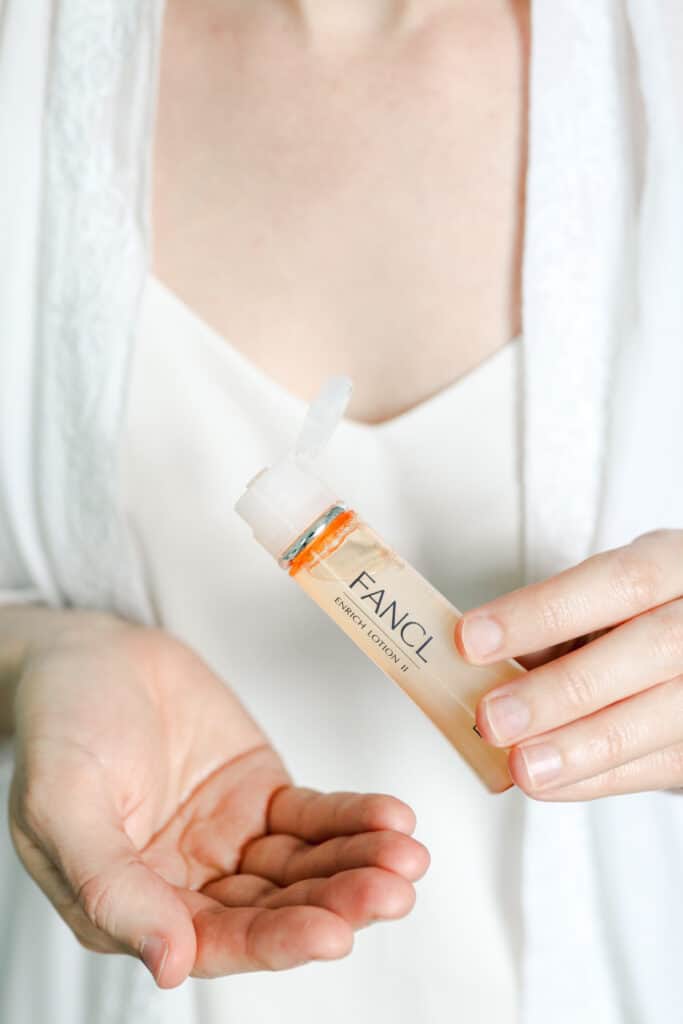 Step 4: Lock in Moisture with Enrich Emulsion
Lastly, you need to lock in moisture and nourishing ingredients with Enrich Emulsion II, a firming moisturizer tailored especially for normal to dry skin. Not only does it lift and hydrate, it also boost skin's elasticity thanks to collagen, evening primrose extract and ceramide-like amino acids.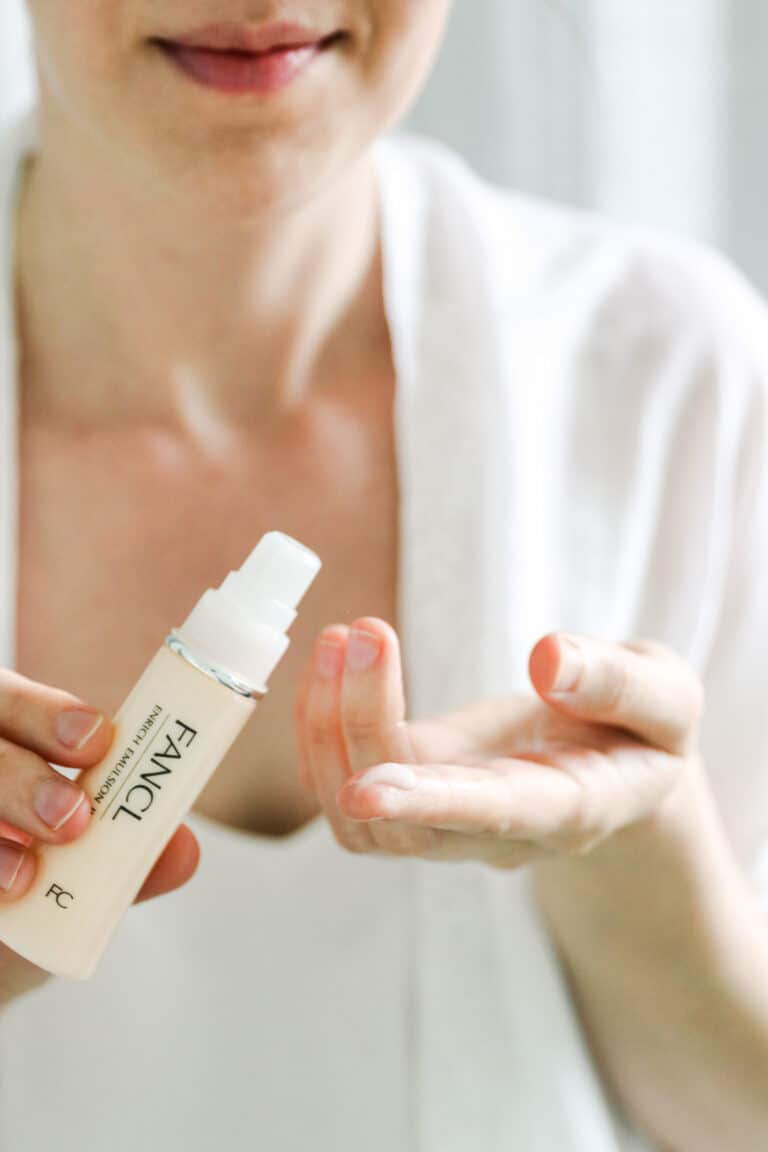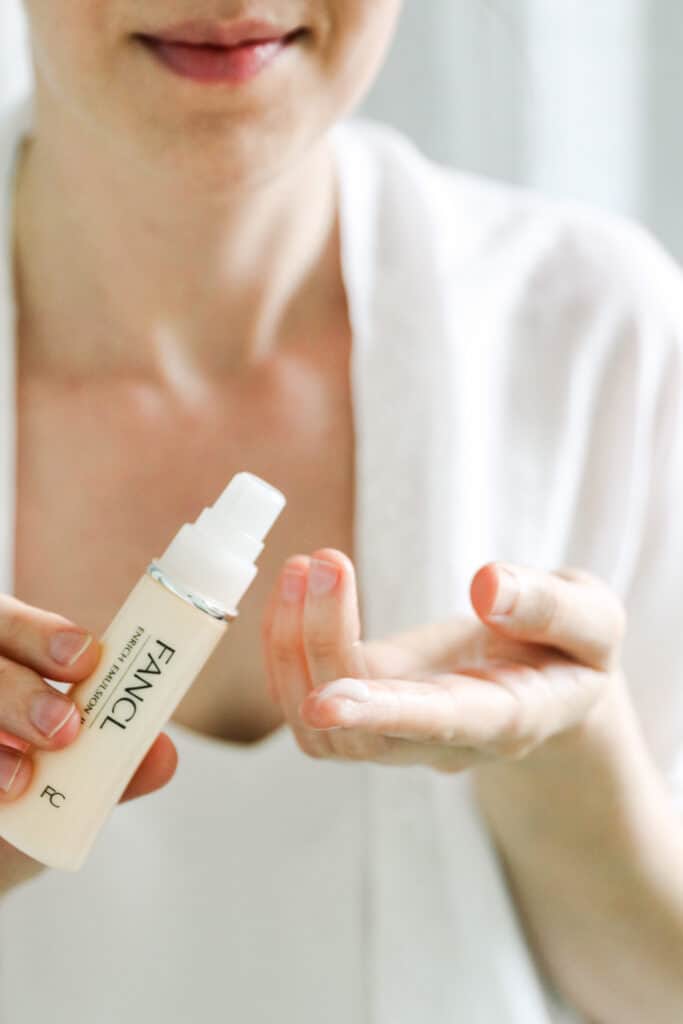 Just like with their Enrich Lotion, place 1-2 pumps of Enrich Emulsion on fingertips and pat directly on skin without using any cotton balls or cosmetic pads. Be sure not to rub it or you might aggravate the skin.
Unlike other moisturizers, I love that this really sticks to skin. I have super dry skin and hours after applying it, my face still feels dewy and I don't feel any tightness around my mouth or forehead. Using it just once in the morning and once at night is all you need to lock in moisture all day long.
And in case you want to see for yourself… I kind of cringe posting this makeup-free selfie, but honestly, my skin has never looked better. No redness or hormonal acne in sight and that's just with two weeks under my belt. My skin is practically glowing.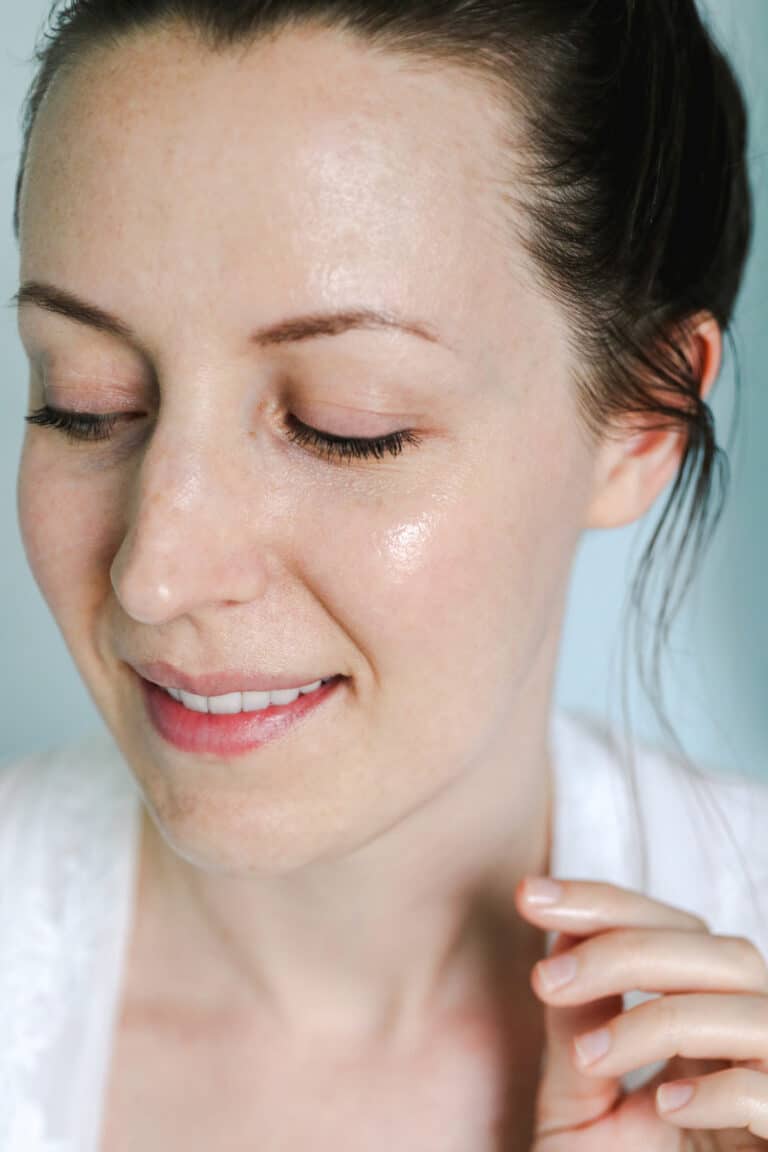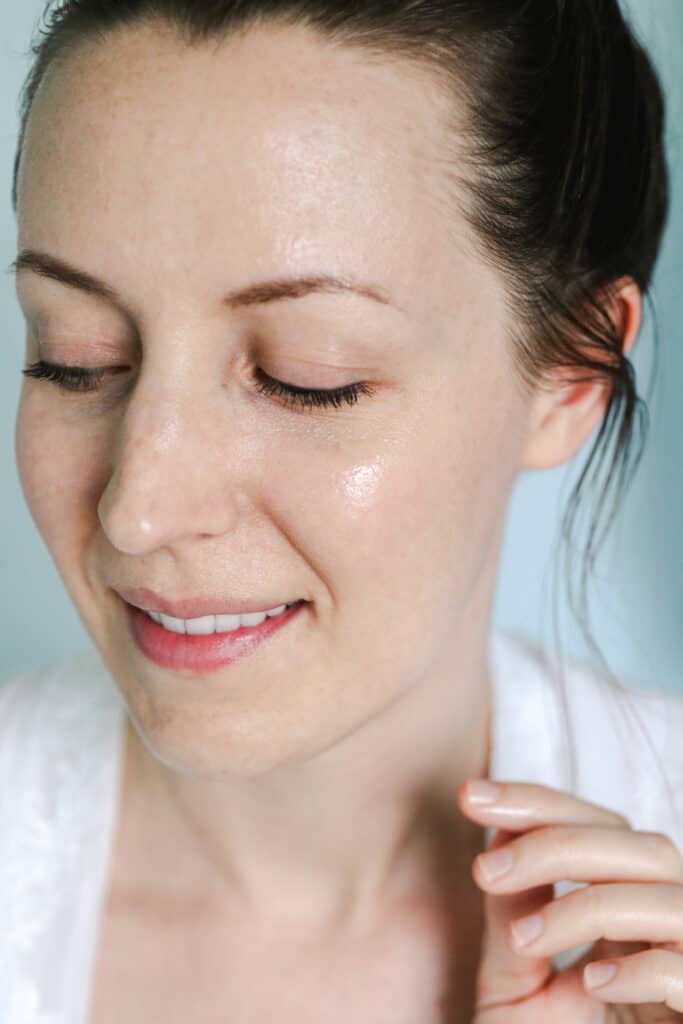 Ready to take FANCL for a test drive? Click through to learn all about the brand and Shop Here
18