Let's face it (literally): many of us complain about large pores and how we need to shrink them. The best way to shrink pores is actually to prevent them from enlarging in the first place!
There's a common misconception that you can change the size of a pore. You can minimize the appearance of a pore, but once a pore is stretched, it will unfortunately not go back its previous size.
In more bad news, much of our pore size is genetically determined. This is one of the key reasons I encourage regular facials and especially for teenagers, don't let blackheads get out of control because that will undoubtedly lead to large pores which will stick around later in life.
8 Ways to Shrink Your Pores
So are we out of luck if we already have large pores? Should we just throw in the towel? No!
Changing the appearance of pore size is always beneficial when it comes to skin condition, smoothness, and complexion.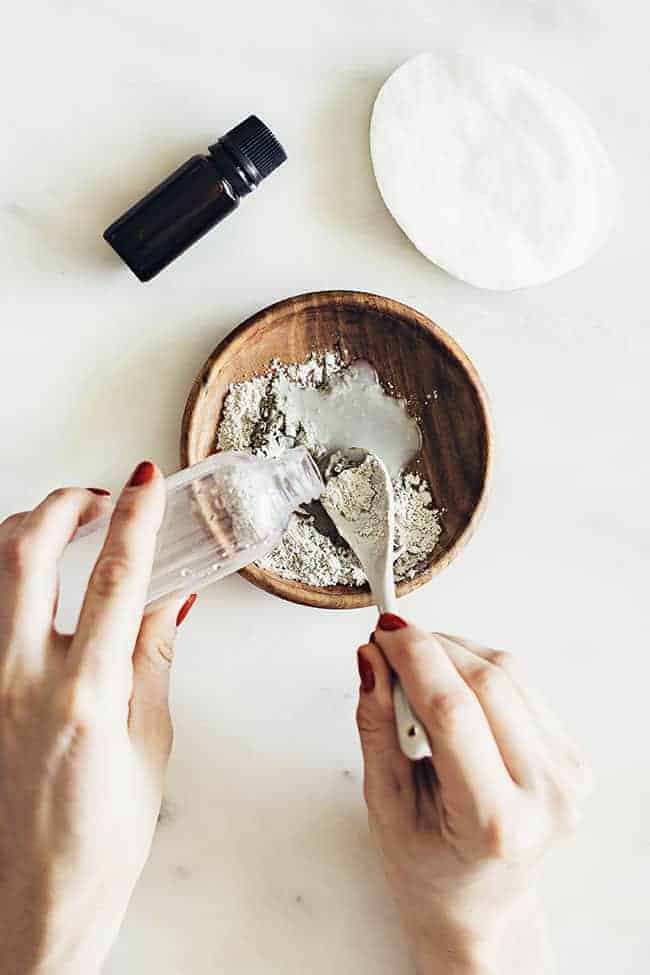 The gold standard in the dermatology world for improving pore size is Vitamin A derivatives. Prescriptions that rapidly exfoliate the skin and control oil can help minimize the appearance of pores, but be prepared for redness, peeling, and sun sensitivity, not to mention the price tag.
To avoid a pricey prescription, and the side effects that retinoids may cause, I've put together both a few tips on both preventing large pores and minimizing the appearance of them.
1. Stay out of the sun!
Sun damage will cause enlarged pores as it affects the collagen and elastin in the skin, thinning the area around pores and making them more visible. Limit your exposure first and foremost, or wear sunscreen if you're going to be in the sun.
2. Keep pores clean
Give your skin a deep clean morning and night and never ever sleep in your makeup. Blackheads stretch pores and as they always say, an ounce of prevention is worth a pound of cure. A clay cleanser can help draw out excess sebum.
If you keep dirt, oil, dead skin cells and makeup out of your pores, you won't give them a chance to stretch in the first place. Cleanse after exercising, in the morning, after playing any sport and before bed.
3. Try a clay mask
Clay masks are a fantastic way to pull impurities out of the skin and unclog pores.
4. Or an egg mask
Egg white masks are a great way to tighten skin and shrink pores. Get in the habit of using a mask once a week, have you tried self care Sunday?
5. Exfoliate with alpha hydroxy acids
Glycoloic acids specifically have been proven to break down dead skin cells and slough off the outer layer, revealing fresh new skin on the surface. Regularly using AHAs will help prevent blackheads from forming.
6. Try charcoal
Detox your pores with charcoal. Like clay, it's fantastic for pulling excess oil and dirt out of clogged pores. Make your own activated charcoal masks and soaps or consult this list of some of our faves.
7. Stop picking!
Trauma to pimples and pores from picking can cause pores to stretch and scar. If you need extractions, see an esthetician who can properly prepare your face and extract without causing damage to the skin.
8. Hide them
If all else fails, hide them. A good primer or BB cream can do wonders when it comes to hiding enlarged pores.
Keep all of these tips in mind and remember that pores always appear larger to ourselves than to anyone else!
Our Favorite Pore-Shrinking Products
Now that you know the basics on shrinking pores, check out our picks for pore reducing skincare products.

1. Circ-Cell Geothermal Clay Cleanser
2. Alaffia Coconut Reishi Facial Cleanser
5. Botanicals All Natural Pink Clay Exfoliating Facial Mask
6. Alba Botanica Hawaiian Facial Mask
7. Burts Bees Natural Acne Solutions Pore Refining Scrub
98