If you or your child has ever experienced eczema, you know how frustrating it can be. It almost seems like it's a rite of passage for children to develop eczema at some point in their lives, with many parents just brushing it off as a normal part of growing up, especially if others in the family suffer from it as well.
However, eczema is usually indicative of something else going on, and it's the body's way of telling you that something's off balance. Plus, it can be downright uncomfortable most of the time.
What is Eczema?
Eczema, also known as atopic dermatitis (AD), is a skin condition that causes certain areas of the skin to become red, irritated, inflamed, scaly, weepy, dry, rough, and most of all, ITCHY. Eczema frequently occurs in children and babies, but adults can suffer from it as well.
What causes Eczema?
There are actually several different types of eczema that result in similar symptoms, and there are quite a few different causes. Some of these causes include:
Allergies

Compromised immune system

Food sensitivities

Sensitivities to detergents, soaps, perfumes, or chemicals

Overly dry skin, or normal skin in very dry conditions

Stress

Environmental triggers

Poor diet, vitamin deficiencies

Hormonal changes, such as pregnancy

Inherited susceptibilities
Conventional treatments often include the use of steroid creams, which may initially help to alleviate symptoms for a short while. However, this is frequently short-lived because steroid creams don't usually address the root cause. Additionally, overuse of these creams can create adverse reactions of their own, leading to a bigger problem than you started out with—which I learned the hard way many years ago!
Dealing with eczema can be frustrating and uncomfortable, but the key is to try and figure out the trigger so you can determine what's causing it. In some cases, it is not that hard to find the cause, and there are many steps you can take that may help reduce or eliminate the symptoms of eczema.
How to manage eczema
Here are some simple things that may help you determine the cause and help manage your symptoms:
Use an elimination diet to systematically remove dairy and gluten from your diet (one at a time) while you monitor your symptoms [source]

Stay adequately hydrated

Take probiotics

Avoid heavily perfumed detergents

Limit what you put on your skin

Switch to natural body care products like this body balm


Keep skin naturally moisturized ALL THE TIME
Essential Oils for Eczema
Essential oils can be very helpful when managing symptoms of eczema. They offer a completely natural solution to help deal with symptoms while you figure out what your triggers are.
When choosing essential oils for eczema, you'll want to use oils that are anti-inflammatory, gentle, and soothing to the skin. If you're struggling with eczema, the skin will already be sensitive and irritated, so it's important not to do anything that will aggravate it more.
Additionally, you'll want to dilute the essential oils with a skin-soothing carrier oil, such as jojoba or coconut, in a very low percentage to keep from causing more irritation and maintain constant moisture. Below, I've listed seven of the best essential oils for eczema.

Surprise, surprise! Lavender tops the list as one of the best essential oils for eczema. Not only is lavender incredibly soothing, but it can be especially beneficial when dealing with inflamed or irritated skin.
It is a natural antibiotic that helps prevent infection from some of the most prevalent skin bacteria [source]. Additionally, lavender is gentle enough to use even on young children, making it a great option to consider for childhood eczema.
While it may not smell quite as pleasant as some of the other essential oils on this list, tea tree oil is one of the best essential oils to use on the skin. Although it has a potent medicinal aroma, tea tree is surprisingly gentle and has antiviral, antifungal, and antibacterial properties to boot [source].
It's also great to use on inflamed and irritated skin. And when paired with a more pleasant-smelling essential oil, like lavender, it can make an excellent topical blend for itchy, uncomfortable skin.
Helichrysum may be one of the pricier essential oils on this list, but since only a little bit is needed for you to feel its therapeutic effects, it turns out it's actually pretty cost-effective. And to be totally honest, adding helichrysum to your stash is worth it.
It's well-known for its soothing and regenerative properties and is frequently used in skin care formulations. It can be used for a number of skin issues, including irritated skin and wounds [source], making it ideal to use for eczema─especially if you're dealing with cracked and broken skin.
Chamomile is a great choice for eczema, particularly for children. It has a very pleasant, calming aroma that can be especially beneficial if your child is fussy due to the uncomfortable symptoms of eczema. However, the essential oil is also a great anti-inflammatory, is soothing on the skin, and may even help ease some of the discomfort associated with eczema directly [source]. I love using chamomile in skin-soothing recipes!
While rose is by far the most expensive essential oil on this list, if you're able to splurge on it, you should. Not only is it a wonderful oil for the emotions, but it's also fantastic for your skin.
Rose essential oil contains anti-inflammatory and antioxidant properties [source] and is even believed to help with skin renewal [source].
With an aroma that is reminiscent of rose, geranium is a much more affordable option, with therapeutic properties that can benefit symptoms of eczema. Geranium essential oil is anti-inflammatory and can be used for a number of bothersome skin issues, including itchy, irritated, or inflamed skin caused by eczema [source].
Frankincense essential oil is a favorite among essential oil users because of its versatility, so it should be no surprise that it is beneficial for skin issues as well. In fact, frankincense contains soothing and anti-inflammatory properties and has even been found to reduce redness and irritation on the skin—making it a no-brainer for eczema [source].
How to Use Essential Oils for Eczema
The key to healing eczema is to keep the skin moisturized at all times. Now that doesn't mean just to put some lotion on once and a while. Eczema-sufferers need heavy intervention with thick emollients (oily substances) that will remain on the skin for long periods, helping to restore the natural skin barrier and squelch the itch. If you can calm the itch with emollients and no longer have the need to scratch, the skin will heal itself naturally, and the eczema will be gone.
If you have a tendency toward skin irritation and eczema, you must do this ALL OF THE TIME. There is no way around it. Most people have a pattern whereby their skin gets bad, they treat it, and it improves, so they stop!
Nope. You can't do that, because it will inevitably start again. If the skin is heavily and deeply moisturized 24 hours a day, the chances of the condition returning are very low. So, it's maintenance, baby, all the way!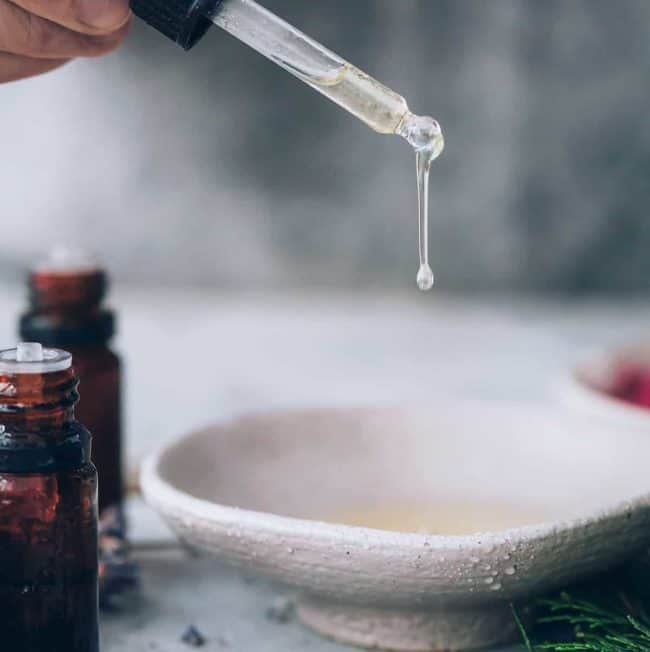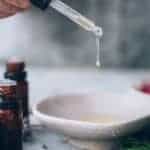 Print
DIY Body Oil Recipe
Use this skin-soothing body oil to help calm redness and inflammation associated with eczema/
Equipment
1 ounce glass container with lid or dropper
Materials
1

ounce

sweet almond oil

body lotion or other carrier oils, like apricot kernel, sesame or grapeseed, will also work

6

drops

chamomile essential oil

can also use lavender, carrotseed, geranium, or whichever of the others you have on hand
Instructions
Combine ingredients in small jar and shake to combine

When using any different combination of essential oils, or any new product on your skin, make sure to test it on a very small area first. That way, if you have any type of sensitivity to one or more of the components, you can choose to try them one by one and find out what is causing the problem so as not to subject larger areas of your skin to its effects. Read all safety information before choosing and using your essential oils.
Notes
Store in the refrigerator (indefinitely) to keep oils fresh.
This article was medically reviewed by Dr. Gina Jansheski, a licensed, board-certified pediatrician who has been practicing for more than 20 years. Learn more about Hello Glow's medical review board here. As always, this is not personal medical advice and we recommend that you talk with your doctor.
49