With the transition from summer to fall, it's a great time to reevaluate our skin care routine and add exfoliation to prevent dry, chapped lips. Winter isn't as friendly to our skin as summer, and we need to take the right precautions! As temperatures drop, indoor heaters turn up, and the result is less moisture in the air. The result is often dry lips that peel, crack and can turn red.
These fall lip scrubs can help exfoliate those dead skin cells, leaving lips soft and fresh. After using one of this amazing lip scrubs, it's important to use your favorite DIY lip balm to add moisture and prevent future peeling, dry skin!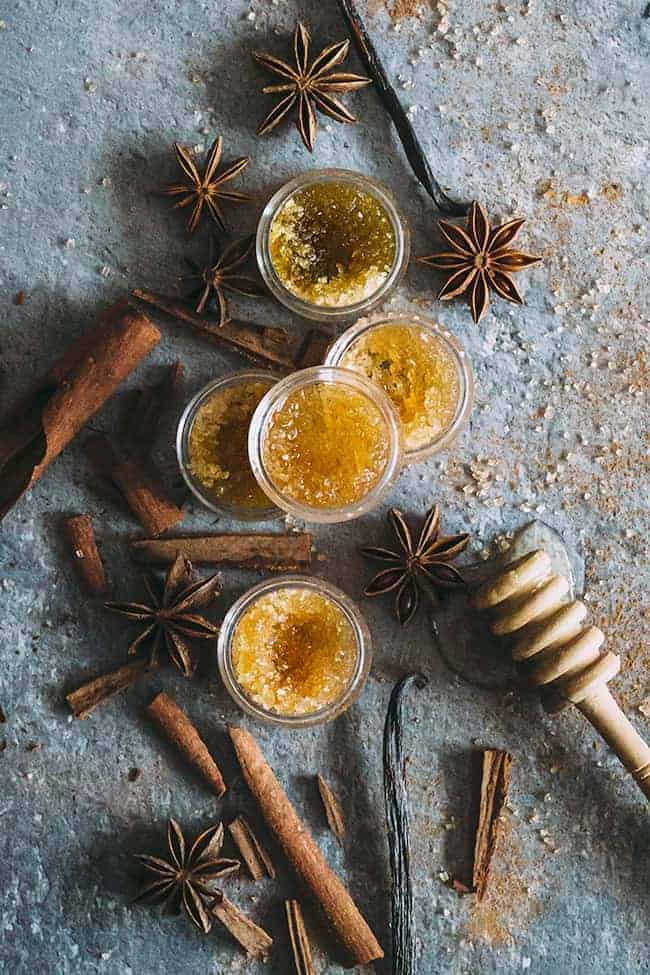 Try one of these easy lip scrubs 2-3 times a week and follow with a rich lip balm. These small batch scrubs will stay good for 1-2 months so keep one on hand all winter.
Most of these contain honey, which is an amazing natural humectant. It draws hydration into the skin, helping to get rid of any dry skin flakes that are hanging around. It's also an anti-bacterial and helps to heal skin, so if your lips are so chapped that they're bleeding (I've been there before!) then it will definitely help.
Alongside honey, brown sugar is a great natural exfoliator. It's easy to find and isn't super coarse or sharp, meaning it won't damage skin. However, that doesn't mean it doesn't do a good job of exfoliating—it definitely does! That's why it's my favorite natural scrub to use. It also doesn't have any harmful effects on the environment, like traditional scrubs used to.
Cinnamon Lip Scrub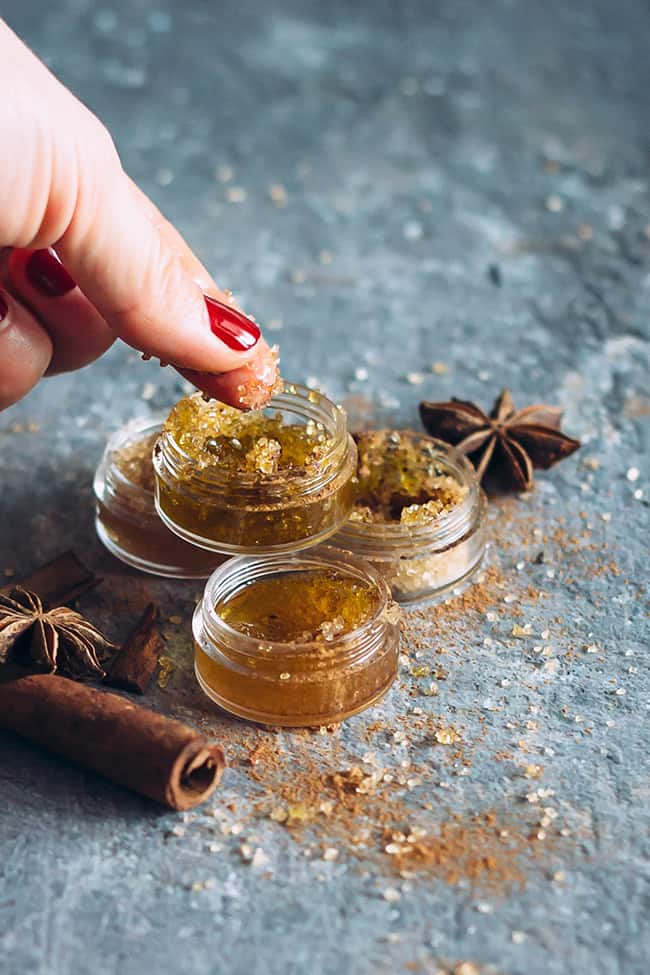 2 tablespoons brown sugar
1/2 tablespoon olive oil
1/2 tablespoon raw honey
1/2 teaspoon ground cinnamon powder
Combine the ingredients in a small bowl. Apply to lips with fingertips and gently slough off dry, dead skin. Store in a small, covered jar or container for later use. Remove with warm water and a washcloth. If there's a bit of a tingle, don't worry—that's totally normal and from the cinnamon. Cinnamon will boost circulation in your lips, which also could make them look a little fuller afterwards!
Pumpkin Lip Exfoliant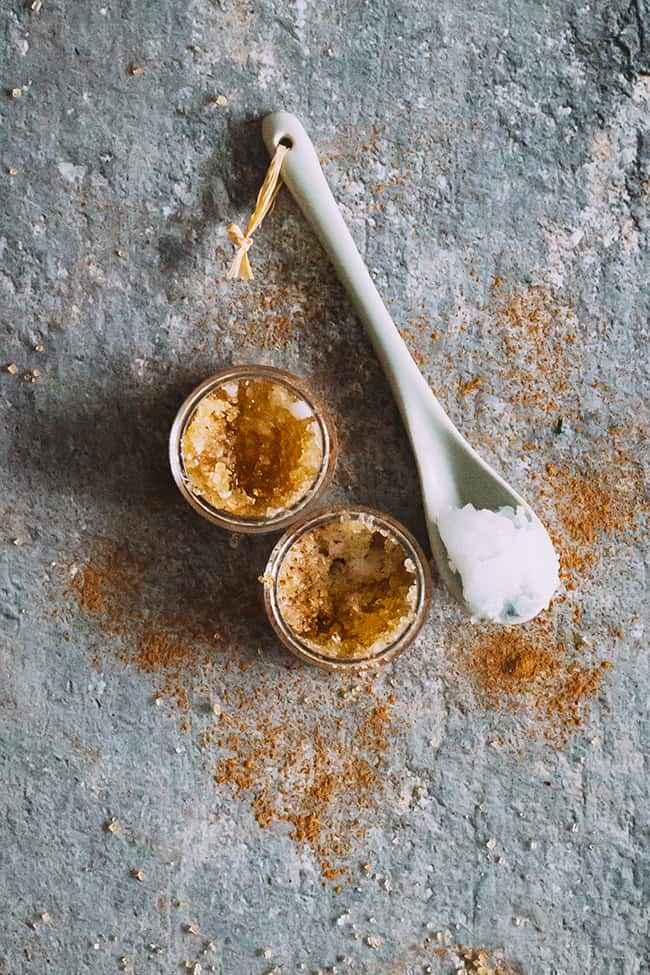 2 tablespoons coconut oil
1 tablespoon honey
1 tablespoon brown sugar
1 teaspoon pumpkin pie spice
This is my favorite coming into the fall season, and you can be sure that I'll be using some all winter long—that is, if I have any left! Combine the ingredients together in a small bowl and transfer to a small covered jar or container. This makes more than you need for a single use so keep the extra in a cool, dry spot. Apply to lips with your finger and gently rub back and forth. Remove with warm water and a washcloth.
Vanilla & Honey Lip Scrub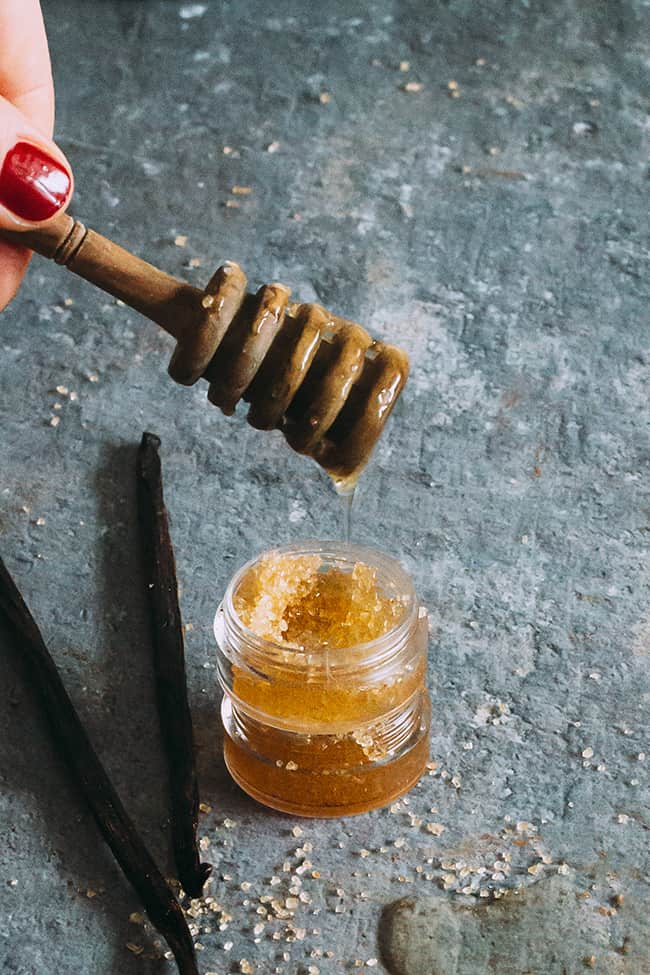 1 tablespoons brown sugar
Small amount of raw honey (one bottle squeeze)
1 drop vanilla extract
In a small bowl, combine the sugar and honey, then add the drop of vanilla and store in a small, covered jar or container for later use. Rinse with warm water and a washcloth to remove.
Photos by Ana Stanciu
90