It seems like there's a million reasons our bodies can feel "off," but a common reason is due to our pH level. Bear with me while we travel back to high school chemistry class and remember the pH scale…it runs from 0 to 14, the acids are the low numbers, 7 is neutral, and alkalines, or basics, are in the higher range over 7.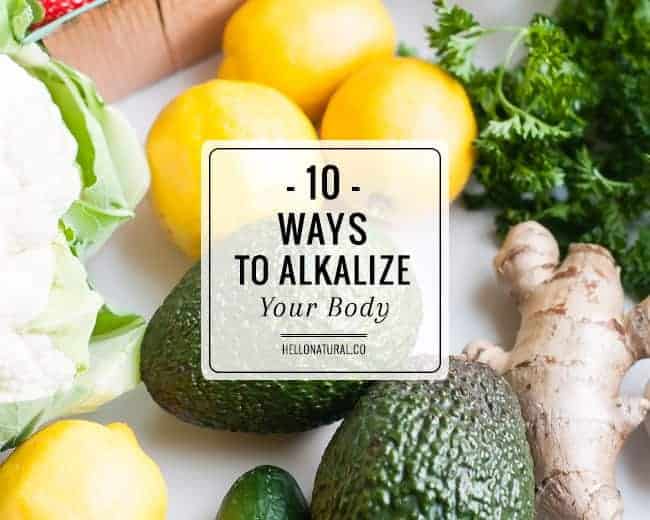 While our bodies' systems contain some acid naturally, we are meant to be slightly alkaline (in the 7 to 7.4 range) in order for our immune system, digestion and plenty of other functions to work properly. Alkalinity means there's more oxygen present—so when we eat alkaline foods our blood takes in more oxygen. When we consume too many acidic foods and drinks (including sugar, caffeine, dairy and glutinous grains), or overexercise to the point of dehydration, or have chronic stress, it can disrupt our balance and cause our pH level to become too acidic.
If you find that you're chronically fatigued, have sensitive or inflamed gums, trouble losing weight, recurring infections, mineral deficiencies, dull or dry skin, mouth ulcers and/or acid reflux, your pH might be too acidic. (You can buy test strips for saliva or urine to help you find out.)
Luckily, if you've figured out that you need to alkalize, there are lots of easy ways to do it! All of these suggestions are great for your general health too—so it's a 2-for-1 :)
10 ways to alkalize your body
1. Greens
Seems like greens are the solution to everything, and pH is no exception. Greens are alkaline and help offset extra acid.
2. Water-Rich Foods
Eating plenty of fruits and veggies like cucumbers, romaine lettuce and melon helps dilute the acidity in your body, in addition to flushing out toxins and keeping you hydrated.
3. Coconut Water
Coconut water replenishes minerals, and alkalizes the body. (It also works great on hangovers, just saying.)
4. Sprouts
Acidity makes it hard for digestive enzymes to keep up, and sprouts are a nutrient-dense, enzyme-rich food that will aid the process.
5. Lemons and Limes
This one seems counter-intuitive since lemons and limes taste acidic. They actually have alkalizing properties, though. Add them to infused water, or drink cleanse water first thing in the morning to balance your pH.
6. Sea Vegetables
Nori, dulse and wakame are naturally cleansing and extremely alkaline. If you have any thyroid issues, make sure to check with your doctor about adding these to your diet, as the concentrated iodine content can interfere with thyroid function.
7. Breathe Deeply
This is another tip you see just about everywhere for helping with a number of ailments! The point of alkalizing is to introduce more oxygen into the body, and breathing deeply and consciously will do just that while making any other steps you try more effective.
8. Reduce Stress
Easier said than done, right? But simply cutting out a few small stressors, talking things out with a friend, taking a few minutes every day to relax, or letting something go that's bothering you (I have to continuously remind myself that absolutely no one cares how messy my basement is—least of all me) can be a tremendous relief.
9. Avocados
This wonder food is not only full of fiber and omega-3s, it's also one of the most alkalizing foods. And it's awesome in just about everything. Bring on the tacos!
10. Try Meatless Mondays (or Tuesdays, or Saturdays…)
Take a break from meat once in a while to let your body alkalize. The process of metabolizing meat causes acid residue to form. It's also believed that eggs, dairy, grains and fish produce this same residue, so taking occasional breaks from those foods is a good idea too. Everything in moderation, right?
29