Aries (March 21 to April 19), a cardinal fire sign, is considered the first sign of the zodiac. Read on to learn how to use essential oils for Aries season, plus get 5 warm and spicy essential oil blends to harness Aries' self-confidence and drive.
Understanding Aries
As a strong, independent, lone wolf sort of leader, Aries offers the compliment to its opposing sign Libra. While Libra focuses on the 7th house realm of interdependence and partnership, directly across the birth chart wheel in the 1st house, we find Aries' realm—that of the self, ego, independence, and identity.
The fire element brings them the gift of initiation, inspiration, evolution, and passion. And in the cardinal expression of Aries, these qualities are further supported by a whole lot of gumption, self-confidence, and drive.
Ruled by Mars, the tempestuous planet of war, Aries is known to have a temper and throws off their fire when they feel they are being controlled or backed into a corner. But Mars is also the planet of passion, offering Aries a strong drive not only toward sexual expression but also self-expression, inventive creativity, and a lust for life. How perfect that this sign is symbolized by the ram, ready to put its head down and charge head-first into obstacles or demonstrate dominance over any person or thing threatening them or what's theirs.
Celebrating Aries Season
Aries season corresponds with the birth of spring, a time when, at least in the Northern Hemisphere, the earth wakes up and begins to renew itself. Like Aries, this time is all about the start of things—sprouting, thawing, and emerging. It's also when seeds are planted, both literal and metaphorical. We can align with Aries season by setting new intentions for ourselves, putting formerly dormant concepts and plans into motion, and getting clear on who we are and what's best for ourselves.
Self-care in Aries season is less about baths and massages and more about standing up for ourselves, asking for what we know we're worth, believing we can do things, and prioritizing our own needs. You might refresh the energy around your home with a big spring cleaning, add some fiery red accents to your bedroom for a bit of passionate inspiration, pick up some carnelian or tiger's eye crystals to harness some of Aries' self-confidence and drive.
Try ginger essential oil for that warm, spicy glow, or pink peppercorn oil for a slightly sweeter and fruitier kick. Tobacco absolute oil is another great smoky option here.
Try these 5 warm and spicy diffuser blends to set the stage. Each of these diffuser blends is meant to be diluted in 200 mL of water.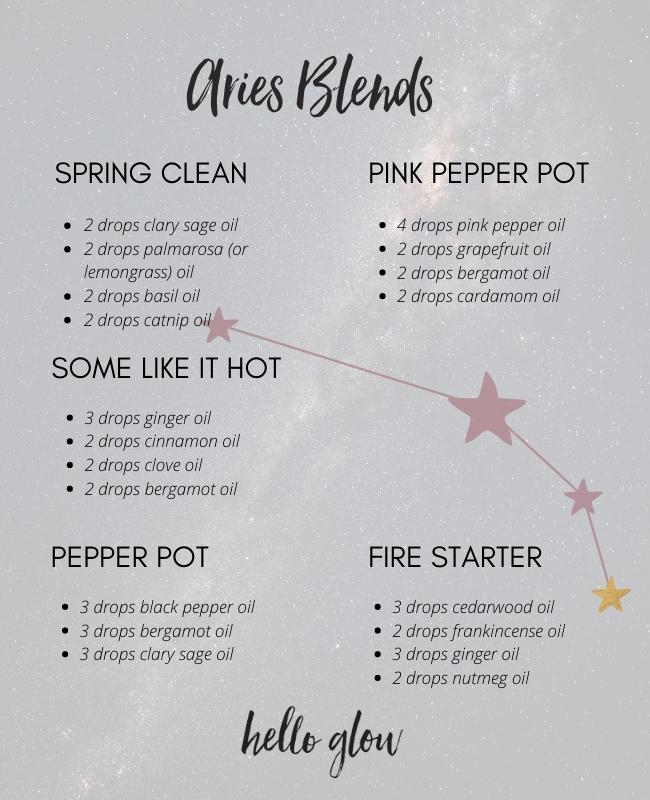 1. Spring Clean
When you're looking to create a scent that brings to mind the emergence of spring, green is key. This blend gathers together a collection of verdant top-note essential oils, keeping it light and easy—perfect for any room in your home.
—2 drops clary sage oil
—2 drops palmarosa (or lemongrass) oil
—2 drops basil oil
—2 drops catnip oil
2. Some Like it Hot
This blend has a spicy kick, just like that red hot Aries energy. This is a great blend for the kitchen as the notes here are more culinary, though it could also work in the bedroom if you were looking to create the mood for some passion.
—3 drops ginger oil
—2 drops cinnamon oil
—2 drops clove oil
—2 drops bergamot oil
3. Pepper Pot
Feeling stagnant, stuck, and uninspired? Diffuse a blend that showcases the zesty fire of black pepper to stir up the energy and get you going.
—3 drops black pepper oil
—3 drops bergamot oil
—3 drops clary sage oil
4. Pink Pepper Pot
There's nothing wallflower about Aries—or this spicy fruit blend. Here, the pinch of pepper is pink, and it plays along so well with the sparkle of citrus.
—4 drops pink pepper oil
—2 drops grapefruit oil
—2 drops bergamot oil
—2 drops cardamom oil
5. Fire Starter
This blend takes some woodsy oils and combines them with sweeter warm ones to create a balanced blend that is smoky and grounded.
—3 drops cedarwood oil
—2 drops frankincense oil
—3 drops ginger oil
—2 drops nutmeg oil
*Note that not all essential oil blends are recommended for use around your pets. Read more about that here.
Want to learn more about essentials for zodiac signs? Find out the best oils to use for your sign!
3